15 Quick and Easy No-Cook Lunch Ideas
Skip cooking something on the stove and whip up one of these no-cook lunches in minutes.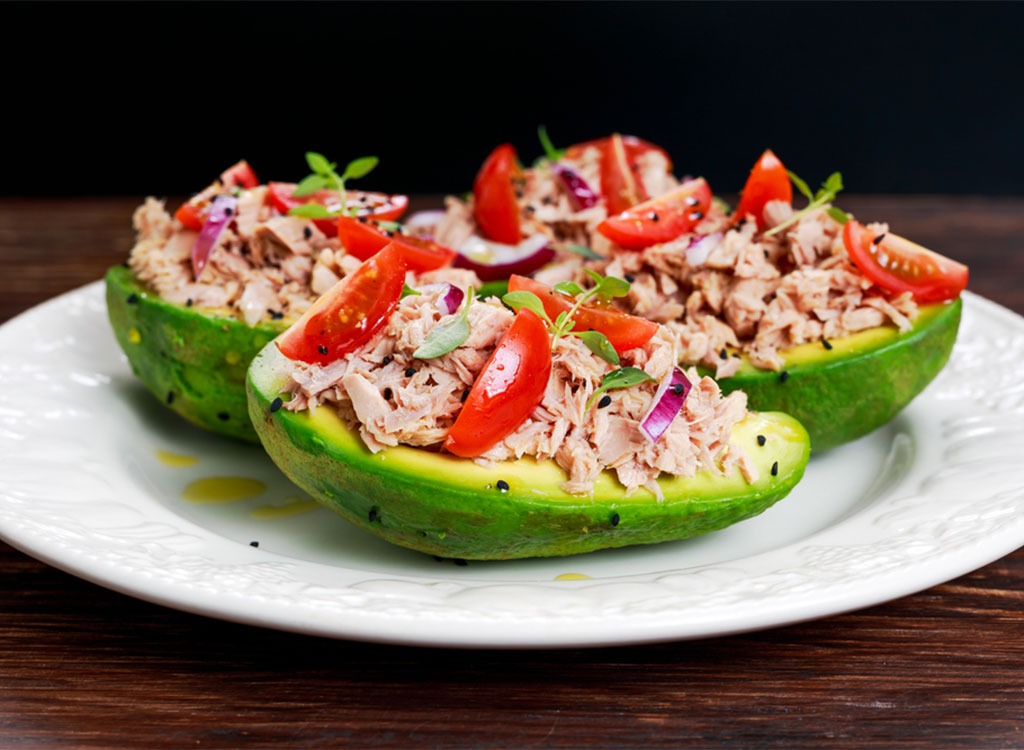 It's not just you. With so much going on right now, the last thing you probably want to do is sweat over a stove just to make some lunch—especially as the weather gets warmer. You're probably craving something that's delicious and nutritious, but—more importantly—you want something that's easy to make. Insert our clever no-cook lunch ideas.
Here at Eat This, Not That!, we uncovered all the secrets to getting lunch on the table with as little work as possible. We've developed these no-cook recipes that will help you refuel within a matter of minutes. And it gets even better. Most of these no-cook lunch recipes are so simple, you won't have to go anywhere near a hot stove or grocery store before throwing them together!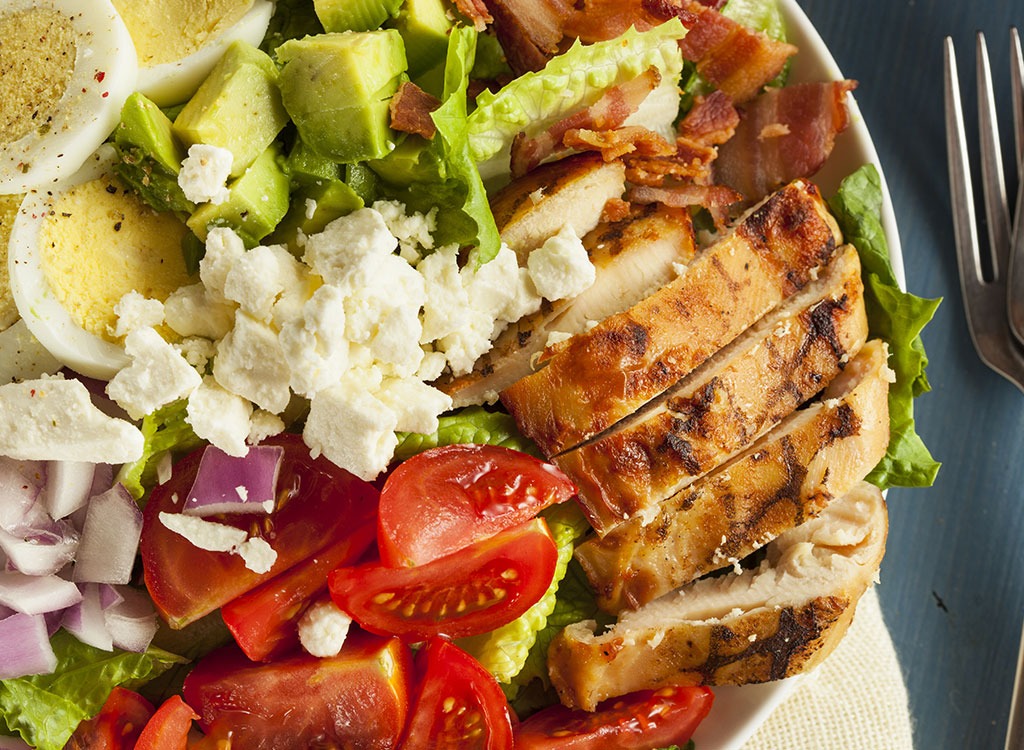 What You Need: Lettuce, hard-boiled egg, tomato, chicken, bacon, avocado
Here's an easy way to eat the rainbow. Red tomatoes, yellow hard-boiled eggs, green avocado, purple onions, brown bacon, and white chicken, all layered on top of a bed of lettuce. For a healthy hack, we recommend skipping the heavy dressing. Instead, mix together some red wine vinegar, mustard, and olive oil. Then you're set for satisfaction. Nutrient-packed, filled with a perfect crunch in every forkful, this can be made in a simple mason jar if you're on the go, or brought outside to your back patio on a plate.
What You Need: Steak, arugula, pears, goat cheese, sprouted bread
It's the middle of the week and that steak from the weekend is still sitting in your fridge. Don't waste it! Place it on sprouted bread and layer with peppery arugula and sweet pears. Sprinkle a little goat cheese on top. When in need of cheese, think goat: it's lower in calories, and a little can go a long way. Take a knife and spread it out. With such a strong flavor, you'll be able to taste a bright bite of cheese in every bite. An added bonus: because goat milk proteins are smaller—and more easily digested—than cow milk proteins, goat cheese can be a lot gentler on your digestive tract compared to other cheeses.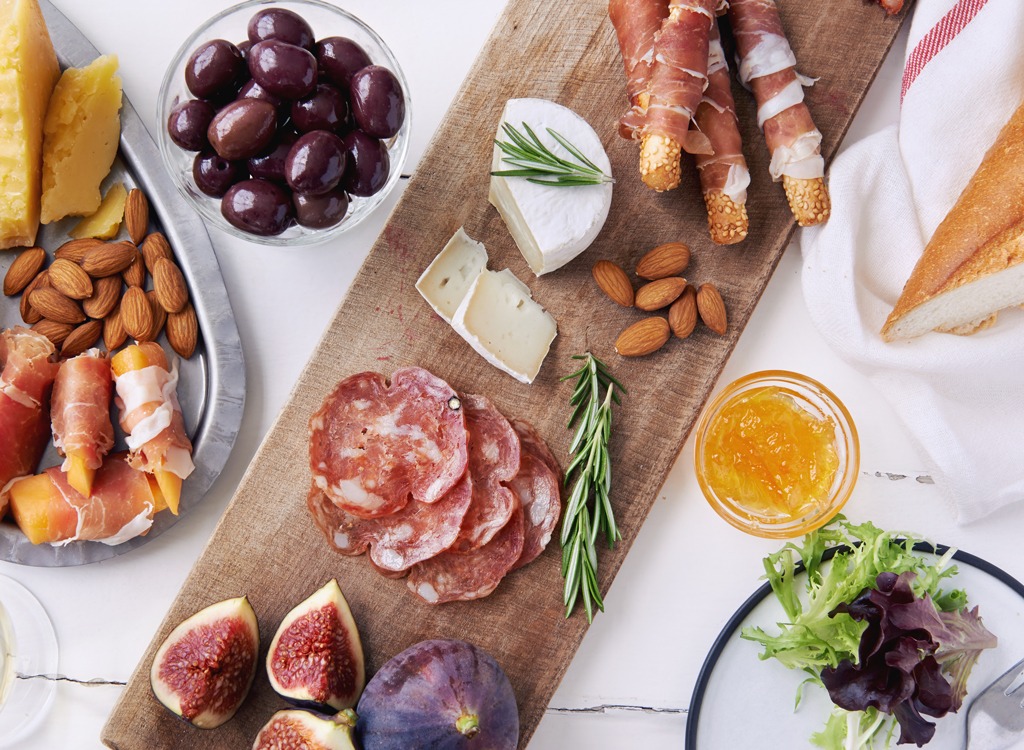 What You Need: Pita, hummus, olives, veggies to dip, roasted red peppers, feta cheese, grilled chicken (optional)
Nibble your way through lunch with this Mediterranean mezze platter. Hummus is filled with protein and is delicious on top of pita or whole wheat bread if you don't have pita readily available. Layer on some roasted peppers and you have a beautiful open-faced sandwich! Not into the red peppers? Dip some veggies in the hummus and enjoy your grilled chicken with your pita.
What You Need: Lettuce, tomato, cheddar cheese, sliced turkey
Yes, that lunch you brought to school in 4th grade is just as delicious as ever. Turkey is low in fat, filled with protein, and is the perfect protein to keep in your pantry. Need some more flavor? Throw in a little dijon mustard. For a healthy version, you can cut 210 calories by switching from a sodium-heavy wrap to lettuce.6254a4d1642c605c54bf1cab17d50f1e
Tuna Salad Stuffed Avocado
What You Need: Canned tuna, red pepper, tomato, avocado
Scoop out an avocado where the pit would be, and make yourself a "bowl." Load it with your favorite tuna salad. (We like a simple canned tuna with red vinegar, a touch of olive oil, salt, and metabolism-boosting cayenne pepper.) Adding some color with tomatoes and red pepper to increase your vitamin intake. Not to mention, it adds some crunch in every bite!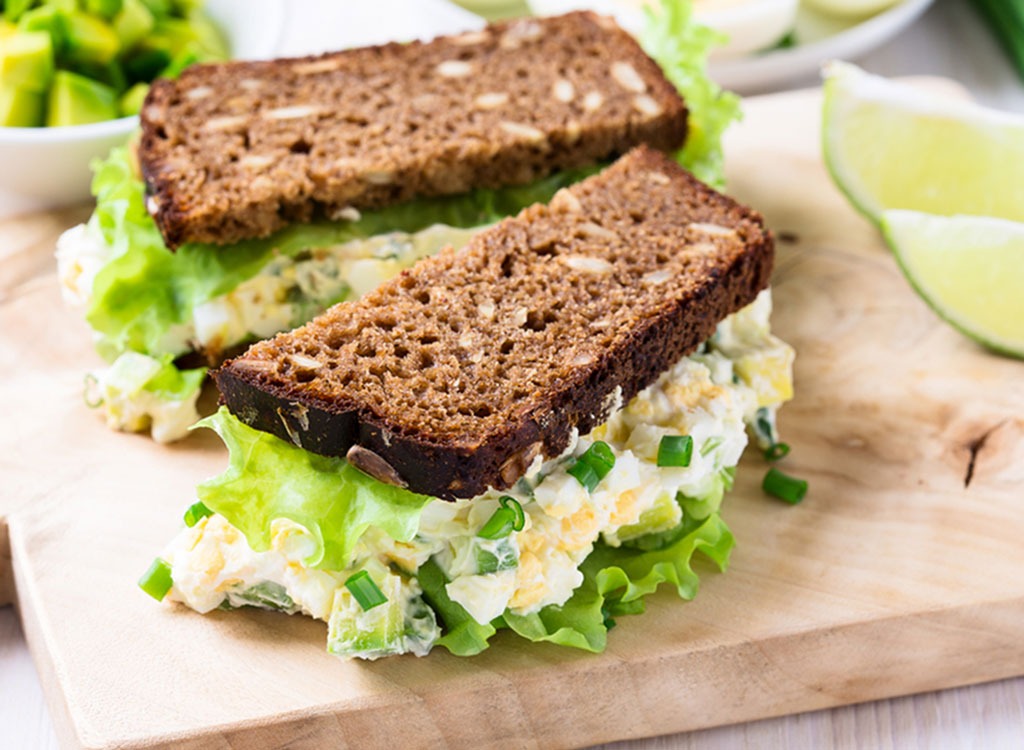 What You Need: 3 hard-boiled eggs, half an avocado, lemon or lime juice, salt and pepper to taste
Mayo no more! It's time for avocado to take the lead. For every three eggs, use half an avocado. Mash them together and you'll have lunch in little to no time. As for the fat? Consider this: There's good fat, and there's bad fat, but this salad gets it just right thanks to avocado's healthy monounsaturated fats that have been found to lower cholesterol and torch belly fat.
What You Need: Whole wheat pasta, feta cheese, spinach, olives, tomatoes, balsamic, olive oil
Take that leftover whole-wheat pasta out of the refrigerator and put it in a container or bowl with a little extra room. Mix in the rest of the ingredients and sprinkle on some dressing. The more vegetables you add, the more fiber you're adding to your diet. Don't forget than whole wheat pasta contains tons of fiber—6.3 grams per cooked serving to be exact! Fiber is your friend, and vegetables supply a ton of it. Shake it with the lid on and you and your pasta salad are on the move.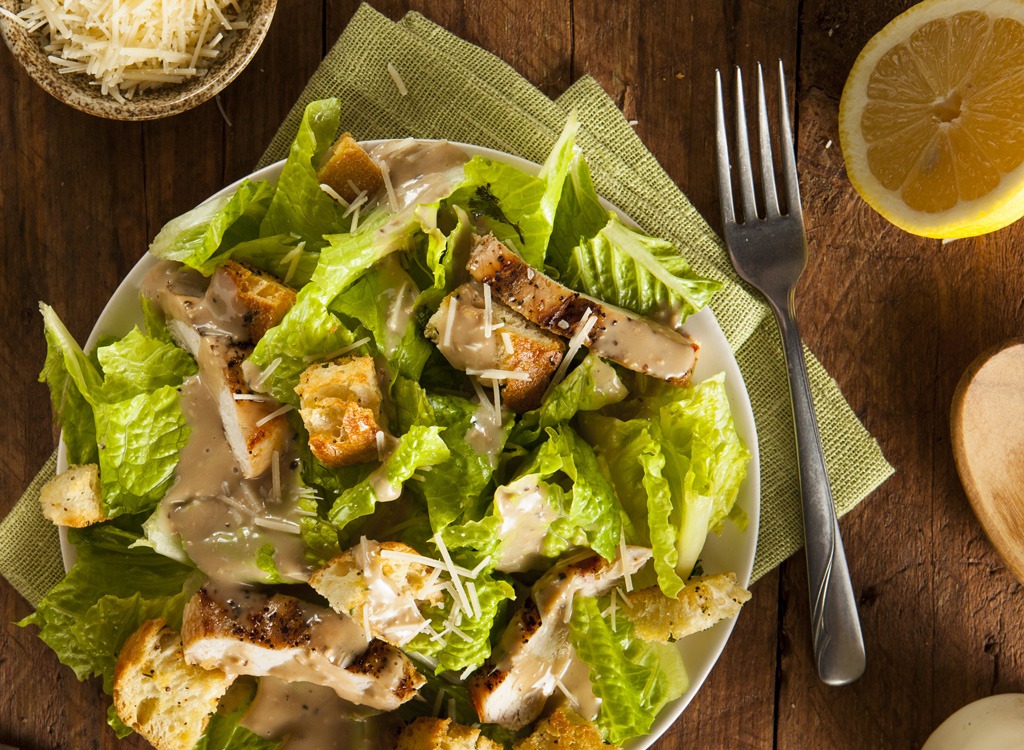 What You Need: Romaine, spinach, broccoli, parmesan, Greek yogurt dressing
The Caesar salad we always see on a menu isn't that great for you. (Yes, salads aren't always healthy. Who knew?) But by adding some other greens, and not just using water-heavy romaine, you'll be able to boost your nutrient content. For example, broccoli adds some extra crunch to the salad, plus it's loaded with bone-strengthening vitamin K and immune-boosting vitamin C. Next time you're at the grocery store, pick up a bottle of Greek-yogurt Caesar dressing. This simple switch lowers the calories, and sneaks in probiotics with minimal effort. Keep it on the side and use it sparingly.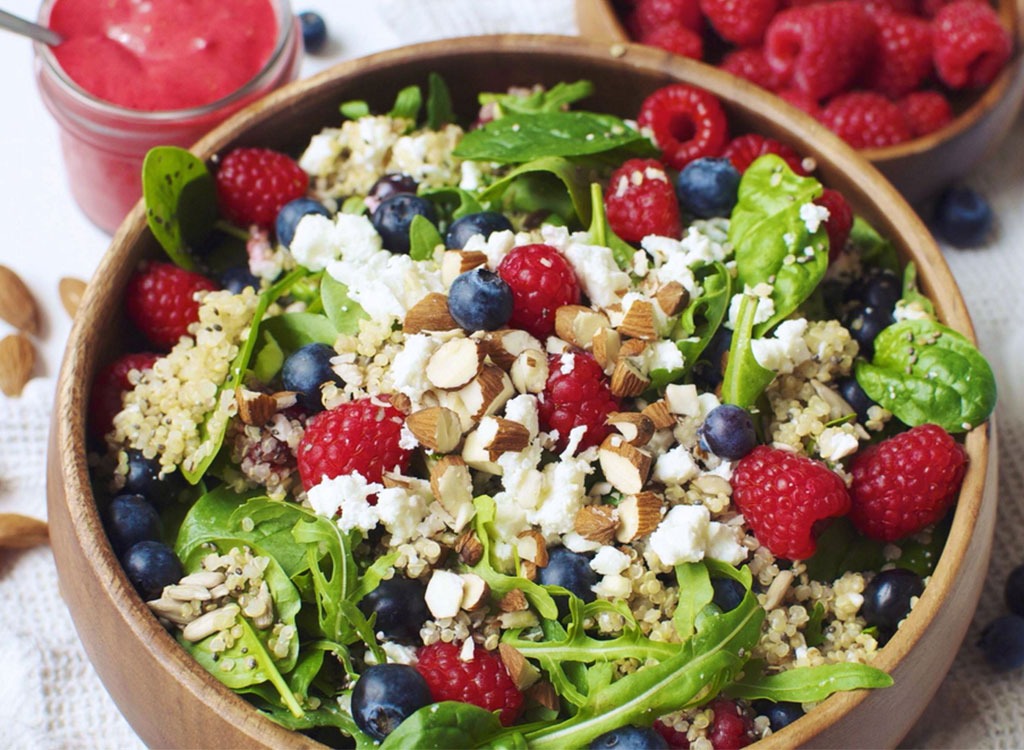 What You Need: Berries of your choice, goat cheese, quinoa, spinach, a splash of balsamic vinegar.
Don't let that quinoa from last week go to waste! This grain is high in protein and is great to add to your diet if you're a vegetarian, specifically because it has an amino acid profile that's similar to animal proteins. Not to mention, its crunchy texture always makes for a better bite. Berries, such as blueberries and strawberries, will help slow down the digestion process thanks to their fiber content, which ultimately allows you to feel fuller for longer. Toss in some spinach, and a light coat of balsamic vinegar. Just like that you have a bowl filled with color, fiber, and awesome nutrients. Not to mention how appetizing it looks!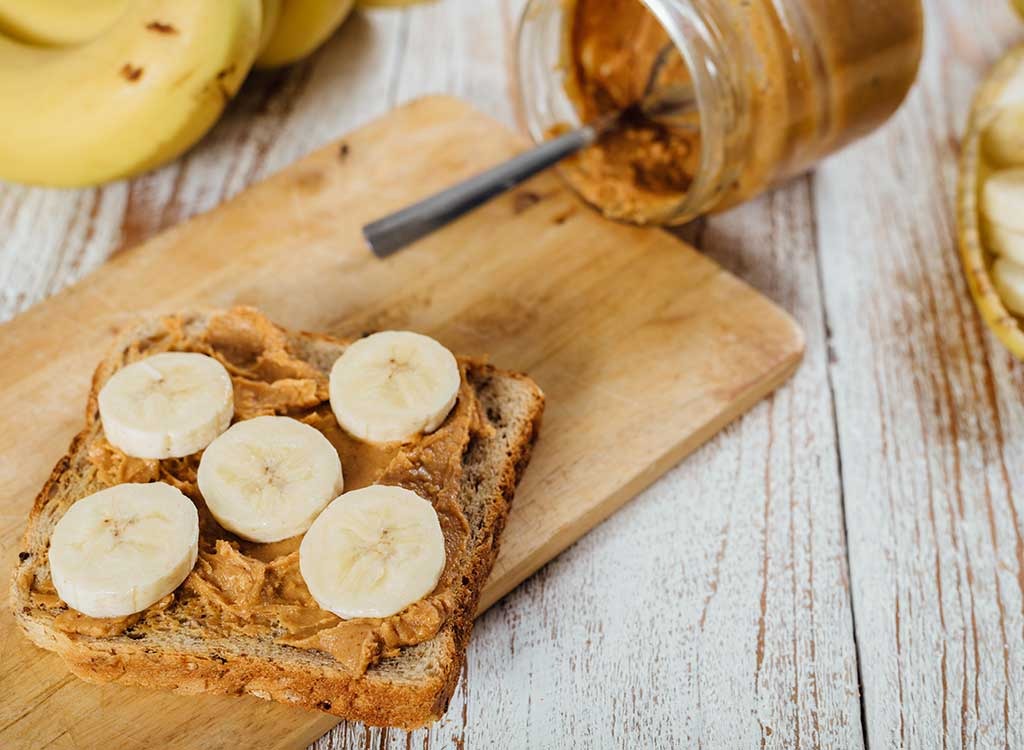 What You Need: Peanut butter, raspberries, bananas, chia seeds, toast of your choice
Rather than pairing your PB with high-sugar jarred jams, mash raspberries, and chia seeds together to create an epic jelly-like combo. It will be both high in fiber and low in sugar. Spread the two over 100 percent whole-grain bread, top with some banana slices, and you're in for a treat! Want to make your PB&J even fancier? Add some cinnamon. Not only will this warming spice boost flavor, but it may also help regulate spikes in blood sugar post-meal. You can even keep the sugar count low for your peanut butter by making your own nut butter at home.
What You Need: Lettuce, black beans (rinsed), tomatoes, corn, tomatoes, protein left in your fridge, cilantro, and lime to taste.
It's time for tacos, but let's skip the tortillas! If you have leftover quinoa or chicken from last night's dinner, toss some in with rinsed black beans to boost the protein count. While you're at it, chop up all your favorite fillings—tomatoes, avocado, cilantro, red onions, and lettuce'and mix it into a salad. But take a pass on the expected sour cream. If you really need some creaminess in the mix, a dollop of Greek yogurt tastes just as good, and help heal your digestive tract with its ample concentration of probiotics.
Smoked Salmon Avocado Toast
What You Need: Smoked salmon, avocado, whole-wheat toast, lemon juice
Who said the avocado toast trend was just for brunch? This open-faced sandwich is a favorite of ours because it's chock-full of protein and fiber—two macronutrients that are known to extend feelings of fullness and keep you from reaching into your snack drawer soon after lunch. But be warned: use no more than half of this green-tinged fruit at a time; laden with calorie-dense healthy fats, avocados can sneak excess calories into your diet.
What You Need: Chickpeas, green beans, kidney beans, olive oil, dill, lemon juice
Need to get rid of the canned beans from your pantry? This recipe is simple, delicious, and will keep you satisfied for hours. The magic behind beans' satiety is simple: they're packed with digestion-slowing fiber. In fact, kidney beans are so rich in fiber, just a half-cup contains 14 grams or nearly 50 percent of your daily recommended intake! And if you're not a fan of bean salads, consider this versatile mix as a base for your chicken dish, or the perfect topping for a lettuce salad.
What You Need: Chicken breast, grapes, green onion, dijon mustard, pecans, plain Greek yogurt
Yes, you can eat that delicious, creamy chicken salad and feel good about it! By replacing mayonnaise with plain Greek yogurt, you can indulge in this oldie-but-goodie dish while keeping that belly flat thanks to yogurt being low in inflammatory fats and high in muscle-building protein. To double down on your weight-maintenance efforts, replace your sandwich bread with lettuce. Low-calorie and hydrating, lettuce is a great base for this refreshing take on a chicken salad.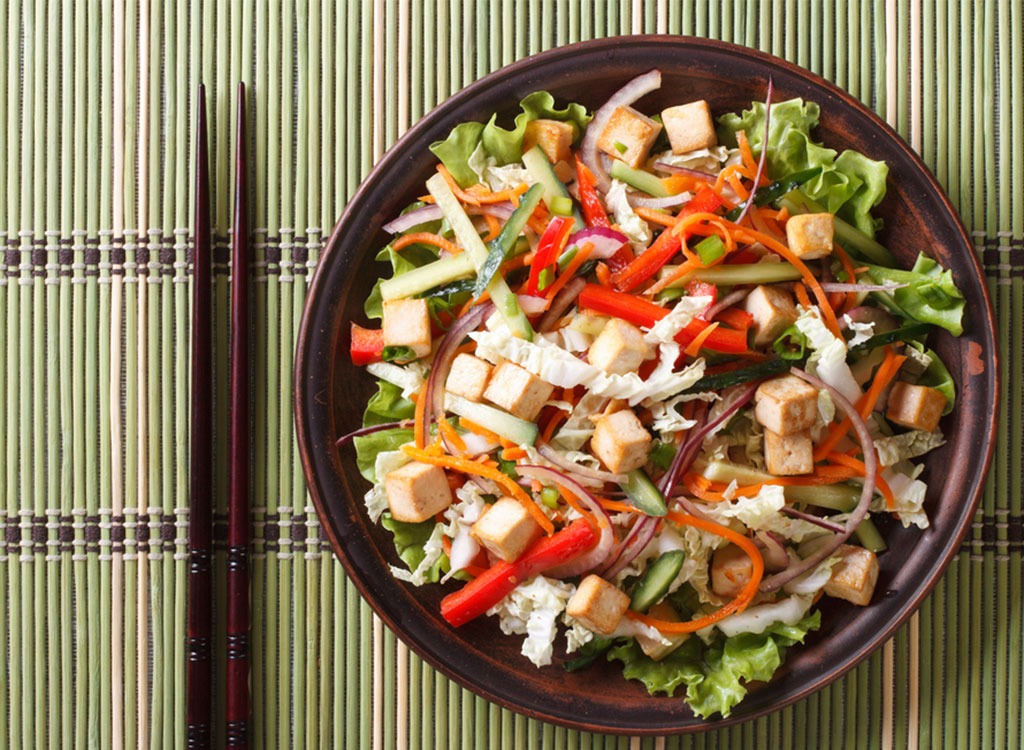 What You Need: Chicken, brown rice, red cabbage, shredded carrots, edamame, mandarin oranges, lettuce of your choice, homemade dressing (peanut butter, low-sodium soy sauce, white vinegar, crushed red pepper flakes, and a splash of water)
We love this colorful salad; it's filled with protein, fiber, and delicious savory flavors. Thanks to the protein from the chicken and edamame you'll be sure to stay full until it's time to eat again. Protein isn't the only macronutrient that will help curb your hunger cravings. You can also thank fiber. Brown rice has almost double the amount of fiber compared to white rice. And when you eat fiber-rich foods, your daily energy will increase, along with your ability to lose weight.