Chewy Oatmeal Chocolate Chip Cookies
With a dash of sea salt, you're not going to be able to resist this treat.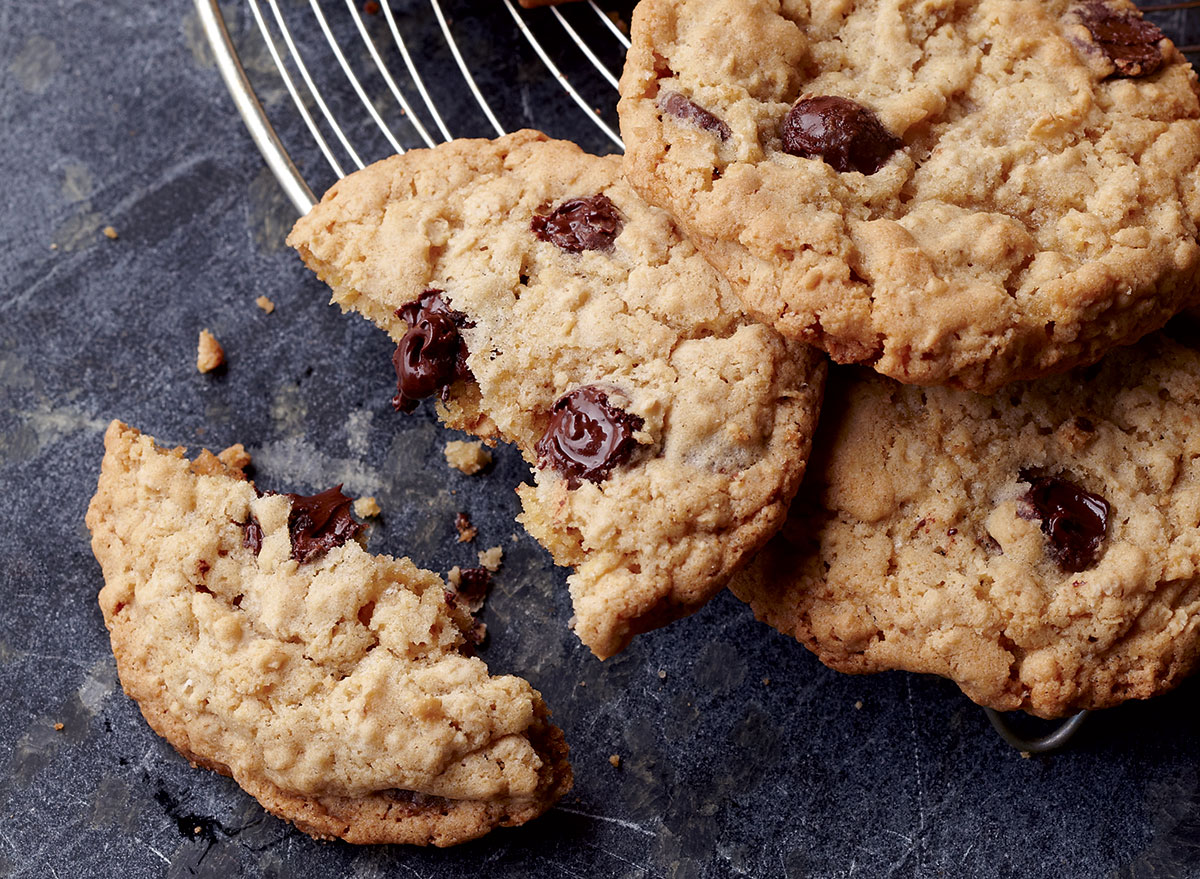 The wonder of oatmeal chocolate chip cookies lies in the texture: a perfectly chewy interplay of butter-softened flour and baked oats, with a surprising jolt of chocolaty goodness. The oatmeal provides a great opportunity to bring a healthy ingredient to a dessert.
When it comes to cutting calories with our cookie consumption, we'd rather enjoy a first-rate cookie in a slightly smaller portion than eat an oversized lackluster specimen that takes out the good stuff. The oatmeal chocolate chip cookies in this recipe are just as delicious as the ones your mom used to make you, only with an extra pinch of sea salt, which plays off the chocolaty sweetness in mysterious and magical ways and packs an amazing combined punch on your tastebuds. Serve with an ice cold glass of milk (dairy or otherwise), but we didn't need to tell you that, did we?
Nutrition: 200 calories, 8 g fat (4.5 g saturated), 18 g sugar6254a4d1642c605c54bf1cab17d50f1e
Makes About 14 Cookies
You'll Need
1 cup flour
1 cup rolled oats
3⁄4 tsp baking powder
1⁄2 tsp baking soda
1⁄2 tsp sea salt
1⁄3 cup butter, softened
1 extra-large egg
1 tsp vanilla extract
1⁄2 cup light brown sugar
1⁄2 cup sugar
1⁄2 cup dark chocolate chips
How to Make It
Preheat the oven to 375°F.
Combine the flour, oats, baking powder, baking soda, and salt in a large mixing bowl.
In a separate mixing bowl, beat the butter, egg, vanilla, and both sugars until you have a uniform consistency.
Add the flour mixture to the bowl, mixing gently to combine. Mix in the chocolate chips.
Cover a cookie sheet with nonstick spray.
Drop the dough on the sheet by generous tablespoons, keeping the cookies at least 2 inches apart.
Bake for 10 to 12 minutes, just until the edges of the cookies begin to brown.
Cool for a few minutes before eating.
Eat This Tip
Here are a few suggestions on how to convert this oatmeal chocolate chip cookies recipe into a dairy and gluten-free option for the lactose intolerant or the vegans in your life. Instead of eggs, applesauce can make a great alternative, and they're also gluten-free; in place of regular flour, try almond or coconut flour, and in place of dairy butter, use a soy butter alternative.