12 Old-Fashioned Ballpark Foods You've Got To Try at Least Once
From shelled peanuts and popcorn, to ice cream in plastic hats and ice-cold beer.
Baseball is a taste of nostalgia. Fans of the game will always remember that first game ever and who brought them to it. They will still hear the sound of stadium cheers after the final strikeout. And there's no mistaking the smell of cooking hot dogs, buttered popcorn, or any of the old-fashioned iconic foods and drinks you can only get at the ballpark.
While we aren't claiming that baseball stadium food is healthy, there is a place in a healthy diet for joyful eating, and that is what reliving nostalgic foods is all about. As the playoffs get underway, here's your chance to reminisce about all the treats you could be enjoying. From shelled peanuts and popcorn, to ice cream in plastic hats and ice-cold beer, here are 12 stadium foods and sips that you'll want to catch. After all, they are very much part of the fabric of the national pastime and as American as baseball itself.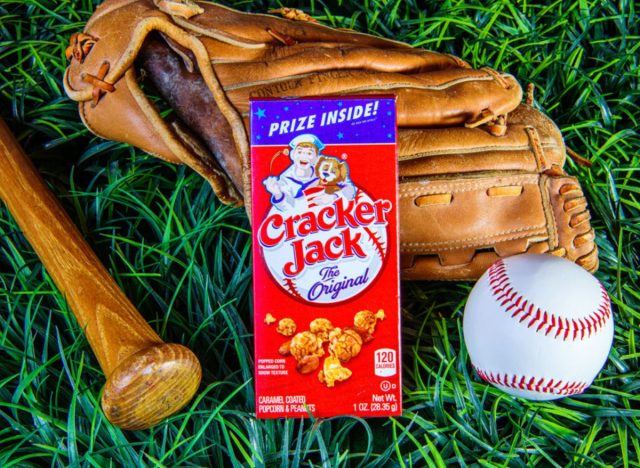 "Buy me some peanuts and Cracker Jack…" The iconic baseball song, Take Me Out to the Ball Game, says it best: peanuts and baseball are great teammates. The legendary song is still played at baseball stadiums around the country and fans still sing along with a bag of peanuts and a box of sweet-and-salty Cracker Jack. These are timeless baseball snacks.
If you grew up in Minnesota and went to the stadium to see the Minnesota Twins play, you probably fondly remember enjoying a Kemps Malt Cup—a chocolate malt ice cream cup with a wooden spoon. Kemps was associated with local stud Joe Mauer who played many years with the Twins. You can buy the malt cups in grocery stores in the Midwest, but sadly not at Target Field, the Twins stadium, any longer.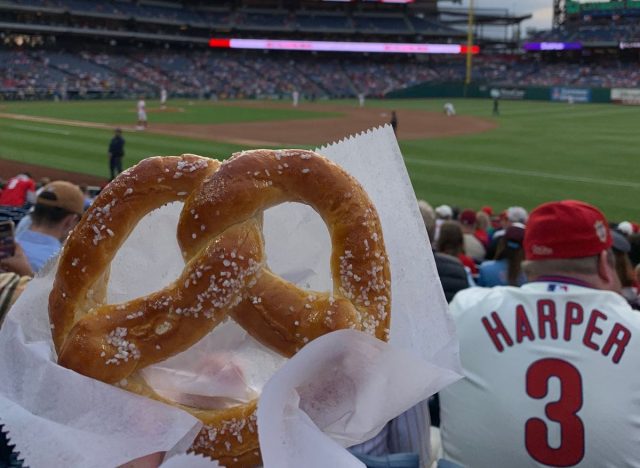 Yes, big salted pretzels are uber popular this time of year at Oktoberfest festivals. But the favored German snack has also been a summer favorite of baseball fans forever. And still are. A salty soft pretzel and cold beer—a ground rule double.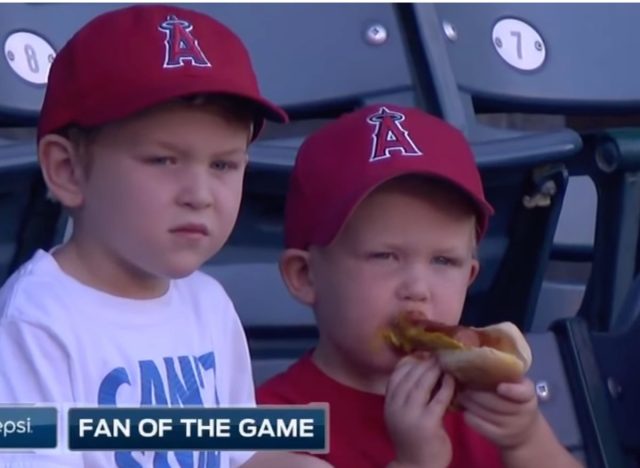 It's believed that the first hot dogs were first sold at ball games in 1893 at Brown Stockings games (now the St. Louis Cardinals). Ballpark hot dogs are a true flavor of the team and have home-field advantage—Fenway Park in Boston, the oldest ballpark in the MLB, is where you'll find Fenway Franks—and condiments like relish. In Los Angeles, they are called Dodgers Dogs and at Yankee Stadium, Nathan's hot dogs are the regional favorite, and sauerkraut is relished, not relish.
Cheap beer in a souvenir plastic cup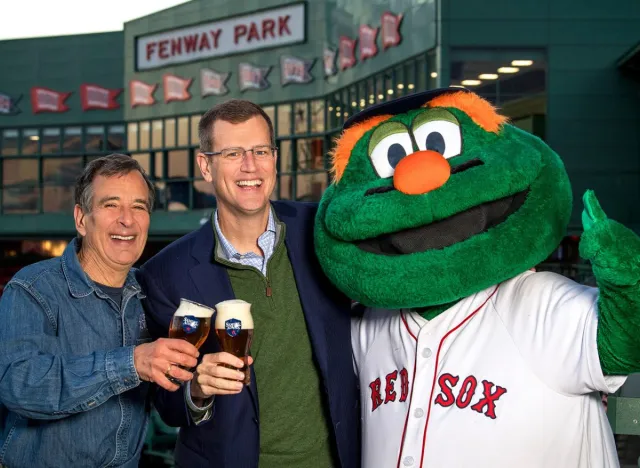 "Get your beer here!" is something you'll hear at every ballpark. Even if you aren't a fan of a cold, frothy brew, there's something alluring about throwing back a beer while enjoying a baseball game. All stadiums serve popular brands, like Bud Lite and Coors Light, and most stadiums also give a shout-out to the local breweries, like Sam Adams at Fenway. But don't get too fancy, a Bud Lite just hits different in a big plastic cup at a stadium.
Ice cream in a plastic helmet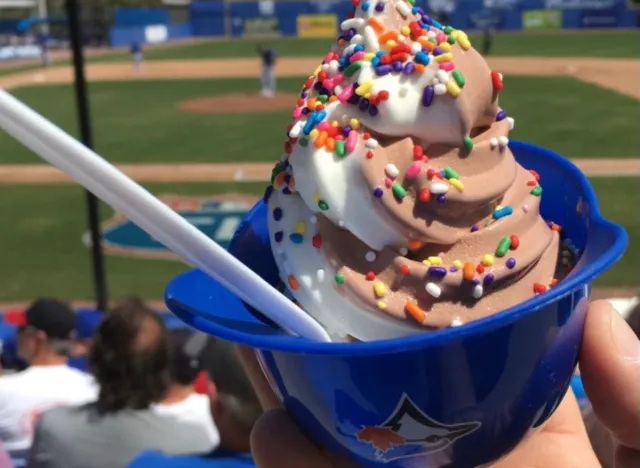 A swirl of ice cream on a warm summer night is always a hit, but soft-serve in a mini plastic helmet with the team logo stamped is the clutch hit. Kids love this novelty ice cream treat as much as their parents. What's not to love—soft serve ice cream and a keepsake helmet with your favorite team?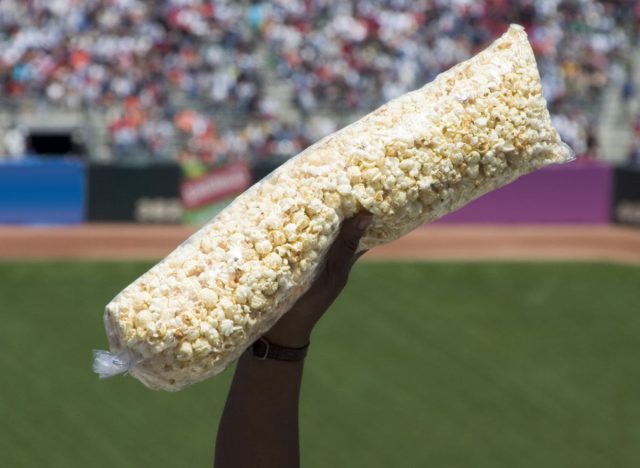 A big carton of popcorn is perfect for sharing and munching—by the fistfuls—especially when the bases are loaded and the game is on the line. Not unlike watching an adventure film in a movie theatre (only much better if you love baseball). Drama and popcorn, perfect partners.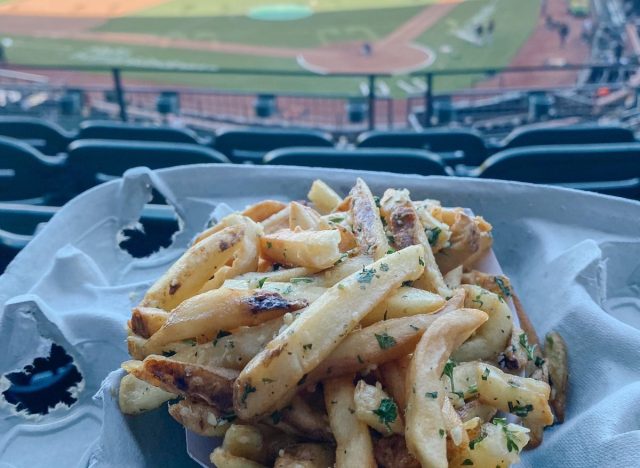 These garlicky, homespun fries are a giant hit at AT &T Park San Francisco with loyal fans and visiting team fans, too. Here's a recipe.6254a4d1642c605c54bf1cab17d50f1e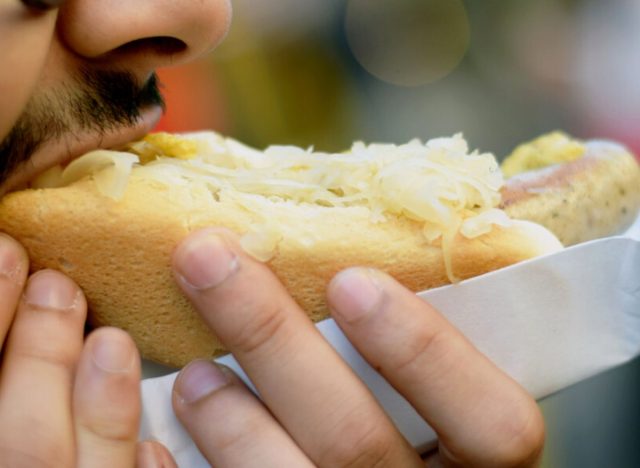 Milwaukee is king in bratwursts and the brats brewed in beer at Miller Park are legendary. There's even a sausage race between costumed brats and polish sausage at the games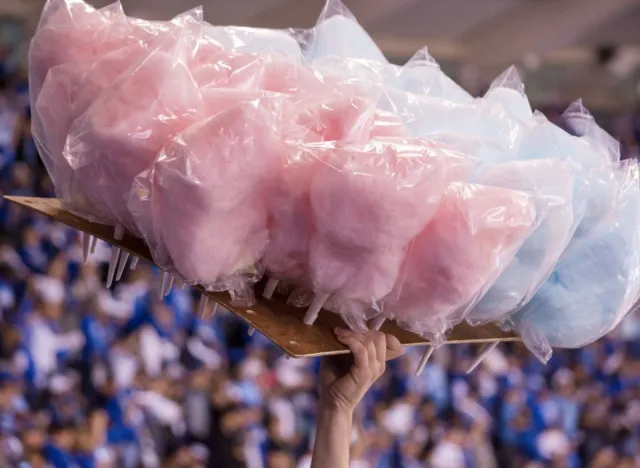 Even better than the circus, cotton candy at a baseball game is the sweet spot for baseball's youngest fans and has been for decades—every kid deserves a cotton candy and baseball game experience.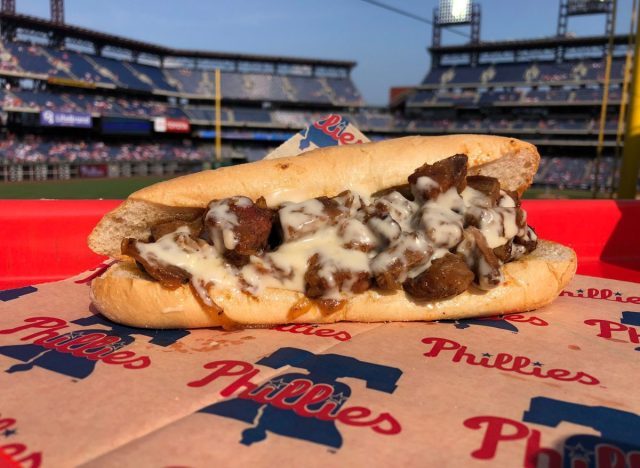 Citizens Bank Park in Philadelphia might be new, but the cheesesteaks have a history as rich as Philadelphia and are more popular than hot dogs here.
Tampa Bay has a great rich history with Cuba, and the popularity of the roasted pork Cuban sandwich sold at Tropicana Field is a good example. Cuba and the U.S. of course have a long shared history and love of baseball and this sandwich is a much-loved reminder.