8 Hot Dogs That Use the Highest Quality Ingredients
Grilling up this American classic? Consider one of these healthier options.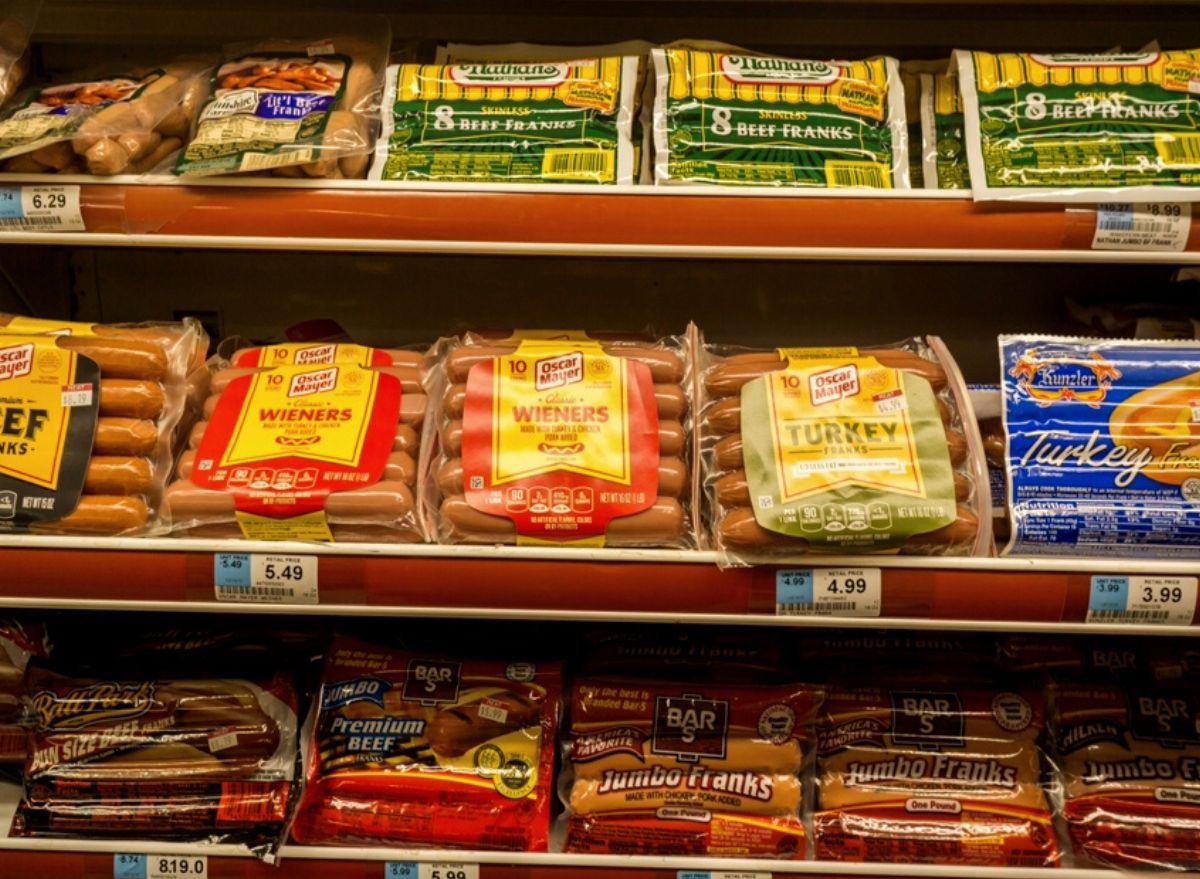 According to the National Hot Dog and Sausage Council, people in America have been scarfing down hot dogs for about 150 years. Hot dogs similar to the ones we eat today first became popular in New York City in the 1860s thanks to German immigrants. By the 1890s, hot dogs were everywhere as a ballpark staple and a fixed part of the American culinary scene.
Today, people associate this favorite eat with summer cookouts, fairs, camping trips, and, of course, sporting events. We eat, as a nation, an estimated 20 billion hot dogs each year. Which is a lot of dogs. If you're among the number of people who will be contributing to that staggering data, it's a good idea to choose as healthy a hot dog as you can, because many hot dogs are made with pretty low-quality ingredients.
But for the record, per nutritionists interviewed by Healthline, even higher-quality, healthier hot dogs are still best treated as a treat. "Hot dogs are still processed meat and should be eaten occasionally, at best," a health writer there said. If you are looking for the healthiest hot dog, here are the brands that use the highest quality ingredients.
Applegate Farms' the Great Organic Uncured Beef Hot Dog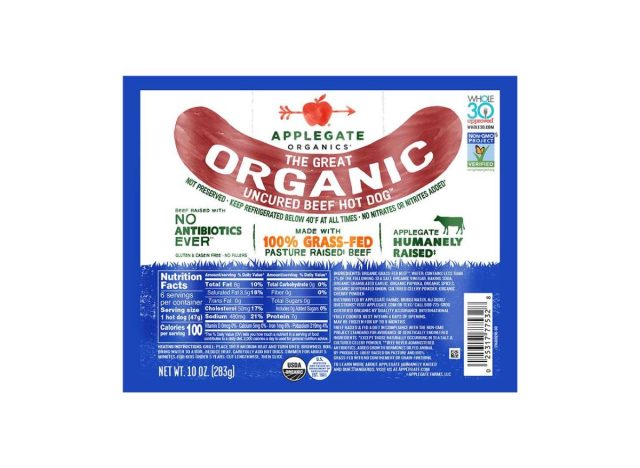 These hot dogs are about as healthy as you can get in the hot dog world. And as they're made with organic beef and feature 12 organic herbs and spices, they are pretty tasty, too. Applegate's Great Organic Uncured Beef Hot Dog has seven grams of protein, just eight grams of fat, 480 milligrams of sodium, and only 100 calories per dog. This means you may end up eating two, but that's your life choice.
Upton's Naturals Updog Vegan Hot Dog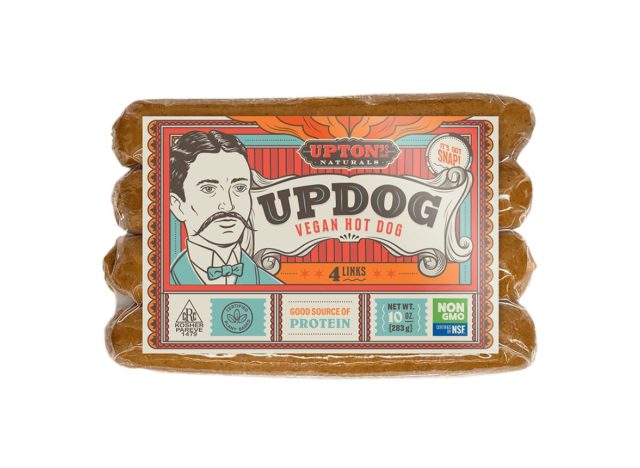 These 100% vegan hot dogs are made primarily from seitan—which is made of wheat gluten—that replicates the texture of meat well, and with a blend of flavors that create a true hot dog taste. More to the point, one 160-calorie Updog is a great source of protein, with 18 grams per serving. The fat is quite low at just six grams per hot dog, while the sodium is less than ideal, at 660 milligrams.
Organic Valley Organic Uncured Grass-Fed Beef Hot Dogs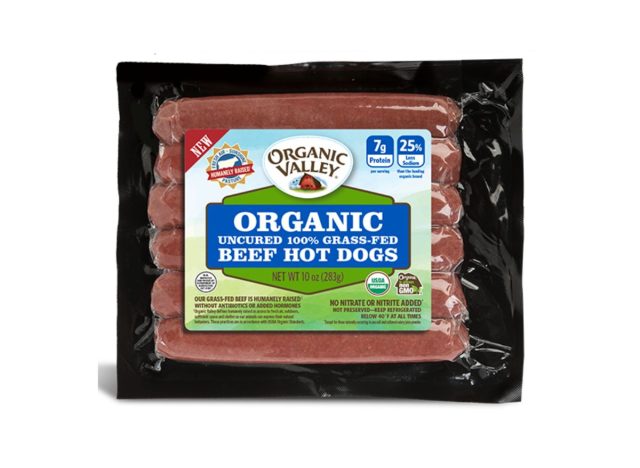 These organic all-beef hot dogs closely match Applegate's The Great Organic Beef Hot Dog. They have a bit more fat, at 11 grams, yet less sodium, at 370 milligrams per hot dog. And that's impressive, given that the serving size is larger: each of these hot dogs clocks in at 130 calories, which is still good and lean. And with seven grams of protein, they're a moderate source of that needed nutrient.
Bell & Evans Uncured Organic Chicken Franks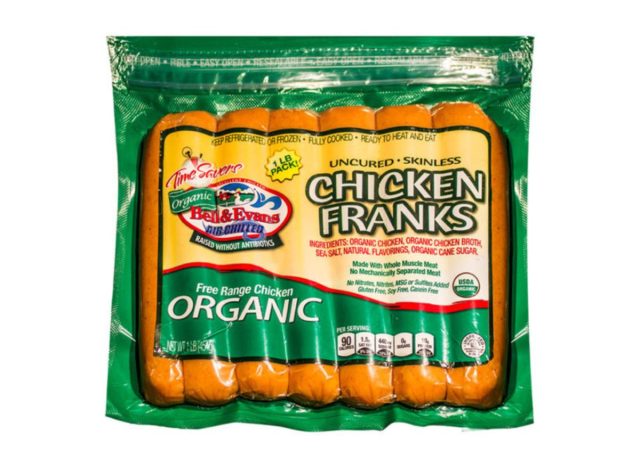 Free of additives, hormones, and fillers, these organic chicken hot dogs are a great source of protein in a relatively lean package. They have 11 grams of protein per frank, and that's from a 140-calorie serving. The fat is comparable to many beef hot dogs at 11 grams, while the sodium is a bit higher, at 550 milligrams, but it's still not nearly what you see with heavily processed hot dogs from myriad national brands.6254a4d1642c605c54bf1cab17d50f1e
Organic Valley Uncured Pasture-Raised Turkey Hot Dogs
These turkey hot dogs are protein powerhouses given their small calorie count. One 60-calorie Organic Valley Turkey Hot Dog has eight grams of protein—compare that to a 130-calorie beef hot dog with seven grams. They are also low in fat at just three grams, and with just one gram of saturated fat per hot dog. However, these turkey dogs are relatively salty, with 350 milligrams of sodium per that 60-calorie hot dog.
Applegate Naturals Stadium Beef & Pork Hot Dog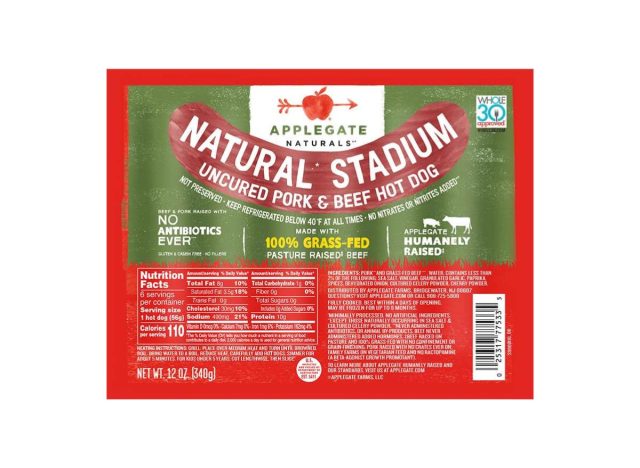 Some people insist on all beef hot dogs, some prefer turkey dogs, while some like a blend of meats, in true classic hot dog/sausage form. If you're in that latter camp, these hot dogs from Applegate Naturals (note, that does not imply organic) are a good choice. Made from, as you can guess, a blend of beef and pork (and lamb casing, FYI) they don't feature any preservatives or chemicals, and a 110-calorie hot dog has 10 grams of protein, eight grams of fat, and 490 milligrams of sodium.
Lightlife Smart Dogs Plant-Based Hot Dogs
Lightlife puts its money where its mouth is with these exceptionally "light" hot dogs, as in low-calorie. Made primarily from water, soy protein isolate, soybean oil, and raw cane sugar, each hot dog has only 60 calories and yet they pack in eight grams of protein. The fats are very low at two grams per dog, and the sodium is modest at 350 milligrams.
365 Organic Uncured Grass-Fed Beef Hot Dogs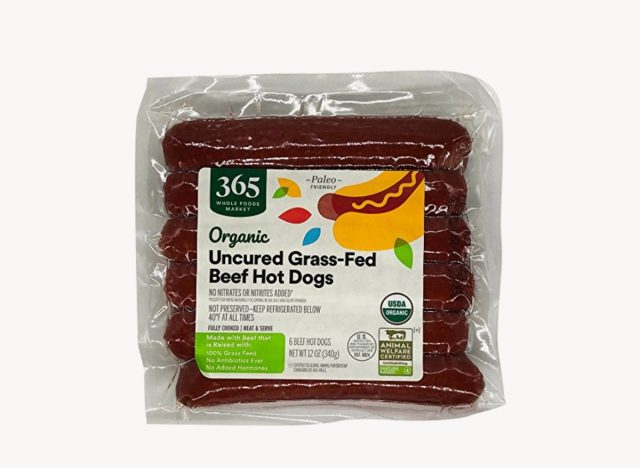 These organic Whole Foods brand hot dogs have a bit more fat than many comparable dogs, at 10 grams per 130 calories, and the protein is in the middle, with nine grams. The sodium is decent, at 400 milligrams, while they have zero added sugars and are very low in carbs. What sets them apart, frankly, is that for an organic hot dog, they are a very good price.
Steven John
Steven John is a freelancer writer for
Eat This, Not That!
based just outside New York City.
Read more about Steven