A Savory and Sweet Olive Oil Ice Cream Recipe
It's the perfect way to add some flavor to the basic vanilla scoop.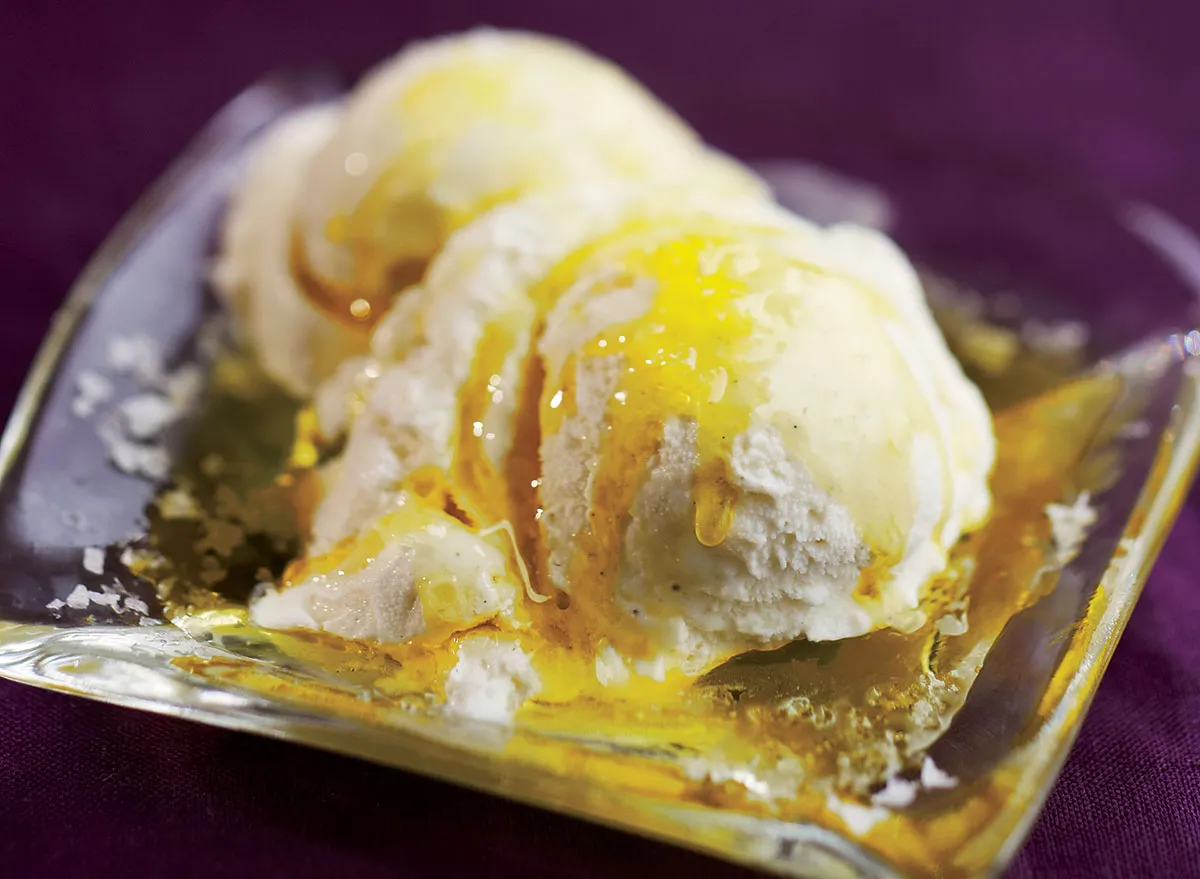 Studies show that a variety of taste sensations (salty, sweet, spicy) better satisfy the appetite than a single dominant flavor. Maybe that explains just how easy it is to spoon your way mindlessly through a pint of super sweet Ben & Jerry's. This dish (inspired by Iron Chef Mario Batali and his New York restaurant Babbo) taps into that principle, contrasting the smooth sweetness of vanilla ice cream with the flaky crunch of sea salt and the rich, spicy notes of extra-virgin olive oil. The combination is elegant and strangely addictive—and a small bowl will squash your sweet tooth for less than 300 calories. If you compare this recipe to two scoops of Ben and Jerry's Vanilla Ice Cream, you'll save 140 calories. Plus, olive oil contains lots of health benefits, such as anti-inflammatory properties and lots of antioxidants and can help to protect against heart disease. As if you needed an extra excuse to eat ice cream. Enjoy!
Nutrition: 240 calories, 18 g fat (6 g saturated), 15 g sugar
You'll Need
4 large scoops vanilla ice cream (we like Breyers All Natural)
2 Tbsp extra-virgin olive oil (This is a moment to spend a few extra dollars and get a tasty flavorful bottle of olive oil.)
Flaky sea salt (optional, but delicious and recommended! Our favorite sea salt is called Maldon sea salt. Skimmed from a saltwater river in England, these delicate crystals provide amazing crunch and a burst of briny joy.)
Cashews
How to Make It
Divide the ice cream among 4 cold bowls.
Drizzle with the olive oil and a generous pinch of salt. Scatter a handful of cashews (if using) over the top.
Eat This Tip
Secret Weapon: Breyers All Natural Ice Cream
The first ingredient in most American ice creams is heavy cream, which is why an average scoop of plain vanilla packs about 200 calories and 13 grams of fat. Breyers All Natural, though, starts with milk, which makes for a lighter scoop; Breyers Natural Vanilla has just 130 calories and 7 grams of fat. And unlike additive-laden low-fat ice creams, this one has just five ingredients. Make Breyers your go-to brand for all your ice cream needs, and you won't be sorry you did!
This recipe (and hundreds more!) came from one of our Cook This, Not That! books. For more easy cooking ideas, you can also buy the book!6254a4d1642c605c54bf1cab17d50f1e