One Major Side Effect of Eating Sweet Potatoes, Says Science
That small potato really can do a lot for your body!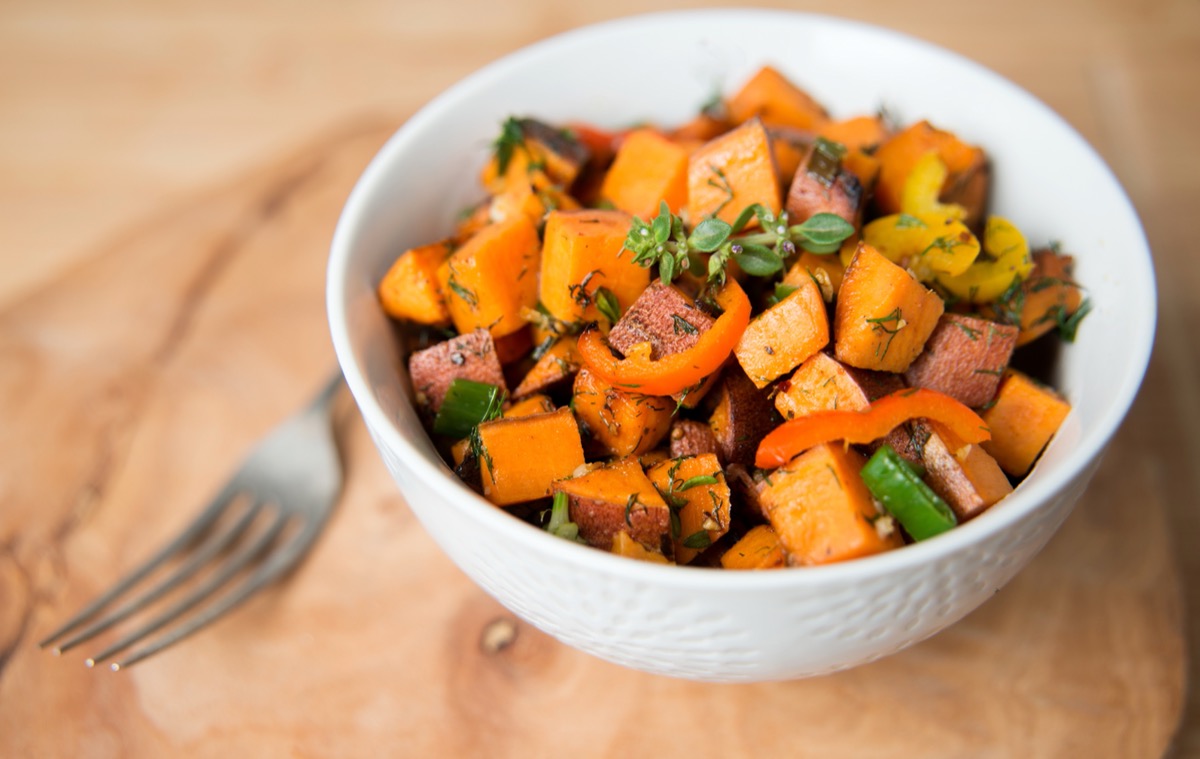 There's no denying that sweet potatoes are one of the healthiest foods you can eat. Sweet potatoes are full of all kinds of nutrients that are incredible for your body—like fiber and even protein. However, out of all of the different macro and micronutrients in sweet potatoes, there's one nutrient in particular that gives you quite the health boost when eating sweet potatoes, and that's vitamin A.
Here's why you should pay attention to this number one side effect of eating sweet potatoes and vitamin A, and for even more healthy eating tips, be sure to check out our list of The 7 Healthiest Foods to Eat Right Now.
Why it's important to get enough vitamin A in your diet.
According to the USDA, one cup of cubed sweet potato contains 377% of your daily recommended vitamin A intake for the day. Yes, that number is real. The boost of vitamin A is coming from the beta carotene in sweet potato, which converts to vitamin A in your body. Beta carotene can be found in all kinds of orange and yellow vegetables you love like carrots, butternut squash, and even bell peppers.
Beta carotene is known for doing a lot of things for your body including improved eye health, brain health, lung health, and even your skin health. But one of the most significant side effects of eating sweet potatoes is the cancer-fighting properties found in beta carotene. One study published by the journal Diseases shows how foods that are rich in antioxidants can help protect your body against the development of certain kinds of cancers. Beta carotene is one of the antioxidants providing your body with this kind of protection.
Along with sweet potatoes, here are The 12 Best Vitamin A Foods For Skin, Hair, and Eye Health.
Can you overdo it on vitamin A?
According to the National Institute of Health, the recommended daily allowance (RDA) of vitamin A is 900 micrograms for men and 700 micrograms for women. One sweet potato baked in the skin contains 1,403 micrograms of vitamin A, which is double the amount you really need.6254a4d1642c605c54bf1cab17d50f1e
Studies show that overdoing vitamin A can cause some damage to your health, which can lead to hypervitaminosis A. This means the excess vitamin A stores in your liver and can accumulate over time, causing vitamin A toxicity to develop, according to Healthline.
So does this mean we should avoid sweet potatoes? Absolutely not. In fact, these studies show that overdoing it on vitamin A supplements lead to vitamin A toxicity, not from food, according to Harvard Health. That sweet potato is still perfectly fine for your body to digest, and as already mentioned, it can do a lot for your body.
The only side effect of eating too many sweet potatoes at once would be discolored yellow skin. But we have a feeling you'll likely eat the right portion of sweet potatoes at a time. A cup of cubed sweet potatoes, or one medium-sized sweet potato, usually is about one serving for a person. If you're not sure how to correctly portion out your food, here are 18 Easy Ways to Control Your Portion Sizes.