Healthy Orecchiette With Broccoli Rabe Recipe
This pasta dish is so pretty, you might not want to eat it, but it's too tasty to resist!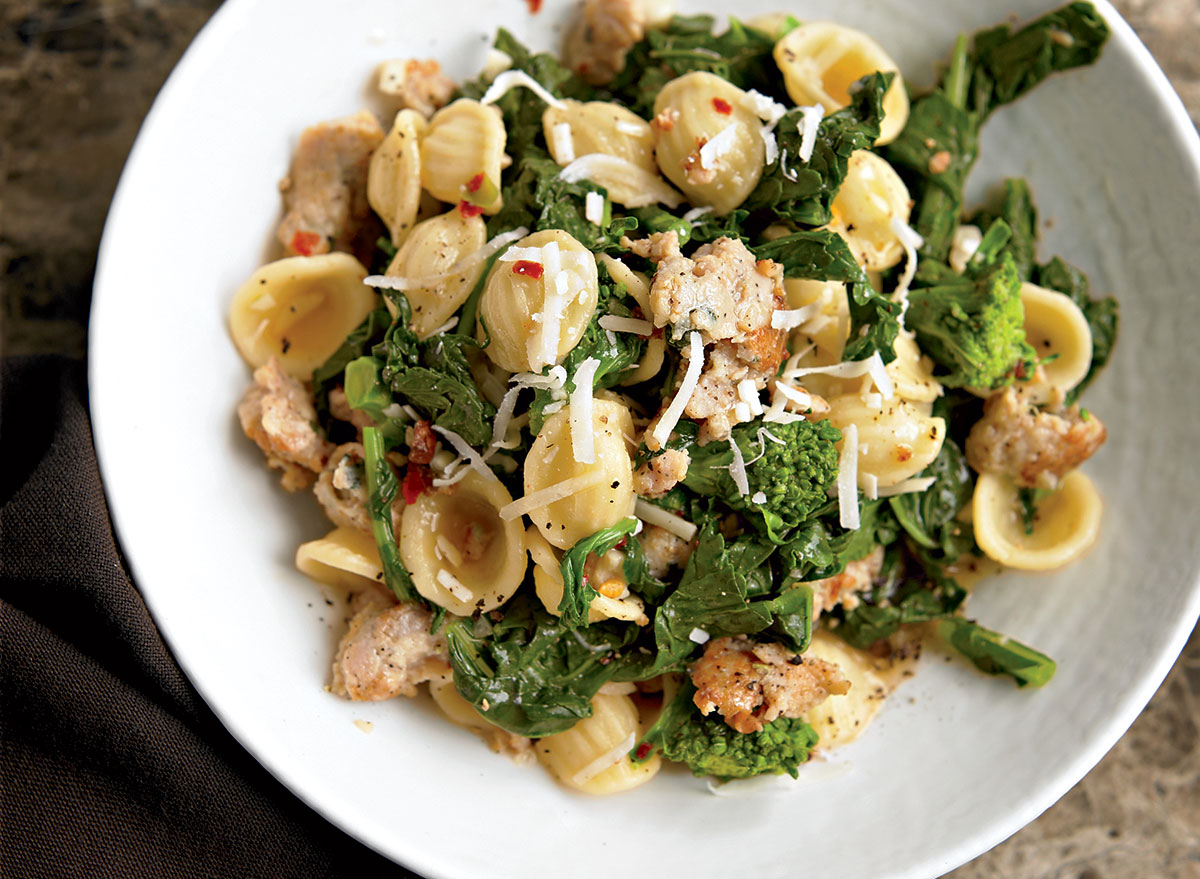 American chain restaurants are two-trick ponies when it comes to pasta. The first pasta they love involves noodles covered in a red sauce spiked with ground meat, meatballs, or Italian sausage. The second, more dangerous, go-to is pasta studded with chicken and shrimp, maybe a few vegetables, then drowned in butter and cream. The former is better than the latter, but both ignore the amazing diversity—and fundamental healthfulness—of regional Italian pasta cookery. This classic combines slightly bitter, peppery broccoli rabe (or, if you can't find rabe, regular broccoli) and lean crumbled sausage with orecchiette, little ear-shape pasta shells that cup the sauce beautifully.
Nutrition: 345 calories, 8 g fat (1.5 g saturated), 410 mg sodium
Serves 4
You'll Need
1 bunch broccoli rabe, bottom 1" removed
10 oz orecchiette pasta
1⁄2 Tbsp olive oil
2 link sun cooked turkey or chicken sausage, casings removed
4 cloves garlic, minced
1⁄4 tsp red pepper flakes
3⁄4 cup low-sodium chicken stock
Salt and black pepper to taste
Pecorino Romano or Parmesan6254a4d1642c605c54bf1cab17d50f1e
How to Make It
Bring a large pot of salted water to a boil. Drop in the broccoli rabe and cook for 3 minutes.
Use tongs to remove the greens and the chop into 1⁄2" pieces.
Return the water to a boil. Cook the pasta until al dente.
While the pasta cooks, heat the olive oil in a large skillet over medium heat.
Add the sausage and cook for about 5 minutes, until lightly browned, then add the garlic and pepper flakes and sauté for another 3 minutes.
Stir in the chopped broccoli rabe and chicken stock and lower the heat to a simmer.
Season with salt and pepper.
Drain the pasta and toss immediately into the pan with the sausage and greens.
Toss the pasta (if the mix looks dry, use a bit of the pasta cooking water to loosen it up).
Serve immediately with freshly grated cheese.
Eat This Tip
Calorie Cutting:
A serving size of pasta in Italy is about 6 ounces; here, many restaurant noodle bowls top 2 pounds. We've used more modest serving sizes for the noodles in the book's pasta recipes, but kept the sauce portions more substantial. That means the pasta-to-sauce ratio will skew toward the latter, which makes for a more satisfying meal for fewer calories.
This recipe (and hundreds more!) came from one of our Cook This, Not That! books. For more easy cooking ideas, you can also buy the book!