21 Overnight Recipes That Cook Themselves
Too busy in the morning to make a healthy breakfast and too tired at night to cook up something that will satisfy you?
If you can totally relate to running out the door in the AM rush and getting home after a long day with the desire to just relax, we feel your pain. So, we've rounded up a few of our favorite recipes that'll be waiting for you whenever you please—without all the agonizing stress of putting them together. Whether you're feeling lazy or always in a hurry, these overnight dishes are the simple fix. Put aside some time on the weekend when your not so crazy busy and throw together these recipes for the rest of the week. And for everyone's favorite overnight recipe, check out these 50 Overnight Oats Recipes for Weight Loss.
Greek Eggs Breakfast Casserole
Serves: 4
Nutrition: 295 calories, 19.8 g fat (7.6 g saturated fat), 749 mg sodium, 8.9 g carbs, 1.7 g fiber, 3.7 g sugar, 22.1 g protein
Eggs are always a great way to start off the day with a substantial amount of protein. Unlike tons of prepackaged breakfasts, eggs contain egg-zactly what they say they do: Eggs. This recipe is the perfect example for how you can make all your breakfasts for the week in just one single pot and there's no extreme techniques or skill needed.
Get the recipe from Whitney Bond.
Chocolate Chia Seed Pudding
Serves: 4
Nutrition: 144 calories, 8 g fat (1.2 g saturated fat), 187 mg sodium, 17 g carbs, 8.6 g fiber, 9 g sugar, 5.3 g protein
Chia pudding is a trendy favorite for all the health enthusiasts out there because of how compact with nutrients these little seeds are. These tiny superfoods contain enough vitamins and minerals to help aid weight loss, balance blood sugar, and cut cravings with such a low amount of calories! When combined with liquid they because a pudding like texture that will have you feeling like you're in 5th grade again. If you love chia seeds, don't miss these 50 Best Chia Seed Recipes.
Get the recipe from Minimalist Baker.
Serves: 12
Nutrition: 212 calories, 6.9 g fat (1.8 g saturated fat), 53 mg sodium, 34.3 g carbs, 2.4 g fiber, 15.7 g sugar, 5.5 g protein (calculated with quinoa instead of pretzels and rice cereal, cacao nibs instead of chocolate chips and honey)
A snack bar without fake sugars and unnecessary additives is hard to find these days. So why not make your own at home? That way you'll know every ingredient going into them without worrying if you're ingesting any of those gross chemicals. Here I swapped out a few different ingredients to get even more benefits like more protein from the quinoa and less sugar with cacao nibs. There are plenty more options that you can try to find your favorite too!
Get the recipe from Running with Spoons.
Serves: 5
Nutrition: 355 calories, 21.7 g fat (16.6 g saturated fat), 51 mg sodium, 39.5 g carbs, 3.7 g fiber, 18.7 g sugar, 4.8 g protein (calculated with 2 tablespoons of honey)
Creamy, coconutty rice is a texture bomb in your mouth. They're easy to assemble and a comforting treat to indulge in. Careful you don't eat too much though—these sweets things are high in calories and sugar. So make sure you're proportioning right! We suggest even fractioning out each serving before eating so you know when it's time you've had enough. For more recipes to control your portion check out these 15 Muffin Tin Recipes for Perfect Portion Control.
Get the recipe from With Style and Grace.
Kale Red Pepper Feta Frittata
Serves: 6
Nutrition: 166 calories, 11.6 g fat (4.9 g saturated fat), 334 mg sodium, 4.9 g carbs, .9 g fiber, 1.8 g sugar, 11.2 g protein (calculated without the optional sour cream topping)
Frittatas are great, yet if you're trying to get out the door they're almost impossible to bake in time. They usually take time and effort to perfect the texture and flavors, but not with this simple crock pot frittata! You throw ingredients in and let it cook itself. Make it the night before and wake up to your house smelling garden-y fresh. Get more incredible slowcooker ideas with these 35 Healthy Crock Pot Recipes.
Get the recipe from Kalyn's Kitchen.
Scrambled Tofu Breakfast Burrito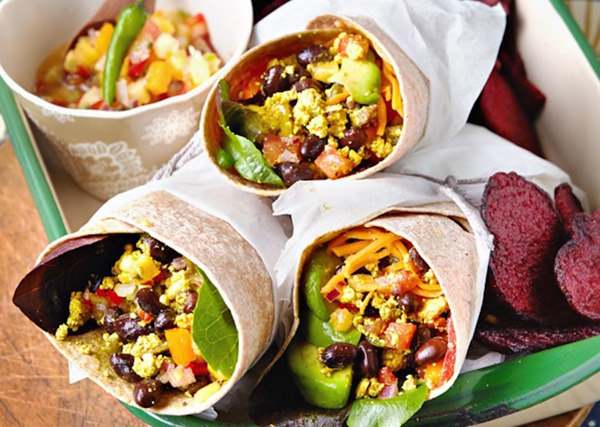 Serves: 4
Nutrition: 198 calories, 9.5 g fat, 34 mg sodium, 19.4 g carbs, 11.2 g fiber, .6 g sugar, 15 g protein
A burrito is something I'd never pass up, especially one this low in calories and high in protein! Filled with plant-based ingredients and packed with flavor, these are bound to make you start your day off right. Add some extra ingredients like fresh salsa and avocado to up the taste levels even further.
Get the recipe from Key ingredient.
Serves: 6
Nutrition: 305 calories, 7.7 g fat (1.2 g saturated fat), 599 mg sodium, 49.7 g carbs, 7.1 g fiber, 13.4 g sugar, 9.9 g protein (calculated without toppings)
This overnight recipe has a combo of quinoa and oatmeal that will get you the perfect balance of nutrients to head off to work. Scoop some out and keep the rest in the fridge for the rest of the week. Not only does this taste like heaven, it also has an aroma that will excite all your senses. Cut back on the maple syrup if you're looking to low the sugar intake and instead top with some sweet raisins or banana. And see another 15 Awesome Ways to Lose Weight With Oatmeal!
Get the recipe from Show Me The Yummy.
Turkey Chili with Sweet Potatoes
Serves: 8
Nutrition: 388 calories, 10.7 g fat (2.6 g saturated fat), 526 mg sodium, 41. 3 g carbs, 10.2 g fiber, 14.6 g sugar, 24.9 g protein (calculated without salt added)
Chili is a staple food when the temperatures drop and always a go-to cozy comfort food that will warm you in a matter of no time. A typical chili is usually filled with fatty ground beef and off the charts in sodium counts, so it's definitely something you don't want to be regularly consuming. With this easy turkey and sweet potato chili you can forget those guilty thoughts, this is a real deal meal that offers tons of nutritional benefits and leaves you completely satisfied.
Get the recipe from Laughing Spatula.
Serves: 8
Nutrition: 296 calories, 10.7 g fat (2.9 g saturated fat), 715 mg sodium, 3.9 g carbs, 1 g fiber, 1.7 g sugar, 44.2 g protein
Shawarmas are something you can easily find on the side of the NYC streets at 2am and that when you know they're bad news. They're greasy, fat-filled and total belly bloaters. But here's a simple way to clean up those handheld heart attacks and make something that is actually good for you. The yogurt sauce also adds the perfect tang to the juicy, flavorful chicken, without adding any bad fats.
Get the recipe from Well Plated.
Teriyaki Chicken Quinoa and Veggies
Serves: 6
Nutrition: 485 calories, 10.3 g fat (2.5 g saturated fat), 906 mg sodium, 58 g carbs, 3.3 g fiber, 22.6 g sugar, 39.1 g protein (calculated with low-sodium chicken broth)
Here's the ultimate take-out fake-out! Swapping the white rice with quinoa ups the protein intake and gives the dish a nuttier flavor profile. This recipe has honey and pineapple that makes for a sweet and savory dish that won't leave you with any guilt. Change up the veggies with any of your favorites, they add such a great crunch and extra vitamins and minerals!
Get the recipe from Chealsea's Messy Apron.
Serves: 7
Nutrition: 297 calories, 7.7 g fat (2 g saturated fat), 562 mg sodium, 24.4 g carbs, 4.6 g fiber, 4.6 g sugar, 32.7 g protein (calculated without rice or toppings)
Get the family together for Mexican night or bring this to a party, this simple crock pot recipe is filled with tons of spices and seasonings that'll make any crowd go wild. With all the variety of groups of food that are eaten throughout the world, legumes are the most health-supportive mix of protein and fiber. One cup of black beans has about 15 grams of fiber and 15 grams of protein. Along with the chicken and you'll have an entire day's worth of these nutrients!
Get the recipe from Two Healthy Kitchens.
Buffalo Chicken Quinoa Casserole
Serves: 4
Nutrition: 437 calories, 14.4 g fat (7.2 g saturated fat), 838 mg sodium, 35.4 g carbs, 4.5 g fiber, 4.5 g sugar, 34.3 g protein
Buffalo chicken wings are a bar-food fave, but tend to be loaded with butter and deep-fried in oils. Without all those unnecessary additives this becomes a high protein, low sugar meal that you'll be dying to try again and again. A classic order of Boneless Wings with Classic Buffalo Sauce at Applebee's has over 800 calories and over 4,000 milligrams of sodium! Ditch that stuff and put this chicken quinoa casserole in some lettuce wraps or even on its own, no matter how you eat this dish you'll love it without feeling the regrets! And while you might have excpected a lot of salt from wings, it can be a surprise when a dessert is soaked in it. See them at 20 Restaurant Desserts With More Salt Than A Bag of Pretzels.
Get the recipe from Cupcakes and Kale Chips.
Skinny Loaded Potato Soup
Serves: 8
Nutrition: 322 calories, 11.5 g fat (5.1 g saturated fat), 741 mg sodium, 48 g carbs, 4.6 g fiber, 4.8 g sugar, 10.6 g protein (calculated with low sodium vegetable broth, unsweetened almond milk and no garnishes)
Bored with that plain old potato? Whip it up in this skinny potato soup that's sure to fill you up without filling you out. Top with some of your favorite garnishes (like chives or onion) to give it that extra little bite. Potatoes health benefits are undeniable, they are absolutely fat-, sodium and cholesterol free! For more drool worthy soups that will help you lose those pounds, check out 20 Best-Ever Fat-Burning Soups
Get the recipe from The Cookie Rookie.
Serves: 16
Nutrition: 255 g, 4 g fat (2.2 g saturated fat), 278 mg sodium, 41.8 g carbs, 17.1 g fiber, 7.3 g sugars, 14.5 g protein
This red lentil curry makes for a hearty dish that can feed a crowd! Lentils are a mighty member of the legume family jam-packed with nutrients. They're extremely high in fiber and are helpful in reducing high blood sugar. They also give you that extra boost of energy. The curry spices include turmeric, which is said to be very efficient in reducing inflammation and has properties that lessen the chances of disease. Not only will this satisfy your hunger, it will also satisfy your bodies needs!6254a4d1642c605c54bf1cab17d50f1e
Get the recipe from Pinch of Yum.
Cauliflower Bolognese with Zucchini Noodles
Serves: 2
Nutrition: 215 calories, 2.2 g fat, 301 mg sodium, 44.3 g carbs, 14.5 g fiber, 24.1 g sugar, 13.9 g protein
This complete veggie meal is a super innovative way to cut back on the starchy carbs and increase your nutrient intake. Anytime you swap out the refined pastas and rices for things like zucchini and sweet potato you're bound to leave the table feeling refreshed and light. It still has the same great texture as the old stuff so it's just like you're eating the real (or really fake) thing! If you don't feel like zoodles, find out the The #1 Best Pasta for Your Body.
Get the recipe from Inspiralized.
Vegetable Curry with Chickpeas
Serves: 3
Nutrition: 292 calories, 4.7 g fat (1.8 g saturated fat), 912 mg sodium, 55.2 g carbs, 14.7 g fiber, 16.4 g sugar, 13.1 g protein
Here's a perfect shortcut to get wholesome dinner in an instant. A wide variety of vegetables can be used for the dish and always have that fresh feel. Save some for leftovers that you'll come home happy to.
Get the recipe from The Lemon Bowl.
Serves: 4
Nutrition: 222 calories, 126 mg sodium, 52 g carbs, 6 g fiber, 16 g sugar, 4 g protein
Mm, mm, mm! Sweet potatoes are a great side dish that really pack in some essential nutrients. The apple juice and spices come together to make for a semi-sweet home-y addition to any plate.
Get the recipe from Skinny Ms..
Serves: 10
Nutrition: 43 calories, .1 g fat, 1 mg sodium, 8.6 g carbs, 1.6 g fiber, 5.5 g sugar, .1 g protein (calculated with 2 tablespoons of maple syrup)
Cranberry sauce usually makes it most familiar appearance when the holidays roll around. An awesome way to cut back on some of those highly-processed, high-calories foods is to go for a all natural wholesome sauce. This is an easy swap that you can leave cooking off to the side while you prepare the other food. These 25 Ways to Cut 250 Calories are more great ways to skip some unnecessary cals.
Get the recipe from Running to the Kitchen.
Serves: 6
Nutrition: 273 calories, 20.1 g fat (12.5 g saturated fat), 640 mg sodium, 10.7 g carbs, 3.4 g fiber, 3.6 g sugar, 13.8 g protein (calculated using full fat plain greek yogurt)
Classic spinach artichoke dip is a party favorite, on almost every chain restaurant's menu, and filled with sodium and trans fats. Here is the perfect swap for making a healthy version of the old favorite. The greek yogurt adds a creamy tang to the dish and lightens up some of those heavier ingredients. Take a dive into this warm overnight dip with celery, carrots, or any other favorite veggies!
Get the recipe from Gimme Some Oven.
Serves: 12
Nutrition: 127 calories, 10.7 g fat (6.4 g saturated fat), 93 mg sodium, 4.2 g carbs, 3.9 g fiber, 1.6 g sugar, 5 g protein (calculated without frosting and using Stevia)
Carrot cake in a slowcooker sounds like a funky way to bake a dessert, but it'll all make complete sense after you try this! The texture from the combination of coconut, carrots and walnuts makes a hearty sweet crunch that will keep you satiated. Opt out of the cream cheese if you want to keep the calories low on that after dinner treat.
Get the recipe from All Day I Dream About Food.
Sugar Free Dairy Free Fudge
Serves: 30
Nutrition: 78 calories, 5.8 g fat (3.7 g saturated fat), 1 mg sodium, 10.9 g carbs, .2.7 g fiber, .1 g sugar, 1.4 g protein
Instead of reaching for that candy bar, reach for one of these! With only four ingredients they are quick and easy to put together and a fun way to satisfy that chocolate sweet tooth. If you choose to use honey the sugar will increase but with stevia you stay completely sugar free. There's not much better than a sugar free dessert when you're trying to lose 10 pounds.
Get the recipe from Sugar Free Mom.
Eat This, Not That!
Inspired by The New York Times best-selling book series, Eat This, Not That! is a brand that's comprised of an award-winning team of journalists and board-certified experts, doctors, nutritionists, chefs, personal trainers, and dietitians who work together to bring you accurate, timely, informative, and actionable content on food, nutrition, dieting, weight loss, health, wellness, and more.
Read more about Eat This