Your Complete Plan to Go Paleo for a Day
Could going Paleo work for you? A great way to find out is to go caveman for a day.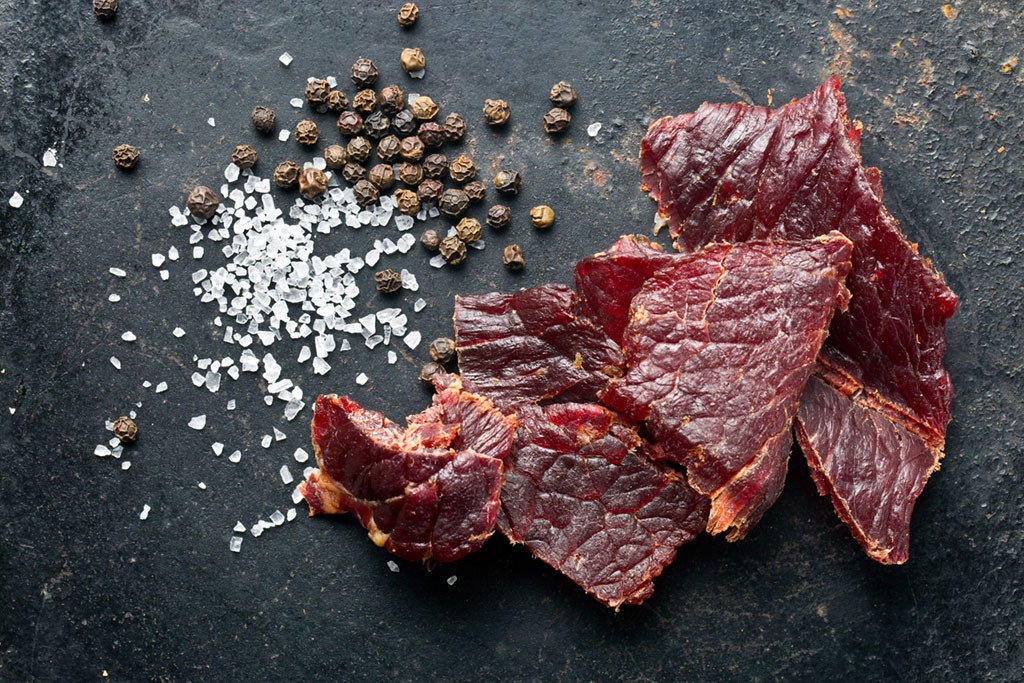 When making your weight-loss resolutions this New Year's, rather than jump ahead to 2016, why not go back—a few million years—and try the Paleo Diet? This one-day plan from Eat This, Not That! makes trying it risk-free, and cheaper than buying a DeLorean.
The Paleo Diet is based not on what cavemen did, but on what they didn't do (milk animals, grow crops, refine foods); the eating plan revolves around foods that are foraged, scavenged, hunted or caught. Proponents say we haven't yet adapted to the agricultural revolution, and that's why we're fat.
Indeed, certain studies show that the diet leads to weight loss. A rare long-term paleo study—published in the European Journal of Clinical Nutrition last year—backed this idea up. In a group of obese postmenopausal women, Paleo had the a greater impact decreasing fat mass, abdominal obesity and triglyceride levels than diets recommended by many governments.
The USDA, for example, recommends that Americans eat 6 to 11 servings of bread, rice, cereals, grains or pasta daily—all foods that simply didn't exist until our species had been anatomically "modern" for tens of thousands of years, and many of which, if consumed incorrectly, can lead to weight gain. These relatively new foods, along with dairy products, sugar, hydrogenated oils and artificial ingredients, are therefore avoided by people sticking to this way of eating.
So could going Paleo work for you? A great way to find out is to go caveman or cavewoman for a day and see if it's sustainable. Here's how to start. If you have second thoughts, be sure to look through the 50 Best Weight Loss Tips of the Year to find something that fits your lifestyle.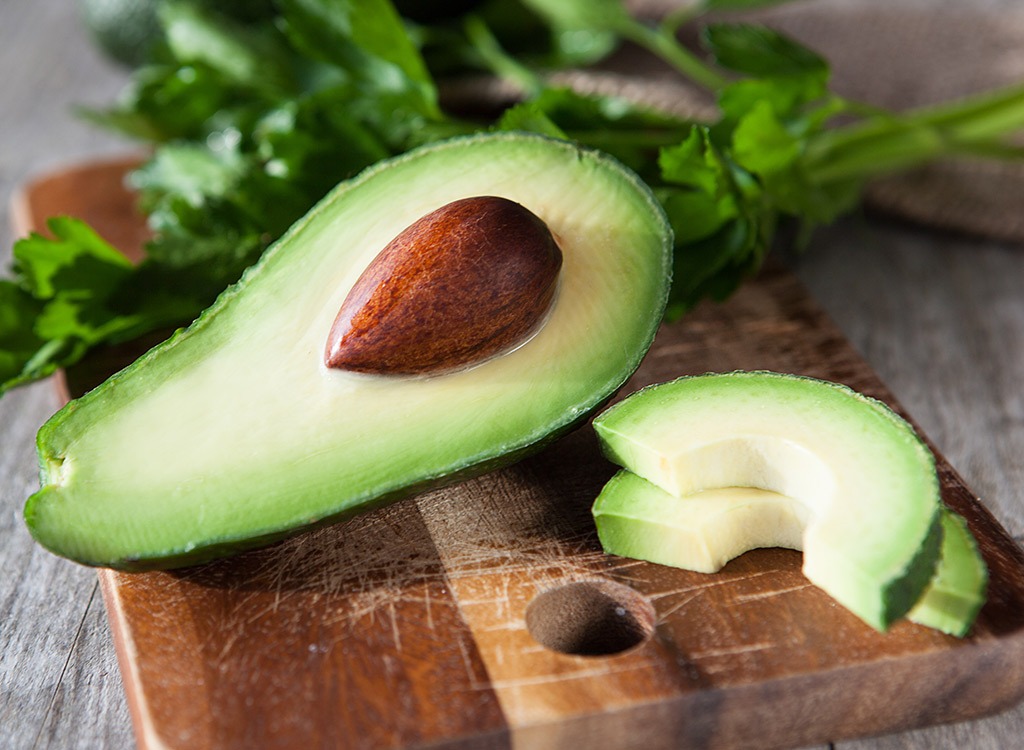 Luckily, going paleo doesn't require you to get handy with a spear or but a guide to Knowing Your Poisonous Plants. It does, however, require you to be a little more judicious when you go to the store. All-dairy and flour-based products should not find their way into your cart—remember, no farming or pasteurization. Sugar, too, is a modern crop so give that a wide berth as well—and opt for a natural sweetener like honey: a product humanfolk have been stealing from bees for eons.
Instead thinking about what you can't buy, focus on how trying paleo gives you the chance to forage for fresh ingredients like wild-caught fish and seafood (never farmed salmon!), hormone free poultry, grass-fed beef, organic vegetables, fruits, nuts, and paleo-friendly oils. If the ingredient list contains words you can't pronounce, move on.6254a4d1642c605c54bf1cab17d50f1e
There's a lot of debate in the paleo community about what is and isn't paleo compliant but if you focus on the categories of food items above in their most entire form, you won't get too far off track.
Here's what you'll need for one day, if you use the Paleo recipes below:
Half a head of cabbage
1 package of mushrooms
Walnuts for snacks
1 large heirloom tomato
5 large carrots
1 bulb garlic
1 cucumber
1 yellow or green pepper
1 avocado
2 onions
1 bulb of garlic
2 Large russet potatoes
Fresh rosemary
Lemon and limes (for juicing)
1 can of unsalted albacore tuna
Nitrate and sugar-free bacon
A dozen free range, hormone-free eggs
Organic beef jerky
1 chicken (4 lb)
Macadamia nut oil
Olive oil (optional)
Avocado oil (optional)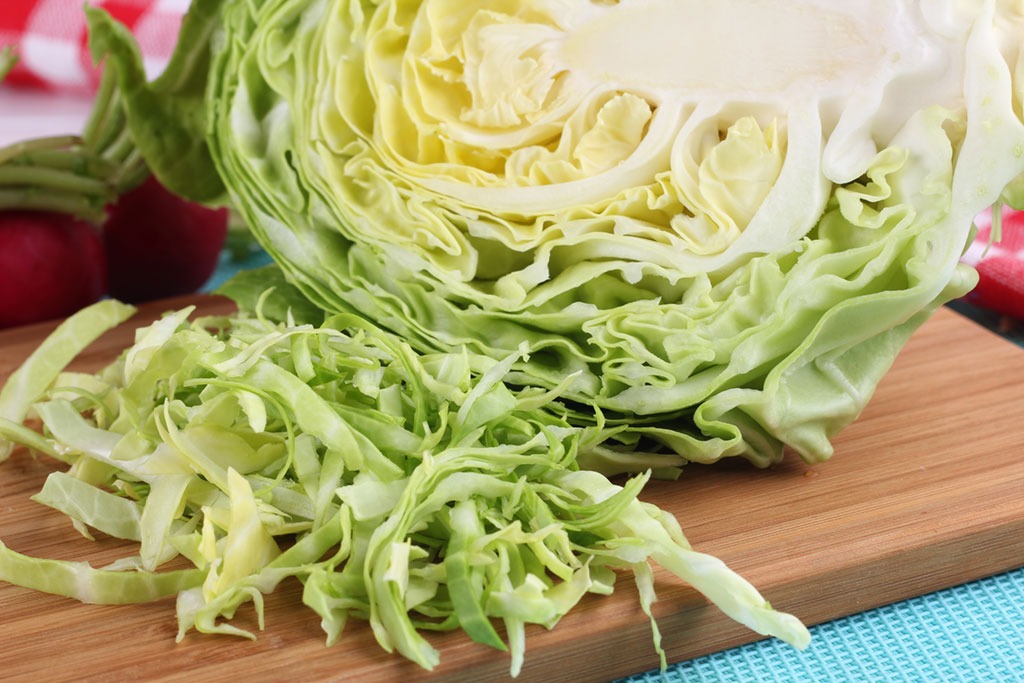 When you think breakfast, you probably don't think "cabbage"—but if you're giving paleo a go, perhaps you should. Cabbage is a great source of belly-flattening fiber. A recent study found that people who added more of it to their diets — without changing anything else — lost almost as much weight as people who followed the heart-healthy, low-fat eating plan recommended by the American Heart Association. But that's not all. Cabbage is an amazing diuretic, which means it helps you shift belly bloat from water retention.
What You'll Need
1/4 head of cabbage
1 tbsp. avocado, coconut or olive oil
A few mushrooms
2-3 slices of bacon
How to Make It
Shred cabbage thinly. Cut mushrooms and bacon into small, fork-friendly pieces.
Heat one tablespoon of avocado, coconut or olive oil— three oils that the "no vegetable oil" paleo rule doesn't apply to.
Put mixture into pan and cook until it browns, and then transfer to a bowl and eat.
*For an extra bit of protein, add an over-easy egg or two and let the nutrient rich yolk coat this wholly satisfying breakfast.
Cabbage isn't the only way to shrink your belly. Here's how to stop belly bloat fast!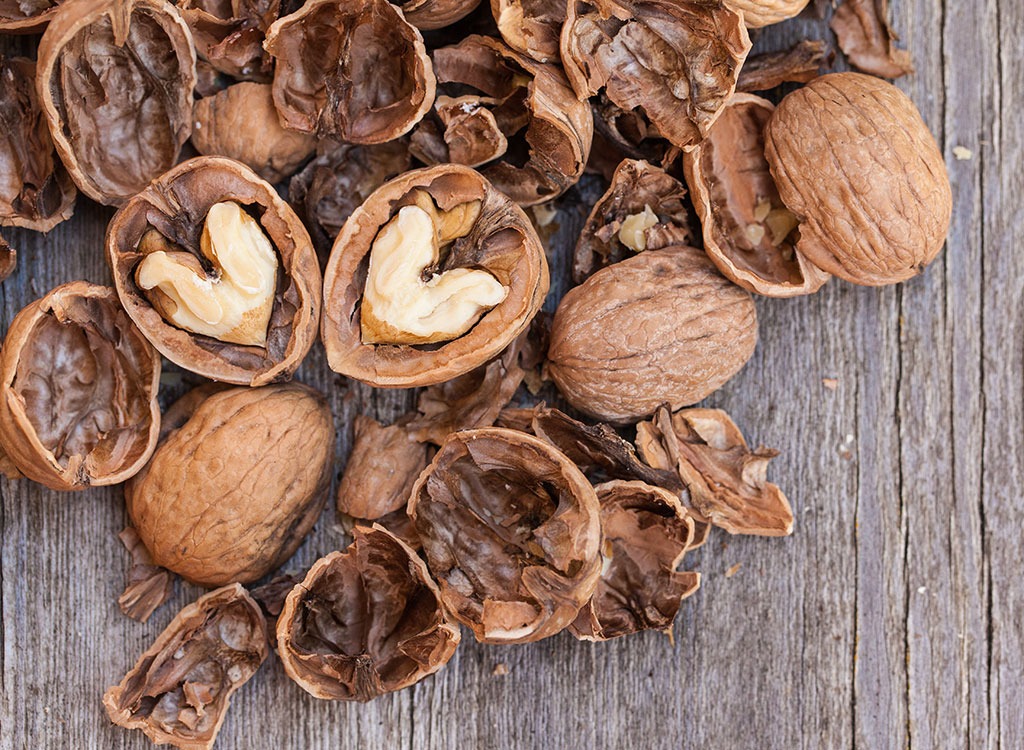 There are a ton of handy, paleo friendly snacks to choose from including veggie chips, trail mix, a hard boiled egg or even a chunk of leftover wild caught salmon or grass fed beef from last night's dinner. There's also the mighty walnut. A new scientific study suggests a handful of walnuts contains almost two times as many disease-fighting antioxidants as an equivalent amount of any other nut! As one of the best dietary sources of anti-inflammatory omega-3 fatty acids, walnuts have proven particularly good for the heart. One study showed a 2-ounce daily snack was enough to significantly improve blood-flow to and from the heart. And a second, five-year study found a 1-ounce portion of walnuts, three or more times per week could slash risk of heart disease by more than half! Find out more benefits from walnuts in 9 Reasons You Need to Eat Walnuts Right Now!
How to Enjoy Them
Put a small handful in a baggie and eat should you get snacky.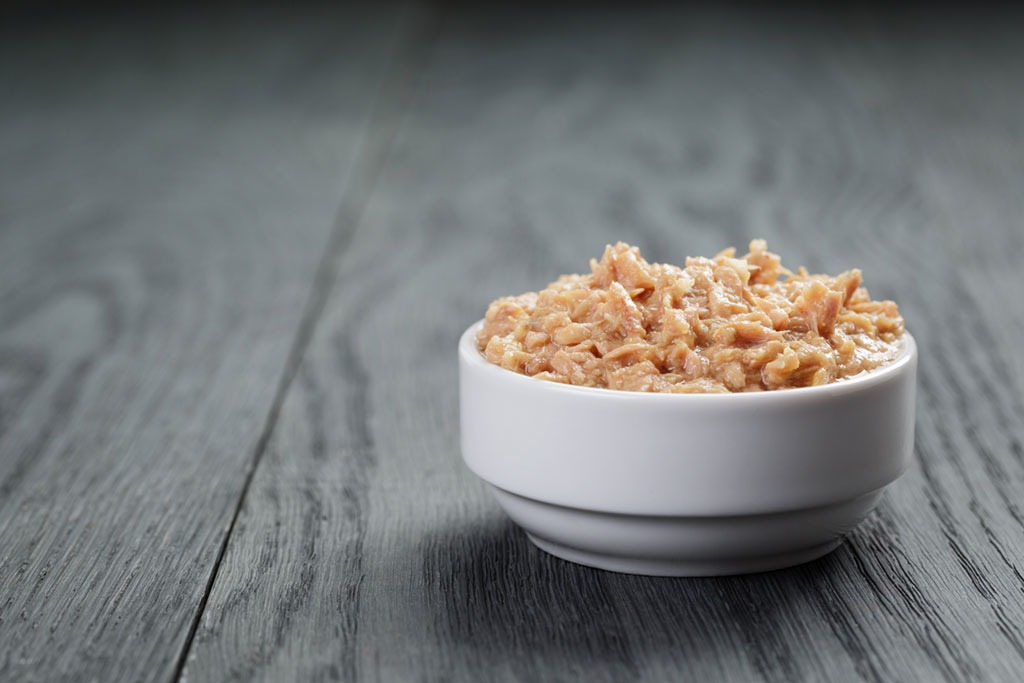 Many paleo meals are crazy simple and this nutrient packed salad—from PaleoDiet.com—is no exception. It's brimming with nutrients including good fats contained in nature's butter—the avocado. With its proven ability to lower cholesterol, quell hunger pangs and even spot-reduce belly fat, the avocado is arguably one of only a few perfect foods to lose weight. Think about that while your enjoy this zesty paleo lunch.
What You'll Need
For the Salad
1 large heirloom tomato
1 carrot
1 cucumber
1 yellow or green pepper
1 avocado
1 can of unsalted albacore tuna
For the Vinaigrette
2 tsp fresh lime juice
3 tsp macadamia nut oil
Fresh ground pepper to taste
How to Make It
In a small bowl emulsify the macadamia nut oil into the fresh lime juice. Add pepper to taste.
Chop the vegetables into large, bite sized pieces.
Break up the tuna with a fork.
Toss the tuna with the chopped vegetables and the lime vinaigrette to enjoy.
Get more avocado inspiration from these 30 Best Avocado Recipes on Instagram!
When you need a belly-blasting, metabolism-revving, hunger-sating protein, beef jerky is your go-to. Drying meat is one of the oldest methods of food preservation—the word jerky is derived from the Native South American Quechua term "ch'arki" which means "dried meat," Likely discovered by accident, it's thought that early humans found it lasted longer than fresh meat, and wasn't subject to decay or insect infestation.
How to Enjoy It
Opt for a grass fed brand like Nick's Sticks, which doesn't include, sugar, nitrates, hormones or antibiotics.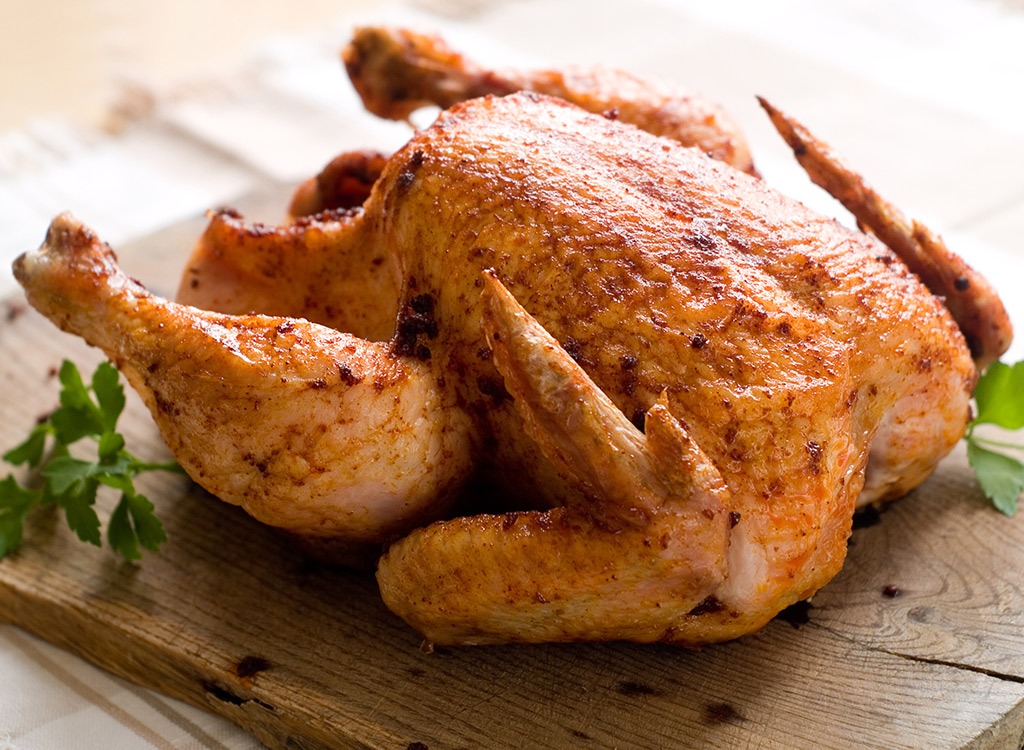 Herb Chicken with Roasted Vegetables
A 3 oz. cooked chicken breast contains only 142 calories and 3 grams of fat, but packs a whopping 26 grams of protein — more than half of the day's recommended allowance. But unless you're careful, the go-to protein can be a fail on the taste front. (Our casual poll on the taste of plain breast elicited answers ranging from "air you cut with a knife" to "wet sock.") The good news: By taking on the bird in it's whole form, you can make this healthy chicken recipe below a lip smacking post-gym dinner or an impressive date-night meal. (The fact that it's paleo friendly needn't even be mentioned.)
What You'll Need
Serves 4
2 cloves garlic, minced
1 Tbsp finely chopped fresh rosemary
Zest and juice of 1 lemon
1 Tbsp olive oil
1 chicken (4 lb)
Salt and black pepper to taste
1 large russet potato, sliced into 1⁄8" rounds
2 onions, quartered
4 large carrots, cut into large chunks
How to Make It
Preheat the oven to 450°F. Mix the garlic, rosemary, lemon zest, and half of the olive oil.
Working on the chicken, gently separate the skin from the flesh at the bottom of the breast and spoon in half of the rosemary mixture; use your hands to spread it around as thoroughly as possible. Spread the remaining half over the top of the chicken and then season with plenty of salt and pepper.
Mix the potato, onions, carrots, remaining olive oil, and a good pinch of salt and pepper. Arrange the vegetables in the bottom of a roasting pan and place the chicken on top, breast side up. Roast for 20 to 30 minutes, until the skin is lightly browned.
Reduce the oven temperature to 350°F and roast for another 30 minutes or so. The chicken is done when the juices between the breast and the leg run clear and an instant-read thermometer inserted deep into the thigh reads 155°F.
Remove from the oven and allow to rest for 10 minutes before carving. Serve with the vegetables.
Want to Learn More? Don't Miss the 14 Best and Worst Paleo Foods for Weight Loss!
Eat This, Not That!
Inspired by The New York Times best-selling book series, Eat This, Not That! is a brand that's comprised of an award-winning team of journalists and board-certified experts, doctors, nutritionists, chefs, personal trainers, and dietitians who work together to bring you accurate, timely, informative, and actionable content on food, nutrition, dieting, weight loss, health, wellness, and more.
Read more about Eat This