I Tried Panera's New Toasted Baguette Sandwiches & There's Only One I'd Get Again
Did the sandwiches delivered on their cheesy promise?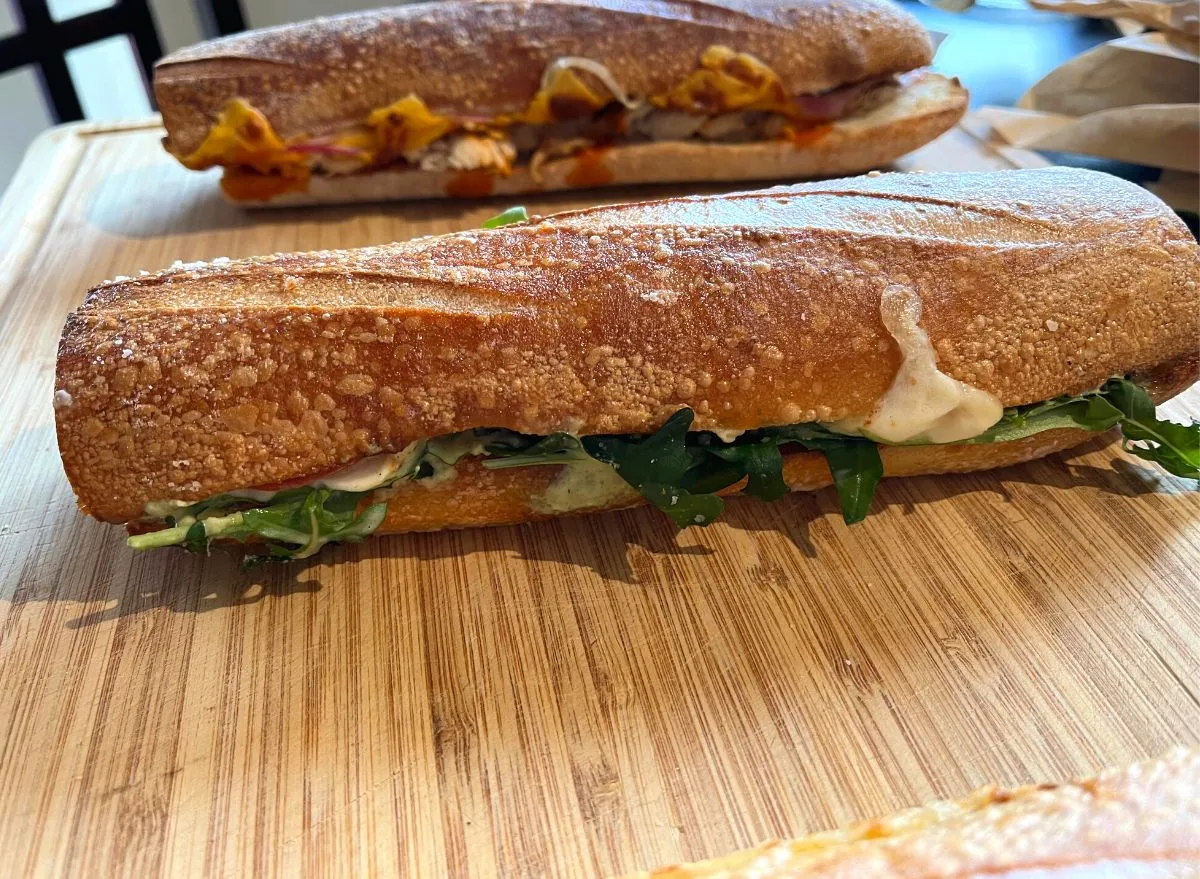 Panera is known for its sprawling, welcoming atmosphere with fireplaces and cozy nooks combined with quick service. It is also known for its rotating menu of hot soups, half-sandwiches, and healthy-ish salads, along with the requisite freshly-baked breads, cookies, and sweet treats.
However, cheesy, piping hot subs are one thing we'd never go searching for at Panera. Which is likely about to change: the chain is leaning into hot subs with the launch of three new melts that come served on its ever-popular 10-inch baguette.
The three new items sound like they feature a boatload of cheese, and come in the following varieties: Green Goddess Caprese, Pepperoni Mozzarella, and Smoky Buffalo Chicken. I tried the new sandwiches with two family members during the MyPanera app first look, which runs through Jan. 11, after which the sandwiches will be available to all diners.
Interestingly, only one of them won me over, and I'd get it again with some key alterations. Here's my ranking.
Pepperoni Mozzarella
1 sandwich
: 990 calories, 38 g fat (21 g saturated fat), 2,570mg sodium, 114 g carbs (5 g fiber, 5 g sugar), 2496 g protein
Italian sandwiches seemed to be all the rage in the latter half of 2022. Burger King and Wendy's both came out with cheesy, tomato-sauce sandwiches, and with this Pepperoni Mozzarella melt, Panera has thrown its hat in the ring. This sandwich—a fun departure for Panera—is like a pizza sub, with layers of fresh mozzarella and Fontina cheese and tomato-red pepper sauce.
The look: The baguette looks inviting, you can almost hear how the crisp exterior will sound once you bite into it by its nicely browned, bubbling texture. And the excellence of this bread is no secret: if you've had Panera's soup, you've likely had it as a free side.
What a brilliant idea to make this popular pick into a hot sandwich! But in the case of the Pepperoni Mozzarella melt, a little more thought—and a lot more filling—would have gone a long way. Tasters said that this sandwich was "lacking bulk" and "needed more."
Yes, it was the second day the sandwiches were available and maybe its heft was compromised by still-training staff, but it just lacked substance. That was immediately apparent when the filling played peek-a-boo at first glance. We could see a little bit of sauce but this sandwich did not look like the ads. No gooey white cheesy dripped out with slices of pepperoni draped over the side smothered in red sauce. What was mostly visible was the baguette.
The taste: Good, but not great. Everyone agreed it needed more of everything. It did not fulfill its cheesy promise. What little pepperoni there was, tasted good, it just didn't stand up to all the bread.
Smoky Buffalo Chicken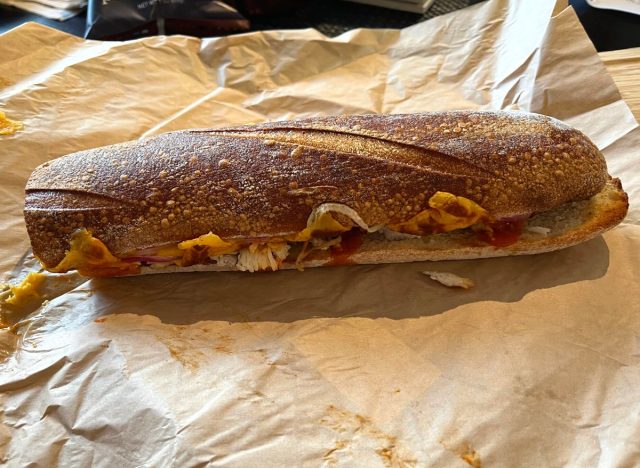 1 sandwich
: 830 calories, 19 g fat (9 g saturated fat), 3,040 mg sodium, 115 g carbs (4 g fiber, 4 g sugar), 50 g protein
This sandwich is a nod to the classic appetizer and is packed with smoked, pulled chicken drizzled with Buffalo sauce and topped with melted American cheese.
The look: This sandwich looked better than the first. It was stuffed and quote attractive looking with Buffalo sauce-drenched pulled chicken and melted American cheese hanging from the sides of the long baguette. The cheese, unfortunately, would be its downfall.6254a4d1642c605c54bf1cab17d50f1e
The taste: For Buffalo wing fans, blue cheese is a must. The American cheese was just too strong of a flavor and it competed with the lack of sauce and bland chicken. The chicken, which was supposed to be smoked, didn't have a strong flavor, the strongest flavor on the sandwich was the red onion.
When we got a bite of everything with enough sauce, the flavor was nice and the crunch of the baguette was great, but those bites were few and far between. Every taster wanted more sauce. Blue cheese, also, would have added a creaminess that the sandwich was lacking.
Green Goddess Caprese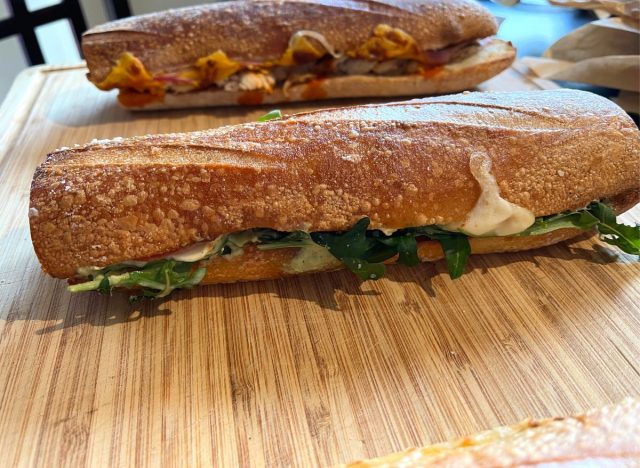 1 sandwich
: 1000 calories, 43 g fat (15 g saturated fat), 1,900mg sodium, 117 g carbs (5 g fiber, 7 g sugar), 36 g protein
The look: The Green Goddess Caprese is the most Panera-sounding baguette sandwich of the bunch. This sandwich had a pleasing appearance and colorful ingredients. It had green arugula, visible melty white cheese, red tomatoes and peppers,  and a light green sauce dribbling invitingly from the bubble-flecked baguette.
The taste: In a word: delicious. The classic Caprese combo of fresh mozzarella cheese, tomato, and basil is perfectly complemented by peppery arugula. A judicious drizzle of Green Goddess dressing combined with garlic aioli moistens the sandwich just enough so that it doesn't feel like you're munching down a whole baguette. But, again, this sandwich is just too big and calorie-leaden for one person.
Overall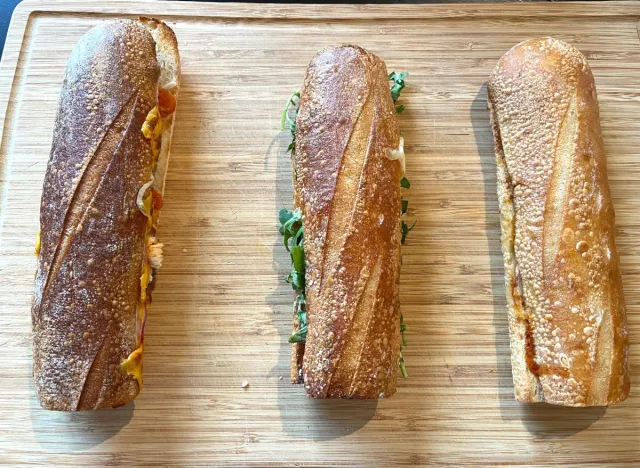 These sandwiches all taste good, but they are intimidating in size, 10 inches long, and calorie count, each ranging from 830 to 1,000 calories. For the size and the price, these sandwiches all needed more filling. They also should look like packed subs to compete with Subway's Fresh Melts or any of Jersey Milke's hot offerings. Or, Panera needs to do what they're known for and offer them as half sandwiches because they are very large portions and half would be perfect with a cup of soup or salad.
Also, Panera might want to consider offering as one of the free sides something other than a piece of baguette, which is probably just a default app option.