The Best and Worst Panera Soups We Tasted—Ranked!
We tasted every soup available at Panera and this is the very best.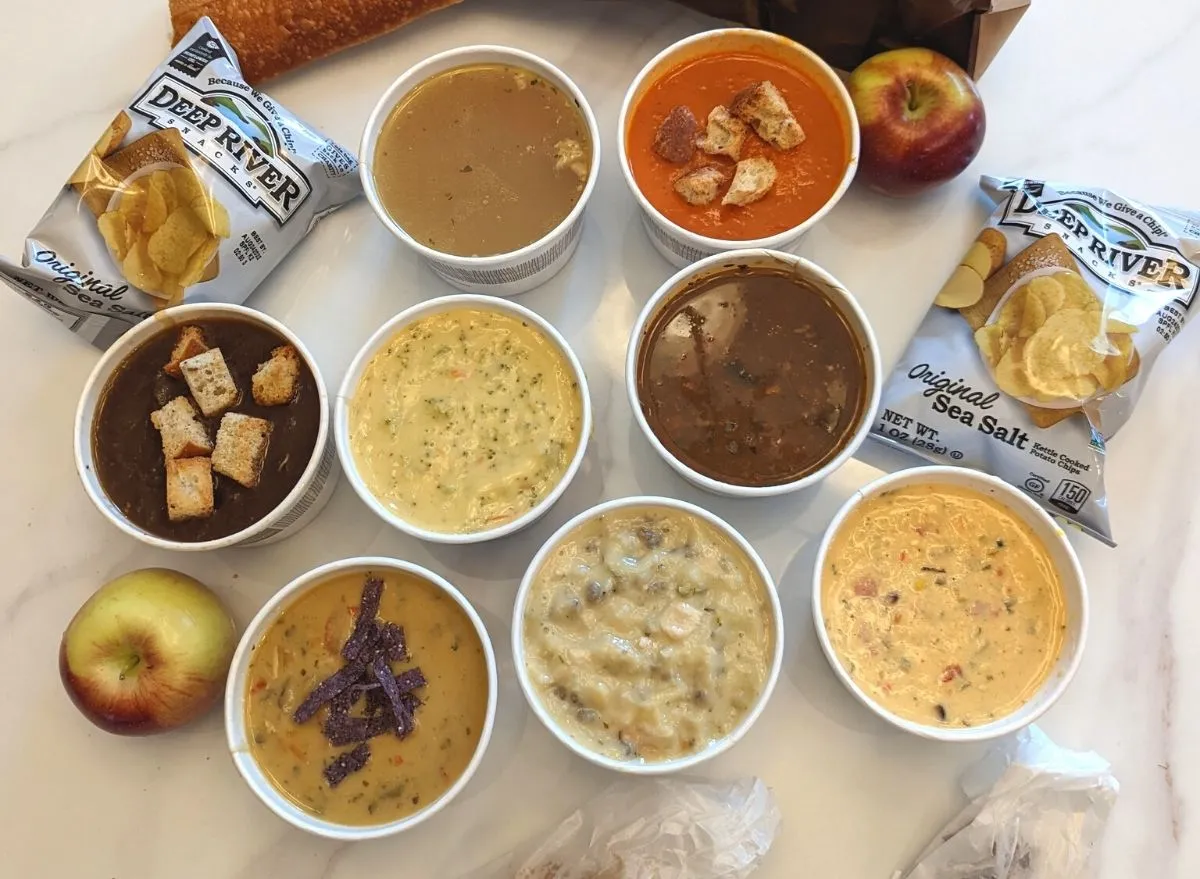 If there's one thing rainy gloomy gray days are good for, it's as a reason for soup. Nothing makes you feel better quicker than a hot bowl of liquid coziness; eating it is the equivalent of a warming hug. It really is one of those foods where love and care are tangible ingredients. But we don't always have the luxury of making soup from scratch. Without any of Mom's homemade food in the freezer, we have one of three options: instant, canned, or ordering it in. The first two aren't ideal—Cup Noodles are a far cry from grandma's chicken noodle, and meat-glued chicken is depressing. That leaves picking it up from a restaurant, and for that, one of the best options for great-tasting soups is Panera Bread.
This popular American bakery/café fast-casual chain has zeroed in on the soup market, and has developed recipes so popular that some are even available in supermarkets. But when you want it ready now nothing beats heading out to the local Panera. And when you do, here are the best-tasting Panera soups you can get—ranked!
And if you're looking for a burger, be sure to skip the 8 Worst Fast-Food Burgers to Stay Away From Right Now.
Homestyle Chicken Noodle Soup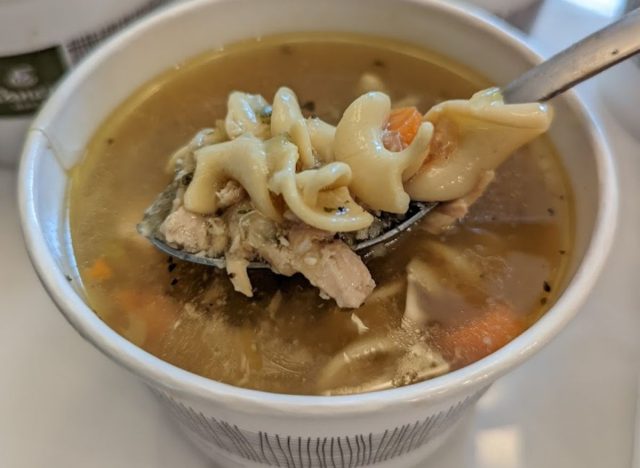 One of the great American classics, this comforting formula of tender chicken, ruffled egg noodles, carrots, celery, and harmonious herbs is a cure-all for anything from the sniffles to heartbreak. You'd think then, that Panera's version would be a glow-up from what's in your supermarket aisle, but the brand missed the opportunity to do so.
The only improvement they made was to use chicken bone broth rather than phone it in with lighter dilution. This adds a layer of depth, and is certainly needed since the overall soup is definitely on the weak side when it comes to flavor, other than a lot of salt and floating grease. I got incredibly thirsty drinking soup, which is great for someone under the weather who needs both electrolytes and incentive to hydrate … but less so if you're just trying to eat it on the regular.
This light 100-calorie bowl also made a poor showing of most of its ingredients. The chicken itself was tender white meat as promised, but there was so very little of these shreds that this rendition ought to be renamed just Noodle Soup. There were simply way more noodles than the melted-away carrots and celery, so it was a good thing that they were actually perfect—thick, heavy, eggy, and filling.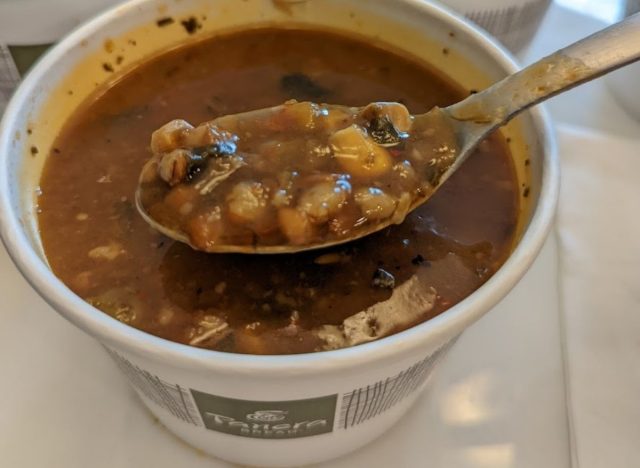 There may be ten vegetables and only 100 calories in a bowl of this soup, but it feels more like the latter than the former. Salt, tomato, pepper, and Aleppo chili are the strongest notes of this soup, making it earthy and sharp … but also bitter. And sour. There's a slight burnt—not charred—flavor to it, too, making the bitterness stand out more than it has to.
The other seven veggies are onion, corn (which is properly charred), poblano peppers, carrots, celery, garlic, sprouted brown rice, red fife (wheat), garlic, and chickpeas. The chickpeas make me wish this brothy, less-substantial-than-hoped soup had beans. Dyed a greenish-red from the broth, they were the only ingredient that added texture to this soup. The other vegetables and even the rice and wheat just kind of melt together indistinguishably. Far too light to be more than a side, you'll want the baguette, whose sweetness also well counters the acids of the broth.
Cream of Chicken & Wild Rice Soup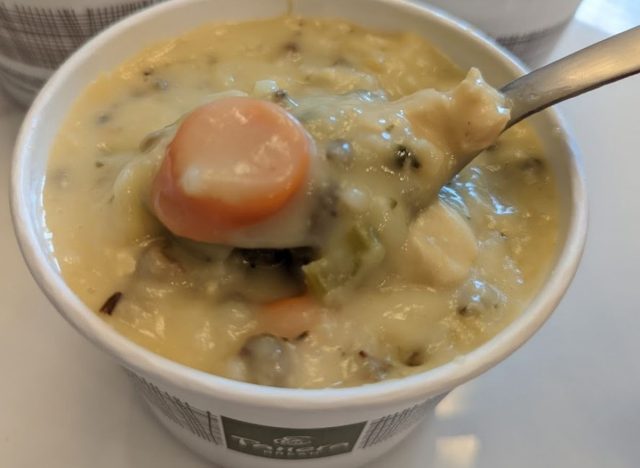 This 260-calorie soup, when served warm, offers a conflicting first impression. Your first thought might be, "whoa, this is unappealingly chunky-looking and overly fluffy with obvious thickeners" or "whoa, this is a really thick soup that should be pretty filling." Both of these assessments would be correct.
It's a dense soup, but not in a natural way. While some of the blobbiness can be attributed to broken down long-grain white rice—which is a notorious sponge—the majority of it is a clear indication of the use of flour as a thickener that just wasn't mixed in right. Rather, it's tremendously gloppy in wet lumps, and you can kind of taste the disparities between bites. Reheated to piping hot, it becomes much more liquid and palatable. But overall, it has a very creamy and strong chicken flavor, and the few pieces of chicken in it are tender and soft. The wild rice adds a pleasant pop, and it's still a significant upgrade from condensed cream of chicken with rice thrown in. Plus, it gets bonus points for nostalgia.
Like the chicken noodle, this was another staid all-American flavor I expected Panera to have dressed up that didn't. The fact that the brand describes this 360-calorie bowl as chopped broccoli and shredded carrots in a "velvety smooth cheese sauce"—not even pretending that it's soup, much less healthy—led me to think it might be super cheesy and rich. While I caught some cheesiness on the back end, it certainly wasn't sharp nor cheddar-y, as Quizno's version is. And on the front end, there was an odd sweetness to it with a strong hint of nutmeg that felt very out of place.
It also had similarities to the cream of chicken it beat out in that it also had gloppy lumps that tasted sweetly of flour and coated the roof of my mouth in an uncomfortable fashion. It seems that while canned brands often use potatoes to create heartiness in broccoli cheese soup, Panera has opted for flour as a filler and thickener, imperfectly whisked.
This one also broke more as it cooled, requiring more stirring to reincorporate the separating elements, but melded perfectly when reheated. The carrots added a nice aesthetic but nothing more. While the broccoli was pretty broken down to mush, the flavor was nicely extracted into the soup. This made it pleasantly veggie-forward with just enough hint of mild cheese to qualify its title.
Mexican Street Corn Chowder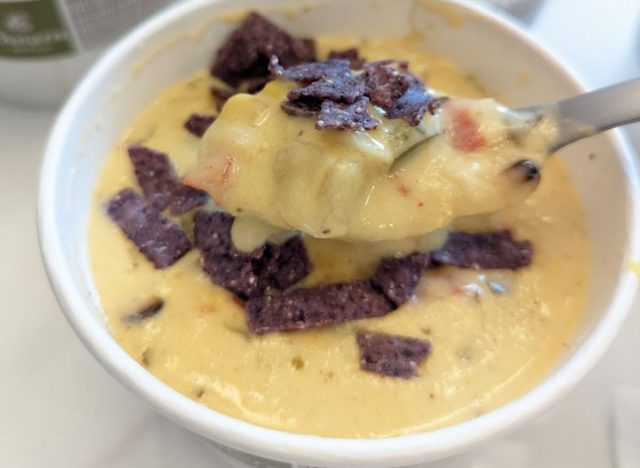 This newcomer to the Panera restaurant line is an exciting one, part of the chain's move toward encompassing more global flavors and authentic ingredients from other cuisines. But this 330-calorie recipe might be a bit of a misnomer if they're going for authenticity, since "street corn" brings to mind elote, and elote this is definitely not.
The soup starts with sweet semi-creamed corn, then adds lime juice, cilantro, and delicious fire-roasted poblanos, whose smokiness you can really taste. It beefs it up only figuratively, using russet potatoes rather than the chicken. It tasted similar to Campbell's excellent Chunky Chipotle Chicken and Corn Chowder. While it could use a little more lime juice and cilantro to lighten up the cream cheese base, the amount of chili powder used was just enough. The soup is warm, not hot, in every sense, and comes topped with under-salted blue corn tortilla strips, which add a nice crunch and a different corn flavor.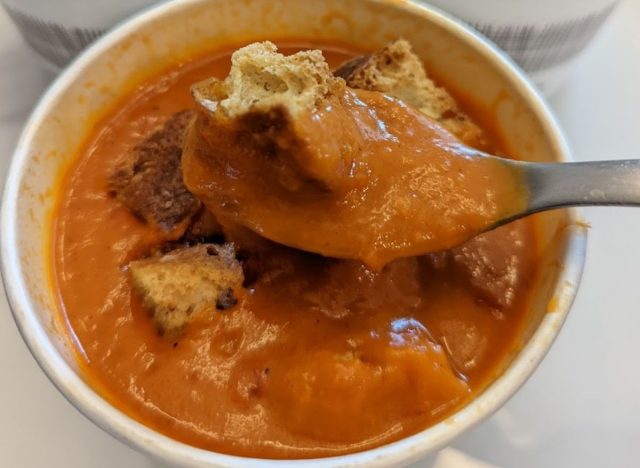 I was shocked to find that a bowl of tomato soup had way more calories than the creamy, starchy chicken and rice… but then again, it also has way more flavor. In this soup, Panera finally steps up to the task of glorifying a humble homestyle classic. They use a thick puree of juicy, vine-ripened small pear tomatoes instead of your typical bigger commercial tomatoes. The mystery of the 190 calories from fat is solved with the reveal of real whipping cream and butter in its ingredients for richness.
Those components are subtle, but the rest of the soup is not. The garlic, although well incorporated, speaks loudly, and hints of red pepper add more zing to the already punchy, bright tomatoes. All of this makes it more on the acidic side, but the buttery black pepper focaccia croutons counter that. Their olive oil recalls the comfort of grilled cheese even in the absence of cheese. These croutons stayed crispy, too, as the soup itself was so heavy and naturally thick that it simply coated the focaccia like festive frosting rather than getting absorbed. I was pleasantly surprised to find this heartier and more substantial than some of the non-vegetarian options.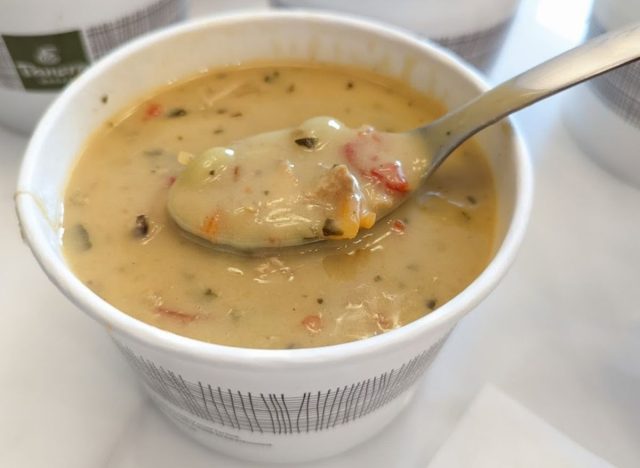 Another recent launch, this 230-calorie smoked its smoky poblano sister soup, making a more respectful effort to capture another culture's famous flavors and make it their own. The folks at Panera could have more easily gotten away with calling this a Thai coconut curry than the other one Mexican Street Corn since it actually does effectively harness those delicious flavors. It uses coconut milk, yellow curry paste, lemongrass, galangal, coriander, ginger, cilantro, fish sauce, and other ingredients that lend the blend authenticity. And it has a lovely light heat that hits right away, quickly quenched with the citrusy lime peel that peeks through brightly.6254a4d1642c605c54bf1cab17d50f1e
However, it's definitely a soup and not a traditional curry since it's thinner and has diced ingredients. It's got chicken, of course, and a little more of it than the other chicken soups. It also has carrots, shiitake mushrooms, red bell peppers, and edamame, which all make discernible contributions to texture. None of these are enough to make up for a lack of general heartiness, but what it's missing in terms of mouthfeel it certainly makes up in flavor. A side of rice dumped into it or even the default Panera bread helps it feel as much of a meal as it tastes.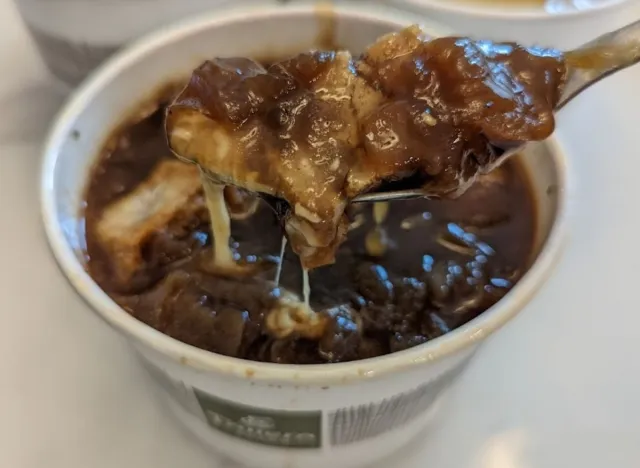 While I absolutely adore French onion soup hot and fresh out of a restaurant oven, I had reservations about how Panera could deliver that same flavor and feeling. It's not exactly a soup that travels well, given its very particular accouterments. But while you sacrifice the crusty-burnt edges of cheese on the side of the crock, I was delighted to find that I didn't have to sacrifice much else.
Like their tomato soup, this vegetable soup was astoundingly hearty, bursting with its titular vegetable. You can taste the noticeably sweet caramelization of the onion, the sharp sherry wine gastrique, and the richness of the stock. Soy sauce adds umami and greater depth, making it much fuller tasting and more complex than any canned French onion soup I've tried, and just as salty as a steakhouse's.
Other restaurant-quality elements they included were the bread and cheese components that are integral to a good French onion soup. The soup was so strongly flavored that honestly, the black pepper focaccia croutons (bagged on the side) that thirstily absorbed the broth could have been made of any bread. However, the detail of their use of the more traditional and authentic Gruyere cheese was one that I could easily taste and appreciate, even as lusciously melted by the time I took my first spoonful.
Overall
At the prices charged, I rather expected higher quality for the money and a higher density of filling ingredients rather than filler. I paid $7.29 per 12-ounce bowl at a Panera Bread in a suburb of Georgia, a price tag that isn't much less than what local restaurants charge for a bowl of soup.
That said, while some varieties are only marginally better than big-name canned varieties, the best ones really do stand out. Panera is making an obvious effort to introduce global diversity and unique ingredients to their menu. They are also providing vegetarian-friendly options that prove that plant-based food doesn't need fake meat to be hearty and delicious. The soups are on the pricey side and a bit stingy with ingredients, but the whole collection is still overall a convenient and tasty option for instant comfort. All the soups are filling and satisfying when rounded out with their eponymous bread.
Su-Jit Lin
Su-Jit Lin is a food and lifestyle writer whose work has been featured in Real Simple, HuffPost, and more.
Read more about Su-Jit