4 Easy Parsnip Recipes to Try
Sure, veggies like kale and broccoli are über healthy, but there are far less flashy pieces of produce just as worthy of your cash.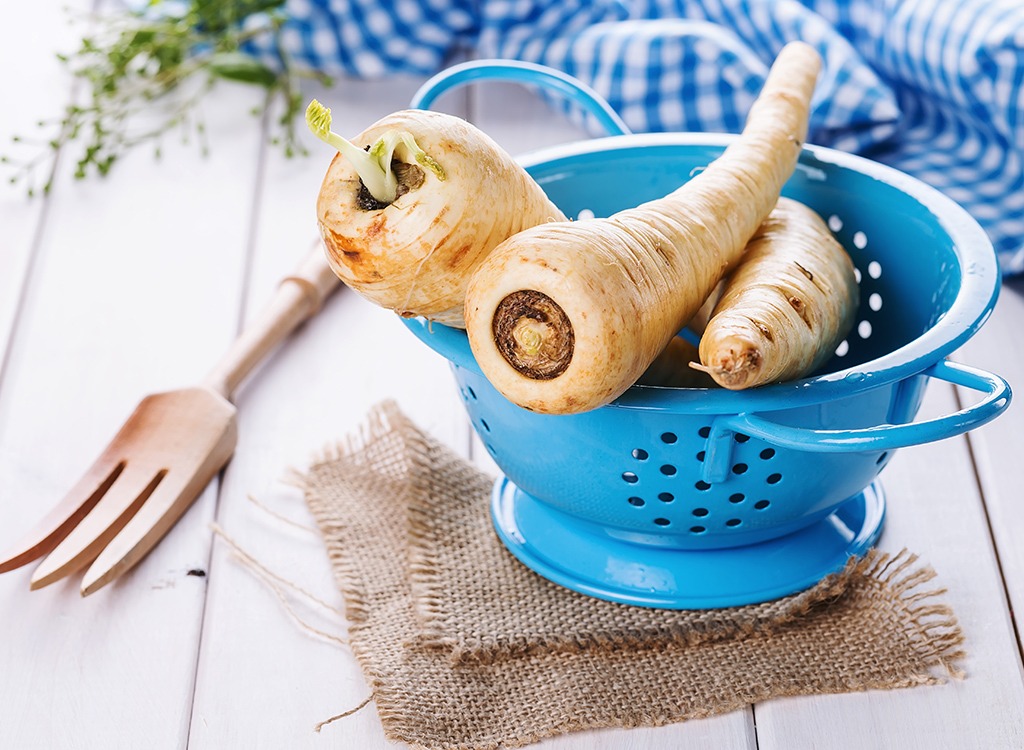 In fact, some of the most nutrient-dense veggies in all the land hardly see the light of day—and that's because they're grown beneath the soil. These underground nutritional superheroes—which are aptly named root vegetables—absorb tons of nutrients from the dirt. And while we love a good potato or sweet red beet, one of our favorite root veggies is the oft-overlooked cream-colored parsnip.
Parsnips, like many root veggies, are teeming with vitamins A and C, folate, fiber, and boron which is responsible for helping the body metabolize estrogen and boost blood levels of testosterone. Parsnips are also one of the most potent sources of androstenol, a naturally occurring steroid that ups women's desire to get frisky.
RELATED: 22 Foods Sex Experts Say to Eat6254a4d1642c605c54bf1cab17d50f1e
Taste-wise, we like to think of parsnips as carrots' sweeter sister. And their flavor is best described as mild rather than overpowering, which makes them extremely versatile to cook with—and that's exactly what you should do! To help make things easy for you, we've dug up four delicious yet totally simple recipes that are sure to turn you into a parsnip fan for life.
Simple Parsnip & Ginger Soup
Serves: 5
Nutrition: 140 calories, 4.4 g fat (1.1 g saturated), 123 mg sodium, 23.7 g carbs, 5.9 g fiber, 9 g sugar, 2.8 g protein (calculated without butter)
There are few simple pleasures that rival coming home to a cozy bowl of soup. This emulsion combines sweet parsnips with cardamom, zesty ginger, and cayenne. The whole milk lends the soup its ultra-velvety texture and boosts your fat loss. According to a study in the European Journal of Nutrition, people who consume full-fat dairy have lower body weight, experience less weight gain, and have a reduced risk for obesity compared to those who opt for low-fat dairy.
Get the recipe from A Beautiful Plate.
Baked Parsnip Fries With Creamy Balsamic Reduction Dip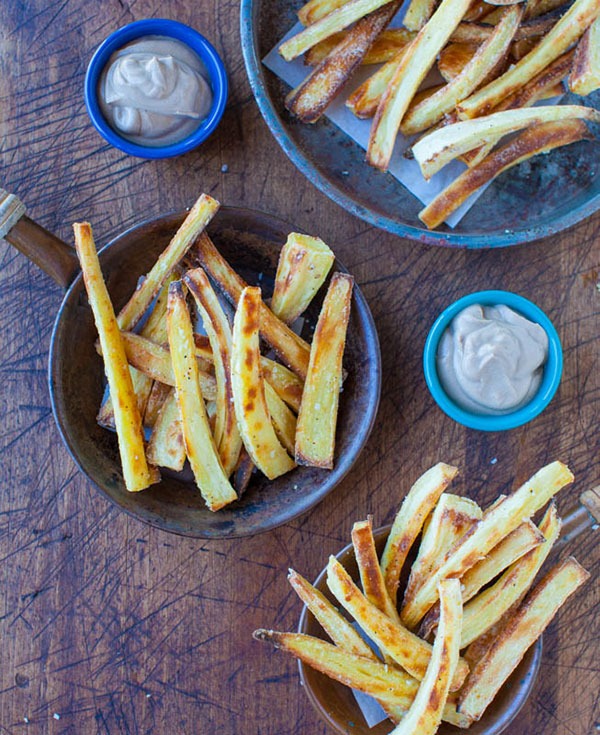 Serves: 6
Nutrition: 212 calories, 7.5 g fat (1.1 g saturated), 32 mg sodium, 35.1 g carbs, 7.7 g fiber, 11.8 g sugar, 2.8 g protein (calculated with 3 tbsb. olive oil, Greek yogurt instead of sour cream, and 2 tbsp. sugar)
When a recipe combines "healthy" and "fries" in the same sentence, you know you've gotta try it. Choosing this wholesome parsnip rendition over an equal serving of toxic fries from the McDonald's Menu will save you a staggering 364 calories and 21.5 grams of fat. And baking the parsnip slices with cornstarch at a high temperature will ensure your fries' crunch factor is totally up to par.
Get the recipe from Averie Cooks.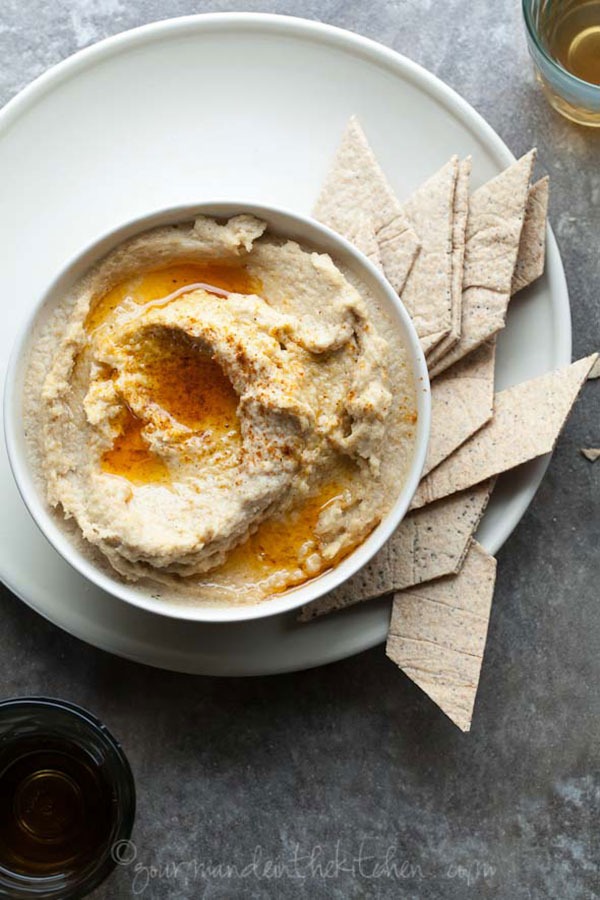 Serves: 6
Nutrition: 188 calories, 12.7 g fat (1.9 g saturated), 319 mg sodium, 17.6 g carbs, 5.2 g fiber, 3.9 g sugar, 3.7 g protein (calculated without garlic chili oil, and used 1/8 cup olive oil)
Spruce up this Mediterranean favorite with boiled-until-tender parsnips and robust spices like coriander and cumin. The naturally creamy textures of chickpeas and parsnips blend together to create a perfectly airy and fiber-filled dip that's delightful in every way. Serve alongside whole grain crackers or sliced veggies for a delish quick snack.
Get the recipe from Gourmande in the Kitchen.
Vanilla Carrot Parsnip Puree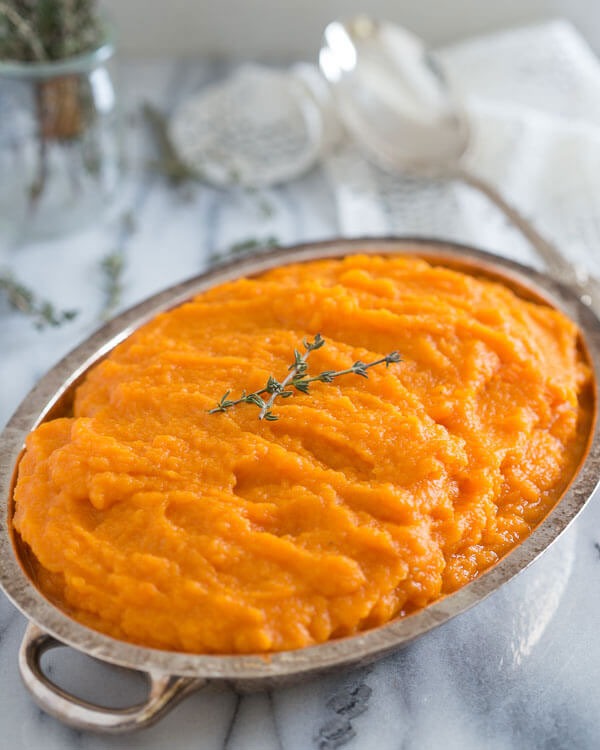 Serves: 6
Nutrition: 163 calories, 2.6 g fat (1.4 g saturated), 142 mg sodium, 34.6 g carbs, 9.1 g fiber, 13.9 g sugar, 2.8 g protein (calculated with 1 tbsp. butter)
Instead of serving a side of boring mashed potatoes, consider making this rich high fiber puree made with vegan-friendly vanilla almond milk and maple syrup. The immunity-boosting and healthy skin-promoting carrots lend this recipe its gorgeous amber color, as well as a slightly savory flavor that balances out the sweet parsnip. Mmmm! Seconds, please!
Get the recipe from Running to the Kitchen.
April Benshosan
April is a born-and-raised Brooklynite who has a passion for all things health, wellness, and tastebud-related.
Read more about April