Healthy Oatmeal With Peanut Butter and Banana Recipe
Time to say goodbye to those instant, flavored oats with this easy—and healthy—breakfast.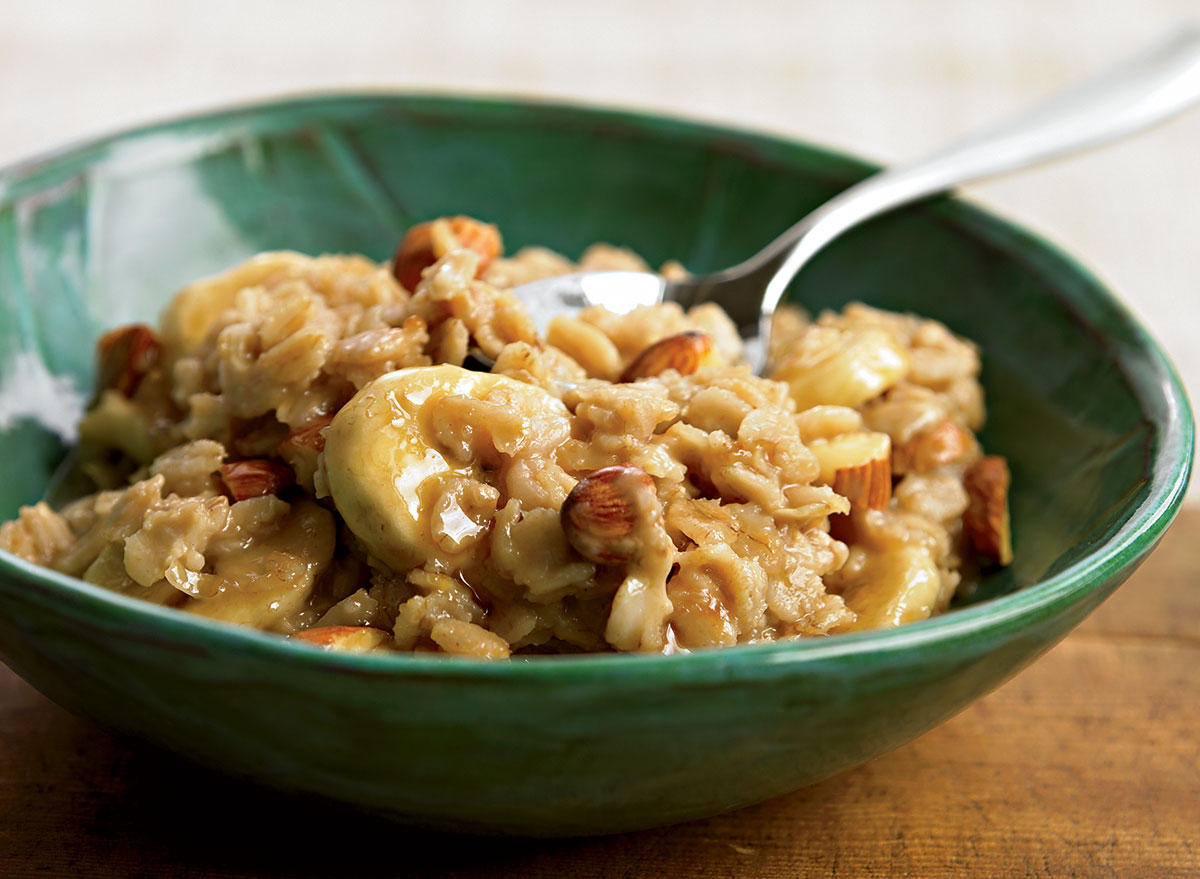 Oatmeal has a justified reputation as a healthy staple of the breakfast table, but that doesn't make this humble grain infallible. Problem is, plain oats are too boring to eat on a regular basis, and flavored oats carry a bevy of excess sugars and other ingredients that don't belong in your breakfast bowl. So all of those instant oatmeal packets you think are a solid breakfast option are actually not doing anything to help your health out, and they could be doing more damage than you think.
We solve both problems by using peanut butter and almonds to provide a rich base of healthy fats and bananas for natural sweetness and a shot of potassium. This is the kind of oatmeal you could—and should—eat 5 days a week.
Oatmeal in its purest form has a ton of benefits that you don't want to miss out on. From helping to lower your LDL cholesterol (the bad kind of cholesterol) to actually being one of the best sources of resistant starch—the type of carb that helps you lose weight—oats should be eaten on the regular, in the right way, of course.
We love this oatmeal with peanut butter and banana recipe for its good-for-you ingredients. It makes a healthy morning meal you can have ready in minutes.
Nutrition: 320 calories, 10 g fat (1 g saturated), 17 g sugar
Serves 4
You'll Need
4 1/2 cups water
2 cups rolled oats
Pinch of salt
2 bananas, sliced
2 Tbsp peanut butter
1/4 cup chopped almonds
2 Tbsp agave syrup
How to Make It
In a medium saucepan, bring the water to a boil. Turn the heat down to low and add the oatmeal and salt. Cook, stirring occasionally, for about 5 minutes, until the oats are tender and have absorbed most of the liquid.
Add the bananas, peanut butter, almonds, and agave syrup and stir to incorporate evenly. If the oatmeal is too thick, add a splash of milk.
Eat This Tip
Peanut butter and banana may be our favorite oatmeal embellishment, but there are dozens of ways to trick out a plain bowl of boiled oats, including a few surprising ones (a hat tip to Mark Bittman, the first to introduce us to the idea of savory oatmeal).
Diced apples (raw or sautéed in a bit of butter), toasted walnuts, and a pinch of cinnamon
Sliced peaches, brown sugar, and chopped pecans (think peach cobbler)
Soy sauce, scallions, and a fried egg (trust us—this makes a lot of sense)