7 Peanut Butter Brands Made with the Lowest Quality Ingredients
Ideally, peanut butter has only two ingredients: peanuts and salt. These brands miss the mark.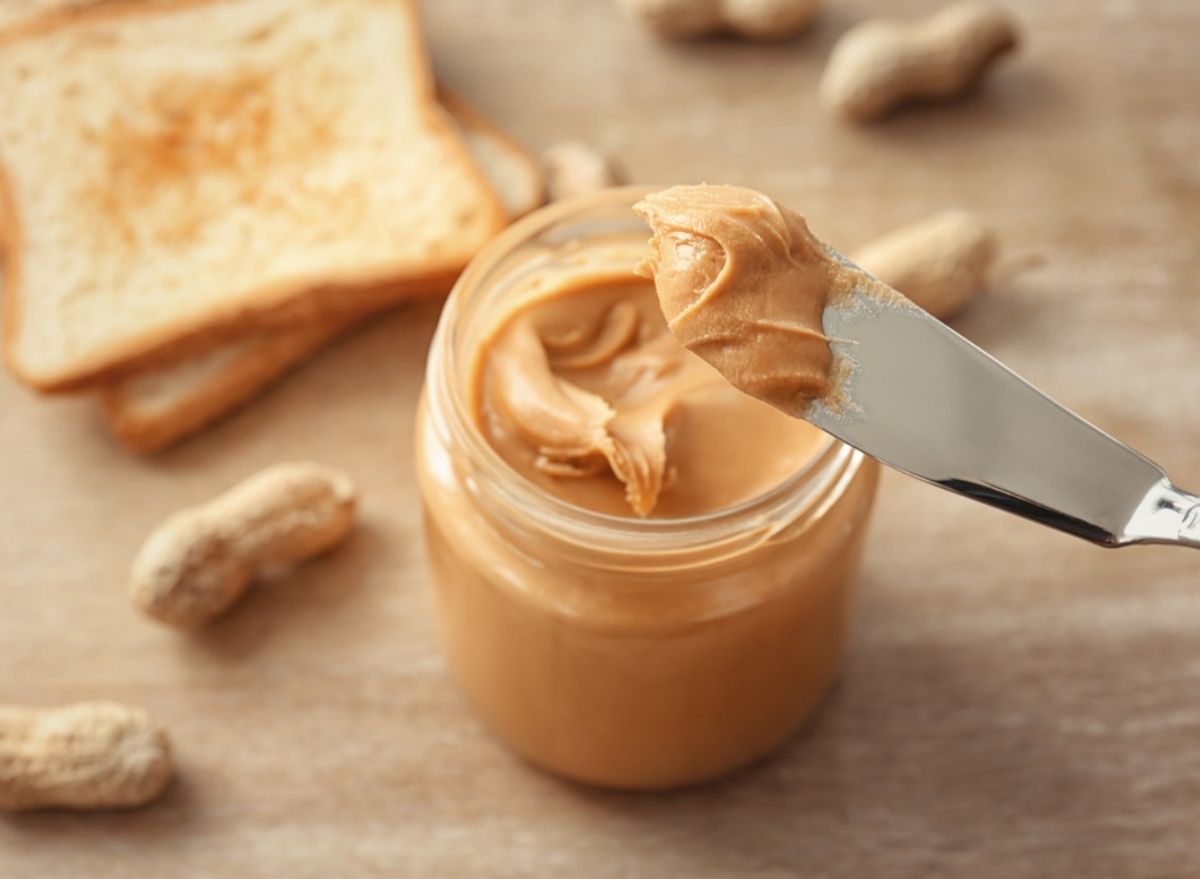 This post contains affiliate links. If you use these links to buy something, we may earn a commission.
Peanut butter is a staple food in many American homes and is enjoyed around much of the globe. It's the anchor of the classic PB&J sandwich, it's swirled into cakes and cookies, it finds its way into sauces and smoothies, and it's all-around delicious. But not all peanut butters are created equal—and far too many are created with a lot of adjunct ingredients that are best left out of your body. Here's how to steer clear of the lowest-quality peanut butter brands.
"A good peanut butter has two ingredients: peanuts and salt—that's it," says Toby Amidor, MS, RD, CDN, FAND, an award-winning nutrition expert and Wall Street Journal best-selling author of Diabetes Create Your Plate Meal Prep Cookbook. She adds: "Oftentimes, you'll find peanut butter combined with added sugar and various oils… you also want to watch for reduced-fat peanut butter, as they remove fat but replace it with sugar. And some of those added oils include palm oil, which according to the 2020-2025 dietary guideline, is categorized as saturated fat and should be limited."
Keeping all that in mind, that sugars and oils and other added ingredients really have no place in high-quality peanut butter, let's take a look at these 7 peanut butter brands made with low-quality stuff.
(Once you pick up a good jar, try out any one of the 30 Things You Can Make with Peanut Butter.)
Good & Gather Creamy Peanut Butter
The second ingredient in this Target brand peanut butter is sugar. "There is no need for sugar to be added to peanut butter which is done with the Target brand Good & Gather," says Amidor. Note also the other ingredients, like hydrogenated vegetable oils, molasses, mono and diglycerides, and, finally, salt.
Simply Jif Creamy Peanut Butter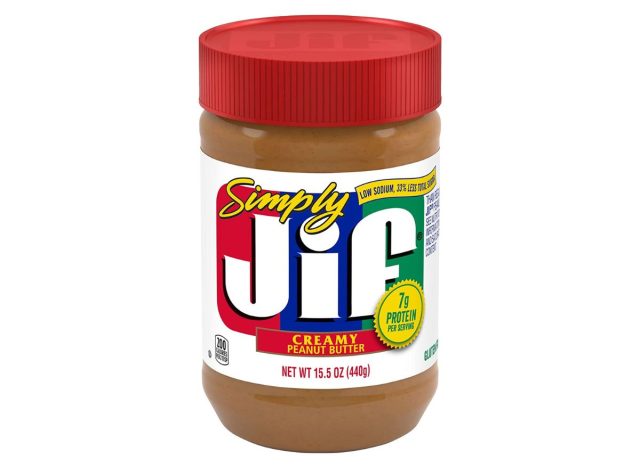 Don't let the word "Simply" in the name or the label's advertised "Low Sodium, 33% Less Total Sugar" banner fool you: this is not a good peanut butter. It contains vegetable oils, molasses, and added sugar. And Mono- and diglycerides, added to preserve the shelf life, per Medical News Today.
Skippy Creamy Peanut Butter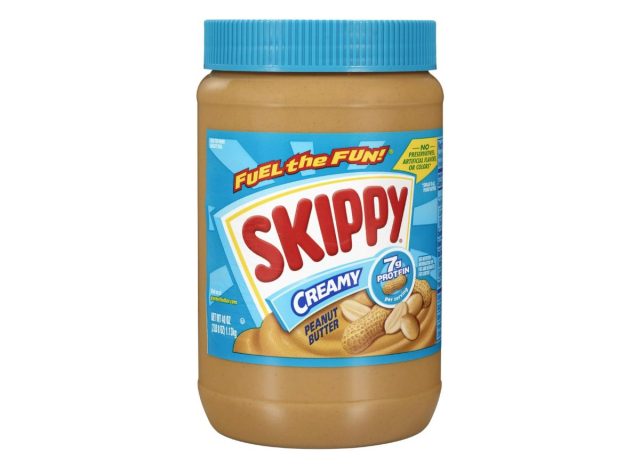 Here's yet another huge brand of peanut butter where the flagship product features added oils (in this case three: cottonseed, soybean, and rapeseed oils) and added sugar. Sure, a serving may have 7 grams of protein as the brand advertises, but it also has 16 grams of fat, including 3 grams of saturated fat.
Great Value Crunchy Peanut Butter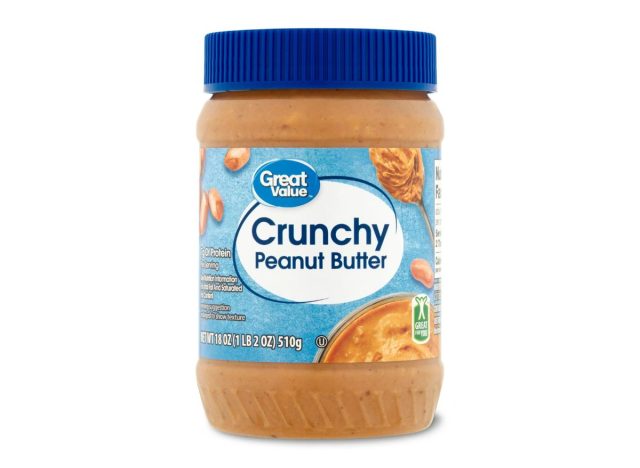 Sure, Walmart's brand Great Value may offer you a great value indeed in terms of the price of this peanut butter, but great ingredients? Hardly. It features added sugar, hydrogenated vegetable oils, dextrose, and monoglycerides. And salt and peanuts, of course, but we're OK with those. Check out Great Value's organic variety of peanut butter. It has just two ingredients—peanuts and salt—and stays surprisingly spreadable.
Reese's Creamy Peanut Butter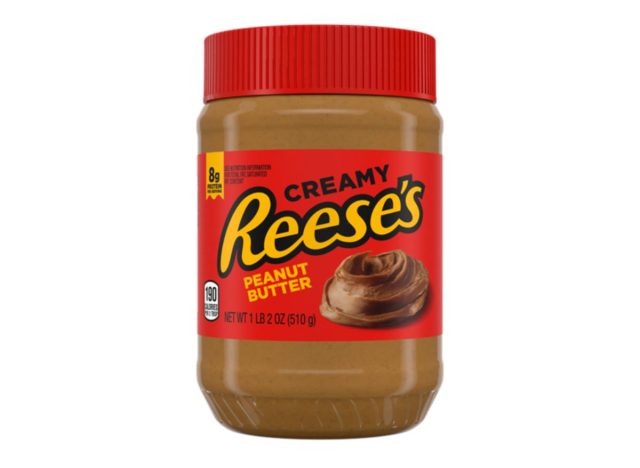 Yes, Reese's Peanut Butter Cups are a nearly perfect candy, but when you eat those, it's as a treat, not as a staple food. The brand's peanut butter has no business as a staple of your diet either, being loaded with unwanted ingredients as it is, including the usual suspects: sugar-hydrogenated vegetable oil (in this case rapeseed, cottonseed, and soybean oils), monoglycerides, molasses, and corn starch.6254a4d1642c605c54bf1cab17d50f1e
Peter Pan Honey Roast Creamy Peanut Butter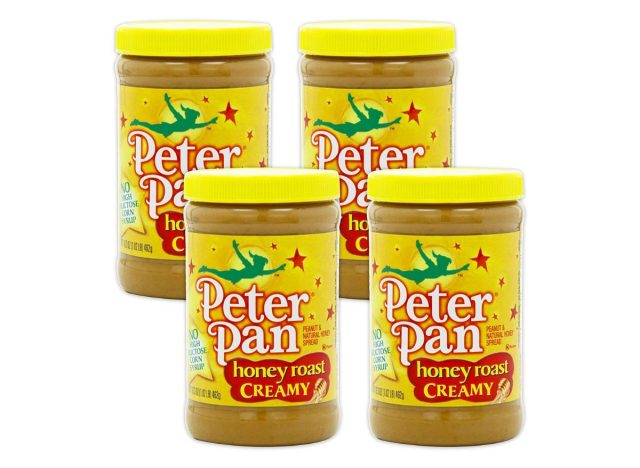 Honey may be the first ingredient in this peanut butter's name, but it's the last ingredient listed on the label. And between the peanuts and the honey, you'll find sugar, molasses, hydrogenated vegetable oils, salt, and sugar.
Jif Natural Creamy Peanut Butter
For again trying to name and brand a product as if it's a better-for-you option, Jif makes the list twice. Jif Natural Creamy Peanut Butter is anything but a healthy, high-quality option and instead a reminder that the word "natural" has no real meaning when it comes to food labeling, unlike "organic," which is a legally guarded term. The ingredients here are peanuts, sugar, palm oil, salt, and molasses.
Steven John
Steven John is a freelancer writer for
Eat This, Not That!
based just outside New York City.
Read more about Steven