12 Healthy Smoothies That Taste Like Decadent Fall Desserts
Fall produce steals the show in these smoothie recipes.
A change in season may also be followed by a change in what we are preparing for meals at home. With the beginning of autumn, slow cookers take the place of grills, and bright, citrusy recipes are be swapped out for those that instead focus on warming spices and hearty vegetables. The produce that appears during the fall season, such as pumpkin, squash, and apples, can easily be enjoyed in pies and savory dishes. But your next fall farmers' market haul can also quickly be transformed into healthy, on-the-go smoothies.
From pumpkin smoothies that are reminiscent of the season's favorite dessert, to others that incorporate ingredients such as nutmeg and cinnamon, here are some simple fall smoothies you can make right at home. (Plus, try one of our 63 Tasty Fall Recipes That Make Weight Loss So Much Easier!)
Pumpkin Pie Smoothie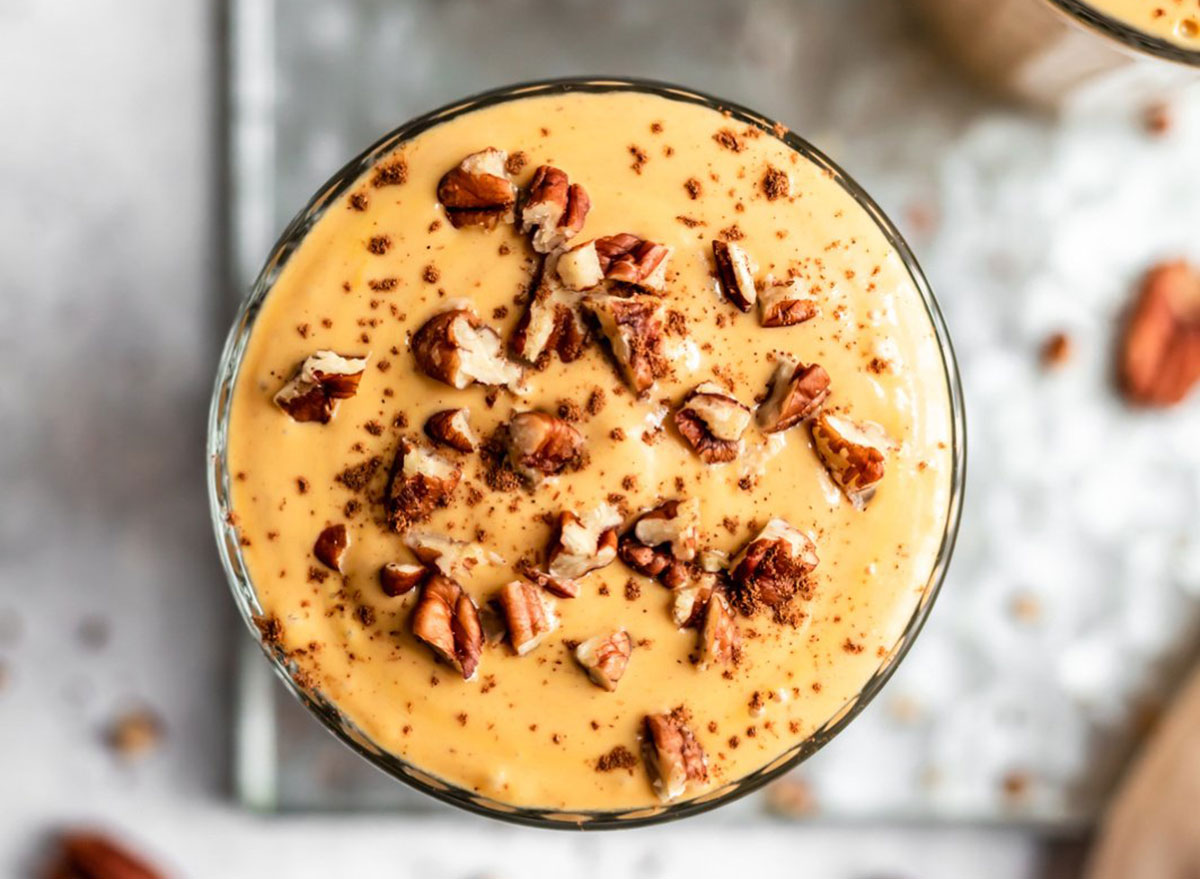 Frozen bananas, almond milk, pumpkin puree, and pumpkin pie spice are all blended together in this delicious smoothie that has 17 grams of protein per serving. You can also throw in some additional nutrition-packed ingredients, such as ground flaxseed or hemp seeds, to make this already vitamin-rich drink even healthier.
Get the recipe from Ambitious Kitchen.
Tahini Date and Cinnamon Smoothie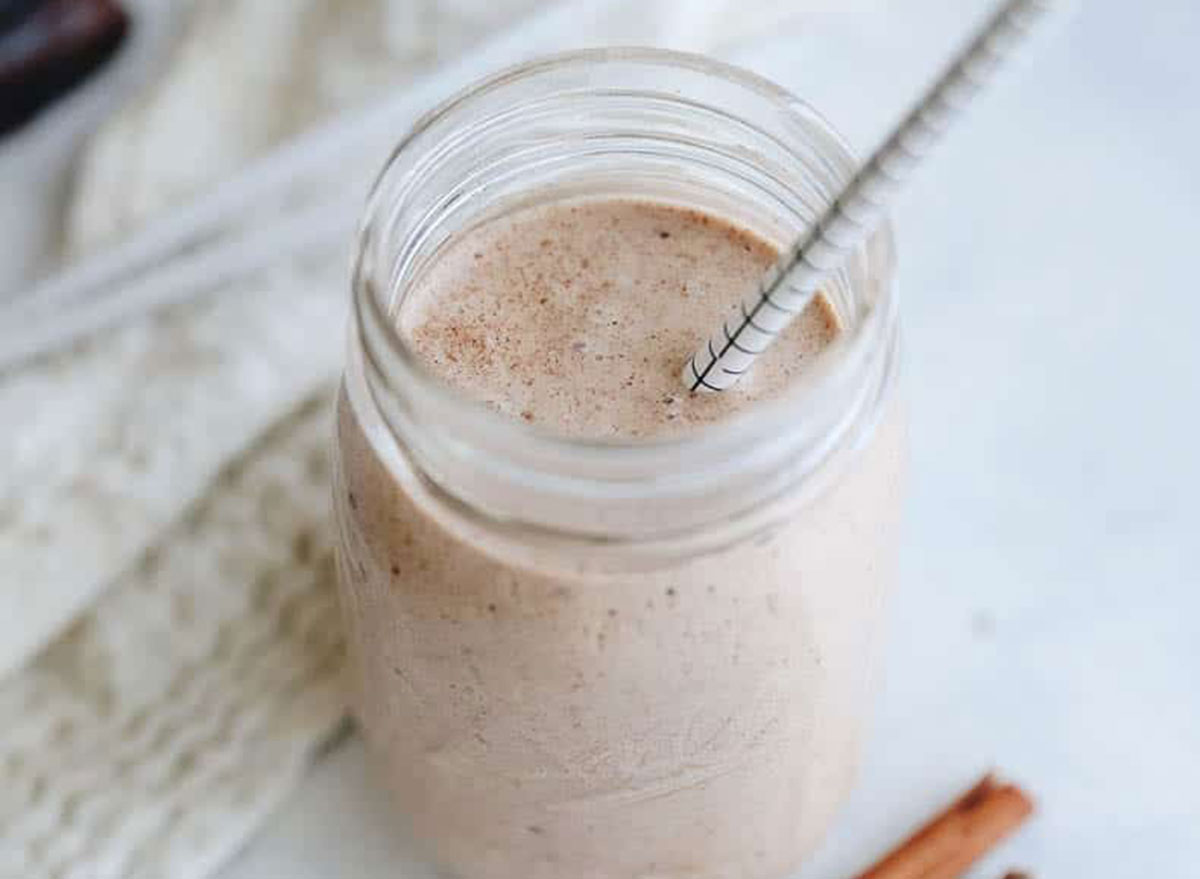 Tahini, which is often found in savory dishes, such as hummus platters, or drizzled onto cooked meats, makes a welcome appearance in this Tahini Date and Cinnamon Smoothie. Prepared in just 2 minutes, this refreshing drink can be enjoyed as part of your breakfast or as a midday snack. Added bonus: Tahini, which is made from sesame seeds, is also full of antioxidant nutrients that can help balance hormone levels—so drink up!
Get the recipe from The Healthy Maven.
Apple Smoothie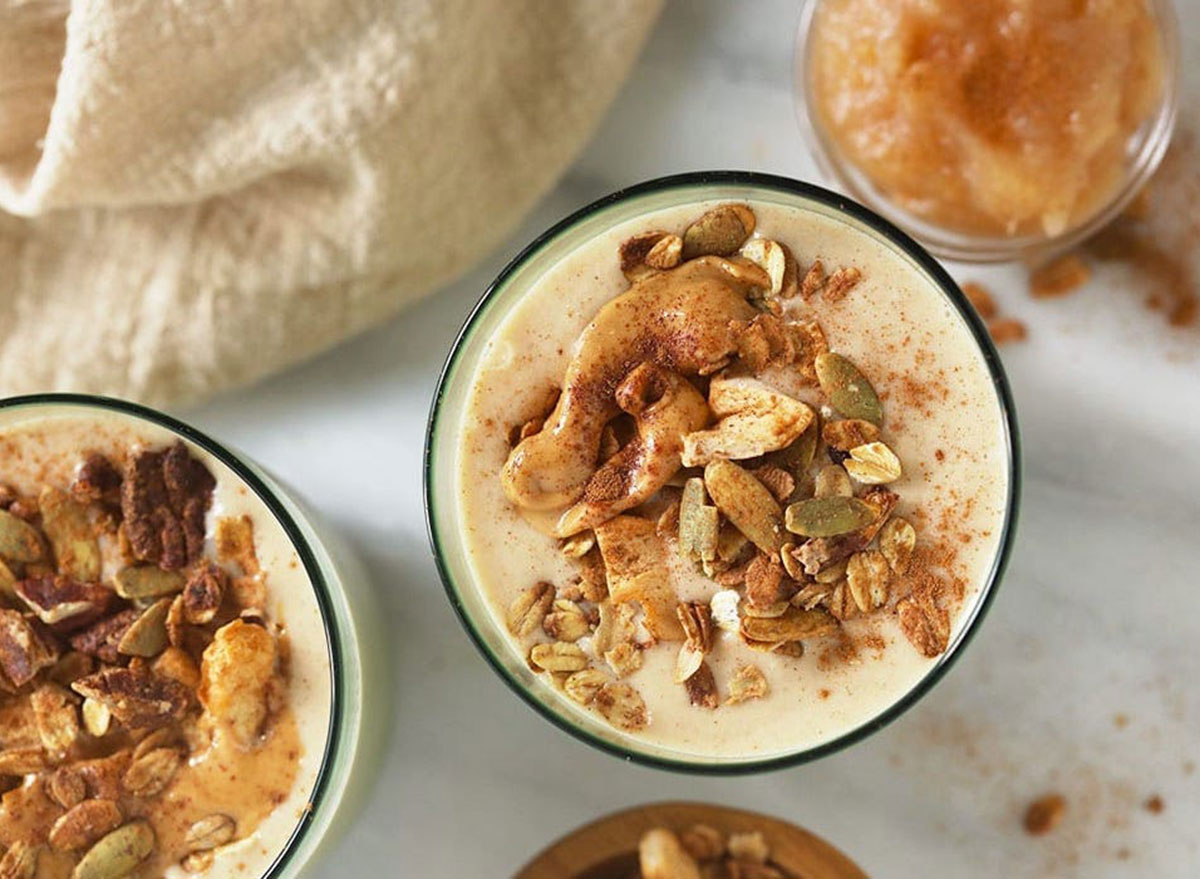 The secret to this unique smoothie is frozen applesauce. This blended drink is also perfect for those who may not like bananas, as it is made without them.
Get the recipe from Fit Foodie Finds.
Cinnamon Sweet Potato Smoothie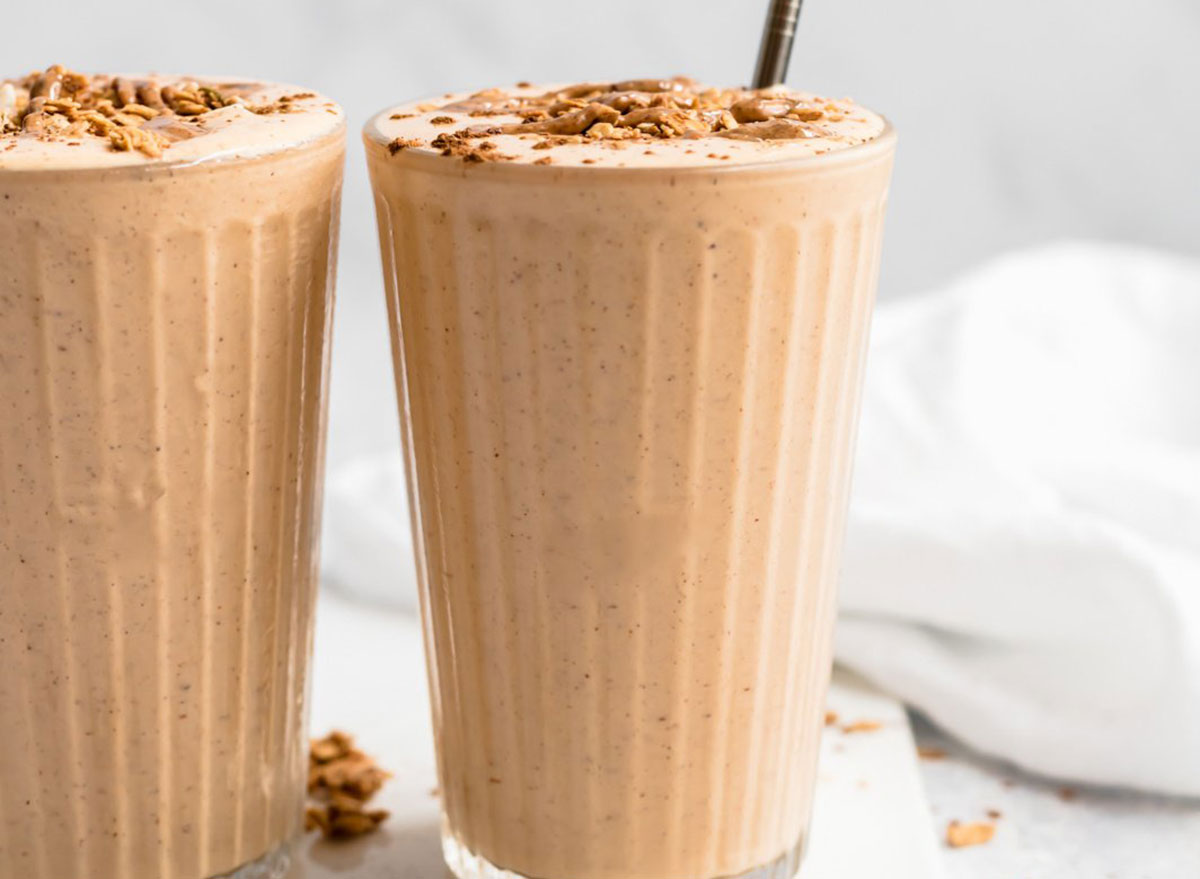 Whether on your plate or in your blender, sweet potatoes are just plain delicious. This smoothie, which has an impressive 7 grams of fiber per serving, is made using simple ingredients that you can find right in your kitchen cupboard. An extra added bonus is sweet potatoes are full of vitamin A, which can help protect from diseases, and potassium, which can help lower blood pressure.
Get the recipe from Ambitious Kitchen.
Cardamom Pear Smoothie
This scrumptious smoothie, which is both gluten-free and vegan, is filled with unique ingredients such as pitted Medjool dates and frozen cauliflower florets. Make sure to add a bit of vanilla, almond butter, and cardamom to achieve this smoothie's signature taste.6254a4d1642c605c54bf1cab17d50f1e
Get the recipe from Blissful Basil.
Apple Pie Protein Smoothie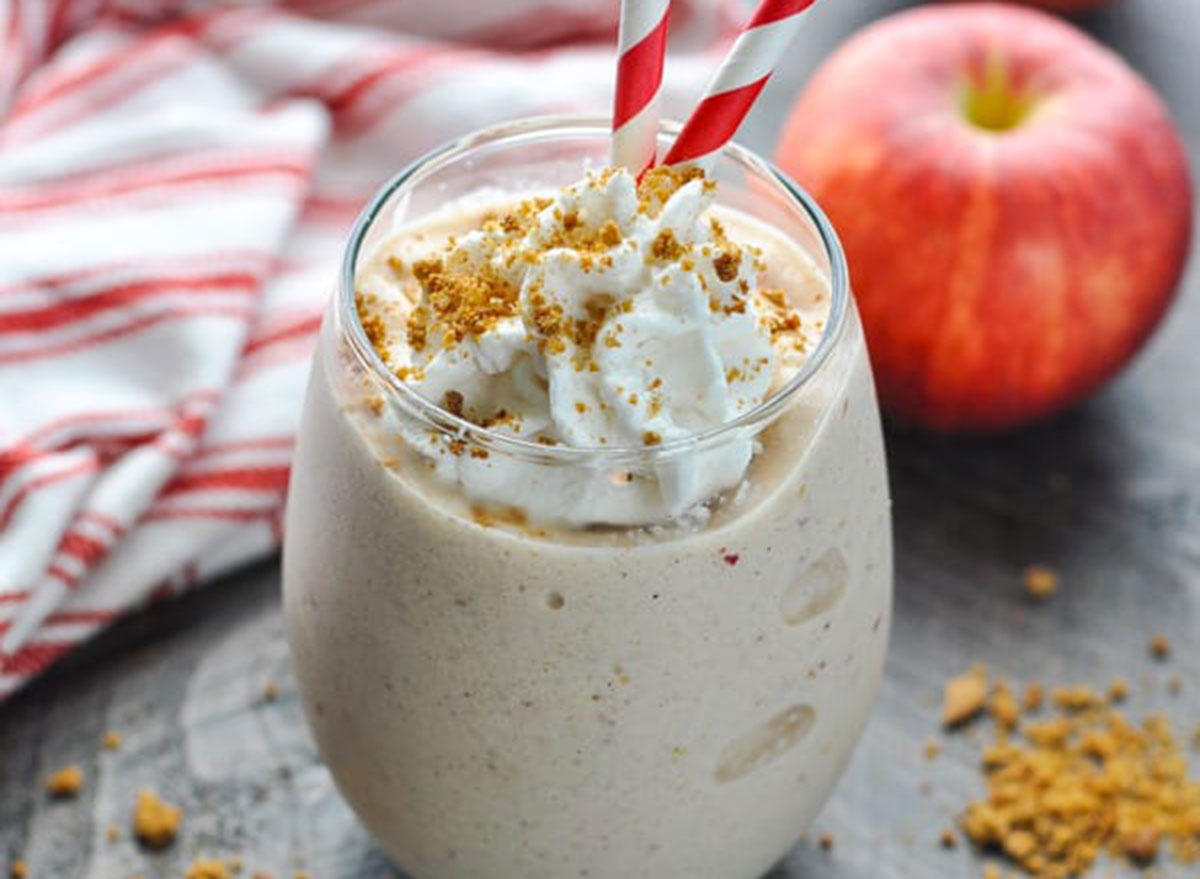 Why just have any protein smoothie if you can have an apple pie protein smoothie? If you are enjoying this drink as a dessert, or just want to add a bit of extra sweetness, be sure to garnish it with crumbled gingersnap cookies and whipped cream before serving.
Get the recipe from The Seasoned Mom.
Cranberry Pumpkin Smoothie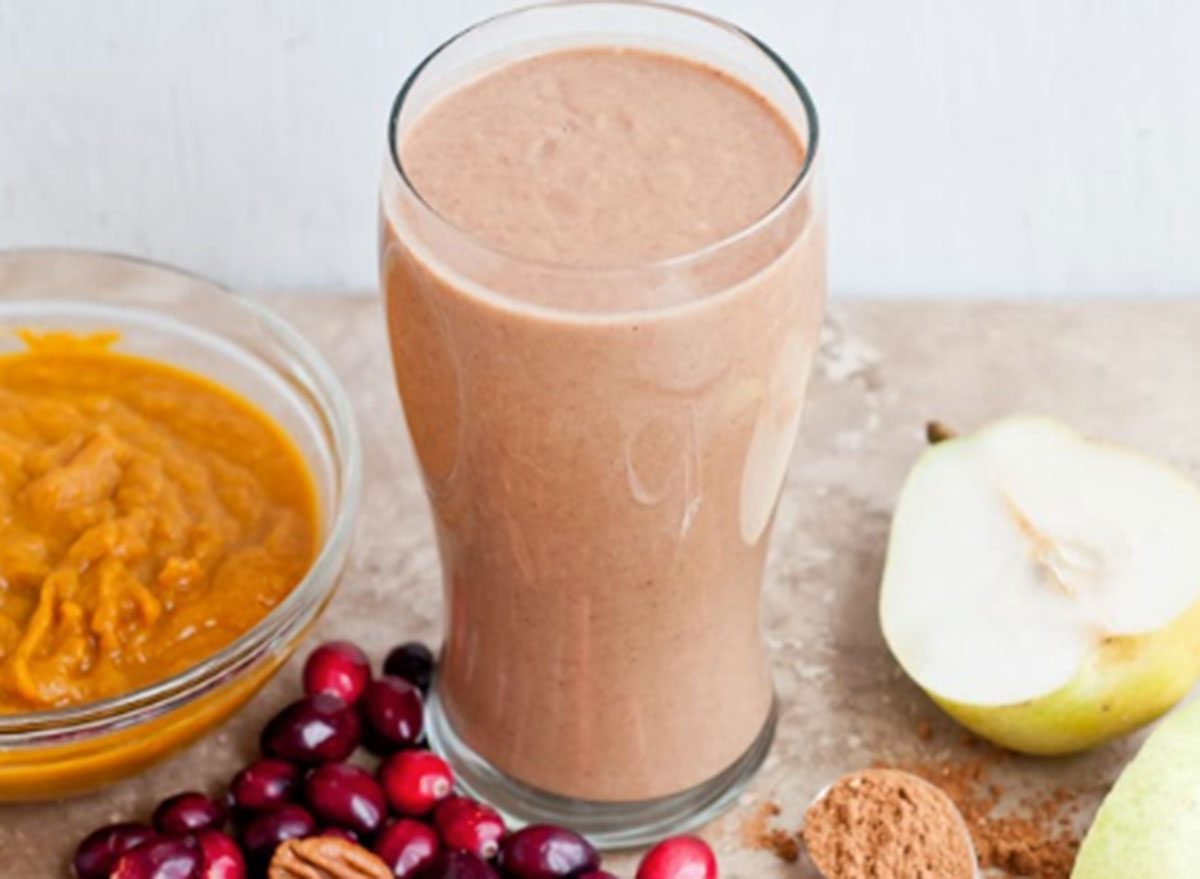 Two of fall's most popular ingredients, pumpkin, and cranberries, join together to create a smoothie that can be enjoyed any time of the year. One of our favorite parts about this smoothie is that it is naturally sweetened with Medjool dates, making it a healthier alternative to other sugar-filled drinks. Medjool dates are also known for their high fiber content, which in turn can help you feel full for longer.
Get the recipe from Cafe Johnsonia.
Pecan Pie Smoothie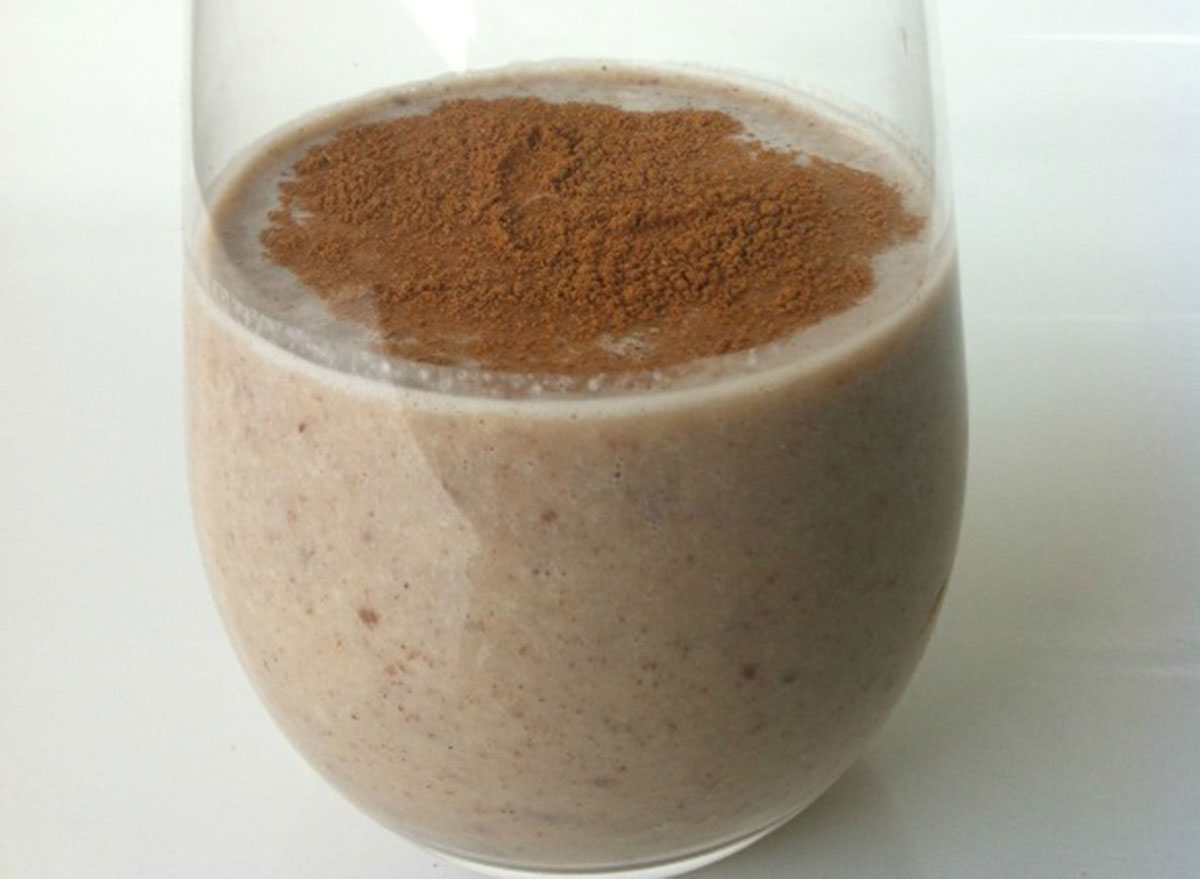 Pecans, which usually appear in holiday pies during the chillier months, take center stage in this Pecan Pie Smoothie recipe that is made using a quarter cup of raw pecans. Pitted dates, frozen bananas, and a mixture of warming spices, such as nutmeg and cinnamon, also help this smoothie achieve the perfect balance of texture and flavor.
Get the recipe from Damy Health.
Fall Green Smoothie
This drink, which is a cross between an elevated smoothie and a green juice, has a hidden ingredient in it that helps to add flavor while also boosting digestion. That ingredient is good old raw apple cider vinegar, which is known for its healing qualities.
Get the recipe from With Food and Love.
Autumn Glow Milkshake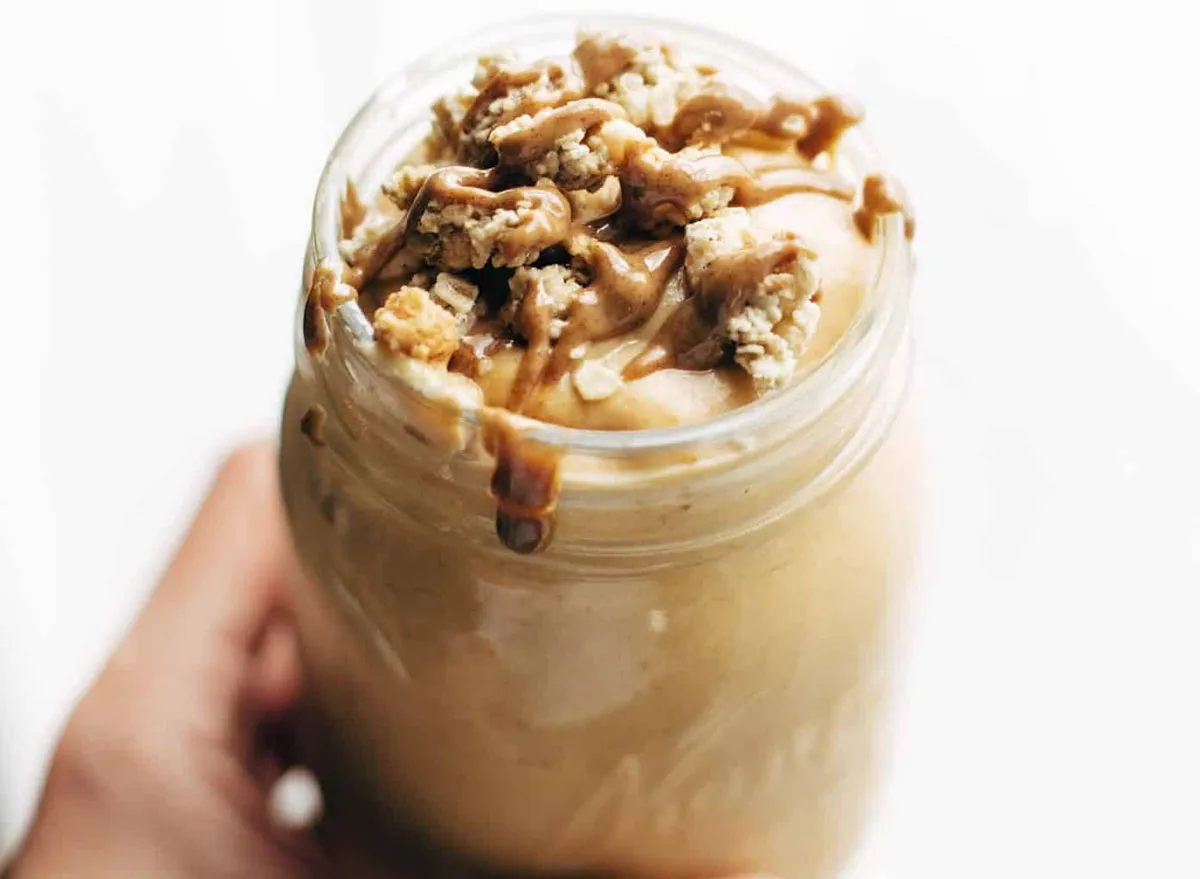 This perfectly smooth Autumn Glow Milkshake is a nutrient-packed smoothie that is filled with frozen cauliflower florets, sweet potato, and almond butter. This indulgent drink can be topped with delicious details, such as crunchy granola and chopped fruit, to create a simple breakfast or a filling mid-day snack.
Get the recipe from Pinch of Yum.
Citrus and Spice Smoothie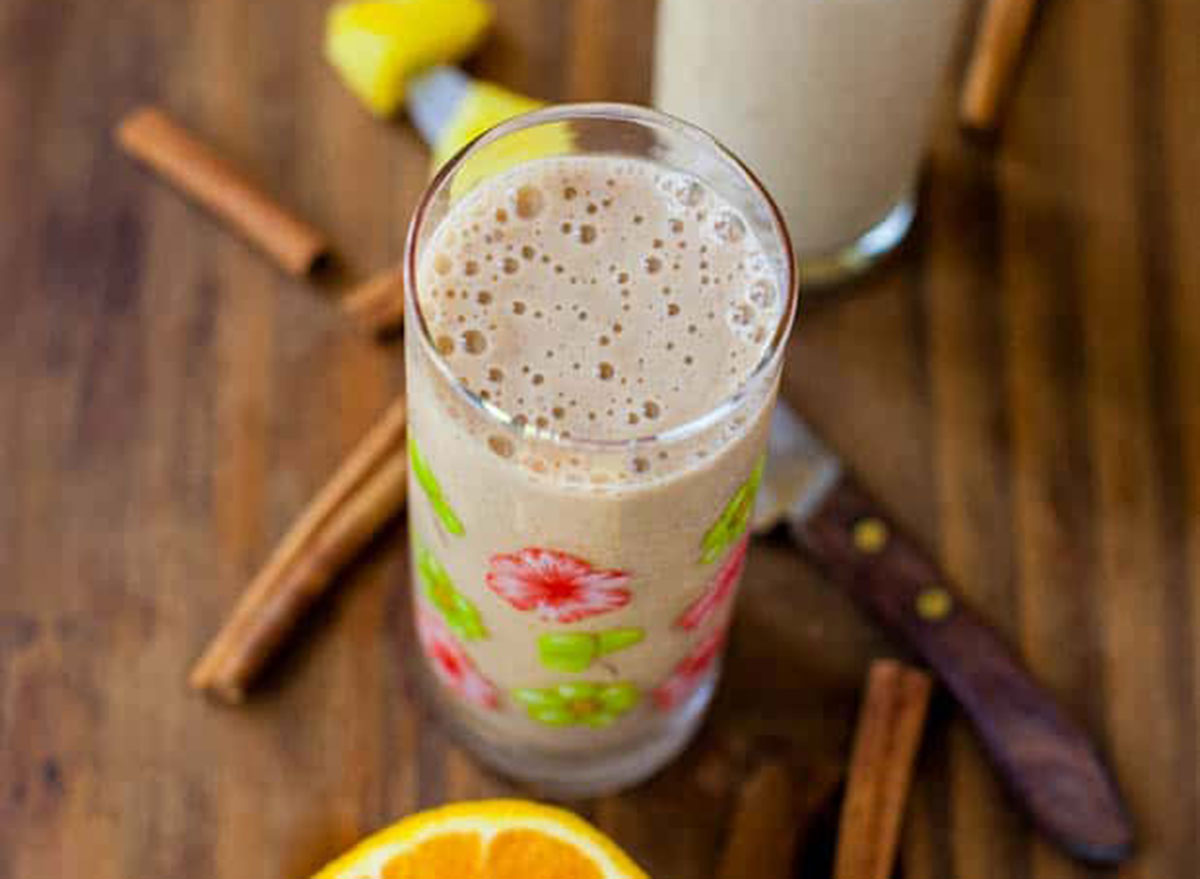 If you are looking for a smoothie that can help up your immunity then you should give this citrus smoothie a go. This smoothie, which is made using tart orange and zesty ginger, is a perfect drink to enjoy during the colder months as it is full of vitamin C.
Get the recipe from Averie Cooks.
RELATED: The #1 Thing You Can Do for Immunity, Says Science 
Carrot Ginger Turmeric Smoothie
This simple smoothie is made using a variety of healthy ingredients that have a long list of benefits. For instance, ginger helps fight infection and gives your immunity a boost, and turmeric, which is an anti-inflammatory and can help lower cholesterol.
Get the recipe from Minimalist Baker.
Read more about the health benefits of smoothies: