The Easiest Way to Poach Salmon Every Time
Low and slow cooking is the way to go—we promise it's worth the extra effort.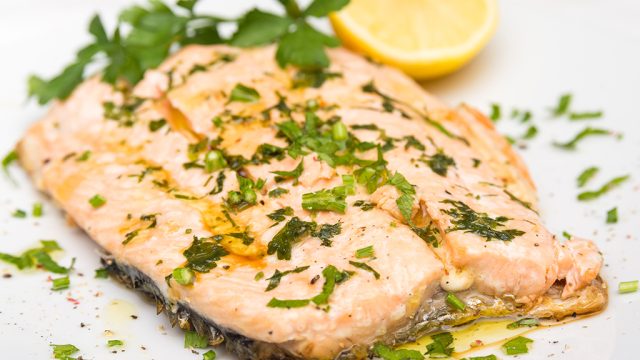 Salmon is one of the most popular fish, competing with meat to be one of American's favorite proteins. It's reasonably priced and packed with muscle-building protein and heart-healthy omega-3s. And it tastes great when it's done just right—slightly undercooked and fresh.
Delicate poached salmon is perhaps the most delicious way to prepare the fish. We spoke with Matthew Gaudet, chef de cuisine of Rochambeau in Boston, and formerly of Eleven Madison Park, for his tips and tricks to getting the perfect poach every time.
What's the best way to cook salmon?
The most important thing with cooking salmon is to go low and slow with your pot or skillet, Gaudet explains. This is how you avoid dry, mushy fish that make you wonder why you tried to poach salmon in the first place.
"You never want to see any bubbles rise. So, much like any sous vide cookery or something like that, it's a constant temperature," says Gaudet. "So we want to keep it around 160 degrees, the oil. That way, one, your herbs don't get bitter… you don't want to have any bitterness. You just want that flavor to permeate through the oil and then the salmon."
When in doubt, low and slow is always better than overcooking your salmon, so be patient!
How do you know when poached salmon is done?
You need to watch the cooking time, says Gaudet. "You probably have to check it and let it go for about eight to 10 minutes and then you start checking it. And then the best way, I find, is the cake tester or some thin sharp instrument, maybe it's a ticket spike." A small fork also works to test the fish. If the salmon starts to flake easily when you pierce it, it's ready to serve.
How should you season your salmon?
The key here is to use fresh herbs, if you can, from a farm stand or market. "Do what you can with what you got," Gaudet says. And be sure to take herbs into consideration when making the liquid to poach your salmon in.
"In poaching and thinking of poaching liquids, I put everything in, so stems and everything included, especially green ones," Gaudet says. "Thyme stems are fun, things like that. But cilantro stems, tarragon stems, parsley stems, leaves and all, get in there. It's all flavor."
RELATED: The easy way to make healthier comfort foods.
What should you look for when shopping for salmon?
The most important thing? Wild salmon or sustainably farmed salmon. "For poaching salmon, I like to have a piece with a certain amount of density, a thicker cut from the middle of the loin," Gaudet says. "So not a tail piece, not a head case. That way, you have the ability that it'll stay intact and you can cook it super slow."
There you have it: When it comes to poached salmon, low and slow is always the answer. And now that you know how to cook salmon perfectly, try your hand at one of these delicious salmon recipes.
Tanya Edwards is a seasoned food and health journalist, who has held roles at Yahoo Health as Managing Editor and at Food Network as Programming Director.
Read more