20 Delicious Ways to Dress Up Your Popcorn
Eating butter-drenched popcorn is like watching an awful movie—you just wind up with regrets.
Popcorn is the go-to snack companion when you're looking to lose yourself in the next episode of The Bachelor or fawn over the Hemsworths at the Oscars. Air-popped popcorn is super low in fat, calories, and sugar, and filled with fiber and good-for-you whole grains. It's not until you get to the snack counter at the movie theater and find yourself ordering an XL with butter that this once-healthy option becomes just another fat-packing pick.
Microwave popcorn was once formerly known as the solution to low-calorie binge snacking because one cup of the air-popped treat has only 30 calories. But because of the perfluorooctanoic acid (PFOA) in the ingredients, we simply can't ever recommend it; PFOA is a toxic chemical that lines the bag of popcorn and is linked to infertility, cancer, and weight gain. Plus, the quick microwaveable popcorns are usually loaded with too much sodium, and usually have ingredients like hydrogenated soybean oil and added colors that all lead to belly fat and inflammation.
So, there's really no reason to resort to theater or microwave popcorn when it's crazy-simple to make your own homemade popcorn. There are tons of ways to add some bold taste to the mild flavor of popcorn and jazz it up to your liking! Sweet, savory, and tangy— there's no short of ways to make this a treat that you won't feel guilty about.
SKINNY PUMPKIN SPICE KETTLE CORN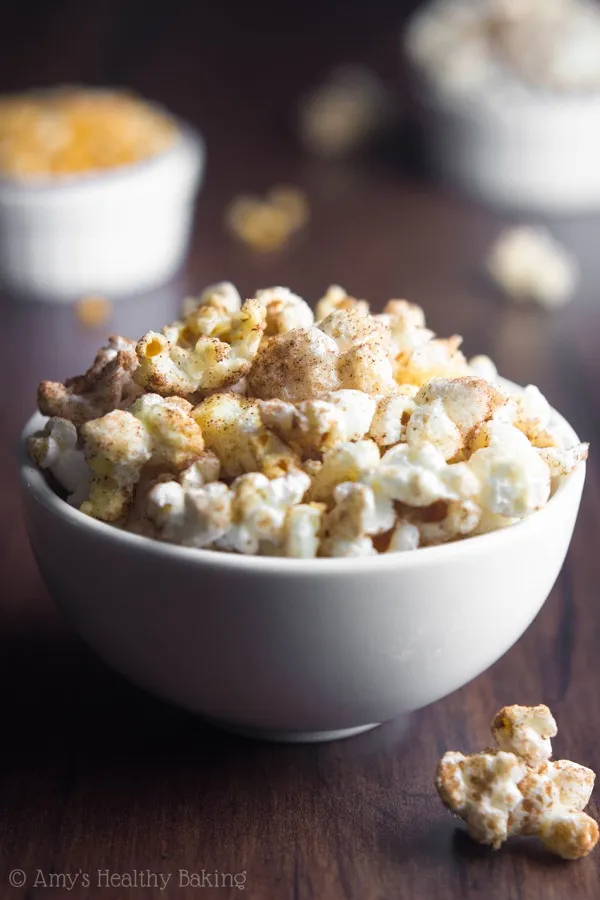 Serves: 5
Nutrition: 57 calories, 1.2 g fat (1.1 g saturated), 233 mg sodium, 19 g carbs, 2.1 g fiber, 1.9 g protein
Kettle corn is a crowd pleaser because of its sweet and savory flavor blend. But it's usually processed with excess sugar and unnecessary calories. Instead, try out this recipe, which uses coconut oil instead of butter and tons of warming spices. Ingredients like these leave lasting benefits on the body like weight loss and heart health while also reducing your appetite and inflammation! It's quick and easy to whip this up and indulge yourself in something you won't feel bad about.
Get the recipe from Amy's Healthy Baking.
HEALTHY DORITO FLAVORED POPCORN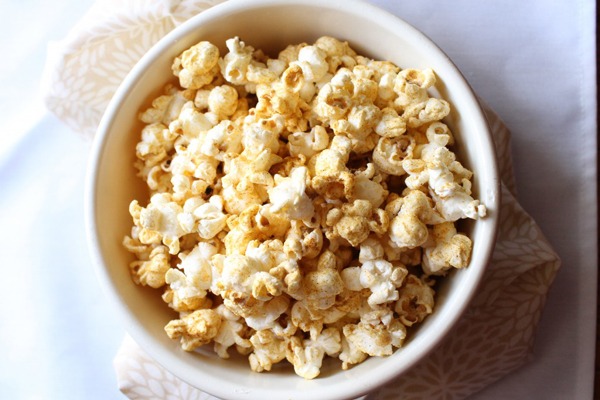 Serves: 4
Nutrition: 109 calories, 1.7 g fat, 600 mg sodium, 19.2 mg carbs, 5.6 g fiber, .7 g sugar, 7.1 g protein (calculated with 1 teaspoon salt)
Having 11 Doritos Nacho Cheese Flavored tortilla chips is 140 calories—but honestly, who stops at 11? With ingredients like maltodextrin, a highly processed thickener linked to bad gut health, and MSG, an ingredient that increases appetite and taste, you're bound to forget about serving size and munch on an entire bag. Instead of licking your fingers clean of fake ingredients, make this healthy popcorn that has the same great flavor without all the unnecessary additives. You can eat two full cups of popcorn for only 109 calories and .7 grams of sugar!
Get the recipe from Natural Chow.
CHOCOLATE PROTEIN POPCORN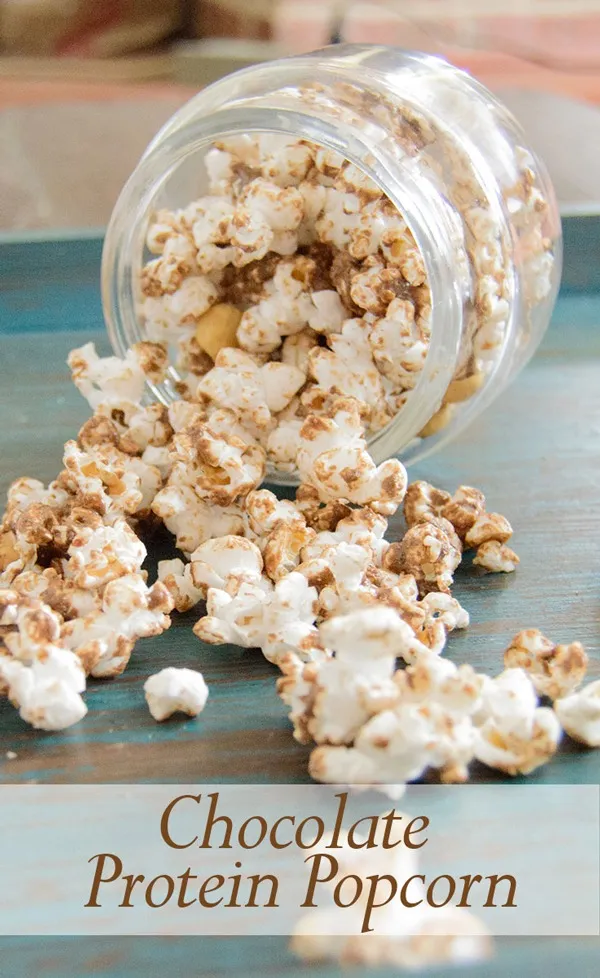 Serves: 4
Nutrition: 279 calories, 21.6 g fat (11.1 g saturated), 70 mg sodium, 18.2 g carbs, 3.8 g fiber, 6.5 g sugar, 9.3 g protein (calculated with plant-based protein)
It's true: Chocolate can help aid weight loss! When eaten right, that is. Consuming dark chocolate with more than 70% cocoa is known to reduce cravings and decrease body fat. Melted over freshly popped popcorn and you'll be getting a flavor explosion and sweet tooth fix! It's also topped with even more chocolate (in protein powder form) that increases the benefits of this tasty snack even more.
Get the recipe from Pancake Warriors.
BANANA BREAD POPCORN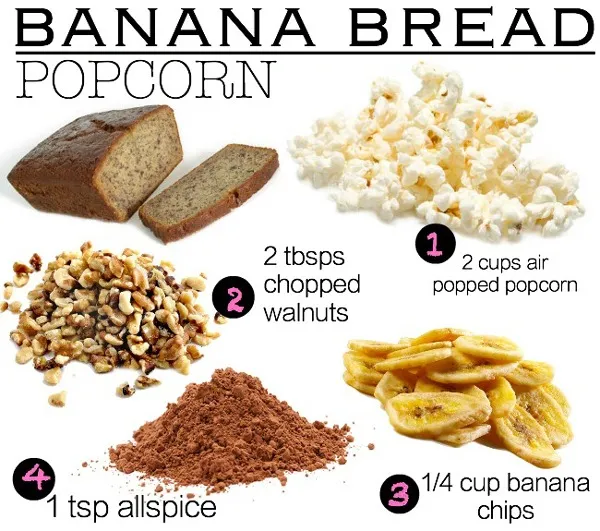 Serves: 2
Nutrition: 98 calories, 5.1 g fat, 1 mg sodium, 12 g carbs, 2.4 g fiber, 2.4 g sugar, 3.1 g protein
Popcorn that tastes like banana bread, could it be? It most definitely could! You get the same great flavors of the classic banana bread in a crunchy snack form. Make your own banana chips by baking ⅛-inch slices of 2-3 ripe bananas brushed with lemon juice on 225 degrees for around 3 hours. This way you avoid the added sugars and oils and know exactly what you're eating. Along with the heart-healthy walnuts, this snack is sure to fill you up without filling you out.
Get the recipe from Simply Tara Lynn.
CHILI LIME POPCORN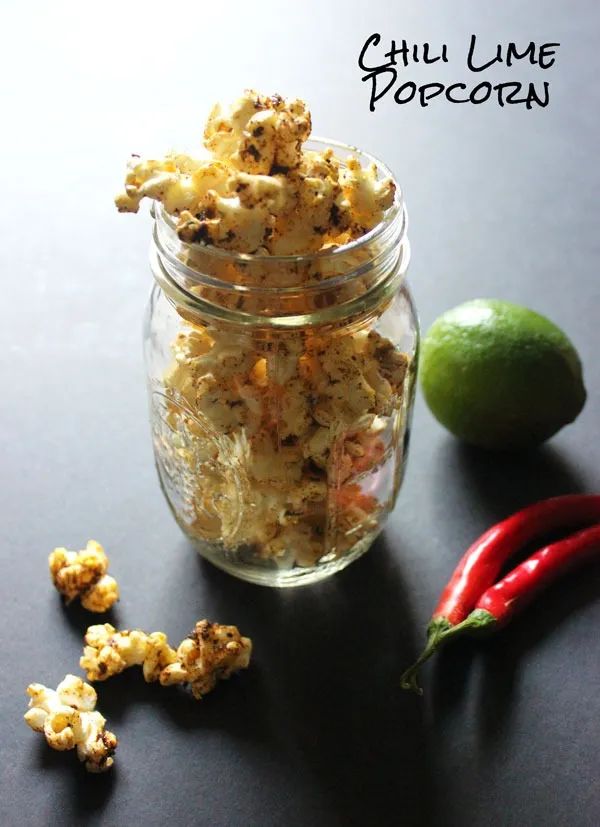 Serves: 4
Nutrition: 63 calories, 3.9 g fat (.6 g saturated), 292 mg sodium, 6.8 g carbs, 1.5 g fiber, 1.1 g protein
Chili pepper is a powerful spice that has proven to help clear sinus inflammation and reduce blood pressure. It also has weight loss qualities because of the metabolic boost it gives the body from the intense increase in heat. Combined with lime to cool down your taste buds and give you that extra tangy flavor profile, this spicy popcorn is an addictive snack without any guilt.
Get the recipe from Well Worn Fork.
NATURALLY SWEETENED HONEY POPCORN BALLS
Serves: 4
Nutrition: 110 calories, .5 g fat, 2 mg sodium, 26.6 g carbs, 1.8 g fiber, 17.4 g sugar,1.6 g protein
The title says it all, naturally sweet with no refined sugars, these balls are sure to please your sweet tooth cravings. The sugar count may be high, but raw, unprocessed honey has an abundance of health-healing benefits from the amount of good bacteria in it that kill pathogens found in humans. It also reduces inflammation.
Get the recipe from Gimme Some Oven.
APPLE CINNAMON POPCORN
Serves: 4
Nutrition: 216 calories,12.4 g fat (5 g saturated), 209 mg sodium, 25.8 g carbs, 4 g fiber, 7.1 g sugar, 2.2 g protein (calculated with 2 tablespoons stevia)
Apple and cinnamon come together as a duo that never disappoints. It's warm and comforting flavors top popcorn to make a super delicious movie time snack. Swap the sugar with natural sweetener stevia to reduce the calories and cut back on the sugar count.
Get the recipe from Around My Family Table.
DARK CHOCOLATE POPCORN WITH SEA SALT
Serves: 8
Nutrition: 309 calories, 21.4 g fat (6.4 g saturated), 134 mg sodium, 23.8 g carbs, 4.1 g fiber, 9.8 g sugar, 9.4 g protein
Warning: This snack may be habit-forming. With all the salty, chocolatey, crunchy goodness in this recipe, it's bound to make your taste buds go wild. The almonds and pumpkin seeds add an extra bite that'll boost your energy and keep you going. At a holiday party or as an after-dinner treat, this sweet and savory popcorn is one you'll have a hard time getting yourself away from. To help with portion control, predetermine how much you're going to eat by having your own personal bowl instead of just mindlessly picking!
Get the recipe from What's Cooking Good Looking.
VEGAN MAPLE CARAMEL POPCORN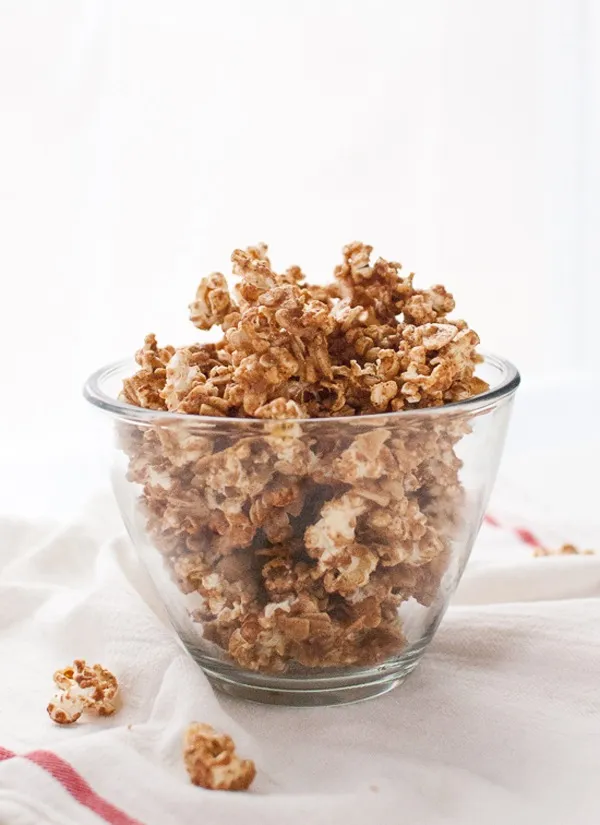 Serves: 8
Nutrition: 181 calories, 9.9 g fat (2.2 g saturated), 61 mg sodium, 21 g carbs, 2.2 g fiber, 12.2 g sugar, 3.9 g protein
This recipe has no fake sugars involved and still gets a great caramel taste from using maple syrup and almond butter instead. Research from the journal of Applied and Environmental Microbiology found that maple syrup helps antibiotics defeat disease-causing bacteria. A snack that has benefits like these is a snack to stick to!
Get the recipe from Cookie and Katie.
TRAIL MIX POPCORN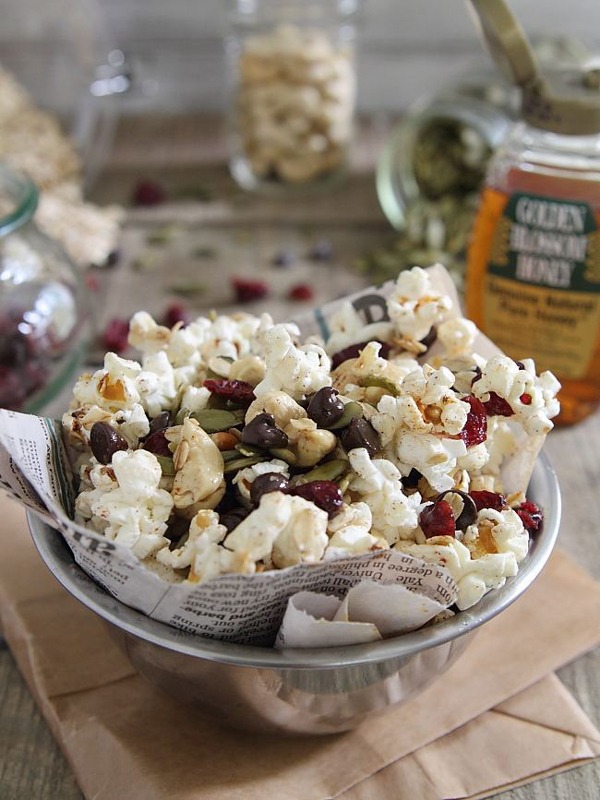 Serves: 5
Nutrition: 235 calories, 16.2 g fat (.7 g saturated), 8 mg sodium, 20.9 g carbs, 2.1 g fiber, 10.8 g sugar, 3.9 g protein
It's not always easy to pack a healthy snack, but here's a way to change that! This easy make-ahead popcorn will become to your go-to, that's going to give you all the added nutritional benefits. Heart-healthy protein-filled nuts and seeds, high fiber oats, and a sweet touch from cranberries, chocolate, and honey make a flavor that'll imitate your favorite packaged nut bar, without any of the gross, processed ingredients.
Get the recipe from Running to the Kitchen.
PARMESAN HERB SPICED POPCORN
Serves: 5
Nutrition: 228 calories, 18.3 g fat (9 g saturated), 471 mg sodium, 13.2 g carbs, 2.2 g fiber, 5.5 g protein
Popcorn sprinkled with parmesan cheese and some mega flavorful spices make for a wholesome snack option. Parmesan is rich in protein with about 10 grams per 1 ounce serving and loaded with calcium. The slightly nutty taste usually accompanies Italian dishes but why not get that same great flavor in a snack. This popcorn resembles the flavors of pizza without all the heavy calories!
Get the recipe from What's Gaby Cooking.
BACON POPCORN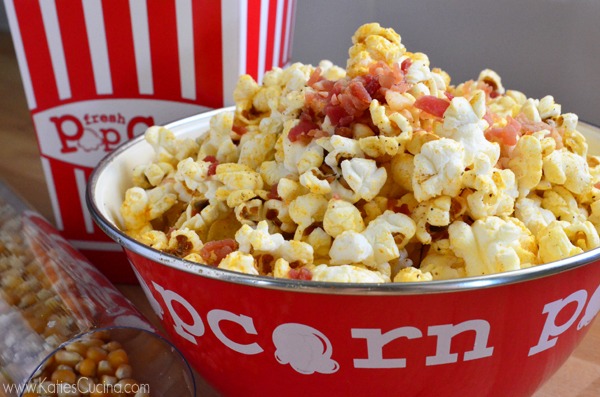 Serves: 5
Nutrition: 158 calories, 9 g fat (7.1 saturated), 224 mg sodium, 20.8 g carbs, 5.6 g fiber, 3.2 g protein (calculated without bacon bits)
Bacon. On. Everything. There's really no wrong way to eat bacon, but this bacon popcorn is a sure right way. This recipe uses bacon salt, a low-sodium, all-natural seasoning that tastes just like the real thing. We calculated this snack without the added bits, but feel free to top with some of leaner stuff by using sliced center cut pork bacon that'll give you a little extra protein without all the fat!
Get the recipe from Katie's Cucina.
SPICY MAPLE POPCORN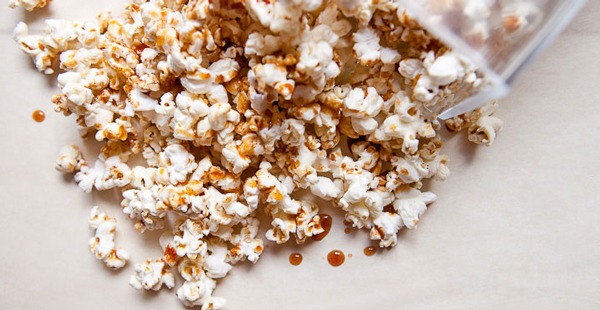 Serves: 10
Nutrition: 93 calories, 5 g fat (3 g saturated), 90 mg sodium, 11.7 g carbs, 1.2 g fiber, 4.8 g sugar, 1.1 g protein
The maple sauce is a cross between maple glaze and caramel sauce that uses only the real maple syrup. Stay away from the processed, artificial sugar kinds to avoid all the added corn syrup that's sure to keep you from your body goals. With the added spices like cayenne, this sauce comes out with so much bold flavor and tons of metabolism boosting health benefits.
Get the recipe from Macheesmo.
GREEN SUPERFOOD POPCORN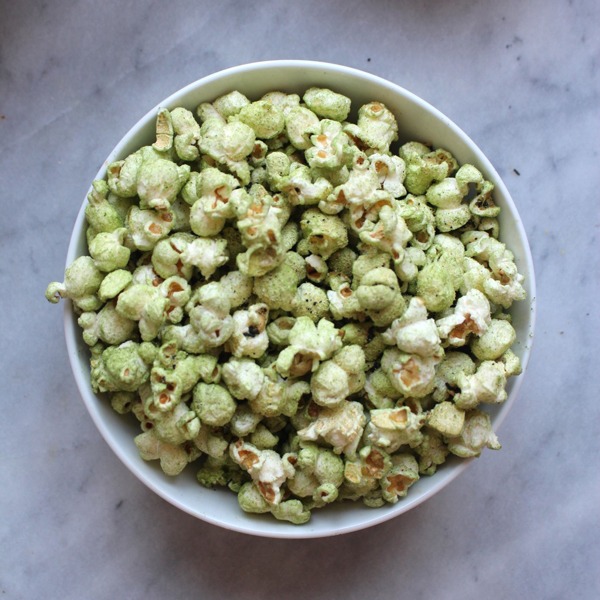 Serves: 5
Nutrition: 229 calories, 7.2 g fat (4.8 g saturated), 436 mg sodium, 42.2 g carbs, 11.3 g fiber, 7.3 g protein
This super-healthy superfood popcorn uses spirulina, microalgae that grow naturally in oceans and salty lakes. It's high in nutritional value, antioxidants and has tons of weight loss benefits. It also contains high amounts of calcium, niacin, potassium, magnesium, B vitamins and iron. Adding spirulina, garlic powder and cayenne to plain old popcorn gives it a bit of spunk in taste, and in color!
Get the recipe from The Whole Tara.
WASABI SOY SAUCE POPCORN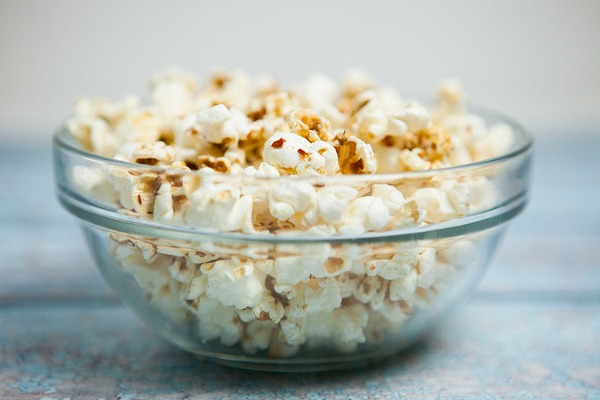 Serves: 8
Nutrition: 79 calories, 5.5 g fat (4.5 g saturated) 347 mg sodium, 6.8 g carbs, 1.4 g fiber, 1.2 g protein
Wasabi is best known for its enjoyable burn that usually comes paired with Asian cuisines. But this little paste actually has some health benefits, too! It comes from a root vegetable that has heart strengthening properties and helps reduce bad gut bacteria. Topped on popcorn with a little low-sodium soy sauce and you've got your Chinese takeout, minus all the MSG!
Get the recipe from Brooklyn Farm Girl.
MEXICAN POPCORN
Serves: 12
Nutrition: 299 calories, 21 g fat (11.3 g saturated), 807 mg sodium, 19 g carbs, 4.8 g fiber, 12.7 g protein
Mexican seasonings, cheese, and popcorn are a trio you can't deny. The spices build a flavor that's hard to resist and easy to enjoy. To cut back on some of the fat use half the butter recommended.
Get the recipe from Culinary Ginger.
VEGAN SOUR CREAM AND ONION POPCORN
Serves: 3
Nutrition: 151 calories, 1.8 g fat (0 g saturated), 66 mg sodium, 30.8 g carbs, 8 g fiber, 1.5 g sugar, 9 g protein (calculated with ⅓ cup popcorn kernels and a pinch of salt)
In search of a salty treat that's not going to bust the button off your pants? Look no further, this popcorn tastes just like the sour cream and onion flavored snack chip and no added oil. Just combine ingredients and grind down to a fine powder before topping your popcorn. Effortlessly simple and oh-so-delicious!
Get the recipe from It Doesn't Taste Like Chicken.6254a4d1642c605c54bf1cab17d50f1e
APPLE PIE POPCORN
Serves: 3
Nutrition: 123 calories, 9.6 g fat (7.9 g saturated), 1 mg sodium, 10.4 g carbs, 1.8 g fiber, 1.4 g protein
For a more nutritious spin on the fall time staple, try this apple pie popcorn. The same great spices are used and are sure to warm your belly. Cinnamon is one of the healthiest spices to get in your diet because of its ability to balance blood sugar and prevent diabetes. With properties like these, it's an obvious pick!
Get the recipe from Sweet as a Cookie.
MINT CHOCOLATE CHIP GLAZED POPCORN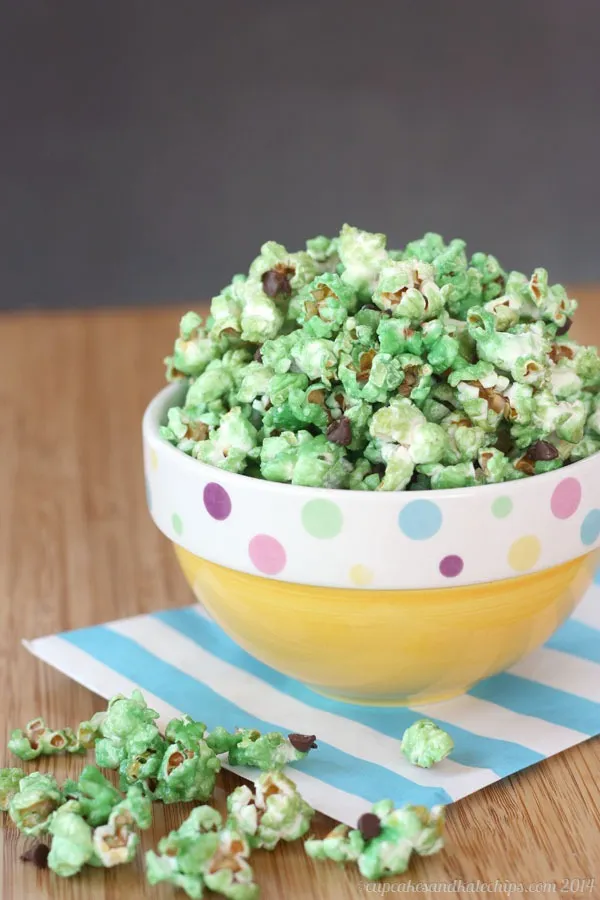 Serves: 4
Nutrition: 152 calories, 7.9 g fat (6.5 g saturated), 3 mg sodium, 20.8 g carbs, 1.3 g fiber, 14.4 g sugar, 1.3 g protein
Popcorn that tastes like your favorite ice cream flavor? It can't be. But it is! It has a light minty flavor and nibs of chocolate that resemble that cold yummy treat, without all the fat and calories. The green color is just food dye but gives the illusion that you're really getting that dessert favorite. This is a fun way to make a healthy snack for yourself or the kids!
Get the recipe from Cupcakes and Kale Chips.
SWEET AND SALTY CURRIED POPCORN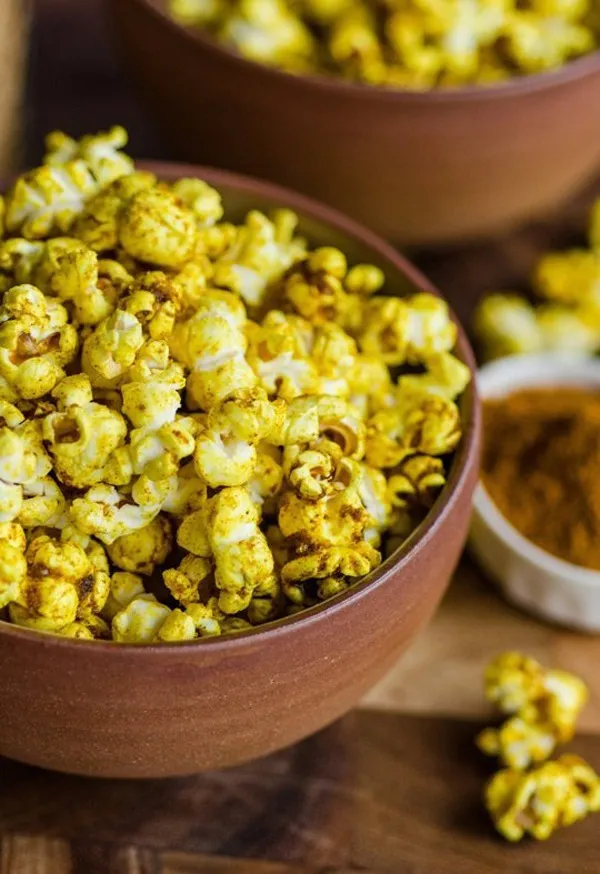 Serves: 8
Nutrition: 173 calories, 10.6 g fat (5.3 g saturated), 333 mg sodium, 19.3 g carbs, 3.5 g fiber, 1.1 g sugar, 3.3 g protein
When you get a healthy snack that's both sweet and salty, it's hard to pass up. This tastes just like a full Indian style dinner that takes half the ingredients and nearly no effort.
Get the recipe from The Kitchn.