30 Guilt-Free Snacks for Your Biggest Cravings
Peanut butter! Chocolate! Bacon! Satisfy your top three cravings with these delicious, healthy snacks you can make at home.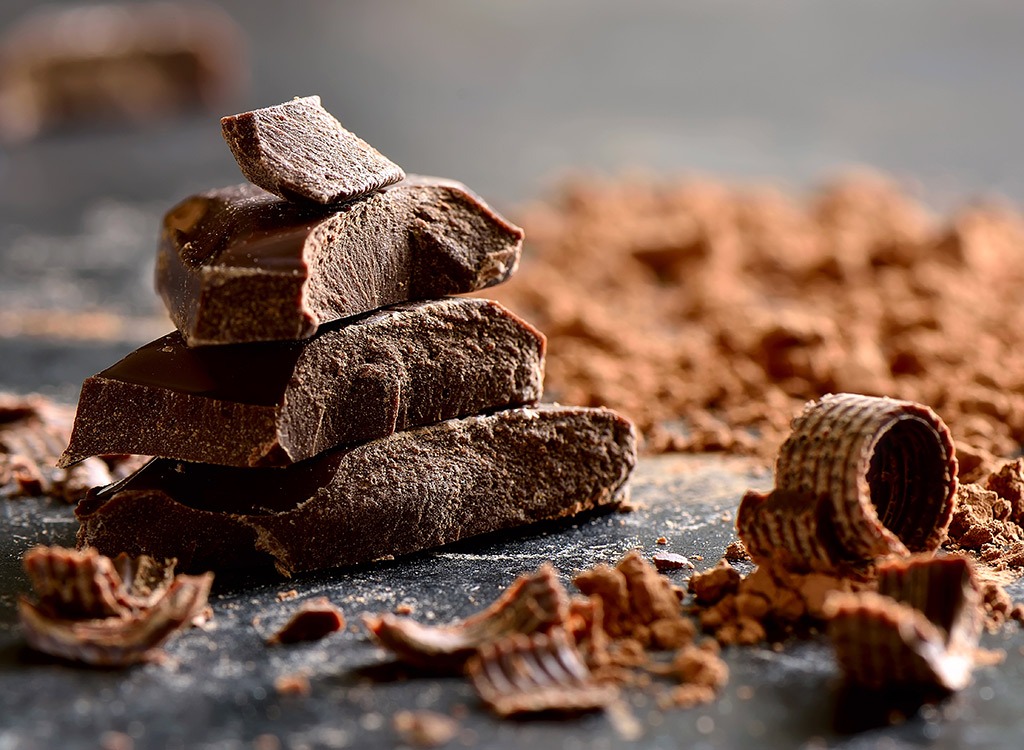 Everyone at some point has that relationship that is so intoxicating, so addictive, so bacon-y…
Before you start singing T. Swift's "Bad Blood" to your favorite foods that might not be doing any favors for your waistline, why not try these slimming swaps instead? Peanut butter, chocolate, and bacon are all very different choices for what you love to indulge in, but they're also three of the most popular cravings in America. So keep that mad love going—without the belly fat—with these easy ideas. We've sorted them by category, so look for your favorites (no judgments if it's a three-way tie for the #1 spot in your heart) and then check out these 9 Foods That Shut Off Your Hunger Hormones—Fast!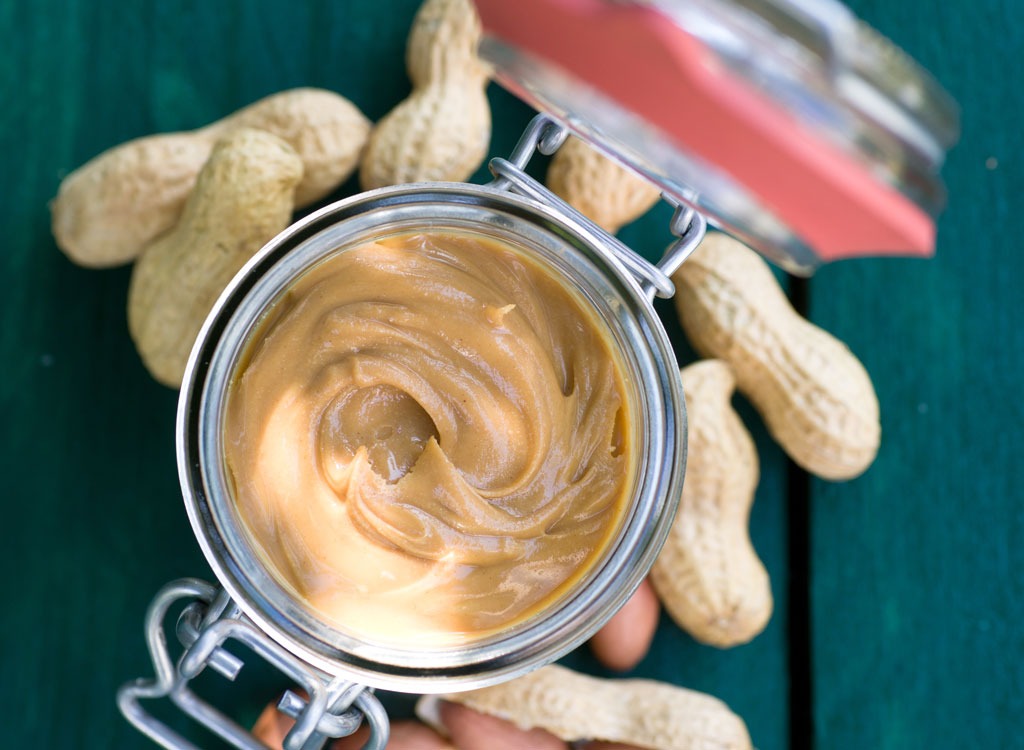 We'd be alarmed by how lovingly you're licking that spoon dipped in PB—but we totally get it. Check out these recipes and then also make sure your jar of choice isn't deemed a "worst" on our exclusive list of The Top 36 Peanut Butters—Ranked!
Peanut Butter Cookie Protein Bars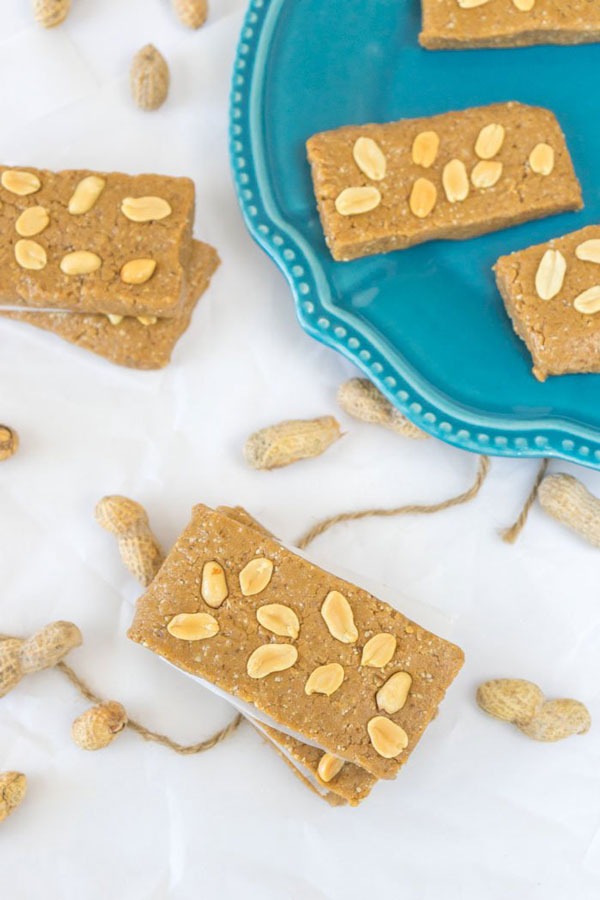 Serves: 8
Nutrition: 273 calories, 11.6 g fat (2.5 g saturated fat), 80 mg sodium, 35.5 g carbs, 3.3.g fiber, 24 g sugar, 11.2 g protein
On the run, but hungry for a snack? Bake up a batch of these peanut butter bars to have on hand for any time of the day. These bars are packed with protein and filled with natural sugars that will keep your energy up all day!
Get the recipe from One Ingredient Chef.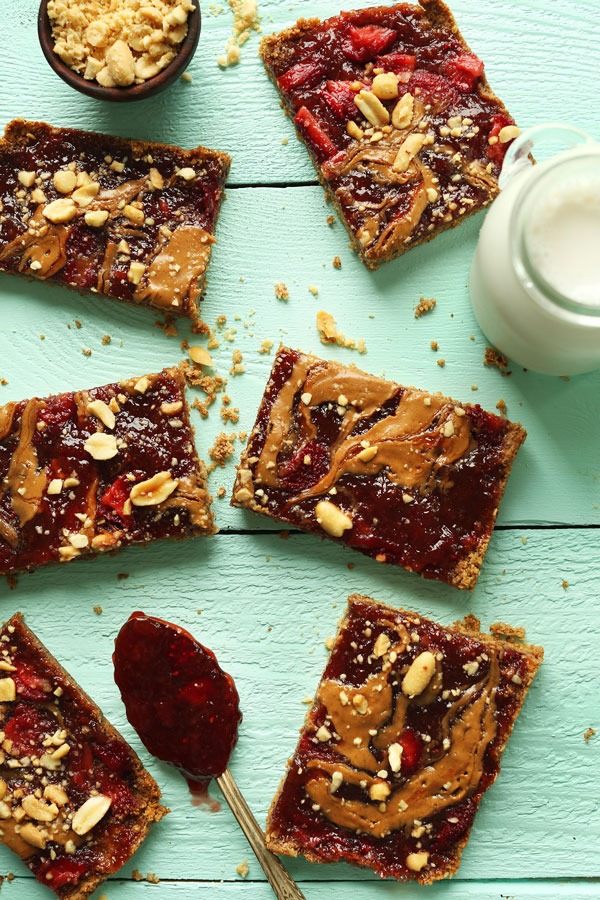 Serves: 9
Nutrition: 306 calories, 16.3 g fat (7 g saturated fat), 51 mg sodium, 34 g carbs, 2.6 g fiber, 4.6 g sugar, 4.9 g protein (calculated without optional peanut topping)**
It's peanut-butter-jelly-time! The classic sandwich from back in the day has turned into the perfect all-grown-up snack that tastes even better. This recipe is simple, with only eight ingredients. These sweet and savory bars prove that healthy snacks don't have to taste bad!
Get the recipe from The Minimalist Baker.
Peanut Butter Oat Cookies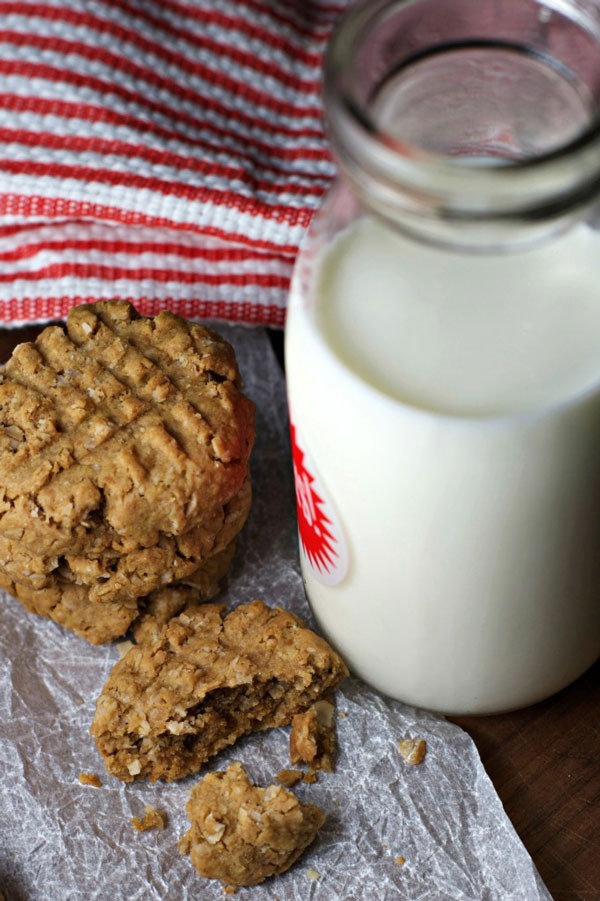 Serves: 16
Nutrition: 89 calories, 4.1g fat (.6g saturated fat), 40 mg sodium, 10.5 g carbs, 1.3 g fiber, 5 g sugars, 3 g protein
Here's a healthier version of the old fashioned oat cookies from the supermarket. With a low-calorie count and the little amount of added sugars, you can even indulge in more than one (but, no more than 3). So, get out that glass of milk when you get the craving for a sweet and reach for one of these.
Get the recipe from Begin with Nutrition.
No Bake Peanut Butter Chia Granola Bars
Serves: 12
Nutrition: 208 calories, 12.1 g fat (1.9 g saturated fat), 117 mg sodium, 21.6 g carbs, 3.4 g fiber, 9.6 g sugars, 7.1 g protein
A low-calorie snack with no baking necessary. A combination of nutritious ingredients like walnuts and quinoa, which are both high in protein and loaded with antioxidants, come together to form this perfectly chewy granola bar.
Get the recipe from Well Plated.
Peanut Butter Banana Popsicles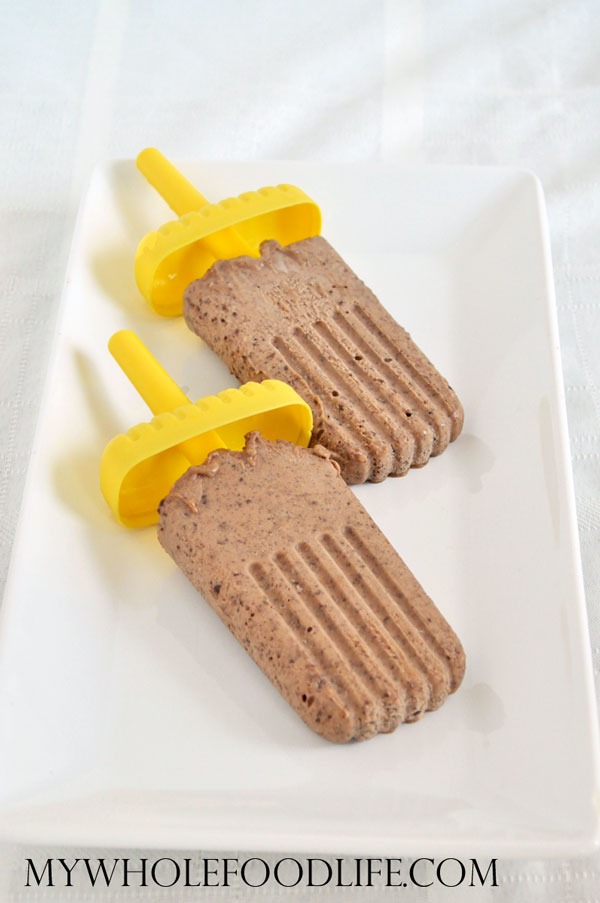 Serves: 5
Nutrition: 283 calories, 18.1 g fat (6.3 g saturated fat), 132 mg sodium, 25.8 g carbs, 3.3 g fiber, 16.8 g sugars, 8.2 g protein
Perfect for a summer day or after a meal, these popsicle sticks are effortlessly amazing. Made with only three ingredients and endless possibilities, they are bound to become one of your favorite go-to snacks. With these sweet treats, there is the option to leave out the chocolate chips, and we suggest to add in some chia seeds or a fruit of your choice.
Get the recipe from My Whole Food Life.
Peanut Butter Cheese Crackers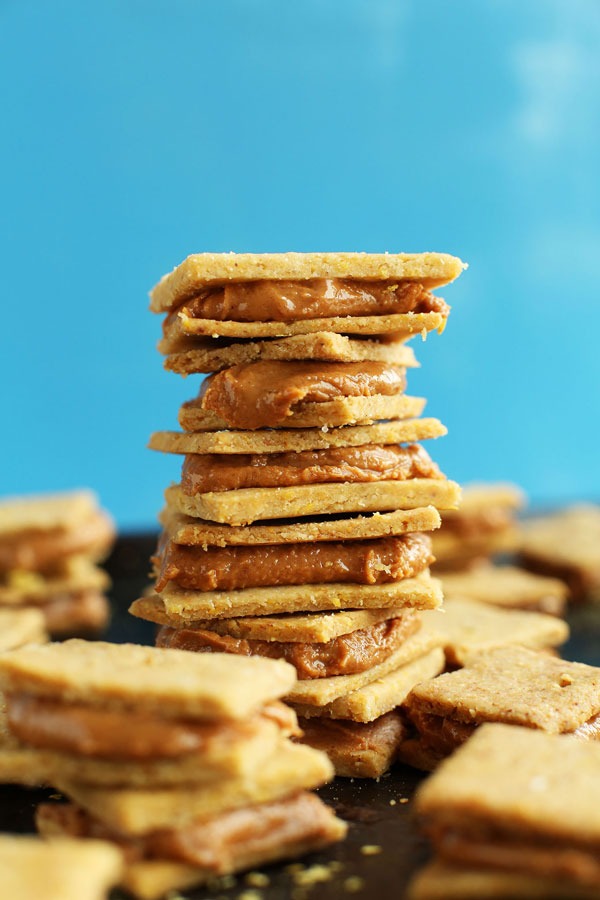 Serves: 20
Nutrition: 79 calories, 4.9 g fat (.9 g saturated fat), 92 mg sodium, 7 g carbs, 1.4 g fiber, 1 g sugar, 2.7 g protein
These vegan-friendly peanut butter cheese crackers might look familiar. Remember that old Keebler Sandwich Cracker that left your fingers orange and oily. Those highly processed crackers are made with words that are unknown to the English language that will keep the shelf life long but your appetite short. Those may be a quick fix, but there are almost no nutrients in the supermarket version of these cookies. We recommend you give these natural peanut butter cheese crackers a try next time you're in the mood for something savory with a little sweet!
Get the recipe from Minimalist Baker.
Vegan Peanut Butter "Kiss" Cookies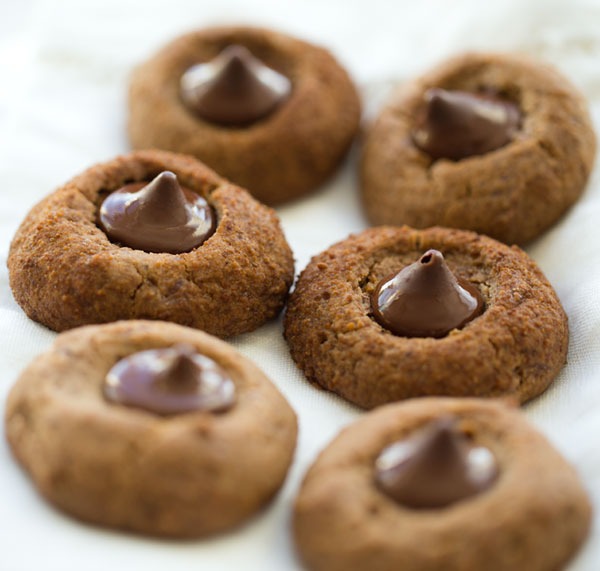 Serves: 17
Nutrition: 172 calories, 9.7 g fat (2.4 g saturated fat), 87 mg sodium, 19.6 g carbs, .8 g fiber, 12.8 g sugar, 2.9 g protein
These cookies are typically made for the holidays or to bring to a party, but why not keep some around for your daily snacks. Grab one when you're on the go or when you get that late night craving for something sweet. If you're also looking for a chocolate fix, include the 3-ingredient chocolate topping!
Get the recipe from Lunch Box Bunch.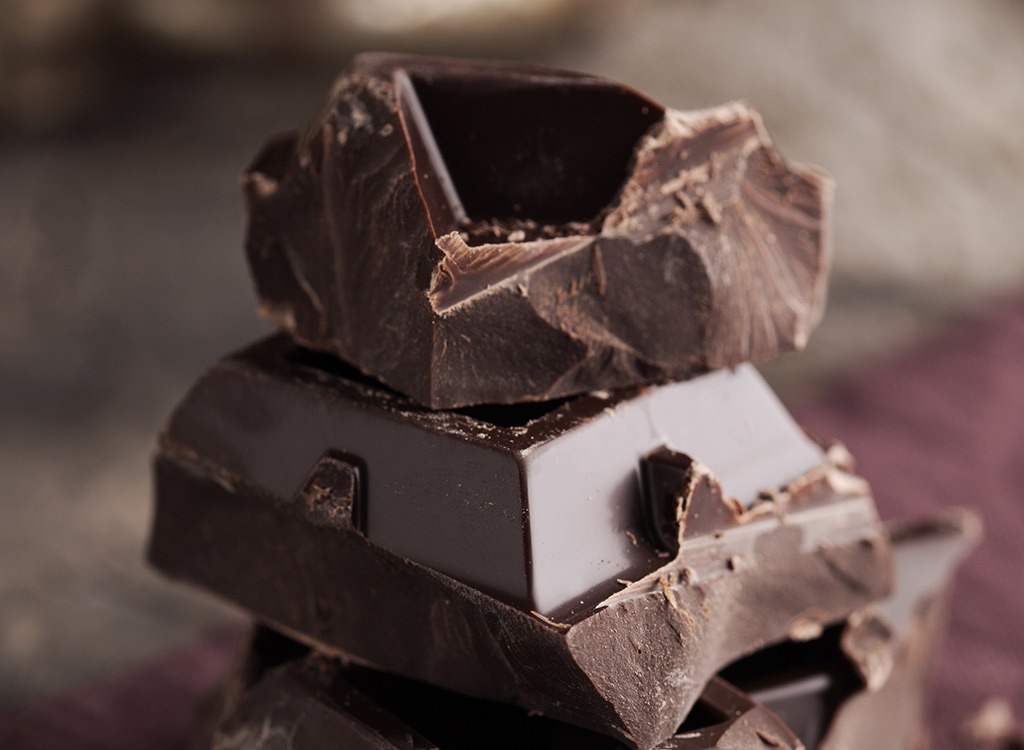 As long as you choose chocolate that's at least 70 percent cacao (that means dark and not milk chocolate!), then this antioxidant-packed food can be a regular, guilt-free pleasure. Step away from the waxy, chemical-filled packages of chocolate candy at the drugstore and make one of these weight loss recipes instead!
Pumpkin Chocolate Chia Pudding
Serves: 5
Nutrition: 180 calories, 6.4 g fat (.5 g saturated fat), 218 mg sodium, 34.7 g carbs, 9.2 g fiber, 21.2 g sugar, 5.1 g protein (calculated using almond milk)
Chia seeds are a superfood known to satisfy hunger with a low-calorie count. Does it get any better than that? Actually, yes. They're also filled with fiber and loaded with antioxidants, so why not add some chocolate and pumpkin to amp up this tiny nutrient-packed food to make it your afternoon snack. You could even swap out the milk and replace it with a nut milk if you're looking to cut back on the dairy.
Get the recipe from Running to the Kitchen.
Chocolate Fudge Zucchini Brownies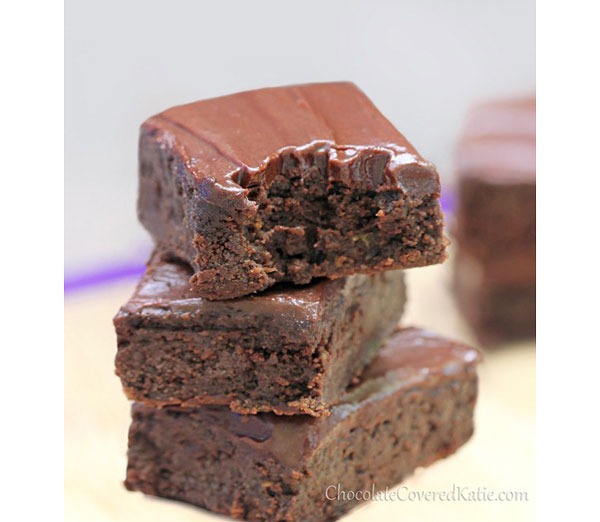 Serves: 20
Nutrition: 112 calories, 7.7 g fat, (6.3 g saturated fat), 112 mg sodium, 8.8 g carbs, 4.3 g fiber, 1.2 g sugar, 2.2 g protein
That's right: Brownies made out of zucchini that taste good, too! Getting a serving of vegetables through eating a brownie, who would have thought this day would come. And we're not complaining. These amazingly gooey, fudgy, chocolatey brownies have only 112 calories and a measly 1.2 grams of sugar.
Get the recipe from Chocolate Covered Katie.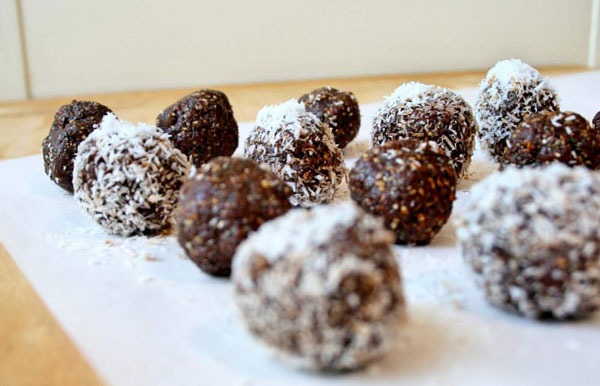 Serves: 16
Nutrition: 108 calories, 6.9 g fat (1.4 g saturated fat), 1 mg sodium, 11.5 g carbs, 2.5 g fiber, 8.0 g sugars, 1.9 g protein
Research has found that the antioxidant capacity of cacao in comparison to green tea, black tea, and red wine has the greatest activity and most potential for health benefits. If you don't know, antioxidants are those fabulous things that slow down those unwanted changes that come with aging, reduce the risk of cancer and help decrease the chances of heart disease. At only 108 calories a pop, feel free to have two or three of these eye-pleasing little bliss balls.
Get the recipe from Vegu Kate.
10-Minute Healthy Chocolate Fudge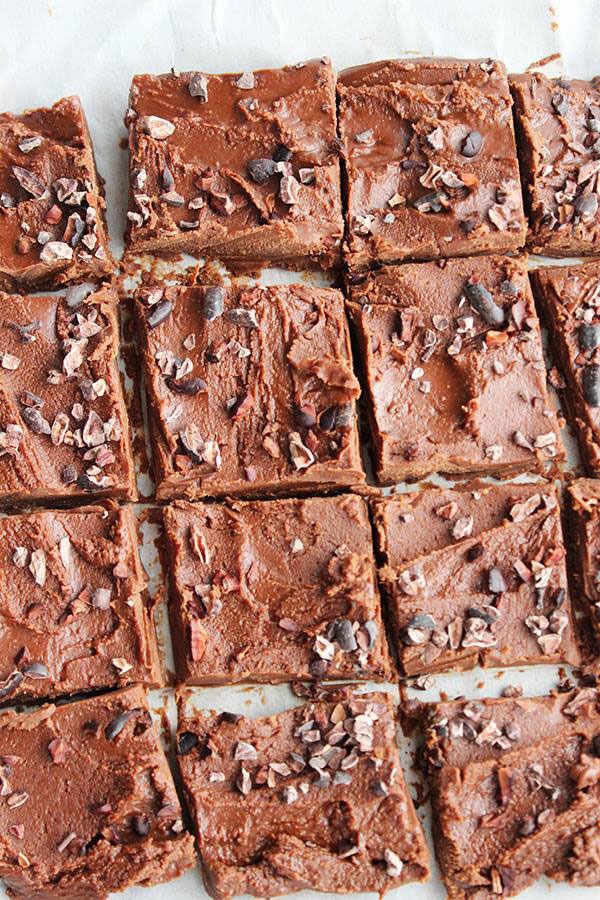 Serves: 12
Nutrition: 119 calories, 9.1 g fat (3.9 g saturated fat), 50 mg sodium, 8.8 g carbs, 3.5 g fiber, 3 g sugars, 4 g protein (using peanut butter)
A healthy fudge that takes ten minutes to make. Say what?! This rich fudge is the perfect combo of super food ingredients that will grab your hunger's attention. With the calorie count low, make these into fudge bars with two servings worth. Change up the toppings each time you make these with some other nutrient dense foods (even try something like cayenne to give it a little kick)!
Get the recipe from Simple Green Moms.
Salted Cashew Chocolate Clusters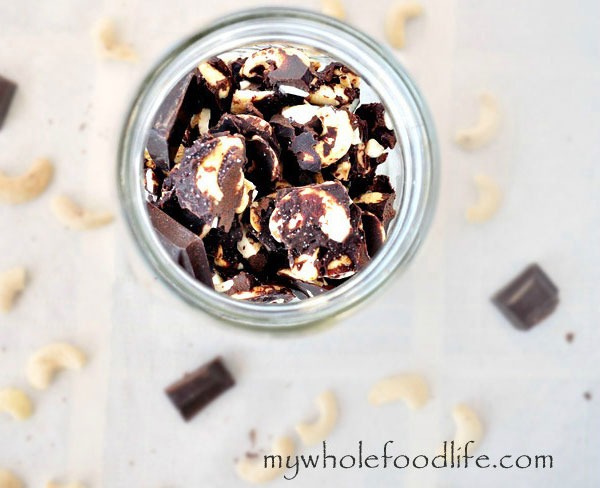 Serves: 5
Nutrition: 340 calories, 25.5 g fat (8.5 g saturated fat), 208 mg sodium, 23.8 g carbs, 1.9 g fiber, 10.9 g sugars, 7.7 g protein
The buttery yet crunchy cashew is packed with energy, antioxidants, vitamins, and minerals. A handful of these clusters each day will provide enough manganese, potassium, copper, iron, magnesium, zinc and selenium to decrease the chances of disease. Plus, the salted chocolate coating adds a savory touch to kick those cravings to the curb!
Get the recipe from My Whole Food Life.
Serves: 4
Nutrition: 220 calories, 13.9 g fat (2.8 g saturated fat), 126 mg sodium, 21.6 g carbs, 4.8 g fiber, 12 g sugars, 4.3 g protein
Nutella is one of those spreads that you can have a spoonful of and not feel bad about…until a few minutes later when the jar is empty, and your blood pressure is off the charts. Normally filled with sugar, we found a healthy alternative to this hungry obsession. Use this perfect midday snack for dipping apples and celery in or even as a spread on some whole wheat toast.
Get the recipe from My Darling Vegan.
Coconut-Chocolate Energy Cookies
Serves: 10
Nutrition: 97 calories, 2.4 g fat (1.4 g saturated fat), 4 mg sodium, 19.3 g carbs, 3.8 g fiber, 12.4 g sugars, 1.8 g protein
The combination of coconut and chocolate is one to swear on. These little cookies are low in calories and perfect to snack on. Grab a few and bring them to work as a midday treat. They are sweet and fudgy from the dates with a good crunch from the coconut!
Get the recipe from Blissful Basil.
Chocolate Cherry Almond Snack Bars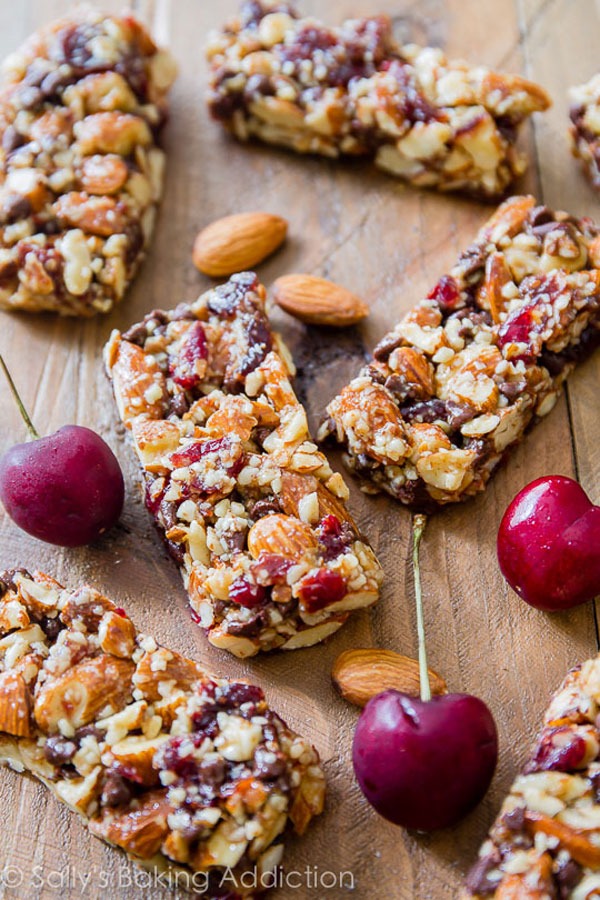 Serves: 12
Nutrition: 223 calories, 15.5 g fat (2.1 g saturated fat), 29 mg sodium, 18 g carbs, 3.6 g fiber, 11.4 g sugars, 6.3 g protein
Step aside grocery store brands, these homemade snack bars are the ultimate midday fix. The sweet but sour flavor from the dried cherries is a game changer. These can be wrapped individually just like the ones bought at the store and taken to eat daily. Cherries are a low-calorie fruit with anti-inflammatory properties as well as high in vitamins and nutrients.
Get the recipe from Sallys Baking Addiction.
Category 2.5: Because Why Not?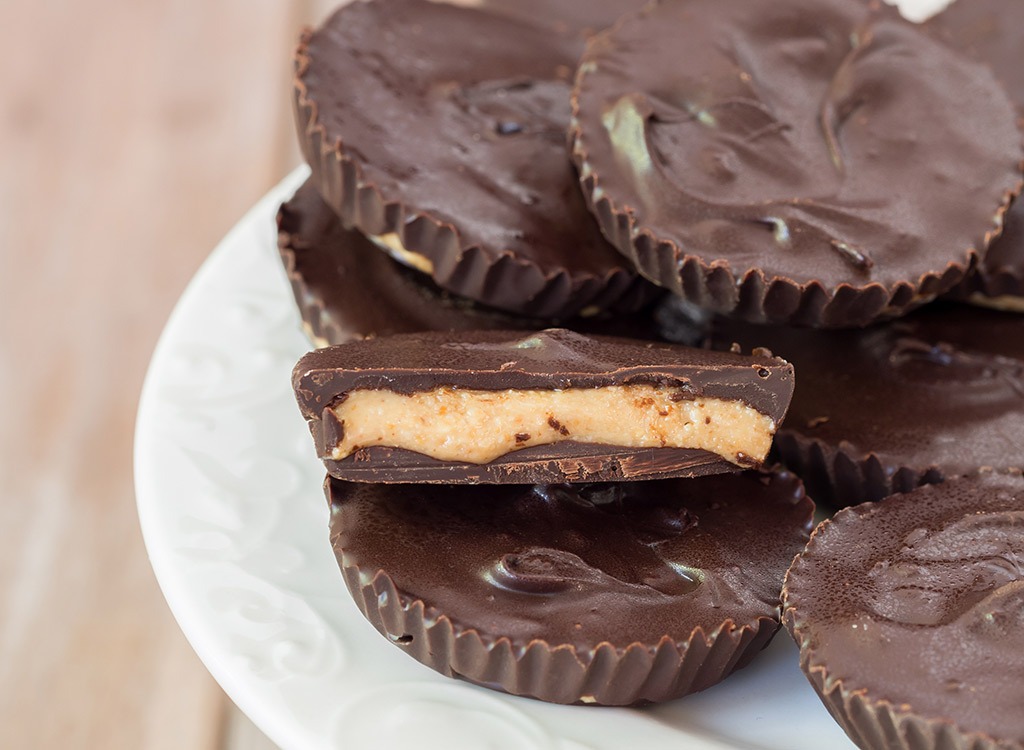 It's a power couple that's even better than Jay-Z and Beyonce: Peanut butter and chocolate!
Dark Chocolate Covered Peanut Butter Stuffed Dates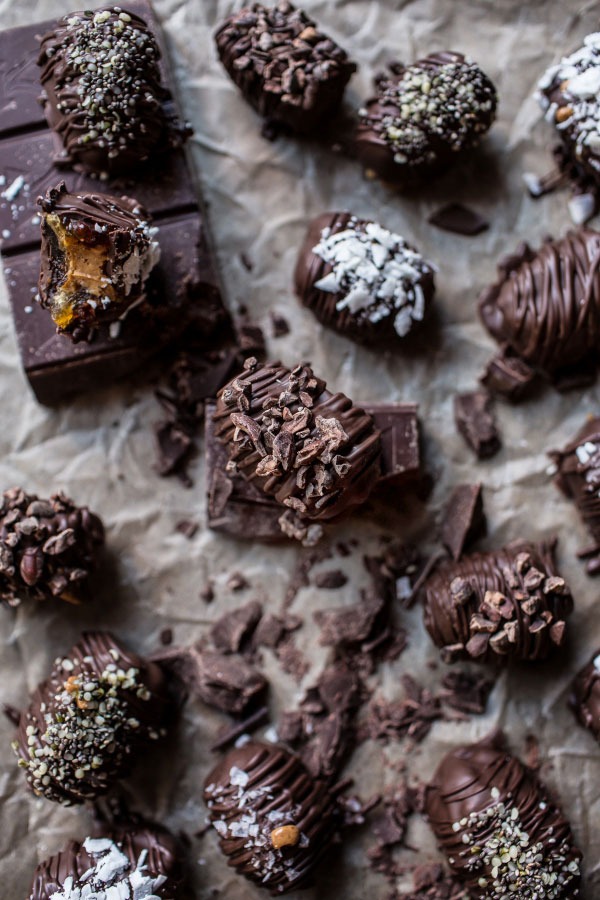 Serves: 16
Nutrition: 246 calories, 13.1 g fat, 95.4 g saturated fat), 85 mg sodium, 29.6 g carbs, 3.1 g fiber, 24.2 g sugars, 5.9 g protein (optional toppings not included)
You think that name is a mouthful, wait until you try these! Dates are one of the best foods to eat for your digestion. Their high fiber content regulates the digestive process, and they are the perfect natural sweetener for healthy desserts and snacks. Many health specialists say that eating one a day is good for a balanced diet. We'd say that stuffing one with peanut butter and covering it in dark chocolate is the best way to eat that one.
Get the recipe from Half Baked Harvest.
Peanut Butter Cookie Dough Balls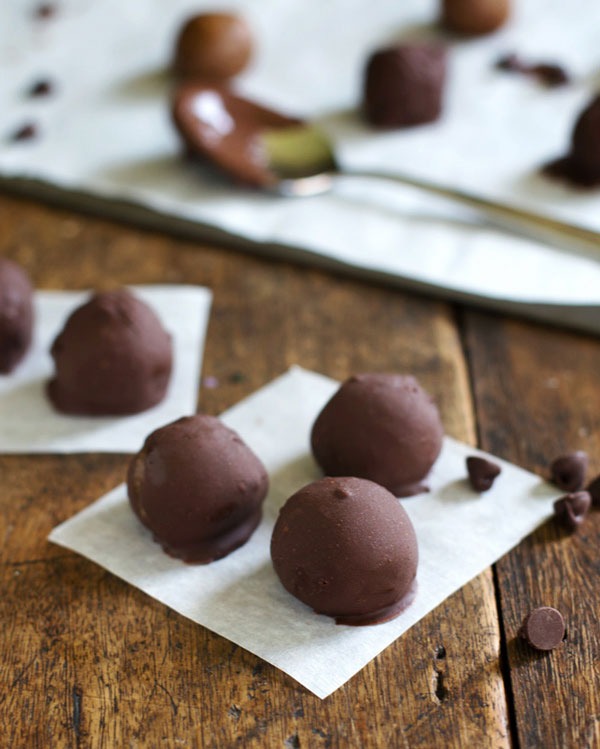 Serves: 12
Nutrition: 140 calories, 8.5 g fat (3 g saturated), 34 mg sodium, 13.7 g carbs, 1.8 g fiber, 10.7 g sugar, 3.8 g protein
These chocolate covered balls are only three ingredients and enough to fool you into thinking it's that high sugar, store-bought cookie dough. But, no, these are vegan, gluten free, grain free and refined sugar-free! How do these taste so good, you may wonder. There is something about the creamy peanut butter and crunchy peanuts combined with the chocolate shell that form a consistency so perfect it will make your taste buds go wild!
Get the recipe from Pinch of Yum.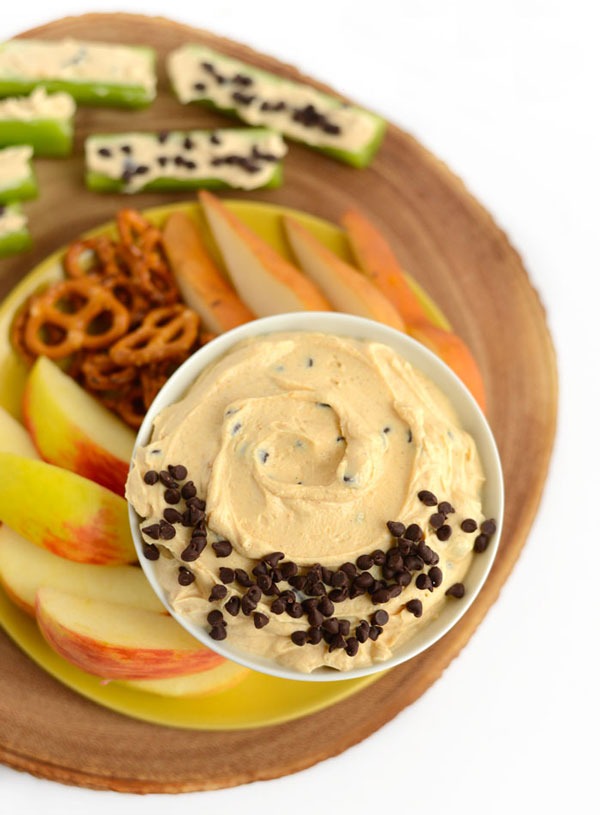 Serves: 6
Nutrition: 111 calories, 8.5 g fat (2.2 g saturated fat), 69 mg sodium, 7.1 g carbs, 1.2 g fiber, 5.3 g sugars, 3.9 g protein
For all you dip lovers out there, here's your next favorite snack perfect for dipping fruit and veggies in! Swap the chocolate chips out for a more natural form, cacao nibs, and use plain greek yogurt instead for an added source of protein, a lower carb intake, and less sugar. Get your dippers ready because this treat is something you won't stop coming back to!
Get the recipe from Fit Foodie Finds.
Peanut Butter Chocolate Chip Flourless Cookies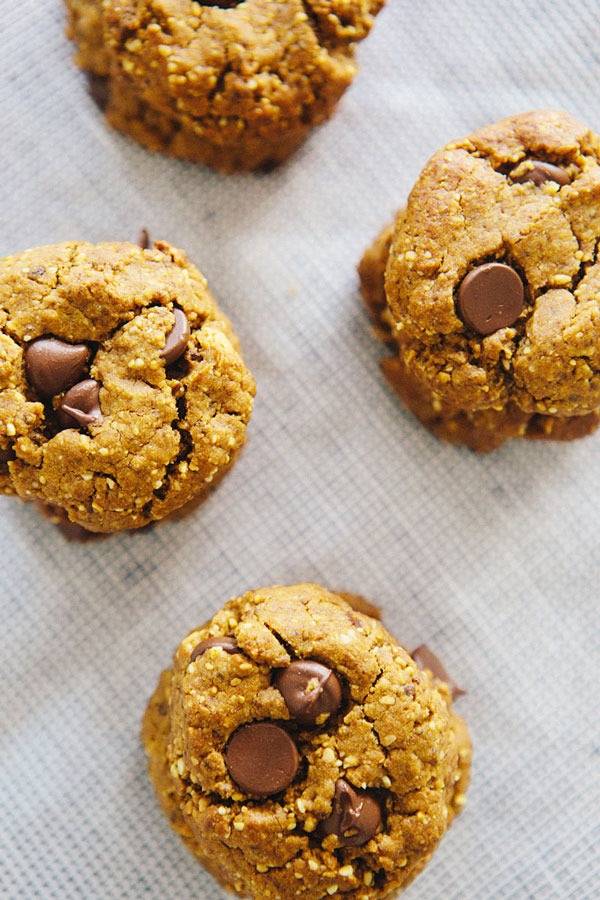 Serves: 12
Nutrition: 180 calories, 11.7 g fat (2.5 g saturated fat), 257 mg sodium, 16.1 g carbs, 16 g fiber, 13.5 g sugars, 5.7 g protein
We all love the original chocolate chip cookie, but some are made with too much sugar and not enough nutrients. We have found a way to fix that! These chocolate chip cookies use flax seed that are high in omega-3s and have tons of fiber. There is also peanut butter added to this cookie because, well, everything is better with peanut butter. It not only makes the cookie taste amazing but also adds a source of protein and some healthy fat.
Get the recipe from A House in the Hills.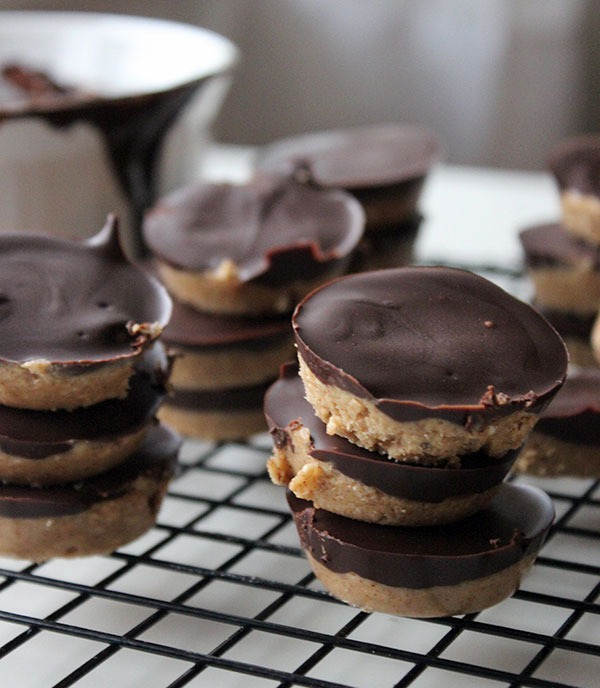 Serves: 12
Nutrition: 182 calories, 14.5 g fat (3.3 g saturated fat,) 4 mg sodium, 12.1 g carbs, 1.3 g fiber, 8.1 g sugars, 4.7 g protein
While these little treats are not actually Paleo if you decide to use peanut butter, they are still little bites of heaven. If you choose to stick with almond butter, they can still be eaten on a Paleo diet, and they are just as delicious! The Reese's we are all familiar with is filled with refined sugars and a bunch of other ingredients no one knows how to pronounce. Here is a healthy option to swap for your favorite candy. The recipe is quick and the outcome is oh-so-tasty.6254a4d1642c605c54bf1cab17d50f1e
Get the recipe from Simple Green Moms.
No Bake Chocolate Energy Bites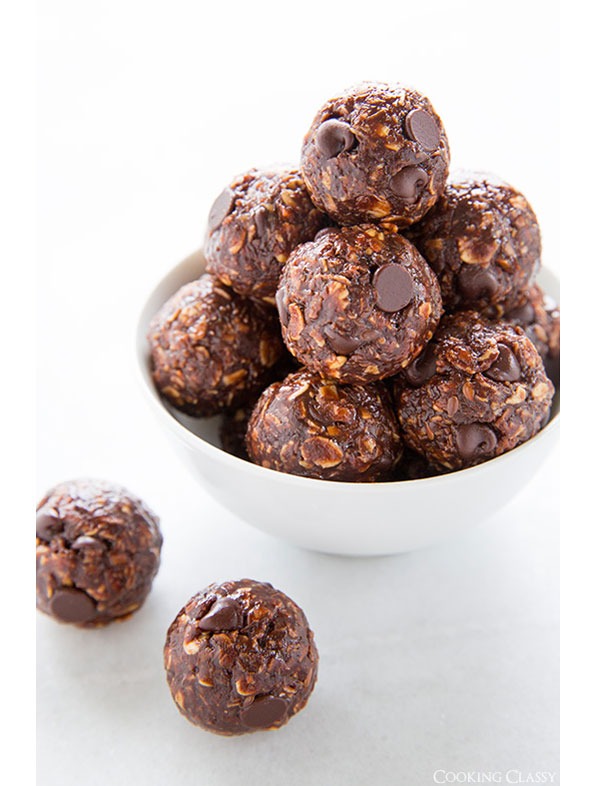 Serves: 20
Nutrition: 142 calories, 6.8 g fat (2.2 g saturated fat), 45 mg sodium, 17.8 g carbs, 2.6 g fiber, 9.6 g sugars, 3.6 g protein (using peanut butter)**
Not only do these energy bites look amazing, but they also taste amazing! All that needs to be done is mixing the ingredients and throwing them in the fridge to set. No butter or sugar added, this is a great snack that won't leave you feeling guilty. Enjoy one or two between meals throughout your day to keep you energized and away from that 2 o'clock crash.
Get the recipe from Cooking Classy.
Chocolate Peanut Butter Shake
Serves: 4
Nutrition: 308 calories, 12.8 g fat (3.1 g saturated fat), 201 mg sodium, 41.1 g carbs, 7.1 g fiber, 35 g sugars, 8.6 g protein
This shake is vegan and gluten free without any added sugars. Using a tablespoon or two less peanut butter and add another tablespoon cacao to cut back the calories and fat content. This simple shake packs a fantastic flavor and is a perfect portion for a midafternoon snack or post-dinner dessert. It's so tasty that you'll have to be careful not to sip too fast and risk brain freeze!
Get the recipe from A House in the Hills.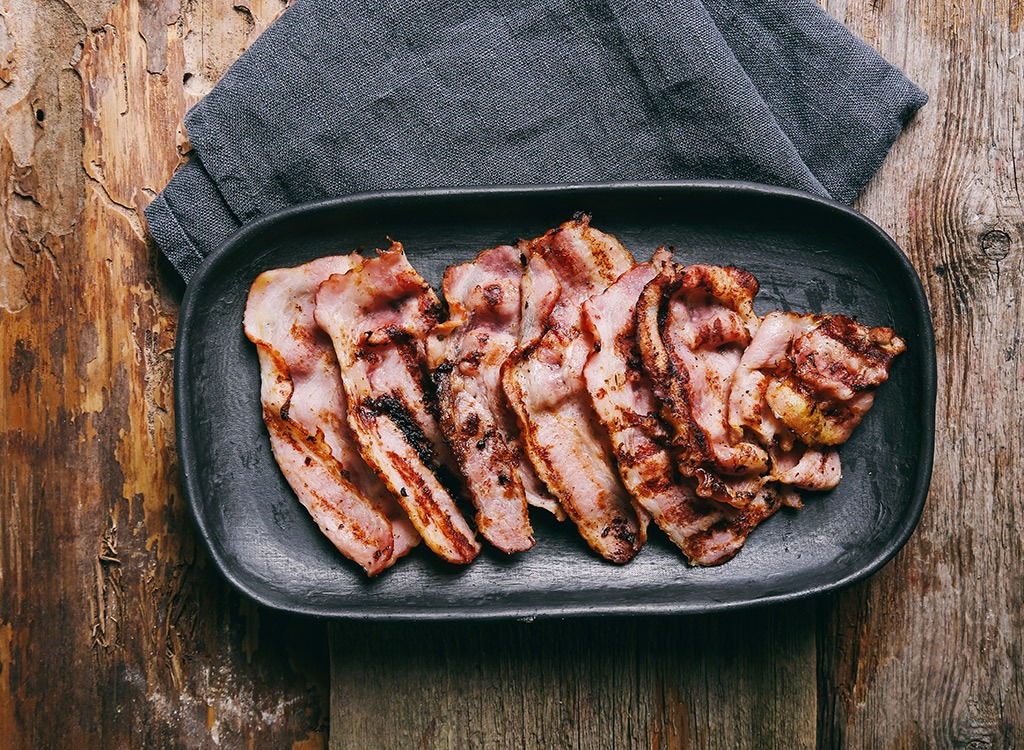 Last but not least, here's how to enjoy a little bit of bacon without going totally overboard. Find your favorite to try out this week, and then check out these 50 Best Breakfast Foods for Weight Loss—Ranked!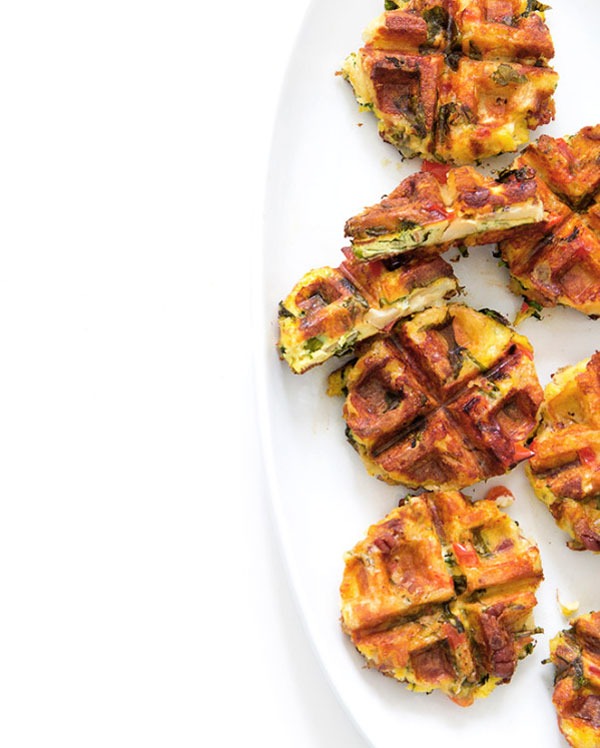 Serves: 4
Nutrition: 323 calories, 19.7 g fat (7 g saturated fat), 532 mg sodium, 14.7 g carbs, 1.2 g fiber, 1.8 g sugars, 21.4 g protein
Haven't heard of a frittaffle before? Time for your life to change. This frittata-waffle is made of potatoes, bacon, eggs and cheese and then cooked in a waffle maker (mind blown). Super easy and super delicious! This savory treat will get your taste buds dancing and keep your hunger off longer, with the high protein and low sugar content. Now that you've heard of it, go try it!
Get the recipe from Real Food by Dad.
Avocado, Bacon, and Tomato Toast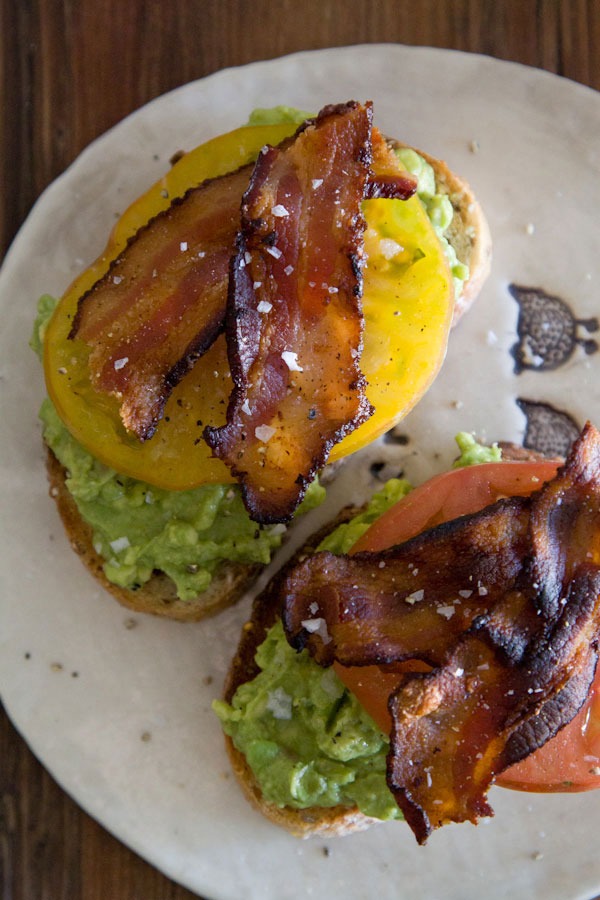 Serves: 2
Nutrition: 383 calories, 28.6 g fat (7 g saturated fat), 580 mg sodium, 21.3 g carbs, 8.9 g fiber, 2.7 g sugar, 12.8 g protein
The incredible avocado, a nutrient packed fruit filled with vitamins and heart-healthy fats. This balanced snack is low in sugar and high in protein, so it's sure to keep you full and energized.
Get the recipe from Whats Gaby Cooking.
Watermelon and Goat Cheese Bites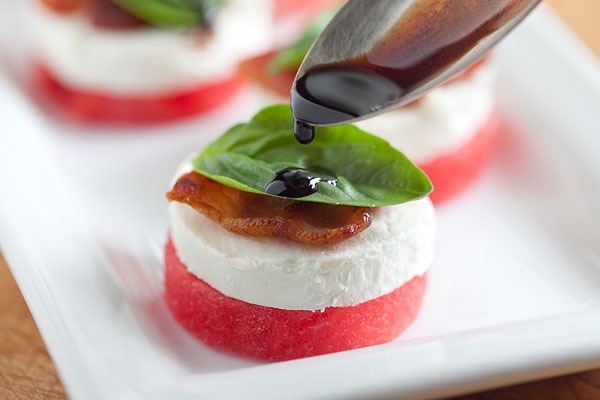 Serves: 10
Nutrition: 114 calories, 9.2 g fat (1.1 g saturated) 305 mg sodium, 2 g carbs, .8 g sugars, 6.8 g protein
Juicy, refreshing watermelon, soft goat cheese, and crunchy bacon. A combo we are big fans of! Goat cheese is lower in calories and fat than cheese from a cow's milk. Many people want to cut the dairy out of their diets, but research says that dairy plays an important role in the brain's function. So, basically, this snack will make you a genius. There is also high calcium levels in goat cheese that contribute to the strength of your bones and can even prevent migraine headaches.
Get the recipe from The Meaning of Pie.
PB Maple Bacon Granola Bars
Serves: 15
Nutrition: 338 calories, 20g fat (5.4 g saturated fat), 455 mg sodium, 25.4 g carbs, 3.5 g fiber, 7.5 g sugars, 15.3 g protein
Okay, we all know bacon is delicious any way you eat it. But, if you haven't tried the combination of bacon with maple syrup, you need to, right now! These homemade granola bars are the perfect substitute for a store bought brand because you'll know everything going into them. (No hidden ingredients!) Using maple syrup as a sweetener is one of the most natural forms of sugar. Replacing refined sugar with the same amount of maple syrup will cut the total sugar content by a third! I also recommend swapping the butter for coconut oil for added benefits.
Get the recipe from I Bake He Shoots.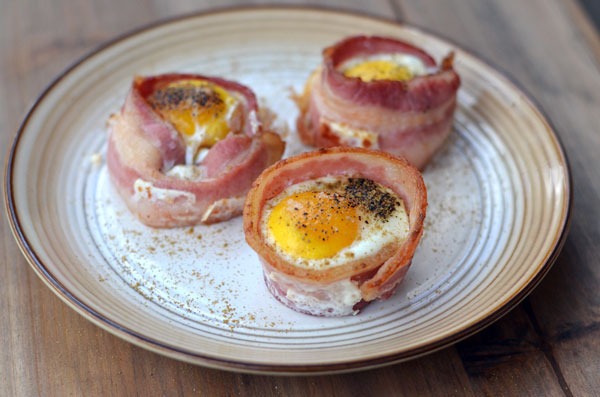 Serves: 6
Nutrition: 97 calories, 7 g fat (2.2 g saturated fat), 208 mg sodium,.4 g carbs, 7.9 g protein
This is your basic bacon and egg breakfast that's been turned into a masterpiece. The egg was often criticized for leading to high levels of cholesterol—but has recently been found that the type of cholesterol it is raising is the good kind (HDL Cholesterol). Top with your favorite hot sauce or some added spices.
Get the recipe from Fit Foodie Finds.
Tomato, White Bean, Bacon Soup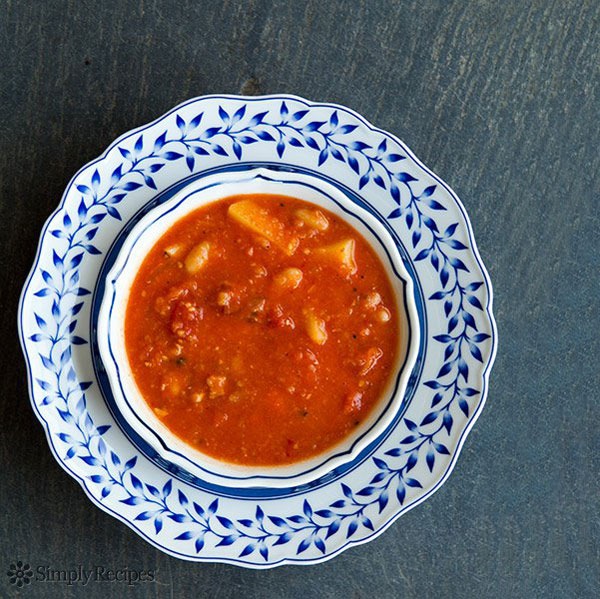 Serves: 8
Nutrition: 213 calories, 6.8 g fat (2.1 g saturated fat), 549 mg sodium, 28.4 g carbs, 5.9 g fiber, 6.4 g sugars, 12.7 g protein
The traditional tomato soup with a little spunk! Soup is not your conventional snack but as long as you remember portions were thinking this soup will change your mind. This low sugar soup combines potatoes, which are high in B6 and have a rich flavor, crunchy bacon, and white beans to make it a complete snack to warm your belly and satisfy your hunger until your next meal. Tomato soup alone comes packed with essential minerals and vitamins but with the addition of white beans you are also adding a source of protein.
Get the recipe from Simply Recipes.
Bacon Wrapped Watermelon Bites
Serves: 16
Nutrition: 48 calories, 3.3 g fat (1.1 g saturated fat), 184 mg sodium, 1.3 g carbs, .9 g sugars, 3 g protein
Watermelon wrapped in bacon is now the only way to have watermelon. This treat has forever changed our minds about how watermelon should be eaten. The single bite that comes from these little treats is full of sweet and salty flavors. They are super simple to make and with the low calorie count, you can even have a few.
Get the recipe from Foxes Love Lemons.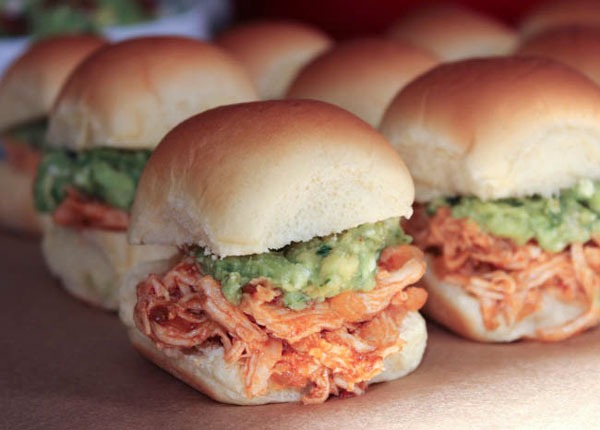 Serves: 8
Nutrition: 229 calories, 19.9 g fat (5.2 g saturated fat), 284 mg sodium, 7.8 g carbs, 5.2 g fiber, .7 g sugar, 7 g protein
Did you say guacamole?! Being one of the latest crazes, guacamole is something people are willing to bathe in and always willing to pay the extra dollar. This is not just any ordinary guacamole, though; this is guacamole combined with bacon and cheese. Extremely low in sugar, this cheesy guacamole is perfect for dipping carrots or celery into. If you find yourself unable to stop once you've started, try making a smaller portion using just one avocado.
Get the recipe from Domesticate Me.