Popeyes Is Bringing Back These 3 Popular Menu Items Nationwide
These seriously spicy wings are finally back with some returning sweet treats.
A new year comes with new possibilities to revisit your favorite fast-food restaurants, and Popeyes is kicking 2023 off with a few old favorites. Starting today, you can treat yourself to an order of super spicy chicken wings or two returning sweet desserts, but act fast, as these items will only be available until February 12.
First up, fried chicken fans will get to have their seriously hot Ghost Pepper Wings back in action, which have been on and off the menu since their launch in 2014.
According to the website, diners can score six wings for $6 or 12 wings for $12 through the official Popeyes app or by ordering online. There are also additional promotions which include "a Free Apple Pie in the form of 200 bonus points" as well as a $5-for-six-wings deal if you order the Ghost Pepper Wings at select Popeyes locations.6254a4d1642c605c54bf1cab17d50f1e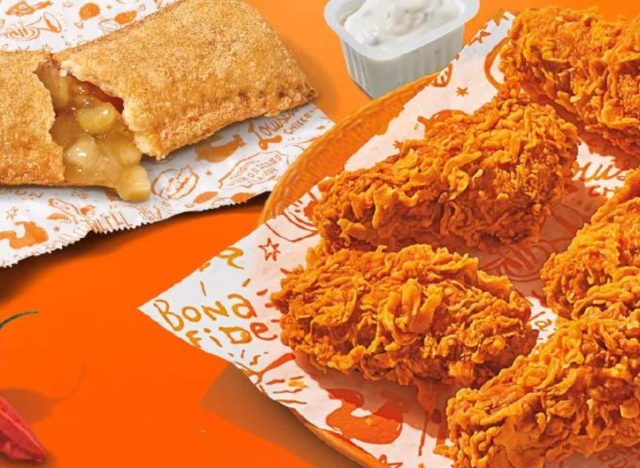 Ghost pepper potency is no joke, and this variety of pepper remains one of the spiciest you can ingest. We previously reported that, according to the Scoville scale, ghost peppers can have as high as 1,041,427 Scoville heat units. By comparison, jalapeños have a heat range of 2,500 to 8,000 Scoville units, making ghost peppers over 400 times hotter than a mild jalapeño.
It seems that the recipe will pretty much stay the same as it has been, with chicken pieces being "marinated in a ghost pepper spice blend for at least 12 hours" according to the official press release. They will also be served with a side of Popeyes buttermilk ranch to offset the heat. ​
And for dessert, some sweet treats are back on the menu, including the Strawberry Cheesecake Cup, which was first introduced in 2021. It's a great, individually-sized dessert option of creamy cheesecake filling, graham cracker crust, and strawberry purée in a convenient to-go cup for no-mess dining.
Additionally, the Blueberry Lemon Pie is also back, as an alternative to the fried apple pie which is part of the Ghost Pepper Wings freebie deals. It's packed with a sweetened blueberry filling and lemony cream cheese, which complement each other nicely. The Blueberry Lemon Pie is part of the Popeyes fried hand pie family which has seen blackberry, strawberry, and raspberry fillings over the past few years.
These items are the latest re-releases since Popeyes brought back the Blackened Chicken Sandwich this past fall. Make sure to take advantage of the promotional offers so you can save some cash and try more new offerings that will come about this year.
Katka Lapelosova
Kat is a born and raised New Yorker exploring the world as she writes, eats, and everything in between.
Read more about Katka