How 23 of Your Favorite Fast-Food Restaurants Got Started
Five Guys' founding story is pretty funny when you think about it.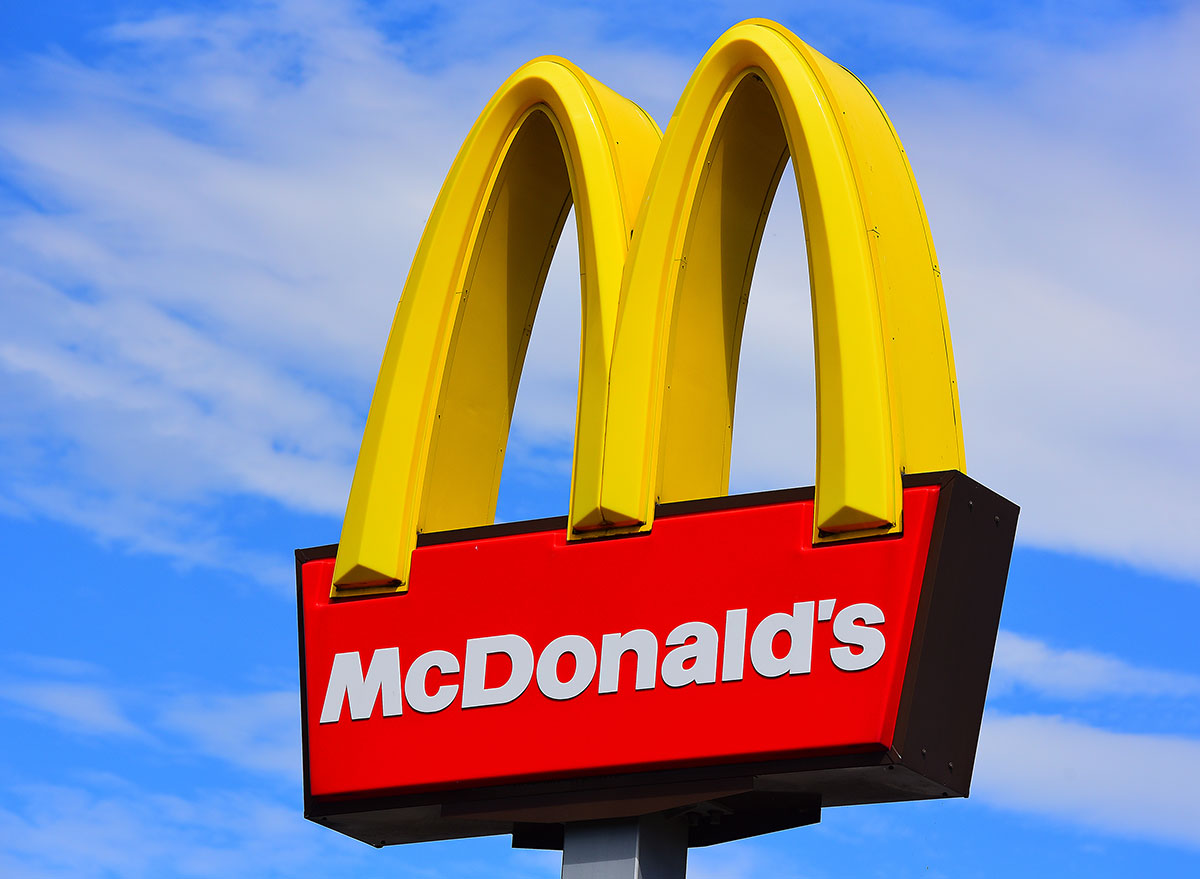 Did you know that McDonald's started out serving slow-cooked barbecue, that Subway was founded by a teenager, and that "Wendy" was really named Melinda? These fast-food origin stories may sound too good to be true, but we promise they're legit.
Read on to learn how some of your favorite chains got started. From the invention of the drive-thru to using college funds to start a business, these stories will give you a newfound appreciation for fast-food restaurants.
McDonald's started out serving BBQ.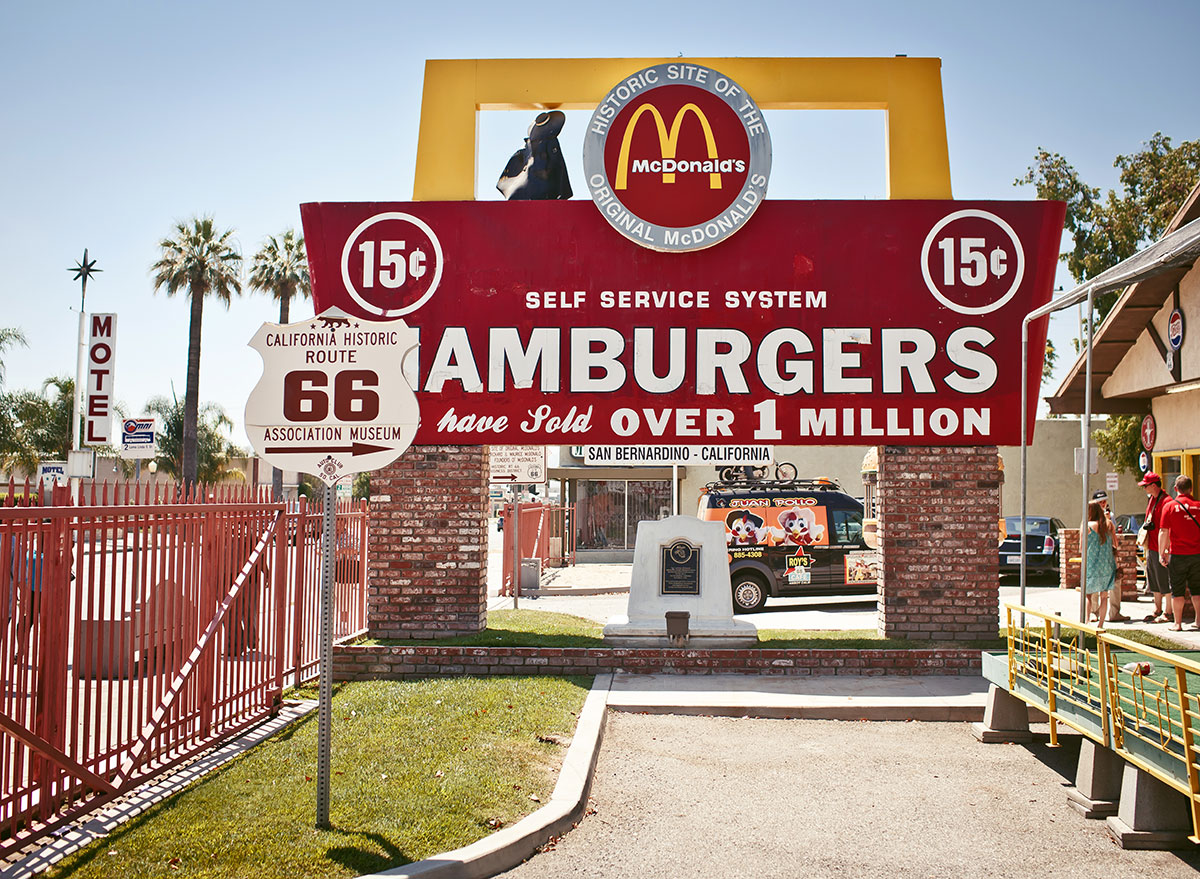 Today, the name McDonald's is intimately associated with hamburgers. But the original restaurant debuted in San Bernardino, California, in 1940, serving up pit barbecue. It wasn't until after World War II that brothers Dick and Mac McDonald realized that some 80 percent of their sales came from burgers and converted their operations so that they could prepare fewer menu items more efficiently.
When salesman Ray Kroc visited the original McDonald's location in 1954, he was so wowed that he bought his own franchise. Kroc eventually bought out the McDonald brothers altogether in 1961 and grew the family brand into a worldwide phenomenon.
Burger King was out to beat McDonald's almost from the start.
The Home of the Whopper got its start as a restaurant called Insta-Burger King, according to The Balance. Keith Kramer and Matthew Burns of Jacksonville, Florida, were so impressed by the McDonalds brothers' San Bernardino operation that in 1953 the pair bought the rights to a grilling machine called the Insta-Broiler—and named their restaurant after it.
Several hundred miles south, franchisees James McLamore and David Edgerton tinkered with the Insta-Broiler until it was ready to be rechristened the Flame-Broiler as they grew the brand throughout the Miami area. They eventually bought the entire company, nixing "Insta" from the name in 1961.
Carl was not a Junior.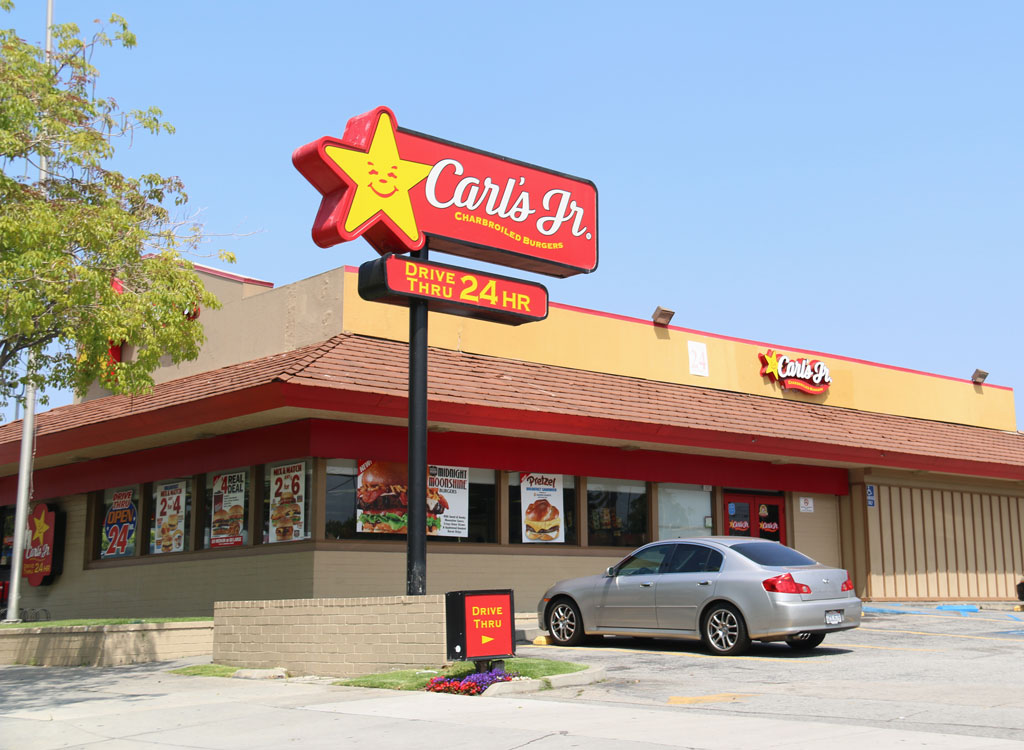 In 1941, Carl and Margaret Karcher cobbled together what money they could to purchase a hot dog cart in Los Angeles. Within five years, the couple had opened Carl's Drive-In Barbecue, which was known for its juicy hamburgers. (And despite the somewhat-confusing restaurant name, Carl's always sold burgers and hot dogs, not slow-smoked barbecue like McDonald's originally offered.)
In the 1950s, the brand opened its first quick-service locations, dubbed "Juniors" because they were smaller than the original Carl's Drive-In Barbecue restaurant. Today, the chain has more than 1,200 restaurants.
Moe's wasn't founded by someone named "Moe."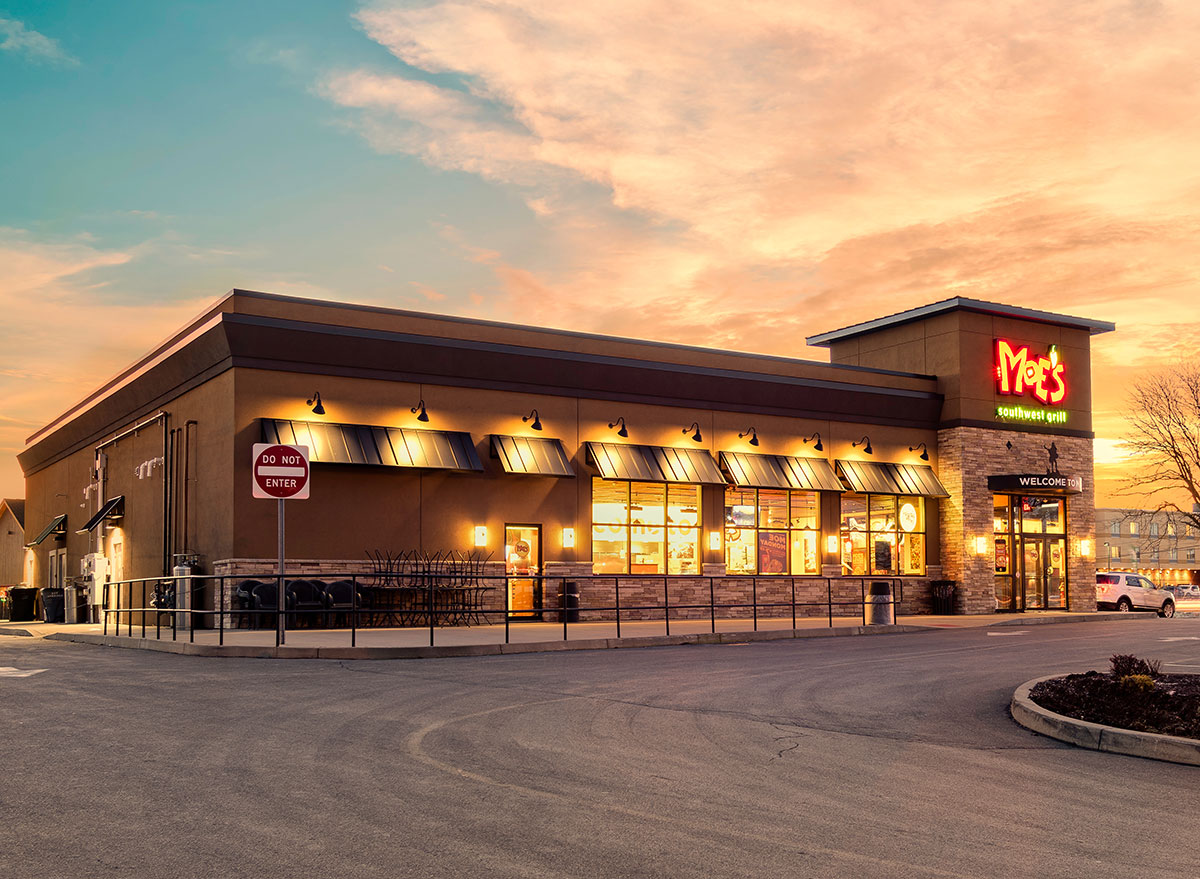 When the very first Moe's Southwest Grill opened in Atlanta, Georgia, in 2000, there was no one named Moe behind the grill. "Moe" actually stands for musicians, outlaws, and entertainers.
The founders wanted their restaurants to be as fun as possible, which also explains the menu items named after pop-culture trivia. Moe's now has about 680 locations across the US. The chain has struggled since the pandemic but has made some major changes that could help.
But Glen "Taco" Bell did exist.
Taco Bell founder Glen Bell opened both Bell's Hamburgers and Taco Tia in California. In 1962, Bell had the bright idea to combine those names and open the first Taco Bell in Downey, California.
By 1967, there were 100 Taco Bells, and today the brand has more than 7,000 restaurants across the globe. And it hopes to have more soon!
Chick-fil-A was originally called the Dwarf Grill.
Chick-fil-A got its start as the Dwarf Grill in Hapeville, Georgia. The humble diner is where the chain's founder S. Truett Cathy perfected a fried, hand-breaded chicken fillet sandwich served on a buttered bun with two pickles in 1964. The sandwich was so popular that it would eventually lend its name to the entire chain of family-owned restaurants.
And when Chick-fil-A debuted the grilled chicken sandwich, more than 1,200 recipes were tested to make sure the meal was absolutely perfect.
In-N-Out Burger invented the modern-day drive-thru.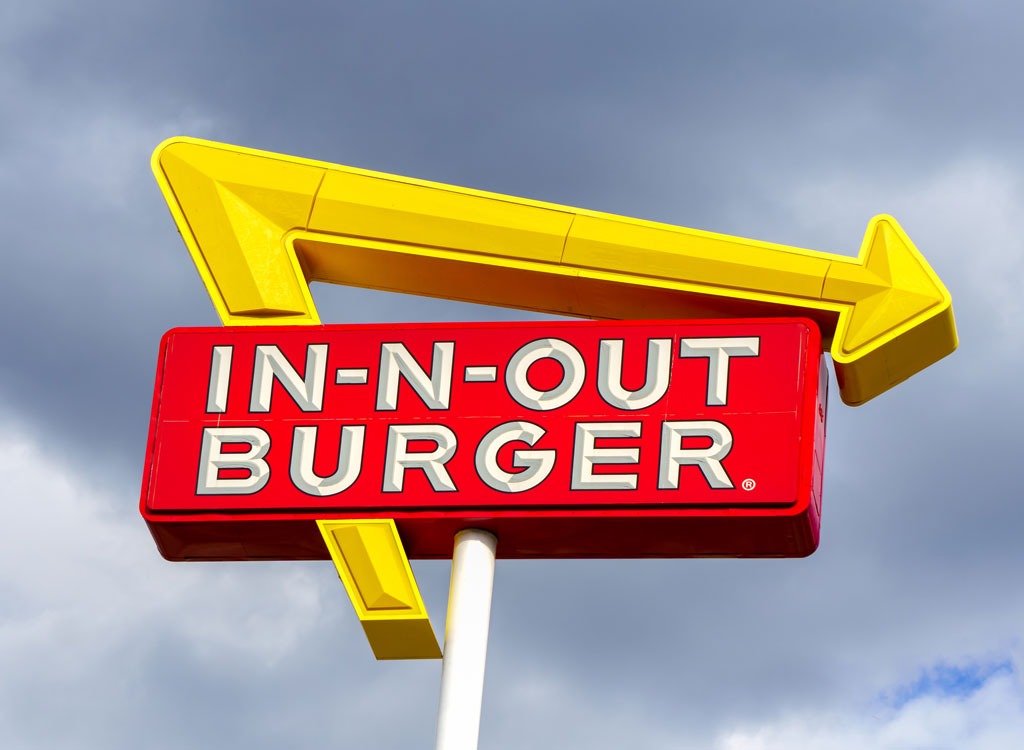 Harry and Esther Snyder opened the first In-N-Out Burger in Baldwin Park, California, in 1945. The couple was intimately involved with the day-to-day running of the business, with Harry shopping for produce in the mornings and Esther poring over the books all day.
Harry also tinkered around in his garage after hours, and in 1948 introduced a two-way speaker box at the restaurant, which made it easy for customers to get in and out with their food without leaving their cars. Yep, the restaurant's name is pretty fitting.
The "RB" in Arby's doesn't actually stand for "roast beef."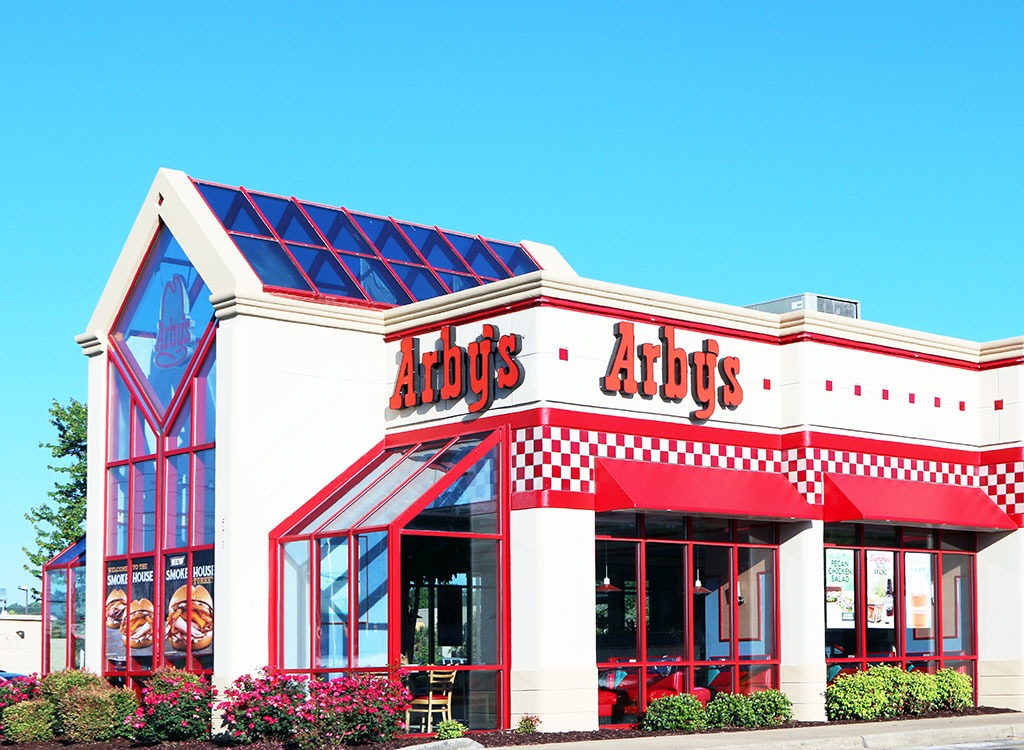 Arby's was founded as the "anti-burger joint" in 1964 by Leroy and Forrest Raffel, who thought that customers would flip for fast-food sandwiches that were a little bit different from the common burger. Their instincts paid off, and the demand for roast beef 'n cheddar sandwiches helped the chain grow to 1,000 restaurants by 1980 and 3,000 by 1996.
A lot of people think that the name Arby's is a drawn-out version of RB, as in "roast beef." That's half right. The RB actually stands for "Raffel brothers."
Popeyes was named after a gritty crime movie cop, not the cartoon sailor.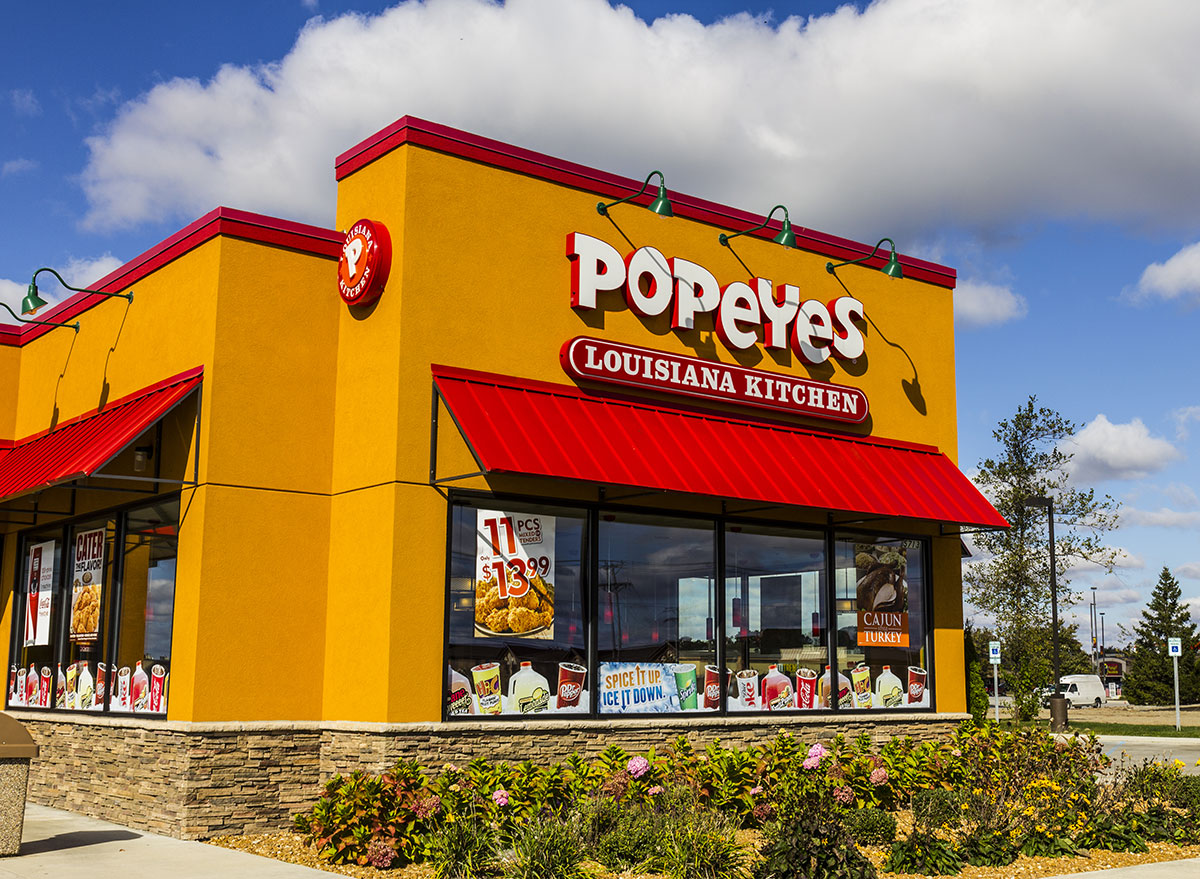 Popeyes Chicken & Biscuits started out in 1972 as "Chicken on the Run" in Arabi, Louisiana, a suburb of New Orleans. But the business was sluggish, so founder Alvin C. Copeland, Sr. rechristened the restaurant "Popeyes" after 1971 blockbuster The French Connection's gruff cop Jimmy "Popeye" Doyle, played by Gene Hackman.
Copeland also switched from serving Southern-style fried chicken to spicy, New Orleans-style chicken—and the rest is history. The chain opened its 500th restaurant in 1985 and its 2,000th in 2011.
Five Guys' founder started the business because his kids didn't want to go to college.
Jerry Murrell, the founder of Five Guys Burgers and Fries, told Inc. that the money he used to open his first takeout burger restaurant in Arlington, Virginia in 1986 was originally earmarked for his children's education.
"My two eldest sons, Matt and Jim, said they did not want to go to college. I supported them 100 percent. Instead, we used their college tuition to open a burger joint," Murrell told the magazine.
As for who the original five guys are, they're Murrell's four sons (at the time!) plus himself. After the birth of his fifth son, Tyler, Murrell joked that he'd have to take himself out of the original quintet.
Wendy's was named after the founder's daughter…Melinda.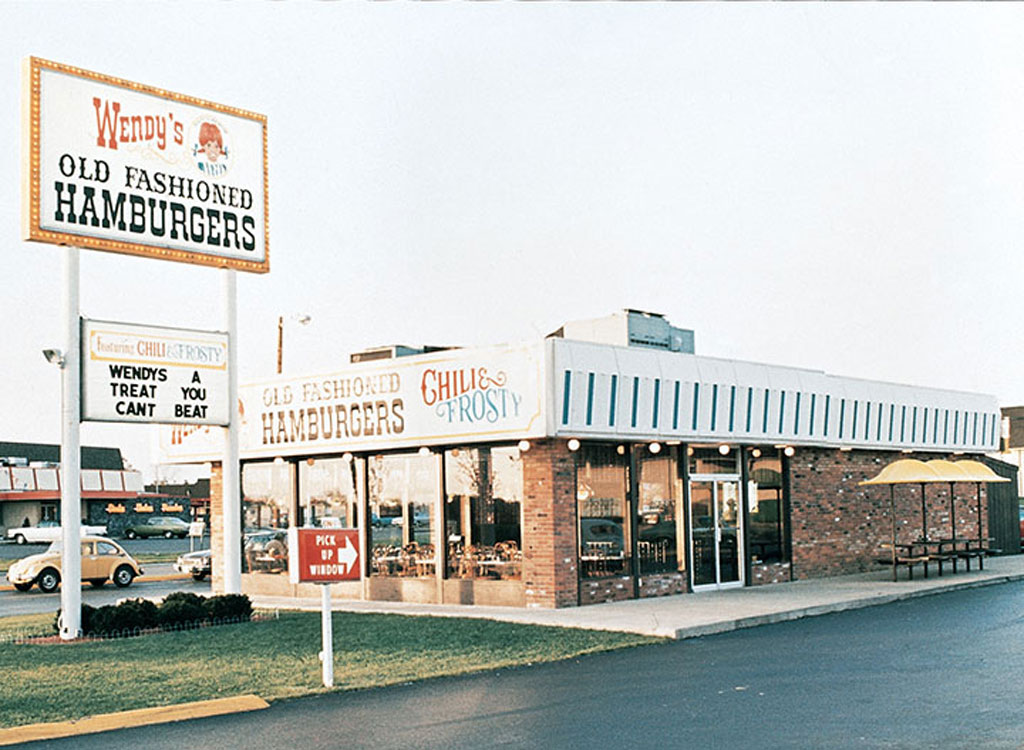 Dave Thomas, the founder of Wendy's, decided at the tender age of eight that he wanted to run a restaurant someday, and got his start in the business at 12 at a restaurant in Knoxville, Tennessee. Thomas continued on in the restaurant business, working at another restaurant called the Hobby House, where he eventually met Colonel Harland Sanders, the founder of KFC, who became somewhat of a mentor.
In 1962, Thomas bought four flailing KFC franchises in Ohio and pared down the menu in order to streamline operations. Seven years later, he opened his first hamburger restaurant. He considered all five of his children as namesakes, finally settling on Wendy, the family nickname for daughter Melinda. By 1973—barely a decade later—there were 1,000 Wendy's locations throughout the U.S.
KFC's Colonel Sanders scratched his original chicken recipe on the back of a door.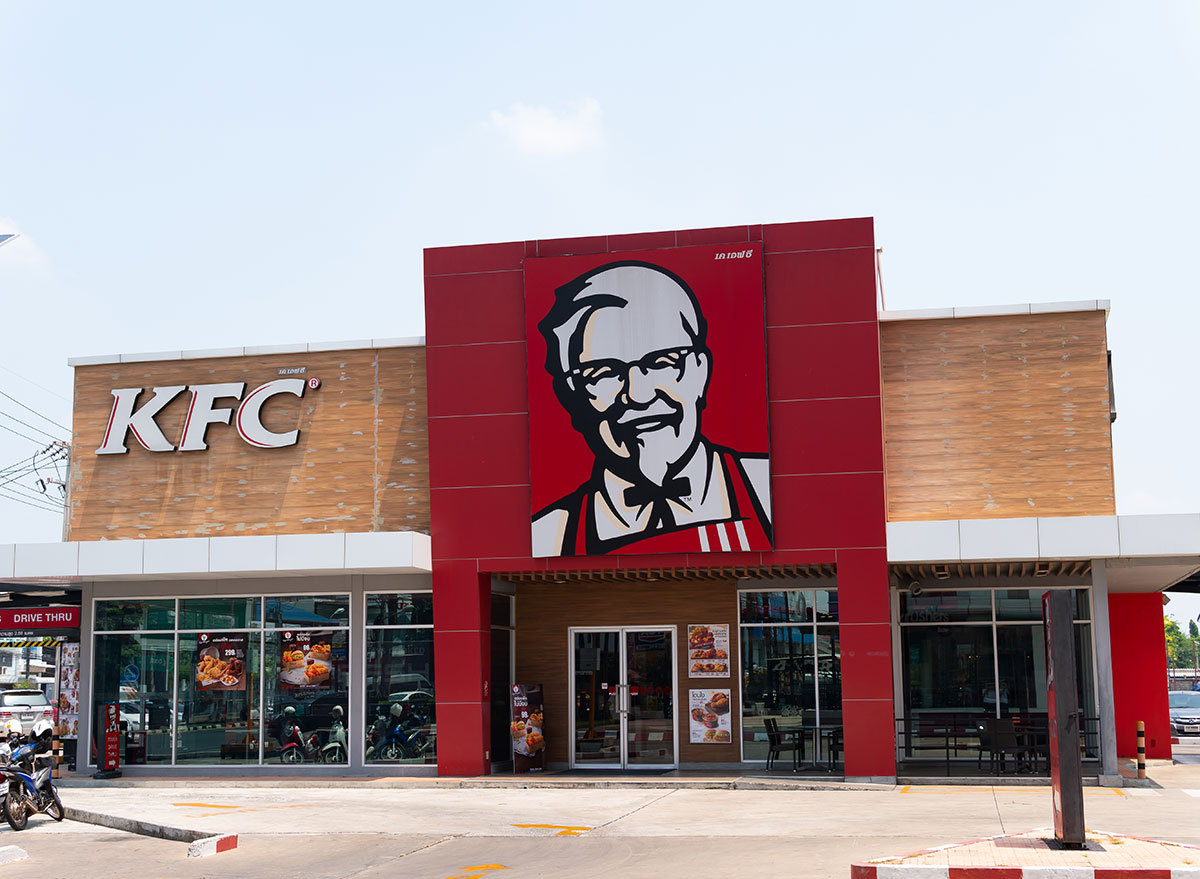 KFC—formerly known as Kentucky Fried Chicken—was founded by Harland Sanders, who perfected his original recipe fried chicken working as a short-order cook at a gas station in 1930. He even carved the names of his 11 "secret" herbs and spices on the back of the kitchen door.
In 1952, Sanders struck out on his own and opened the first Kentucky Fried Chicken. By the time he sold his interest in the company 12 years later, there were more than 600 franchises. Today, there are more than 21,000 KFC locations worldwide.
The first Sonic was an abandoned root beer stand.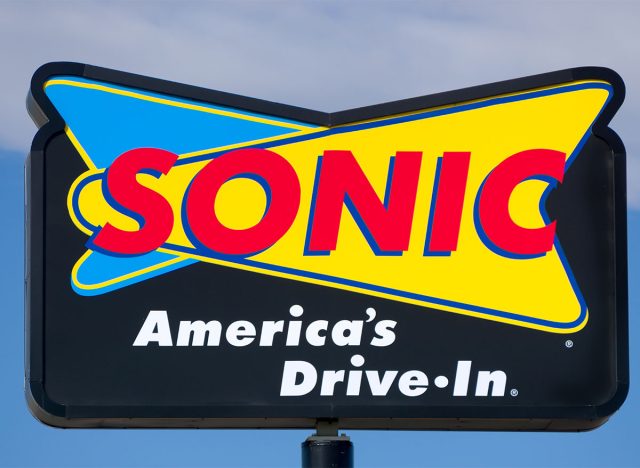 Oklahoman Troy Smith tried and failed with three other restaurants before he opened the Top Hat, a drive-in restaurant serving hamburgers and hot dogs, in a disused soda stand in Shawnee, Oklahoma, in 1953. Smith's restaurant was so successful that he started selling franchises—but quickly hit a snag. The name "Top Hat" had already been claimed by another business, so Smith and several franchisees put their heads together to come up with a new one. They settled on Sonic, chosen to emphasize the speed of service at each location.
Today, there are some 3,600 Sonic Drive-Ins across the US.
White Castle is America's oldest fast-food chain.
Billy Ingram, White Castle's founder, bet big on the idea that square burgers were easier to eat than round patties—and he called them sliders. In 1921 he started selling five-cent hamburgers, and by 1927 Ingram had pioneered the concept of carryout. White Castle became the first fast-food chain in the United States.
The name was chosen in order to denote both purity and elegance, according to radio host Geoffrey Baer: "The founders wanted to change the way people thought of hamburgers at a time when they were thought of as low-class and even dangerous food," Baer wrote in a WTTW post. "Ingram and Anderson thought the look of a gleaming white castle would conjure feelings of cleanliness and permanence, traits not associated with burgers back then."
Shake Shack was named after the movie Grease.
Shake Shack was never meant to be a chain restaurant. In 2001, New York City restaurateur Danny Meyer wanted to take over a new permanent concession in the city's Madison Square Park. He had a vision of a burger shack and famously sketched out all the details on a napkin along with a short list of names, including "Shake Shack," the name of the amusement-park ride where Danny and Sandy sing "You're the One That I Want" at the end of the movie. That first burger stand in the park grew into a fast-food empire.
Subway was started by a teenager.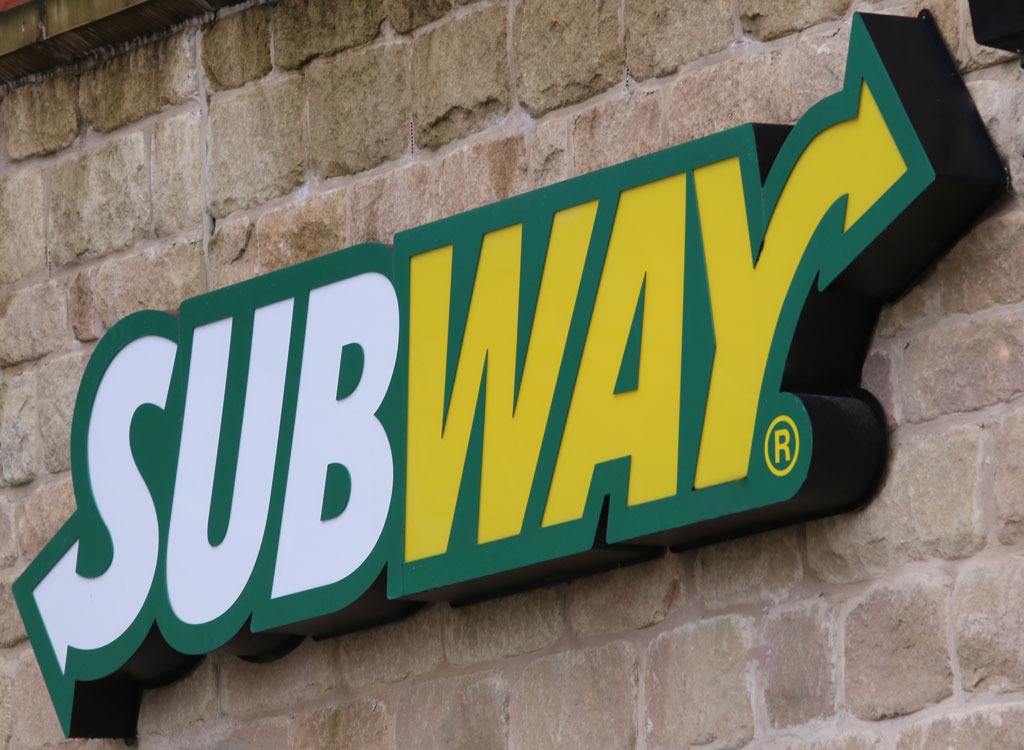 Subway's late CEO Fred DeLuca opened his first sandwich shop in Bridgeport, Connecticut, at the age of 17, according to Entrepreneur magazine. Most people think Subway is named after the transportation system in New York City, but the name is actually just a shortened version of "Pete's Submarines."
DeLuca named his first restaurant in honor of Peter Buck, the family friend who gave him the loan to start his business. In 1968, the pair decided to shorten the name to Subway, since it was a better fit for their radio ads. Today, there are more than 40,000 Subway locations worldwide.
Firehouse Subs was started by a family of firefighters.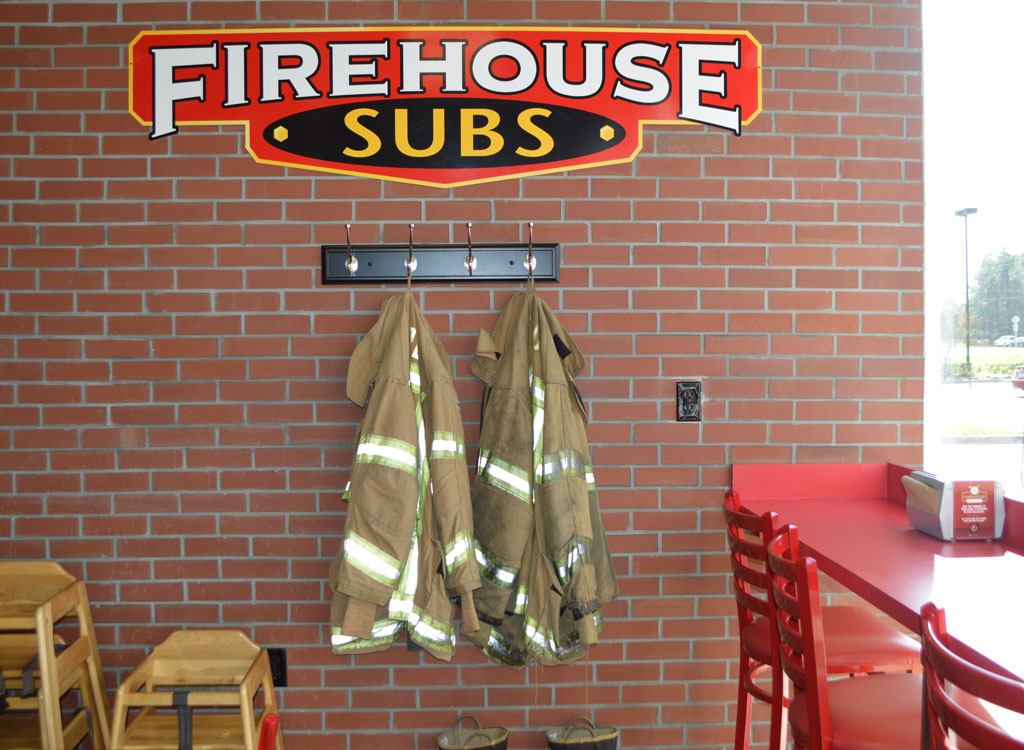 Brothers Chris and Robin Sorensen, the founders of Firehouse Subs, tried a few other things before they turned to grilling sandwiches, including Christmas tree farming, selling real estate, and even performing in rock bands. But a sub chain that honored their fireman dad turned out to be the winning business idea for the duo.
In just over 20 years, the chain has grown to some 1,100 locations and runs a foundation that has raised more than $46 million to support first responders.
Pizza Hut is only a "hut" because their first sign was so small.
Dan and Frank Carney opened the first Pizza Hut in Wichita, Kansas, in 1958 with $600 they borrowed from their mother. They only named it Pizza "Hut" because they ran out of room on the sign.
The gimmick caught on, however, and in 1969 the red-roofed hut design was rolled out across the fast-growing pizza empire. By 1971, the two brothers had grown their business into America's No. 1 pizza chain.
Potbelly originally sold antiques.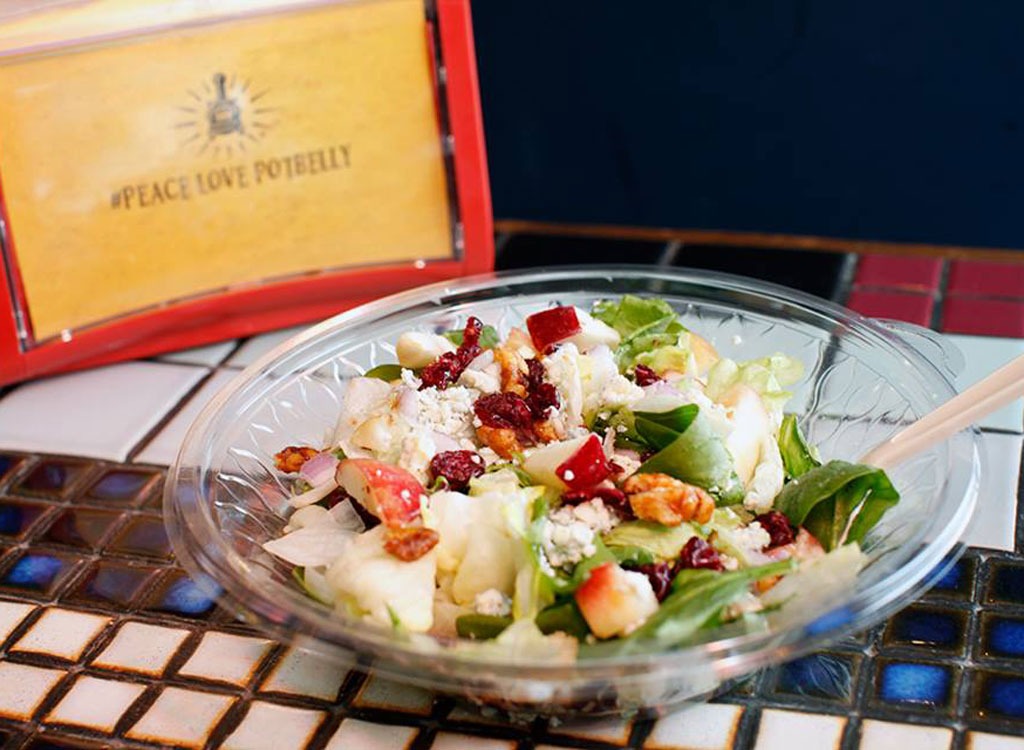 6254a4d1642c605c54bf1cab17d50f1e
Potbelly Sandwich Works was born when an antique shop in Chicago's Lincoln Park neighborhood started selling toasted sandwiches at lunchtime. Bryant Keil, a local entrepreneur, was charmed by the operation and purchased the original store—potbelly stove included—and set out to expand the operation.
There are more than 400 neighborhood Potbelly locations today, each with its own antique stove.
Blimpie's founders got the name out of the dictionary.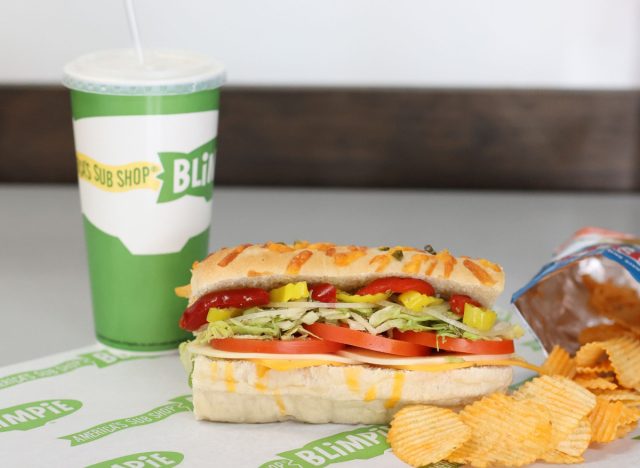 Blimpie was started in 1964 by Angelo Baldassare, Peter DeCarlo, and Tony Conza, three Hoboken, New Jersey teenagers with big dreams. They wanted a name that set them apart and looked through the dictionary for inspiration, finally landing on the entry for "blimp."
By 1995, there were 1,000 Blimpie locations, and the chain celebrated its 50th birthday in 2014.
Whataburger got its fun name from the founder.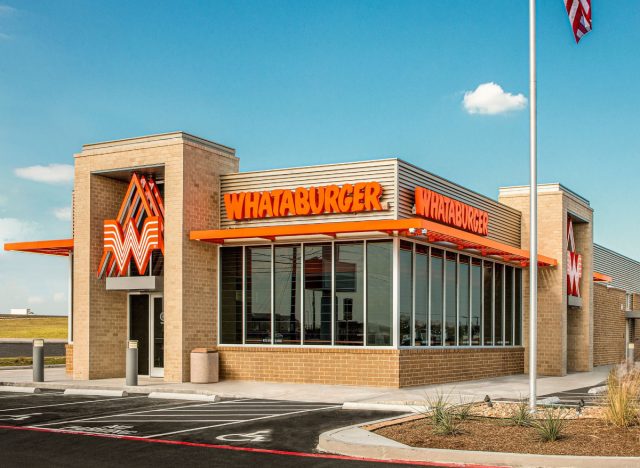 In 1950, when Harmon Dobson and Paul Burton were planning a burger chain in the Southwestern, U.S., they had one main goal: the make a burger so big it would be memorable. Upon viewing the burger they wanted the customer to exclaim, 'What a burger!'" Today there are over 900 locations across the U.S.
A&W started as a roadside stand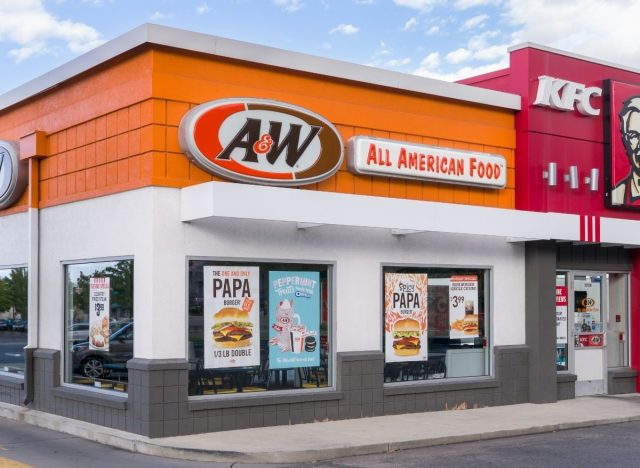 But that isn't really the interesting part about the chain that is named after the two founders, Roy Allen and Frank Wright. What is interesting is that A&W is the first chain to serve a bacon cheeseburger.
Dairy Queen pioneered soft serve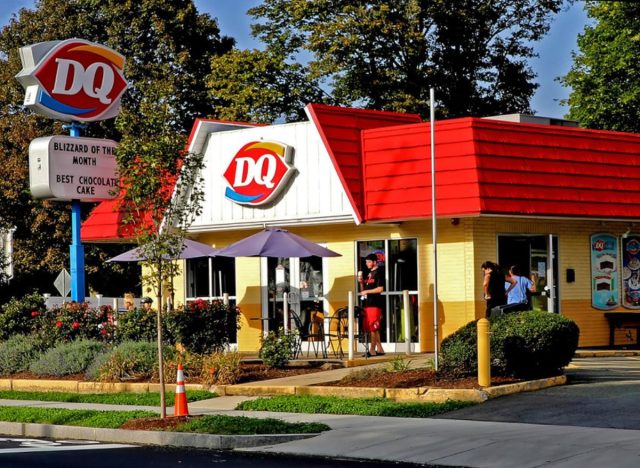 We have the minds behind Dairy Queen to thank for the proliferation of the wonderful ice cream treat called soft serve. One of DQ's founders, John Fremont McCullough, and his son, Bradley, experimented with a soft frozen dairy product in 1938. They partnered with friend and ice cream shop owner Sherb Noble and began selling what is now known as soft serve on August 4, 1938. The first official  Dairy Queen opened in 1940.
A previous version of this article was published in June 2019. It has been updated with new information.