This Portable Infrared Sauna Turned Me Into a Great Sleeper
Better sleep means a better you.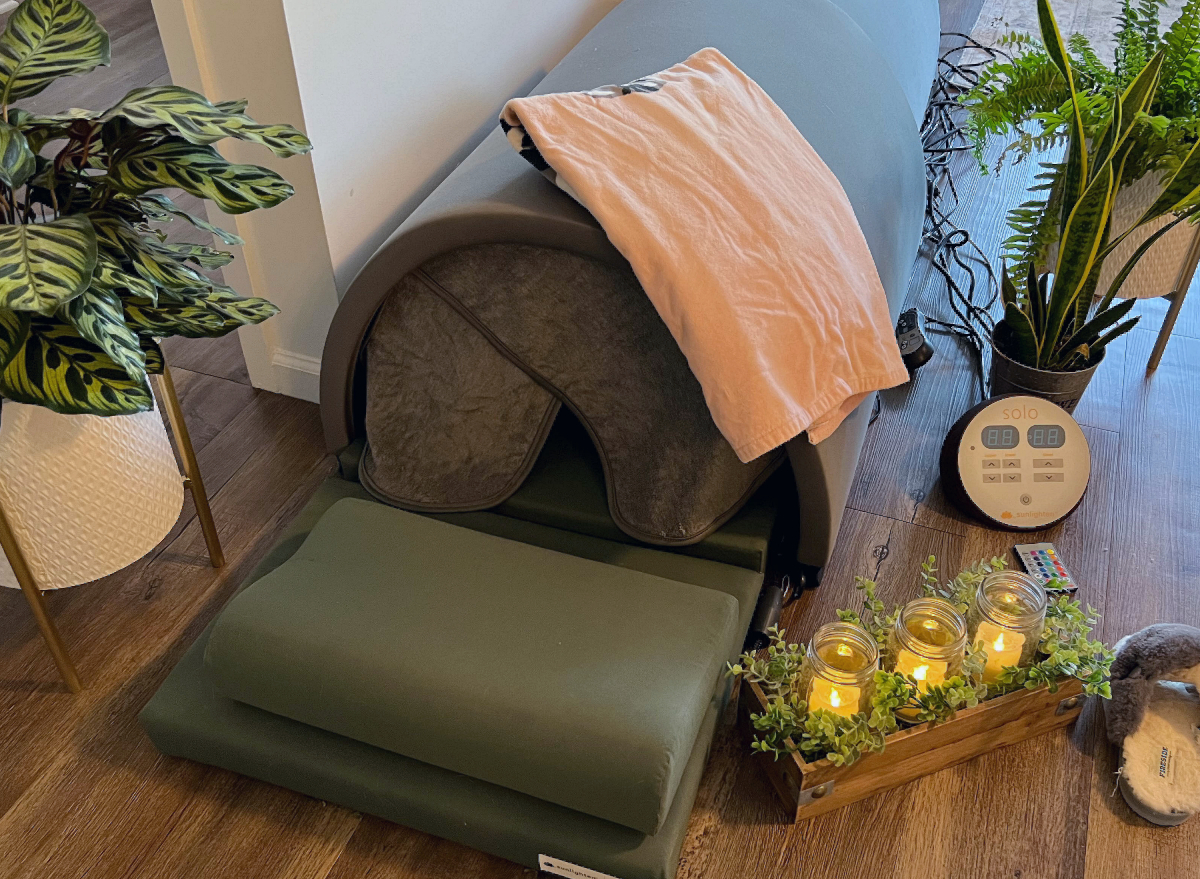 In case you're unaware, there's a portable infrared sauna in town that you can conveniently enjoy in the comfort of your own home. Even if you live in a high-rise apartment like I do, you can still enjoy this rejuvenating experience on the daily. I had the opportunity to soak up the amazing health and sleep benefits of Sunlighten's portable Solo system for one month, and it has proven to be the best way to end my hectic workdays and sleep soundly. How so? Well, you'll just have to read on to learn more. Check out how this portable sauna improved my sleep situation and next, be sure to read The 6 Best Exercises for Strong and Toned Arms in 2022, Trainer Says.
This portable sauna is complete with a cushioned memory foam pad and two domes that emanate therapeutic, top-quality heat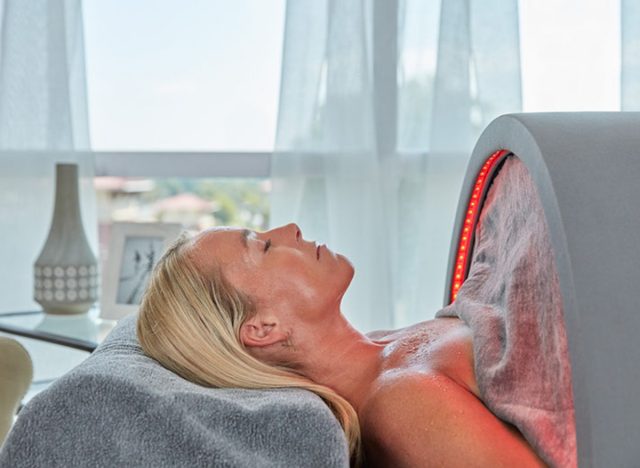 You may be curious to learn what a "portable" sauna is all about. If you're picturing an upright wooden box (sort of like a telephone booth) with a bench inside, you're totally off base. The Sunlighten portable Solo system is comfy, compact for easy storage, and so luxurious to sprawl out on for an at-home wellness treat.
The cushioned memory foam SoloPad provides just the right amount of pressure all over your body, which aids in circulation. It also reduces any stress you have in your lower back. There are two "domes" that fit over the top of the memory foam pad (and your body). You lay horizontally on the pad inside the domes, which extend from your feet all the way to your shoulders, where a little Solo Curtain (made with CELLIANT-infused material) drops down so your body's tucked in cozy to absorb the therapeutic heat. The device is designed with nine SoloCarbon heaters that deliver top-quality waves into your body, bringing your core temp up so you sweat and release any toxins.
The sauna is a lightweight design that can be set up in a small area of your home to conveniently wind down and relax after a long day, or it can be easily stored away when not in use. If you have the room for it, you can take this home experience to an entire new level. There is a Solo Rise available for purchase, which is a bench-style table made of eucalyptus wood. The SoloPad and domes are made to rest right on top of it for a truly "elevated" experience. The table also has a built-in Blaupunkt Bluetooth stereo and speakers, in addition to a sliding ledge that accommodates the control panel. (That happens to be on my wishlist as an addition to my sauna setup!)
Related: Why You're Not Sleeping Anymore As You Get Older, Expert Says
Chromotherapy is used to improve your health and body's natural balance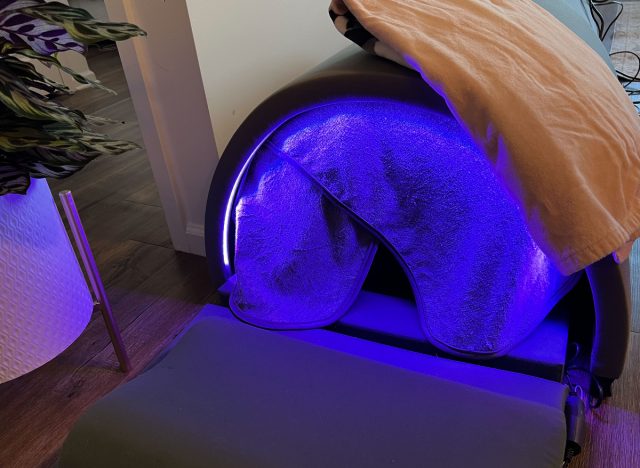 You can also have fun playing with the Sunlighten chromotherapy color for what you'd like to get out of your session. If you're unfamiliar with chromotherapy, it's the science of utilizing colors to change your body's vibrations to frequencies, which leads to good health and natural balance. Every color on the control has frequencies of a particular vibration, and every vibration is linked to various physical responses. For instance, tangerine light supposedly makes your body stronger and stimulates your internal tissues. Blue is for relaxing the muscles and anti-inflammation. Pink helps to soothe emotional stress, sadness, and grief while promoting emotional repair. There are 16 different light colors to choose from.
More about my experience later, but the chromotherapy color setting I enjoy the most is indigo. This hue has a calming effect, which is really great for sleeping.
Related: 10 Ultra-Effective Sleep Hacks For A Better Night's Rest
I set up my portable sauna surrounded by candles and houseplants to create a spa-like aesthetic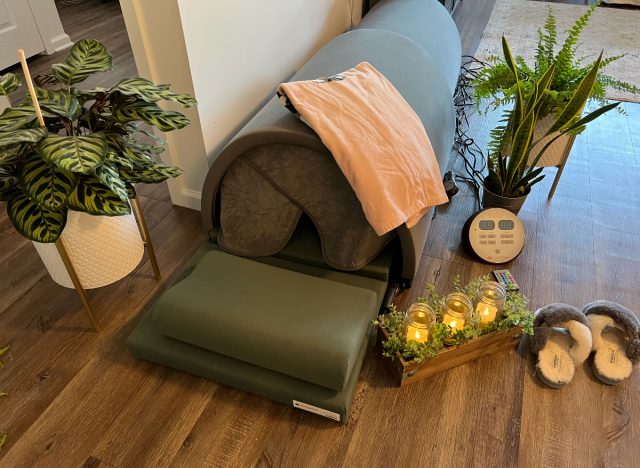 My Solo System arrived in a large box, and the assembly instructions were easy to follow. I chose a spot to set it up in my apartment where it could remain permanently, so I could easily slip into the sauna each day after work before going to bed.6254a4d1642c605c54bf1cab17d50f1e
When it was time to indulge in my sauna experience, I went all-out. My unit is surrounded by houseplants and candles, and when in use, I put on my favorite background tunes. As far as timing is concerned, the brand recommends working your way up to a 40-minute sauna sesh each day. Prior to doing the maximum 60-minute timeframe, it's recommended to check with your healthcare professional. The temperature ranges from 113°F to 149°F, and there are three settings—low, medium, and high.
Hydrating before and after is key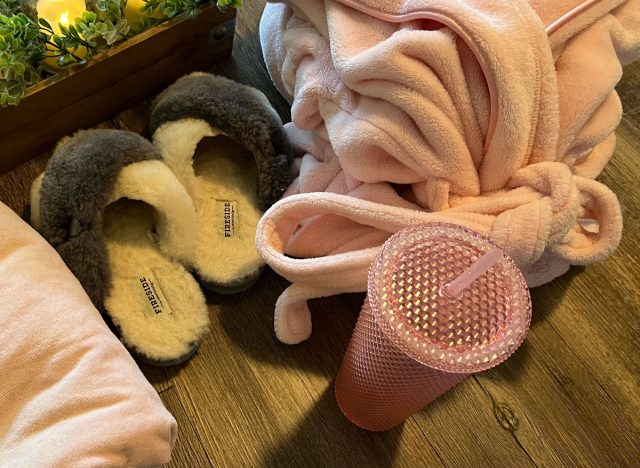 First, I turned my sauna on to preheat for 30 minutes. While it was heating up, I drank 12 ounces of water to hydrate (a minimum of 8 ounces is required to prep your body for the increase in temp). I made sure to have a towel, bathrobe, and slippers next to my setup for when I was done.
I started with the recommended 10 to 15-minute sessions at 100°F for one full week, but only every other day. During the second week, I increased my time to 15/30-minute sessions every other day. By week three, I was up to 40-minute daily sessions. When each session was over, I drank a minimum of 24 ounces of water in order to rehydrate my body after sweating it out. When done, I dried off and showered.
My sauna experience has been so soothing and improved my sleep situation a great deal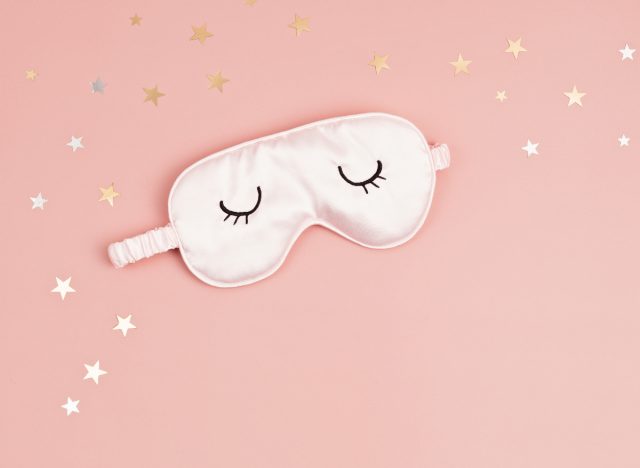 The fact that many Sunlighten customers experience a noticeable, positive impact on their quality of sleep really intrigued me since I'm a very light sleeper. Both morning and nighttime sauna users rave about Sunlighten products, so I was very excited to start my sauna journey in hopes of improved sleep and overall relaxation.
My very first session definitely did not disappoint—it relaxed me a great deal. My second session seemed to help me get a more restful night's sleep. Each time I used the sauna, my entire body simply felt relaxed, less tense, and all-around happier. My overall experience with the Solo System has been exceptionally soothing. When you're a light sleeper like me, literally everything can wake you up, and the sauna absolutely seemed to promote full nights of sleep.
How do other customers feel? "I fall asleep faster and crave my nighttime sauna," says Amarie W., owner of a Solo System. Another user notes after decades of dealing with sleep disturbances, their Sunlighten device helps them sleep more soundly through the night, while another says it enhances their energy level during the day, resulting in a better night's sleep when they turn in.
Suffice to say, I've turned into a sauna-for-sleep believer and major fan. If you are seeking new ways to improve your nighttime routine and achieve restful sleep, I would definitely recommend checking out Sunlighten. Does my body feel more relaxed because I'm sleeping better each night? Perhaps! But if my body's happy, I'm happy, and that's all that matters.
Alexa Mellardo
Alexa is the Mind + Body Deputy Editor of Eat This, Not That!, overseeing the M+B channel and delivering compelling fitness, wellness, and self-care topics to readers.
Read more about Alexa