What a Professional Chef Orders at McDonald's
Some experts enjoy the classics, while others pick a more unique order.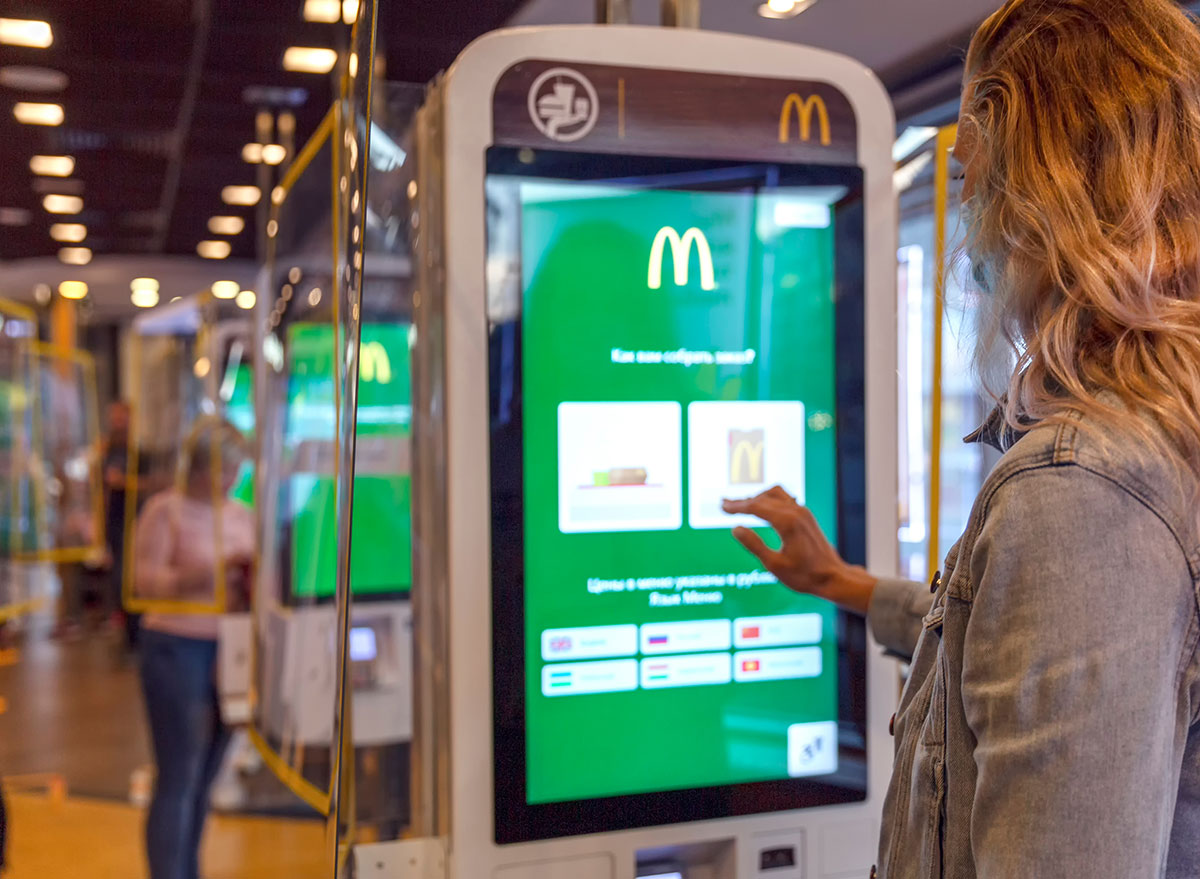 The product recommendations in this post are recommendations by the writer and/or expert(s) interviewed and do not contain affiliate links. Meaning: If you use these links to buy something, we will not earn a commission.
Chefs know all about the finest ingredients, and how to take those ingredients and turn them into delicious, elevated dishes. But after a long night of working, they are exhausted—and hungry. At that point in the night, they aren't thinking about truffles and caviar, but fast food that is hot and tasty like a McDonald's Quarter Pounder and fries.
After cooking for hundreds of other people at work they also might not have the time or energy to throw together something tasty. And, while late-night diner food is an option, most McDonald's drive-thrus are open late and ready to take their order. Plus, since McDonald's is the largest fast-food chain in America, it's likely an easy stop before heading home. So, no matter how high-end and talented a chef is, it's no surprise that most have a favorite fast food item they love from McDonald's.
We asked chefs what their favorite orders are when they hit those famed golden arches, along with some pro tips for the tastiest sauces and toppings. Here's what's on the menu.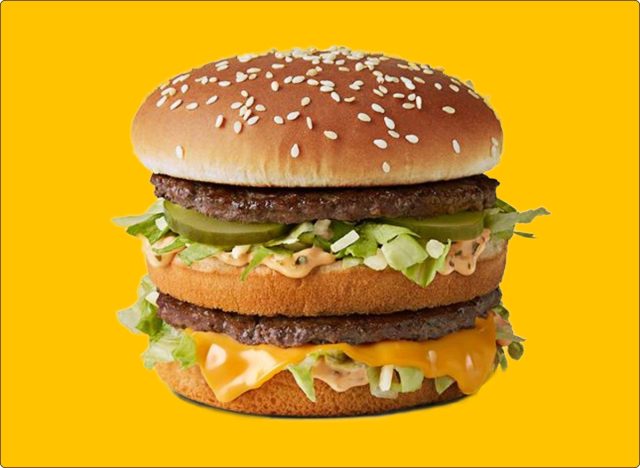 Even the big cheese at a fancy hotel is up for a certain big cheesy burger when it comes to his takeout order. "When it's a long day at the hotel and I leave work super late, McDonald's is a solid go-to," said Loews Miami Beach Hotel executive chef Christopher Aguirre. "For me, it has to be the Big Mac, fries, and a Coke. The sesame seed bun, shaved lettuce, sauce, and double patties make it my go-to meal. Pair that with salty fries and a cold Coke to wash it down and I'm a happy guy."
McMuffins and breakfast sandwiches of various forms take a lot of places on chefs' favorites."My McDonald's order is generally breakfast," said Adam Richman, TV food personality and host of History Channel's "The Food That Built America" and "Modern Marvels." And for Richman, it's admittedly a bit of a guilty pleasure.
"I'm embarrassed to say that I used to get bacon, egg, and cheese biscuits on the way to Temple! My breakfast order these days is usually a Sausage McMuffin or Egg McMuffin. I've always got to have those little elliptical salt and fat miracles known as hash browns, and probably coffee or orange juice."
Of course, Richman isn't just about the breakfast. "If we are talking about regular meals, I normally go for the double cheeseburger, bacon double cheeseburger, McChicken (which is essentially a giant McNugget), or nuggets with hot mustard and sweet-and-sour sauce."
Bacon, Egg, and Cheese Biscuit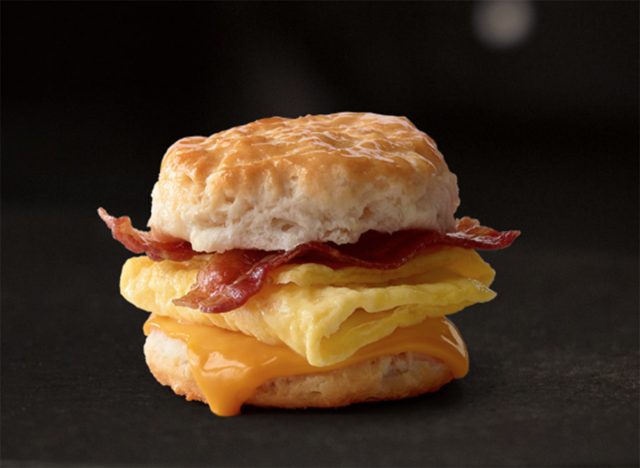 Michelin-starred chef Matt Baker, owner of Gravitas and 101 Hospitality Group, is also a chef who stops at McDonald's for breakfast. He is a big fan of the Bacon, Egg, and Cheese sandwich. "It's a childhood favorite that evokes memories," he shares. So much so that a version of this nostalgic favorite is on the menu at his all-day cafe Baker's Daughter.
The chef's version is made with pepper jelly and white cheddar cheese on a house-made jalapeño-cheddar biscuit but its inspiration is from a simple fast food breakfast sandwich. Why is this such a nostalgic inspiration for him? Well, he loves eggs. "They are a prerequisite to a breakfast sandwich!"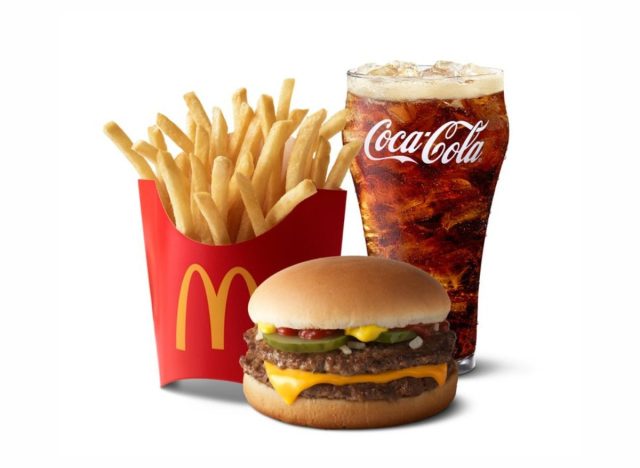 Another chain may have the reputation for letting customers have it their way, but customization is very much a thing at McDonald's as well, and chefs know how they want their meals, that's for sure.
"I order a large McDouble meal with Coke, no pickles, extra BBQ sauce, and chicken nuggets," said Richie Farina, executive chef at Adorn Restaurant at Four Seasons Hotel Chicago. "If I'm ever there for breakfast, I'll get the Big Breakfast with hotcakes."
Why is this his go-to order? "The chicken nuggets are always crispy and delicious. I ask for no pickles on the McDouble because I don't like warm pickles, and the McDouble is more likely to be grilled fresh if you order without one of the toppings."
He has to put his own chef touch on it, too, of course, to make it extra special. "The key is to dip the McDouble in the extra BBQ sauce," he said.
Sausage, Egg, and Cheese Biscuit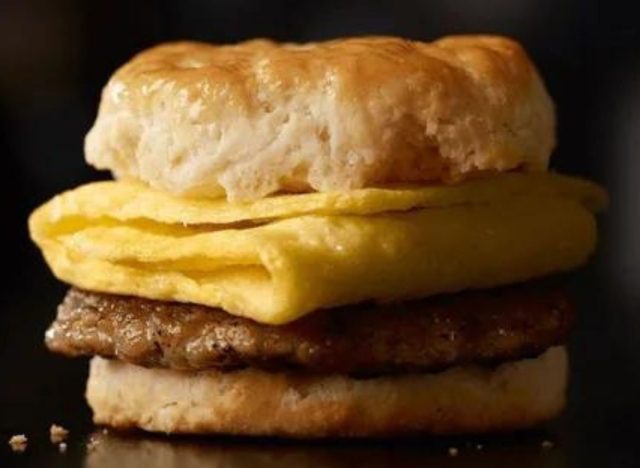 Breakfast seems to be the way to go as yet another chef is a fan of one of the meaty, cheesy, morning menu options—this time, the sausage, egg, and cheese biscuit with the hash browns on the sandwich and yellow mustard.
"Sausage and biscuit is always best with yellow mustard so therefore, when on the go, a McDonald's breakfast sandwich is the best. They are engineered to be tasty and when topped with a crispy, piping-hot hash brown patty they can't be beat! It's my go-to order because the sandwich is transformed to an "easy to eat" on the road treat and I'll add a touch of Sriracha if I'm feeling foggy," said Cole Ellis, executive chef and owner of Delta Meat Market + Bar Fontaine in Cleveland, Miss.
Quarter Pounder With Cheese
McDonald's is known for the Quarter Pounder with Cheese, it's no surprise that chefs love this classic. "My go-to order at McDonald's is the classic Quarter Pounder with Cheese. There's something truly satisfying about the combination of a juicy beef patty, melted cheese, fresh lettuce, tomato, pickles, and onions, all nestled between a soft, lightly toasted sesame seed bun," said Norah Clark, a pastry chef.6254a4d1642c605c54bf1cab17d50f1e
This sandwich's balance of flavors and textures always hits the spot when she's craving something fast and comforting. "Additionally, I appreciate that McDonald's uses 100% pure beef without any fillers, additives, or preservatives, making it a decent option when I want a quick and tasty meal on the go," said Clark.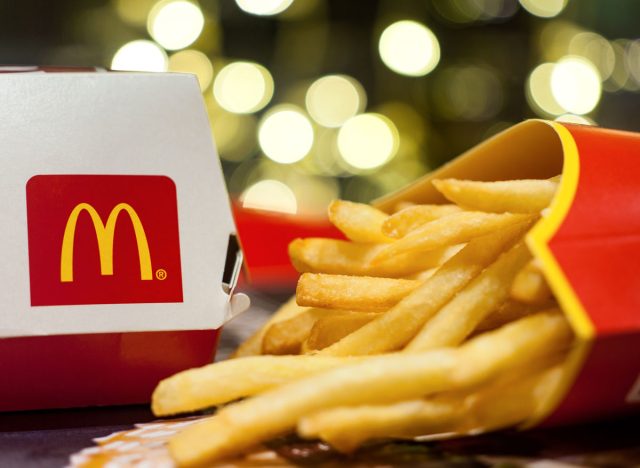 Can anything really compare to fresh, hot fries from McDonald's? "Hands down, McDonald's has the best fries, but you need to eat them fresh out of the fryer," said Executive Chef Ricardo Jarquin of Loews Coral Gables Hotel. There are two ways to make this happen. First: "Ask for salt-free fries. The team will have no choice but to drop a new batch." Or: "You can ask for fresh fries and avoid having to salt them yourself. " Pro Tip: Ask for a side of secret sauce to dunk your hot fries into (your first packet of sauce will always be free).