14 Best Old-Fashioned Dishes to Order at a Steakhouse
If you want a taste of the past, this is where you'll find it.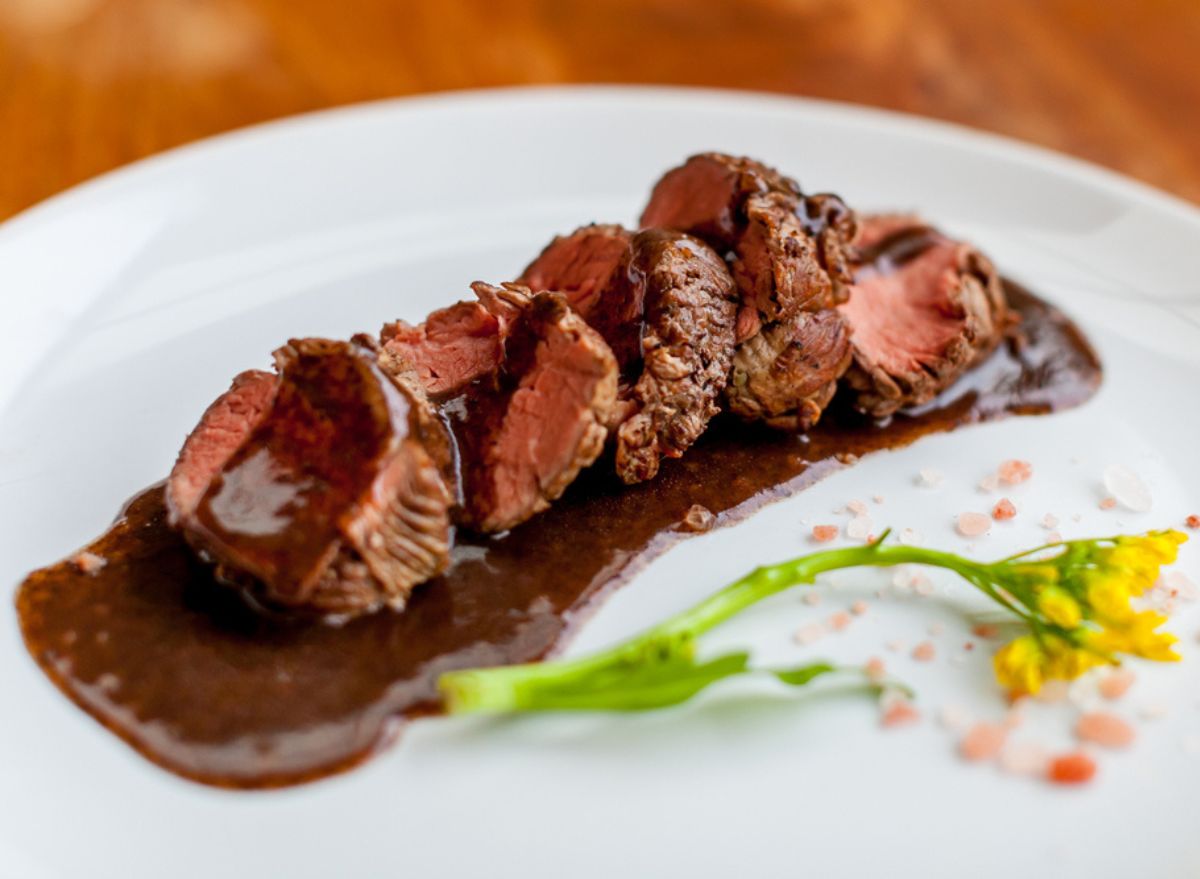 When you think about heading to a steakhouse for dinner, you expect a few things. Great steaks and legendary service are, of course, at the top of this list, but killer sauces, warming sides, and indulgent desserts are also up there in importance. And, for some, steakhouses provide a link to the past with iconic flavors and old-fashioned dishes that they can't get anywhere else.
One of the things we love about steakhouses is that despite some modern menu upgrades, many of these spots still offer a taste of the past. They are the places to seek out those old-school menu items that you can't find anywhere else like steak topped with crab or buttery sauces, dishes prepared tableside, and extravagant desserts that are sometimes set on fire.
Steakhouses still have those iconic dishes named after royalty, like Veal Oscar and Chateaubriand. The latter of which is not a cut of meat, as most people think, but the name of a French writer, François-René de Chateaubriand, who liked this cut from the filet of beef. To hear about the story of the famous Oscar topping, read on. And if you're looking for a bit of nostalgia with your meat, here are the top steakhouse dishes to seek out for some old-world flair.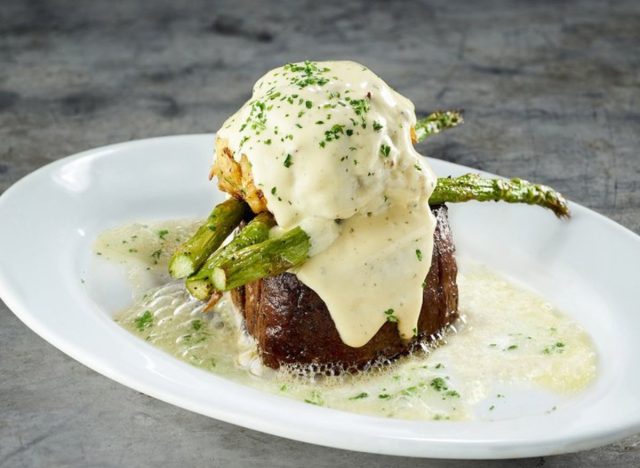 A filet mignon is classic, but you will find all different meat and fish prepared Oscar-style at many of the national steakhouses. What this means is that the dish is served with jump lump crabmeat and asparagus in a warm Bèarnaise sauce.
The dish is named after King Oscar II of Sweden and Norway. Legend has it that the king was into late-night dining—we totally get it—so his chef put together his favorite things into one dish: Veal, crab, creamy Bèarnaise, and asparagus.
Now you can get the Oscar topping on just about any protein at many steakhouses including at higher-end spots like Ruth's Chris and bargain spots like Saltgrass.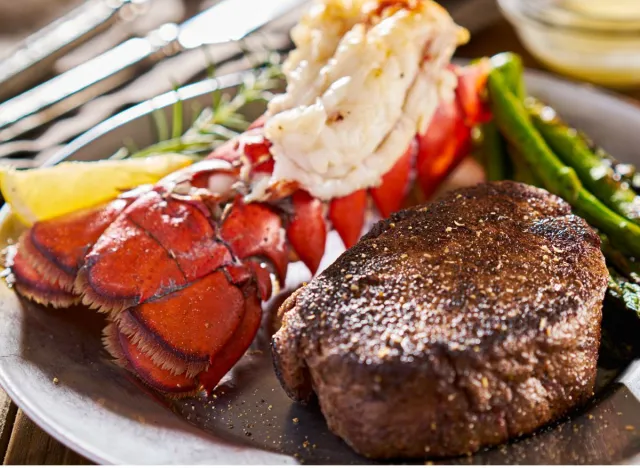 This classic combo of steak and seafood—often lobster—was first served in 1962. While it seems excessive to eat steak and lobster together, most steakhouses have modernized this mix-and-match experience so you can go lighter if you so choose. You can find this classic combo at most steakhouses, including Ruth's Chris, as part of a classic prix fixe menu.
Bubbling cheese and lava-hot broth with caramelized onions, onion soup has modest origins in French markets, but was made upscale with the addition of melted cheese. While this dish is chill enough to be served at an Irish pub, it's over-the-top enough to grace the table of a steakhouse. Bonus: It isn't so filling that it will keep you from your favorite cut of steak. Find the perfect French onion soup at Morton's, The Capital Grille, and just about every other steakhouse.
Bèarnaise and Bordelaise Sauces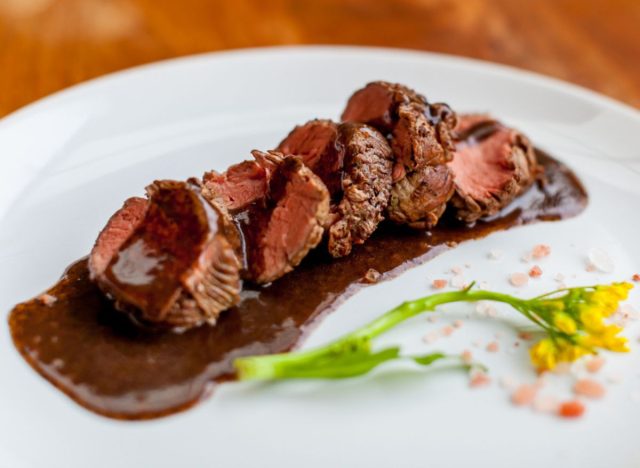 Both of these sauces are classically French and they have graced the menus of steakhouses for decades. Bernaise is a delicate emulsified butter sauce similar to Hollandaise, made of white wine, white vinegar, shallots, tarragon, chervil, and lots of clarified butter. Bordelaise, on the other hand, is a thick red wine sauce, typically made with reduced Bordeaux and beef stock and flavored with thyme. Both are excellent on steak.
Smith & Wollensky and Ruth's Chris have both on the menu.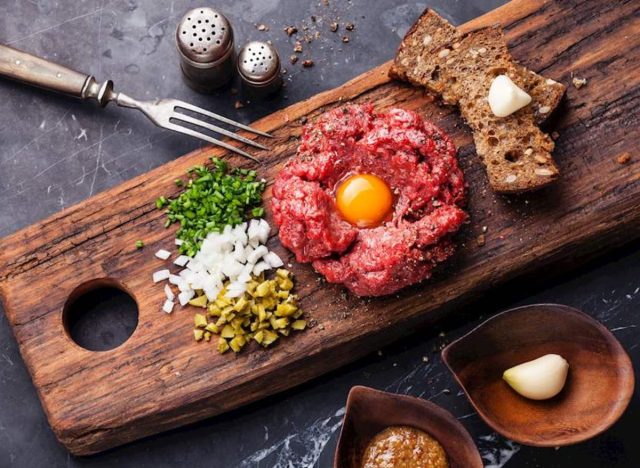 One of the things that people love about steakhouses is the service, especially tableside preparations. At Smith and Wollensky, your server will prepare steak tartar tableside with all of the accouterments. And yes, that's raw beef, usually filet mignon, chopped fine right in front of you.
If you've never had gougères, think of them as the French equivalent of cheese puffs. They are essentially the same light and airy dough as a cream puff but packed with cheese. Needless to say, they are a delicious snack with a cocktail or another pre-dinner dinner. You can get them as an appetizer at Shula's Steakhouse locations.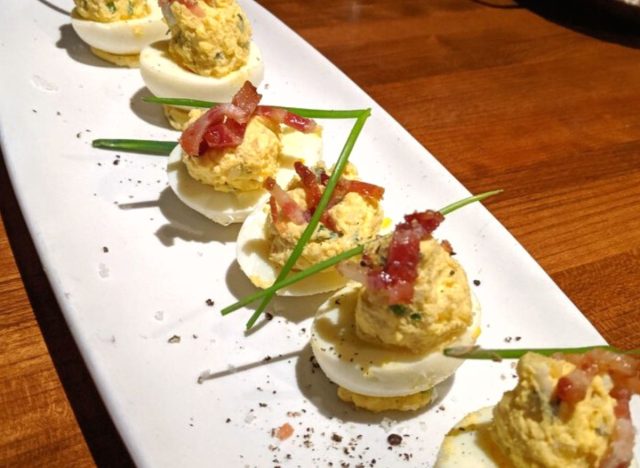 What's more American than deviled eggs? Sure they're at home at a barbecue but they can also be delicious at a steakhouse where they'll probably be done up for the occasion. Stoney River, for instance, serves them with sugar-cured bacon and homemade pickle relish.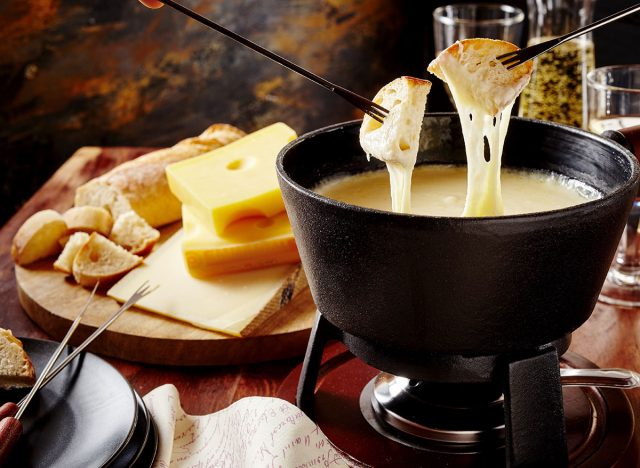 Black Rock Grill—a steakhouse chain with locations in Michigan, Ohio, Florida, and Maryland—has a fun take on this classic. The dish is made with garlic cream cheese and nacho cheese and served with hot pretzels or sliced bread for dipping on its iconic black rock serving platter.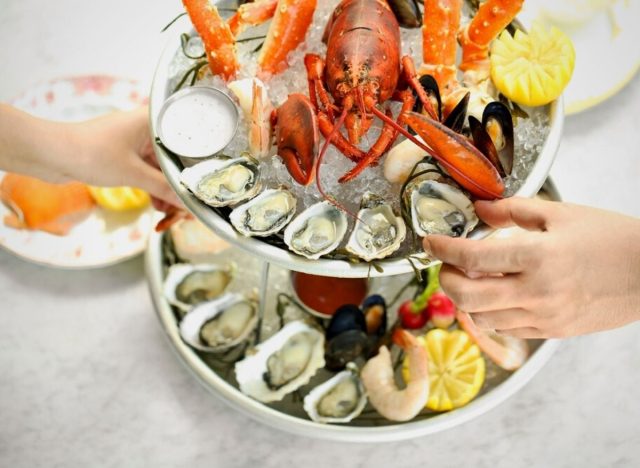 Yes, it's going to cost you, but a seafood tower is a fun, opulent appetizer to share with the whole table. Usually heaped with oysters, clams, shrimp, and crab, it's a fresh (and healthy) start to a heavy steakhouse meal. Charlie Palmer Steak has three different levels—Le Petit, Le Grand, and Le Magnifique—starting at $42 and going up to $165. (Prices vary by location.)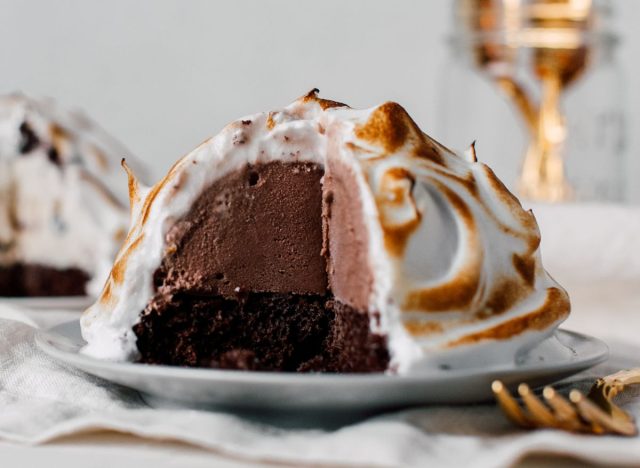 Baked Alaska is one of the most decadent desserts—though deceptively simple to make. Steakhouses are the place to try this dessert that literally needs to be set on fire. It's typically made in a bowl or mold with a layer of ice cream and a layer of sorbet on top of the cake. It is then inverted, spread with peaks of meringue, and toasted in the kitchen or doused in high-proof alcohol and lit on fire.
Smith and Wollensky's Boston location does a tableside flambeed Baked Alaska for two made with rum raisin ice cream. Now that's how you end a meal!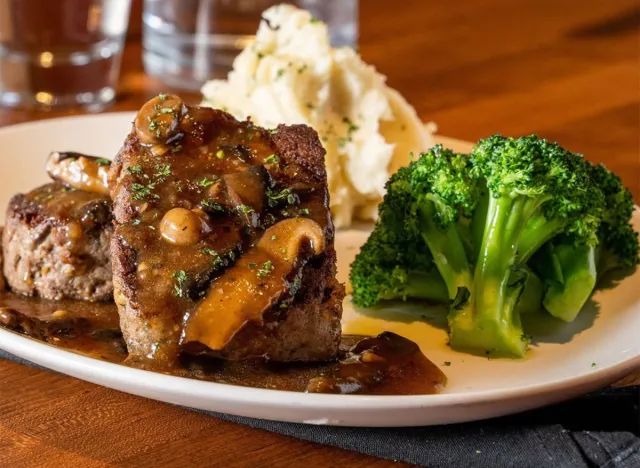 Yes, meatloaf is a simple dish, but you can bet that a steakhouse version, which uses top-notch ingredients, will be something to write home about. Logan's Roadhouse and Stoney River are two steakhouses that offer this down-home entree. Head to Logan's Roadhouse for a simple preparation or check out Stoney River for its Wild Mushroom Meatloaf served with Madeira sauce, garlic whipped potatoes, and broccoli.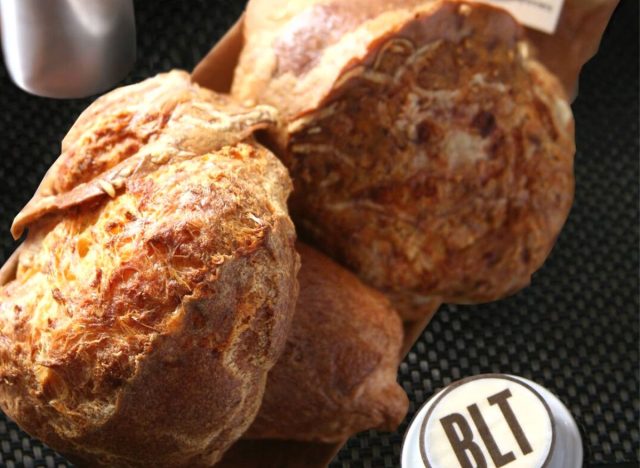 Popovers are irresistible puffs of dough. To make them, a simple batter of eggs, flour, milk, and butter is added to a hot muffin or special popover pan that is coated in butter or oil. The pan is so hot that the batter puffs up into an air-filled muffin. (P.S. if the popover is cooked in beef drippings, it's called a Yorkshire pudding.)
Steakhouses usually make these puffs of dough into large, sharable appetizers. Smith and Wollensky offers Roast Beef Popovers with caramelized onions and mushrooms, brandy peppercorn sauce, and aged cheddar. BLT Steak's legendary popovers are as big as your fist, plus they give the recipe out with the dish.
Named for a Russian ballerina, the Pavlova is a dessert that is lighter than air. A cloud of meringue—whipped egg whites and superfine sugar—is baked in the oven until crispy on the outside and chewy on the inside and then topped with fruit, typically berries and whipped cream. Charlie Palmer Steak kicks this dish into the 21st century by updating the fruit and topping it with flavors like caramelized figs and citrus chantilly or passionfruit curd and fresh berries.6254a4d1642c605c54bf1cab17d50f1e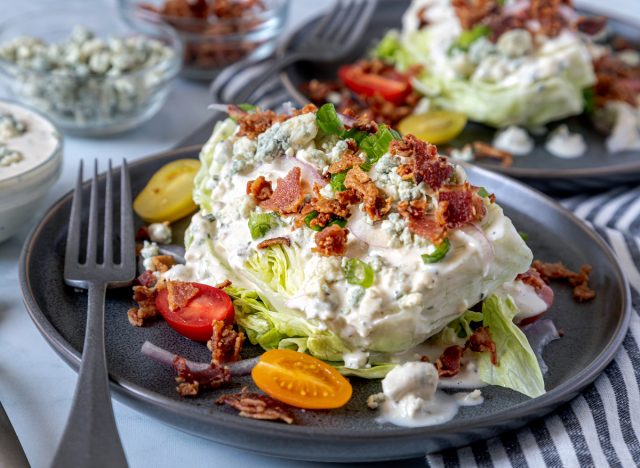 Much-maligned iceberg lettuce still has a home in many steakhouses right next to the Caesar salad. The wedge salad, which dates back to 1916, is a sizeable hunk of lettuce, typically a sixth or so of the head, topped with crispy bacon, blue cheese, blue cheese dressing, and tomatoes. Try it at BLT Steak, Smith and Wollensky, Ruth's Chris, Black Angus, and more!