12 Incredible Recipes You Can Make with Store-Bought Puff Pastry
Bake impressively flaky snacks in no time.
Puff pastry is one of those items you're better off buying pre-made than making from scratch. Although the ingredient list is very simple (flour, water, and butter), it's the technique that turns this into a more complex endeavor than your regular loaf of bread. It requires quite a time commitment, and not to mention, some serious physical effort and skill. That's because puff pastry is basically a multi-layered dough that gets rolled out, and folded, and rolled out, and folded, over and over, until the thin layers of dough and the thin layers of butter in between become inseparable.
Now for the good news—the store-bough puff pastry that comes in frozen sheets will give you top-notch results without all the effort. You can achieve impressively flaky salty snacks and melt-in-your-mouth buttery desserts in as little time as 30 minutes. Just don't forget to thaw the dough in the refrigerator overnight before you plan on using it. Here are our favorite puff pastry recipes that use store-bought dough.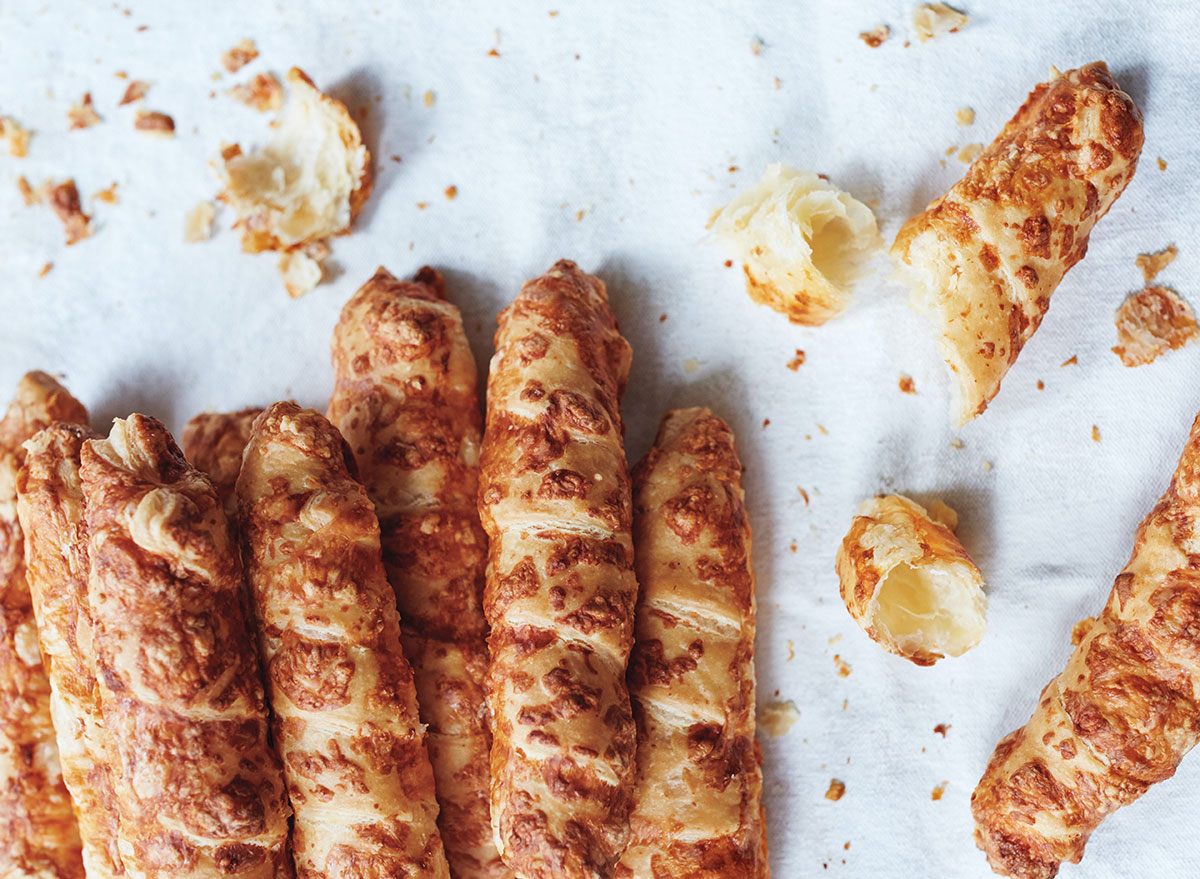 If we could eat one salty snack forever, these cheese straws might be it. A young Gouda cheese is used in this recipe, as bits of it get "trapped" inside the dough as well as stuck to the outside. The outside cheese will become crispy and golden, while the cheese inside the dough will be gooey and mellow. Oh my!
Get our recipe for Cheese Straws.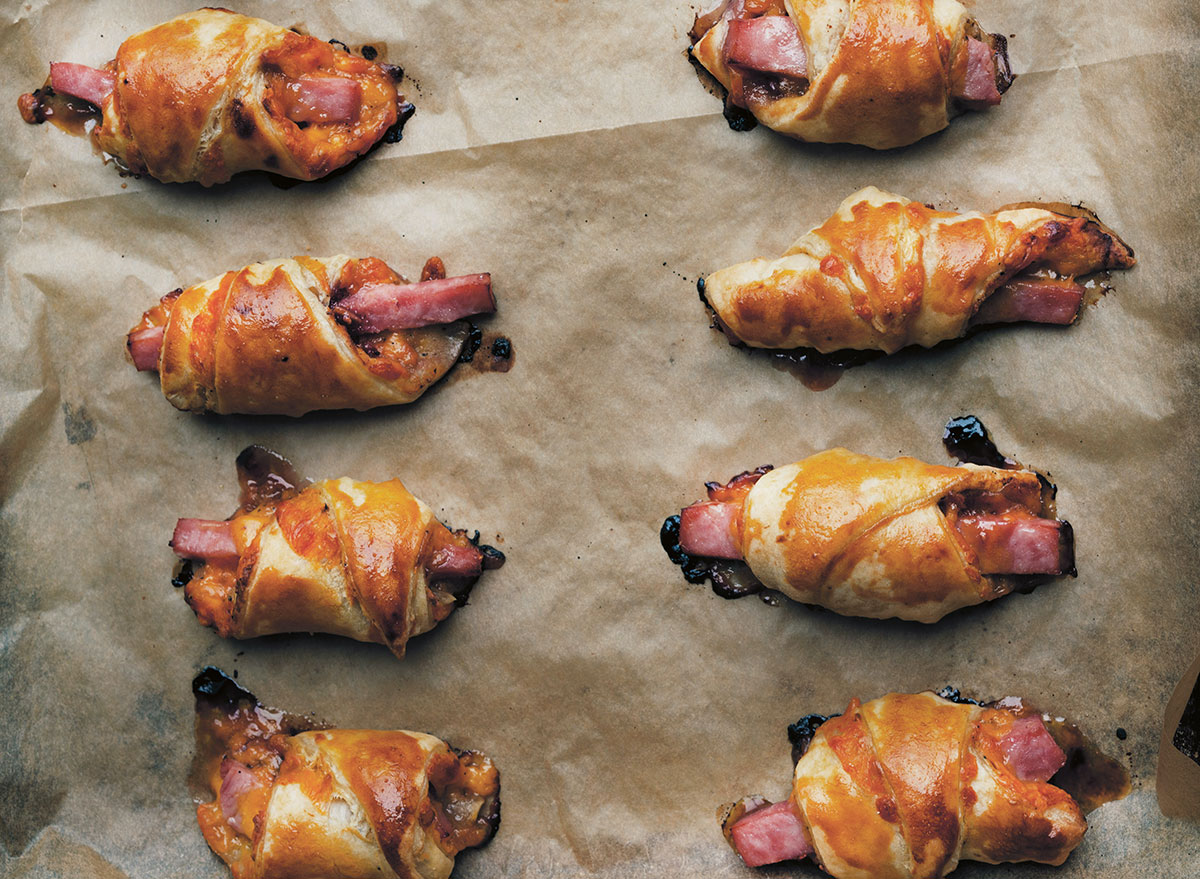 Yes, you read that right! Ham AND jam are both involved in this stuffed puff pastry hand-pie. Think of them as a fancier, more sophisticated version of pigs in a blanket. Serve them at brunch and watch them disappear in minutes.
Get our recipe for Hamjam Cheddar Puffs.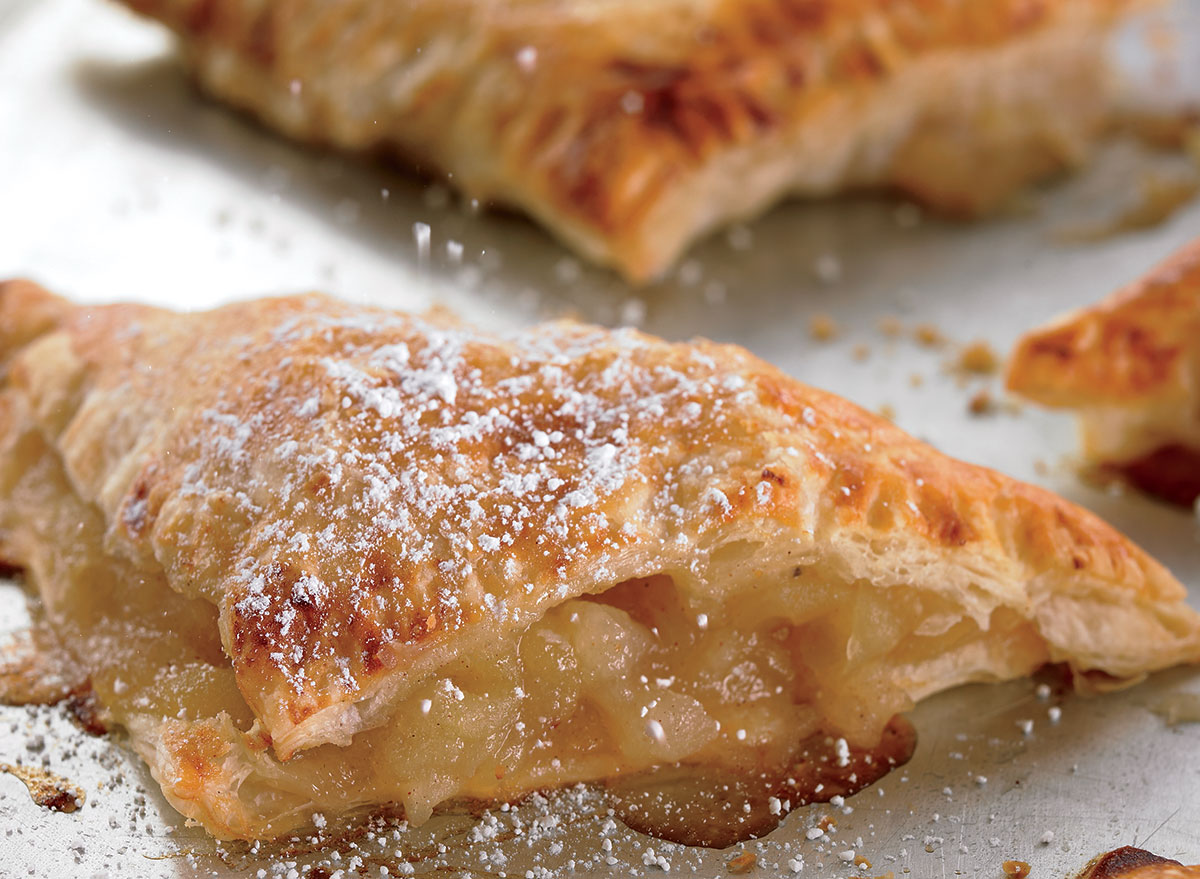 Although sweet, spiced, jammy apples, wrapped in hot, flaky dough sounds incredibly indulgent, this classic apple turnover clocks in at only 200 calories per serving. The recipe calls for Granny Smith apples, which are beautifully tart and a perfect antithesis to the powdered sugar on top.
Get our recipe for Apple Turnovers.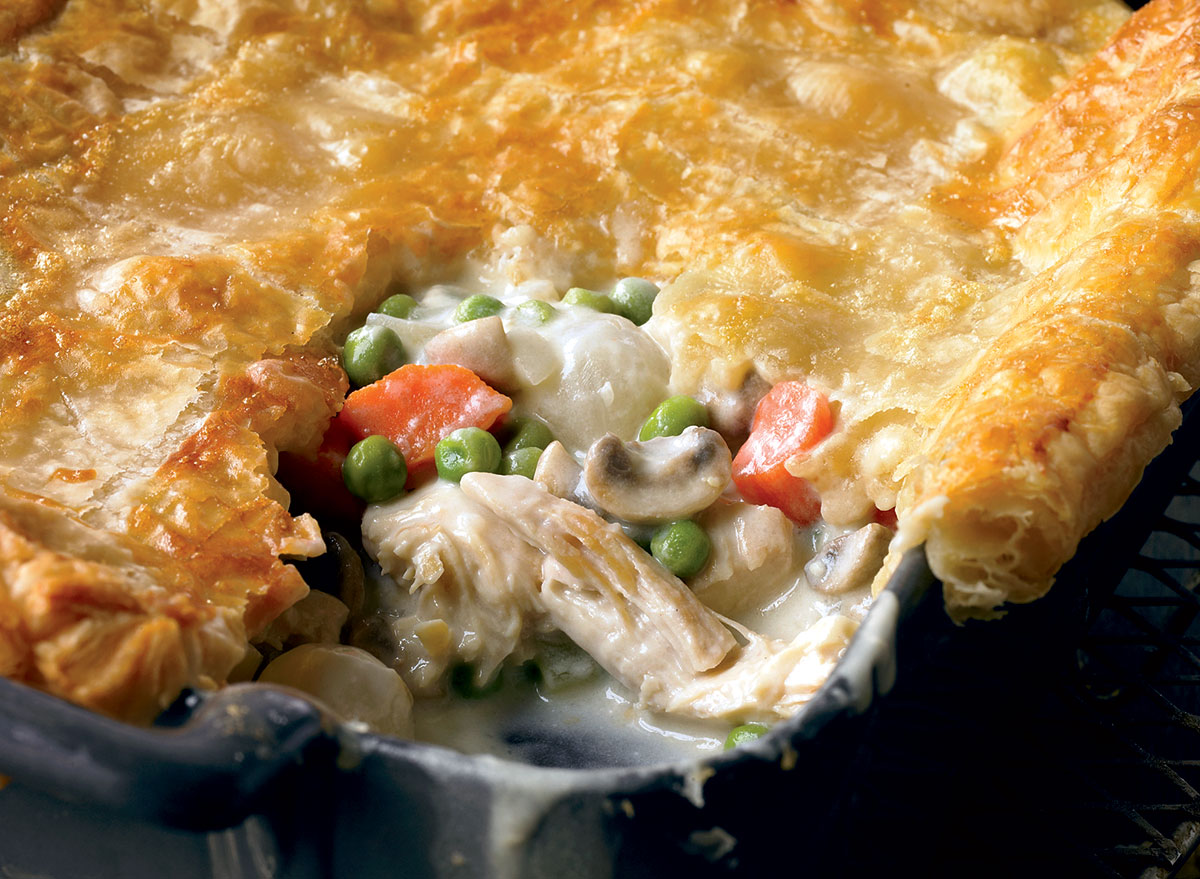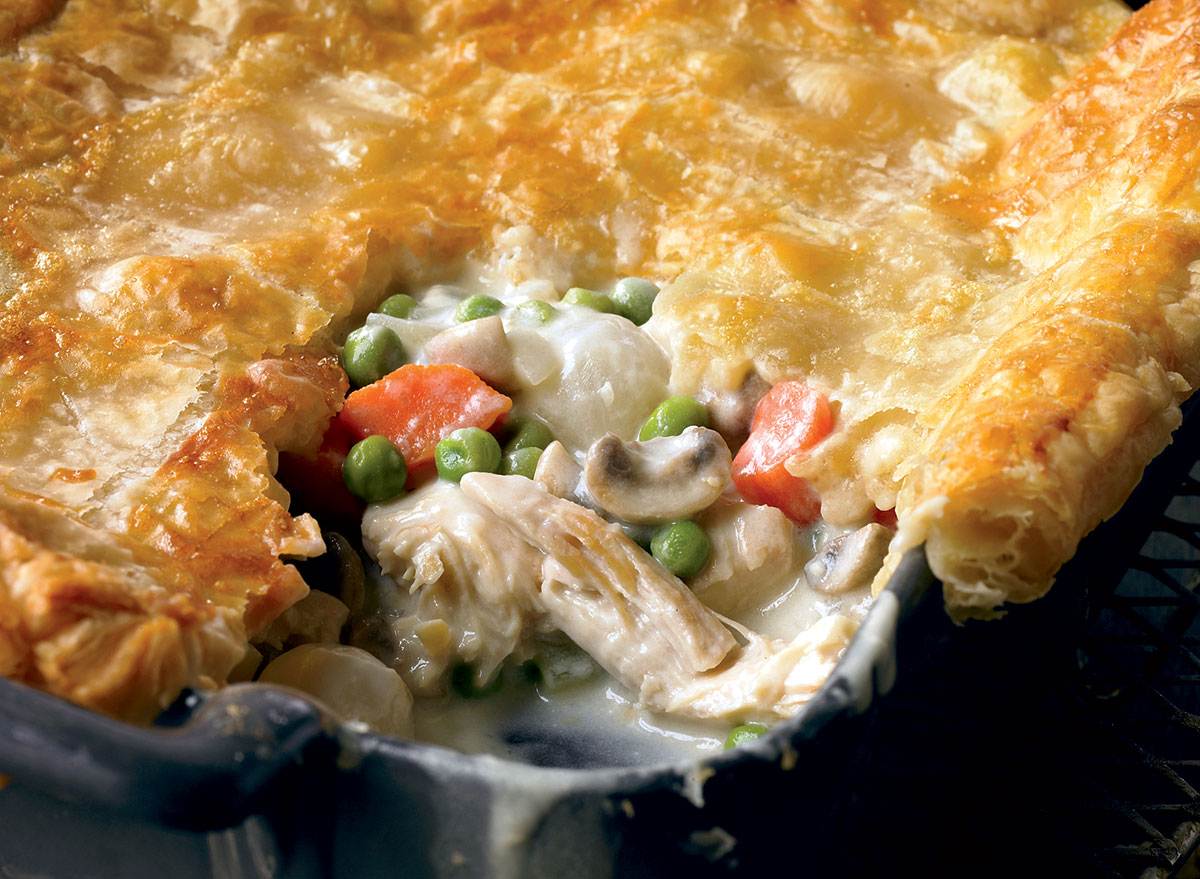 Let's not forget that chicken pot pie, a beloved American comfort dish, has a layer of flaky pastry on top. If you buy the pastry pre-made, it becomes a really easy recipe to make. This version clears out the artery-clogging fats, and cuts the calories down by more than half.
Get our recipe for Chicken Pot Pie.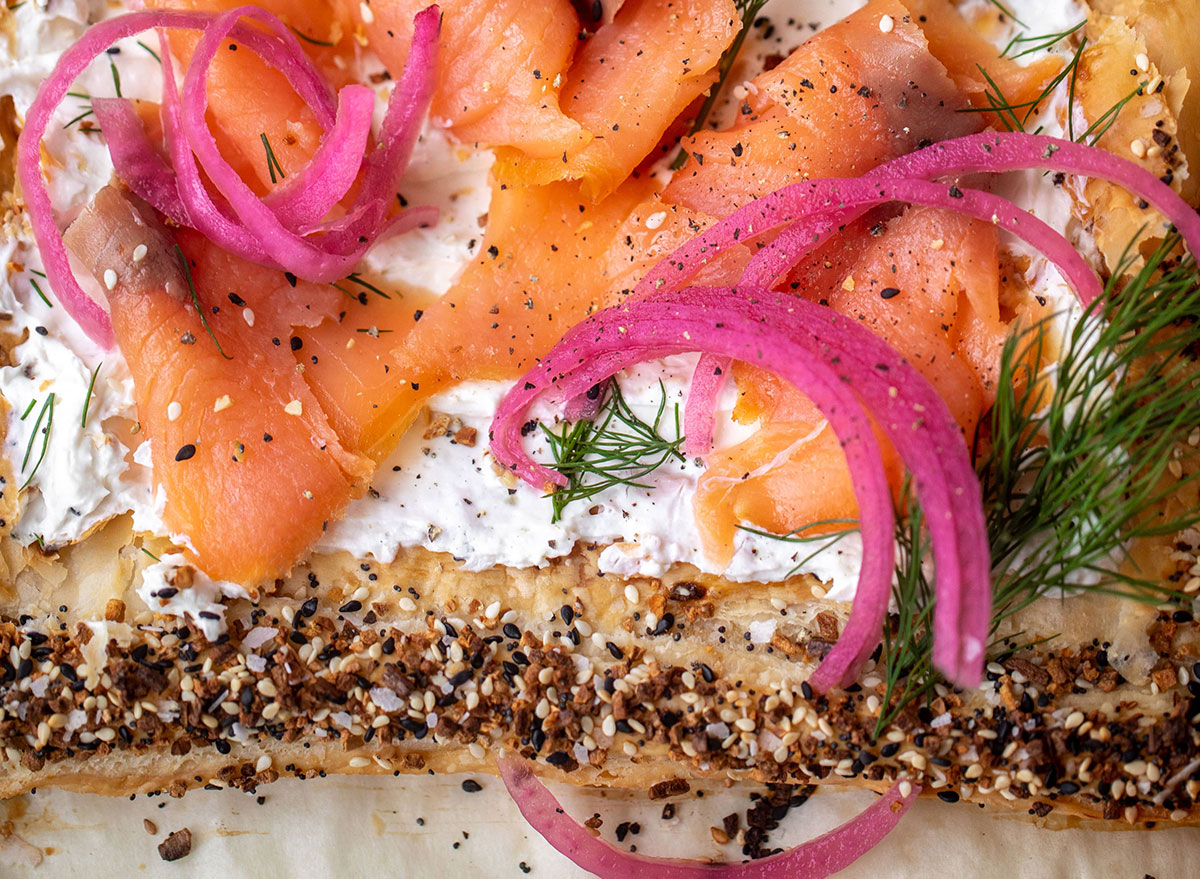 Here's a puff pastry take on a lox bagel breakfast. Roll out the puff pastry into one large sheet, cover the edges with everything bagel seasoning, and bake it to get a tart base. You'll then schmear it with cream cheese and top with lox and pickled onions, just like you would a bagel.
Get the recipe from How Sweet Eats.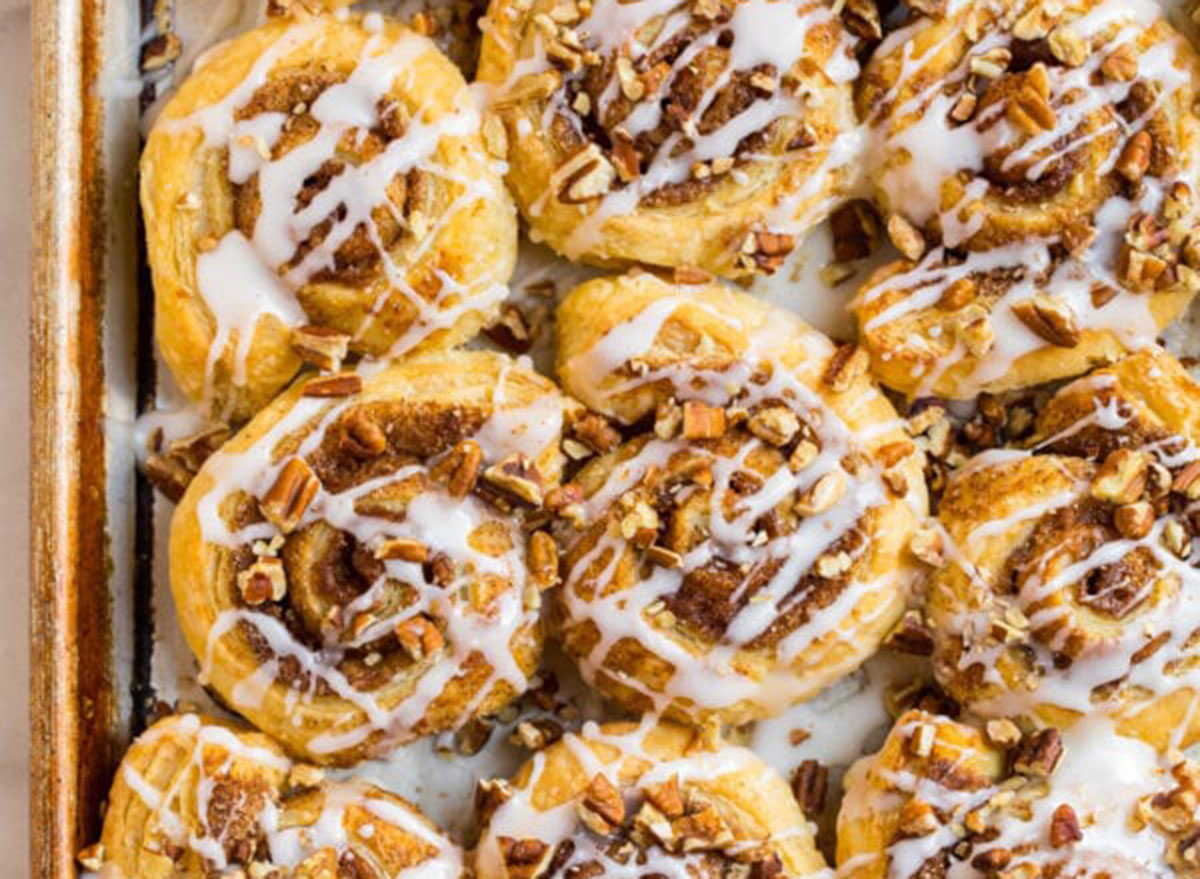 Cinnamon rolls are the perfect project to do with a sheet of store-bought puff pastry. Everyone knows 'em, everyone loves 'em, and the technique is simple enough for puff pastry newbies. You'll make one giant cinnamon- and pecan-stuffed roll, and cut it into slices before baking.
Get the recipe from Well Plated.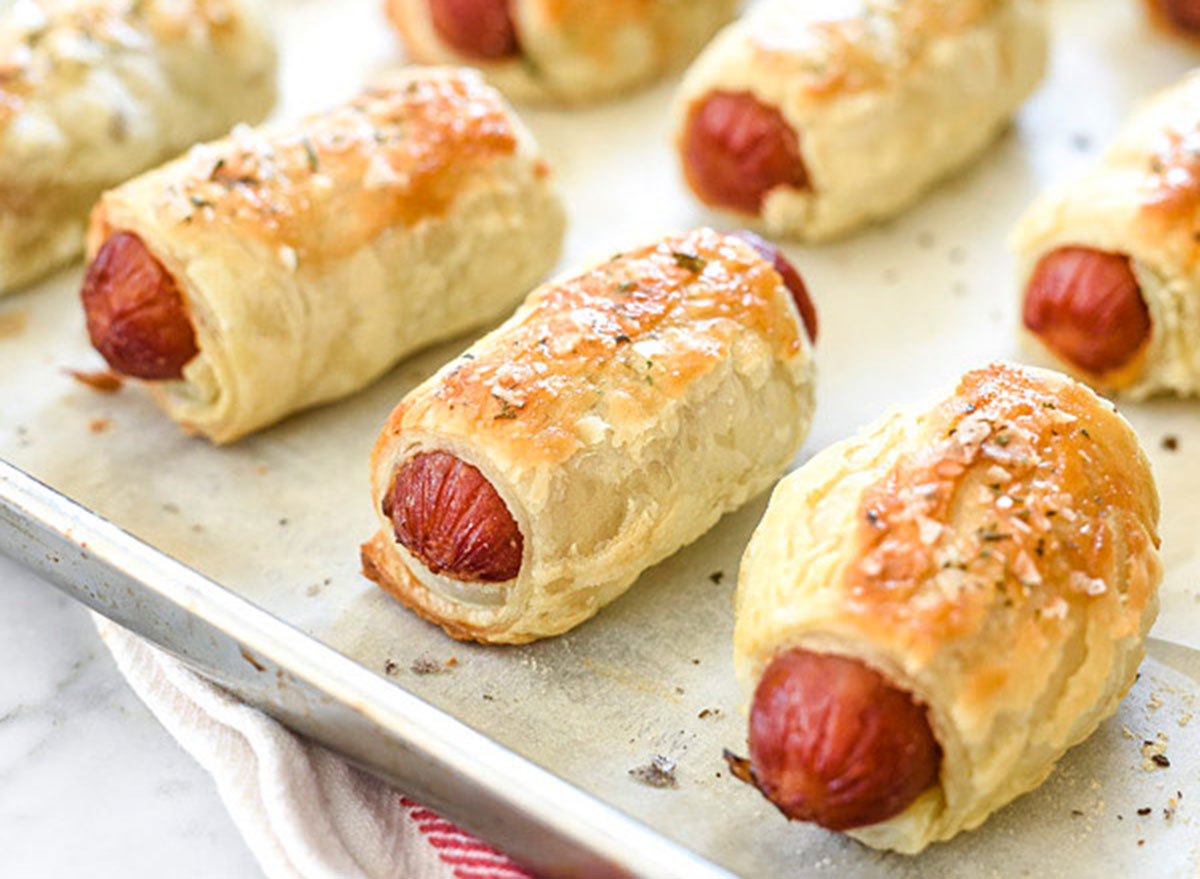 Don't use crescent rolls for your pigs in a blanket. Make your creation stand out by using real puff pastry to achieve the ultimate flaky crunch.
Get the recipe from Foodie Crush.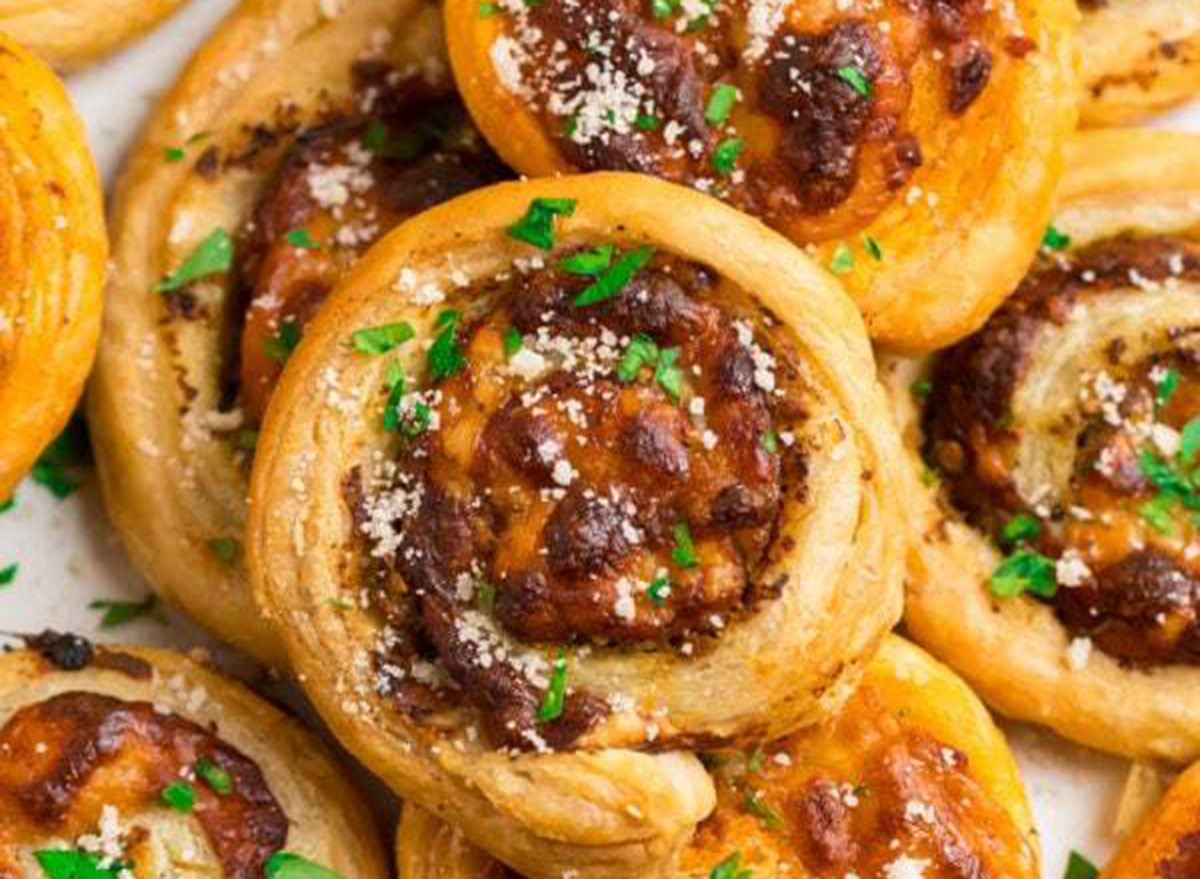 These pinwheels have a lot more going on than just pesto. They're stuffed with prosciutto, mozzarella, and Parmesan, which makes them a highly appropriate choice for an hors d'oeuvres, or even a quick dinner, if you decide to freeze an extra batch.
Get the recipe from Well Plated. 
Cheesy Spinach Artichoke Twists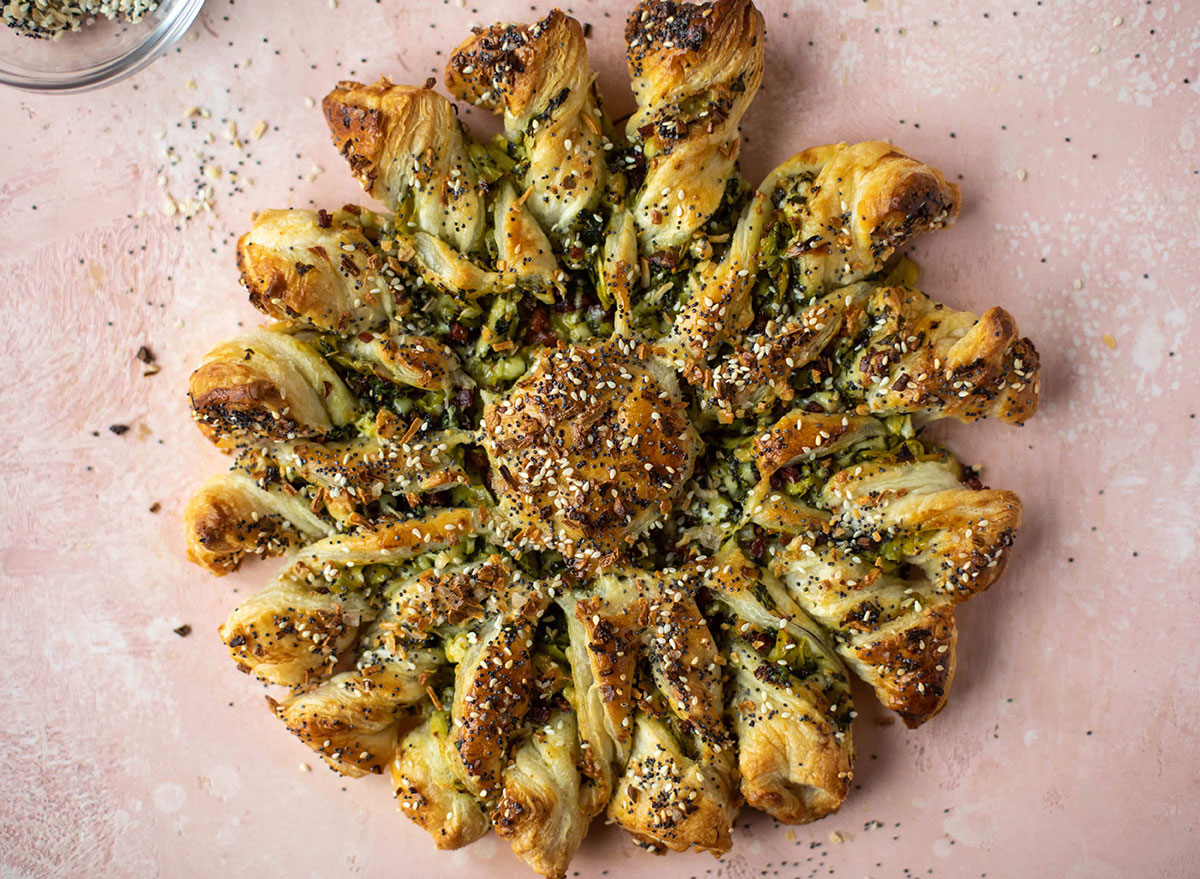 We promise this recipe is as fun to make as it is to eat. Pull-apart anything is a really clever way to serve a shareable snack, but when puff pastry is involved, the thin, puffed up layers of crispy dough make the end result even better. And you'll be eating a fair amount of veggies, too.
Get the recipe from How Sweet Eats. 
This galette is made by lining a cast iron skillet with puff pastry dough, and then treating it like a bowl for all your other sweet ingredients. You'll make a quick frangipane—a sweet almond-flavored filling—and pour it all over the dough bowl, then layer in the super thin apple slices. Don't forget to top it off with some ice cream before serving!
Get the recipe from What's Gaby Cooking.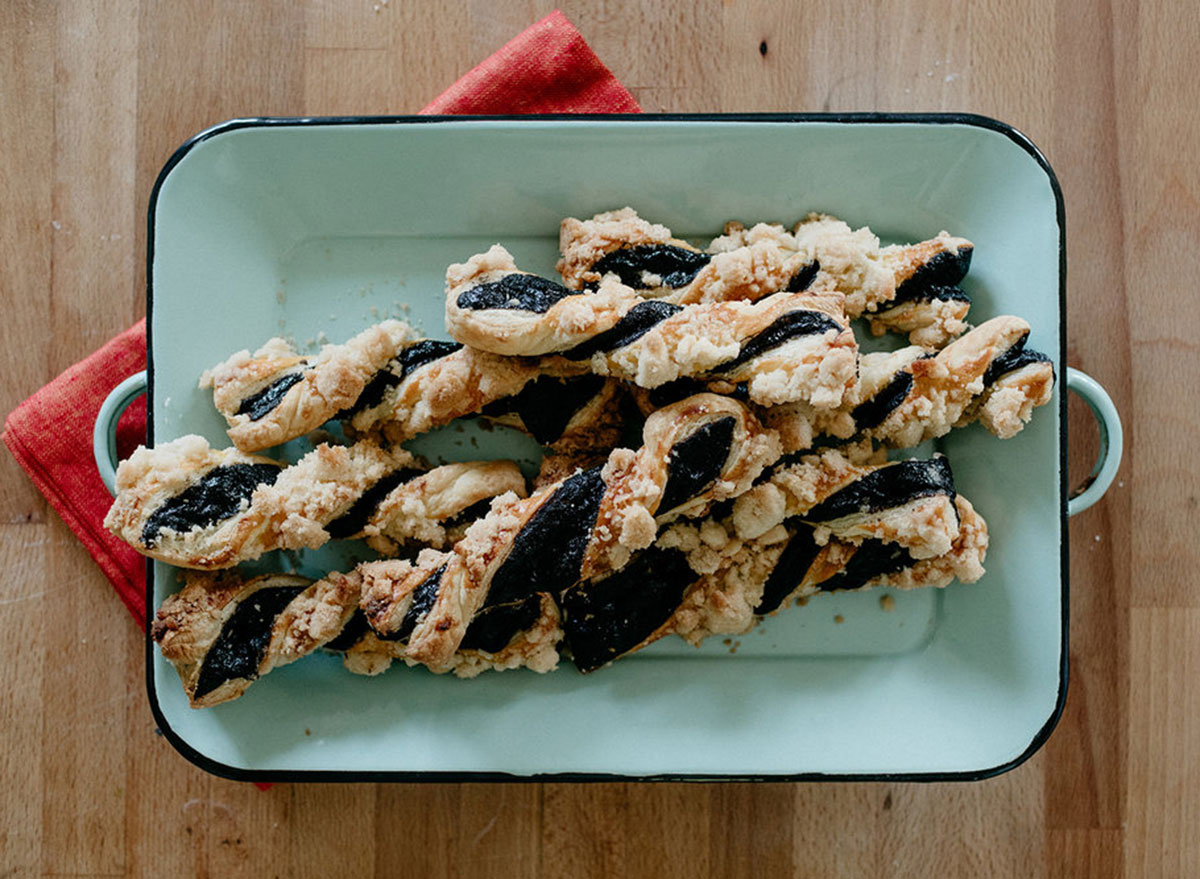 Babka is a beloved Jewish dessert, which normally comes in the form of puff pastry chocolate bread loaf. This quick version, however, turns traditional babka into chocolate straws, and adds sweet and salty crumbs to the exterior. The chocolate sauce for stuffing could be anything you want, including Nutella.
Get the recipe from My Name is Yeh. 6254a4d1642c605c54bf1cab17d50f1e
Onion, Spinach, and Cheddar Flaky Pastries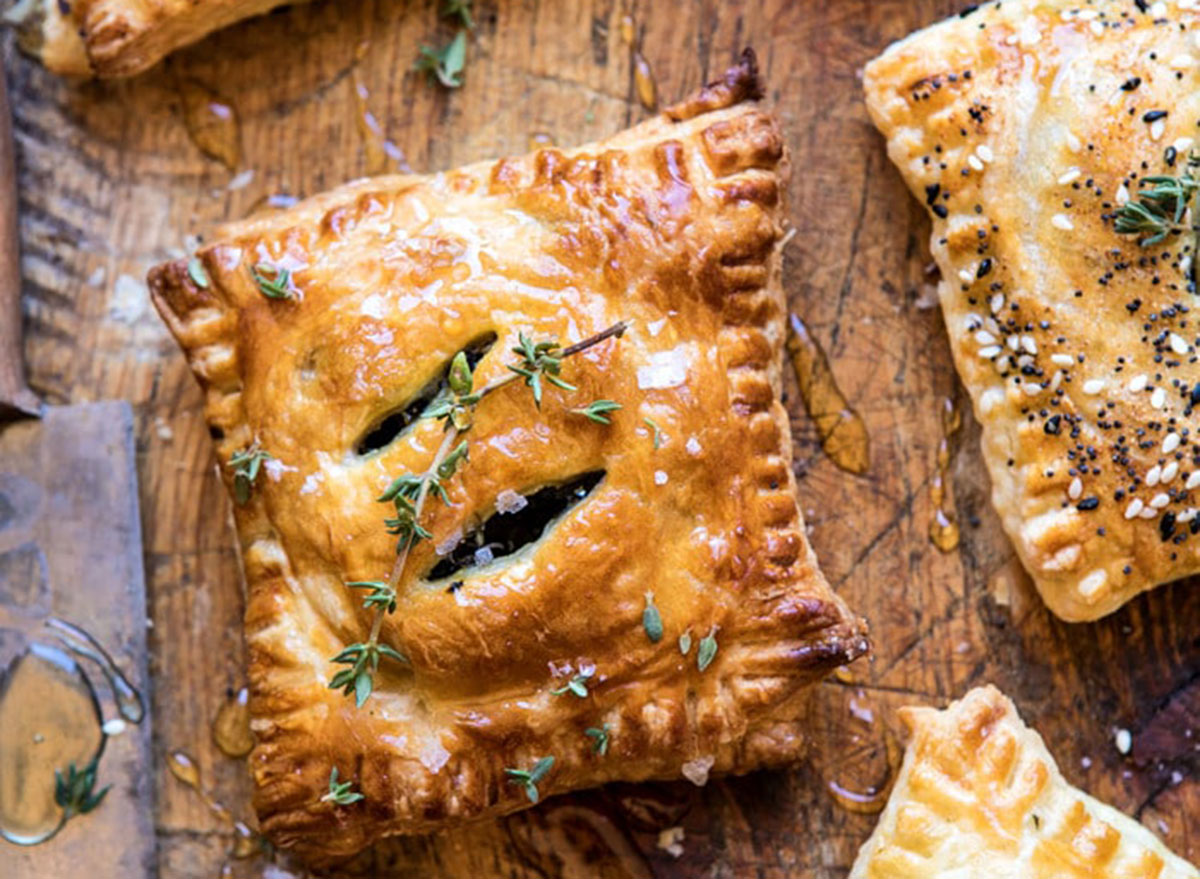 The caramelized onion stuffing makes these hand-held pies stand out from other savory stuffed pastry creations. They're a perfect appetizer or picnic food, and freeze well, too.
Get the recipe from Half Baked Harvest. 
STAY INFORMED: Sign up for our newsletter to get the latest coronavirus foods news delivered straight to your inbox.
Mura Dominko
Mura is ETNT's Executive Editor, leading the coverage of America's favorite restaurant chains, grocery stores, and viral food moments.
Read more about Mura