15 Pumpkin Spice Products to Try This Fall
If the grocery store is any indication, pumpkin has certainly not lost its spice.
Foodies and fancy research firms may claim that the pumpkin spice is so over, but anyone who's been to the supermarket recently can clearly see that the trend is still in full swing. Everything from granola bars and nut butter to pastries and hummus (yes, hummus!) have been spiked with the gourd's quintessential fall flavor. And I won't deny that I love seeing all the creative—and admittedly, sometimes stomach-churning—ways food manufacturers give their products a festive flavor for the impending fall season.
I've happily tried several new pumpkin products recently, and there are a handful favorites that are totally worth checking out this fall. The best part: most of my faves also happen to be waistline-friendly or carry some nutrition that can benefit your body—two things that Starbuck's pumpkin spice latte can't claim. Before you head to the store to buy some of the yummy eats below, be sure to check out these 15 Best New Foods for a Flat Belly and add your faves from there to your shopping list, too! Staying slim through the fall has never tasted so good!
Gold Emblem Pumpkin Spice Mixed Nuts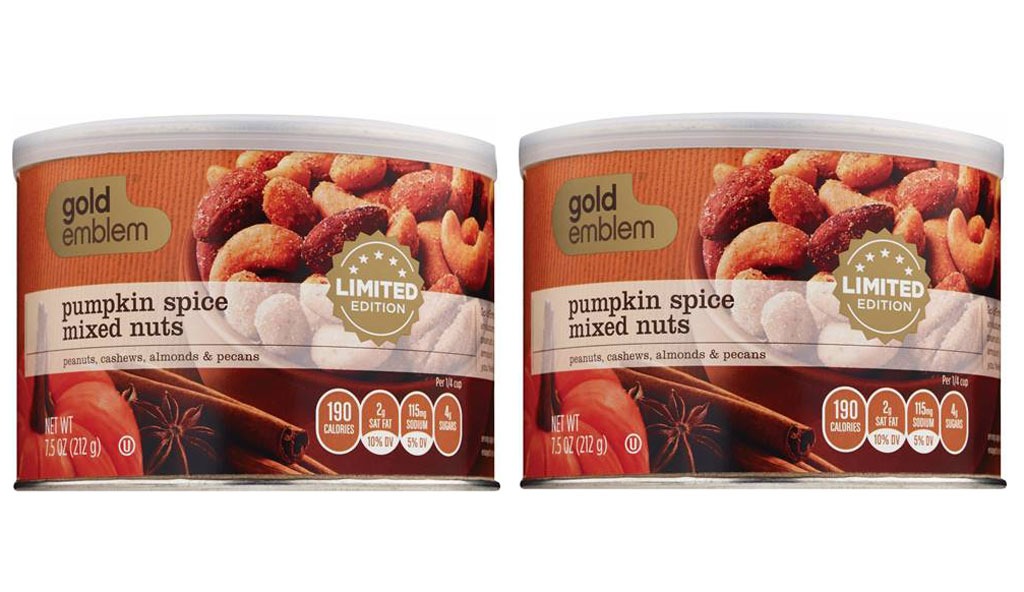 1/4 cup: 190 calories, 14 g fat, 2 g saturated fat, 115 mg sodium, 9 g carbs, 2 g fiber, 4 g sugar, 5 g protein
A large percentage of the pumpkin-infused snacks on the market are void of any nutrients your body can benefit from. So when CVS sent us their new pumpkin spice mixed nuts, I was beyond excited to try them. The container starts with a peanut, pecan, and almond base and is flavored with pumpkin, honey, and peanut oil. The resulting flavor is downright addictive so you might want to scoop the nuts into single-sized servings so you don't overdo it.
Barbara's Limited Edition Pumpkin Puffins
1 cup: 110 calories, 0.5 g fat, 75 mg sodium, 25 g carbs, 3 g fiber, 5 g sugar, 2 g protein
Whether you pair them with milk for breakfast or nosh on them solo as a snack, these crunchy corn puffs are sure to please. If the latter option sounds most appealing, mix them with some raw nuts to up the crunch factor and boost their staying power. Cheerios also came out with pumpkin cereal this season, but we prefer Barbara's for its light pumpkin flavor and lower sugar count.
Stonewall Kitchen Maple Pumpkin Butter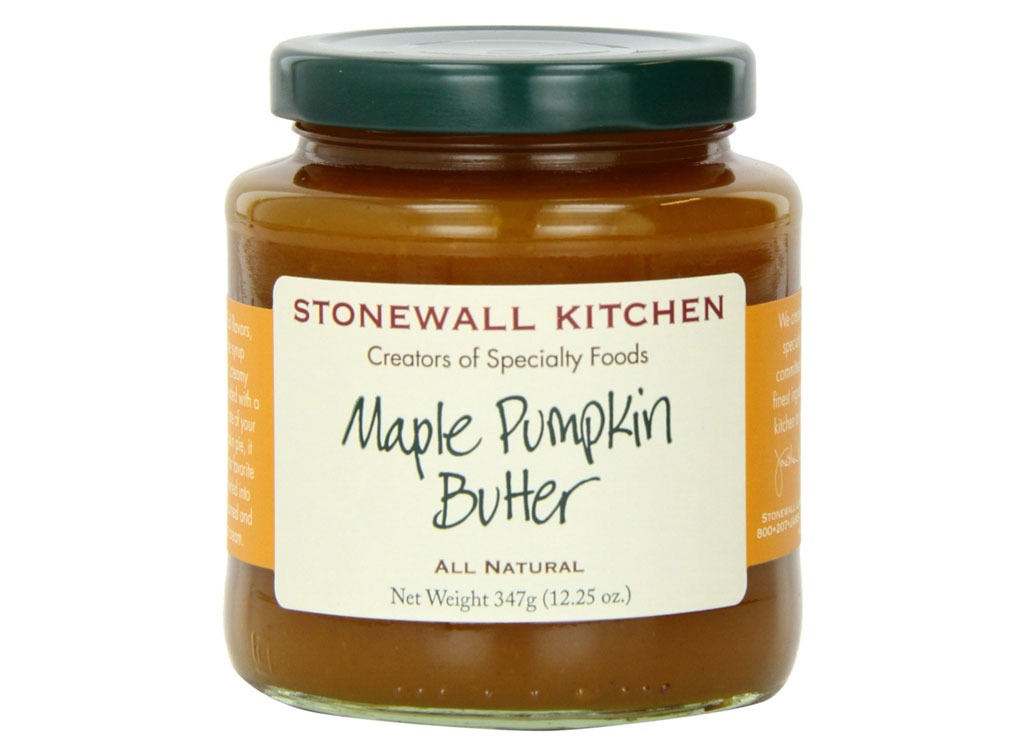 1 Tbsp: 30 calories, 0 g fat, 0 g saturated fat, 7 g carbs, 0 g fiber, 6 g sugar, 0 g protein
There are so many delicious ways to enjoy this versatile Stonewall product—which is far less sweet than other pumpkin butters on the market, by the way. Spread it on an Ezekiel English muffin, mix it into Greek yogurt or oatmeal, use it in place of marinara on a flat bread (top with onion, walnuts, blue cheese, and thyme), or make a peanut and pumpkin butter apple sandwich. Yum, yum, and more yum!
KIND Nuts & Spices Caramel Almond Pumpkin Spice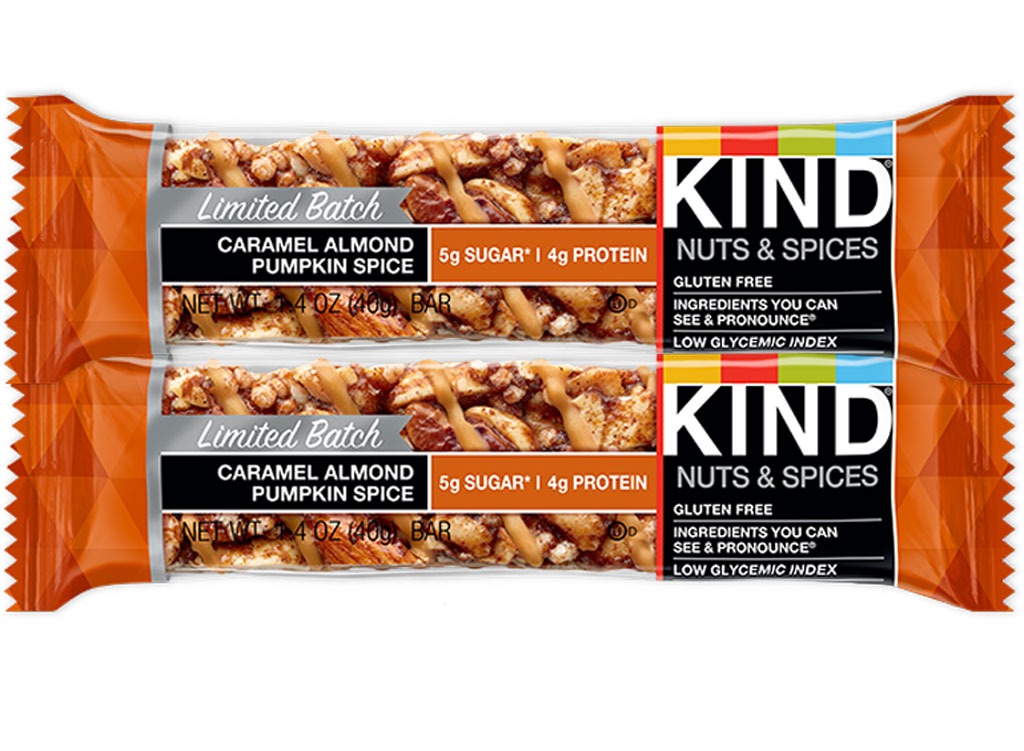 Per bar: 200 calories, 15 g fat, 3.5 g saturated fat, 15 mg sodium, 17 g carbs, 7 g fiber, 5 g sugar, 4 g protein
To say that the Eat This team was excited to receive these snack bars would be the understatement of the century. We literally started to jump up and down when we realized what was in the box! After splitting one with a colleague, I immediately tracked down some cases and bought two of them on the spot. The combination of sweet—but not too sweet—caramel and pumpkin flavors with crunchy almonds is one you don't want to miss! Curious what other low-sugar KIND bars make for smart snacks year-round? Check out our special report, Every KIND Bar—Ranked!
Nuts 'n More Pumpkin Spice High Protein Peanut Spread
*2 Tbsp: 180 calories, 10 g fat, 2 g saturated fat, 46 mg sodium, 11 g carbs, 3 g fiber, 1 g sugar, 12 g protein
If you're a pumpkin enthusiast who's known to eat peanut butter right from the jar with a spoon, this subtle fall-flavored nut butter is for you. Nuts 'n More adds whey protein isolate to the mix to amp up their spread's protein content and flax for added omega-3s, a type of healthy fat that's been shown to protect against heart disease.
Teavana Pumpkin Spice Brulee Oolong Tea
0 calories, 0 g fat, 0 g saturated fat, 0 g sodium, 0 g carbs, 0 g fiber, 0 g sugar, 0 g protein
Not only does this loose leaf tea have mouthwatering notes of chocolate, pumpkin, and toffee, it's a powerful fat-fighter, too. Like green tea, oolong is packed with catechins, which help to promote weight loss by boosting your body's ability to metabolize fat. A study in the Chinese Journal of Integrative Medicine found that participants who regularly drank oolong tea lost six pounds over the course of the six-week time period. Sounds like a great reason to get your hands on the stuff, if you ask us! For even more simple ways to slim down, check out these 25 Easy—and Cheap—Ways to Lose 5 Pounds.
Urban Accents Mexican Chile Pumpkin Mole Sauce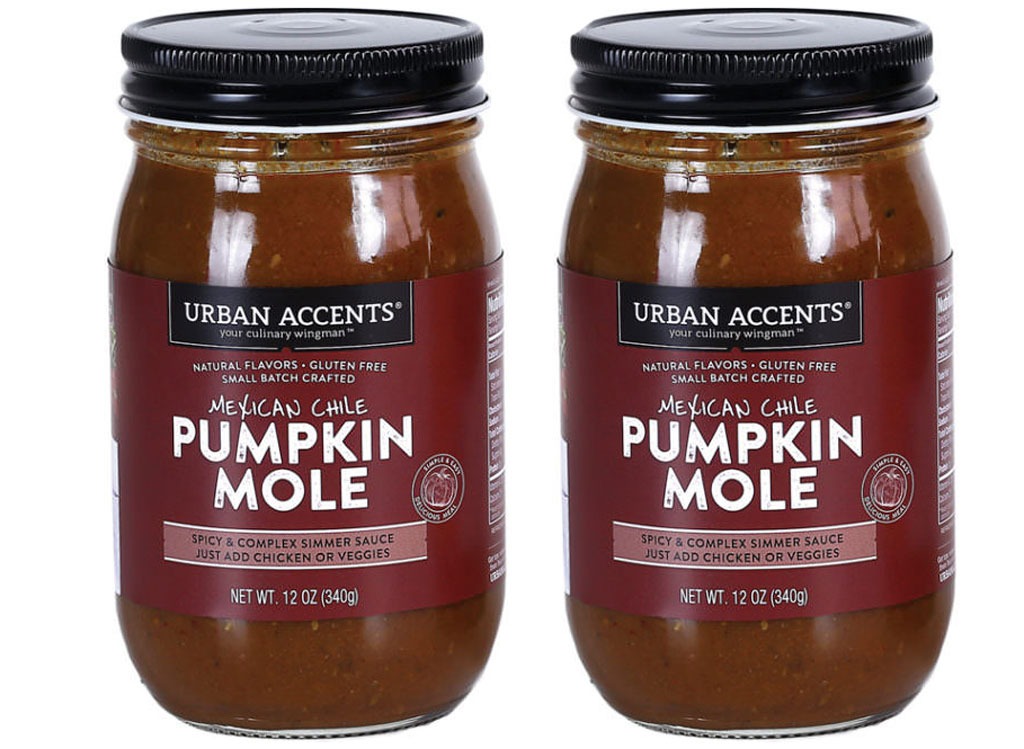 6254a4d1642c605c54bf1cab17d50f1e
Nutrition information not available
Mexican food lovers, this one's for you! Instead of smothering your fave Tex-Mex dinner with artery-clogging cheese, top 'em off with a delicious mole. The traditional sauce is made with unsweetened cocoa powder and chile peppers, but this fall themed one works in pumpkin to create a unique flavor that's all its own. Throw some in a pan with some meat, cooked brown rice, and veggies to create a festive meal that will be ready to eat in 30 minutes flat. You can find a jar of the stuff at urbanaccents.com.
Hail Mary Pumpkin Spice Mini Tarts
1 tart: 100 calories, 8 g fat, 5 g saturated fat, 45 mg sodium, 7 g carbs, 2 g fiber, 4 g sugar, 1 g protein
They may be low in sugar and packed with superfood ingredients like almond flour and coconut oil, but you'd never guess it from the taste. These tiny tarts allow you to give into your sweet tooth—without blowing your diet, which is something we're huge suckers for.
Montchevre Pumpkin Goat Cheese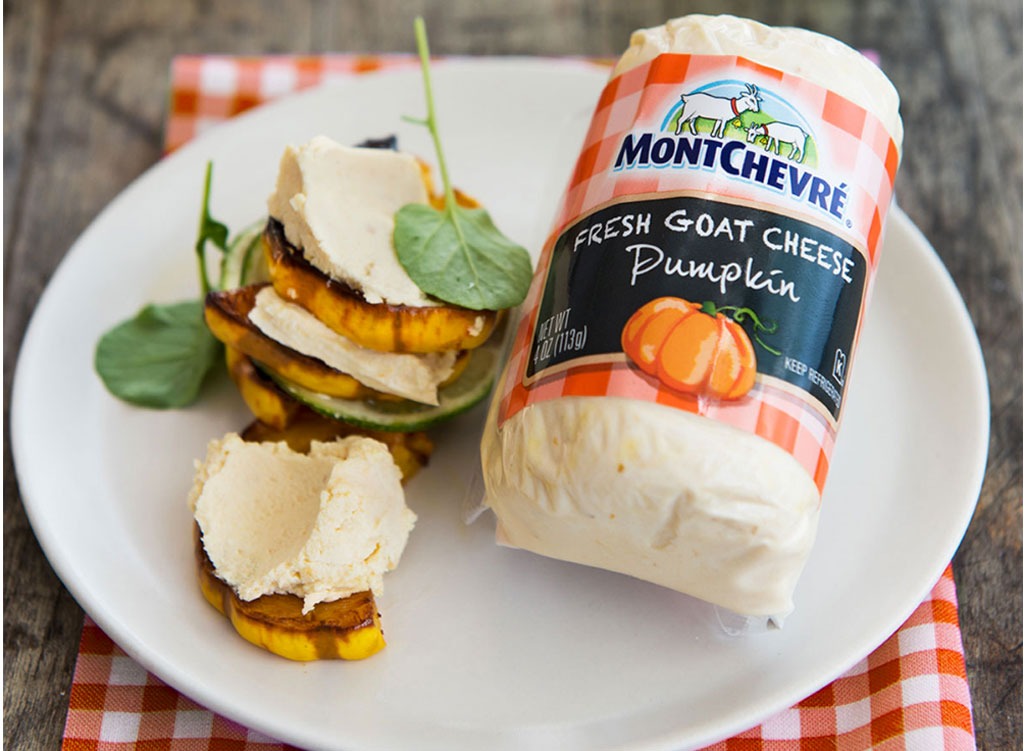 1/2-inch slice, 81 calories, 7 g fat, 5 g saturated fat, 76 mg sodium, 1 g carbs, < 1 g fiber, 0 g sugar, 4 g protein
Just when we thought the pumpkin craze was strictly for non-perishables, Montchevre released this seasonally appropriate spread. We love the ideas of a creamy goat cheese mixed with the sweet, earthy flavor of pumpkin. Smear some on a whole wheat cracker and top with a dash of cinnamon and nutmeg to some added "spice." Our report The Best and Worst Supermarket Crackers can help you pick the best base for your creation.
Skillet Foods Thai Coconut Pumpkin Ketchup
1 Tbsp: 15 calories, 0 g fat, 0 g saturated fat, 65 mg sodium, 4 g carbs, 0 g fiber, 3 g sugar, 0 g protein
This is no bottle of Heinz! Pumpkin puree, sweet chili sauce, brown sugar, apple cider vinegar, fish sauce, and red curry join together to create this unique Asian-inspired condiment. It's terrific as a dipping sauce for spring rolls or as a flavor base for a meat and veggie stir-fry.
Pumpkin Spice Cinnamon Spoons
1 spoon: 35 calories, 0 g fat, 0 g saturated fat, 0 mg sodium, 9 g carbs, 0 g fiber, 8 g sugar, 0 g protein
Skip the sugary pumpkin sips this season, and flavor your healthy, hot beverage of choice with this hard candy-coated spoon instead. After about a minute or so, this stirrer—which comes with a real cinnamon stick—will have infused your entire beverage with sweet, pumpkin flavor. All that for just 35 calories and 8 grams of the sweet stuff, which is about 30 fewer grams of sugar than you'd find in a tall PSL from the 'Bux.
RX Bars Pumpkin
Per bar: 210 calories, 8 g fat, 1 g saturated fat, 150 mg sodium, 23 g carbs, 3 g fiber, 15 g sugar, 12 g protein
Unlike the majority of the other bars on the market that are made with protein powder and soy nuggets, this bar's protein comes from a blend of egg whites, almonds, and cashews. Get your hands on this pumpkin pie-inspired snack before it's sold out for the season.
Salazon Pumpkin IPA-Infused Chocolate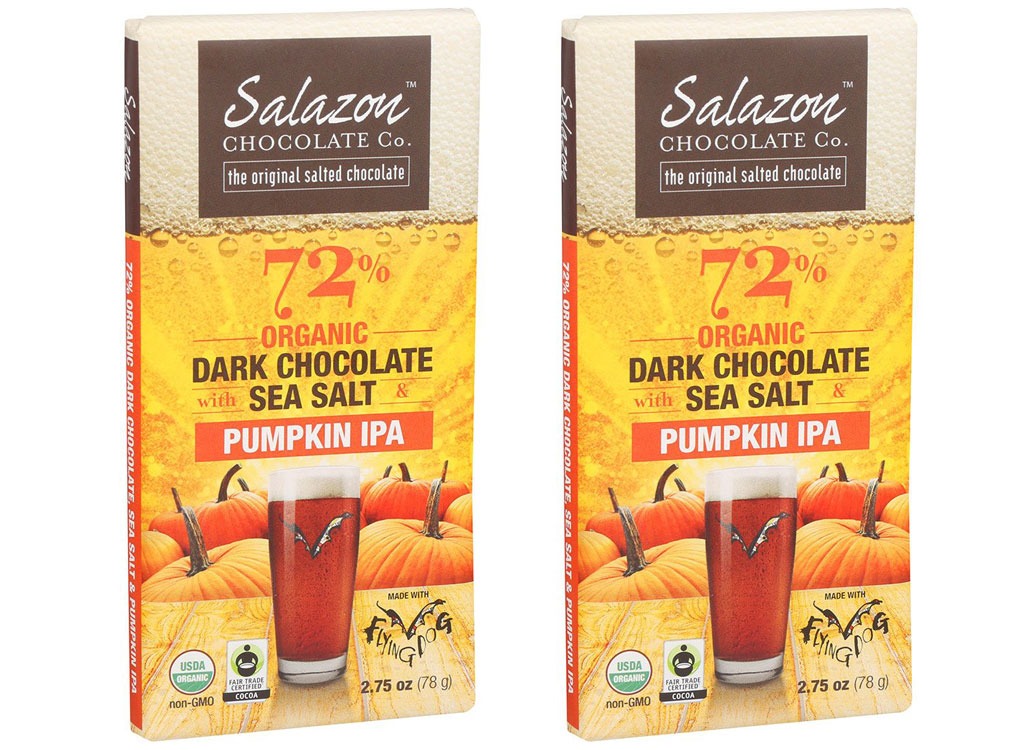 1/4 bar: 100 calories, 8.5 g fat, 5 g saturated fat, 50 mg sodium, 2 g fiber, 5.5. g sugar, 1.5 g protein
This unique dessert gets its flavor kick from Flying Dog's pumpkin spice beer blend—which is a chocolate bar ingredient you definitely don't see every day. Even better: It's made with 72% cacao, the flavonol-rich cocoa bean that helps to qualify high-quality chocolate as a health food. For even more healthy ways to satisfy your sweet tooth, check out these 20 Secretly Healthy Chocolate Recipes.
Birch Benders Pumpkin Spice Pancake and Waffle Mix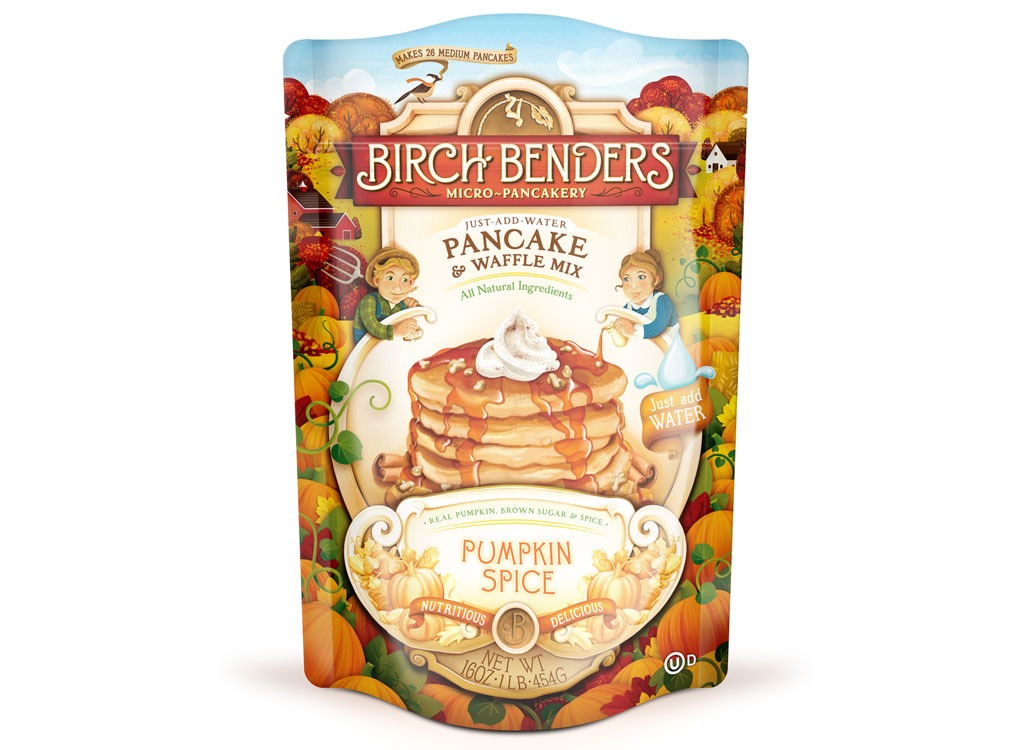 1/4 cup 120 calories, 0 g fat, 0 g saturated fat, 360 mg sodium, 25 g carbs, 1 g fiber, 6 g sugar, 4 g protein
Pumpkin spice waffles?! Yes, please! Get all of the cinnamon, ginger, and nutmeg flavors you crave before noon with this tasty spin on a classic flapjack and waffle mix. Since the mix is a bit low in fiber and protein, we suggest upping your breakfast's staying power with some chopped apples and crushed walnuts—two healthy things that happen to taste delicious paired with pumpkin.
Harvest Pumpkin with Roasted Pepitas Cookie Chips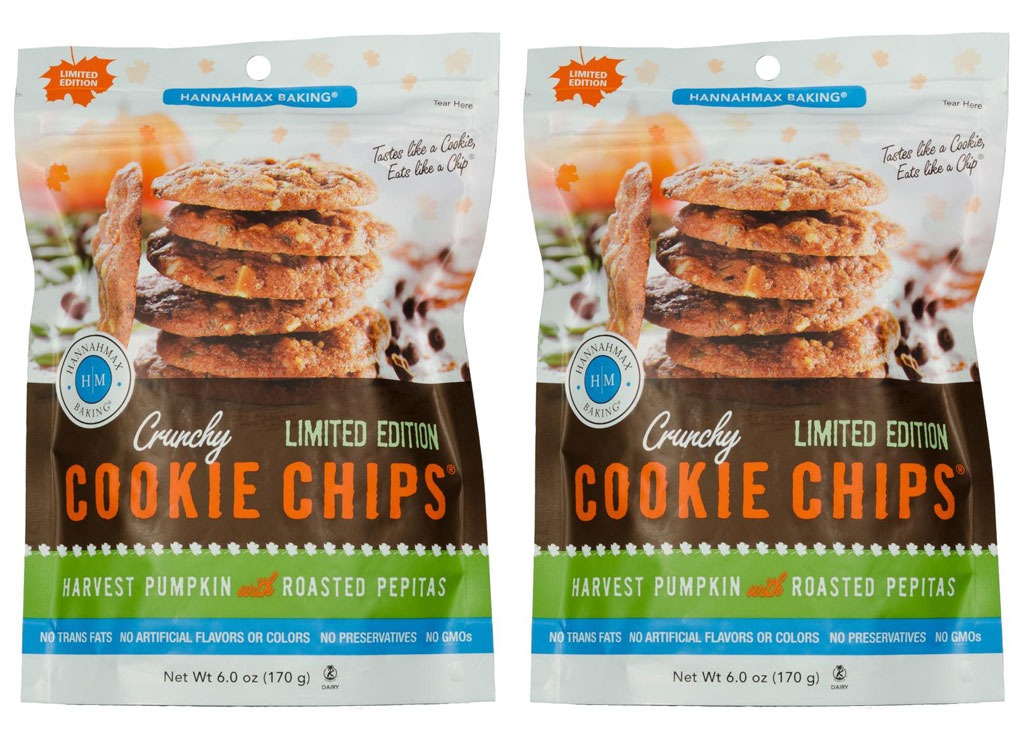 5 cookies: 130 calories, 7 g fat, 3 g saturated fat, 70 mg sodium, 15 g carbs, > 1 g fiber, 9 g sugar, 2 g protein
What if I told you that there was a cookie that had just 23 calories and less than 2 grams of the sweet stuff? While you'd probably assume that I was fibbing or hallucinating, such a cookie actually exists! Made primarily with roasted pepitas (AKA pumpkin seeds) and brown sugar (hey, it's a cookie!), these thin, crispy cookies are the perfect pick-me-up for whenever a sugar craving strikes. For more advice on store-bought cookies, check out our special report, 36 Most Popular Cookies in America — Ranked!