Professional Chefs Share Their 22 Quickest Recipes Ever
Cooking can be fun with the right recipe! Here are 22 of our favorites, straight from chefs.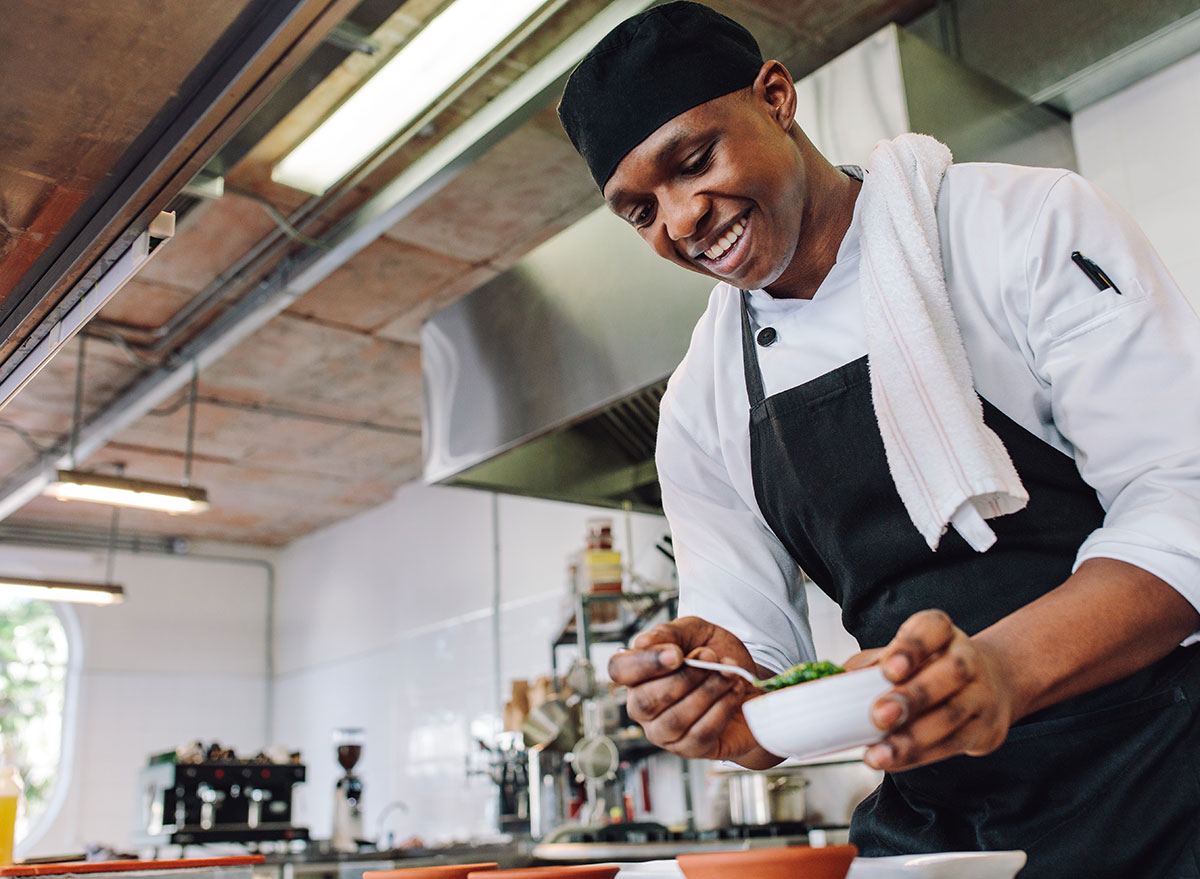 Sometimes, there's nothing more relaxing than spending hours in the kitchen trying new recipes and experimenting with ingredients. But other times, we just want to make a quick dish, whether it's because we're in a hurry or we're just not in the mood to tackle a time-consuming recipe.
Luckily, there's no need to sacrifice taste in favor of saving time. Here, chefs share their favorite quick and easy recipes. Which one will you try first?
Plus, don't miss 22 Meals to Melt Belly Fat in 2022.
Early Morning Ham & Cheese Biscuit Cups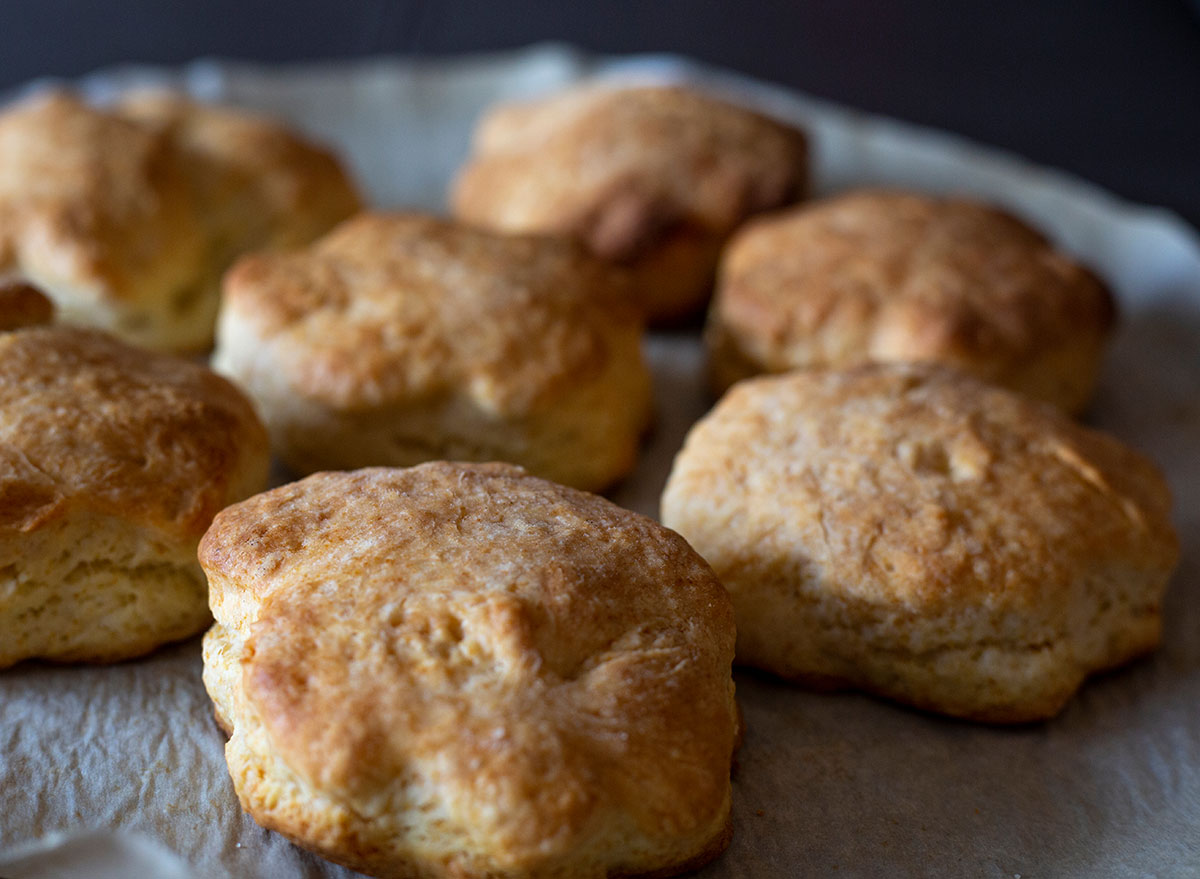 "I love making this dish for my kids because it's super easy to execute, but it feels like such a special way to start the day," says Anna Francese Gass, chef and author of the bestselling cookbook Heirloom Kitchen.
Gass uses store-bought biscuit dough to save time and then adds her kids' favorite ingredients. She says that it's also an easy recipe to adapt based on what you have available in your fridge and pantry. For example, if you don't have meat or want to make the dish vegetarian, substitute leftover vegetables. If you don't have cheddar cheese, substitute any other cheese that's in your fridge.
Ingredients
1 can pre-made biscuits
8 eggs
8 slices deli ham
2 cups shredded cheddar cheese
1 scallion, sliced thin for garnish (optional)
How to Make It
Preheat the oven to 350 degrees Fahrenheit.
Heavily grease a standard, 12-cup muffin tin (the top, too).
Divide the eight biscuits into the cups and press them down and up into the sides of the cup. Flatten to make sure there is a big well.
Rip the ham slice into a few pieces and lay them into the well. It's good if it hangs out as that will provide some yummy, crispy edges.
Carefully crack an egg into each well.
Bake for 20 minutes.
At the 20-minute mark, sprinkle the cheese on the tops of the eggs and bake for a few more minutes.
Carefully remove from the tin and serve with sliced scallions.
Jessica Randhawa, the head chef, recipe creator, photographer, and writer behind The Forked Spoon, says that the quickest recipes usually involve a blender. "Anytime I try to make a recipe quickly, it is usually due to time constraints, so I try to make something that is easily portable yet not messy," Randhawa says. If you have a few minutes to sit down and enjoy it, she recommends making a smoothie bowl.
Get the recipe from The Forked Spoon. 
Mango Peach Green Smoothie
If you're in a hurry and need to get out the door, Randhawa suggests making a smoothie that you can drink on the go.
Get the recipe from The Forked Spoon.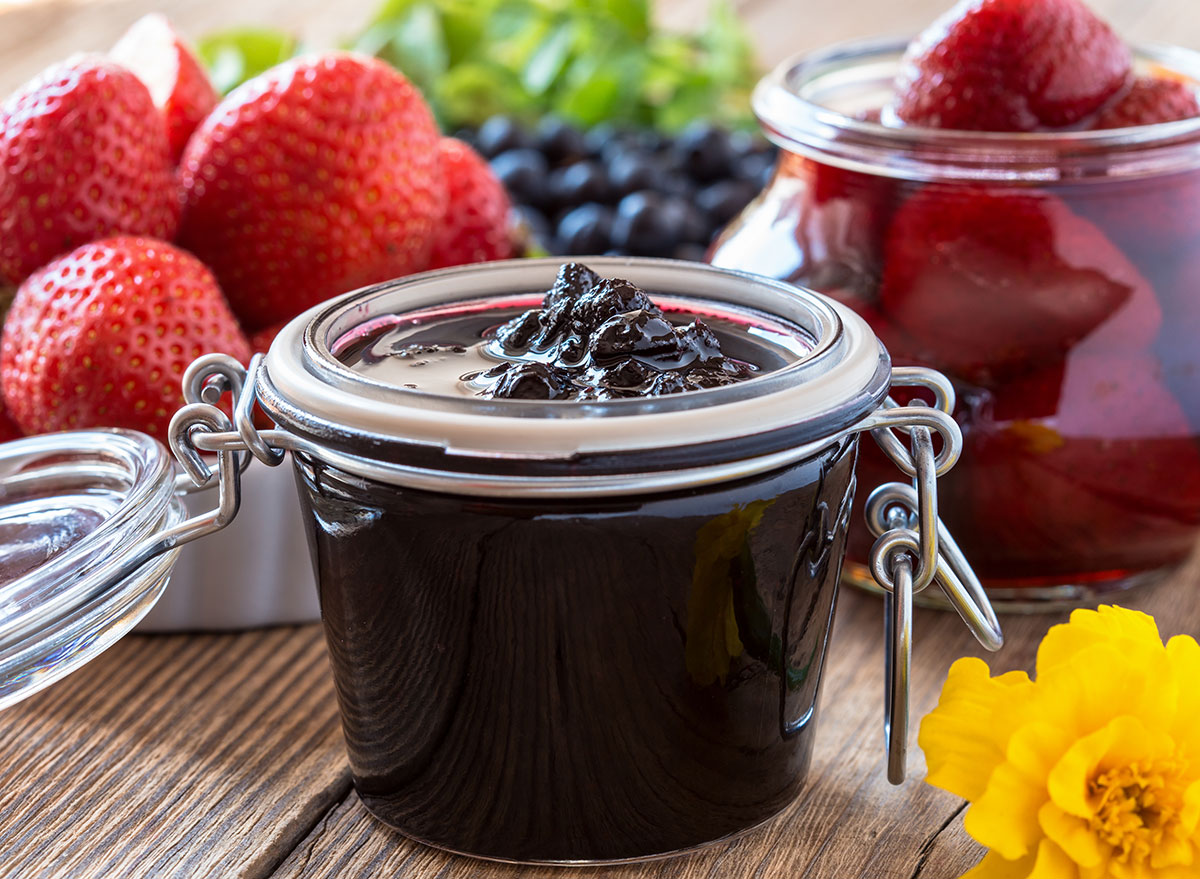 "This compote freezes incredibly well," says Ben Tenner, Chef de Cuisine at Espita in Washington, D.C. "I always have a little in my freezer in case we have overnight guests and I need to make a quick breakfast!"
Ingredients
500 g fresh blueberries
5 g lime zest
112 g sugar
23 g vanilla extract
1 g salt
87 g lime juice
7 g cornstarch
15 g water
How to Make It
Place the lime juice and zest in a pan with the sugar, vanilla, and salt and bring to a simmer.
Add the blueberries and bring back to a simmer.
Mix the water with the cornstarch to make a slurry, and add to the compote to thicken.
Simmer for a minute and then immediately place on ice to cool quickly.
Bacon, Eggs, and Veggies Breakfast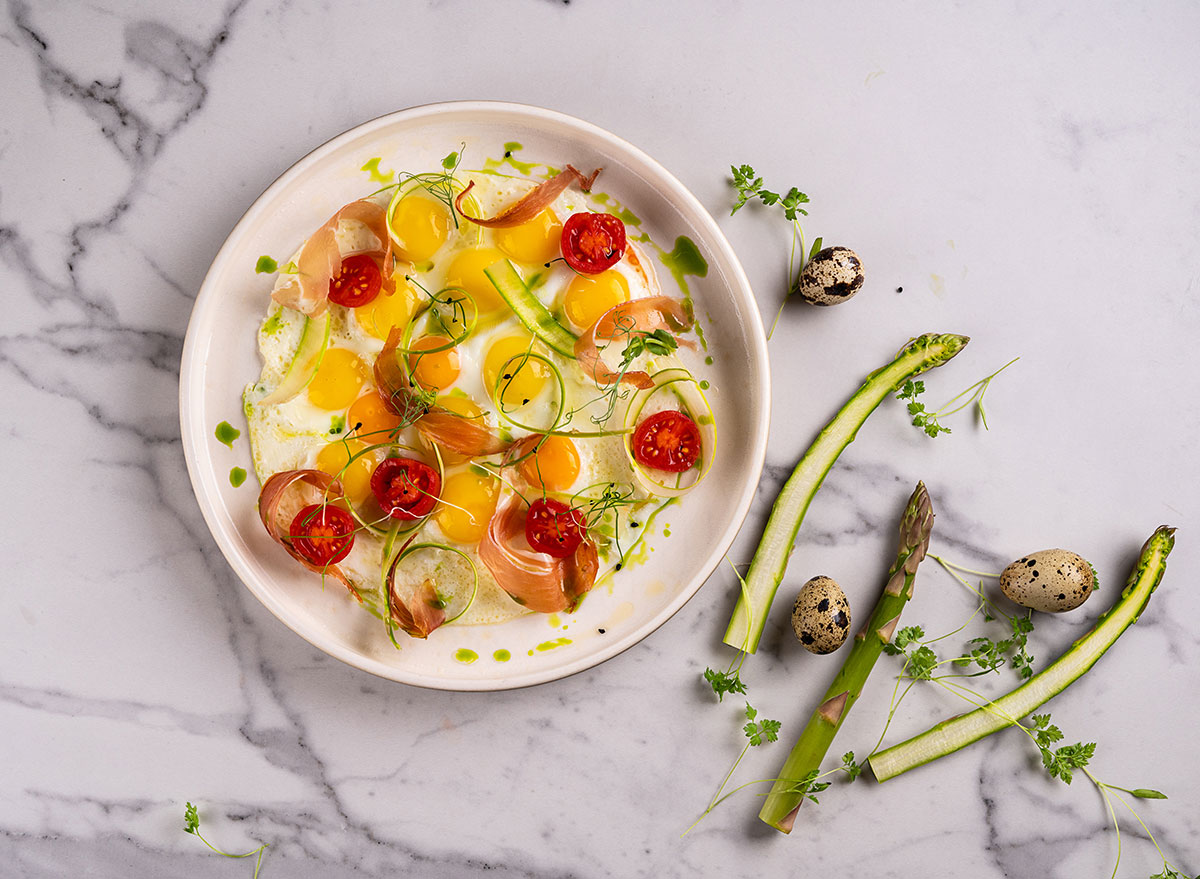 Noting that breakfast is the most important meal of the day, Danny Lledo, executive chef of Washington D.C.'s Xiquet and Slate Wine Bar, recommends starting the day with this dish. It takes a grand total of 10 minutes from start to finish!
Ingredients
1 Tbsp butter
2 slices of Canadian bacon
2 eggs
2 thinly chopped asparagus spears
3 cherry tomatoes, quartered
How to Make It
In the same pan with a tablespoon of butter over medium high heat, put two slices of Canadian bacon, two eggs, two thinly chopped asparagus spears, and three cherry tomatoes, quartered.
Cover the pan with its lid, and wait until the eggs are cooked the way you want them.
When done, sprinkle a tablespoon of grated Parmesan cheese.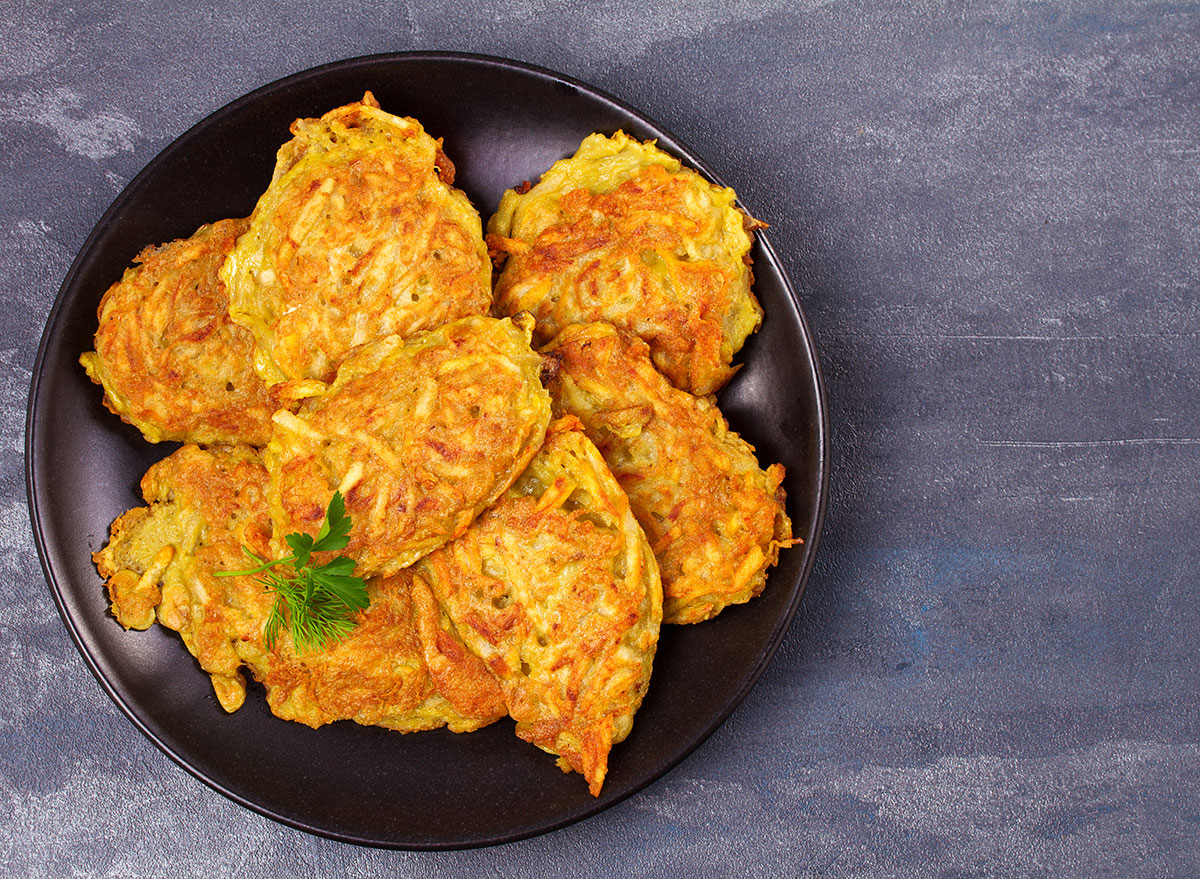 "An easy and quick breakfast or brunch item my crew enjoy, are latkes," says Jeff Vucko, chef at Travelle at The Langham in Chicago. In fact, they're so easy that Vucko says you can even prepare the night before, if you want to just roll out of bed and have breakfast waiting for you.
Ingredients
Potatoes
2 eggs
Salt and pepper
1/2 tsp baking powder
1/3 cup flour
Diced onion or garlic (for traditional latkes)
Sweet potatoes, zucchini, kimchi, and herbs (for creative latkes)
Poached egg, smoked salmon, sour cream, and chives for the topping
How to Make It
Shred a few potatoes on your box grater or food processor if you have one. Run under water for 3-4 minutes so the starch can drain out. Pour the water out but try to reserve the starch you can see at the bottom of the bowl. That is one of your binders.
In that bowl, add the eggs, salt and pepper to taste, baking powder, and the flour of your choice.
Mix until the desired thickness of your drop batter looks appealing.
If you want to go the traditional route, add some diced onion or garlic.
If you want to get creative, use sweet potatoes or another vegetable in place of your potatoes, like zucchini. Add a little flare with kimchi or herbs to your mix.
Take your drop batter and spoon it into a hot pan with a good amount of oil. Bring it down to medium heat and let it get golden brown and delicious. Flip after 3-4 minutes. You need to make sure the potatoes/vegetables cook through. Once they're cooked, it's almost time to eat.
For toppings, poached egg, smoked salmon, sour cream and chives take the cake. Add some finishing sea salt and cracked pepper. Care to get fancy? A hefty dollop of smoked salmon roe or osetra caviar would take it to the next level.
Vegan Buttermilk Biscuits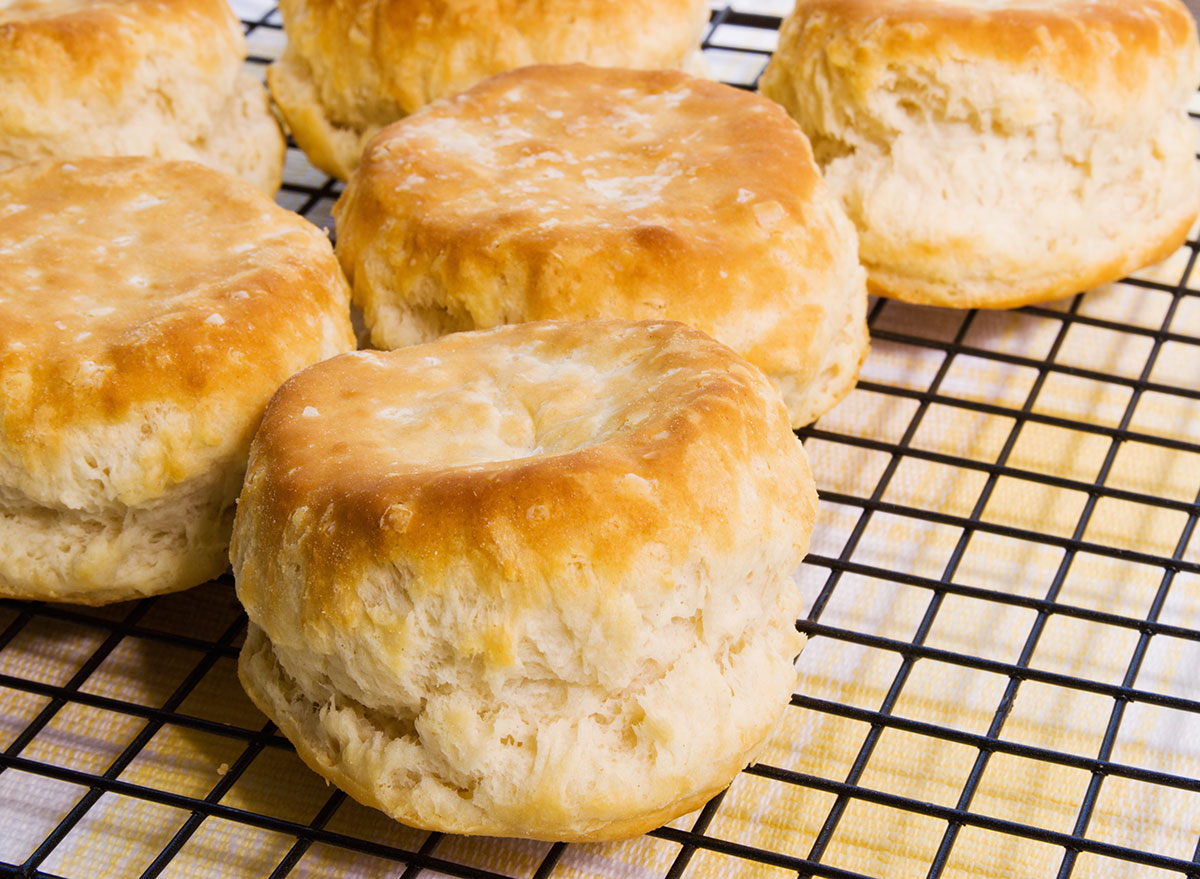 Cynthia Nevels, award-winning vegan chef and owner of Soulgood, Inc. in Dallas, created this quick and easy recipe, which is made with Miyoko's Creamery cashew butter. She notes it's a popular choice among visitors of her Soulgood vegan food truck.
Get the recipe from Soulgood. 
Chris Riley, culinary expert, recipe developer, and founder of The Daring Kitchen, says that sesame salmon bowls are a great dish to make on weeknights.
"Typically, when you have to make something fast, you end up with a greasy and unhealthy meal. But with the Salmon bowls, you don't have to sacrifice time or healthiness," says Riley. "This filling and healthy meal requires little ingredients and can be made in half an hour."
Ingredients
4 salmon filets (4 oz. each)
1 tsp garlic salt, divided among filets
2 tsp sesame seeds, divided amongst filets
1 cup dry brown rice
1 avocado, sliced, divided among bowls
Cilantro and seaweed chips for topping, optional
For the Dressing
4 Tbsp soy sauce
1 tsp honey
1 tsp minced fresh ginger
How to Make It
Preheat the oven to 350 degrees Fahrenheit. Line a baking sheet with aluminum foil, lightly coat with cooking spray, and set aside.
Cook the rice according to the package instructions.
Sprinkle garlic salt and sesame seeds equally on the salmon filets.
Cook the salmon for 15 minutes at 350 degrees Fahrenheit or until cooked through to your liking.
To make the dressing, combine soy sauce, honey, and ginger.
To serve, divide the rice between four bowls and top with the salmon filet, 1/4 avocado, a quarter of the sauce, and cilantro/seaweed chips if you like.
Chicken with Spicy Orange Marmalade Glaze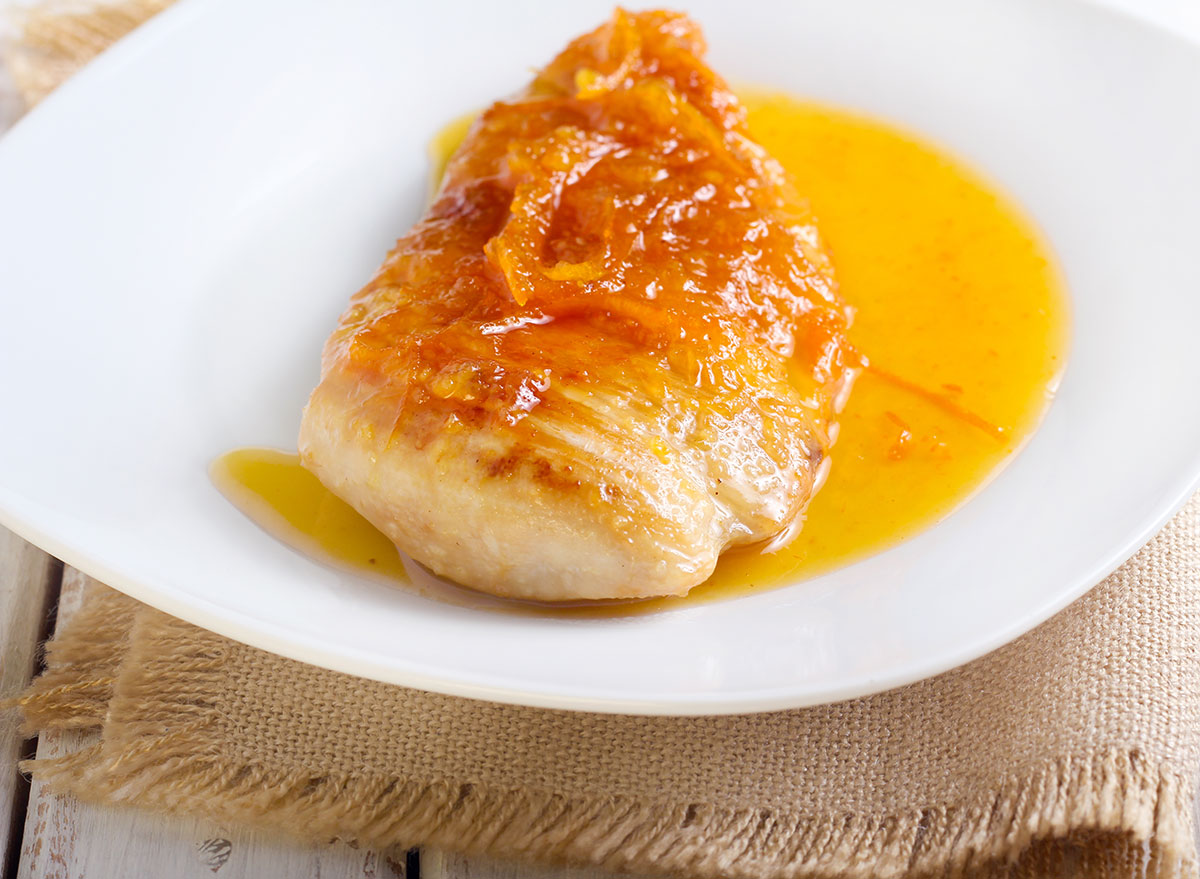 Shelley Blechar, a personal chef and the owner of Elegant Eats, recommends this mouthwatering dish. "If you don't have a grill pan, no worries—just use a regular sauté pan," she says. And if spicy dishes aren't your thing, omit the chile pepper when mixing the glaze and sprinkle it on after for anyone who wants it.6254a4d1642c605c54bf1cab17d50f1e
Ingredients
1 Tbsp oil
4 wafer-thin chicken breasts
Salt and pepper
1/2 cup orange marmalade
2 tsp Dijon mustard
1/2 tsp (or to taste) crushed or ground chile pepper
How to Make It
Heat the oil in a 12-inch pan until it simmers.
Salt and pepper chicken on both sides and add to the pan. Cook without moving for five minutes or until golden brown.
Meanwhile, combine remaining ingredients in a microwave safe measuring cup or bowl and heat for 30 seconds, stirring once midway through.
Flip chicken breasts over and spoon glaze over them.
Cook for two minutes or until cooked through.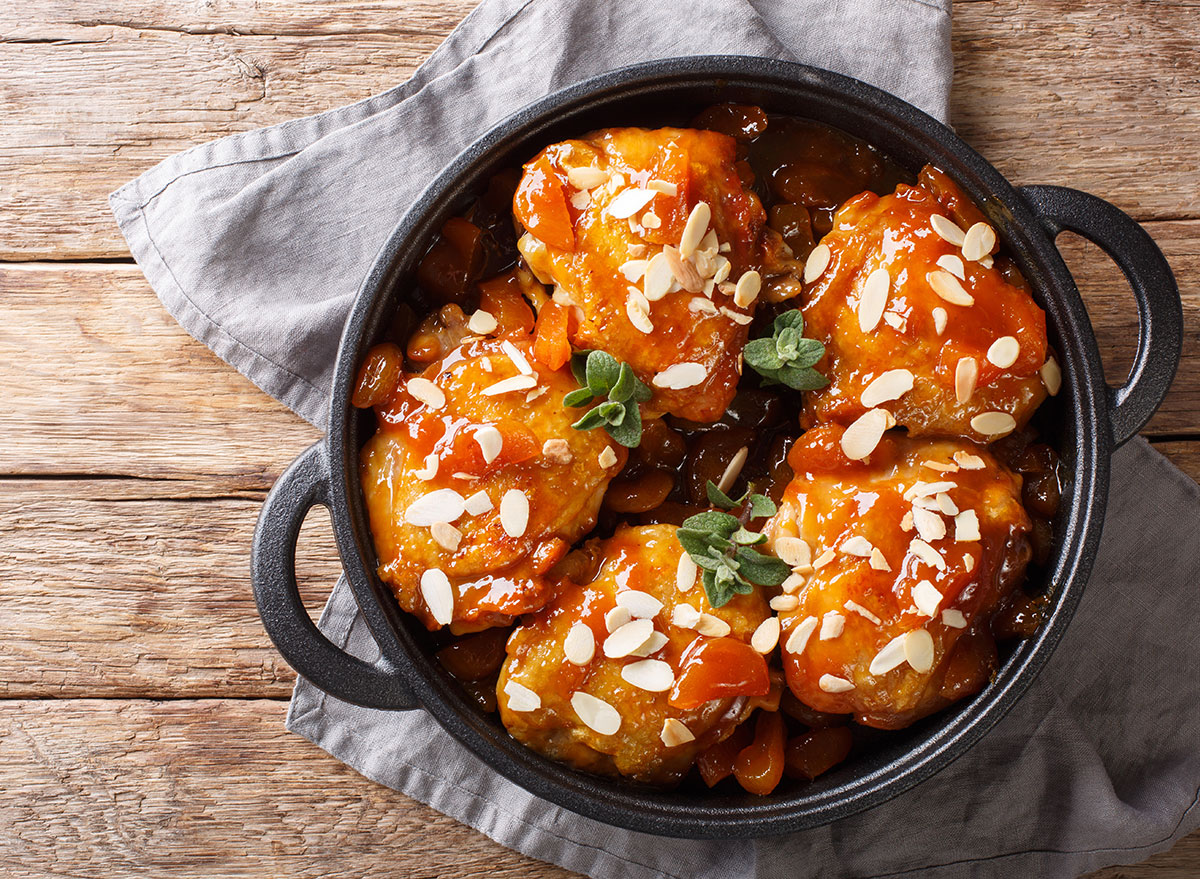 This is another one of Blechar's favorite easy-to-make dishes. Is there any better way to use stone fruit?
Ingredients
4 thin chicken breasts
Salt and pepper
2 tsp oil
1/2 cup apricot jam/jelly/preserves
1 Tbsp soy sauce
1/2 tsp garlic
How to Make It
Heat oil in an oven-safe 12-inch sauté pan over medium high heat.
Salt and pepper the chicken breasts and add them to the sauté pan.
Cook for five minutes or until golden brown.
While the chicken cooks, stir the preserves, soy sauce, and garlic together in a glass measuring cup and microwave for one minute, stirring a couple times during the microwave time.
Move the oven rack to just below the broiler and turn the broiler on.
Flip the chicken and pour the glaze over it.
Broil for two minutes or until the chicken is cooked through.
Marco Perocco, chef and owner of Marco's Kitchen cooking school in Italy, provided a recipe where you prepare pasta from scratch, so it takes a little bit more time. But if you use pasta from the store, it only takes the time to cook the pasta while you prepare the easy sauce.
Get the recipe from Marco's Kitchen.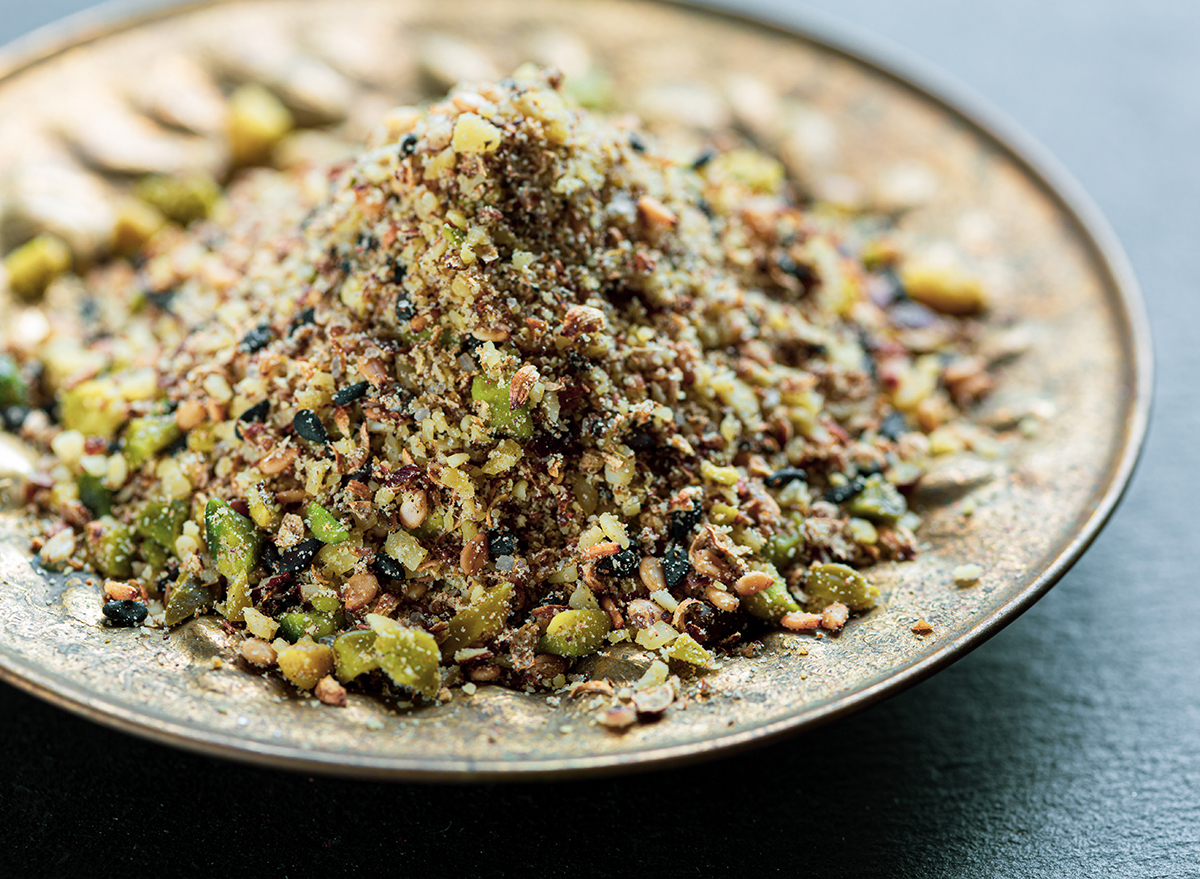 This versatile condiment can be put on anything—chicken, vegetables, pizza, or anything your heart desires. Chris Frost, head chef at Chefgood in Australia, uses roasted almonds, sesame seeds, coriander seeds, cumin seeds, black peppercorns, and sea salt in his recipe.
Ingredients
2 Tbsp coriander seeds
2 Tbsp cumin seeds
1 tsp black peppercorns
1/2 cup sesame seeds
1 tsp sea salt
80 g roasted almonds
How to Make It
Roast almonds until fragrant and take off heat; add sesame seeds when off heat to cook lightly.
Blend all ingredients into a food processor until lightly crushed.
Omnom's Afternoon Wake-Up Call
A boozy milkshake as an afternoon treat? Sign us up! Kjartan Gíslason, Icelandic dessert chef and founder of Omnom Chocolate, provided her recipe.
Ingredients
1 cup vanilla ice cream
1.25 oz vodka
1 oz Kahlua
1.5 oz chilled espresso or cold brew
Touch of sea salt
25 g Omnom Coffee + Milk, melted; leave a little piece for garnish
Whipped cream
Freshly ground organic coffee beans for garnish
How to Make It
Add ice cream, vodka, and a shot of espresso or cold brew, along with salt, into a blender and mix for 30 seconds.
Take the melted chocolate and swirl it on the inside of the glass.
Pour the milkshake into the glass and decorate with whipped cream, freshly ground coffee, and a piece of chocolate.
Serve immediately and enjoy!
Brussels Sprouts with Pistachio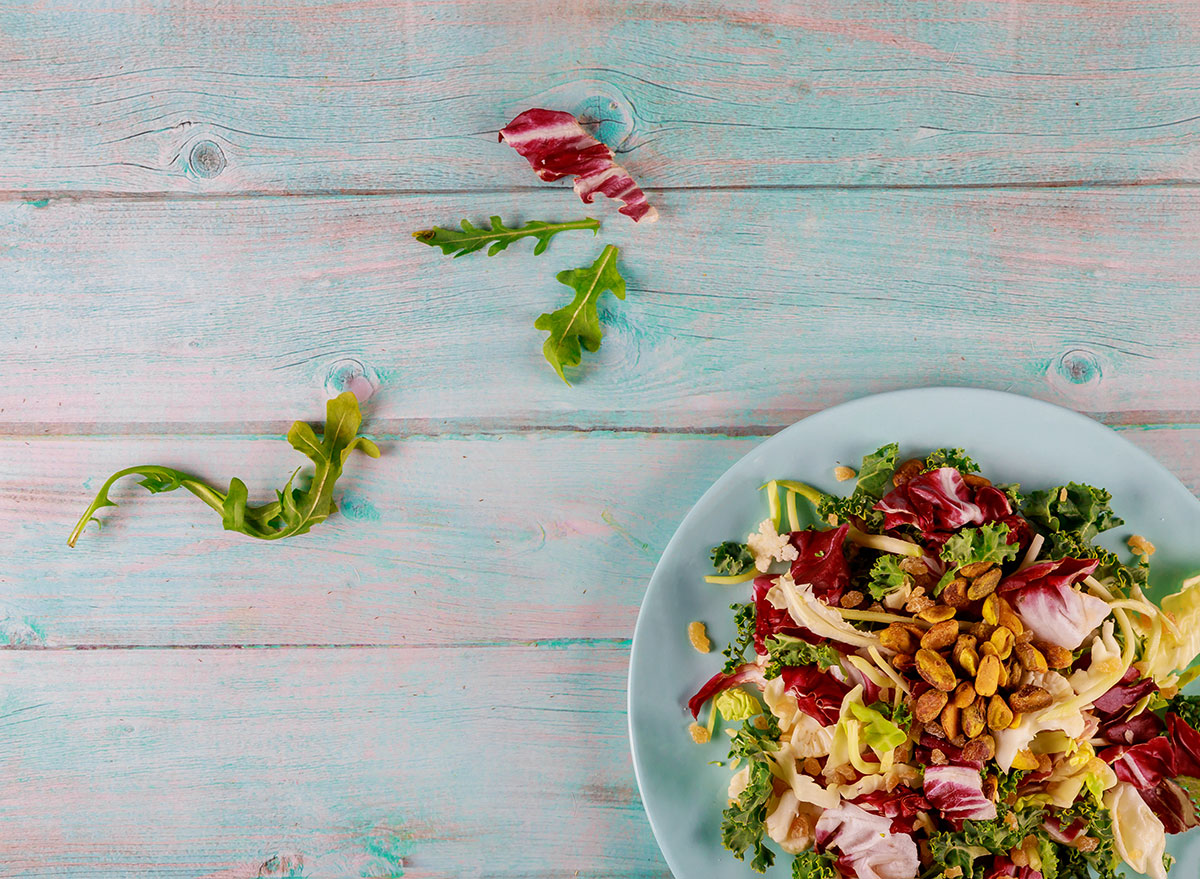 Sam Marvin, chef and owner of Echo & Rig in Las Vegas and Sacramento, recommends this healthy dish, which takes a grand total of 10 minutes to cook up.
Ingredients
2 oz olive oil
1 oz whole, skin-off pistachios, chopped
12 oz Brussels sprouts; leaves only
1/2 tsp kosher salt
1/2 tsp black pepper
3 tsp unsalted butter
1 lemon, juiced
How to Make It
Heat a sauté pan over medium heat.
Add Brussels sprout leaves, pistachio, salt, and pepper.
Sauté until leaves begin to soften but are still bright green, about two minutes.
Add butter and melt to coat.
Squeeze lemon juice and toss.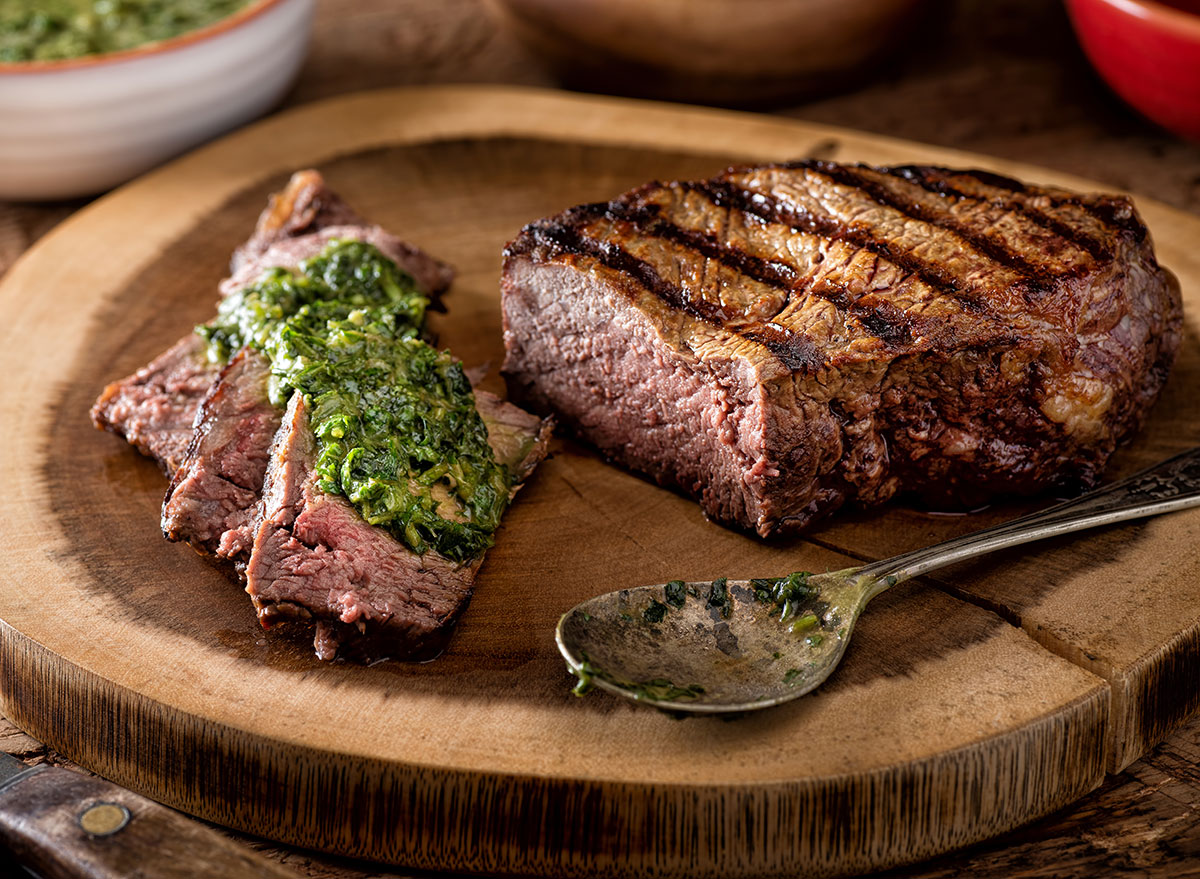 Chef John Manion of El Che Steakhouse & Bar in Chicago says one of his most popular recipes is chimichurri, which is served as a steak topping to enhance the flavor. This is the recipe Manion uses, but if you're pressed for time, he says it can be made in a food processor or blender instead of hand-chopping everything.
Ingredients
3 cups flat-leaf parsley leaves (from about 3 bunches), very finely chopped (no stems!)
6 garlic cloves, very finely chopped
1 1/2 tsp finely chopped fresh oregano leaves
1/4 cup distilled white vinegar
1 tsp kosher salt
1 tsp freshly ground black pepper
3/4 tsp dried red pepper flakes
1 bay leaf
3/4 cup extra-virgin olive oil
How to Make It
In a medium-size, airtight container, stir together the parsley, garlic, oregano, vinegar, salt, black pepper, bay leaf, and red pepper flakes.
Stir in the olive oil, cover, and refrigerate the chimichurri sauce overnight.
One-Pan Roasted Salmon with Market Vegetables, Lemon, and Olive Oil
Seamus Mullen, chef at the Institute of Culinary Education, recommends this recipe, which serves four, noting that it's easy to make and comes together in just 25 minutes.
Ingredients
1/4 cup extra virgin olive oil from Spain
1 zucchini, cut into chunks
1 summer squash, cut into chunks
1/2 cup mixed cherry tomatoes
1 bulb fennel, thinly sliced
1 lemon, thinly sliced with seeds removed and lemon zest
1 cup green beans, cut into 1-inch pieces
Small bunch of ramps or scallion bulbs, plus greens thinly sliced
2 cloves garlic, grated
2 wild salmon filets, 6oz each
1 tsp harissa powder or smoked paprika
Handful of fresh herbs, such as basil, tarragon, or summer savory
Salt
Pepper
How to Make It
Preheat your oven to 350 degrees Fahrenheit.
In a large roasting pan, combine all the vegetables and season thoroughly with salt, pepper, and harissa powder. Toss everything with olive oil.
Season the salmon with salt and pepper and top with a few slices of lemons. Nestle the salmon on the vegetables and roast in the oven for 18 minutes.
Serve with a drizzle of fruity extra virgin olive oil from Spain and fresh herbs. "I like to use basil and tarragon, but any bright herbs will do," says Mullen.
Oven-Roasted Tomatoes with Herbs and Garlic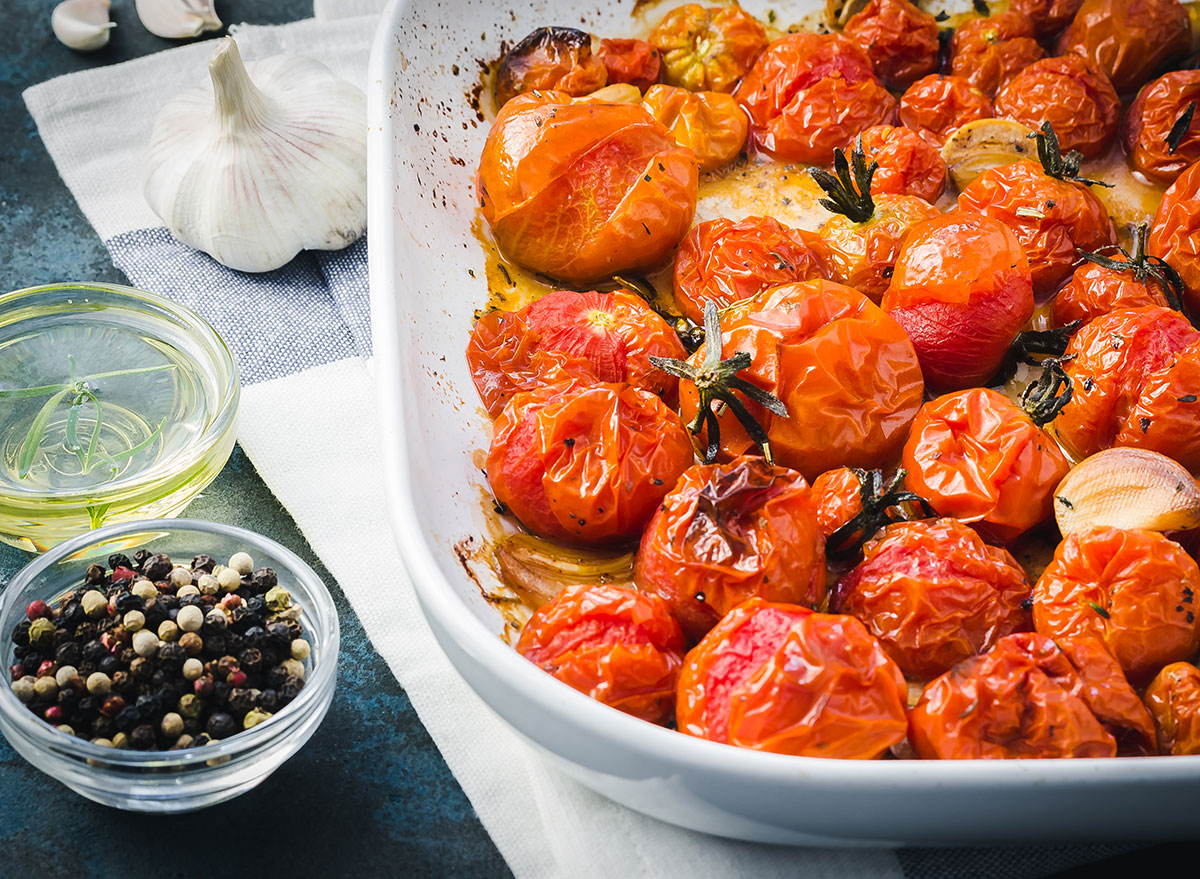 Andy Clark, Executive Chef at Napoli Pasta Bar in Washington, D.C., says he loves this recipe because it allows you to use tomatoes all year round. "In December, when you get the craving for tomatoes with some creamy mozzarella, you go to the store and find that they are all hard as a rock," Clark says. "This recipe allows you to condense the sugar and flavor in even the hardest tomato to make them almost as tasty as a tomato warm from the sun in July!"
Ingredients
6 Roma tomatoes (or any other kind of tomato you prefer)
6 oz thyme, whole
12 cloves garlic, peeled and crushed
1/2 cup olive oil
Salt and pepper to taste
How to Make It
Preheat the oven to 300 degrees Fahrenheit.
Slice the tomatoes vertically, from the stem to the bottom.
On a sheet tray, pour 1/4 of the oil and rub around.
Place tomato cut side up.
Cover the tomatoes equally with the thyme and place a crushed garlic clove on top of each tomato half.
Evenly pour the oil on top of the tomatoes and season with salt and pepper.
Bake on 300 degrees Fahrenheit, low and slow, for about an hour, or until you start to see the tomato start to get caramelized.
Let cool completely before removing the thyme and garlic. Discard the garlic and thyme. Store the tomatoes in the fridge for up to a week.
Max Hardy, chef and owner of Coop Detroit, recommends this light and refreshing salad.
Ingredients
1/4 red onion, julienned
1 bunch of kale, chopped
8 sliced strawberries
1 bunch of cilantro, chopped
3 medium beets, sliced
1/4 of each tri-color pepper, julienned
1 cup Greek yogurt
3 cloves of minced garlic
2 Tbsp olive oil
Salt and pepper
How to Make It
In a blender add yogurt, garlic, vinegar, cilantro, salt and pepper, and blend the combination for three minutes.
In a large mixing bowl, add all vegetables and fruit.
Toss your cilantro vinaigrette, and chill for 10 minutes.
Serve with your favorite roasted protein or a fish. (Hardy notes that blackened chicken and blackened salmon are his favorite proteins to add.)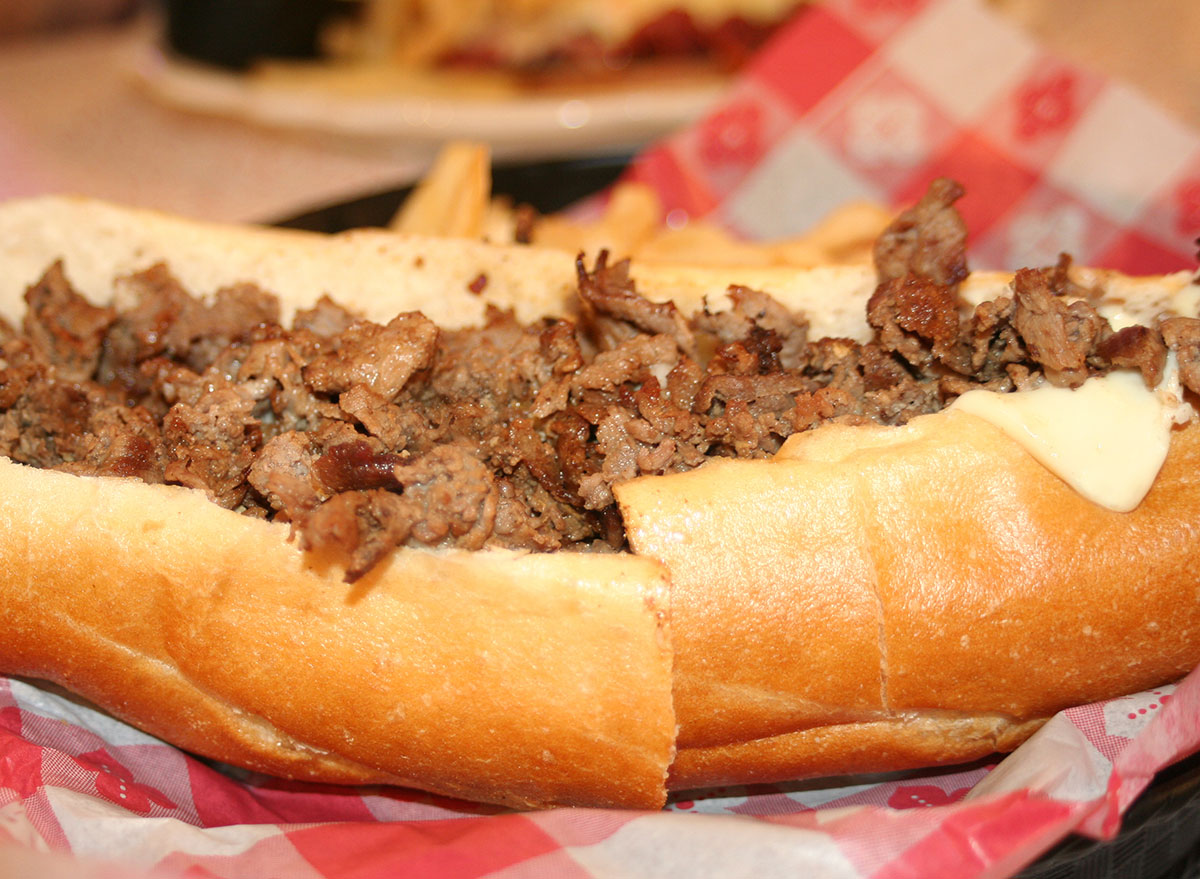 Brian Landry, chef at Jack Rose in New Orleans and Marsh House in Nashville, recommends this chopped steak sandwich. It's perfect for lunch or a light dinner. His recipe uses the TurboChef oven, but you can also cook this open-faced sandwich in a regular oven if you don't have one.
Ingredients
3 oz sirloin steak, cut into small pieces
1.5 oz onions and peppers, sautéed
2 oz sliced American cheese
1 brioche bun
How to Make It
Slice the brioche bun and toast.
Place steak on one half of the bun.
Place onions, peppers, and American cheese on the other half.
Place in TurboChef open-faced.
Cook at 525 degrees Fahrenheit for 45 seconds.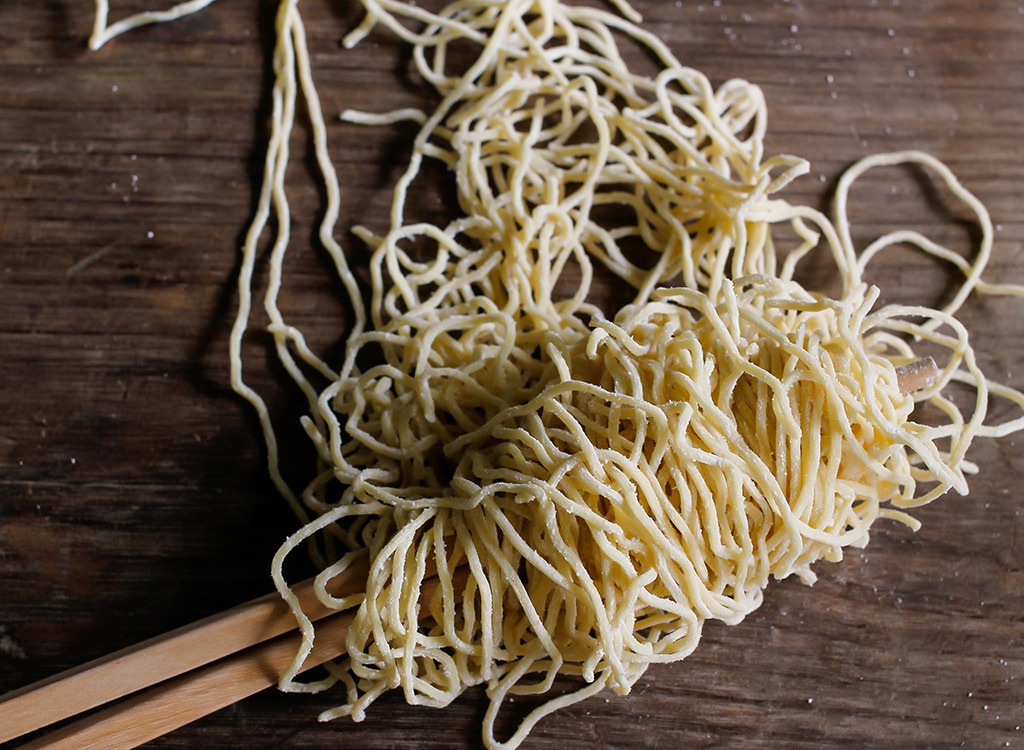 "My go-to quick meal is store-bought ramen noodles that I doctor up with chicken stock from the box, kimchee, chili garlic sauce, leftover rotisserie chicken, and green onions," says chef Cary Taylor of RealGood Farm Box. "I like to crack an egg and poach in the broth as well."
Need some ideas? Here are 3 Recipes to Upgrade Your Instant Ramen.
Spinach & Bacon Fettuccine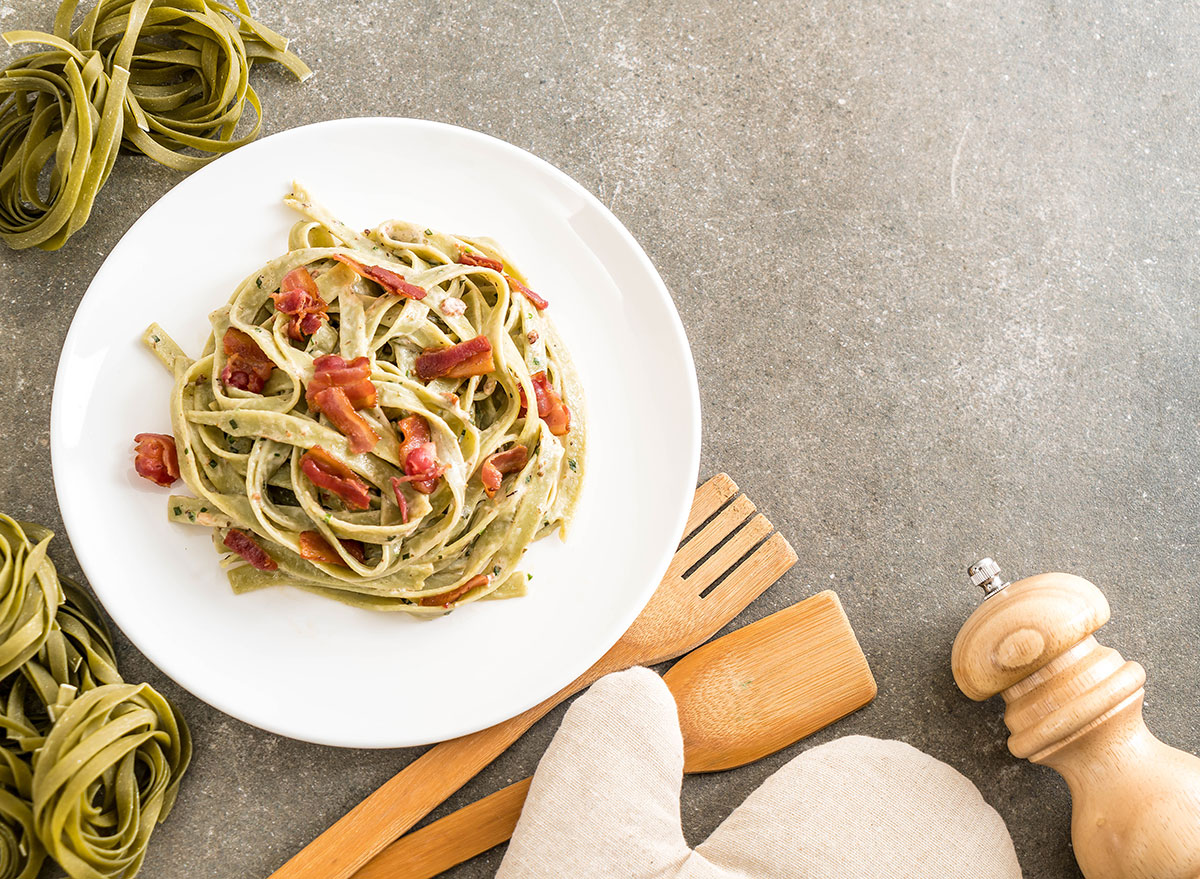 David McKane, executive chef at Butler House & Garden, shared one of his favorite quick recipes to make at the resort's various restaurants.
Ingredients
400 g fresh fettuccine
200 g unsmoked back bacon
350 g frozen chopped spinach
165 g cherry tomatoes, halved
1 tsp garlic
300 ml half-fat Crème fraîche
1 Tbsp olive oil
How to Make It
Bring a large saucepan of lightly salted water to the boil, add the fettuccine, and cook following package instructions.
Meanwhile, in a deep frying pan, heat the olive oil and fry the garlic with chopped unsmoked bacon back until lightly golden. Add the chopped spinach and two tablespoons of water, then cover and cook until spinach is defrosted.
Remove the lid and add the halved cherry tomatoes to the frying pan, season with salt and pepper, and let cook another 2-3 minutes.
Drain the fettuccini and add the bacon and spinach mixture with the half-fat Crème fraîche. Stir well and serve immediately.
Grilled Black Pearl Trumpet Mushrooms
"This is a very simple mushroom recipe that I love to cook: grilled mushrooms that have been boiled in seasoned broth," says Adrian Riccardo Castellanos, community food organizer and contributing chef with Windy City Mushroom in Chicago. Castellanos notes that the recipe works best with Black Pearl Trump Mushrooms.
"This dish is very adaptable and can be eaten on its own as well as used for taco fillings, burger toppings, or added into rice dishes," he says.
How to Make It
Take the trumpet mushrooms and cut them into thin strips and then throw them in some boiling broth of your choice. (You may choose to season the broth, but this is not necessary).
Mushrooms will absorb the broth quickly, so a short boil time of about two minutes will do. Scoop the mushrooms out with a slotted spoon. Additional seasonings of your choice can be added at this point.
Once boiled, the mushrooms will become malleable and able to be secured on skewers. (The mushrooms are too brittle and will break if skewered prior to boiling).
Place mushroom skewers on the grill, season with a little salt, and cook until brown and slightly crispy. If a grill is not an option, skip the skewers and sauté the mushrooms with a little oil and salt.
Caitlin Flynn
Caitlin Flynn is an award-winning writer and reporter who experienced early age corporate burnout in 2015 and traded New York City for the misty air and superior coffee of Seattle.
Read more about Caitlin