55 Healthy Recipes to Make in 10 Minutes (or Less)
If you have 10 minutes to sit and scroll through social media, you sure have 10 minutes to make a healthy meal at home!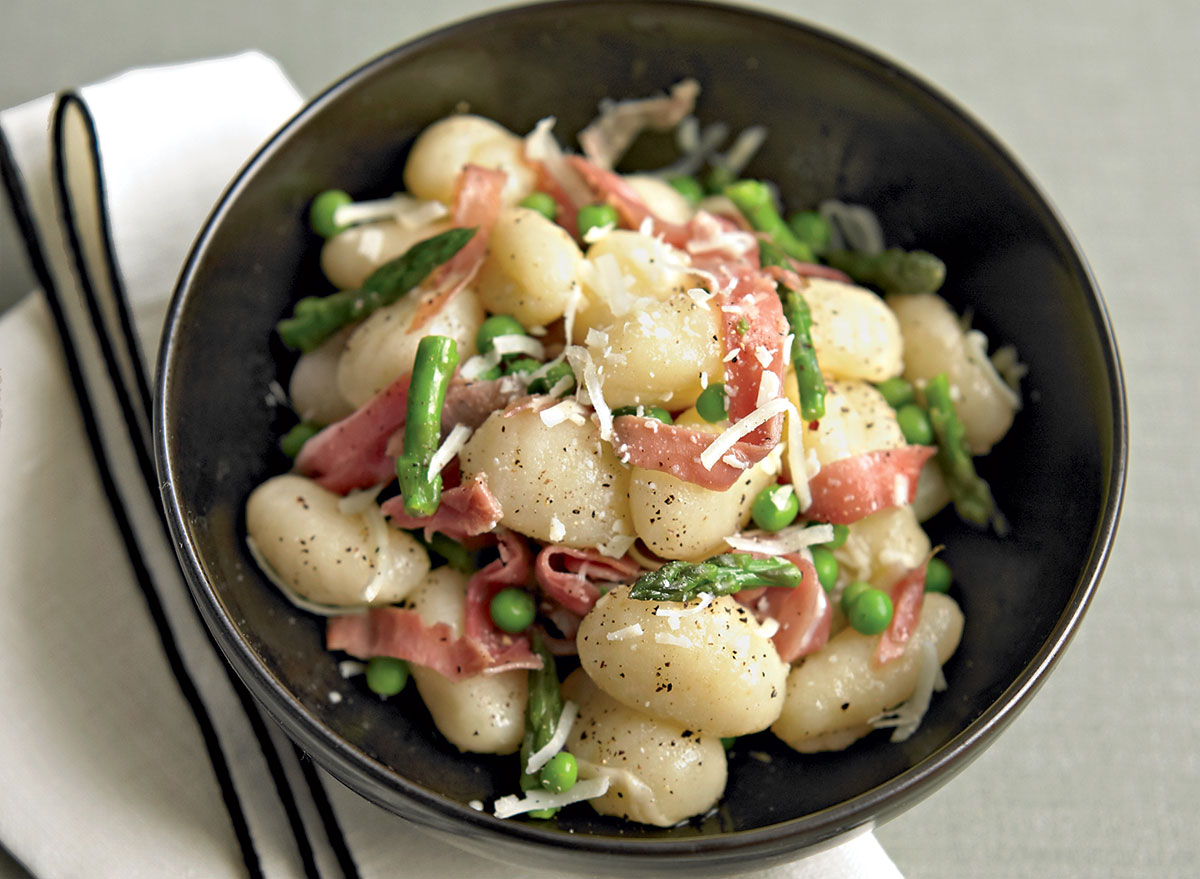 If you're in the market for super-simple 10-minute recipes, you've come to the right place. Between healthy burgers, tacos, stir-frys, and even healthy pasta (yes, healthy), we rounded up some of our favorite meals to whip up in minutes when we're feeling especially lazy.
So take just 10 minutes of your social media scrolling time and make these nutrient-dense dishes filled with all the necessary protein, fiber, and vitamins to get you to your best body! Plus, don't miss 20+ Healthy Mug Recipes You Can Make in 5 Minutes (or Less!)
Chicken Burger With Sun-Dried Tomato Aioli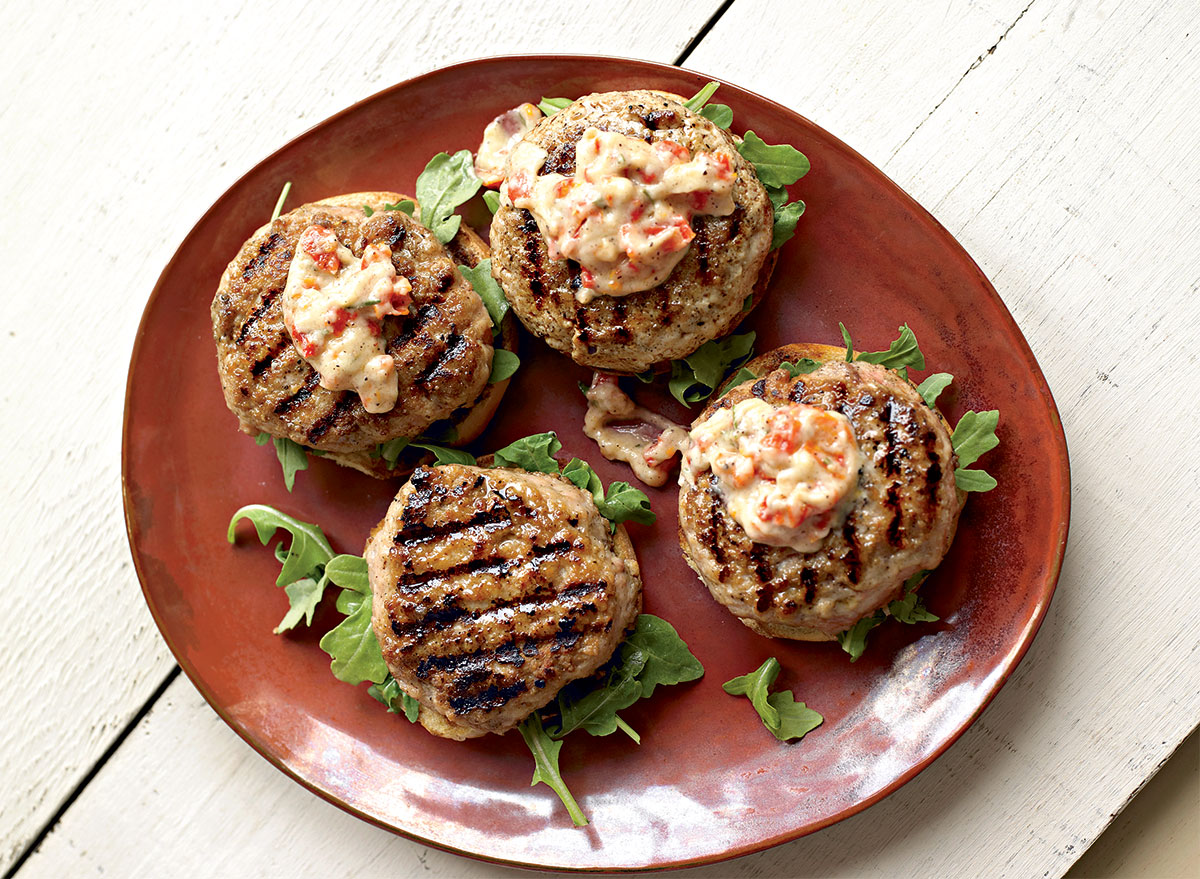 We've gone ahead and helped you out by reinventing the chicken burger, using a lean grind of meat and a hugely flavorful—but surprisingly low-calorie—spiked mayo to deliver on the promise of a truly healthy burger you can happily indulge in. From start to finish, you'll have dinner ready in 10 minutes.
Get our recipe for Chicken Burger With Sun-Dried Tomato Aioli.
Veggie Scramble With Mushrooms, Spinach and Goat Cheese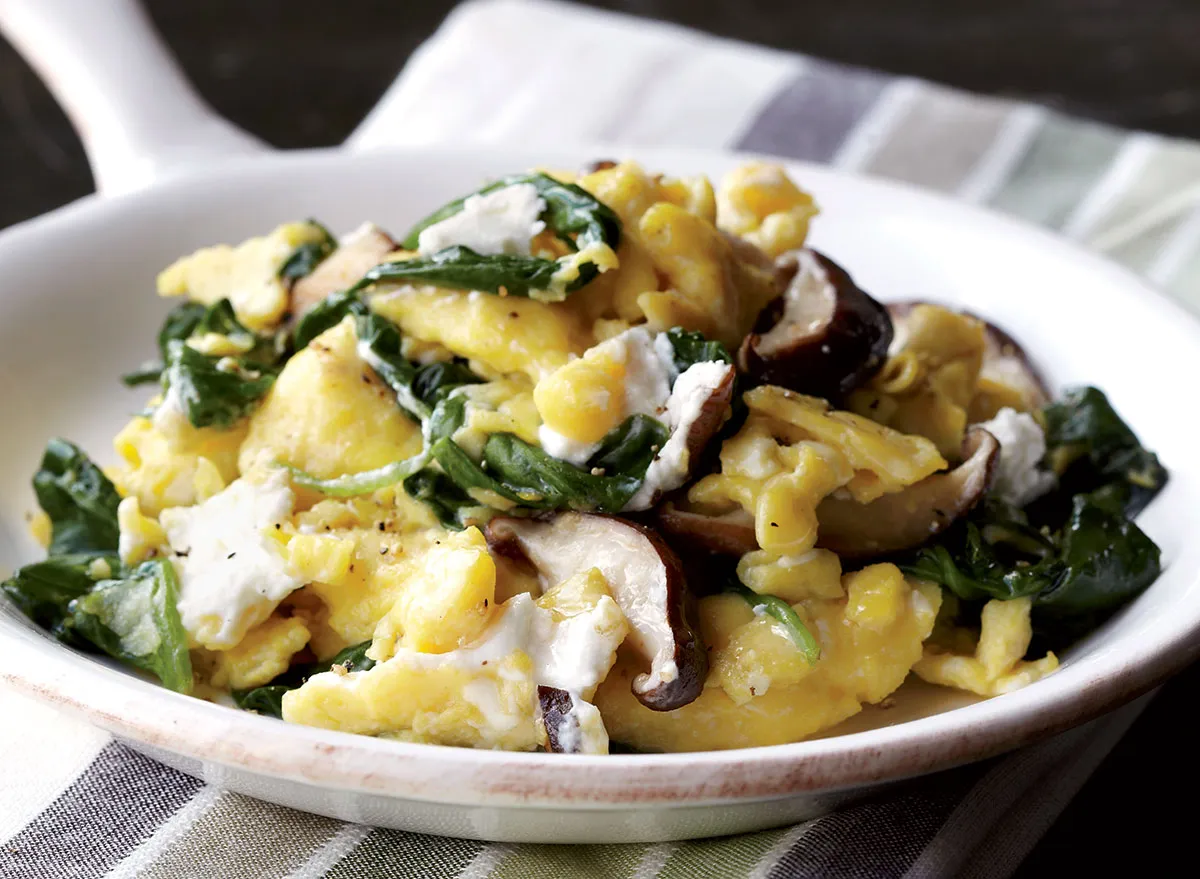 This veggie scramble is a great meal, so healthy and filling that you could even make it as a side for a dinner dish as well.
Get our recipe for Veggie Scramble With Mushrooms, Spinach and Goat Cheese.
Chinese Chicken Salad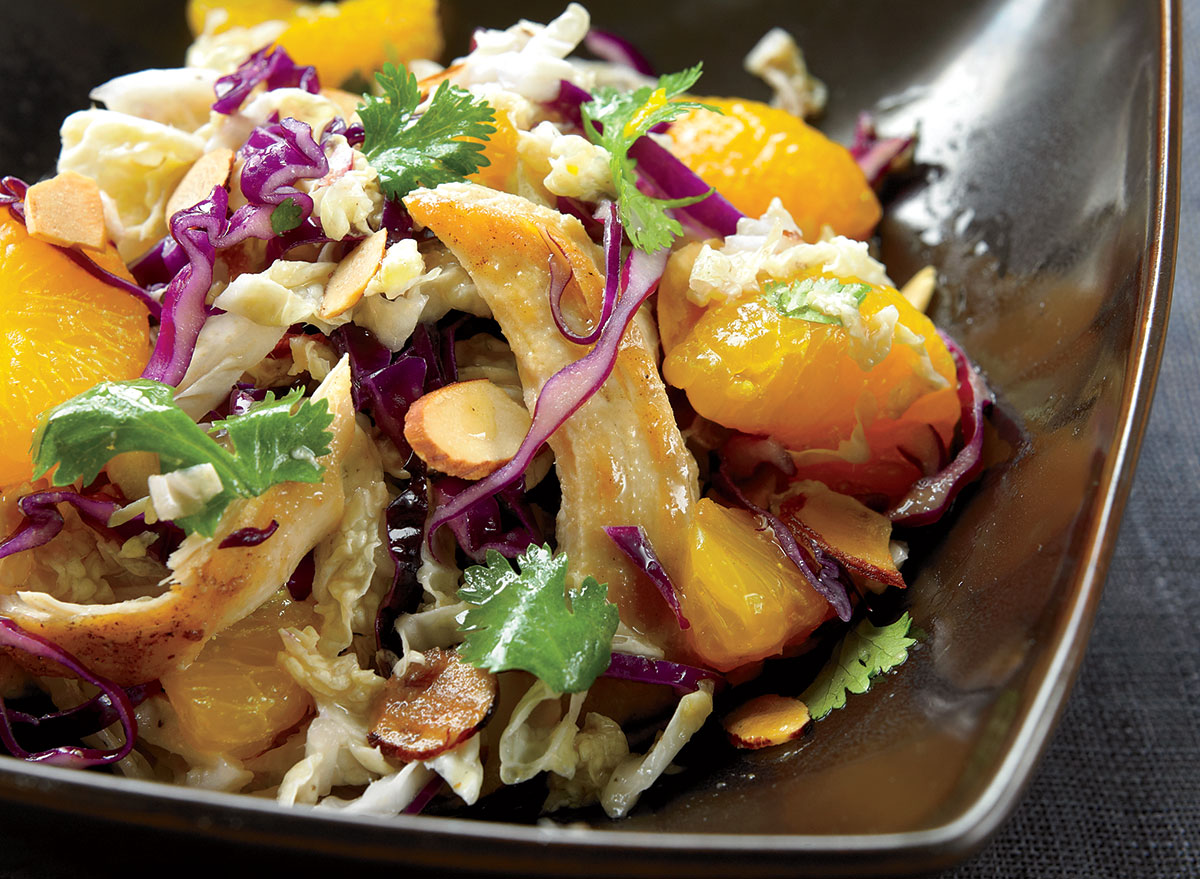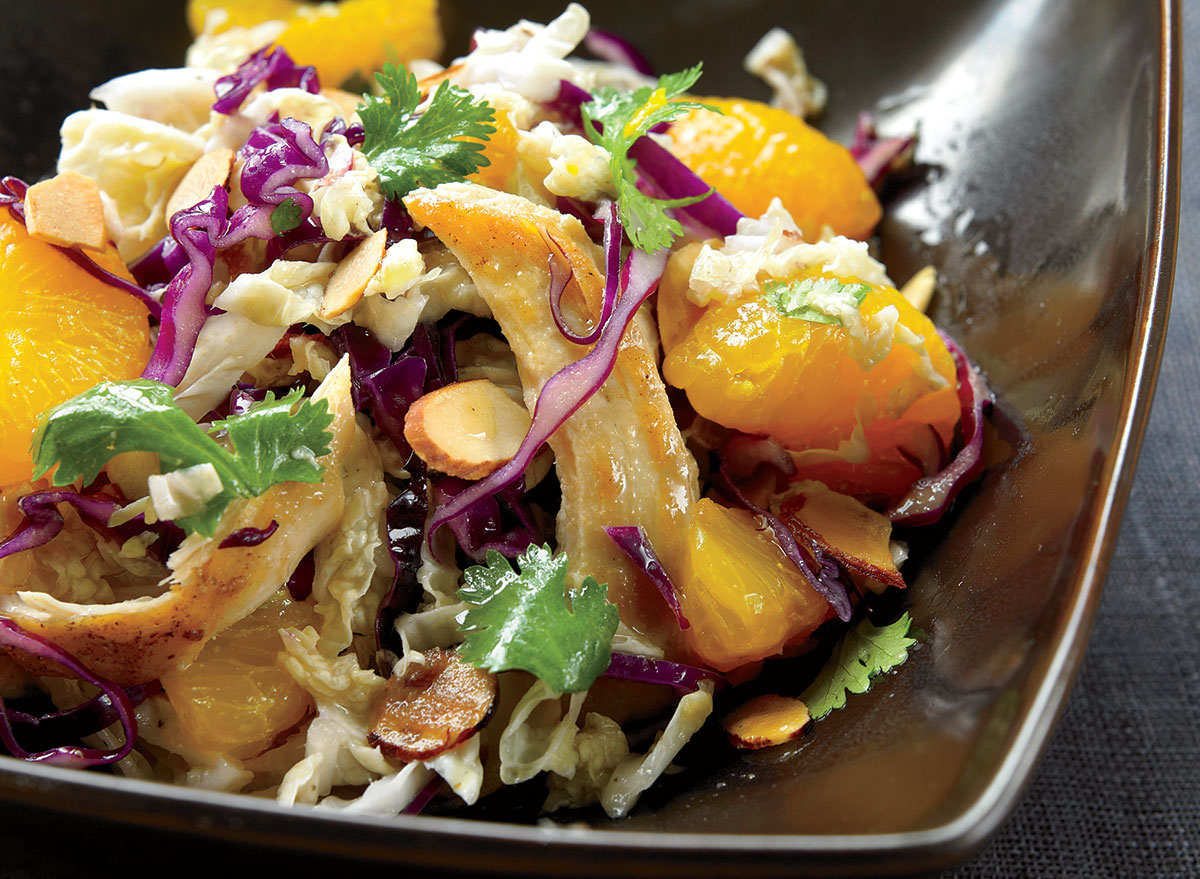 Use up the leftover cooked chicken in your fridge and throw together this easy salad recipe for lunches.
Get our recipe for Chinese Chicken Salad.
Savory Waffle With Ham and Egg
The ingredients may sound like a strange combination, but stick with us! We know what we're doing. The flavors are nicely balanced and the portion size is perfect, if we do say so ourselves. Plus, most importantly, the nutritional profile of this savory waffle is just what you want for the most important meal of the day.
Get our recipe for Savory Waffle With Ham and Egg.
Seared Scallops With White Beans and Spinach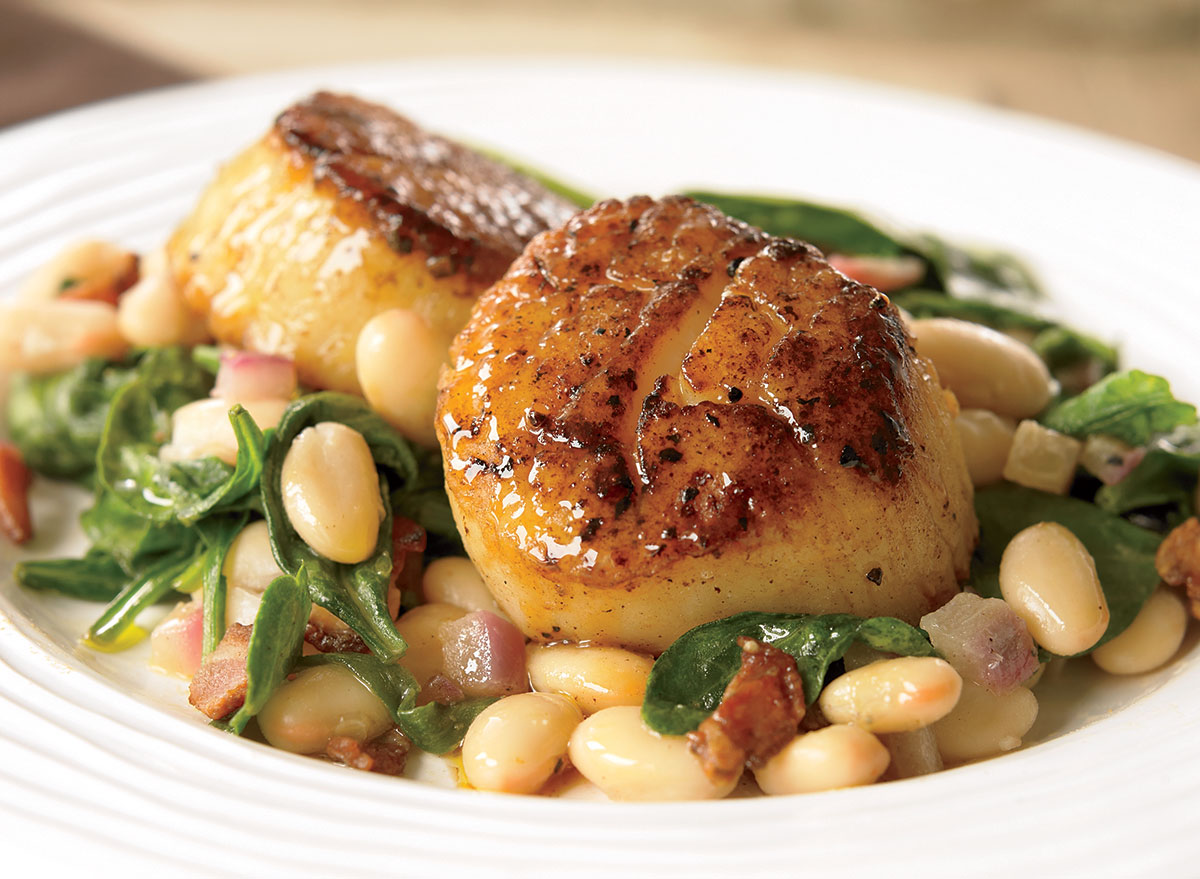 Scallops are best served with simple and substantial ingredients that bring out their natural, subtle taste. They're a tremendous source of lean protein, super-easy to cook, and stack up well with bold and subtle flavors alike.
Get our recipe for Seared Scallops With White Beans and Spinach.
Gnocchi With Peas and Prosciutto
Here, we take the classic Italian pasta pairing of peas and prosciutto, replace the noodles with dumplings, and throw in plenty of asparagus to round out the creation.
Get our recipe for Gnocchi With Peas and Prosciutto.
Grilled Flank Steak With Chimichurri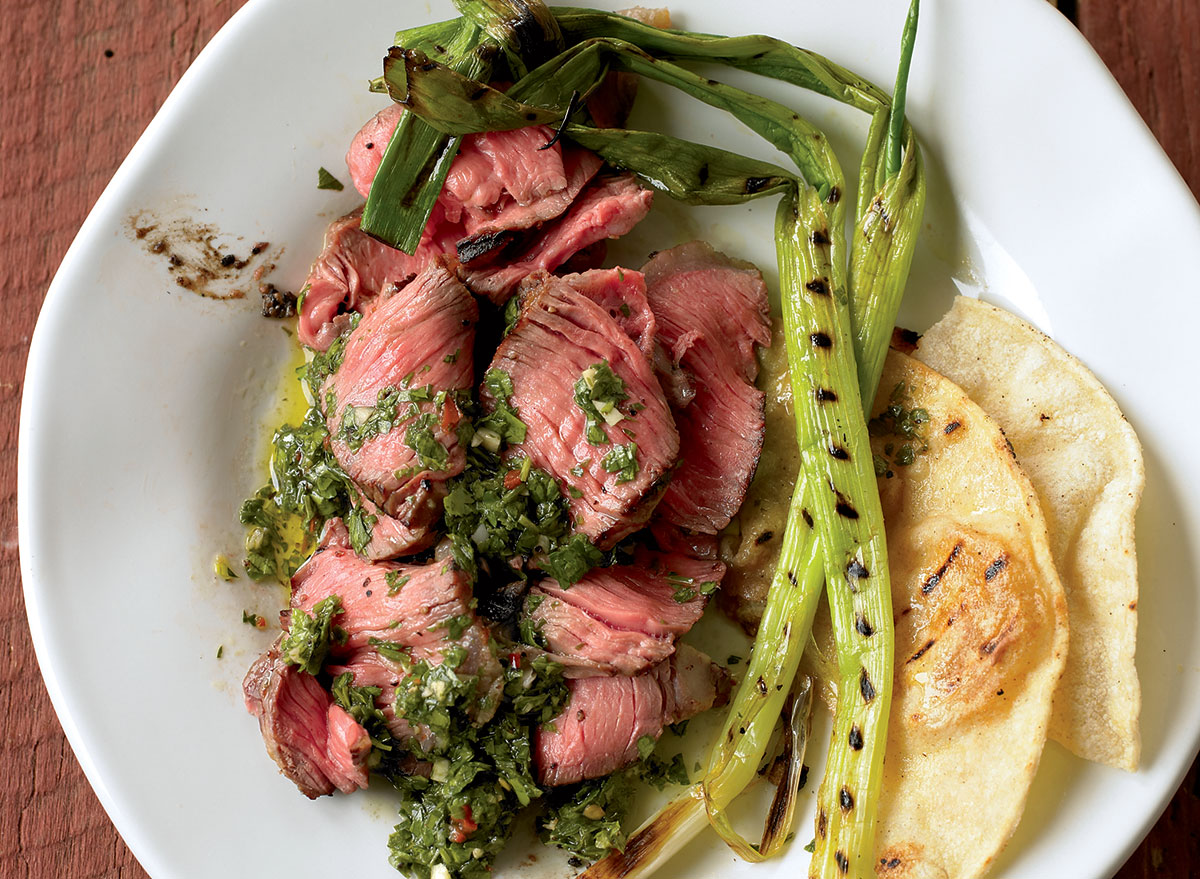 Serve this flank steak recipe up with grilled scallions, pinto beans, and warm corn tortillas as a perfect replacement for fajitas.
Get our recipe for Grilled Flank Steak With Chimichurri.
Sweet Potato Toasts
If you're gluten-free, sweet potato toasts are a delicious alternative to the gluten-free bread options out there. Plus, you'll get all the nutrients that a fresh sweet potato can provide. This recipe is super simple, too—the hardest part will be deciding whether you want to try the almond-cherry, Southwestern, or peanut butter and jelly topping recipe option first!
Get our recipe for Sweet Potato Toasts.
Golden Mango Smoothie Bowl
Sick of having regular old cereal with milk? Spruce up your usual breakfast bowl and blend up a mango smoothie bowl instead! Smoothie bowls are as versatile as smoothies—simply add what you want, blend, and sprinkle your favorite toppings on top.
Get our recipe for Golden Mango Smoothie Bowl.
Avocado Hummus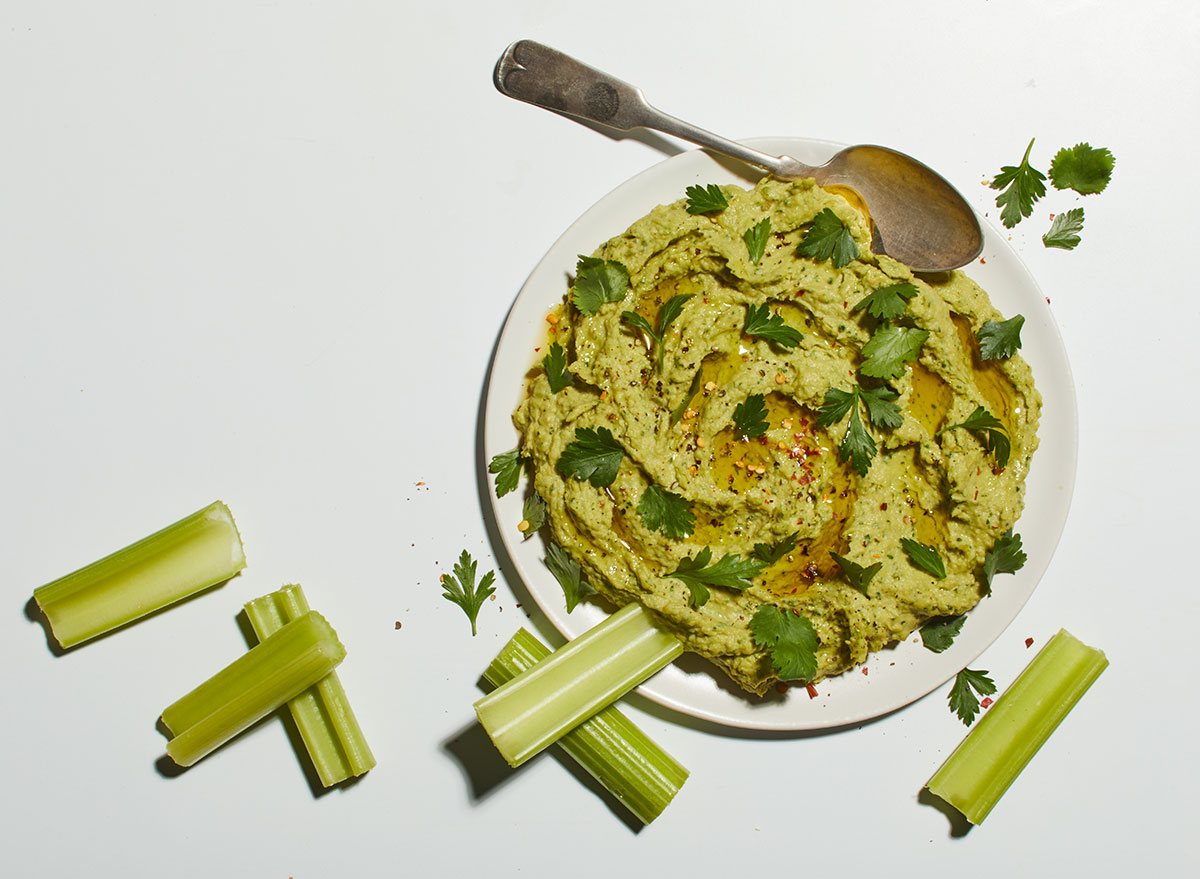 This recipe calls for one can of chickpeas, as well as half of an avocado and plenty of seasoning. With fresh parsley, cilantro, garlic, and lime juice, you'll get some of the same flavors you'll find in guacamole in a creamy hummus form.
Get our recipe for Avocado Hummus.
Beef Taco
Making the classic beef taco at home is much easier than you think. The trick is to use a good amount of seasoning, mixed with water, in order to make a taco sauce. That sauce is what makes the meat taste delectable and will have you eating taco after taco after taco.
Get our recipe for Beef Taco.
Italian Tuna Melt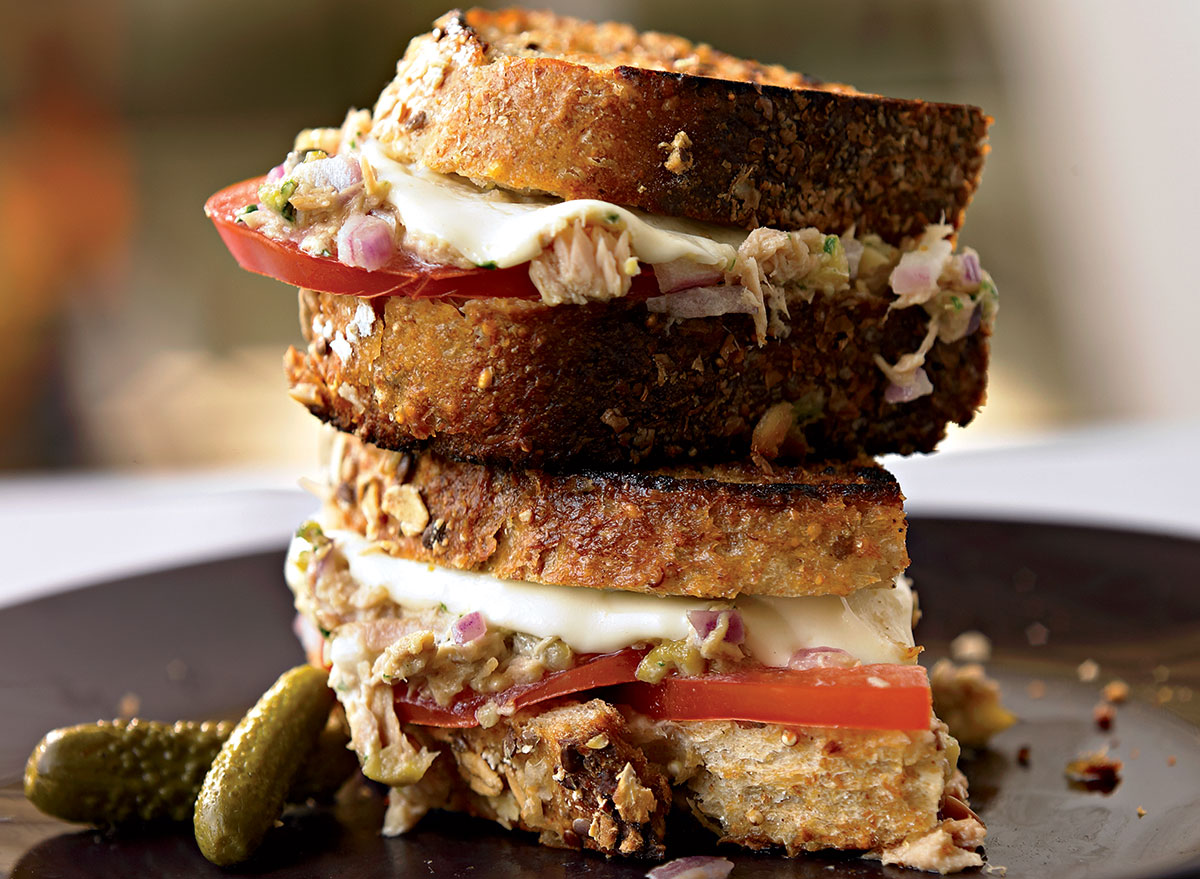 This recipe is fast and easy, and the ingredients are tasty, yet affordable, and they are even nonperishable, so you can keep extras on hand as a go-to during a particularly packed or stressful day, and your waistline won't suffer a bit.
Get our recipe for Italian Tuna Melt.
Asparagus Salad With a Fried Egg and Prosciutto
This can be a warm-up to dinner (especially if you have guests over), or a light meal on its own. Better yet, double the recipe and freeze some for a busy week. Enjoy!
Get our recipe for Asparagus Salad With a Fried Egg and Prosciutto.
Mexican Hot Dogs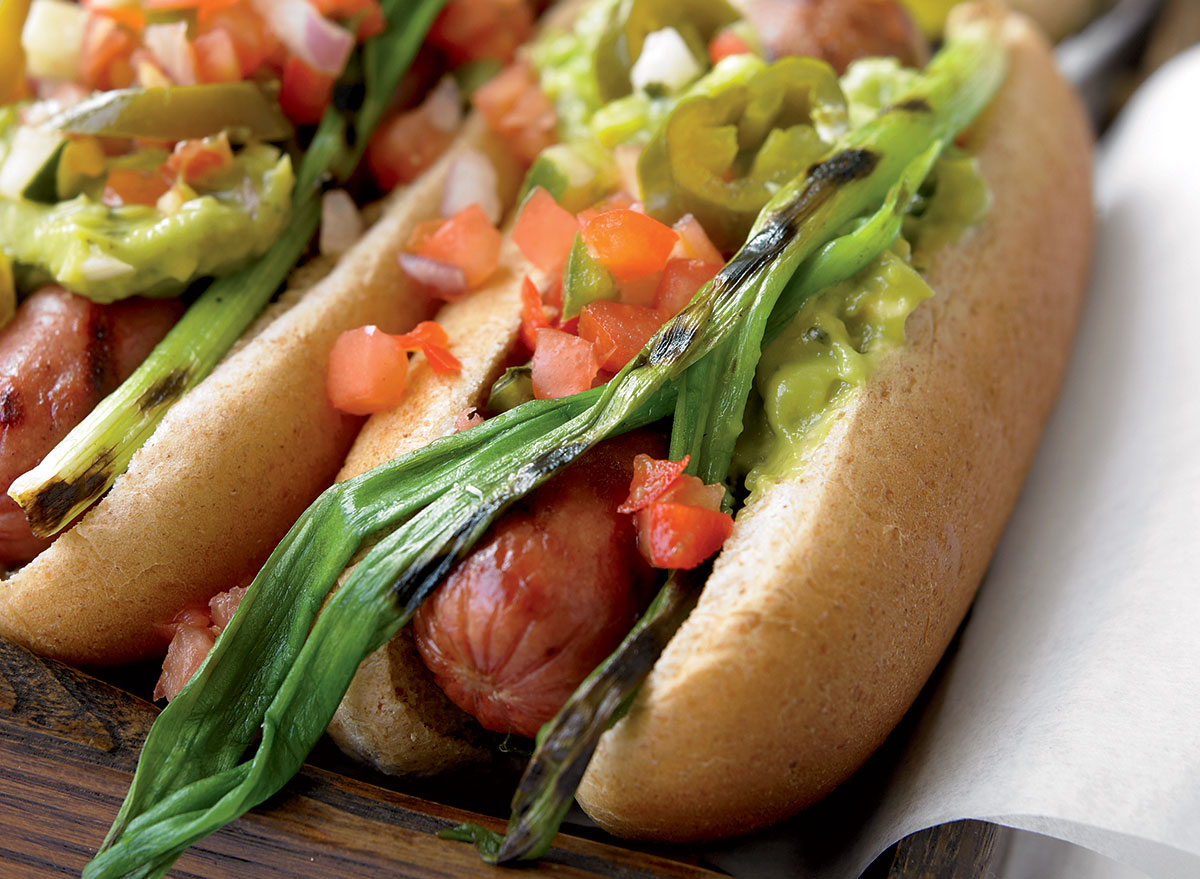 Hot dogs normally arouse the scorn of nutritionists and health-conscious eaters alike, but don't be so quick to dismiss the humble wiener. Yes, more often than not the ones you buy from a cart contain questionably nondescript insides, but there is another way! In the best circumstances, hot dogs are perfectly portioned, protein-packed vessels set to play host to a barrage of healthy, boldly flavored toppings.
Get our recipe for Mexican Hot Dogs.
Vegetarian Mushroom Burger With Mozzarella Cheese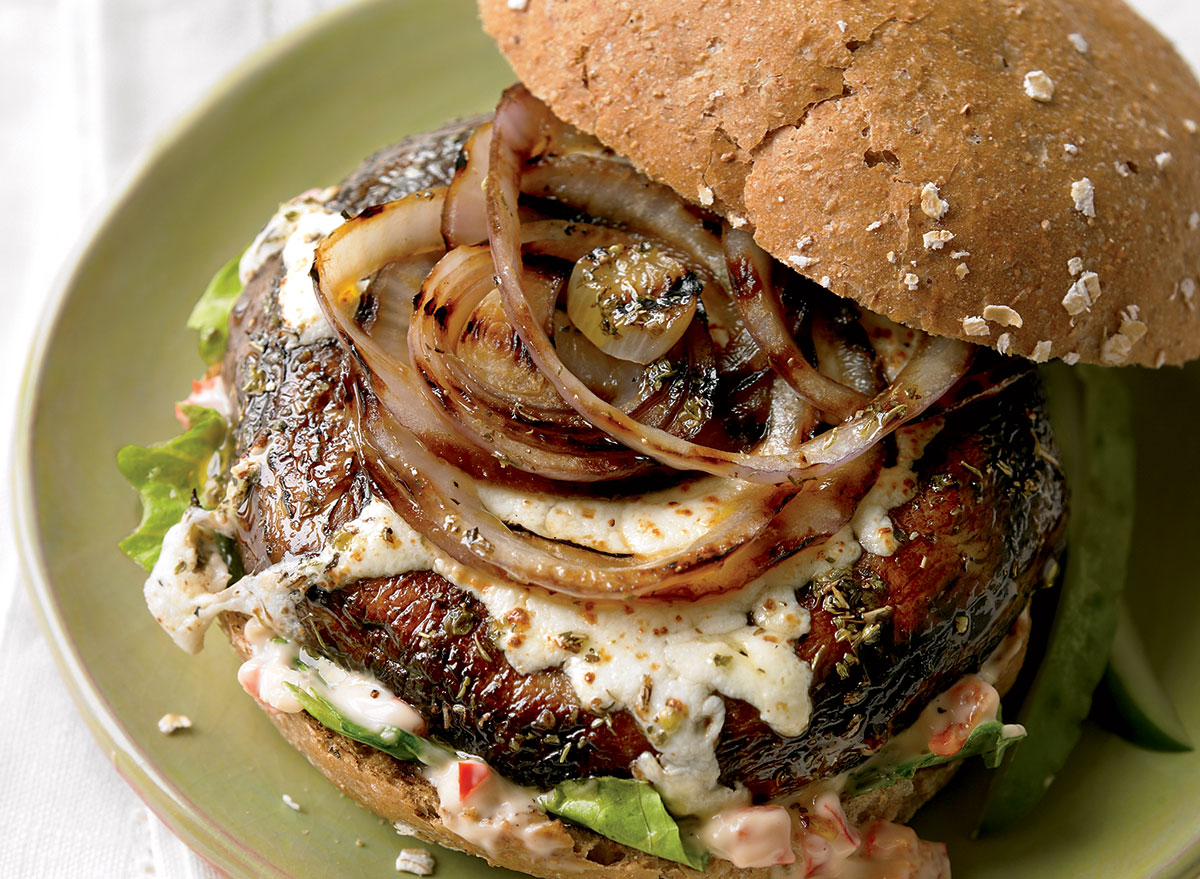 We don't mess around with fake patties in this mushroom burger recipe; instead, we go straight for a meaty portobello cap, rubbed in olive oil and balsamic, and topped with a crown of melted mozz. Even if you're a beef buff, we think you'll like this meatless burger.
Get our recipe for Vegetarian Mushroom Burger With Mozzarella Cheese.
Black Bean Omelet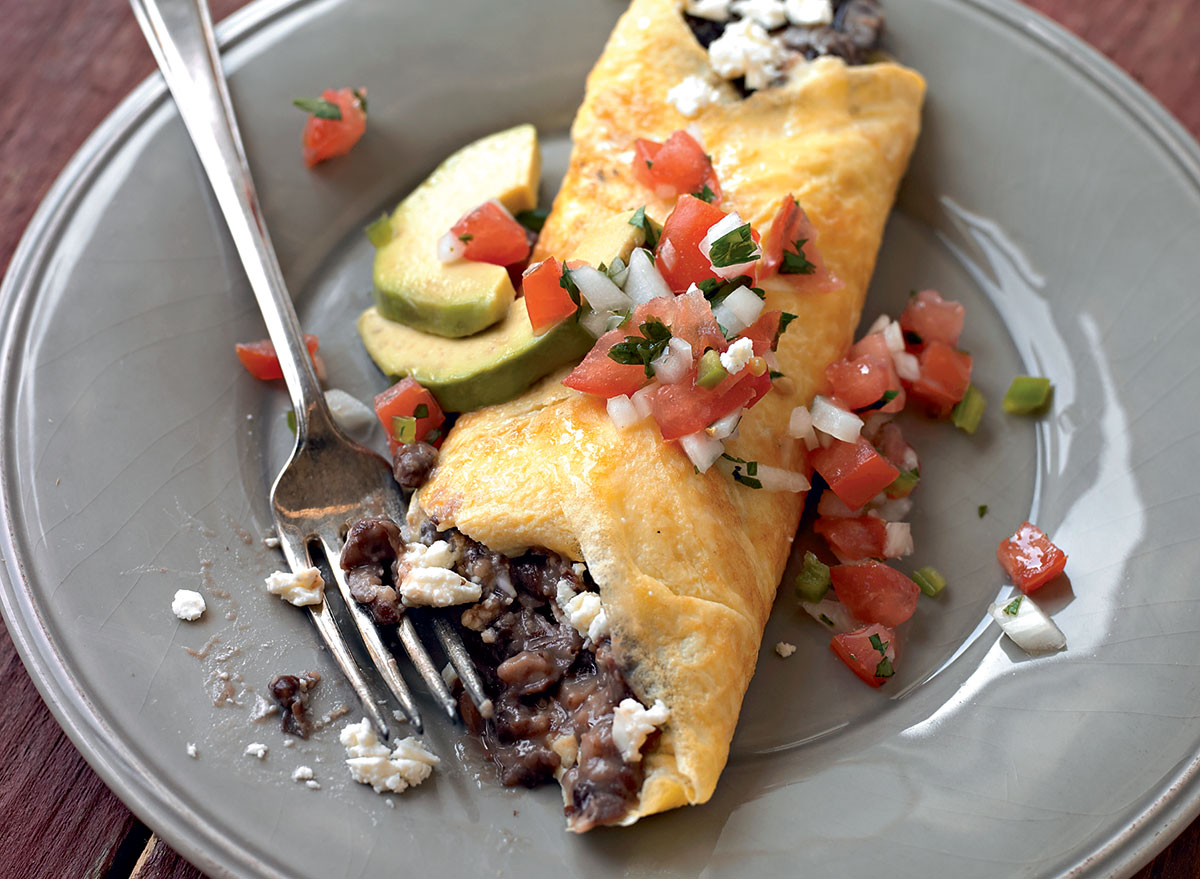 Why shell out your hard-earned dollars for an overpriced gut bomb when you can make something better, healthier, and cheaper at home in 10 minutes flat?
Get our recipe for Black Bean Omelet.
Grilled Chicken Sandwich With Chimichurri Sauce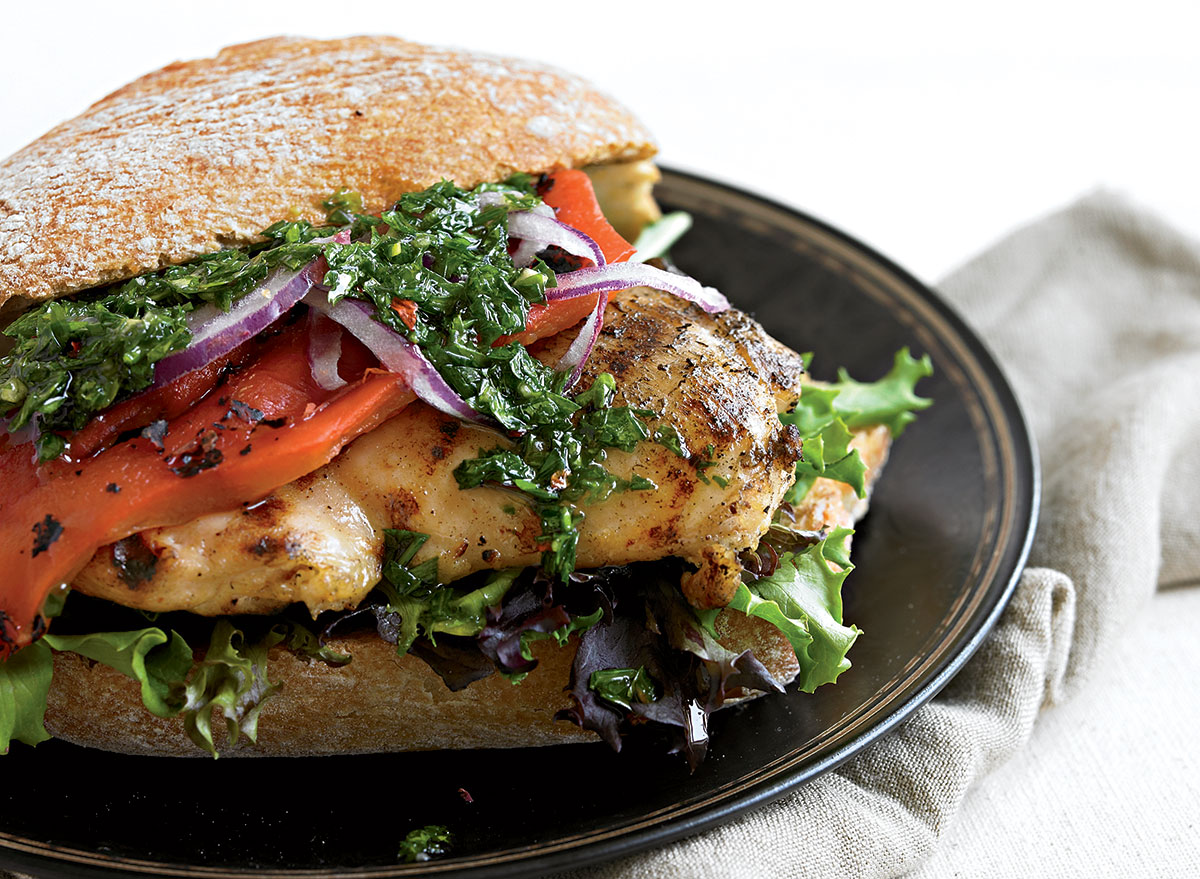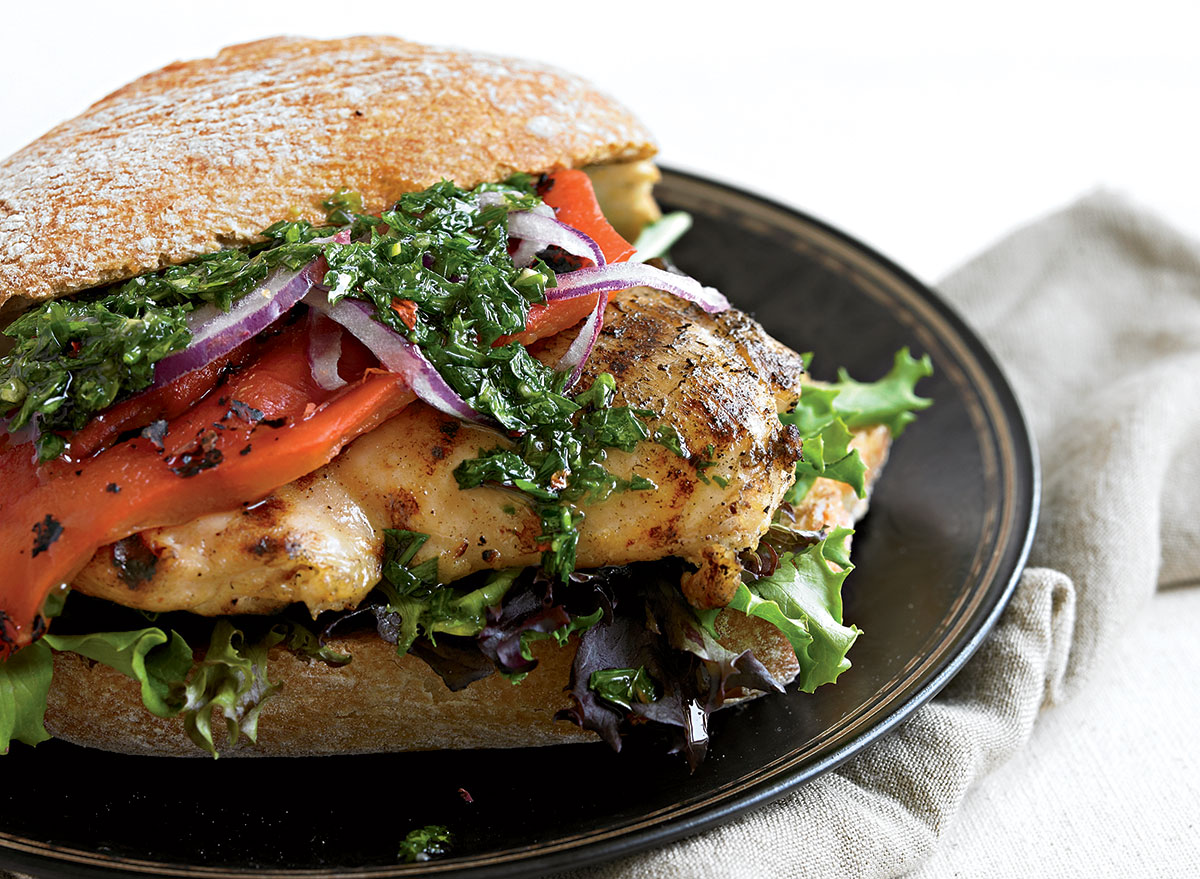 This grilled chicken sandwich delivers heroic flavor by employing chimichurri, an Argentine herb-based sauce that would make shoe leather taste like fine dining, along with a solid supporting cast of sweet peppers, sharp raw onions, and peppery greens.
Get our recipe for Grilled Chicken Sandwich With Chimichurri Sauce.
Simple Pan-Roasted Mushrooms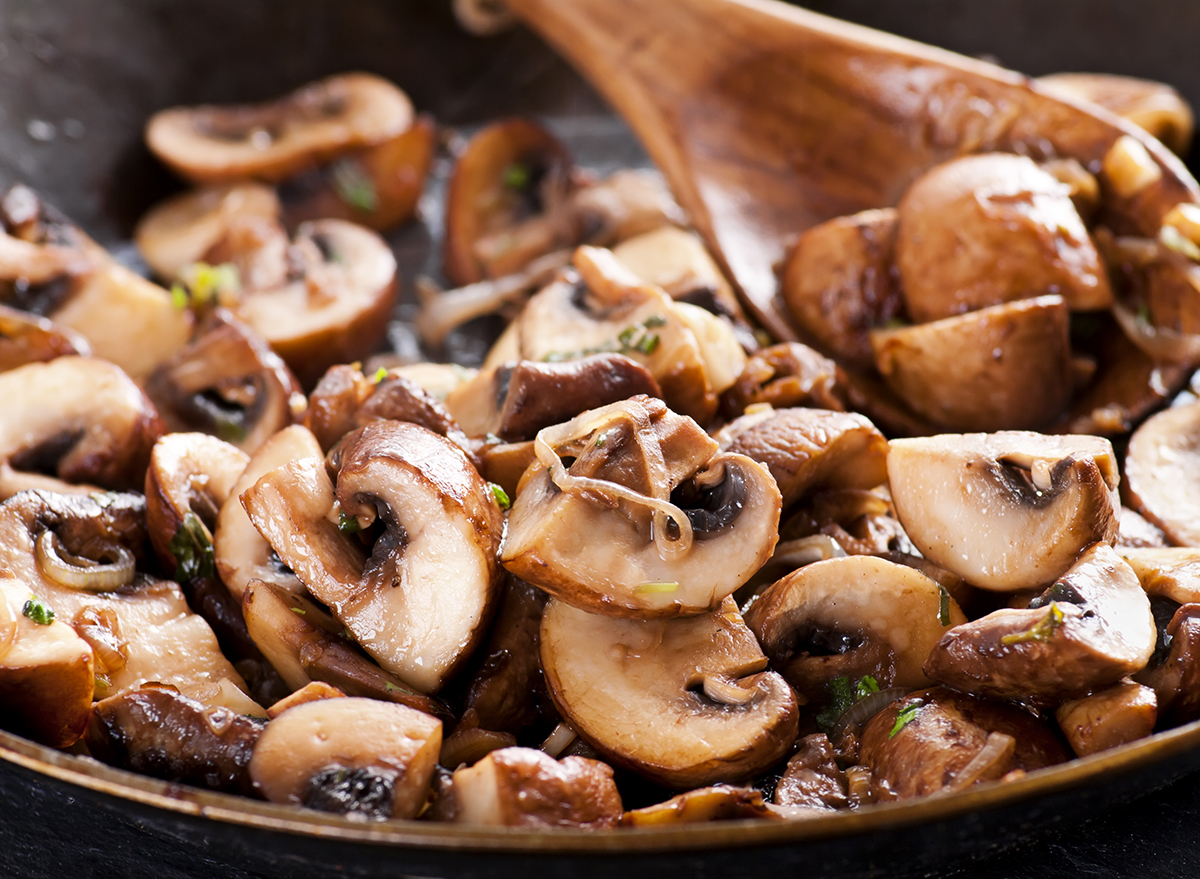 You can use them to slather on a steak, pour into a sandwich, punch up a salad, or add to the top of a simple slice of whole wheat toast to start your morning off right. They're truly versatile!
Get our recipe for Simple Pan-Roasted Mushrooms.
Ultimate BLT Sandwich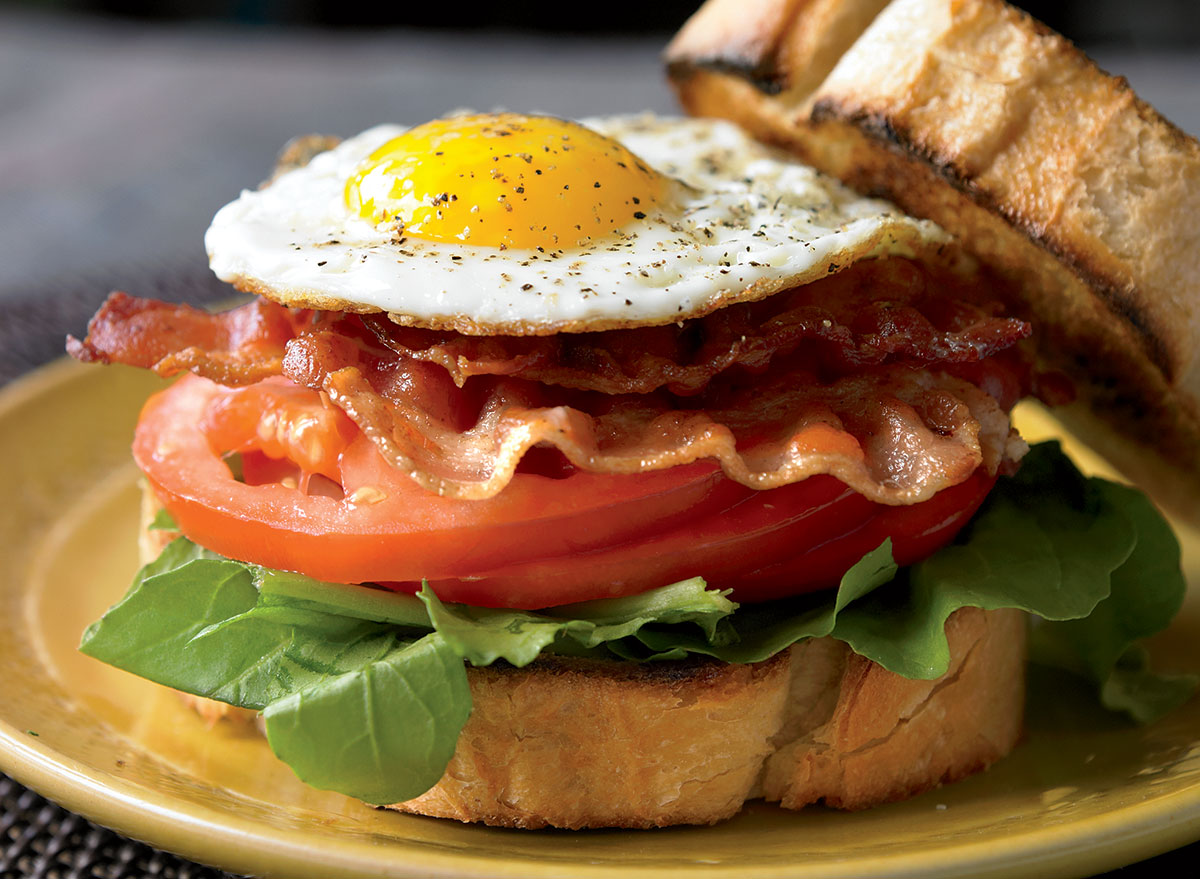 Instead of being slathered in a sea of sauce, we chose to crown our BLT with a soft, oozing fried egg—the only condiment you need. It adds gooey goodness and a punch of protein you'll be glad to have.
Get our recipe for Ultimate BLT Sandwich.
Breakfast Tacos With Bacon and Spinach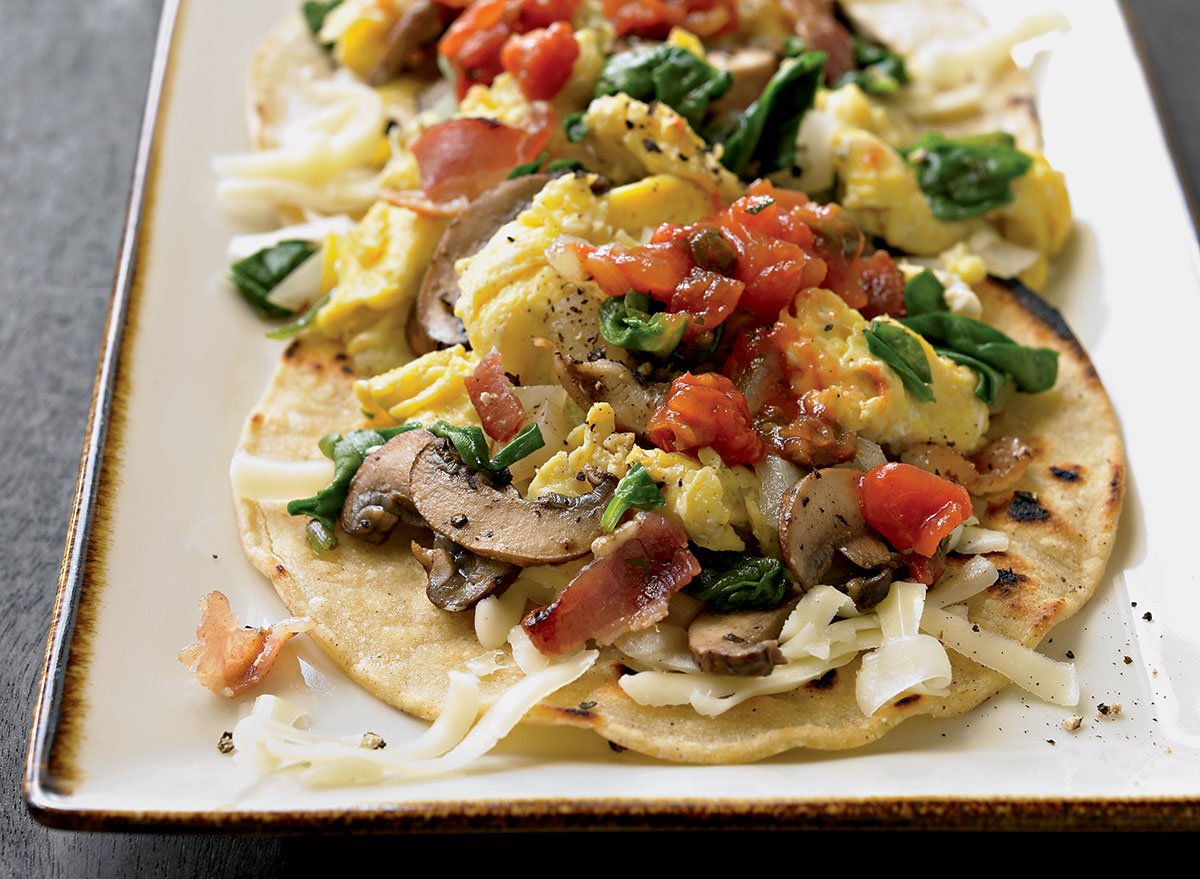 Infectiously delicious, to be sure, but also a perfectly healthy start to your day, assuming you stick to corn tortillas, which have half the calories and twice the fiber of their flour counterparts.
Get our recipe for Breakfast Tacos With Bacon and Spinach.
Apple Pie Oats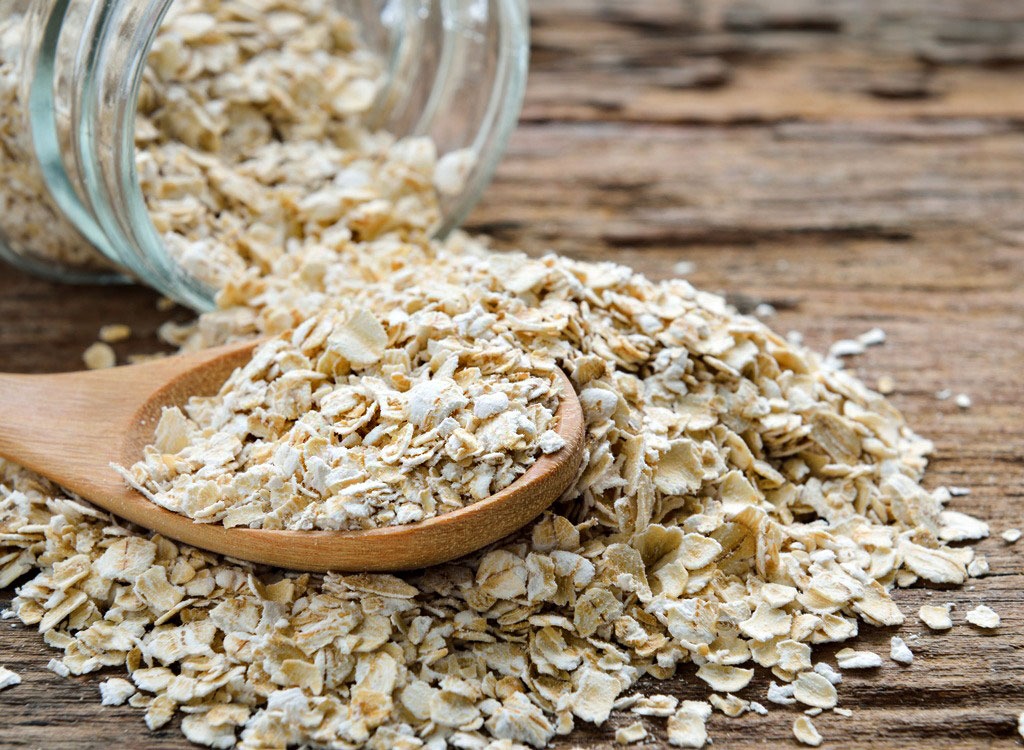 Apple pie for breakfast? Yes, please! Make a quick and easy faux apple pie by heating quick oats in the microwave with diced apple and cinnamon. For a touch of sweetness add a teaspoon of honey or maple syrup. This warm treat is loaded with belly fat-fighting fiber and cholesterol-lowering ingredients that fill you up.
Avocado Toast
The oh-so-trendy avocado toast not only tastes amazing and packs in tons of necessary nutrients, it also can be made in under 10 minutes. Simply toast a slice of sprouted or whole wheat bread and mash a ripe healthy fat-filled avocado on top. Sprinkle lightly with salt, pepper, cayenne and chia seeds. This is a heart-healthy breakfast that's sure to keep you satisfied until lunchtime!
For more combinations, check out our 15 Toast Recipe Ideas That Go Beyond Basic Avocado.
3-Ingredient Pancakes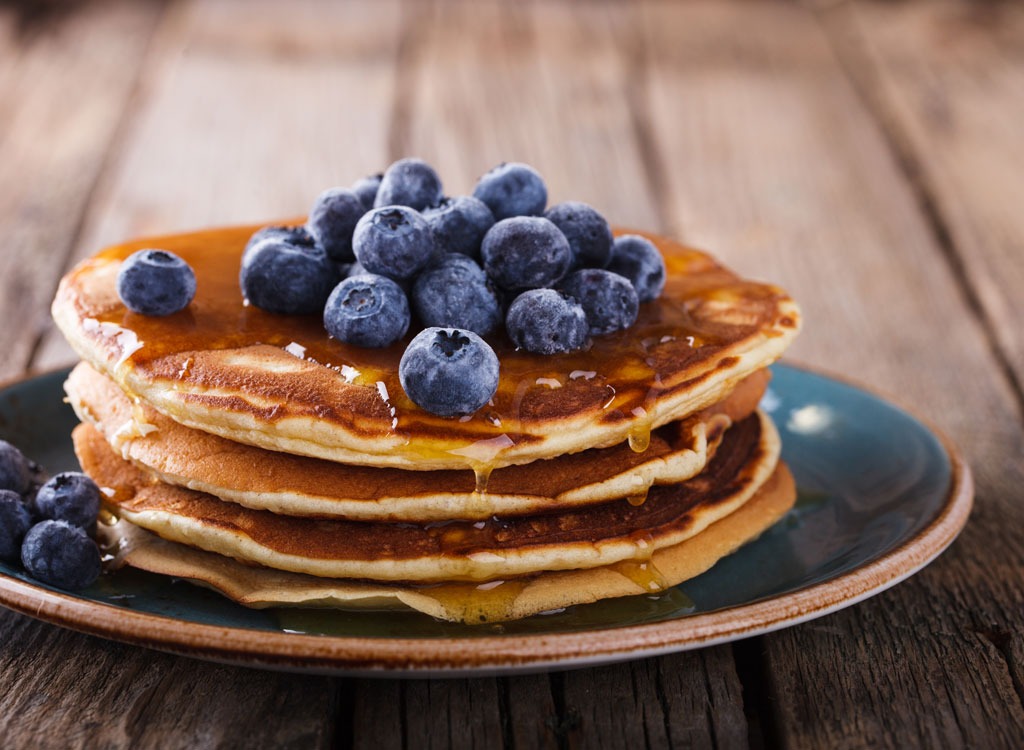 All it takes is banana, egg, and coconut oil to get fluffy pancakes in just minutes! Mash 2 bananas with 4 eggs and grease a pan with coconut oil before pouring the batter, just like the classic kind. Add more ingredients to the mix like cinnamon, vanilla extract, or blueberries and drizzle with maple syrup to get a weekend breakfast any day of the week!
Veggie Omelette In a Mug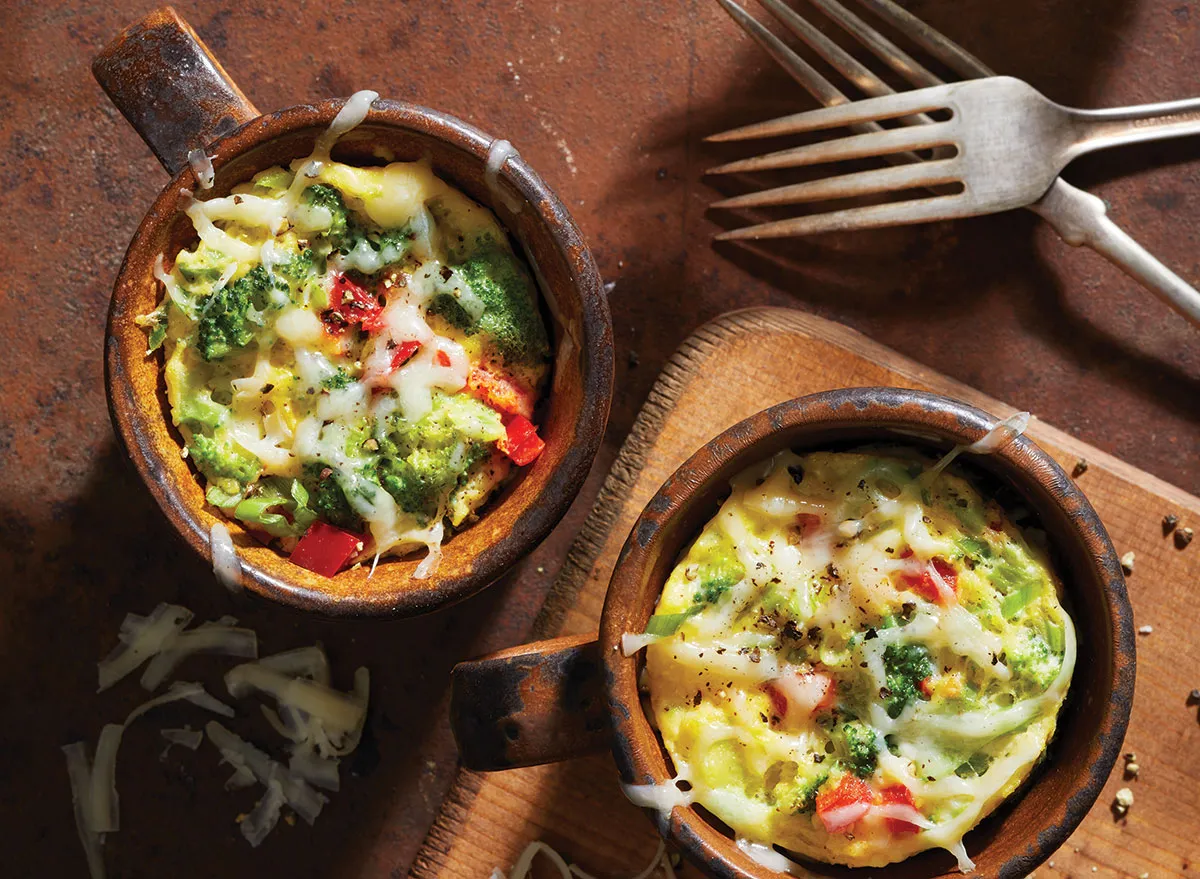 Who would've thought that a delicious breakfast can be made in just minutes with the help of a mug? Combine two eggs, diced bell pepper, tomato, spinach and spices into a greased mug and microwave for about two minutes. You'll get a hearty protein-filled breakfast that will keep you energized and ready to take on the day in just an instant!
Or try our recipe for Easy Broccoli-Cheese Eggs in a Mug.
Protein-Packed Smoothie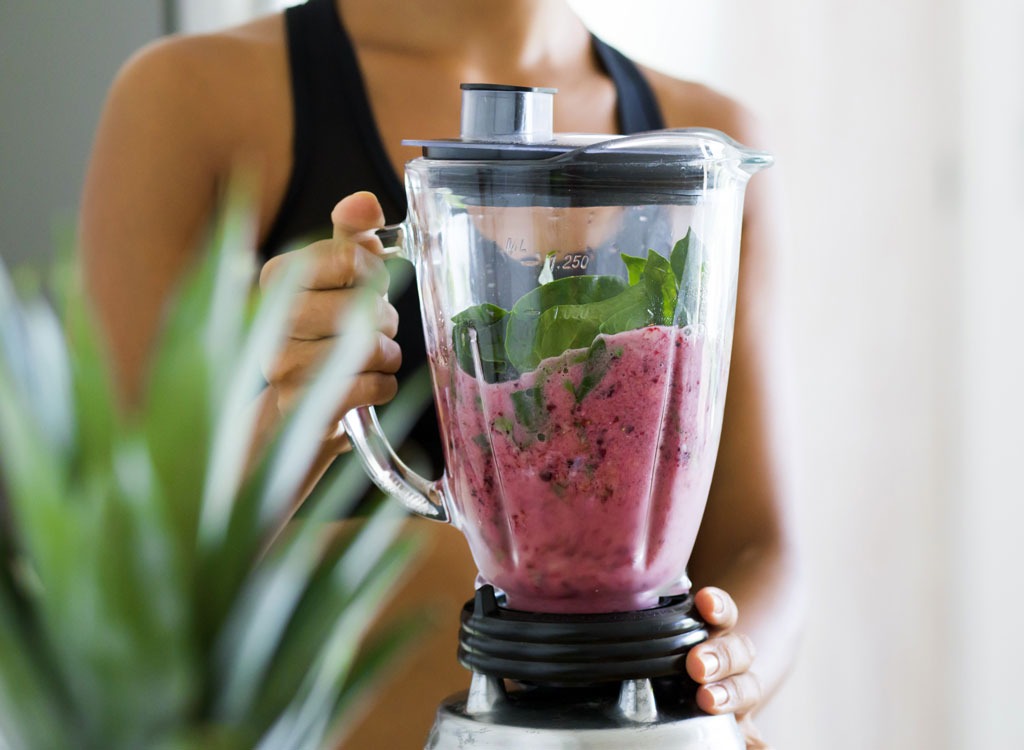 Smoothies are an on-the-go essential for those chaotic mornings. Blend up ingredients like spinach, protein powder, avocado, banana with ice and almond milk to get a thick and satisfying smoothie that won't leave you with the mid-morning belly rumbles. Make sure you're using a clean protein powder by reading up on The Best and Worst Protein Powders!
Superfood Breakfast Salad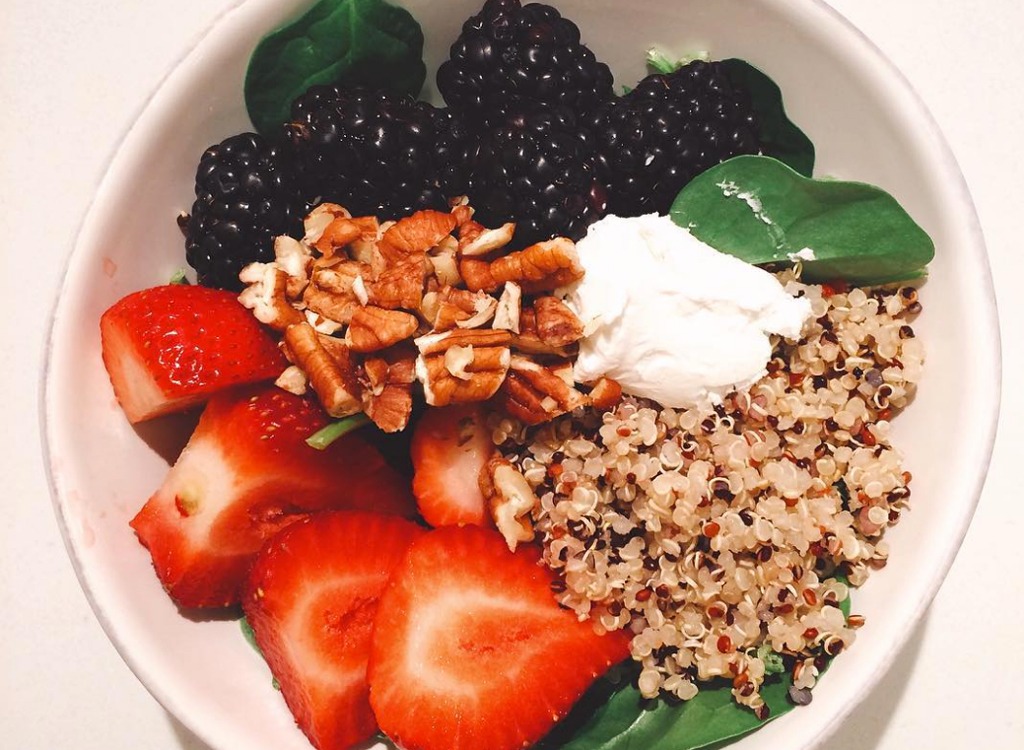 Blueberries, spinach, a poached egg and chopped walnuts with a drizzle of honey balsamic vinegar are the perfect combination of superfoods to get your morning started. This salad is loaded with antioxidants and immune-boosting nutrients. This meal screams healthy without losing any yummy taste!
English Muffin with Ricotta, Fruit, and Honey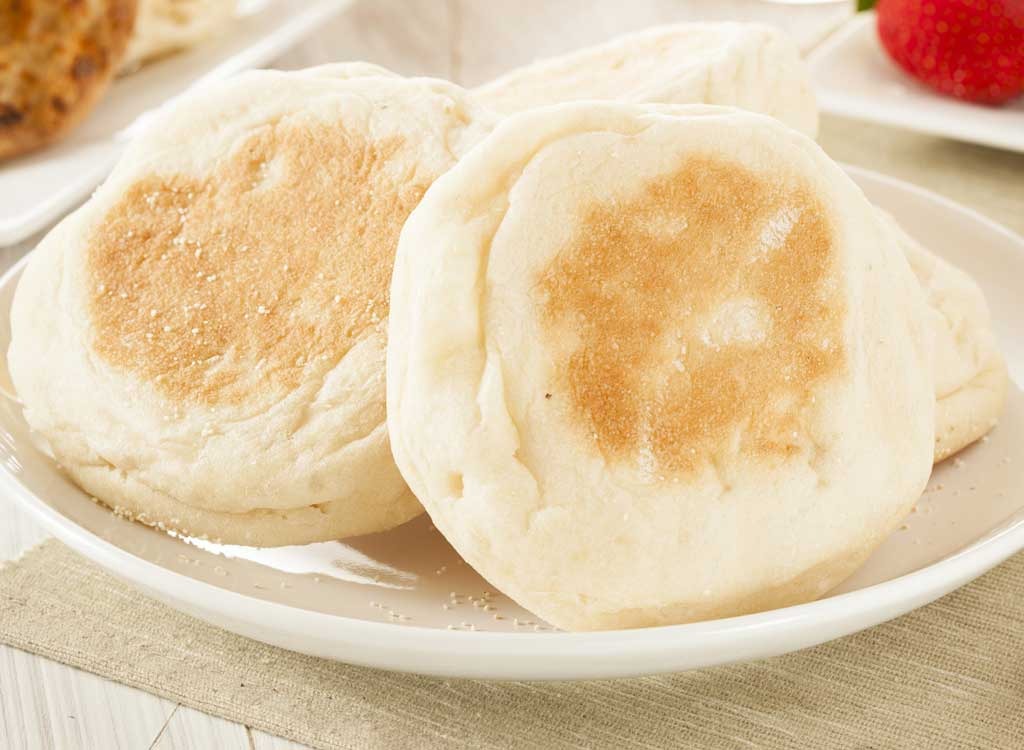 Move over avocado toast, there's a new kind of toast in town! Spread ricotta lightly over half a whole-wheat English muffin with sliced figs or strawberries and a drizzle of honey. This treat is one sure to please all the sweet lovers out there and is one you don't have to worry about going straight to the love handles!
Peanut Butter Banana Wrap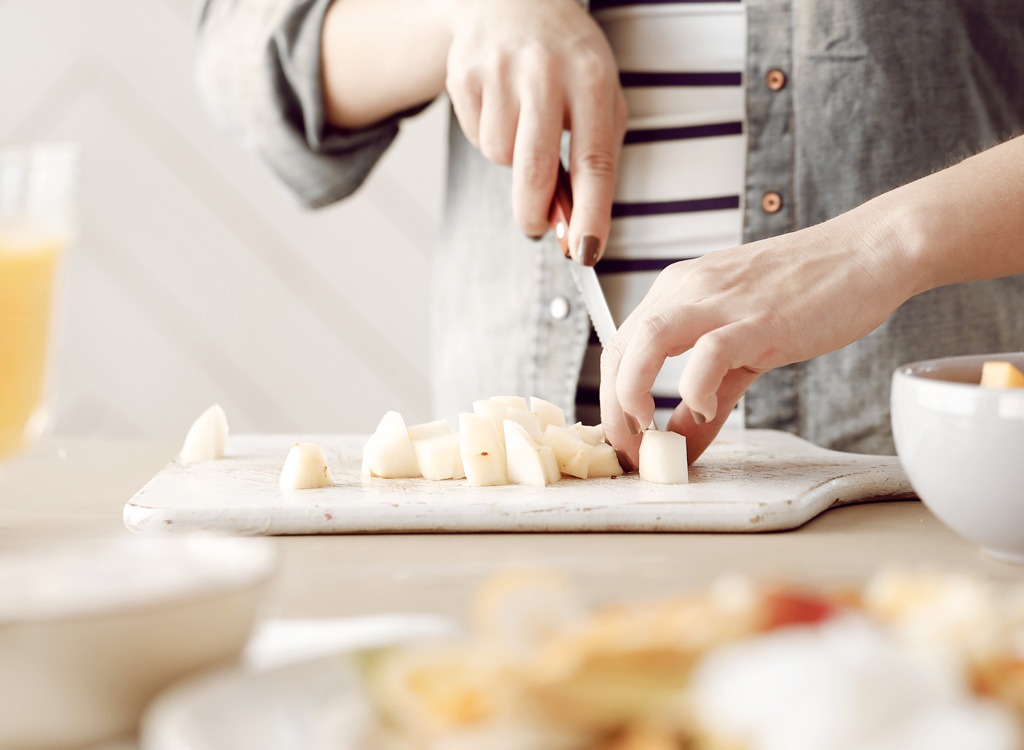 Peanut butter is a nutrient-dense spread with around 2 grams of fiber and 8 grams of protein per serving. The combo of rich and creamy PB with a sweet banana wrapped up in a whole grain tortilla is one hard to deny. Be sure to grab the peanut butter that has only one ingredient and skip any unnecessary salt and sugar!
Open-Face Hot Ham and Cheese with Chipotle Mayo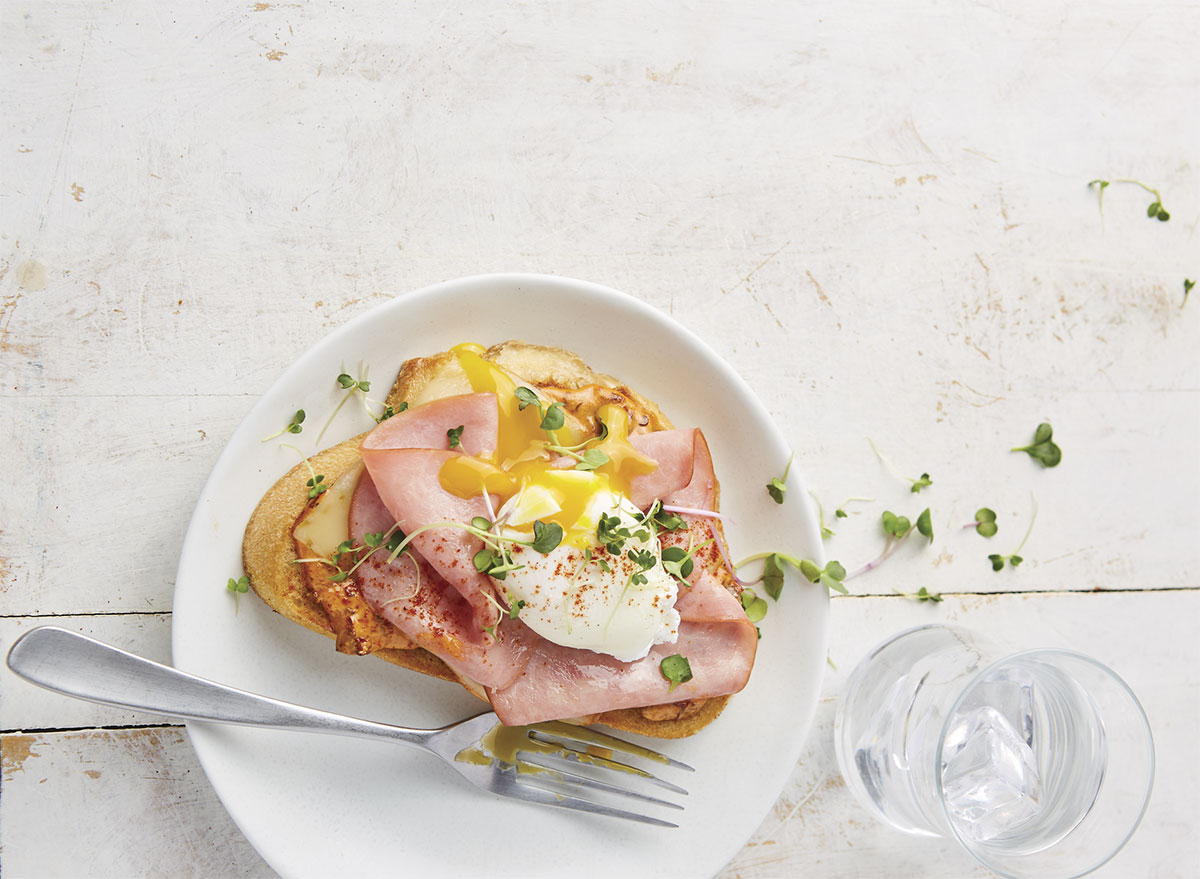 Skip the fast-food McGriddle that's grease-filled and loaded with processed ingredients. Instead, make a quick breakfast sammie with one sunny-side-up egg, two pieces of all-natural bacon (or ham), and a slice of cheese. Leave off the top of the sandwich to cut back on the starchy carbs and keep you away from that overstuffed feeling.
Get our recipe for the Open-Face Hot Ham and Cheese with Chipotle Mayo.
Yogurt, Granola, and Berries
The classic breakfast combo of yogurt, granola, and berries has been around forever for a reason. This simple breakfast is loaded with all the necessary nutrients to start your day and give you the energy to keep it going. Use a non-flavored Greek yogurt and granola that has a low sugar content, too. Or try our recipe for a simple yogurt parfait!
Get our recipe for Fruit and Granola Yogurt Parfaits.
Quick Vegetarian Chili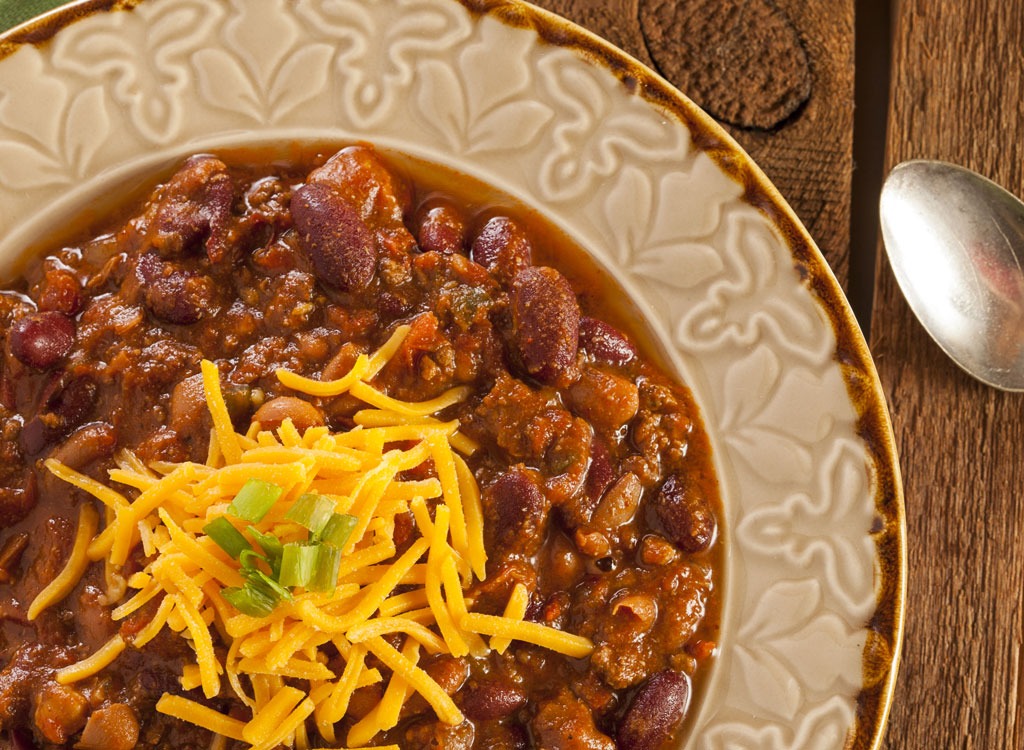 In a large saucepot, combine one can of red beans, one can of roasted diced tomatoes, frozen corn, and green beans, and vegetable stock with garlic powder, onion powder, salt, and pepper. Heat it fully through and pack about up a cup for lunch. You can store the rest in the fridge and save it for healthy lunches throughout the whole week.
Thai Beef Lettuce Wraps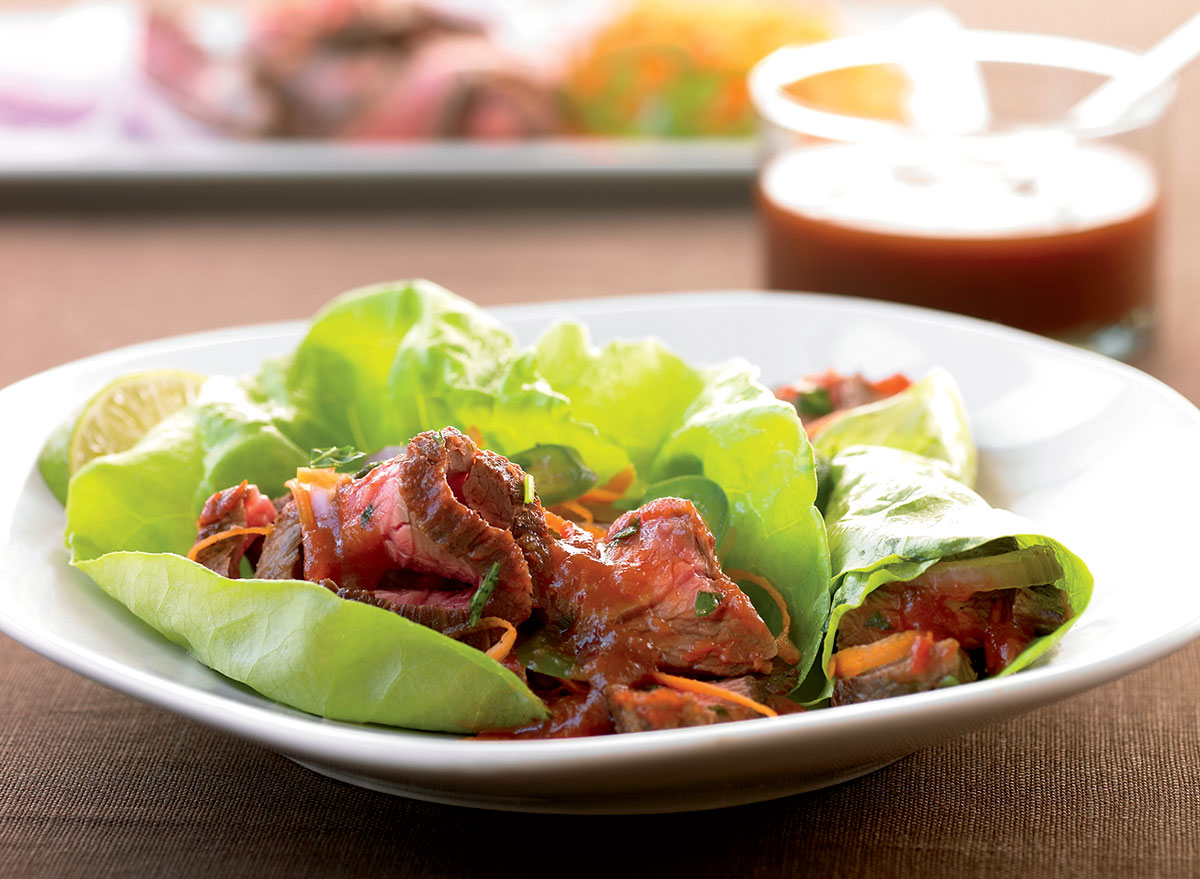 Asian cultures have known for hundreds (if not thousands) of years that wrapping things in lettuce makes an amazing snack or meal. It's a great idea, too, as it's a healthier option to flour tortillas.
Get our recipe for Thai Beef Lettuce Wraps.
Breakfast Loaded Sweet Potato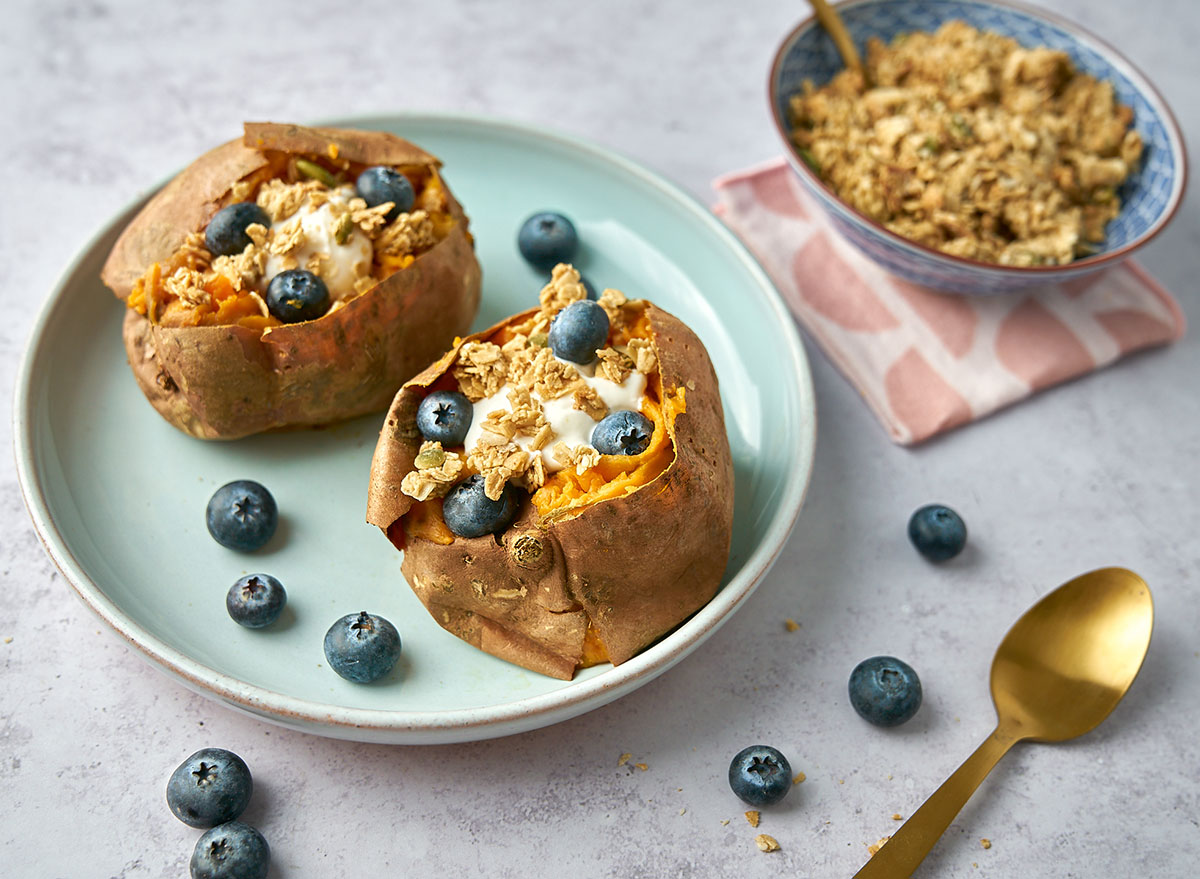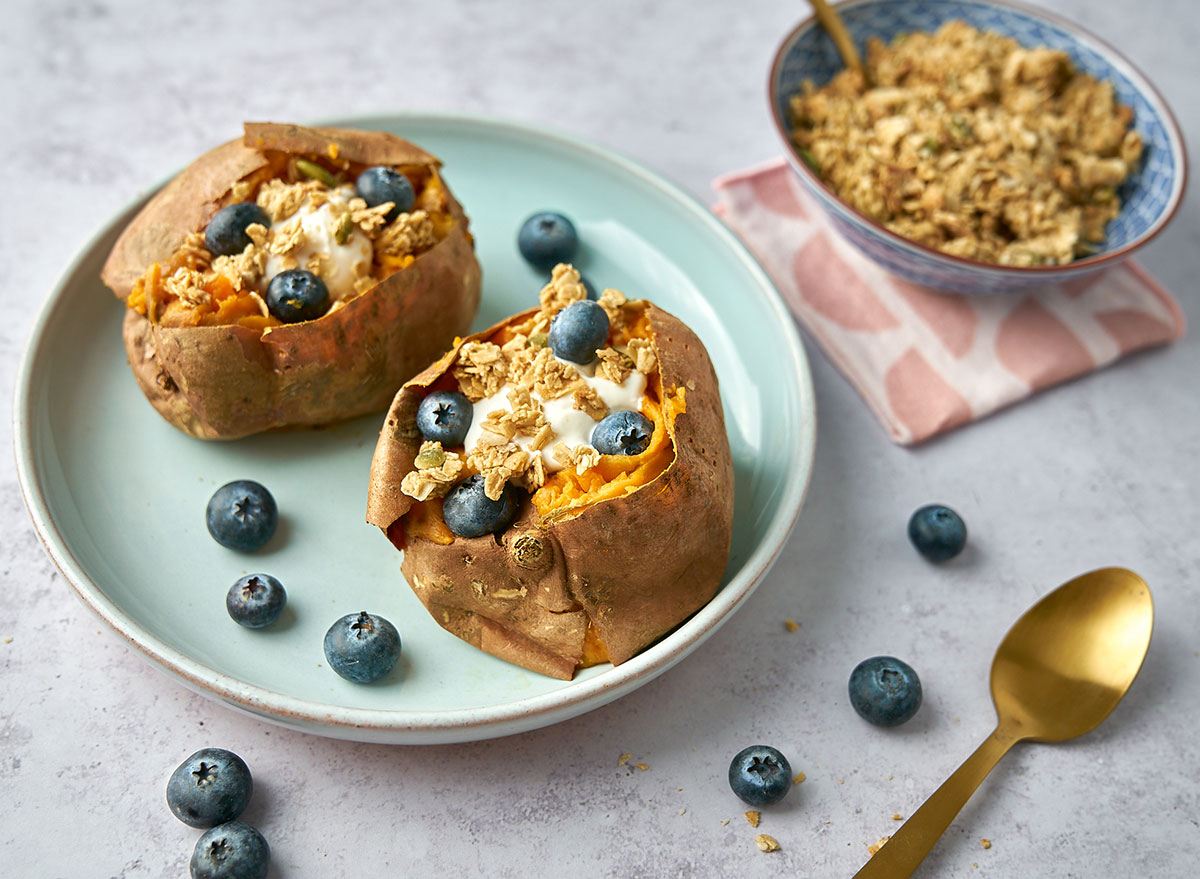 The slow-digesting carbs that come from sweet potatoes can help you stay fuller longer and give you the energy to get you through your afternoon. Not only are they low in calories and high in vitamins, they're always beaming with great flavor. Microwave one medium sweet potato for anywhere from 5-8 minutes or until it's fork tender. Fill it with shredded rotisserie chicken, spinach, and the optional cheese. Or turn it into breakfast using our recipe!
Get our recipe for Breakfast Loaded Sweet Potato.
Tuna Salad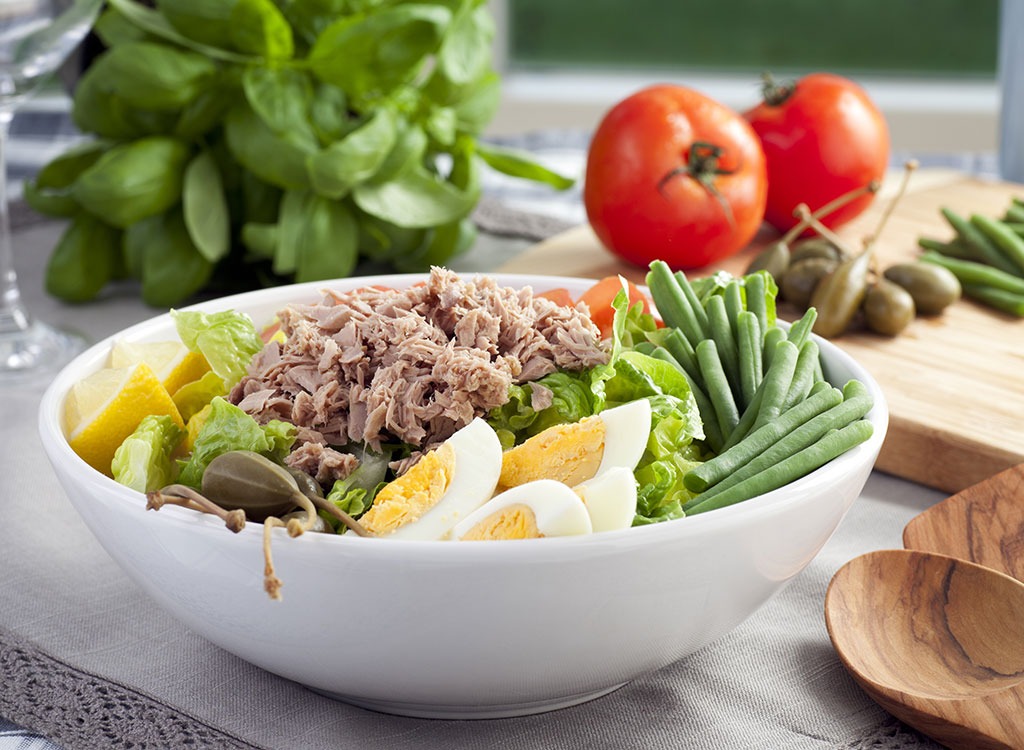 Fancify a tuna salad by using Greek yogurt instead of mayo. Put it over a bed of spinach and cranberries with a squeeze of lemon juice. Greek yogurt will add a boost of protein and spinach packs in a hefty amount of vitamin K, A, B2, B6, C, and more!
Cheesy Crispy Quesadillas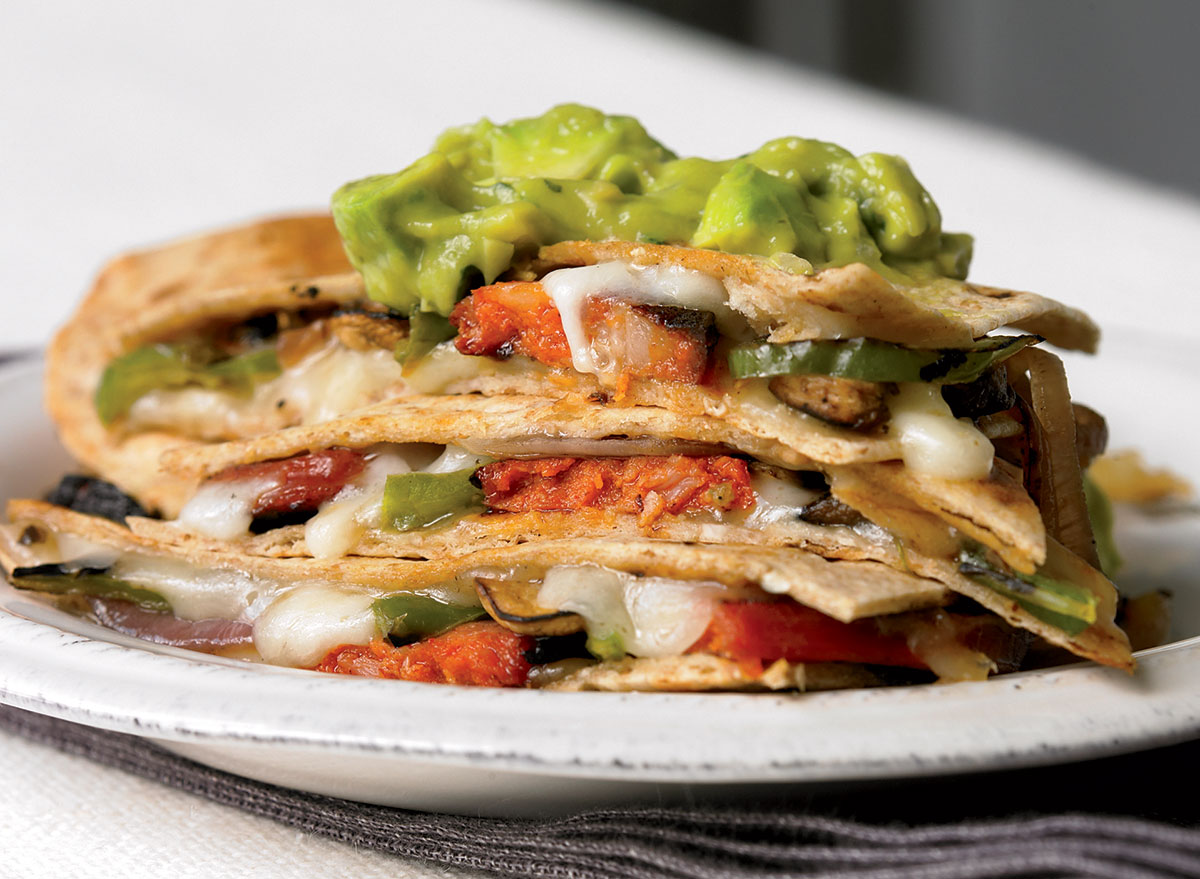 Cheese doesn't always have to be on the list of diet no-nos. As long as cheese is consumed in moderation it can make a healthy lunch much easier. Fill a whole wheat or sprouted tortilla with provolone or mozzarella which both easily get a day's worth of calcium per serving. You can use a stove, microwave or panini press to make this dish, all in under ten!
Get our recipe for Cheesy Crispy Quesadillas.
Stuffed Avocado
If you're not already avocado obsessed, this lunch will change that! Split an avocado in half, take out the pit and spoon out a small amount of the avo (obviously eat that). You can stuff it with anything from tomatoes and mozzarella with balsamic drizzle to quick brown rice with beans and salsa. Or try our recipe with crab!
Get our recipe for Avocado-Crab Salad.
Zucchini Carbonara With Bacon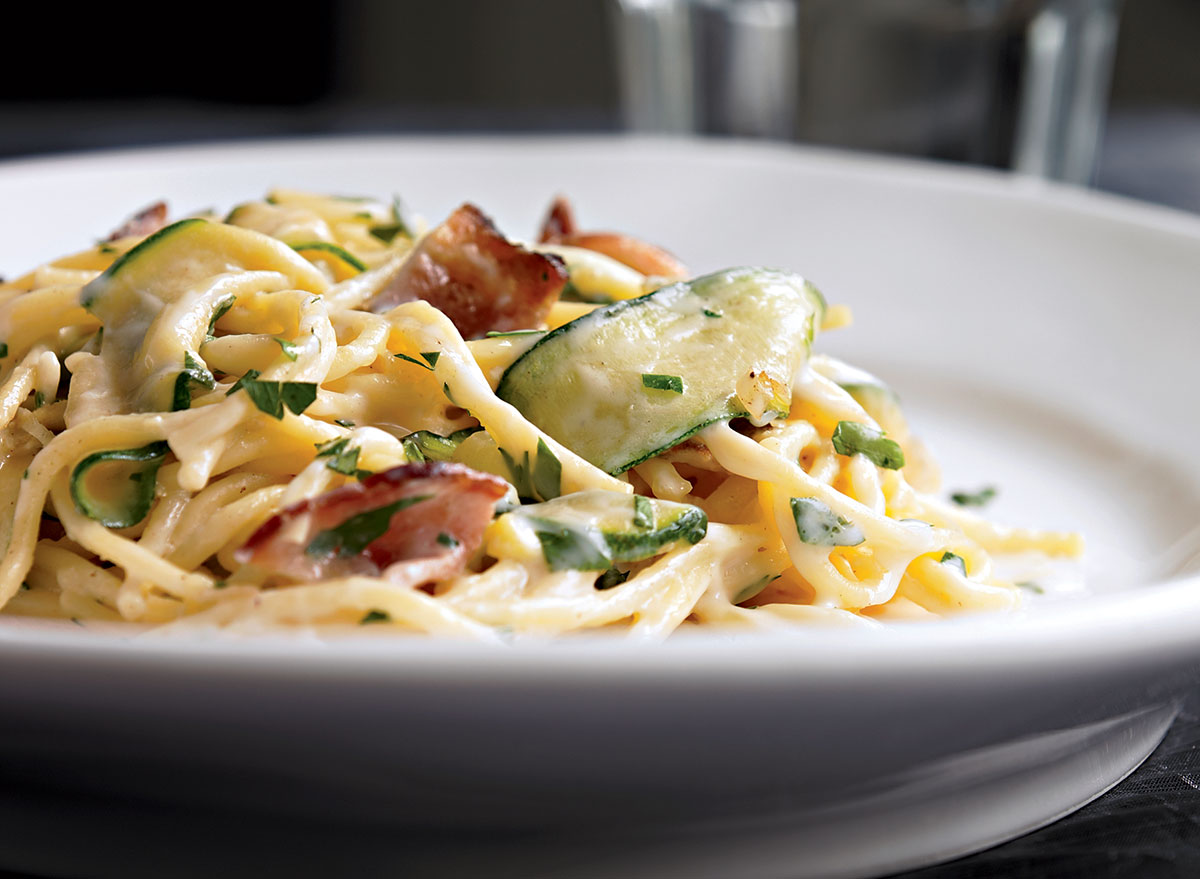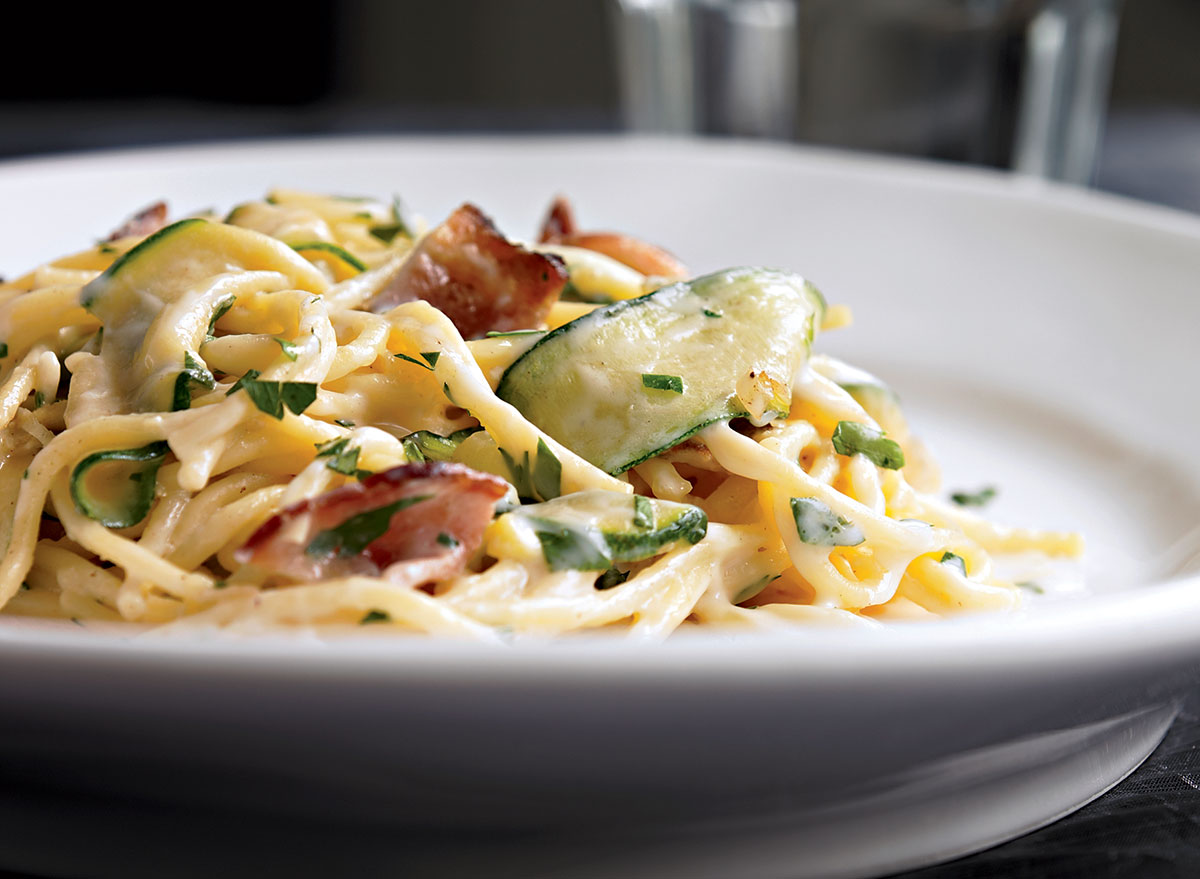 To lighten the dish, we've added a good amount of zucchini, which is cut in long, thin ribbons to mimic the shape of the pasta and help you cut back on the overall quantity of noodles. Beyond cutting calories, though, it adds a nutty sweetness to this classic for a healthy, hearty upgrade.
Get our recipe for Zucchini Carbonara With Bacon.
Cauliflower Fried Rice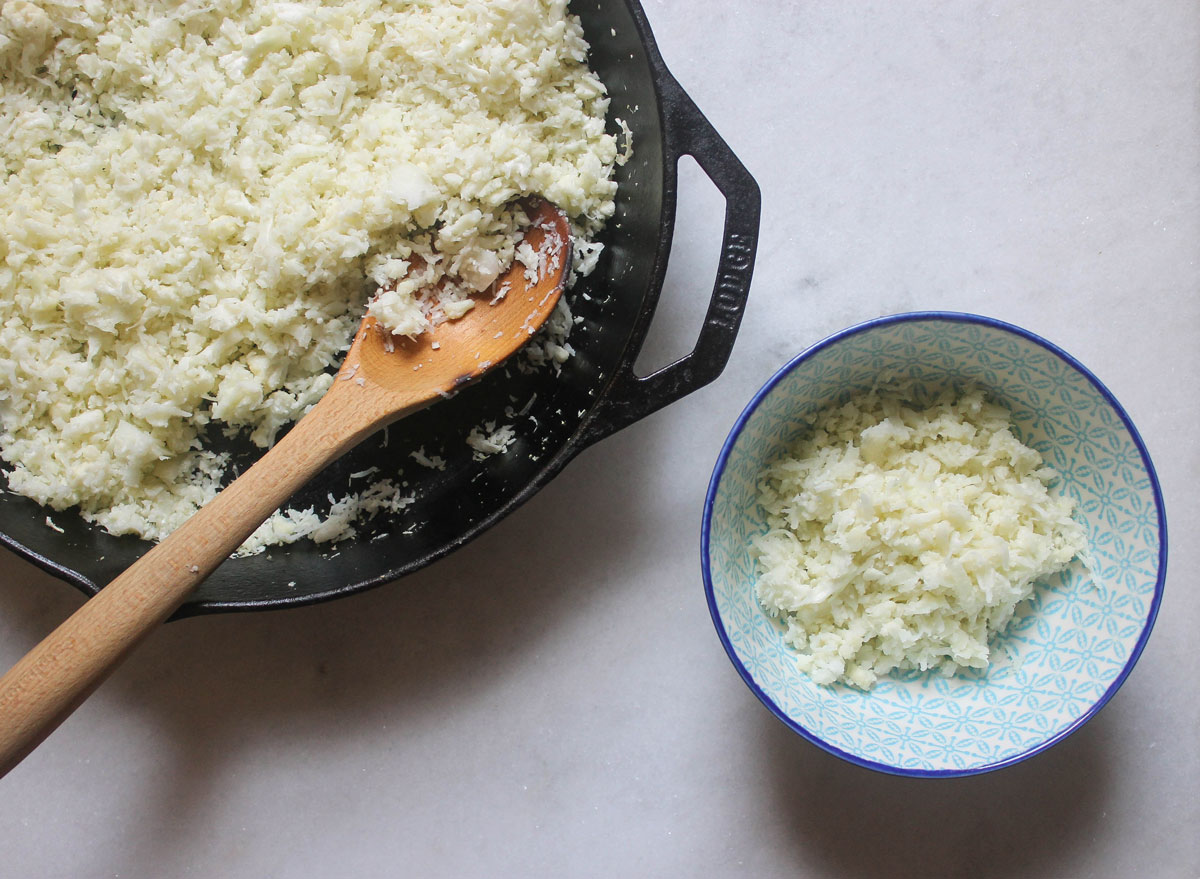 Leftover chicken finds its home in this recipe! Put cauliflower florets in a food processor and blend until it comes to a rice-like consistency. Place it all in a frying pan with sesame oil, garlic, frozen veggies and ¼ cup of water. Cover for until the cauliflower has softened and the veggies defrost fully. Toss in leftover chicken for some added protein that will help build lean muscle!
Here's How to Make Cauliflower Rice at Home.
Smoked Salmon Sandwich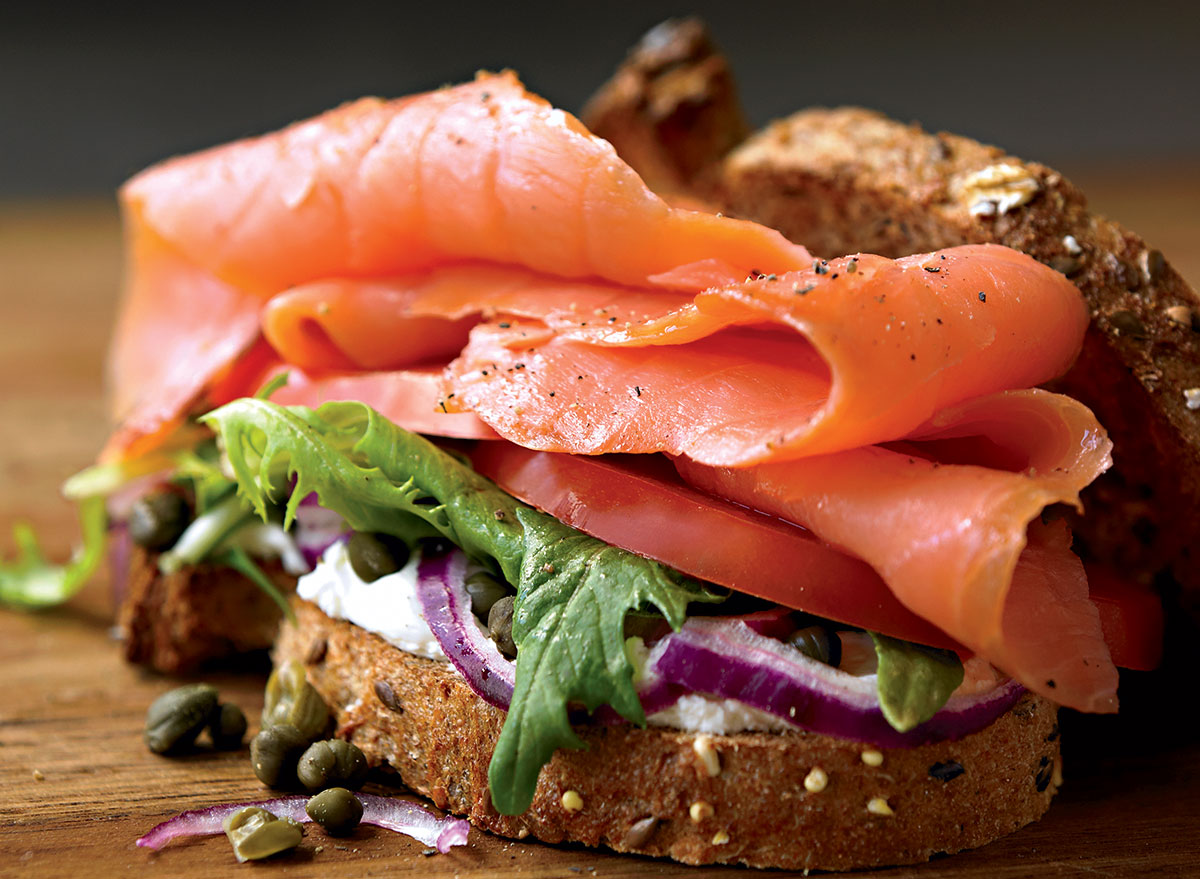 Wild salmon is a nutritional powerhouse with metabolism-boosting omega-3 fatty acids that can actually help burn calories. Throw together this quick meal in minutes with this New York bagel-inspired meal.
Get our recipe for the Smoked Salmon Sandwich.
Grilled Salmon With Ginger Soy Butter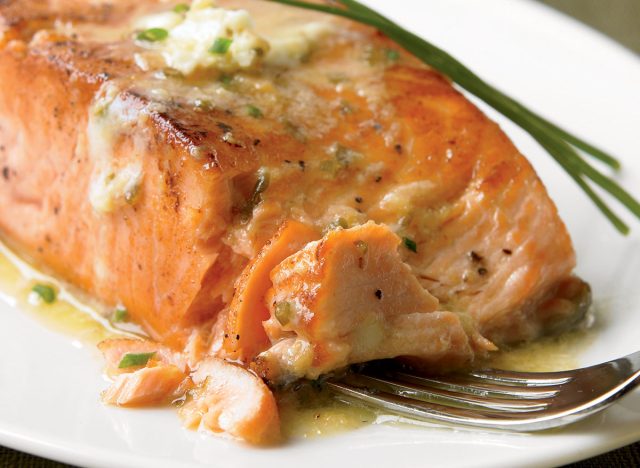 Ginger and soy butter add a whole new level of flavor to this grilled salmon. Bonus: It takes minutes to make.
Get our recipe for Grilled Salmon With Ginger Soy Butter.
Pan Burger With Fried Egg and Special Sauce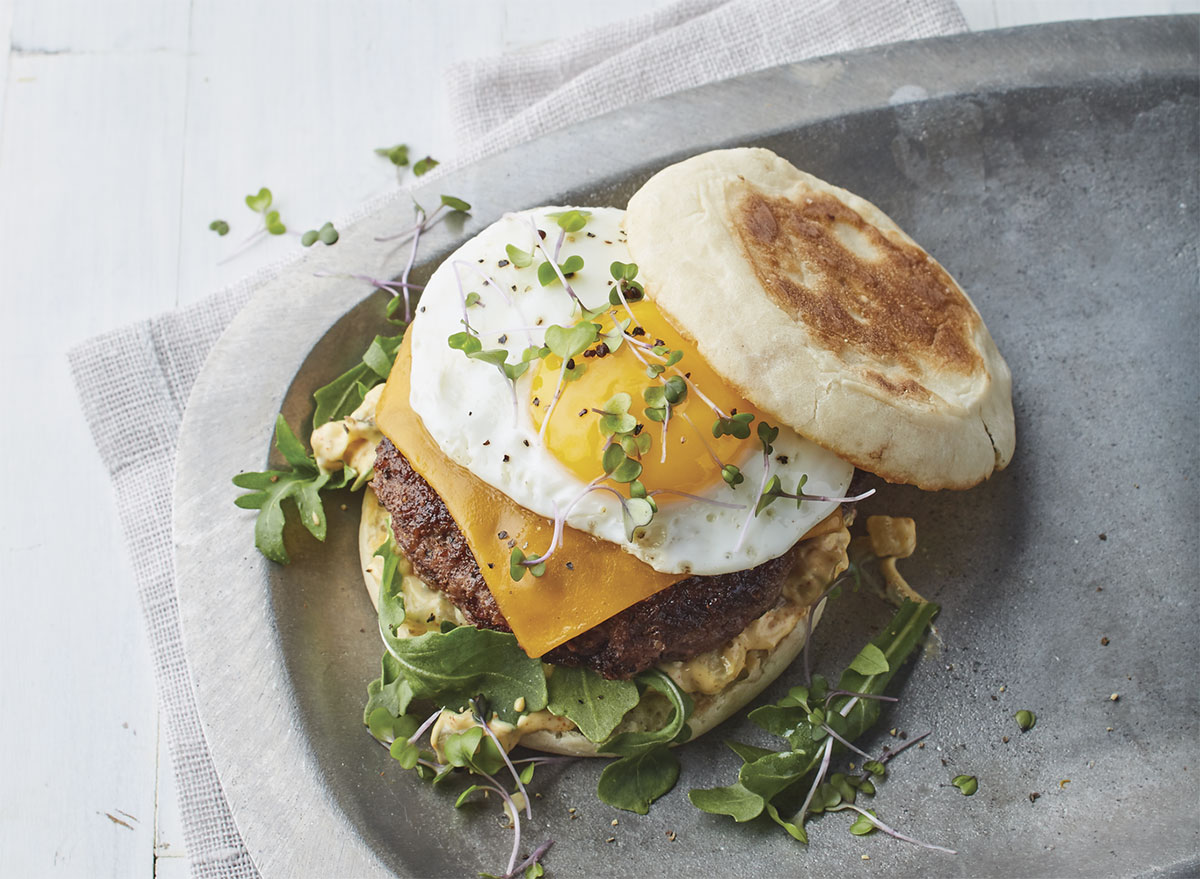 There's nothing quite like taking a bite out of a juicy burger, and while the idea of firing up the grill might seem daunting, you don't actually have to cook a burger that way. Instead, you can pan fry your patty for an easy way to satisfy your burger craving.
Get our recipe for Pan Burger With Fried Egg and Special Sauce.
Chicken Tortilla Soup
Between the pulled chicken, the soothing tomato broth, and the pile of fixings, what's not to love? Plus, you only have to simmer this soup for 10 minutes!
Get our recipe for Chicken Tortilla Soup.
Red Pepper Fettuccine Alfredo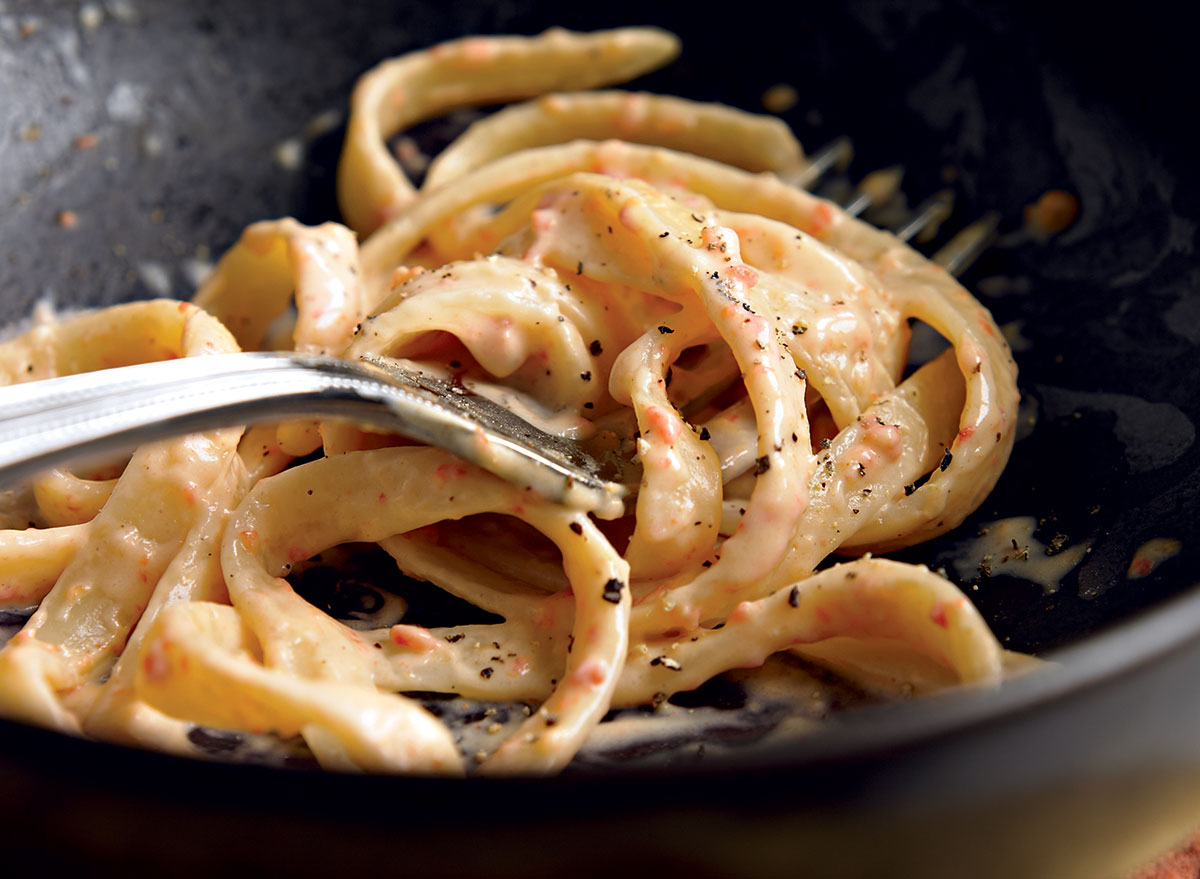 This version of the fettuccine Alfredo recipe starts with a béchamel sauce, then blends that with roasted red peppers to make for a lighter, brighter, better Alfredo—for a quarter of the calories.
Get our recipe for Red Pepper Fettuccine Alfredo.
Rotisserie Chicken Tacos
It's taco time! In less than 10 minutes, you can throw together a Mexican-style raw taco by loading up a whole grain taco shell with salsa, shredded rotisserie chicken, avocado, and cilantro. Give it a squeeze of lime or lemon juice for that added tanginess.
Get our recipe for Rotisserie Chicken Tacos With Salsa Verde.
Stir Fry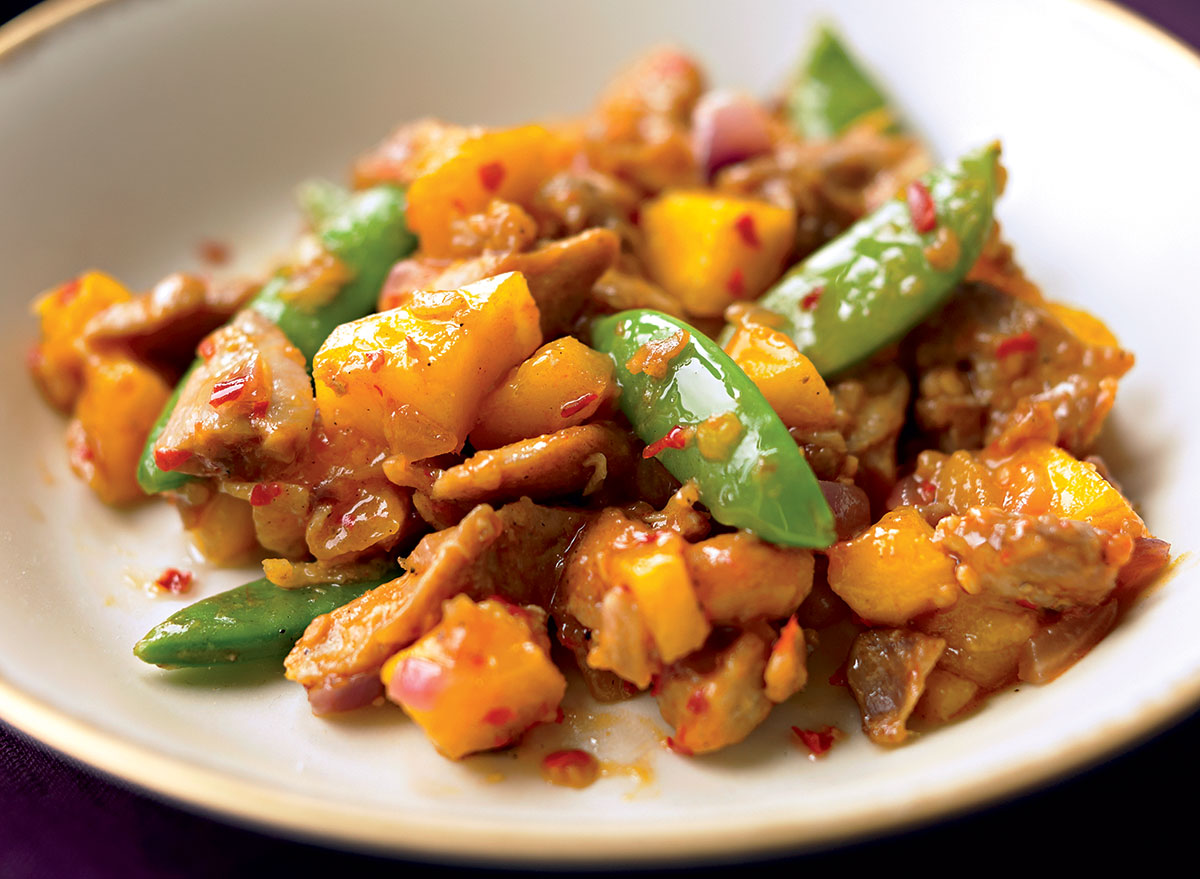 Sometimes, it's hard to change up your veggies on the daily. A stir fry is a fun way to reap max flavor with the help of ginger, garlic, sesame oil, soy, and teriyaki sauce to get that umami taste that is sure to please your appetite. Use veggies like broccoli, carrots, cauliflower and bell peppers, and add a protein like chicken or tofu to get all the important nutrients for a healthy body. Or try our easy recipe!
Get our recipe for Chili-Mango Chicken Stir-Fry.
Loaded Vegetable Frittata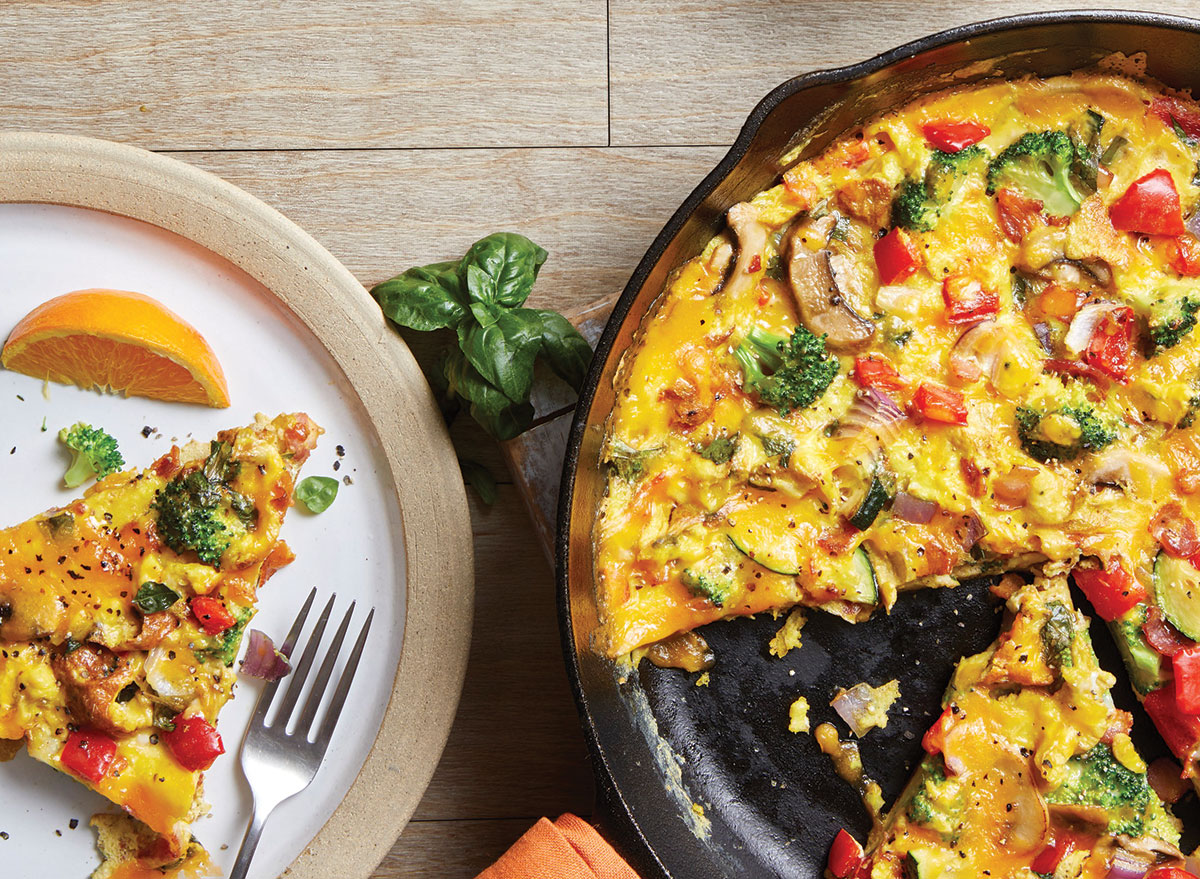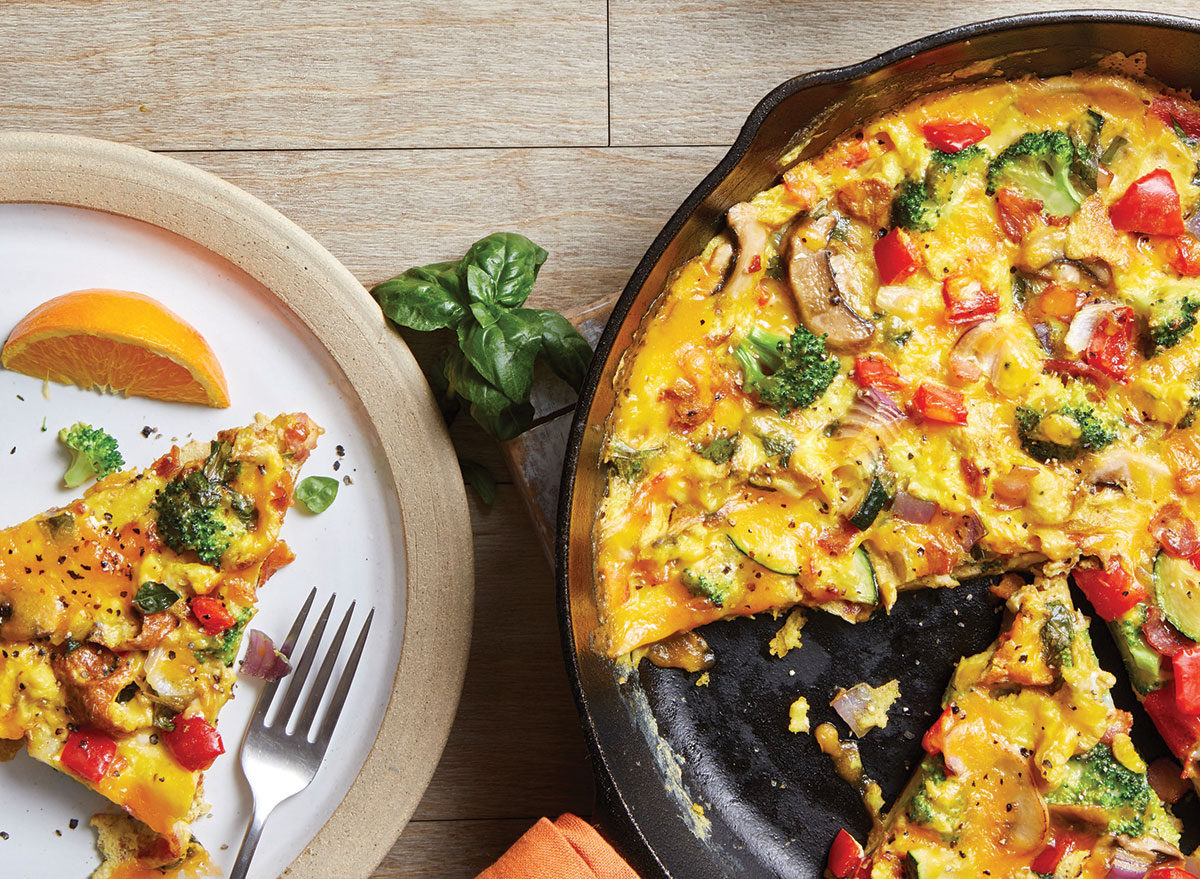 Eggs aren't only for breakfast, they can make a satisfying dish for dinner, too! Make a frittata with eggs, lox, capers, and onion. Eggs are low in calories and loaded with protein, healthy fats, and vitamins to keep your belly happy. This is a dinner-worthy meal that takes nearly no prep time and is cooked in minutes.
Get our recipe for a Loaded Vegetable Frittata.
Smoked Salmon and Boursin Frittata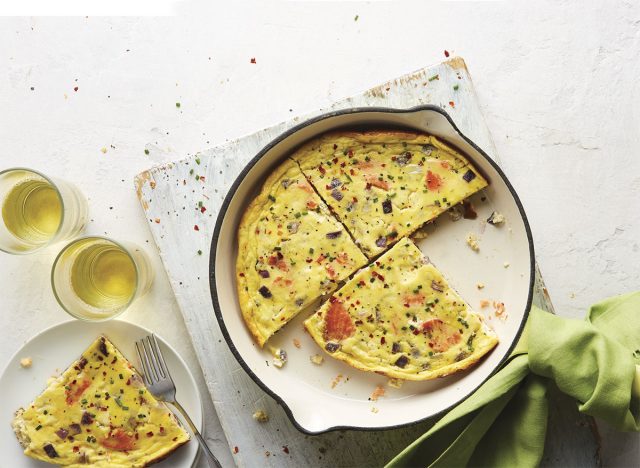 This recipe is not only easy to make and ready in just a few minutes, but it really is a way to not only change up how you cook eggs, but also allow you to step outside a basic frittata dish, too, with the creative addition of the salmon and Boursin cheese.
Get our recipe for Smoked Salmon and Boursin Frittata.
Beef Burrito Bowls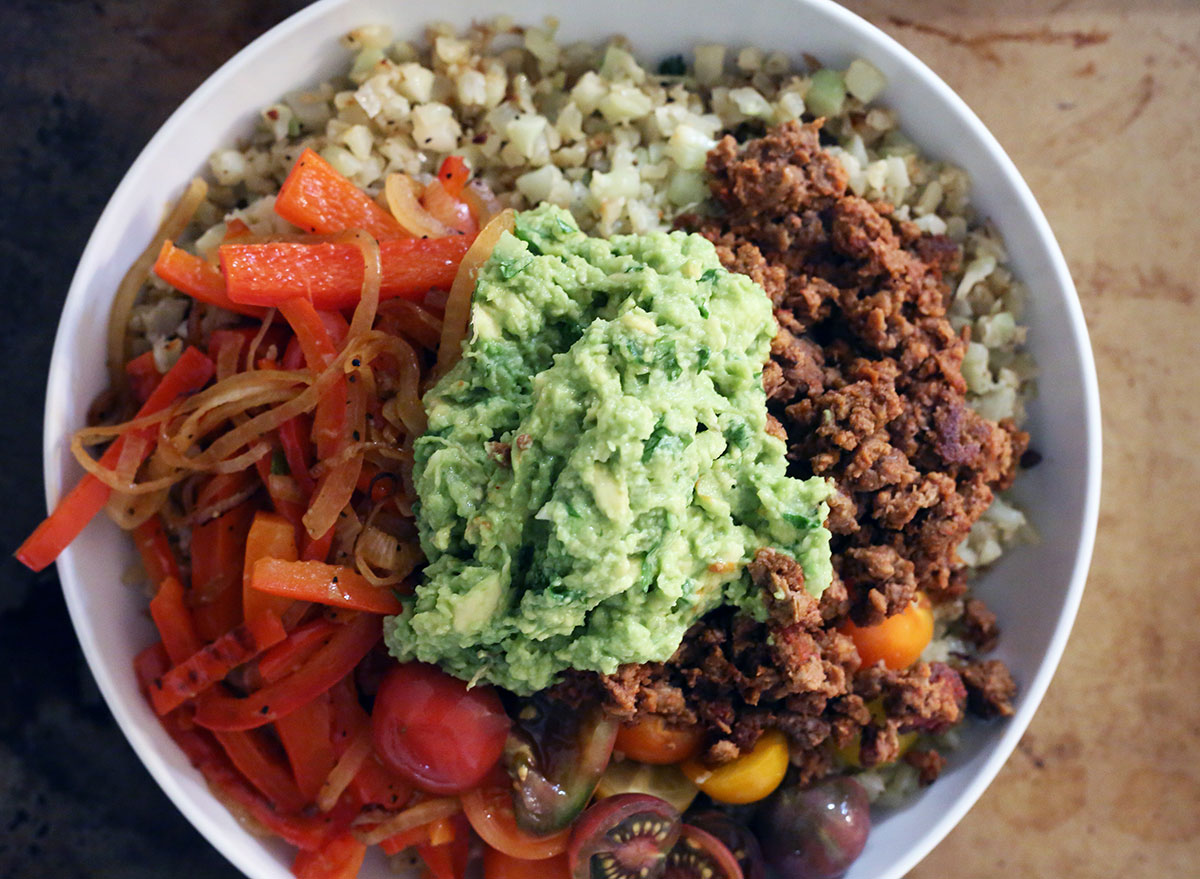 Forget the tortilla and toss all your favorite burrito ingredients into a bowl. Add food like black beans that provide a high-fiber, blood-sugar-balancing source of carbohydrates to give you energy and a good source of protein like chicken, sofritas, or beef. Include veggies add fiber and bulk to the meal like peppers and onion. To balance out the dish with healthy fats add in a few slices of avocado.
Get our recipe for Beef Burrito Bowls.
Chocolate Avocado Mousse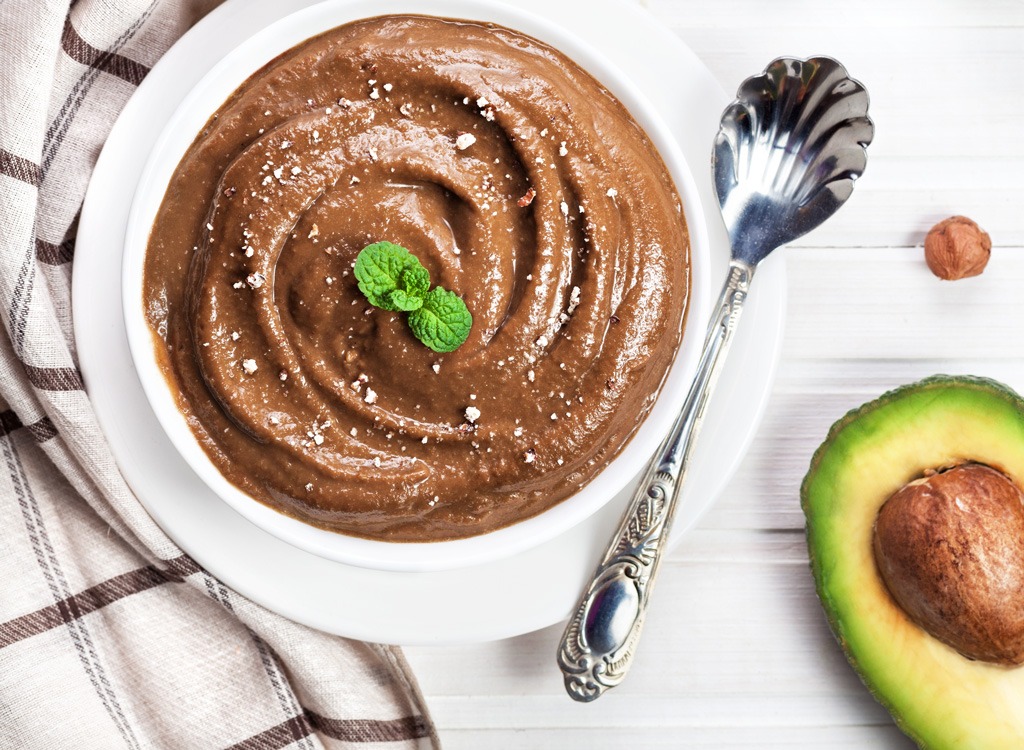 Chocolate mousse can be the perfect end to any day! With the creaminess of avocado and rich taste of chocolate, this is one you won't want to miss. There are no tools required except for a fork and your own arm. Combine cacao (or cocoa) powder, avocado and a tablespoon or so of maple syrup. This takes out all the fuss of a real mousse with the same vibrant taste and texture!
Not a fan of chocolate? Try our recipe for Lime Avocado Mousse.
No-Bake Almond Butter Balls
Energy balls are a simple and healthier way to get your cookie fix. Oats, almond butter, dark chocolate chips, flax meal and coconut flake come together to make these little balls of heaven that you can pop in your mouth any time of the day.6254a4d1642c605c54bf1cab17d50f1e
Banana Soft Serve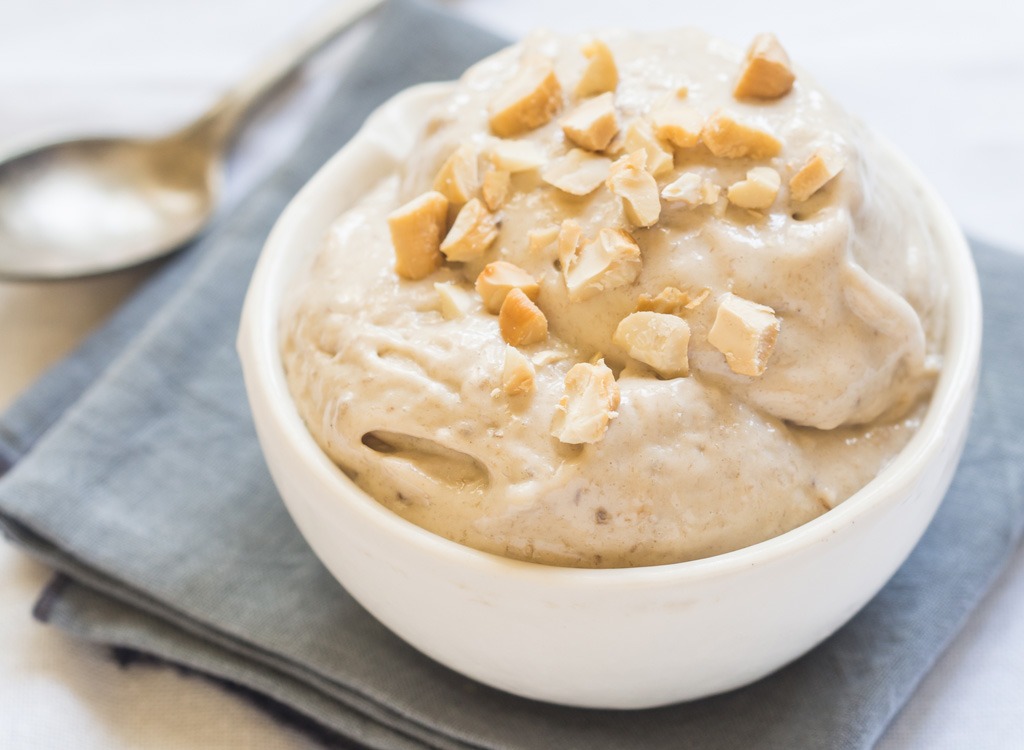 For all you fro-yo fanatics out there that can't resist the trip to the land of yogurt- try this instead! Fro-yo may be a healthier option than ice cream but is still a sugar overload. With banana soft serve it takes only one ingredient to make something way more worth the while – bananas! Blend two frozen bananas and top with anything from coconut flakes to melted dark chocolate and raspberries.
2-Step Affogato
This two-ingredient dessert comes in under 150 calories, so you really can't get better than that! In this recipe, we take ice cream and espresso or coffee and combine them into one happy glass of pure deliciousness that will wake you and your tastebuds right up.
Get our recipe for 2-Step Affogato.
S'mores Cake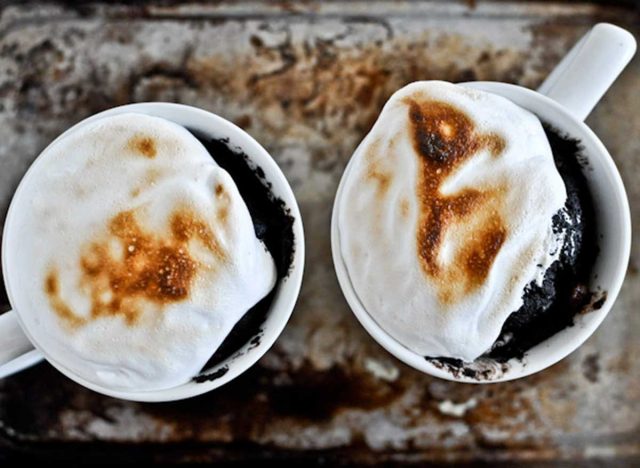 All you need is five minutes and soon enough, you'll be treated to a chocolate fudge s'mores cake. You don't need a campfire to indulge in this treat!
Get the recipe from How Sweet Eats
Cinnamon Roll Mug Cake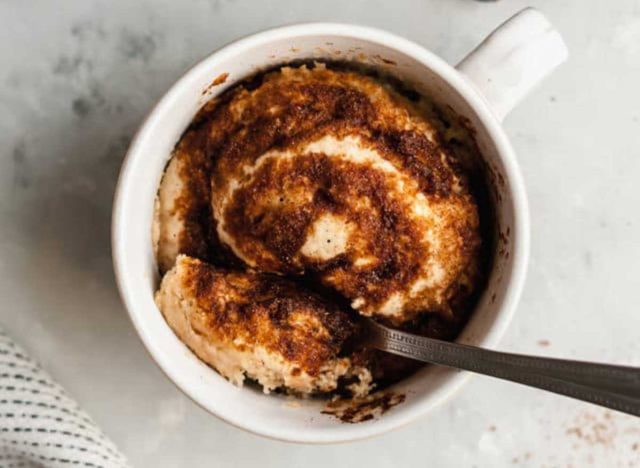 The best part about this treat is that the eight ingredients needed you most likely already have in your pantry. The secret to this oh-so-light cinnamon roll? The fact that there are no eggs in it!
Get the recipe from Kim's Cravings.
Microwave Birthday Cake
Celebrate your birthday any day with a personal birthday cake made right in a mug! Mix together 1 tablespoon coconut flour, 1 tablespoon almond flour, 1 egg white, 1 teaspoon baking powder, 1/2 scoop of your favorite vanilla protein powder, 1 tablespoon maple syrup, 1/4 cup almond milk and a teaspoon of sprinkles in a coconut oil greased mug. Microwave for anywhere between 1 to 2 minutes depending on the microwave. This healthy version of B-day cake will have you feeling special without any leftovers begging you to eat them!
A previous version of this article was originally published on September 26, 2017.