A Versatile Quinoa Pilaf Recipe
It's one of the healthiest and most versatile dishes you could make!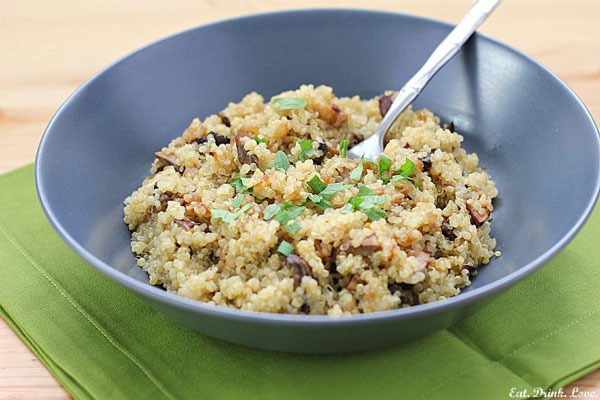 If you were going to be stuck on a deserted island for the rest of your life with but one food to eat, we'd say that quinoa may very well be your best option. Okay, maybe that's not what you were hoping we would say, but quinoa is rich in complex carbohydrates, healthy fats, and has a generous protein profile (plus, quinoa is one of the few vegetarian complete proteins) which makes it one of the healthiest foods on the planet (and therefore even more perfect for whichever deserted island on said planet you end up stuck on). Quinoa is also mighty tasty and can be used in so many different ways, as you'll find with this versatile pilaf. In this vegan-friendly recipe, we pair salty, sweet and tangy tastes all into this one dish, managing to play off of each other so well, that you might not even notice how healthy it is, you'll just start to crave it like you would crave greasy takeout vegetable fried rice. This is another dish that is perfect for meal planning, so go ahead and make a few extra batches and keep it in the fridge, as we can promise you, this meal tastes just as good at home as it would on a deserted island.
Nutrition: 230 calories, 7 g fat (1 g saturated), 320 mg sodium
Serves 4
You'll Need
1 cup quinoa
1⁄2 Tbsp olive oil
1⁄2 yellow onion, minced
1 carrot, finely chopped
3 cups low-sodium vegetable broth or water
2 Tbsp toasted pine nuts
1⁄4 cup golden raisins
1⁄2 cup chopped fresh parsley
Salt and black pepper to taste
How to Make It
Place the quinoa in a large bowl and rinse in several changes of cold water. Drain thoroughly.
Heat the oil in a medium saucepan over medium heat.
Cook the onion and carrot until softened, then stir in the quinoa and cook until lightly toasted and giving off a nutty smell, about 3 minutes.
Add the broth and bring to a simmer.
Reduce the heat to low, cover, and simmer until the liquid is fully absorbed, about 20 minutes.
Transfer the quinoa to a large bowl and fluff with a fork. Stir in the pine nuts, raisins, and parsley.
Love this recipe? Subscribe to our Eat This, Not That! magazine for even more at-home cooking and healthy eating ideas.6254a4d1642c605c54bf1cab17d50f1e