Red Robin to Begin Serving Fresh Chicken For the First Time
The latest upgrade is just one of many quality improvements that the fast-casual chain has undertaken this year.
UPDATE: November 8, 2023
Editor's note: After the publication of this article, a representative from Red Robin reached out to Eat This, Not That! to clarify that the company misspoke during a recent earnings call with regard to the change to its chicken. "This is not a switch from frozen to fresh and is rather a hand-breaded product that is made to order," they wrote. So, in other words, Red Robin is upgrading their chicken, but not to the extent previously reported. The original story follows below.
Red Robin will forever have a place in our hearts for its wacky burger combos and bottomless drinks and sides—but the chain has been proving over the last year that it can offer so much more too. From a suite of new menu items to new features like Happy Hour deals and lunch specials, Red Robin has been reinventing itself, and its latest switch-up might be our favorite yet. While the chain (like so many others) has long relied on frozen chicken breasts for its chicken dishes like the Buzzin' Chicken Sandwich and Caesar's Chicken Wrap, Red Robin will now be switching over to using fresh chicken, a move that will not only enhance quality and taste but will also save the chain millions in production.
Red Robin has announced that its switch from frozen chicken to fresh chicken will save $5 million a year in costs, according to Restaurant Business, with CFO Todd Wilson reinforcing that the company is investing heavily in changes and additions to its offerings to make it as competitive as possible in the fast-casual marketplace. This chicken change-up is exactly the kind of switch that's both good for the company and great for diners—while there's nothing wrong with using frozen foods, there's definitely a taste upgrade if you're able to make the switch to fresh.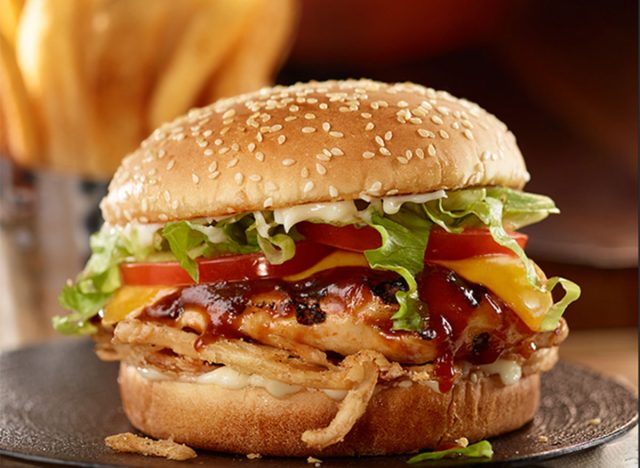 Red Robin's reinvention in recent years has seen upgrades to many of its menu items, with Restaurant Business reporting that the company has switched out about 85% of its menu for higher-quality ingredients, including their mayonnaise, tomatoes, pickles, sauces, and buns. If you've stopped by a Red Robin in the past year, you've probably noticed that they're cooking and serving their burgers differently too—on a plate instead of in a basket. Collectively, these changes represent major steps toward improving the overall dining experience.
There have never been more burger chains and fast-casual options in general to choose from, and even longtime favorites like Red Robin need to get creative to stay in consumers' regular rotation. Diners consistently expect better ingredients, a wider variety of options serving different dietary preferences, and competitive pricing for chains to stay high on their list. Red Robin is working overtime to prove it can deliver on all these fronts.
With new menu items like a Smokehouse Brisket Burger and a Cheesy Bacon Fondue Burger leading to record-breaking sales, Red Robin is still a buzzy destination for burger lovers everywhere, and with its latest change, it could be coming for the crown of beloved chicken chains too. Chefs we recently polled love Red Robin for its classics like the Gourmet Cheeseburger and its only-at-Red-Robin specials like the teriyaki-glazed Banzai Burger, proving that the franchise's versatility has always been at the core of its appeal.
With fresh chicken in the mix, Red Robin will not only boost its own offerings but potentially encourage other chains to make similar improvements too, which means more fresh, high-quality ingredients for diners everywhere. When Red Robin raises the bar, they set a new standard—and fast-casual enthusiasts everywhere thank them for it.6254a4d1642c605c54bf1cab17d50f1e
Louisa Ballhaus
Louisa is a culture writer and author from New York City covering entertainment, celebrity, and lifestyle content for outlets like
Cosmopolitan
and
Bustle
.
Read more about Louisa