I Tried Fried Fish from 5 Restaurant Chains & One Was the Hands-Down Winner
The winner of this taste test sold me after just one bite.
The product recommendations in this post are recommendations by the writer and/or expert(s) interviewed and do not contain affiliate links. Meaning: If you use these links to buy something, we will not earn a commission.
Just because fish offers many health benefits doesn't mean it can't be a tasty indulgence. Pieces of salty, golden-fried fish are a perfect option for when you want some deep-fried comfort–and many major restaurant chains offer their own version of this beloved dish.
But which chain serves the absolute best fried fish? To settle that question, I recently tried the fried fish at five major restaurant chains: Applebee's, TGI Fridays, Bonefish Grill, Red Lobster, and Red Robin.
Judging fried fish really comes down to two criteria: taste and texture. The absolute best fried fish develops a golden, crispy layer of breading on the outside while staying moist in the middle. I did take into account that doing this taste test at home put the restaurants at a slight disadvantage because fried fish has the best taste and texture when it's fresh out of the fryer.
Fried fish should also be a generous dusting of salt or other seasonings to round out the flavor. All of the chains I tried served tartar sauce with their fish, but I refrained from dipping so that I could judge the taste accurately. After all, most tartar sauces are so flavorful that you might not notice when the fish is subpar.
Here's what I thought about each option, starting with my least favorite and ending with my favorite.
Red Robin's House-Battered Fish & Chips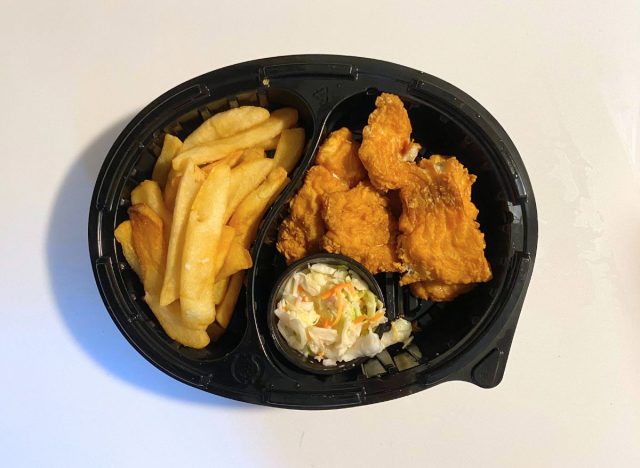 Red Robin's House-Battered Fish & Chips featured hand-breaded, fried cod fillets served with tartar sauce, coleslaw, and steak fries. This dish cost $20.39.
The look: While I appreciated the golden brown color on Red Robin's fried fish, the dish looked a little sad overall. The pieces of cod were small and they didn't have the sheen of glistening oil that you usually see on freshly fried fish.
The taste: Unfortunately, my opinion on Red Robin's fish only got worse when I tried it. The breading was papery and had no crispy texture whatsoever, while the fish was so dry that it was almost mealy. Red Robin could have redeemed itself somewhat if at least the taste was good, but it sorely lacked any salt or seasoning. To be clear, none of the other options I tried were perfect. But they all brought something to the table in terms of flavor or texture that Red Robin didn't.
TGI Fridays' Fish & Chips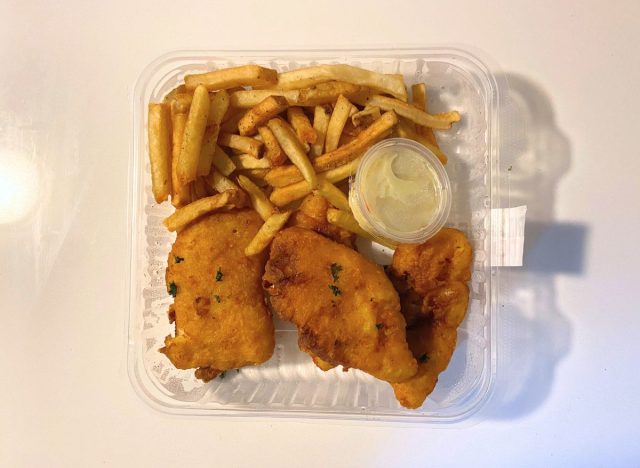 TGI Fridays' Fish & Chips featured beer-battered golden cod fillets served with seasoned fries, coleslaw, and tartar sauce. This dish cost $18.27.
The look: TGI Fridays' fish immediately looked more promising than the fish from Red Robin. The pieces of fish were a little bigger and the batch looked much fresher, plus the breading was a really nice, cohesive golden brown.
The taste: TGI Fridays' fish didn't rise to the top for me, but it did have a couple of good things going for it. It was a decently salty and had one of the crispiest layers of breading from any of the chains. The fish itself could have been a little moister, but it was still a huge improvement on what Red Robin gave me. My biggest qualm with TGI Fridays was that the fish tasted more like a fish stick (albeit a very good fish stick) than a piece of high-quality fried fish. Still, it was a solid entry.6254a4d1642c605c54bf1cab17d50f1e
Applebee's Hand Battered Fish & Chips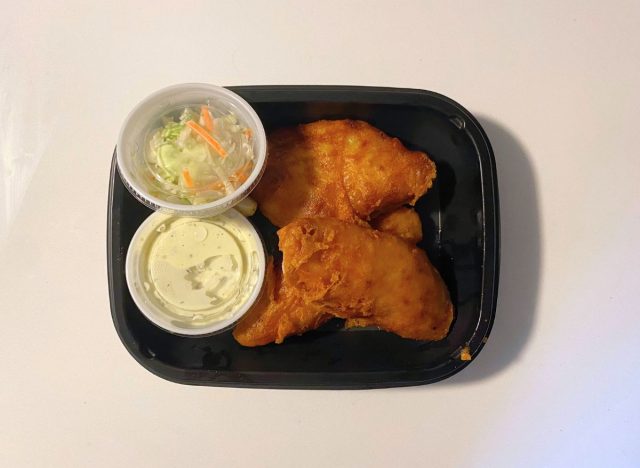 Applebee's Hand Battered Fish & Chips featured battered fish fillets served with tartar sauce and the customer's choice of two sides. This dish cost $20.39.
The look: Applebee's fried fish was so beautiful that I actually exclaimed out loud when I opened the box. It had the deepest golden brown color out of any the options I tried. The breading was still glistening with oil from its time in the fryer, so I could tell it was still hot and fresh.
The taste: If this ranking was only about textures, Applebee's fried fish would have won the race by a landslide. The battered outside stayed shatteringly crispy throughout the whole delivery process and the inside was perfectly moist. My one critique that led me to place it lower in this ranking was the noticeable lack of seasoning. The batch I got ended up being sort of bland and it would have benefitted greatly from even a simple sprinkle of salt. But if you're the type of person who likes to drown your fish in tartar sauce, you may not even notice the lackluster flavor of the actual fish.
Red Lobster's Fish and Chips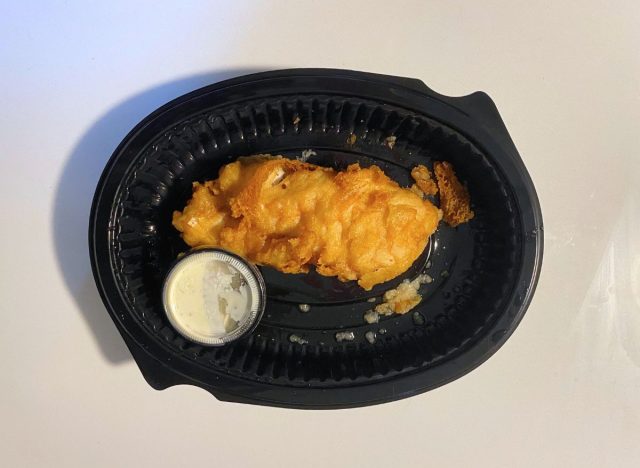 Red Lobster's Fish and Chips featured hand-battered cod served with coleslaw, tartar sauce, and a side. This dish cost $19.29.
The look: While Red Lobster's fried fish might look skimpy because of the size of the takeout box, it was actually a pretty decently-sized portion. I did wish the breading was a darker golden brown so it had a better chance of staying crisp through the ride home.
The taste: Red Lobster's fish was a little lacking in the texture department because some of the breading had turned a little soggy by the time I tried it. But aside from that, I couldn't find anything to complain about. The fish was cooked just right and wasn't the least bit dry. It was also perfectly salted so I didn't really even need a tartar sauce to enjoy it. I had high expectations for Red Lobster considering that it specializes in seafood, and it did not disappoint.
Bonefish Grill's Fish & Chips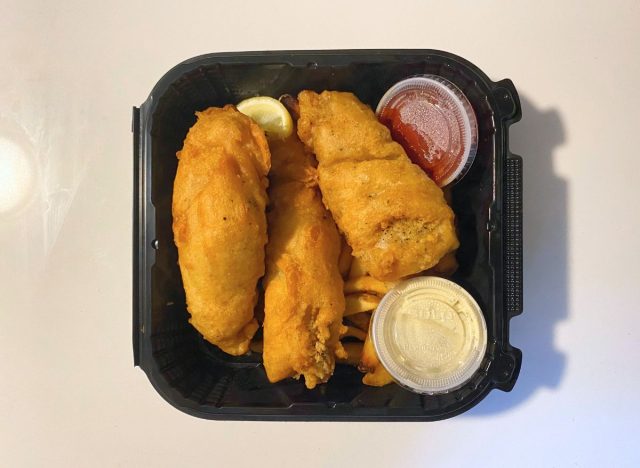 Bonefish Grill's Fish & Chips featured crispy fried cod served with tartar sauce, malt vinegar, and fries. This dish cost $19.70.
The look: My one quibble with this option was that the breading was a little lighter in color than what I prefer on fried fish. However, the serving of fish was the most generous out of the whole batch and the pieces had a visible layer of seasoning that made me really excited to take a bite.
The taste: I could tell from the very first bite that Bonefish Grill's fried fish would be the undisputed winner in this taste test. The breading did lose some of its crispiness during the journey home, but some bits still packed an impressive, audible crunch. The pieces of fish were generously thick and perfectly cooked on the inside. They also had the best flavor out of the whole batch because Bonefish didn't skimp on the seasoning. While I can't say for sure what spices were used, I detected some garlicky, herby, peppery flavors that I really appreciated. Overall, Bonefish's entry in this taste test just seemed much more elevated and complex than all the others—and it wasn't even the most expensive!
Zoe Strozewski
Zoe Strozewski is a News Writer for Eat This, Not That! A Chicago native who now lives in New Jersey, she graduated from Kean University in 2020 with a bachelor's degree in journalism.
Read more about Zoe