10 Restaurant Chains That Serve the Best Fried Fish
There's an elegant simplicity to fried fish—and by elegant, we mean delicious.
The joke about how deep frying improves anything is made so often that it's hardly funny anymore, but the fact is it's true. Deep-fried foods may not be healthy, but they taste great, especially when it comes to fish.
Flaky white fish in particular lends itself to the preparation. A good batter holds the flesh together, and the high heat locks in the flavor and creates a crisp, crunchy exterior around the tender fish. It's really no wonder why fish and chips is a worldwide favorite. A lemon wedge, some tartar sauce, and maybe a side of peas, is all it needs to be complete.
If you're on the hunt for some great fried fish, you're in luck, because there are quite a few chains that offer some excellent options. Chances are good one of these restaurants is frying some fish quite near you. Here are 10 restaurants with the best fried fish—most with some excellent chips, tartar sauce, and cole slaw on the side.
Long John Silvers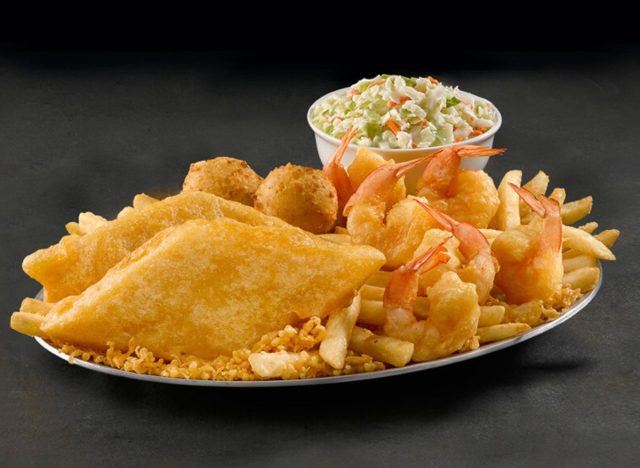 Long John Silvers is one of the few successful chains that is also a seafood-centric fast-food restaurant—which is to say not a fast-food chain that happens to serve some seafood. And, naturally, it has excellent fried fish.
The chain offers such in several options, primarily Wild Alaska Cod and Pacific Cod. If you'd like some Wild Alaska Pollock, that can be had, too, in the form of fish tacos. Long John Silvers also has grilled salmon, several shrimp options, some chicken dishes, and more—but it's the fried fish to go for first.
In one Reddit thread, fans of Long John Silvers gushed about the chain, citing the deliciously seasoned batter as one reason it's so tasty.
Red Lobster
There are roughly 653 Red Lobster locations spread all across the United States. Only a handful of states do not have at least one location. While the chain has had some difficulties in recent months, it is still a favorite for seafood and Cheddar Bay Biscuits.6254a4d1642c605c54bf1cab17d50f1e
What's the chain's secret? Well, in part it's deals like "Endless Shrimp" that get people in the door and full of shrimp. It's also the fresh lobster. But the several types of fried fish offered at Red Lobster aren't to be overlooked.
The restaurant's crispy wild-caught fried flounder is also good enough for many a repeat order. You can get it on a platter with a side, and amazing tartar sauce, of course, or as a sandwich piled high with cooling cole slaw and tartar sauce on a brioche bun.
Texas Roadhouse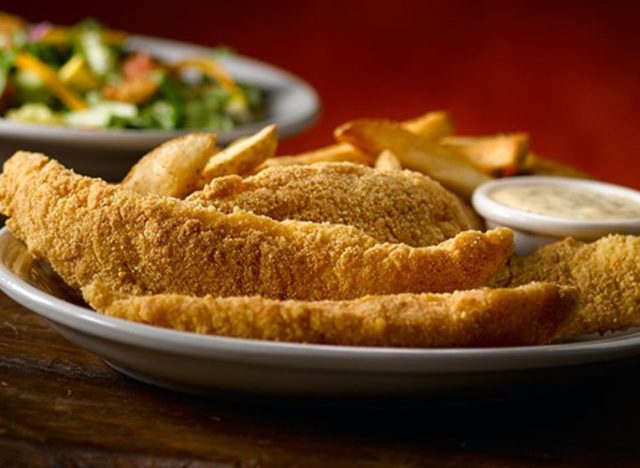 Yes, Texas Roadhouse is predominantly a steak chain but it also serves some delicious fish options. Some locations in the U.S. have simple white fish as the fish and chips option, but others have fried catfish breaded in southern cornmeal and fried to a golden brown. While most people come for the steak, do yourself a favor and give the fish a try one of these days. The thick steak fries are crispy perfection but you can swap them out for most sides if you're in the mood for a loaded baked potato.
Bubba Gump Shrimp Co.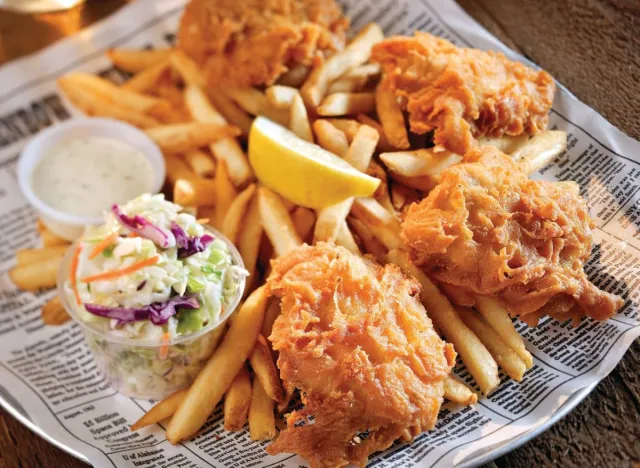 The Bubba Gump Shrimp Co. is best known for the shrimp, obviously, but the menu at this unexpectedly successful chain (who'd have thought a restaurant inspired by a movie would work?) is quite robust beyond its namesake seafood.
Bubba Gump also offers lobster, chicken, ribs, steak, sides, soups, and, of course, fried fish. In that latter case, it's a classic Fish & Chips meal with which you get fries, coleslaw, and tartar sauce, just as you should.
One reviewer posting on TripAdvisor said the chain had the "finest fish and chips" and added (speaking specifically of an NYC location) "If you happen to be in Times Square and craving for Fish and Chips, this [restaurant] is for you."
Culver's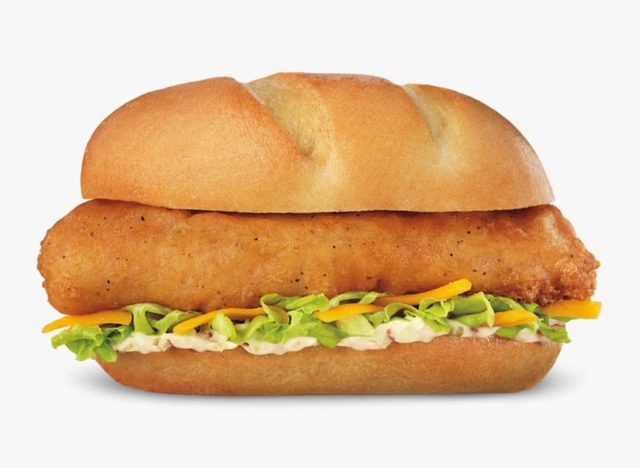 Oh, what can't Culver's do? Not much, it seems. The chain offers excellent custard, made fresh on location throughout the day, beloved Butterburgers, and an eclectic range of sides, including pretzel bites, cheese curds, and chili fries.
Culver's also has some excellent fried fish. You can opt for the North Atlantic Cod Dinner, which gets you two hand-battered and deep-fried cuts of cod served with a roll and two sides (plus fries and slaw, if you're doing it right), or keep things simpler with a North Atlantic Cod Filet Sandwich, which is that same fish served in a roll with sauce, cheese, and lettuce.
A Culver's employee reported that the fish there is "always made fresh" when ordered, just like almost everything else on the menu.
Captain D's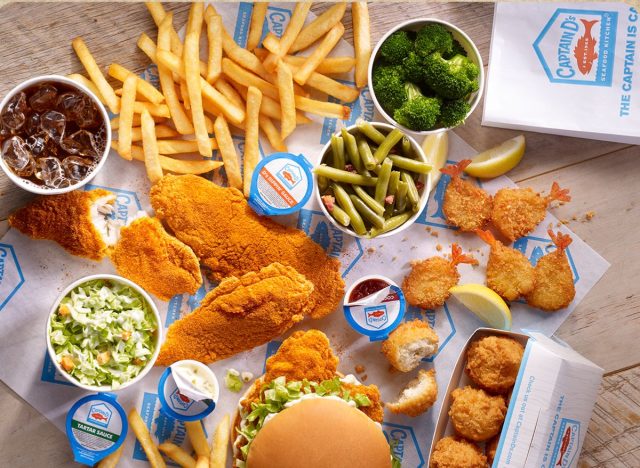 If you live in the Northeast, West Coast, Pacific Northwest, or any northern central states, then you probably won't have heard of Captain D's. But in the South, this fast-food chain is everywhere, with 541 locations at present.
And present in every Captain D's is a lot of fried fish. You'll find battered and fried fish, catfish, fried shrimp, and more. Now, precisely what kind of fish is served there? That's a bit more of a mystery because aside from the catfish, Captain D's menu just says… fish.
So, we did a bit of digging and found a marine biologist speaking about Captain D's fish on Quora, and he had this to say: "Captain D's uses whole fillets of Alaskan Pollock for their base battered fish. They do not use fish bits and other fish parts for fish sticks or anything else that is not a whole fillet. I am not a big fan of Captain D's but I do think they are doing it right."
Arthur Treacher's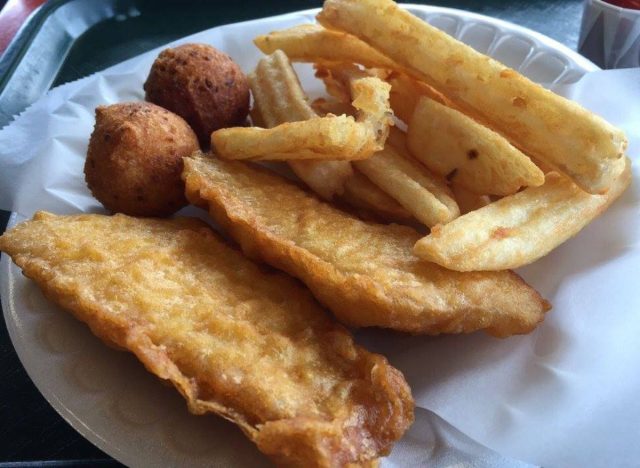 Once, many years ago, there were more than 800 Arthur Treacher's fast-food restaurants to be found in America. Today, if you want to dine at a stand-alone Arthur Treacher's, you need to go to Cuyahoga Falls, Ohio, the site of the last location.
However, there are a number of co-branded Arthur Treacher's restaurants out there—much like the classic Taco Bell-Pizza Hut hybrid, you can find, for example, a Nathan's Famous and Arthur Treacher's or a Pudgy's and Arthur Treacher's.
And at said co-branded locations, you can get a bunch of menu items that feature crispy fried fish including Fish 'n' Chips, a Fish Sandwich, a Seafood Combo, and a Fish Boat.
Joe's Crab Shack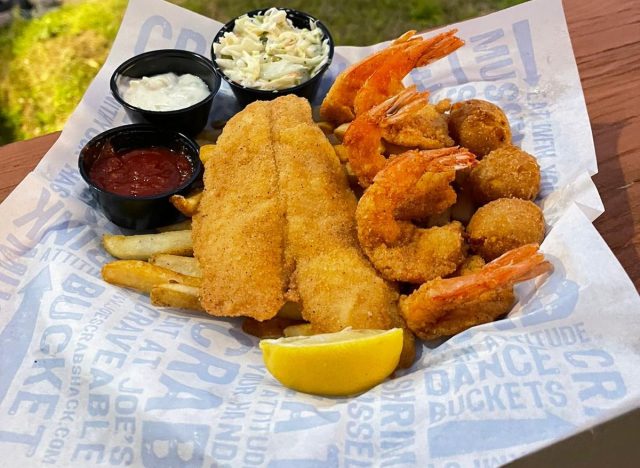 Just like you may go to a Red Lobster for the lobster but stay for the fish, you go to Joe's Crab Shack for the crab, but you do yourself a disservice if you never try the Fish and Chips there. (Or the Cajun Steampot.)
And when Joe's Crab Shack does fish and chips, they do it right, meaning in huge portions. On Facebook, folks commenting on the dish said things like: "My favorite because of this huge portion of great tasting fish."
There are 46 Joe's Crab Shack locations around America, so you may have a bit of a challenge finding one, but it's worth the search if you like huge servings of fried fish and crab.
Applebee's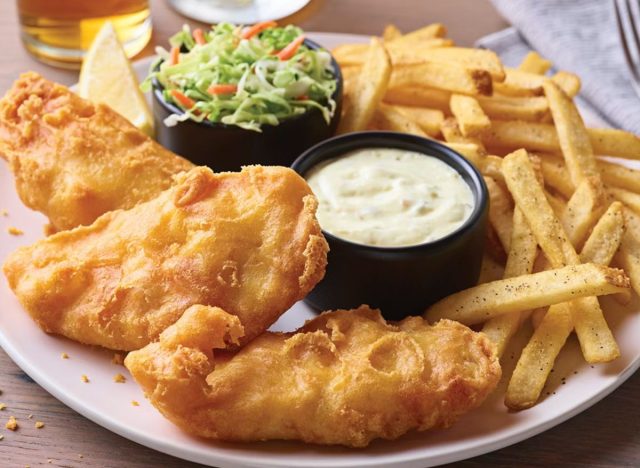 If you want a restaurant with a menu so big it's (almost) sure to please everyone, Applebee's is a safe choice. You'll find wings, pasta, burgers, steak, salads, and some seafood options, too.
Specifically, in the seafood department, at Applebee's nationwide you can get crunchy, battered shrimp, and classic Fish & Chips. And just like it should, the Fish & Chips at Applebee's comes with fries, tartar sauce, a side of slaw, and a lemon wedge. Just note that it's a 1,470-calorie meal if you eat every morsel!
Legal Sea Foods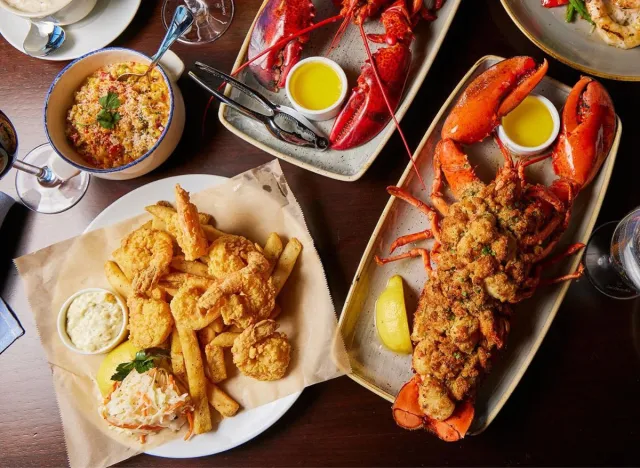 All of the chains heretofore mentioned have one thing in common, they're all pretty casual dining options. If you want your fried fish from a slightly more upscale eatery, then Legal Sea Foods is a good choice.
On the menu at most locations—of which there are about two dozen—you can find nearly every kind of fish imaginable, but be sure to try its elevation version of Fish & Chips.
This dish will run you nearly $30 at Legal Sea Foods, far and away the priciest option featured here today, but it will be a locally sourced meal packed with freshness and flavor.
Steven John
Steven John is a freelancer writer for
Eat This, Not That!
based just outside New York City.
Read more about Steven