10 Restaurant Chains That Serve the Best Fettuccine Alfredo
Twirl your fork into buttery, cheesy, noodly bliss at these popular restaurant chains.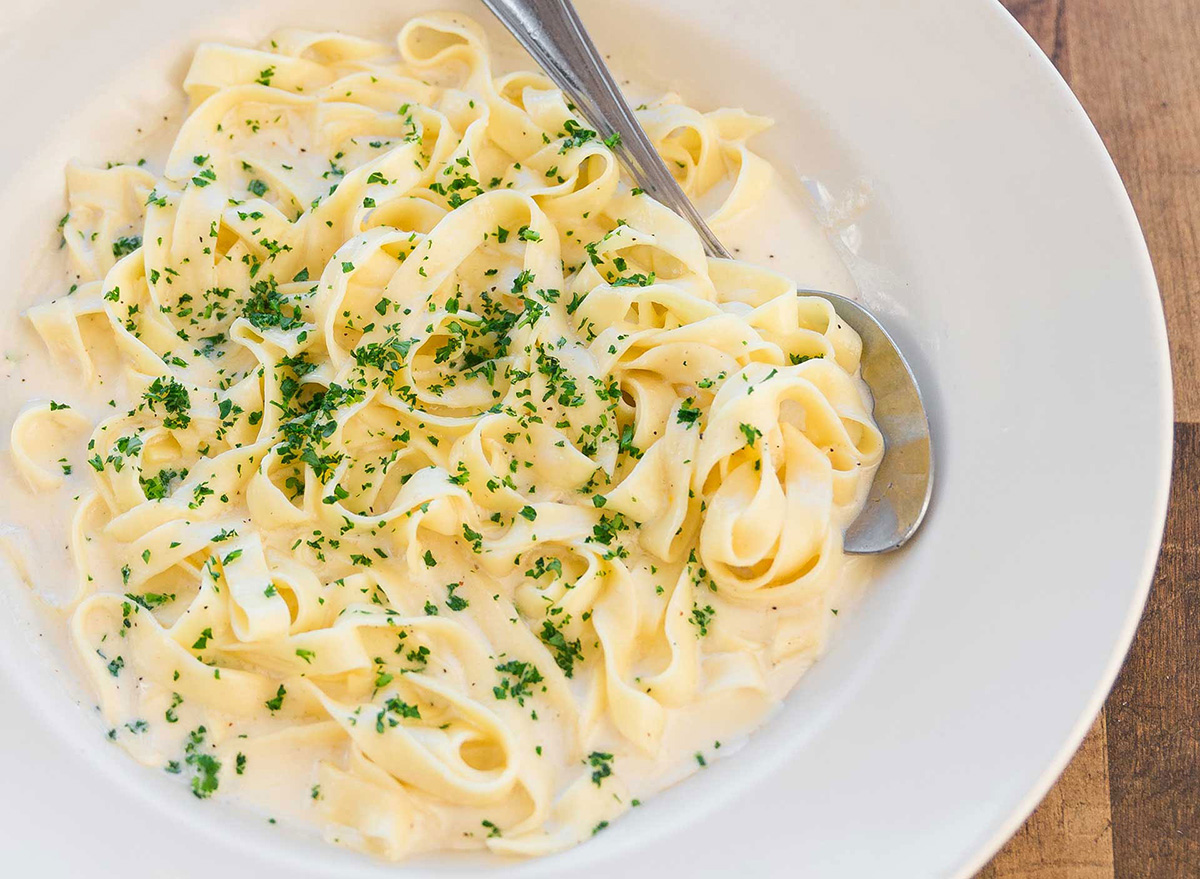 The product recommendations in this post are recommendations by the writer and/or expert(s) interviewed and do not contain affiliate links. Meaning: If you use these links to buy something, we will not earn a commission.
Creamy, flavorful, and filling—what's not to love about fettuccine Alfredo? Although it's believed that fettuccine pasta served with butter and cheese goes all the way back to the 15th century, the recipe for modern-day Alfredo was invented in the early 1900s by a restaurant employee named Alfredo Di Lelio. Di Lelio worked in a Roman eatery run by his mother, Angelina. He came up with the dish while whipping up something to eat for his wife, Ines, who had just given birth.
The result was fettuccine Alfredo—originally called fettuccine al triplo burro—which Di Lelio made using egg noodles and plenty of butter and parmesan cheese. The dish quickly caught on in Rome and other countries and, well, the rest is history.
Today, fettuccine Alfredo is one of the most popular dishes out there. It's not too tricky to whip up from scratch, but if you're low on time or energy, you'll be happy to hear that there are plenty of restaurant chains that offer this dish on their menus. From restaurants that prepare the traditional fettuccine recipe to others that incorporate unexpected ingredients, like black noodles, lobster, or wild mushrooms, here are 10 restaurant chains that serve the best Alfredo around.
Maggiano's Little Italy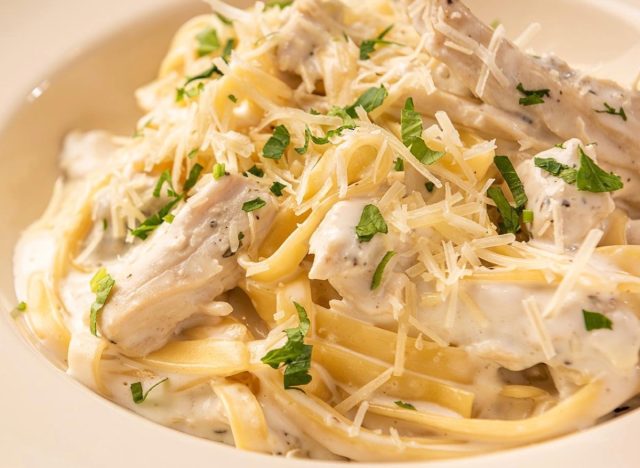 Fettucine Alfredo With Chicken (Per Order)
: 1370 cal, 64 g fat (29 g saturated fat), 2650 mg sodium, 129 g carbs (11 g fiber, 11 g sugar), 81 G protein
Maggiano's Little Italy has a reputation for being a top-notch Italian restaurant chain, so it's no surprise that the Alfredo from here is a must-try. The restaurant offers three different options, starting with the classic fettuccine, slathered in a creamy asiago cheese sauce. You can also elevate this classic dish by adding herb-roasted chicken, or trying the house specialty version, which tops the creamy pasta with juicy shrimp.
"For entrées, we went with Fettuccine Alfredo," one Yelp reviewer shared. "The pasta here is freshly made and hand cut. The Alfredo sauce was cheesy, stick to your ribs, goodness! The other entrée was the chicken parm LIGHTER SIDE. Wowzers, was it good!"
Carrabba's Italian Grill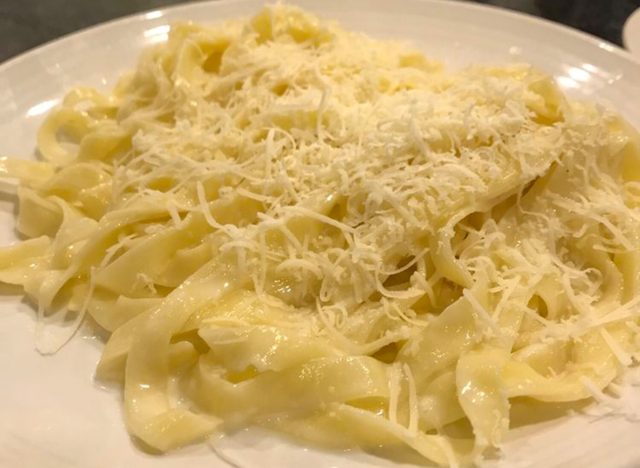 Fettuccine Alfredo (side)
: 820 cal, 58 g fat (36 g saturated fat), 970 mg sodium, 51 g carbs (2 g fiber, 4 g sugar), 21 g protein
Carrabba's Italian Grill, the famous Italian restaurant chain with over 200 locations throughout the country, boasts a long menu of Italian-American recipes that always hit the spot. The restaurant dishes up its undeniably good Alfredo sauce in a number of ways, from a small budget-friendly side of creamy fettuccine to larger entrées like the Fettuccine Carrabba, which includes wood-roasted chicken, sautéed mushrooms, and peas. "The Alfredo sauce was the best I have ever had," one Yelp reviewer noted.
The Cheesecake Factory
Fettuccine Alfredo (per order)
: 1450 cal, 94 g fat (57 g saturated fat), 2000 mg sodium, 113 g carbs (5 g fiber, 6 g sugar), 39 g protein
Fettuccine Alfredo probably isn't the first thing you think of when you hear the words "Cheesecake Factory." Nevertheless, the popular restaurant chain still makes an impressive version of this beloved pasta dish. The Cheesecake Factory's variation is served in a rich parmesan cheese sauce and sprinkled with herbs. Just imagine how good this would taste with a side salad and a slice of cheesecake for dessert.
"The pasta sauce was creamy and delicious, and the chicken was moist and flavorsome," one customer wrote on TripAdvisor. "My mother is Italian, so I am used to good pasta, and boy, did this hit the mark."
Johnny Carino's
Classic Fettuccine Alfredo With Sliced Grilled Chicken (1 Serving)
: 1069 cal, 42 g fat (18 g saturated fat), 1269 mg sodium, 99 g carbs (5 g fiber, 6 g sugar), 47 g protein
Head over to Johnny Carino's for great food in a welcoming environment. Founded over 30 years ago in Austin, Texas, the casual restaurant has tasty options like fried calamari, pepperoni and sausage pizza, freshly baked lasagna, and classic cheese ravioli on its menu.
One pasta dish worth a try is the Fettuccine Alfredo, which will set you back around $16 for an entrée-sized portion, depending on your location. What sets Johnny Carino's version apart from the rest is that it comes with either classic Alfredo sauce or a spicy green jalapeño Alfredo sauce. There's also an option to add grilled chicken or shrimp for an added fee.
Patrizia's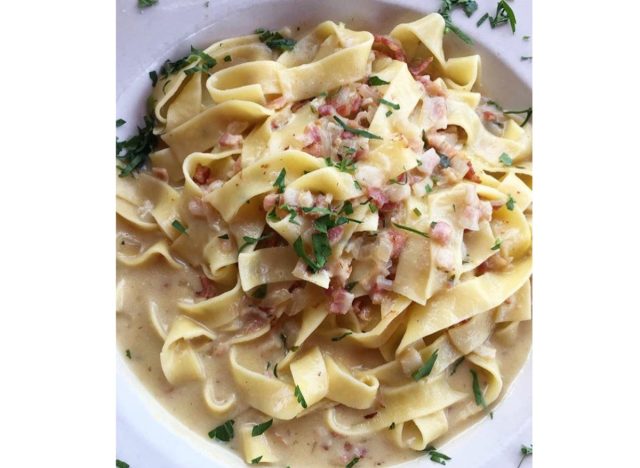 Nutrition information unavailable.
Started over 25 years ago, Patrizia's is the place to go to for homemade Italian-American food served in a family-style setting. Its menu features a long list of pasta dishes—all of which come with a side salad—including spaghetti cacio e pepe, baked ziti, penne ala vodka, and fettuccine Alfredo, of course. Patrizia's fettuccine is whipped up with cream sauce and Parmigiano cheese and can be made with grilled chicken or grilled shrimp for an additional fee. Those who follow a gluten-free diet will also be happy to hear that the restaurant chain offers gluten-free pasta alternatives.
"I had the Chicken Francese, and my wife had the Fettuccine Alfredo," one Yelp reviewer shared. "Both were excellent."
Olive Garden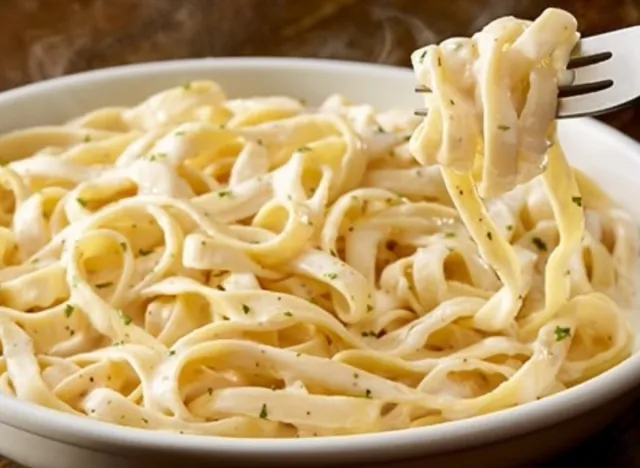 Fettuccine Alfredo (1 order)
: 850 cal, 45 g fat (27 g saturated fat), 610 mg sodium, 47 g carbs (2 g fiber, 3 g sugar), 15 g protein
Not only is fettuccine Alfredo one of the signature dishes at Olive Garden, but the restaurant also offers this pasta dish as part of its "Never-Ending Pasta Bowl" promotion. This means you can order unlimited pasta, served with soup or salad and breadsticks, for around $14. Even better? The chain, which started in 1982, makes its fettuccine Alfredo sauce from scratch daily using parmesan, cream, butter, and garlic. There's also an option to order the fettuccine Alfredo as an entrée for those who prefer to enjoy it that way instead.
"My deepest darkest secret is I think Olive Garden's Fettuccine Alfredo is the best Fettuccine Alfredo I've ever had," one fan posted on X, formerly Twitter.
The Old Spaghetti Factory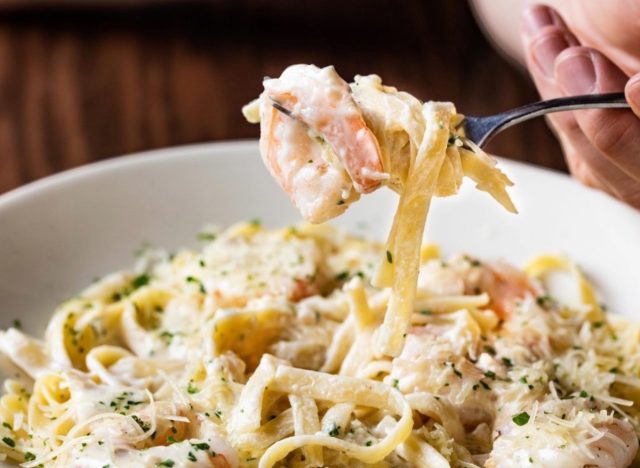 Fettuccine Alfredo (1 order)
: 1090 cal, 72 g fat (44 g saturated fat), 640 mg sodium, 91 g carbs (4 g fiber, 5 g sugar), 23 g protein
Founded in 1969, the family-owned Old Spaghetti Factory has become synonymous with unique decor (how cool are the trolley cars?) and delicious food. Although its menu is packed with exceptional options like spinach and cheese ravioli, spicy spaghetti Vesuvius, and chicken piccata, two dishes you cannot miss are the breast of chicken fettuccine and the fettuccine Alfredo.
The out-of-this-world Alfredo is made with a butter cream sauce and is topped with shredded romano cheese. In contrast, the breast of chicken fettuccine also features these ingredients plus tender chopped chicken breast, fresh broccoli, and sautéed mushrooms. "The Old Spaghetti Factory has the best Fettuccine Alfredo," one X user posted.
Buca di Beppo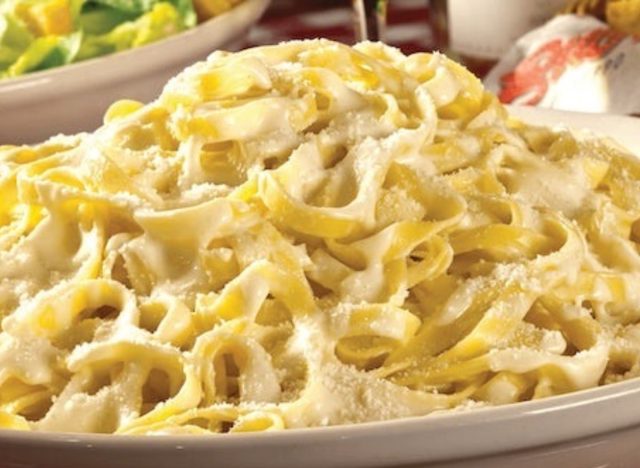 Fettuccine Alfredo (1 order)
: 710 cal, 28 g fat (15 g saturated fat), 2300 mg sodium, 94 g carbs (4 g fiber, 7 g sugar), 21 g protein
Italian restaurant chain Buca di Beppo, which means "Joe's small place" in Italian, has around 70 locations in over 20 states. Started in 1993, the popular restaurant chain has become known for eclectic decor and flavorful dishes served on checkered red-and-white tablecloths. Its fettuccine Alfredo is prepared using a creamy homemade Alfredo sauce and is offered in small and large family-style portions.
"I had chicken with Fettuccine Alfredo, and my husband had a pasta with shrimp," one TripAdvisor reviewer posted. "Everything was delicious. The Alfredo sauce was the best ever. I could tell it was freshly made. I love this place."
Biaggi's Ristorante Italiano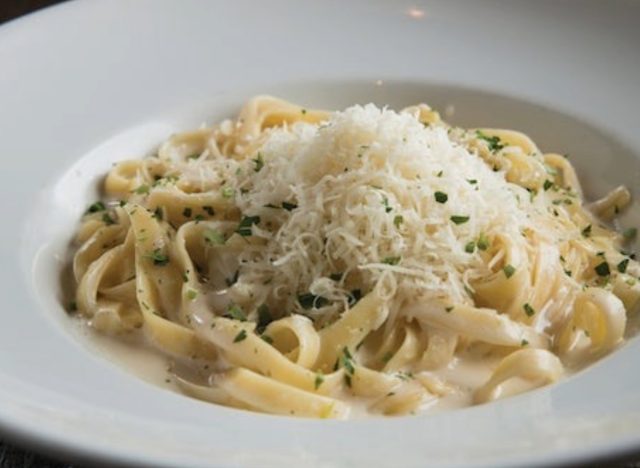 6254a4d1642c605c54bf1cab17d50f1e
Per Serving
: 980 cal, 66 g fat (27 g saturated fat), 2180 mg sodium, 43 g carbs (2 g fiber, 12 g sugar), 51 g protein
For those who want next-level fettuccine Alfredo that's made with a bevy of unexpected ingredients, look to Biaggi's Ristorante Italiano, the well-known restaurant chain with 16 locations throughout eight states. The spot serves a delectable fettuccine with lobster dish made with black fettuccine noodles, lobster, wild mushrooms, chili flakes, and an excellent lobster cream sauce. There's also a more traditional fettuccine Alfredo offered, which features a three-cheese Alfredo sauce, and Parmigiano-Reggiano cheese, and an option to add chicken or shrimp to it.
Romano's Macaroni Grill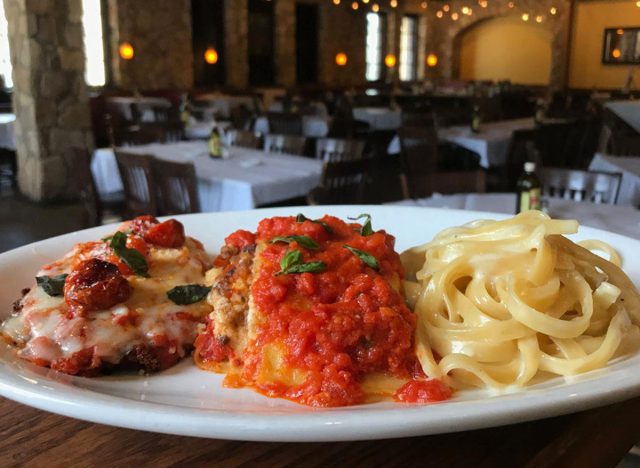 Mama's Trio (1 order)
: 2110 cal, 129 g fat (56 g saturated fat), 3940 mg sodium, 140 g carbs (9 g fiber, 19 g sugar), 103 g protein
People love Romano's Macaroni Grill for good reasons—it's been around for over four decades, serves tasty dishes at reasonable prices, and has over 30 locations. Its menu is filled to the brim with eye-catching choices, including stuffed mushrooms, crispy fresh mozzarella, Italian chopped salad, and fettuccine Alfredo, of course. Made with parmesan, butter, cream, and either chicken or shrimp, this satisfying dish always hits the spot.
For those who may be indecisive, check out the chain's Mama's Trio menu option, which comes with three of the chain's popular dishes: chicken parmesan, lasagna bolognese, and fettuccine Alfredo.