I Tried Every Pasta in Olive Garden's Never Ending Pasta Bowl & Learned an Important Lesson
The popular all-you-can-eat option is back, but is it worth your money?
The product recommendations in this post are recommendations by the writer and/or expert(s) interviewed and do not contain affiliate links. Meaning: If you use these links to buy something, we will not earn a commission.
Like many casual-dining chains, Olive Garden doesn't offer many promotional discounts these days, with one notable exception: its Never-Ending Pasta Bowl.
The popular bottomless meal deal returned in October 2022 after a three-year, pandemic-prompted hiatus. Though more expensive than ever before—the price shot up by $3 to start at $13.99—the limited-time promotion nevertheless boosted traffic and sales at America's largest Italian-themed chain during a tricky time for many restaurants. Its success helped push Olive Garden to over $4.8 billion in revenues last year, the highest of any major full-service restaurant chain.
Now, Olive Garden aims to repeat that success by bringing back the never-ending pasta deal this year at the same price. It's happening right now, through mid-November.
Executives with Olive Garden's parent company Darden Restaurants trumpeted the program during a recent earnings call, with CEO Rick Cardenas calling it "craveable abundant Italian food at a great value."
Abundant? Absolutely. For the uninitiated, the deal gives you unlimited refills of a select number of menu options. These include four pastas, five sauces, and for an additional $4.99 fee, three types of meat. You can mix and match any combination from that same list for as long as your appetite (and the waistband of your trousers) holds up. Moreover, you also get as many servings of the restaurant's famously endless soup, salad, and breadsticks, as you want, as well. And, the more you eat, the more your $15 to $20 investment seems to pay off.
So, yeah, abundance and value are clearly part of the deal. But, what about the other part? Is Olive Garden's pasta actually… craveable?
I stopped into my local Olive Garden to see for myself. While I did not even attempt to eat all 60 or so possible item combinations, I did sample every pasta, every sauce, and every meat at least once over the course of two visits—and also sucked down several espressos to help digest it all.
Here's how they all stacked up, ranked in descending order from my least favorite to the absolute most "craveable" part of the whole experience.
Fettuccine Alfredo With Crispy Chicken Fritta
Fettuccine + Alfredo + Crispy Chicken Fritta (Per Serving)
: 1460 cal, 124 g fat (69 g saturated fat), 1940 mg sodium, 92 g carbs (4 g fiber, 4 g sugar), 47 g protein
Fettuccine Alfredo is one of Olive Garden's signature dishes, so starting off with this classic noodle-and-sauce combo seemed like a no-brainer. Where I live in Brooklyn, N.Y., the never-ending promo costs a bit more than at other locations. The starting price is $14.99. Tack on $4.99 if you want the added meat options. The Crispy Chicken Fritta is a recommended topper on the menu, so I went with that, too. Ordering this exact same dish from the regular menu would cost $20.99, so I'm already saving a buck, just by taking the "never-ending" route, and that's before any refills.
Since I ordered this one first, it arrived in a standard-looking, shallow serving bowl, measuring about 10 inches in diameter (subsequent refills would follow in smaller, 7.5-inch bowls). Using a kitchen scale, I weighed the bowl both before and after eating. Based on these measurements, we're talking about roughly 20 ounces of food in an initial serving with meat (refills that follow weighed about half of that).
The look: A hefty but not entirely intimidating portion of pasta and protein to start. I counted at least five full strips of breaded chicken, in addition to a few smaller bits, piled atop of a substantial heap of noodles, all smothered in creamy Alfredo sauce, generously sprinkled with herbs and topped-off with a few cranks of shredded cheese, to boot.
The taste: Uninspiring to say the least. While the chicken was crunchy and enjoyable, the pasta itself left a lot to be desired. Olive Garden doesn't usually pre-mix its noodles with sauce before presenting it at the table, as is otherwise customary in traditional Italian cooking. But, that does allow you the opportunity to sample some of the noodles without sauce. The undressed fettuccine tasted really bland—like it was boiled with little, if any, salt—and felt really soft, too, without much bite at all. Al dente? Non cosi. The Alfredo sauce, meanwhile, felt a lot thinner than it looked and tasted rather bland, as well. This so-called signature dish delivered a big thud. Next!
Rigatoni With Meat Sauce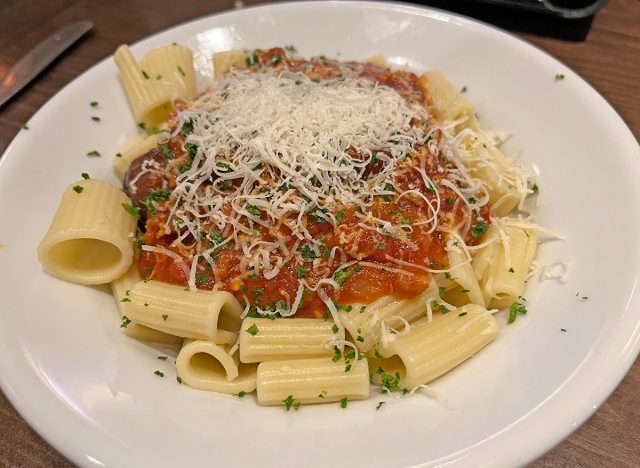 Rigatoni + Meat Sauce (Per Serving)
: 740 cal, 25 g fat (7.5 g saturated fat), 1050 mg sodium, 102 g carbs (5 g fiber, 18 g sugar), 28 g protein
Rigatoni and meat sauce is another classic pairing that you can easily match up as one of your never-ending choices, though Olive Garden doesn't offer this particular combo as a regular menu item. I ordered this duo as one of my refills.
The look: Rich and hearty, albeit more modest in size. The rigatoni looked fairly standard: tubular with visible ridges. The meat sauce came red and chunky with tiny morsels of meat, tomato, and onion. Like the Alfredo, it arrived generously garnished with herbs.
The taste: Sweet, savory and lightly garlicky. The meat sauce is an improvement, flavor-wise, from the milquetoast Alfredo. The problem, yet again, is the pasta. Rigatoni is a denser noodle than fettuccine, so it should have more bite, but these tubes felt even softer and tasted even more bland than the thin flat strands I twirled earlier.6254a4d1642c605c54bf1cab17d50f1e
Spaghetti With Marinara & Meatballs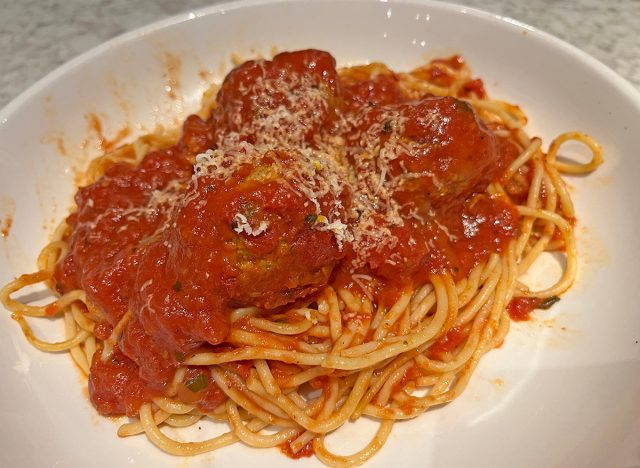 Spaghetti + Marinara + Meatballs (Per Serving)
: 970 cal, 52.5 g fat (19.5 g saturated fat), 2440 mg sodium, 91 g carbs (10 g fiber, 14 g sugar), 39 g protein
While it claims to serve "Italian food," Olive Garden is an American restaurant, plain and simple. And arguably no dish better represents Americanized riffs on Italian cooking in general like the ubiquitous spaghetti and meatballs. So, of course, I had to see how America's biggest Italian-inspired chain presents this American-invented mainstay with the usual marinara as my chosen sauce. I ordered this one as my first order upon my second visit.
The look: Another plentiful heap, this one almost entirely red. Three golf ball-sized orbs sat atop this considerable jumble of noodles. The pasta appeared to be more widely coated in sauce than prior bowls. And unlike many others, this bowl did not come with any green garnishes, but the server did pile on some cheese upon request.
The taste: Sweet and tangy but unmemorable. Like with the meat sauce, you'll detect real bits of tomato and onion in the marinara as you eat, but it's otherwise pretty basic. The meatballs were pillowy, bready, and very mild in flavor—no "spicy meatball" here! (My apologies to Alka Seltzer). And the noodles, again, came ultra soft. They seemed so easy to chew that you barely notice them until they start taking up space in your stomach. It's as if this spaghetti were being cooked for a teething toddler or a retiree who lost his dentures.
Five Cheese Marinara With Angel Hair & Italian Sausage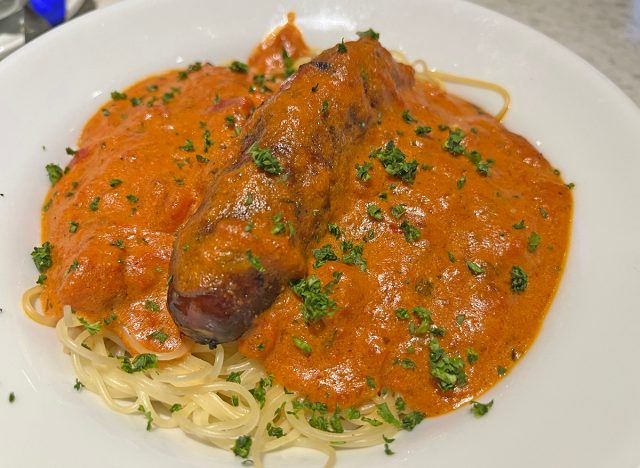 Angel Hair + Five Cheese Marinara + Italian Sausage (Per Serving)
: 1220 cal, 74.5 g fat (31 g saturated fat), 2450 mg sodium, 86 g carbs (6 g fiber, 16 g sugar), 50 g protein
In addition to its basic marinara, Olive Garden also offers a jazzed-up Five Cheese Marinara as one of your choices on the never-ending menu. The chain doesn't specifically say which kinds of cheeses are included, but based on its reputation, you can reasonably assume they're all pretty common. The same sauce is typically served as part of the restaurant's baked ziti entrée, but that style of pasta is not offered with this promotion, so I tried it with angel hair, topped off with Italian sausage.
The look: Smothered in orange with ample greenery and a plump, tube steak situated smack in the middle. Following all the prior white and red sauces, the traffic-cone color was a welcome sight and one that hinted at some bold flavors, hopefully.
The taste: More interesting than others but still a bit underwhelming. The cheesy sauce was tangy and even had a little kick to it, but it's a far cry from "craveable." The Italian sausage came crispy on the outside and full of porky flavor, if a bit dry and otherwise unremarkable. The biggest surprise here was the pasta. Angel hair is far more delicate than other noodle varieties, making it even more susceptible to overcooking. Yet, these lighter strands offered a little more firmness and bite than the bigger shapes. Most respectable pasta of the entire lineup.
Angel Hair With Creamy Mushroom Sauce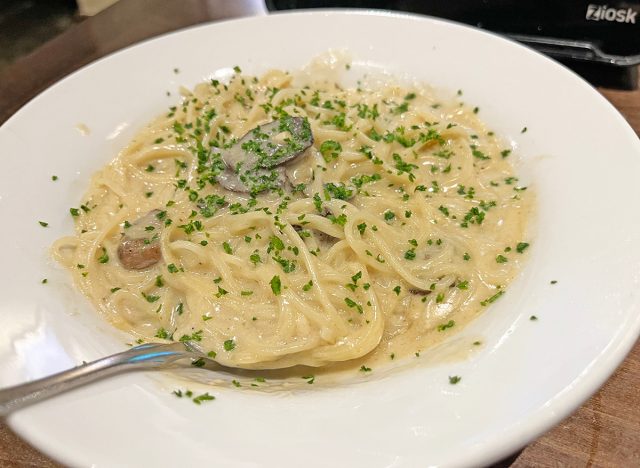 Angel Hair + Creamy Mushroom Sauce (Per Serving)
: 1210 cal, 89.5 g fat (54 g saturated fat), 1100 mg sodium, 80 g carbs (3 g fiber, 11 g sugar), 22 g protein
The fifth and final sauce on the never-ending list might not immediately spark your excitement, but do not underestimate the creamy mushroom, especially compared to the other choices. Olive Garden also spreads a creamy mushroom sauce over its regular chicken marsala fettuccine. But, since I liked the angel hair better, I went that route again.
The look: Swimming in sauce. The saucier (if Olive Garden even employees one) obviously went a little overboard on this one. It's the only pasta bowl so far wherein no noodle is left uncovered. I counted at least six slices of real mushroom in the creamy mix and greenery galore on top.
The taste: Creamy and delicious. The earthy flavor of the mushrooms really came through in the sauce, which clung to the noodles unlike any of the other combos. And the angel hair again demonstrated that it's the noodle to beat in this somewhat limited lineup. Even so, I can't say I walked away craving more of this stuff. There's really one dish that actually hit that high mark.
Salad With Signature Italian Dressing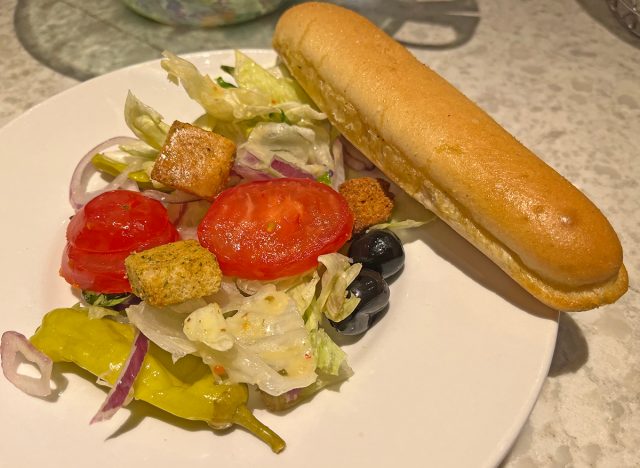 Salad With Signature Italian Dressing (Per Serving)
: 150 cal, 10 g fat (1.5 g saturated fat), 770 mg sodium, 13 g carbs (2 g fiber, 4 g sugar), 3 g protein
Olive Garden gets a lot of love for its breadsticks, but the salad is no slouch, either. The restaurant's signature Italian-style dressing is so popular that bottles of the stuff are sold in bulk at Costco, putting it in a league of other impressive, heavy-hitting condiments like Heinz Ketchup and Kewpie mayo. Like most regular orders at Olive Garden, the Never-Ending Pasta Bowl includes your choice of soup or salad and breadsticks, but in my opinion, you have to really dislike vegetables in order to choose the soup.
The look: Fresh and vibrant. The translucent salad bowl arrived filled with crisp lettuce, crunchy croutons, juicy-looking red tomato slices, black olives, pepperoncinis, and enough sliced red onion to make your dinner date think twice about that post-meal kiss. 
The taste: Habit forming. This zesty and refreshing salad had more zip than any of the saucy pasta dishes in the entire promotion. Even though I tried to abstain as much as possible, in order to save more room for the never-ending noodles, I could hardly keep myself from consuming the entire bowl both times. That, my friends, is very definition of craveable.
Maybe that's why Olive Garden's pastas are so bland. They're designed to bring your palate back down to earth after all that heavenly flavor upfront.
If I learned anything from my never-ending pasta misadventure, it's this: just because a deal is endless doesn't mean it's not limiting, and if you're looking for real value, you can get all the pasta you probably need for a little less money by choosing Olive Garden's standard create-your-own-pasta option instead for $13.99. The "never-ending first course" of that truly craveable salad is included with that, too.
Chris Shott
Chris Shott is the Deputy Editor covering restaurants and groceries for Eat This, Not That!
Read more about Chris