13 Restaurant Chains That Serve the Best Mozzarella Sticks
Crunchy, melty, and delicious, these appetizers are proven winners for diners and restaurants alike.
The product recommendations in this post are recommendations by the writer and/or expert(s) interviewed and do not contain affiliate links. Meaning: If you use these links to buy something, we will not earn a commission.
There are some appetizers that stand the test of time as undeniable crowd pleasers. Mozzarella sticks rank right up there with the best of them.
These short cylinders of mozzarella cheese, deep-fried in a crispy breadcrumb mixture, are pretty simple to make. But, the result is the perfect marriage of crunchy and gooey textures, with a salty exterior and a cheesy interior. Commonly served with a side of marinara sauce for dipping, these delicious finger foods are eminently sharable, and they're so good that you may find yourself fighting for the last one on the plate.
While you can find many decent mozzarella sticks in your grocery store's frozen foods aisle, the absolute best kind are probably the ones that are made fresh at a restaurant. Many popular dine-in chains serve them, and it's easy to see why. Not only are they popular, but they're fairly difficult to mess up, which makes them an easy win for both buyer and seller.
The next time you're dining out and you're craving some deep-fried cheese, head to one of these restaurant chains, all of which are known to serve up some satisfying mozzarella sticks.
Red Lobster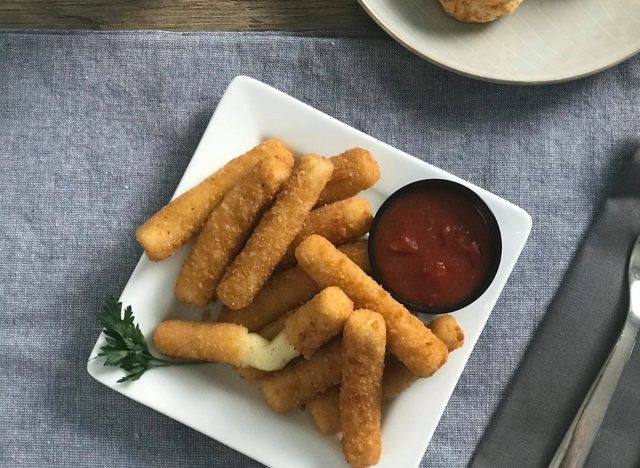 Mozzarella Cheesesticks (1 order)
: 740 cal, 47 g fat (16 g saturated fat), 1540 mg sodium, 54 g carbs (2 g fiber, 3 g sugar), 29 g protein
The name of the game at Red Lobster is seafood, of course, but that doesn't mean the menu is entirely composed of fish and crustaceans. You can find multiple land-based lunch and dinner options, including Maple-Bacon Chicken and a 10-ounce New York strip. For appetizers, there are the usual suspects like fried calamari and jumbo coconut shrimp. If you want to hold off on the seafood until your main entrée arrives, stick with a tasty plate of mozzarella cheesesticks, served with a side of marinara sauce for dipping.
Olive Garden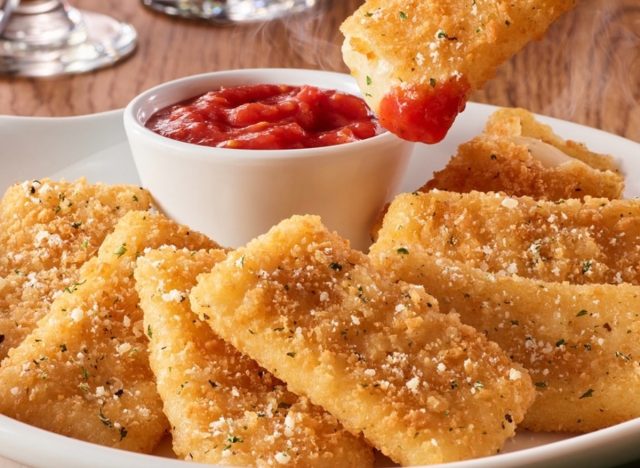 Fried Mozzarella (1 order)
: 800 cal, 49 g fat (17 g saturated fat), 1990 mg sodium, 57 g carbs (4 g fiber, 3 g sugar), 33 g protein
If there's anything you can rely on finding on the menu at Olive Garden, it's cheese. The casual Italian-themed chain has cheese in some form on nearly every menu item – and if you don't see it with whatever pasta dish you ordered for dinner, you can always have some grated parmesan served on top. For its appetizers, Olive Garden veers away from the usual cylindrical-shaped mozzarella stick and flattens it into something that more closely resembles a fish stick. The restaurant's rectangular-shaped fried mozzarella comes with marinara sauce for dipping.
TGI Fridays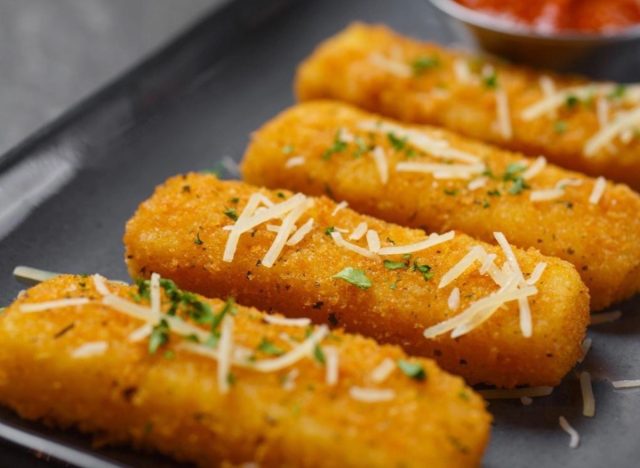 Mozzarella Sticks With Marinara (1 order)
: 840 cal, 52 g fat (24 g saturated fat), 1400 mg sodium, 54 g carbs (8 g fiber, 2 g sugar), 39 g protein
There's a little bit of everything at TGI Fridays, like its multiple steak dinner options as well as cheeseburgers and salads. With a menu filled with familiar favorites, you would expect to find a popular appetizer like mozzarella sticks. The version at TGI Fridays comes with a blend of asiago and parmesan-romano cheeses, along with your classic marinara sauce for dipping. This variation is a newer addition to the TGI Fridays menu, so be sure to check it out.
Buca di Beppo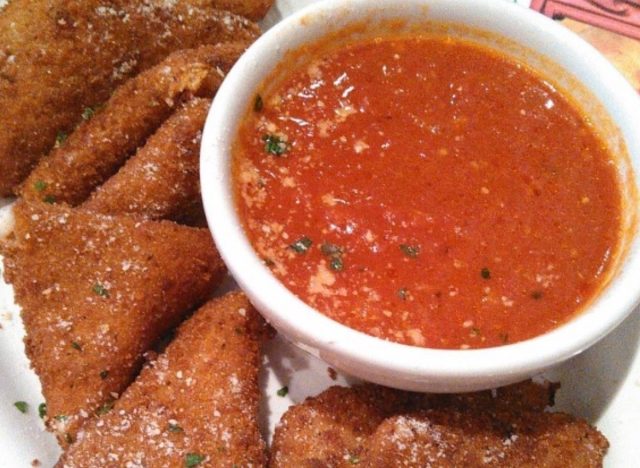 Fried Mozzarella (1 order)
: 360 cal, 21 g fat (7 g saturated fat), 790 mg sodium, 25 g carbs (2 g fiber, 7 g sugar), 18 g protein
Popular Italian chain Buca di Beppo is a family-style restaurant. From salads to pasta, the food served here comes in larger portions meant for sharing. To kick things off, you can order a plate of fried mozzarella with homemade marinara sauce, or you can order the Buca Trio Platter off the appetizer menu, which includes fried mozzarella, fried calamari, and spicy shrimp.6254a4d1642c605c54bf1cab17d50f1e
Carrabba's Italian Grill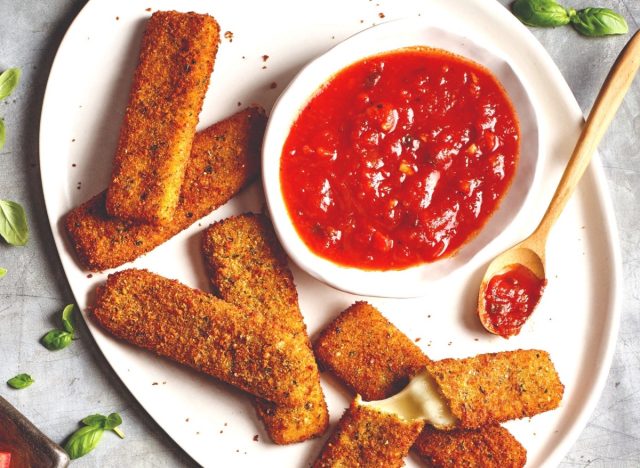 Mozzarella Marinara (1 order)
: 1050 cal, 75 g fat (33 g saturated fat), 2090 mg sodium, 43 g carbs (3 g fiber, 11 g sugar), 50 g protein
When the occasion calls for a crowd-pleasing Italian dinner, families can head to their local Carrabba's Italian Grill for a hearty serving of pasta, chicken parmesan, and sangria. Carrabba's Italian Grill has all of the typical Americanized Italian favorites on its menu, including mozzarella marinara. The fried cheese is hand-cut and breaded, served with a side of marinara sauce. Order it by itself or as part of the Classics Combination appetizer, which also comes with hand-breaded calamari and stuffed mushrooms.
Romano's Macaroni Grill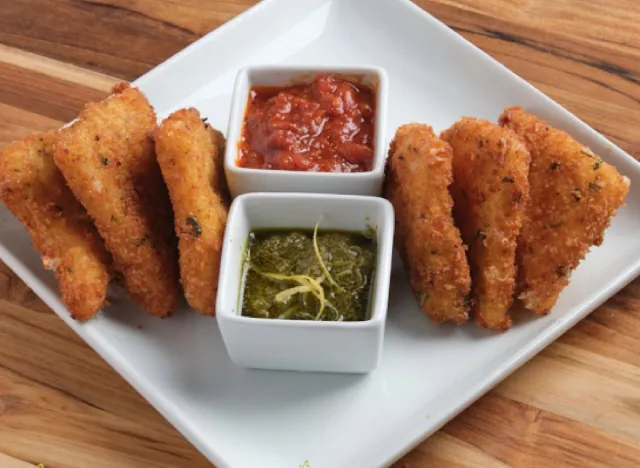 Crispy Fresh Mozzarella (1 order)
: 820 cal, 79 g fat (16 g saturated fat), 210 mg sodium, 17 g carbs (1 g fiber, 1 g sugar), 13 g protein
Romano's Macaroni Grill gives its guests the option to try multiple appetizers to start off their meal. On the antipasti menu, you can choose two of the following options: Brussels sprouts, mac and cheese bites, bruschetta, and the Crispy Fresh Mozzarella. The creamy cheese is breaded with a parmesan-breadcrumb mixture and served with a spicy arrabbiata sauce.
Maggiano's Little Italy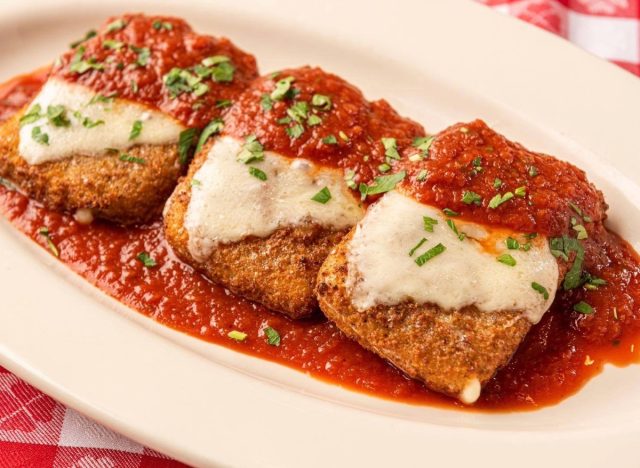 Mozzarella Marinara (1 order)
: 1110 cal, 71 g fat (32 g saturated fat), 3400 mg sodium, 64 g carbs (7 g fiber, 12 g sugar), 56 g protein
Whether it's lunch or dinner, you can order the mozzarella marinara as an appetizer at Maggiano's Little Italy. It may clock in at 1110 calories, but as one Yelp reviewer states, it's well worth it: "This appetizer is outstanding. You get four giant pieces of lightly battered cheese on top of a great marinara sauce. This is an awesome treat to share before your meal." Another Yelp reviewer shared," We started with Mozzarella Marinara, and the breading was crisp while the cheese was warm and gooey and topped with just the right amount of sauce. We all Loved it!"
Chili's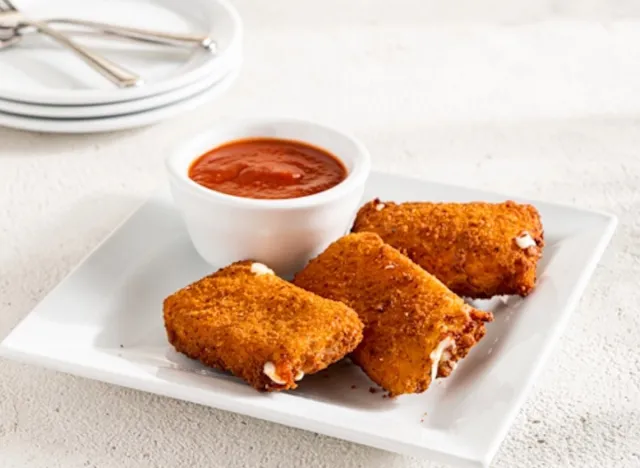 Fried Mozzarella (1 order)
: 920 cal, 55 g fat (27 g saturated fat), 2950 mg sodium, 69 g carbs (4 g fiber, 10 g sugar), 70 g protein
When you think of Chili's, a plate of baby back bibs and a happy-hour margarita probably comes to mind. But, you can find a lot of other tried-and-true restaurant classics at Chil's as well, including its fried mozzarella on the appetizer menu. Like other fried mozz, it comes with marinara sauce to dip. It's also part of Chili's Triple Dipper, one of the best chain restaurant appetizer combos out there.
Sonic Drive-In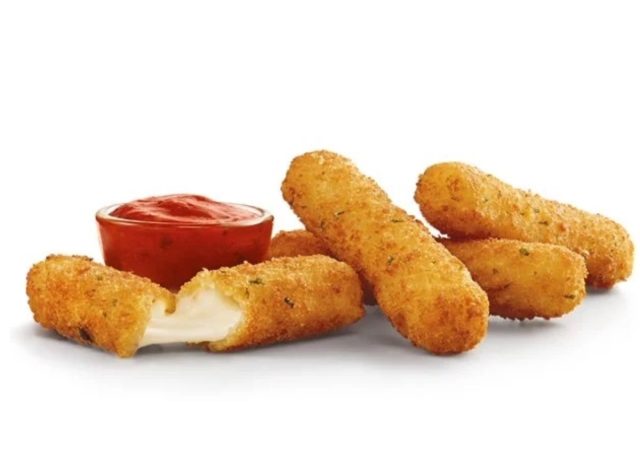 Mozzarella Sticks (4 pieces)
: 370 cal, 19 g fat (7 g saturated fat), 950 mg sodium, 40 g carbs (2 g fiber, 5 g sugar), 15 g protein
Sonic is an old-school drive-in restaurant. Rather than pick up your food in a contemporary drive-through format (which it also has, by the way), customers pull up in their cars to parking spaces with order boxes. Push the button, and you can order off the entire menu. Among the many options, you'll find mozzarella sticks available in three sizes. Sonic states that the appetizer is "made with melty, real mozzarella cheese breaded and perfectly fried," and it comes served with a side of "zesty marinara sauce for dipping."
The Cheesecake Factory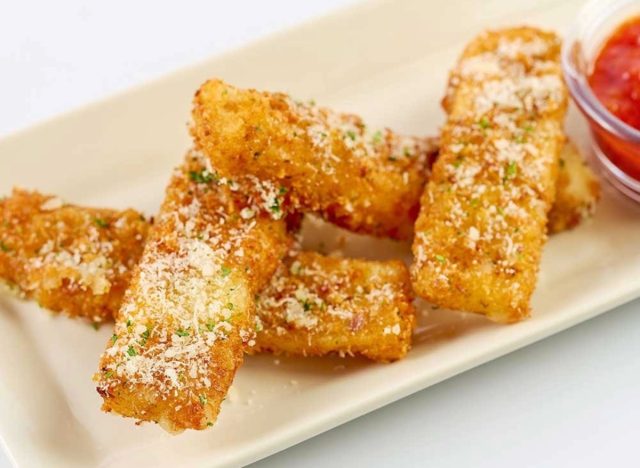 Crispy Fried Cheese (1 order)
: 1080 cal, 75 g fat (31 g saturated fat), 1960 mg sodium, 50 g carbs (5 g fiber, 5 g sugar), 52 g protein
The running joke is you can find virtually anything and everything on the menu at the Cheesecake Factory. When you're seated at your table, you're handed a menu that is multiple pages long, broken up into categories and sub-categories that separate appetizers from small plates and snacks (yes, the Cheesecake Factory considers these different categories). No matter what your level of appetite calls for, there's a plate of Crispy Fried Cheese available on the small plates and snacks menu. It's made with mozzarella and fontina cheeses and served with a side of marinara sauce.
Arby's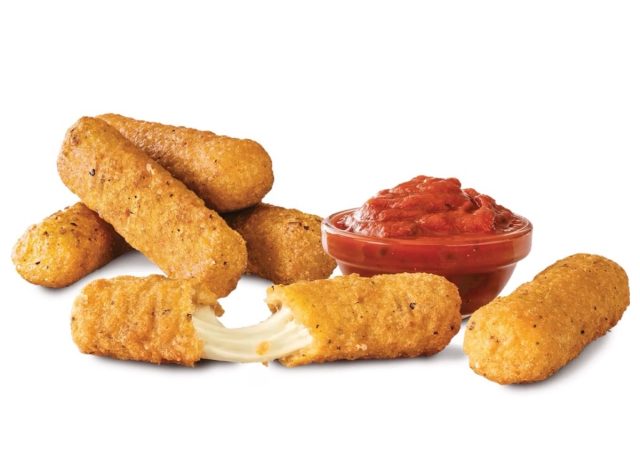 Mozzarella Sticks (4 pieces)
: 440 cal, 23 g fat (9 g saturated fat), 1410 mg sodium, 37 g carbs (2 g fiber, 3 g sugar), 19 g protein
Arby's might "have the meats," as it claims in its ad campaigns, but it also has the mozzarella sticks. In fact, several Redditors name Arby's as their go-to choice when looking for fast-food mozzarella sticks. One Redditor mentioned that "Arby's are hands down the best," while another shared that "Arby's in Canada as well as Arby's in the U.S." serve great sticks, adding, "The sticks differ in both countries, but both make the best."
Ruby Tuesday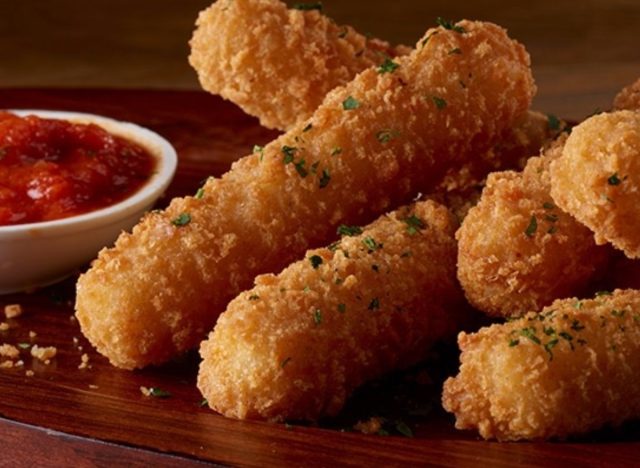 Crispy Mozzarella Sticks (1 order)
: 600 cal, 28 g fat (16 g saturated fat), 1870 mg sodium, 57 g carbs (3 g fiber, 8 g sugar), 30 g protein
Make sure not to fill up too quickly on the salad bar at Ruby Tuesday. That way, you'll be able to enjoy a plate of mozzarella sticks before your meal. If you can't make up your mind on which appetizer to order, you can also go with the Ruby's Signature Sampler, which comes with mozzarella sticks along with boneless wings and creamy spinach and artichoke dip. One Tripadvisor reviewer shared that on a visit to Ruby Tuesday, they "ordered the mozzarella sticks, and they were excellent."
Red Robin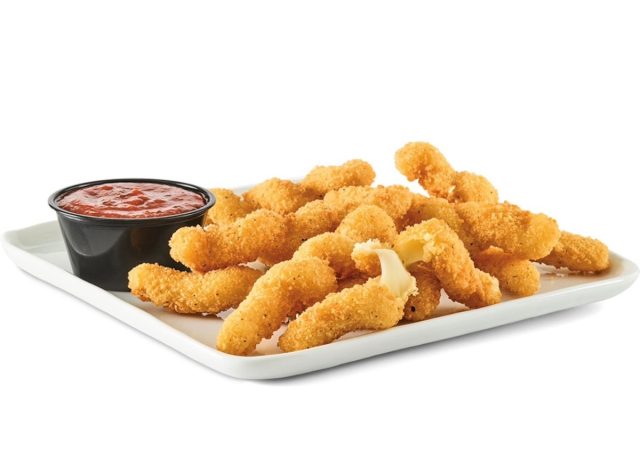 Cheesy Mozzarella Twists (1 order)
: 900 cal, 50 g fat (18 g saturated fat), 2740 mg sodium, 81 g carbs (5 g fiber, 7 g sugar), 32 g protein
Before you tackle the house's signature hamburger and bottomless basket of French fries, start your meal at Red Robin with a tasty appetizer. The casual restaurant chain takes a unique spin on the mozzarella stick with its Cheesy Mozzarella Twists. The lightly battered mozzarella sticks come in a fun corkscrew shape, making it all the easier for the marinara sauce to stick.
Carly Neil
Carly Neil is a freelance writer specializing in all things food, travel, Disney, and theme parks.
Read more about Carly