I Tried 4 Popular Restaurant Chain Appetizers & One Absolutely Slayed
Those very first bites are intended to start your meal off right, but not every beginning is so thrilling.
The product recommendations in this post are recommendations by the writer and/or expert(s) interviewed and do not contain affiliate links. Meaning: If you use these links to buy something, we will not earn a commission.
The best part of dining out with friends is arguably the appetizers. When you order apps, it's a chance to share smaller bites of food and sample different flavors. If you add a round of drinks, apps can even make a meal! In fact, some of the best meals I've had involved ordering all apps, no entrées necessary.
When it comes to popular chain restaurants, I wanted to know which one had the very best appetizer. I visited four major chains and tried some of their most popular apps, hoping to find that one perfect sharable snack. I'm happy to report I did find that one dish that I'll go back for again, but unfortunately, I had to sample a lot of pretty bad ones along the way.
For my test, I ordered the most popular appetizer at each chain restaurant without making any additions, modifications, or substitutions. If there was a choice involved, I asked for the option that is most popular with customers. I dined in and ate the apps right on the spot.
One restaurant served up a whole platter of inedible food, while another place delivered a combo that had a hidden gem (hint: it involved fried cheese). Read on to see where you should have your next "appy hour," and which places you might want to skip the apps and go straight to the main meal instead.
Applebee's Classic Combo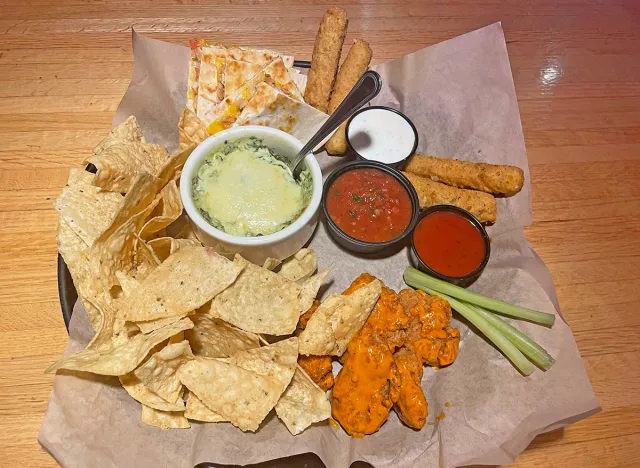 The Classic Combo
: 2,230 cal, 127 g fat (38 g saturated fat), 5920 mg sodium, 189 g carbs (16 g fiber, 15 g sugar), 83 g protein
At Applebee's, the server told us that this app sampler is definitely the biggest hit with customers. Priced at $17.99, the platter features boneless wings, spinach & artichoke dip, chicken quesadilla, and mozzarella sticks.6254a4d1642c605c54bf1cab17d50f1e
The look: When the platter arrived, the first thing I noticed was how much of it was taken up by chips. The other thing that immediately caught my eye: the spinach and artichoke dip had a thick film over the top, which I guess was baked cheese but looked like a congealed blanket of hot mess–there was no way I was going to consume it. I had to push the film to the side in order to dig in.
The taste: While the dip was creamy and tasty, the chips themselves tasted almost like store-bought corn chips. The mozzarella sticks had ropey cheese that reminded me of Play-Doh and the boneless wings were not much better—my son said they tasted like chicken nuggets with buffalo sauce on them. The quesadilla was perhaps the most disappointing since it's difficult to mess this simple dish up. But the inside was filled with nasty little bits of what looked like leftover chicken. This whole platter was just gross, and there was still plenty of it left when we departed.
Rating: 1/10
TGI Fridays Classic Fridays Combo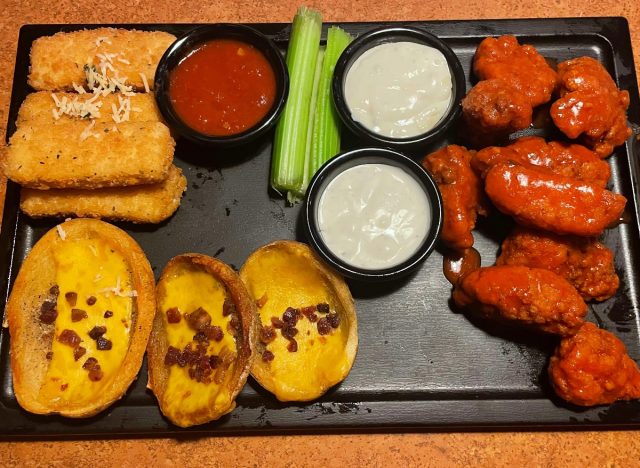 Classic Fridays Combo W/Boneless Buffalo Wings
: 2190 cal, 158 g fat (34 g saturated fat), 6520 mg sodium, 199 g carbs (29 g fiber, 16 g sugar), 83 g protein
This shareable combo, containing wings, loaded potato skins, and mozzarella sticks, is a hit with Fridays fans, so we had to go all in and order it. The whole platter cost me $16.49.
The look: Pretty appealing, at least when it first arrived. I have great memories of ordering the potato skins from Fridays as a teenager with my friends at the mall, so I was eager to try and recapture that magic. But, as the saying goes, "you can never go back."
The taste: Really disappointing. These skins were overcooked, hollowed out potatoes with a piece of yellow cheese and some bacon bits. In my memories, Fridays skins were truly "loaded" with yummy stuff like cheese, sour cream, and chives, but these were basically inedible and tasted like they'd been nuked. The mozzarella sticks were OK, but definitely not as good as others I tried during this test. The boneless buffalo wings were super-hot and spicy but mostly gristly and tasteless beyond the heat. I left feeling regretful that I had wasted any calories on these supposed treat foods, which were anything but a treat.
Rating: 2/10
Red Robin Saucy Bone-In Wings
Saucy Bone-In Wings w/Buzz Sauce
: 1260 cal, 88 g fat (37 g saturated fat), 2880 mg sodium, 26 g carbs (7 g fiber, 3 g sugar), 93 g protein
At Red Robin, our waitress emphatically told us that the top choice of diners is the bone-in wings with "buzz" sauce (the chain's answer to a classic Buffalo sauce). So, I begrudgingly placed an order of them for $14.99. Full disclosure: I am not a wings fan. I don't understand why people like to eat this part of a chicken, which has lots of skin and bone and very little meat! To me, eating wings is akin to eating a parakeet dipped in sauce. But, I tried to put these thoughts aside and judge the wings fairly.
The look: The order came in a basket and I liked that it included baby carrots as an alternative to the usual celery. The wings were resting on a bed of tasteless Yukon Chips.
The taste: Biting in, the wings were actually pretty tasty. I scraped the meat off the bone for my daughter and she enjoyed dipping it in ranch, and asked me for more. I'm no wing connoisseur, but these were overall decent. As far as a fantastic app, though, I would go elsewhere.
Rating: 3/10
Chili's Triple Dipper
Triple Dipper (Big Mouth Bites, Fried Mozzarella, Southwestern Eggrolls)
: 2020 cal, 127 g fat (43 g saturated fat), 5340 mg sodium, 137 g carbs (12 g fiber, 26 g sugar), 86 g protein
The triple dipper allows you to choose three apps from a list of eight choices for $14.99. We asked the server which three were the most popular, and he told us it was the Southwestern Egg rolls, the Fried Mozzarella, and the Big Mouth Bites. He noted that, overall, customers really loved the egg rolls, which are actually flour tortillas stuffed with chicken, black beans, corn, jalapeño Jack cheese, red peppers and spinach. So, we were excited to try those first.
The look: The egg rolls looked fun and interesting, the Big Mouth Bites were basically mini-sized burgers, and the Fried Mozzarella were big and chunky—each nearly the size of a deck of cards. You could hardly call these "sticks." Chili's doesn't.
The taste: Biting into the egg roll, the taste of spinach was overwhelming and made the whole thing seem weirdly bitter. I'd tried the Big Mouth Bites before and rated them highly, but this time they tasted overly greasy. Thankfully, the Fried Mozzarella saved the day. The cheese was perfection—not at all rubbery or ropey, just pure cheesy goodness. My daughter finished hers and then wanted some of mine!
While the other two apps on this platter weren't great, I would definitely hit up Chili's for some drinks and Fried Mozzarella with my best girl —as long as she saves me a few bites!
Rating: 6/10
Ronnie Koenig
Ronnie Koenig has written about food, drink, travel and culture for The New York Times, TODAY, The Atlantic and many others.
Read more about Ronnie