The Best Mozzarella Sticks in Every State
No matter where you are, there's a perfectly fried piece of cheese not too far away.
Americans live by the motto, "fry it and we'll eat it." While we try such newcomers to the fry game as pickles, mac and cheese bites, and even Oreo cookies, nothing says a fun time like the classic mozzarella stick.
The perfect bite starts with a bit of crispy breading, giving way to strings of gooey melted mozzarella at just the right temperature to avoid burning your tongue.
Seriously, mozzarella sticks truly bring nothing but pure joy.
So where exactly do you find the most divine little fried pieces of cheese? Well, we rounded up some of the best spots across all 50 states that serve up some delicious mozzarella sticks. And for more, check out The Best Nachos in Every State.
ALABAMA: Bibb Street Pizza Company in Montgomery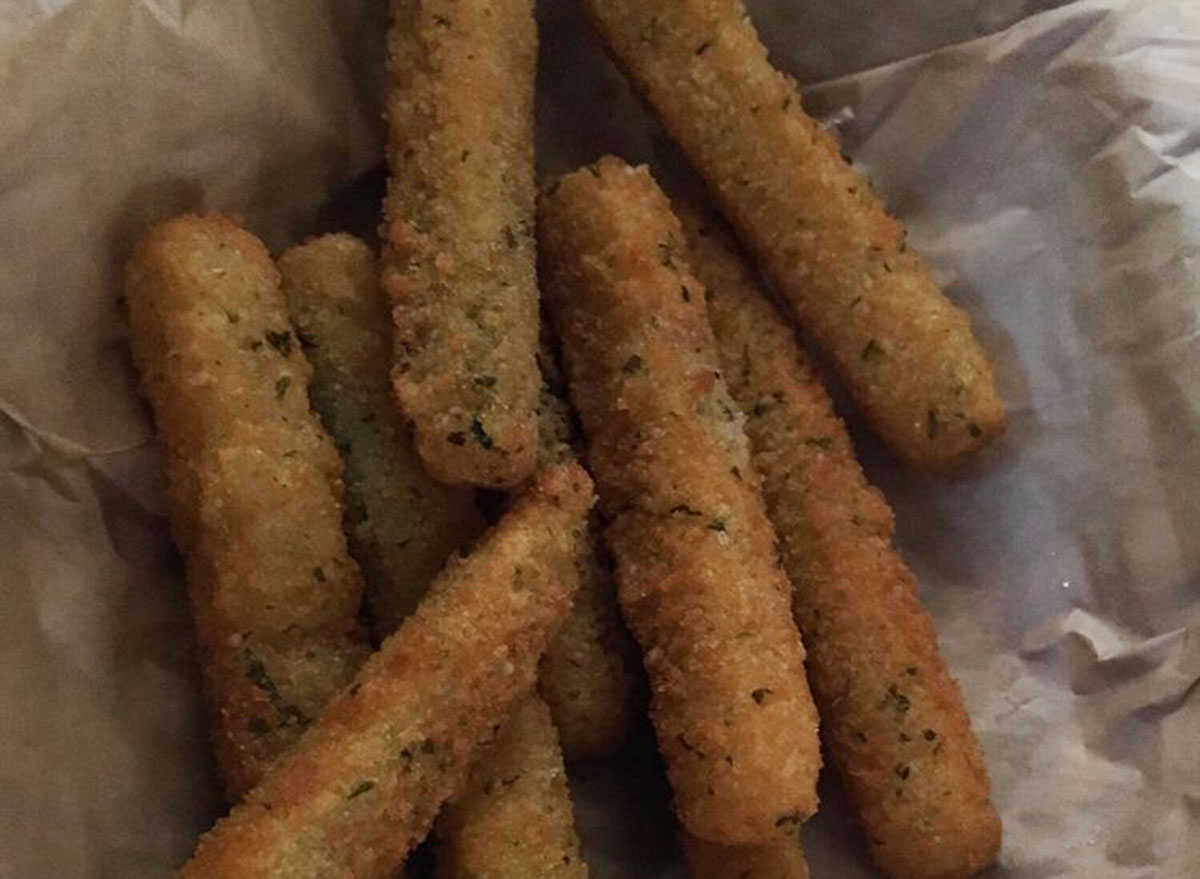 Beer-battered fried whole milk mozzarella sticks are one of the highlights on the menu at this pizza and salad spot. The customers rave that it's one reason they keep returning.
ALASKA: Pizza Plaza in Anchorage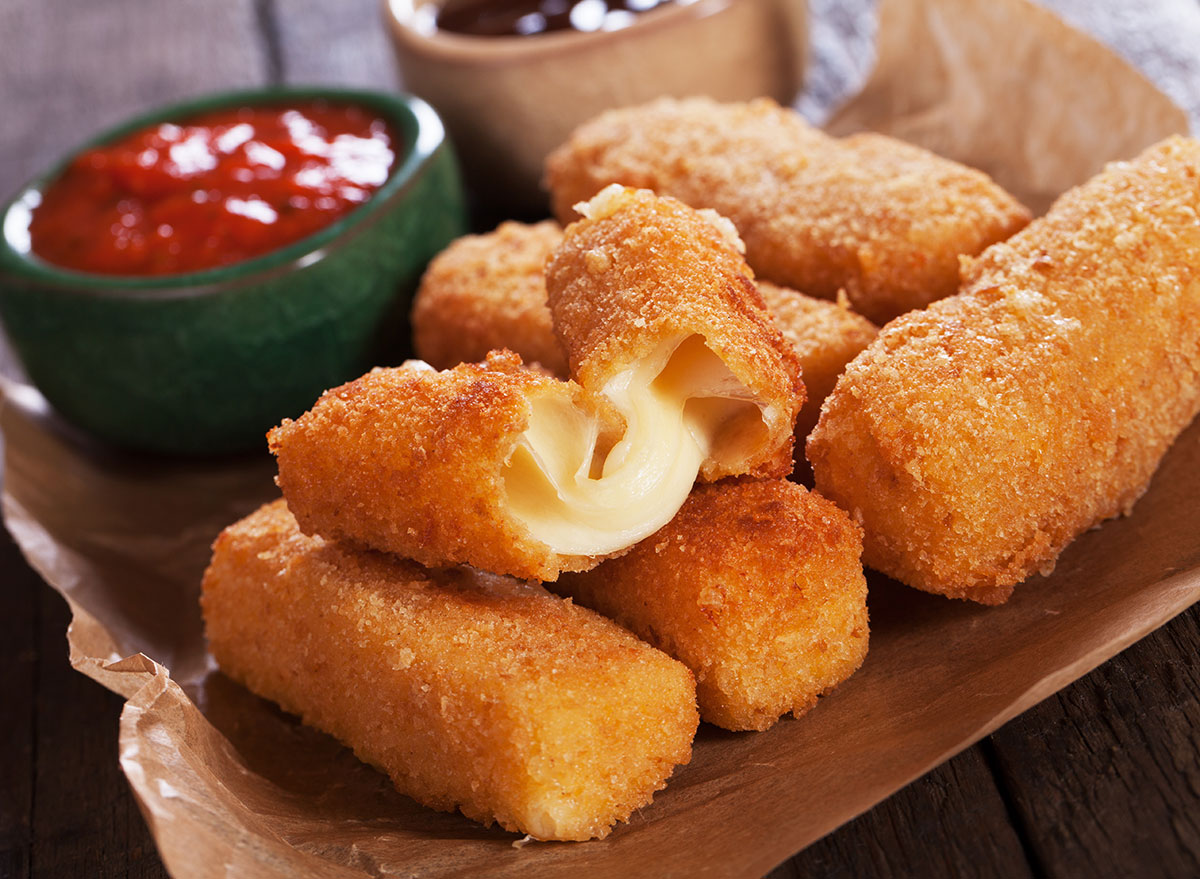 Seven fat breaded mozzarella sticks are served alongside Di Roma sauce, which makes this dish that much better. The sauce is rich and creamy and full of parmesan and Romano to add to your cheese experience.
ARIZONA: Zipps Sport Grill in Phoenix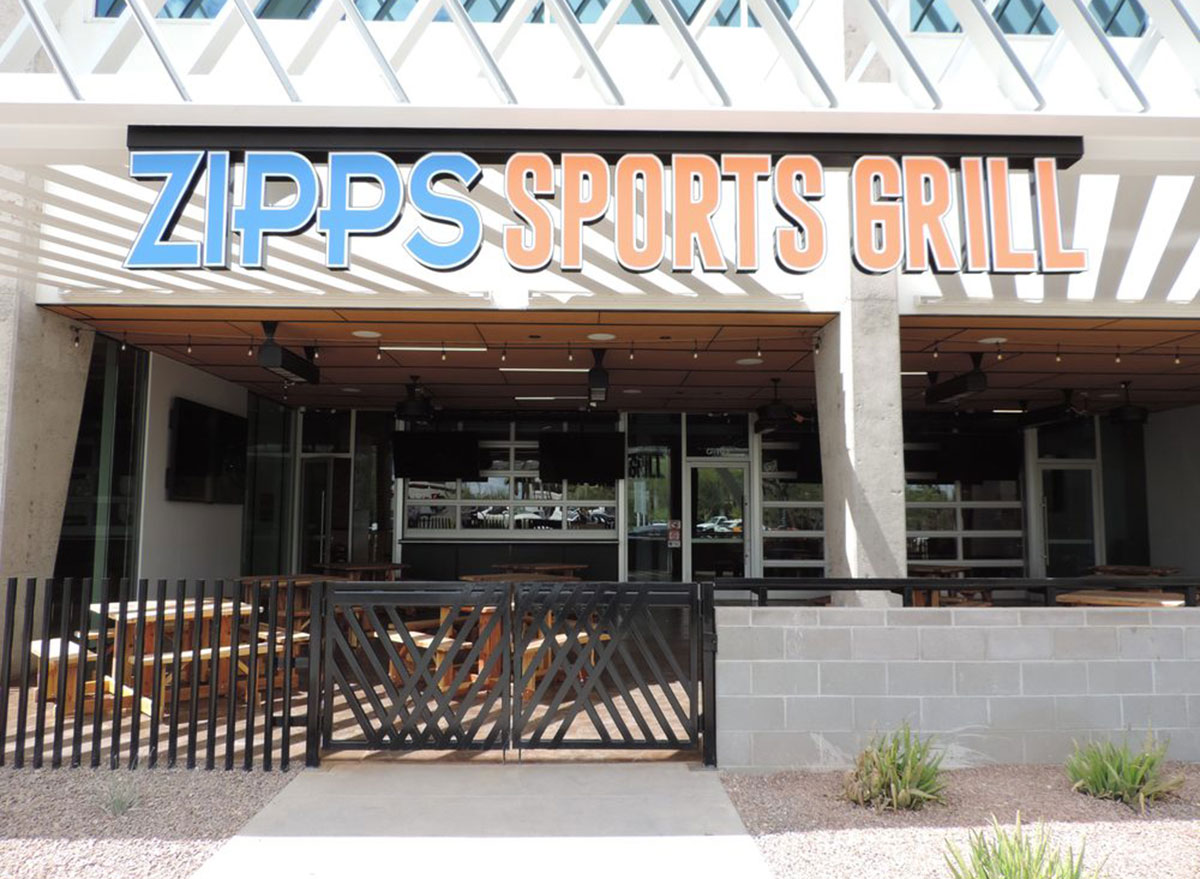 Zipps breaks the mold for the typical mozzarella stick shape, serving meaty squares to dip in ranch or marinara. They are wrapped in a spring roll instead of the typical breading, which creates the ultimate crunch.
ARKANSAS: Grateful Head Pizza Oven & Beer Garden in Hot Springs
Some guests skip the pizza and go straight for the mozzarella sticks with a side of craft soda at this local hot spot. Customers brush their sticks with garlic butter and cover them with more mozzarella cheese. This results in the most decadent version on our list!
CALIFORNIA: Fat Sal's in Hollywood
Fat Sal's serves mozzarella sticks in their sandwiches, as a side, or an appetizer. They really believe in their fried cheese! They also have several food challenges if you aren't full after eating one of the gargantuan sandwiches. Try the Big Fat Shake with thirty scoops of vanilla and 30 scoops of chocolate ice cream. If you finish it all in the required time, you get all that ice cream for free!
Looking for more helpful tips? Your ultimate restaurant and supermarket survival guide is here!
COLORADO: Avogadro's Number in Fort Collins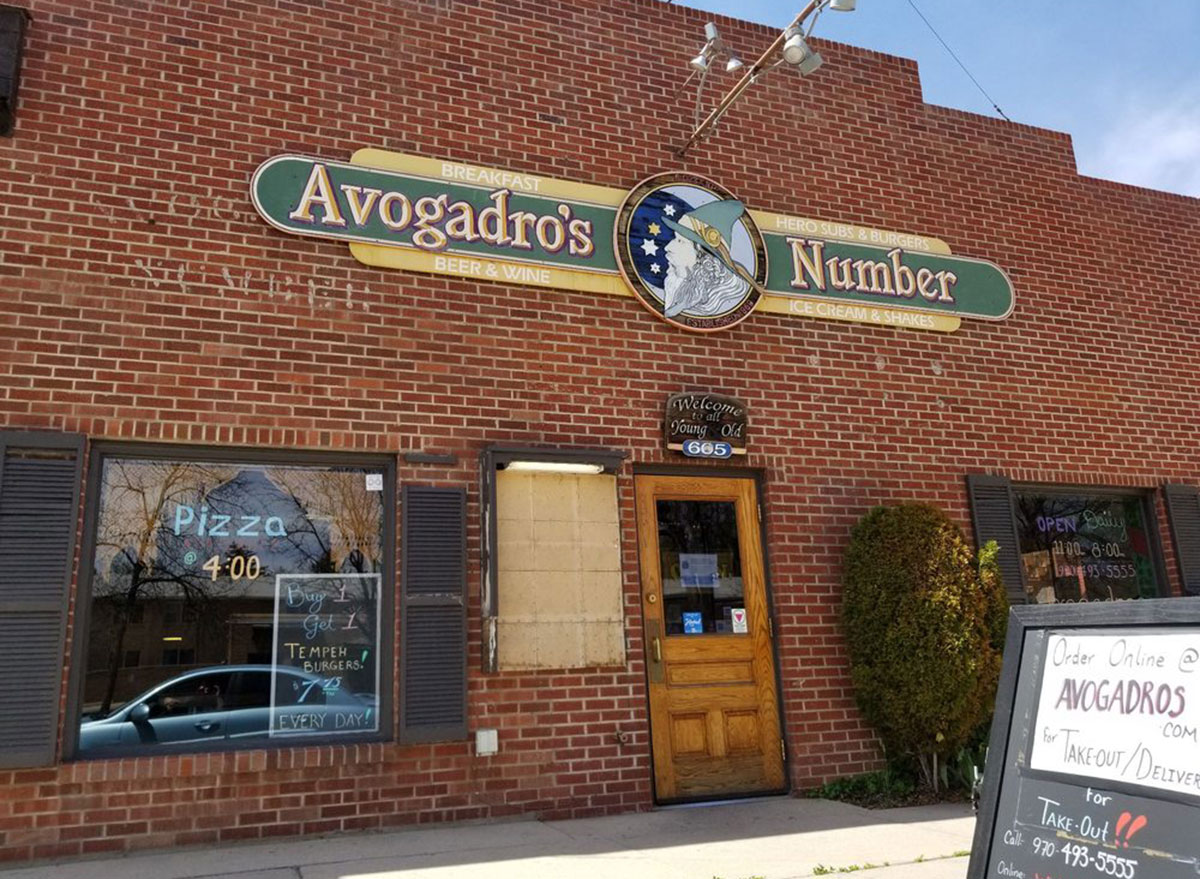 Live music and delicious cheese sticks can't be beaten here. It's no wonder the hand-breaded mozzarella sticks made with homemade marinara are such a hit.
CONNECTICUT: Naples Pizza in Farmington
Hand-cut mozzarella wedges are served with homemade marinara sauce that diners describe as so good, some even eat it with a spoon. Delish!
DELAWARE: Crust & Craft Wood Fired Pizza in Rehoboth Beach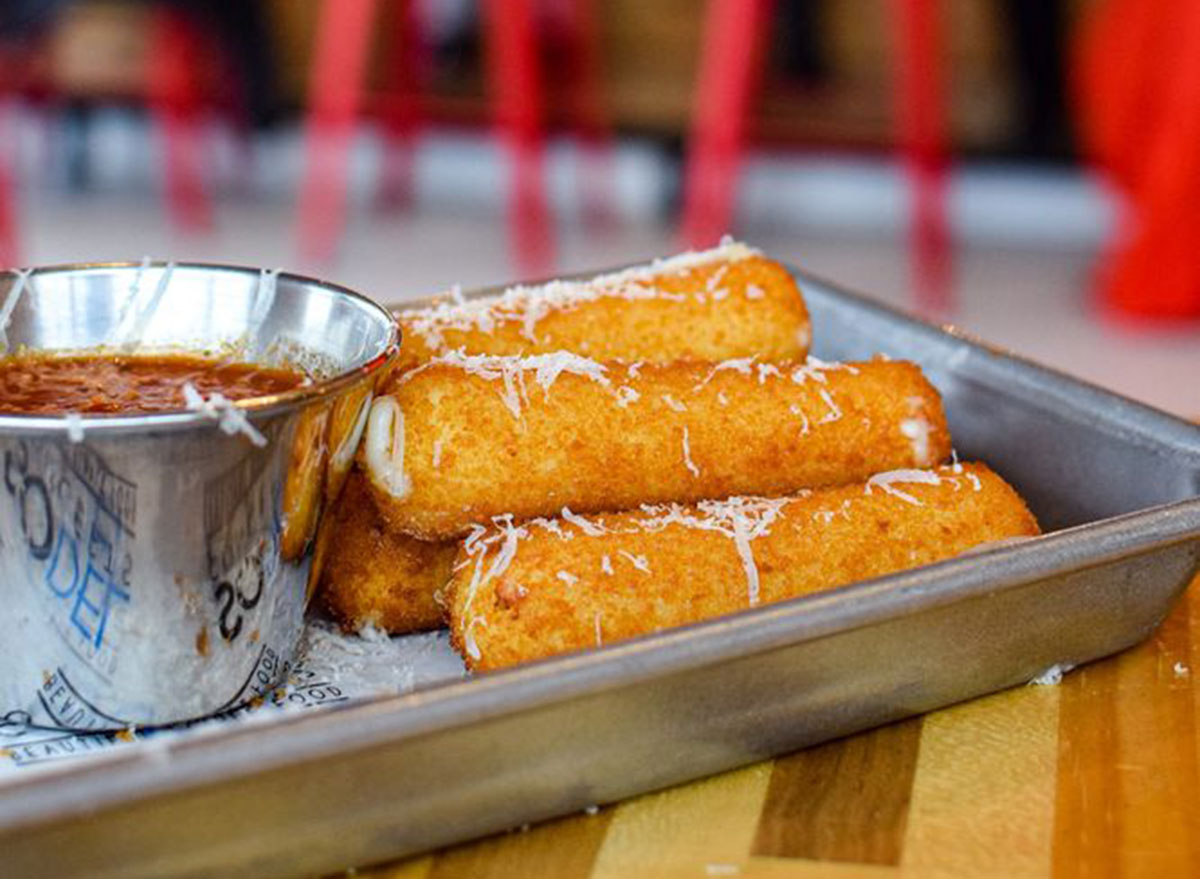 The mozzarella sticks at this boardwalk pizza joint are homemade, creating the perfect crispy and cheesy treat. There is even a mozzarella stick grilled cheese sandwich that appears on the menu occasionally.
FLORIDA: Duffy's Sports Grill in Orlando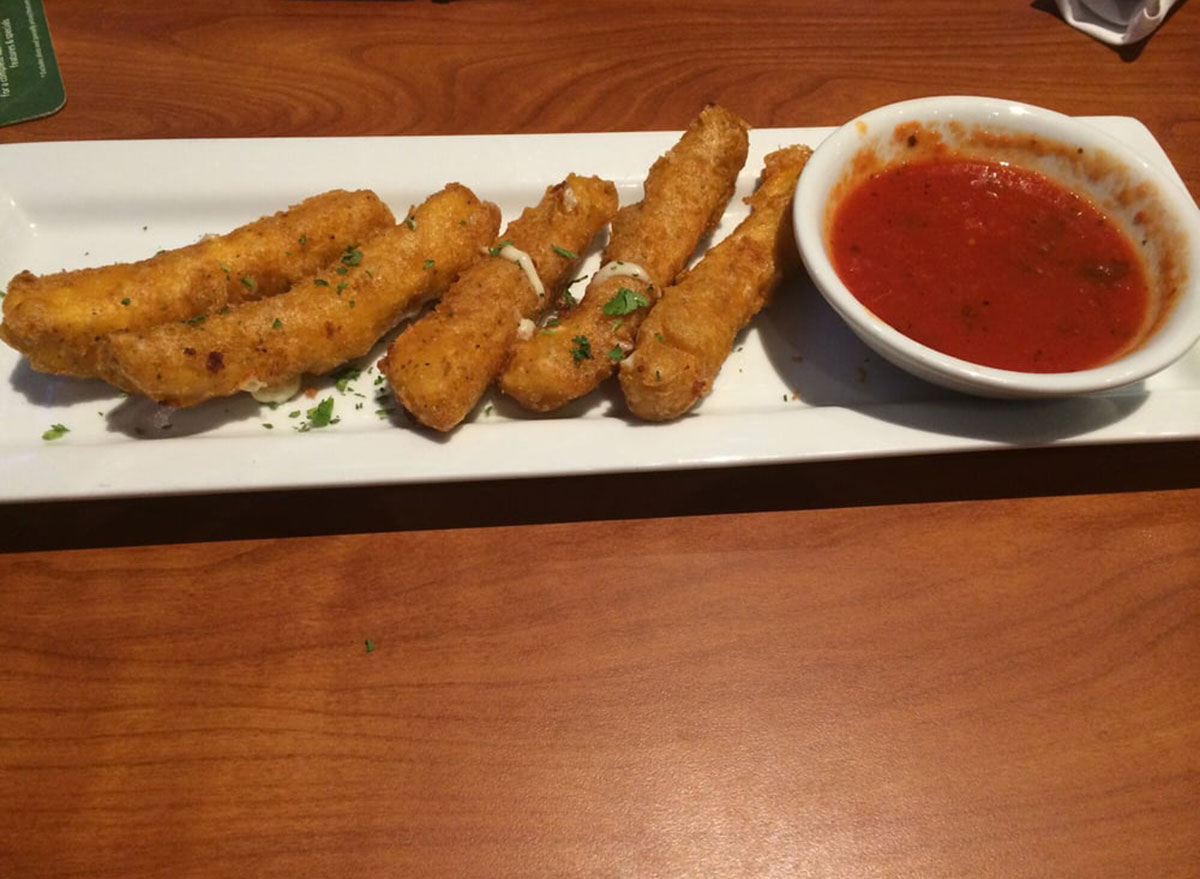 Duffy's is popular as a sports spot, so it makes sense the mozz sticks are super tasty. They have what one reviewer called, "awesome" beer batter fried mozzarella sticks that are served with tomato basil marinara.
GEORGIA: The Vortex in Atlanta
Little Five Points hosts an eclectic spot dominated by a giant skull with disorienting eyes guarding the door. Big mood. But don't be afraid! The skeleton is just weeding out the nervous folks so that you can have more of the cheese balls made from curds and jalapeño to yourself.
HAWAII: Allegrini Mozzarella in Honolulu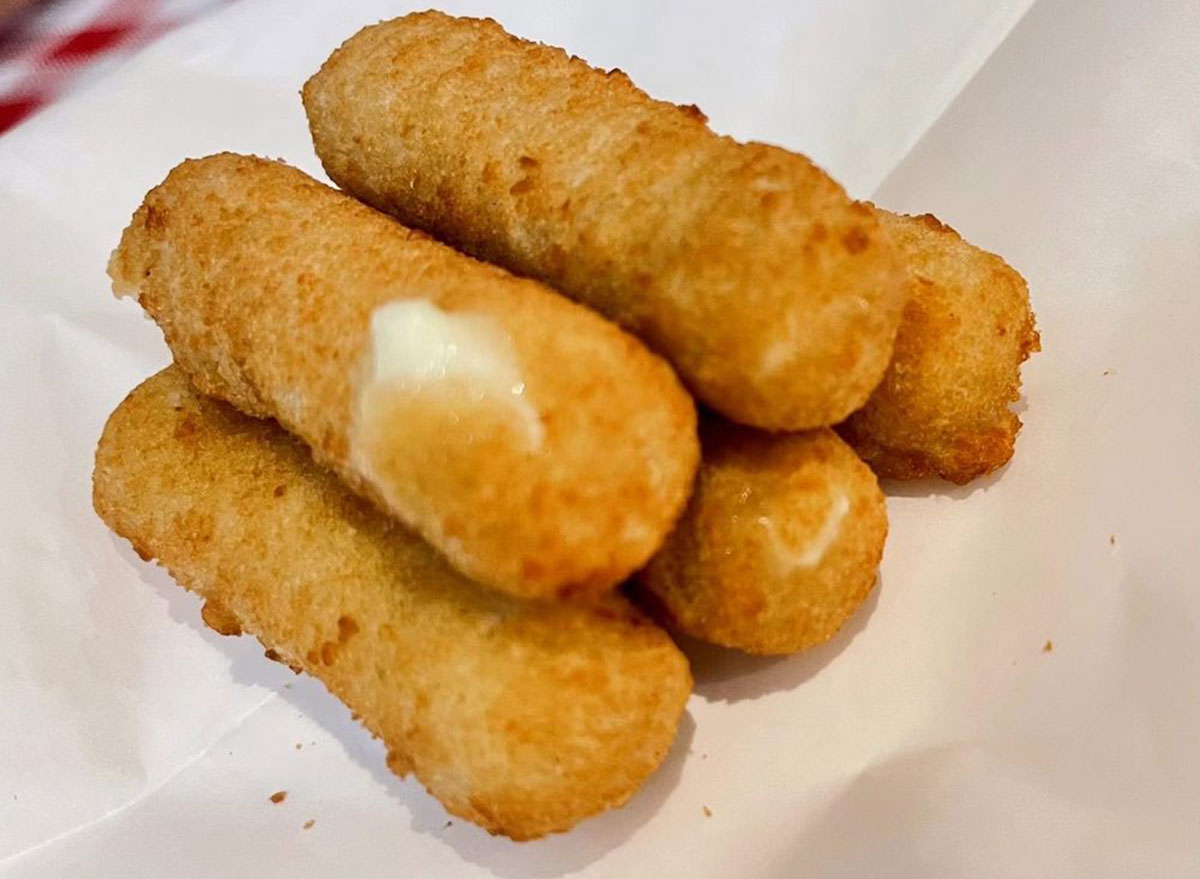 Of course, real Italian cooks in an authentic restaurant would treat their mozzarella with style. Find it on the appetizer menu, but stay for the pizza as well.
IDAHO: Burger N'Brew in Boise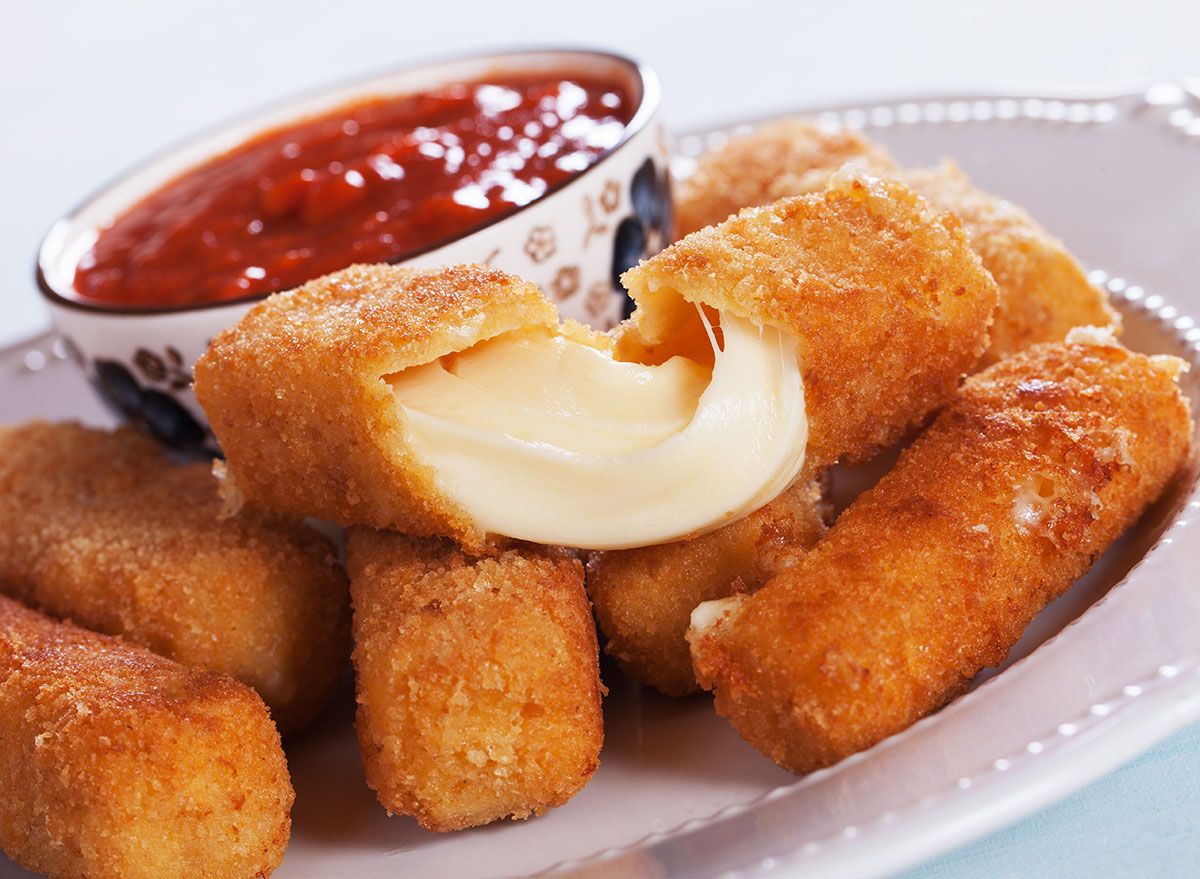 This restaurant uses a light hand on the batter, working for ultimate crispiness instead of thickness for the sticks' outer crunch. They come with homemade marinara and house-made ranch to make the mozzarella a delicious, satisfying appetizer.
ILLINOIS: Frato's Culinary Kitchen in Schaumburg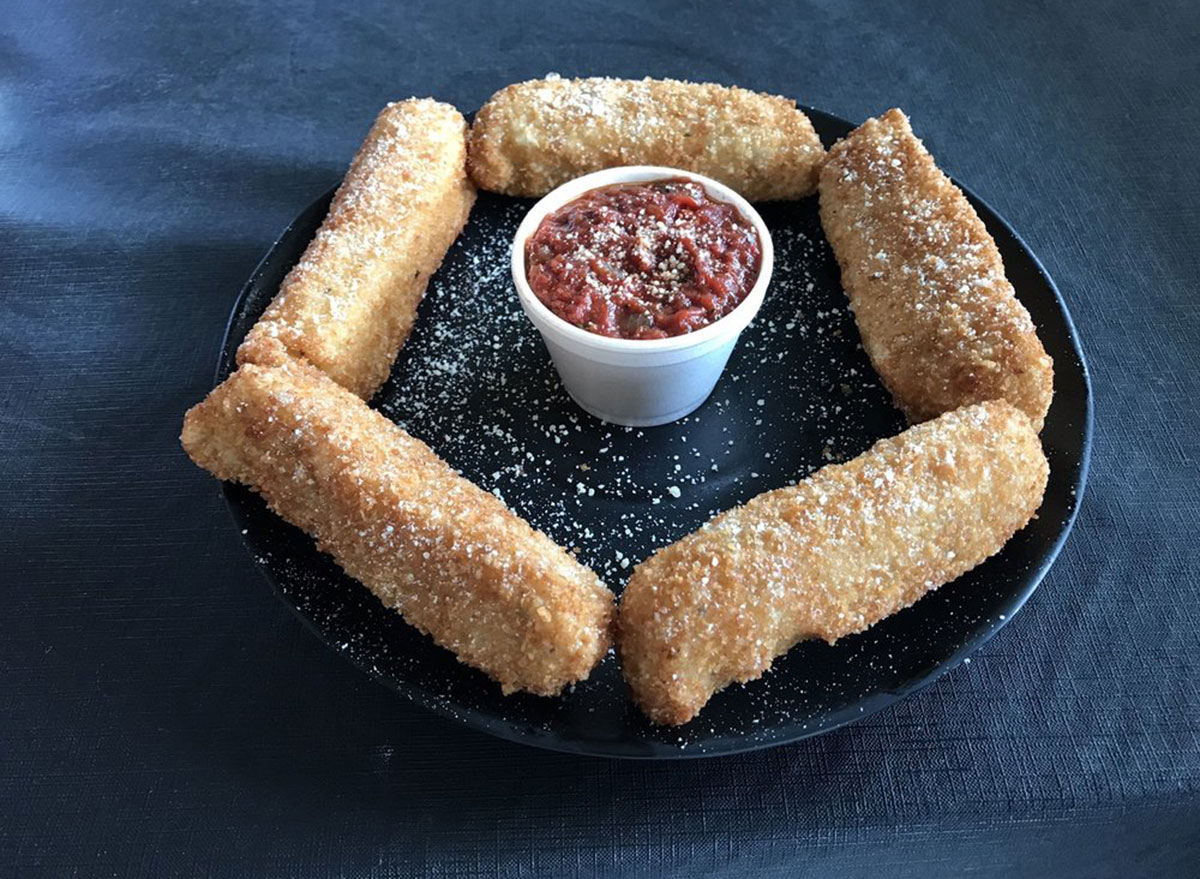 This student-driven training kitchen makes huge sticks from hand-cut mozzarella. They are first wrapped in seasoned dough and then dredged in breadcrumbs before frying. These incredible sticks bring patrons from all around to sample the best fried mozzarella in the state.
INDIANA: Indiana State Fair in Indianapolis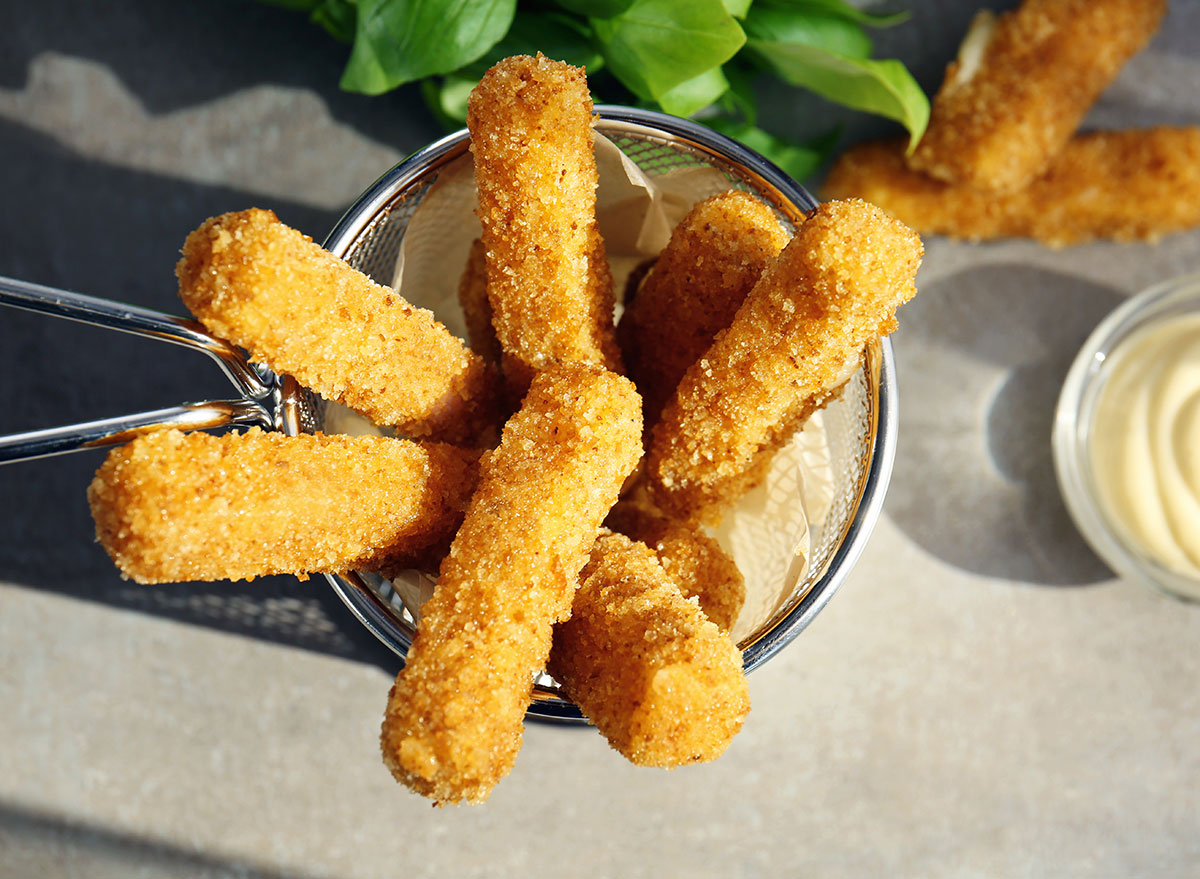 Look, the homage to cheese at the state fair is second to none. In fact, the 2019 fair had a giant statue carved from cheese from a local dairy. The mozzarella sticks are always fried to perfection and served with a side of roller coasters and livestock. That's a win-win.
IOWA: Tic Toc in Cedar Rapids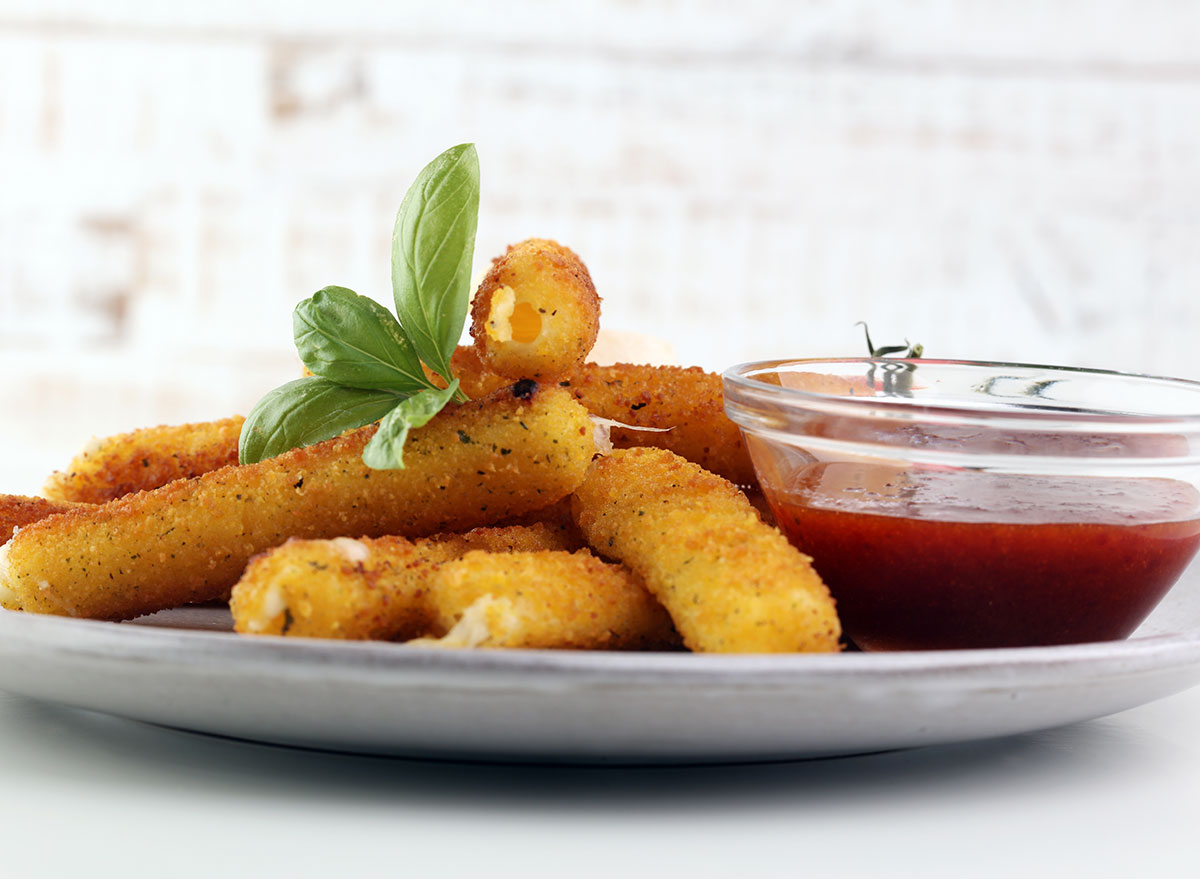 When the dish reaches the table, you'll first notice the size. Each mozzarella stick is huge, easily enough to feed even the most devoted cheese fan. They are dunked in batter before frying, giving a different crisp taste than a breading. When you bite into the stick, it oozes melted cheese, making this stringy treat the best in Iowa.
KANSAS: The Hill Bar & Grill in Wichita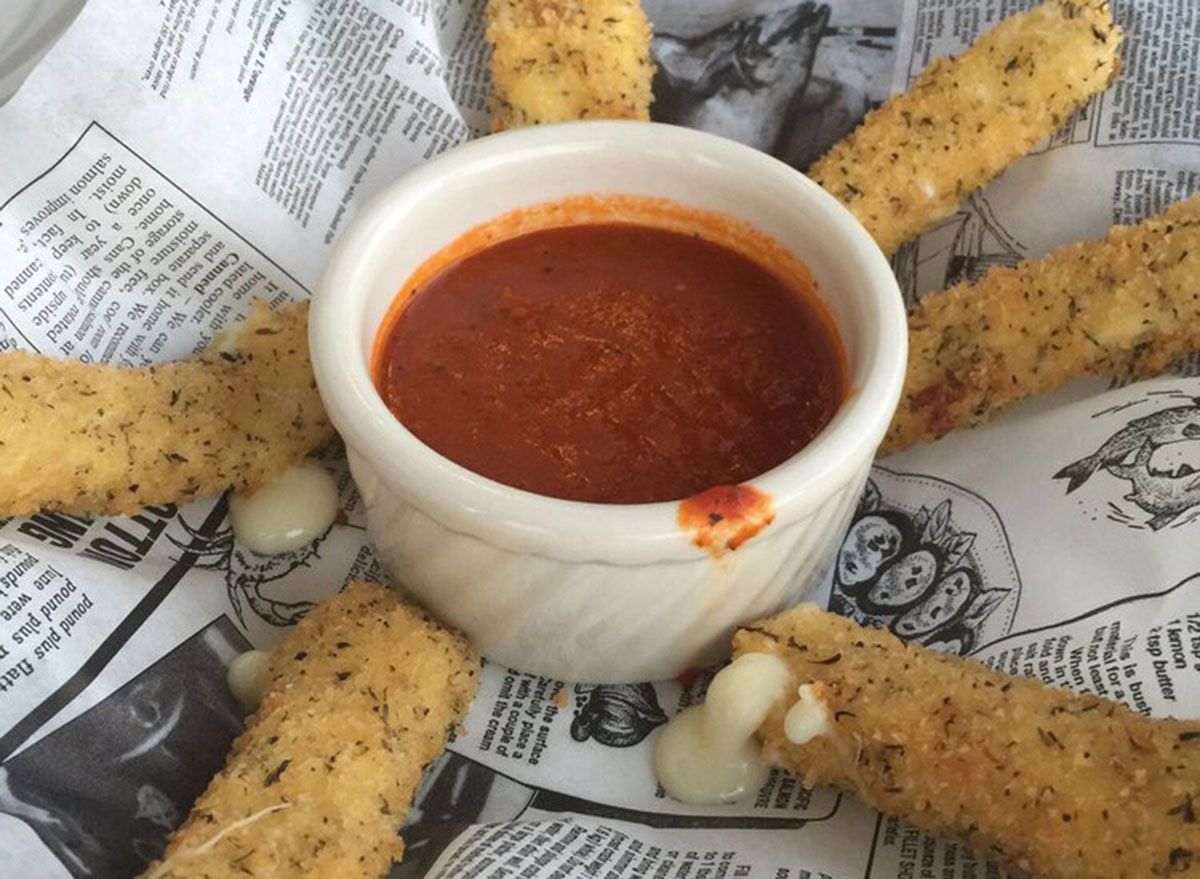 Diners appreciate the hand breading on these quality mozzarella sticks The Hill is serving up. The game is always on for your entertainment while you eat, too. This spot is known as one of Wichita's best sports bars and the food lives up to the hype.
KENTUCKY: The Post in Louisville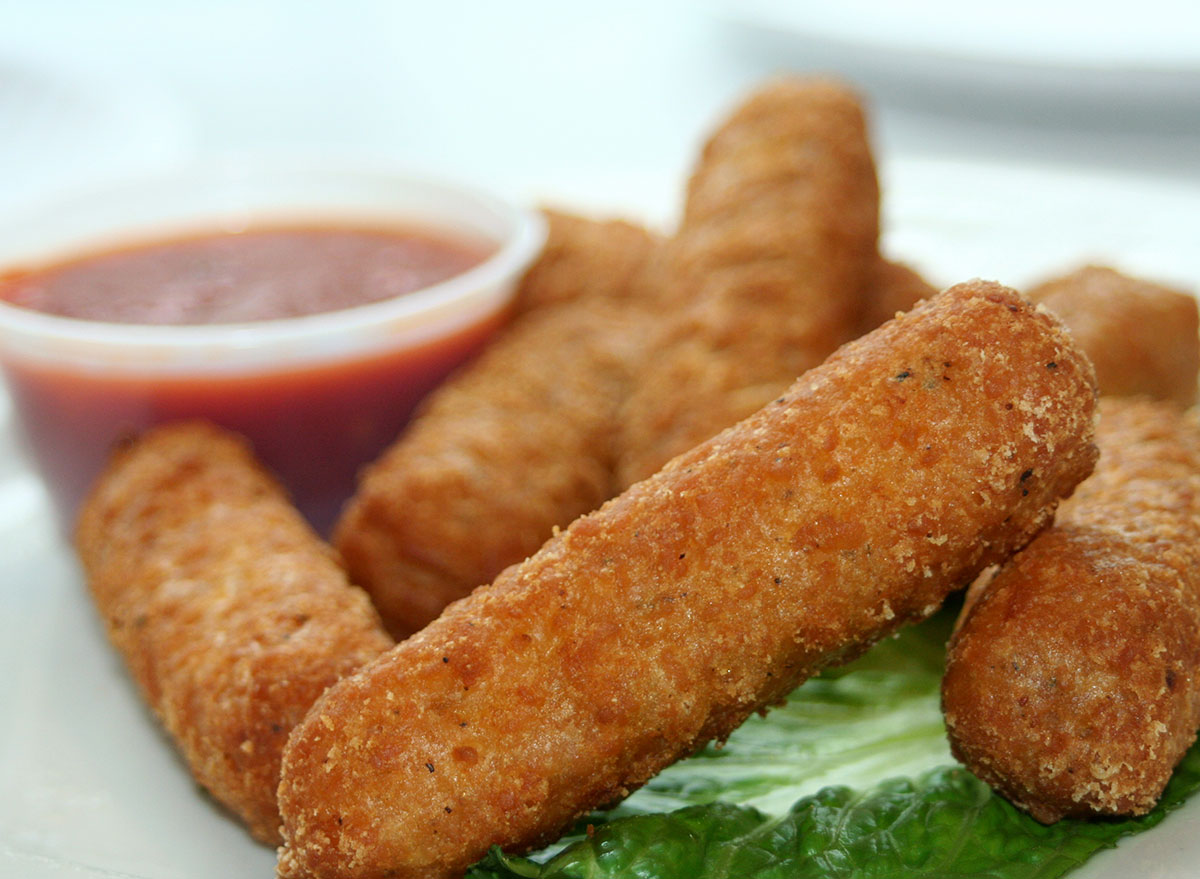 Right in the Germantown neighborhood of Louisville is a renovated Veterans of Foreign Wars post building that has turned into a go-to for New York-style pizza and tasty mozzarella sticks. Get eight sticks in the small and 12 in the large for big appetites.
LOUISIANA: Mena's Palace in New Orleans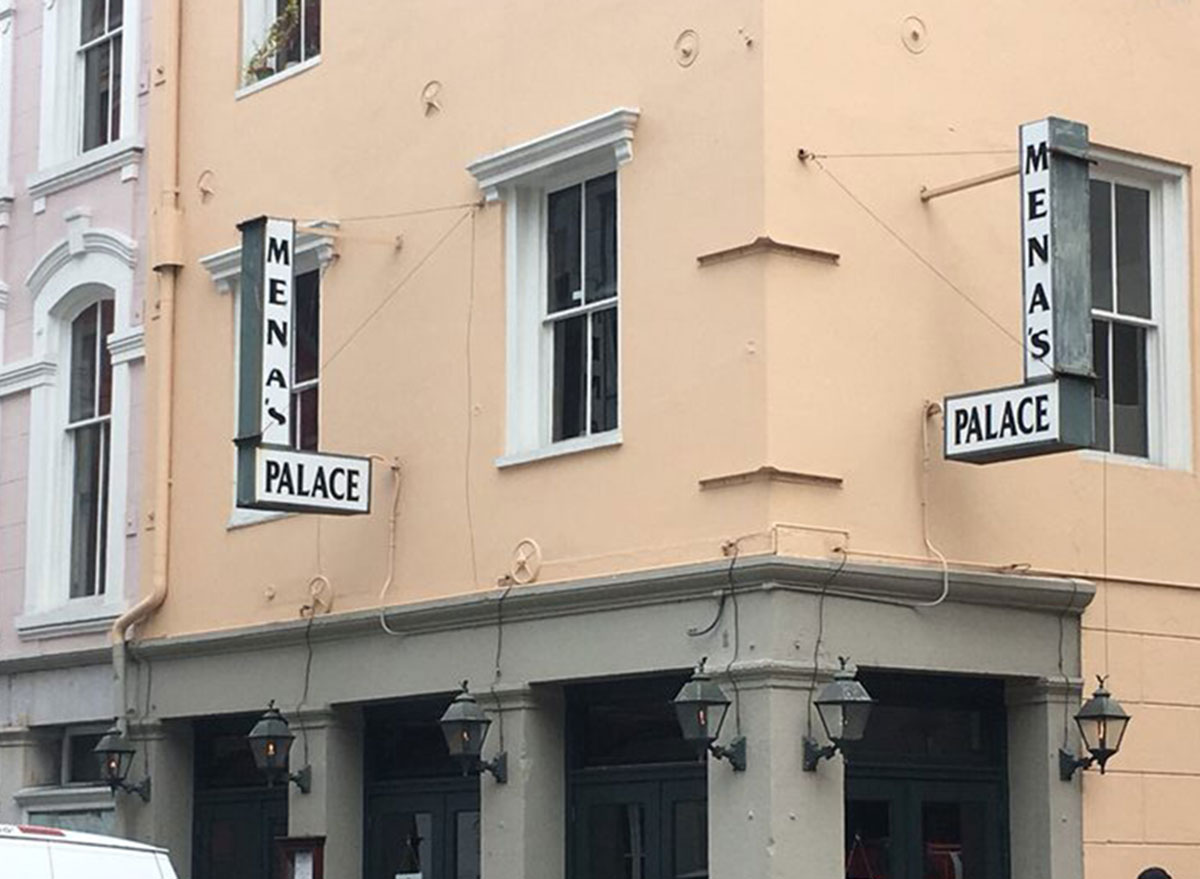 You really can't go wrong with anything on the menu at Mena's Palace, and that includes the mozzarella cheese sticks.
MAINE: Portland House of Pizza in Portland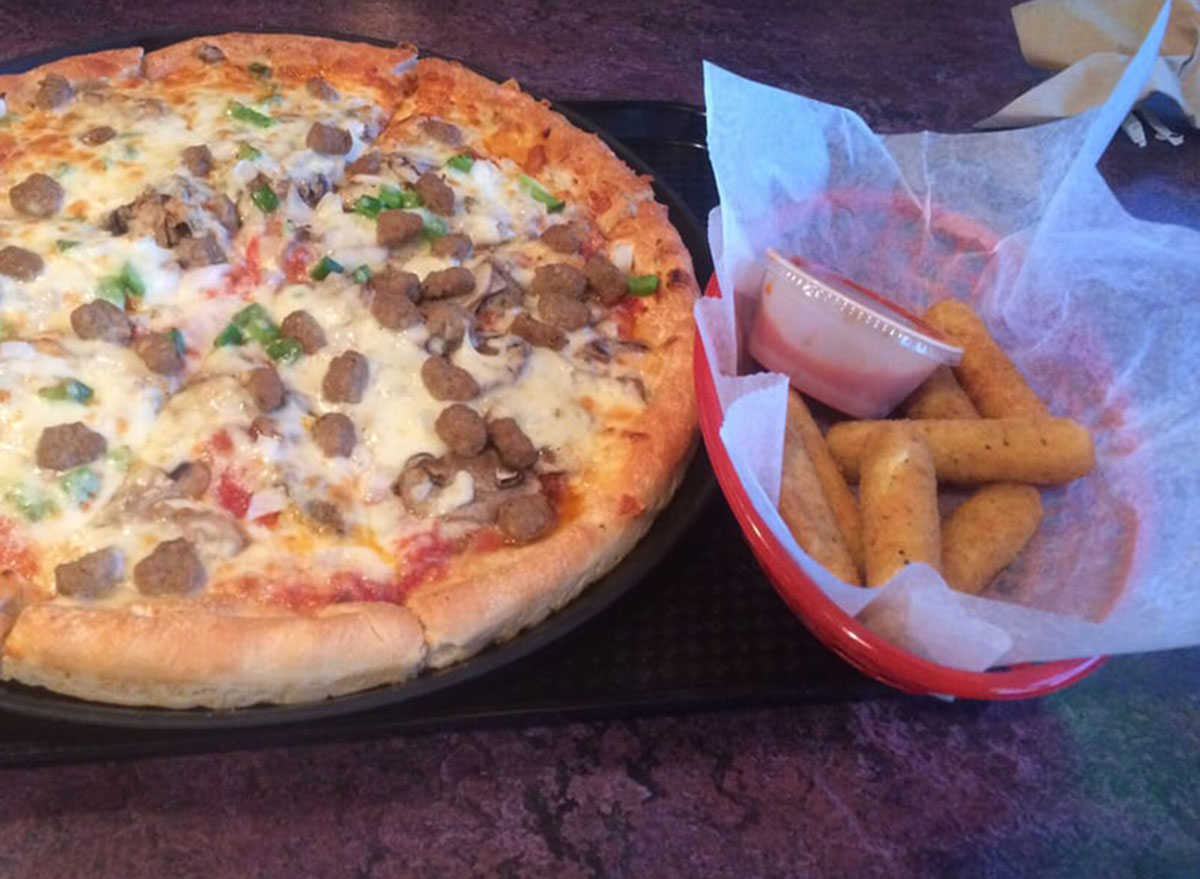 Portland House of Pizza has been serving up family dishes for over 30 years. The golden-brown mozz sticks make a great starter before diving into a pizza.
MARYLAND: Mamma Lucia in Bethesda
Mamma Lucia's offers fresh Italian cooking and to-go meals from six locations. While they specialize in pizza, they have a whole host of delicious starters, including a great version of fried mozzarella with a side of marinara.
MASSACHUSETTS: Harvard House of Pizza in Cambridge
Late-night fast-food staples like mozzarella sticks and pizza are a favorite at this campus spot. Patrons recommend it for the food and the friendly, helpful service.
MICHIGAN: Vitale's Pizza in Grand Rapids
Creamy cheese sticks coated with a crunchy exterior are served with the restaurant's pizza sauce. The award-winning pizza is an added bonus.
MINNESOTA: Galactic Pizza in Minneapolis
Get your delivery from Galactic Pizza by a driver dressed as a superhero. Yes, it's true! And you just may be convinced of their powers after you taste the delicious cheese sticks that are hand-battered, crunchy, and bursting with cheese.
MISSISSIPPI: Harvey's in Columbus
Harvey's fried cheese sticks are served with ranch, offered as an appetizer on their classic American menu full of burgers, seafood, pasta, and wood-fired steaks. End your meal with the Mississippi Brown Butter Cake topped with caramelized peaches and ice cream.
MISSOURI: D's Place in St. Louis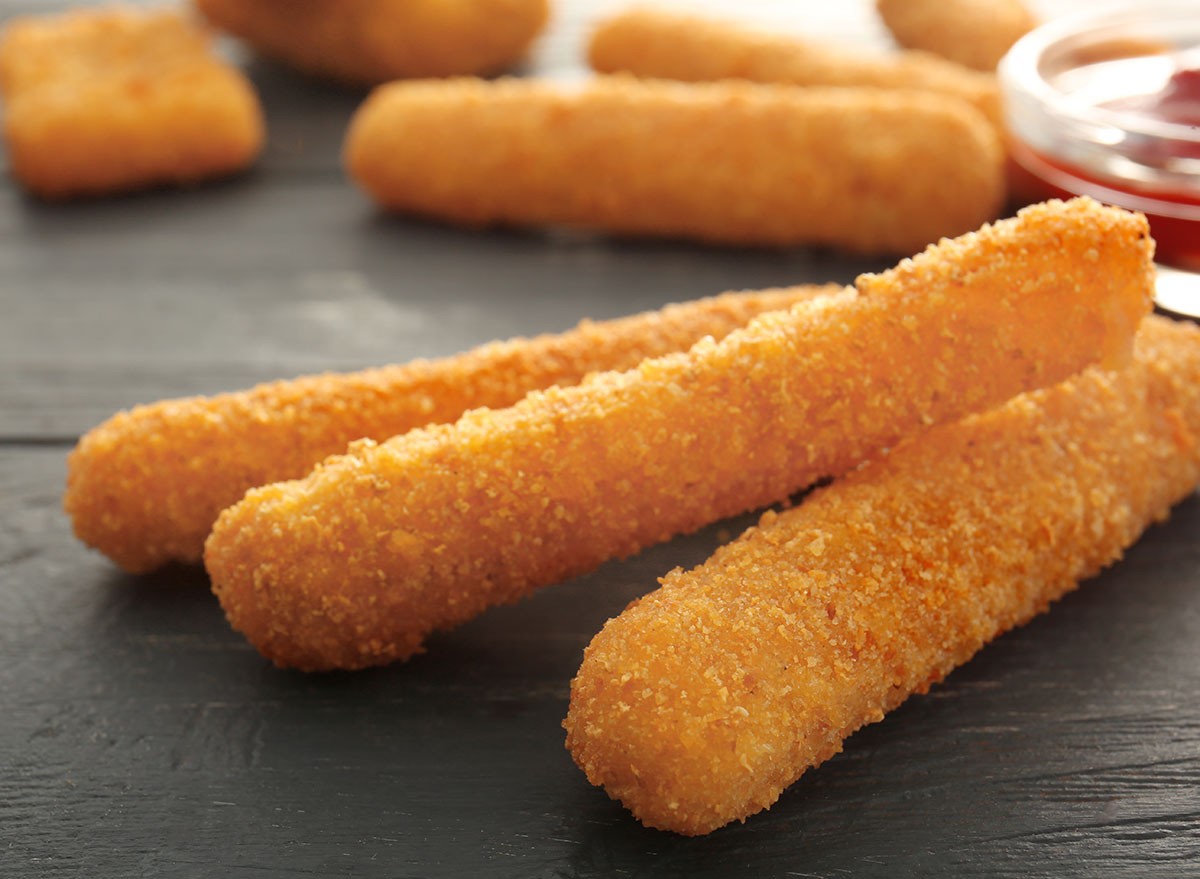 Neighborhood restaurant D's Place has what's been voted the best burger in St. Louis. And the cheese sticks don't disappoint either. The dressings served for dipping sauces are homemade and the atmosphere is just welcoming.
MONTANA: Sting Sports Bar Grill & Casino in Great Falls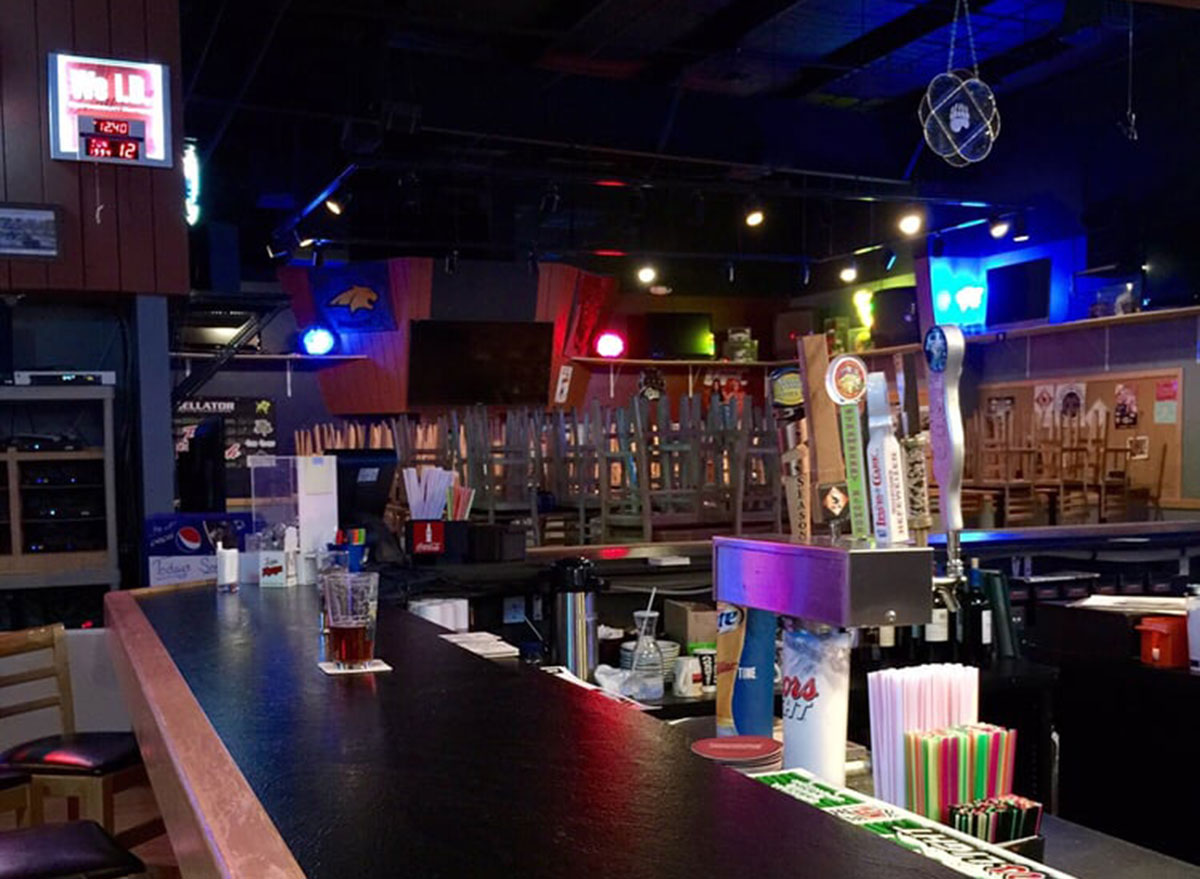 Not only is this a great sports bar, but it's also a casino, live poker room, and video game room. Entertainment is plentiful, but so is delicious food. The cheese sticks are hand wrapped in wonton wrappers and deep-fried. Diners can choose from ranch or homemade marinara, too.
NEBRASKA: Press Box Sports Bar in Lincoln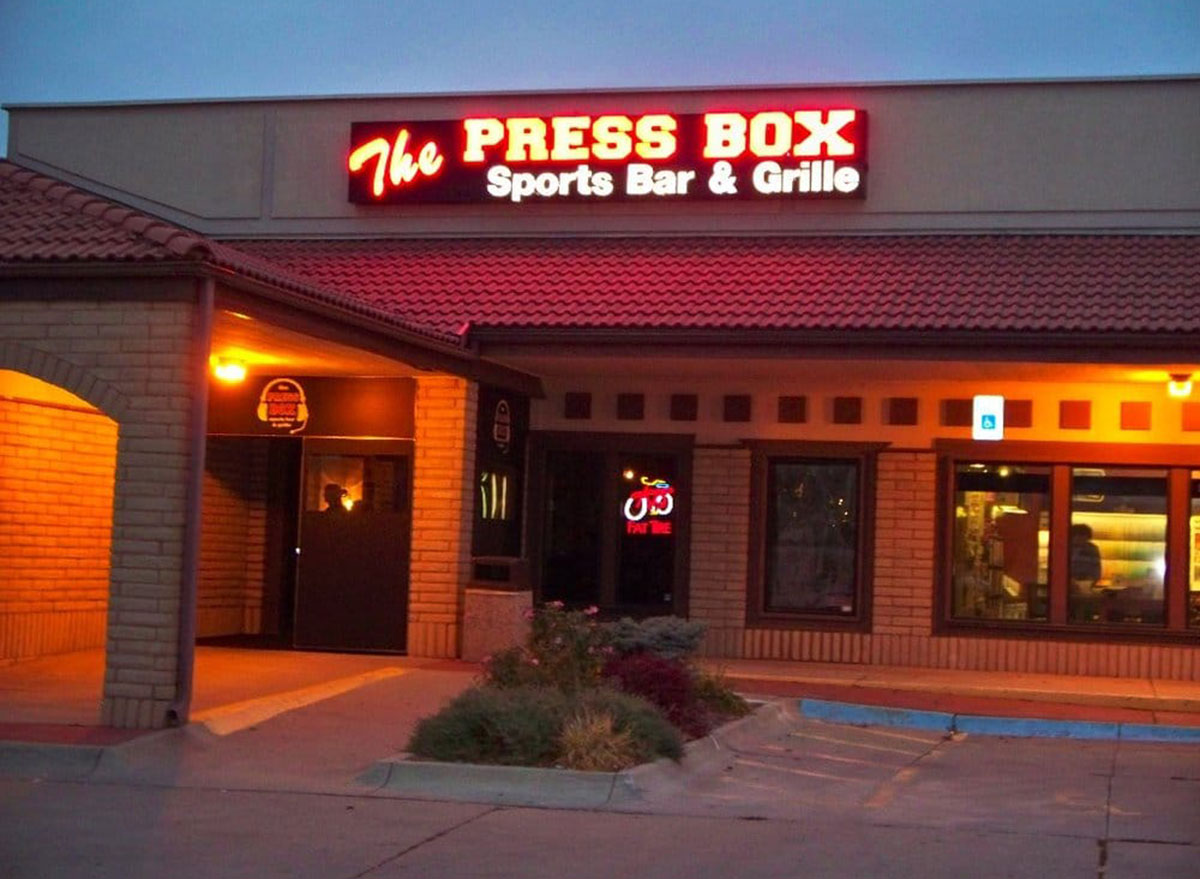 Locals say this spot hands down wins the 'best of.' And it may be because of the sauces. Choose from marinara, ranch, blue cheese, queso, or ketchup.
NEVADA: Amano in Las Vegas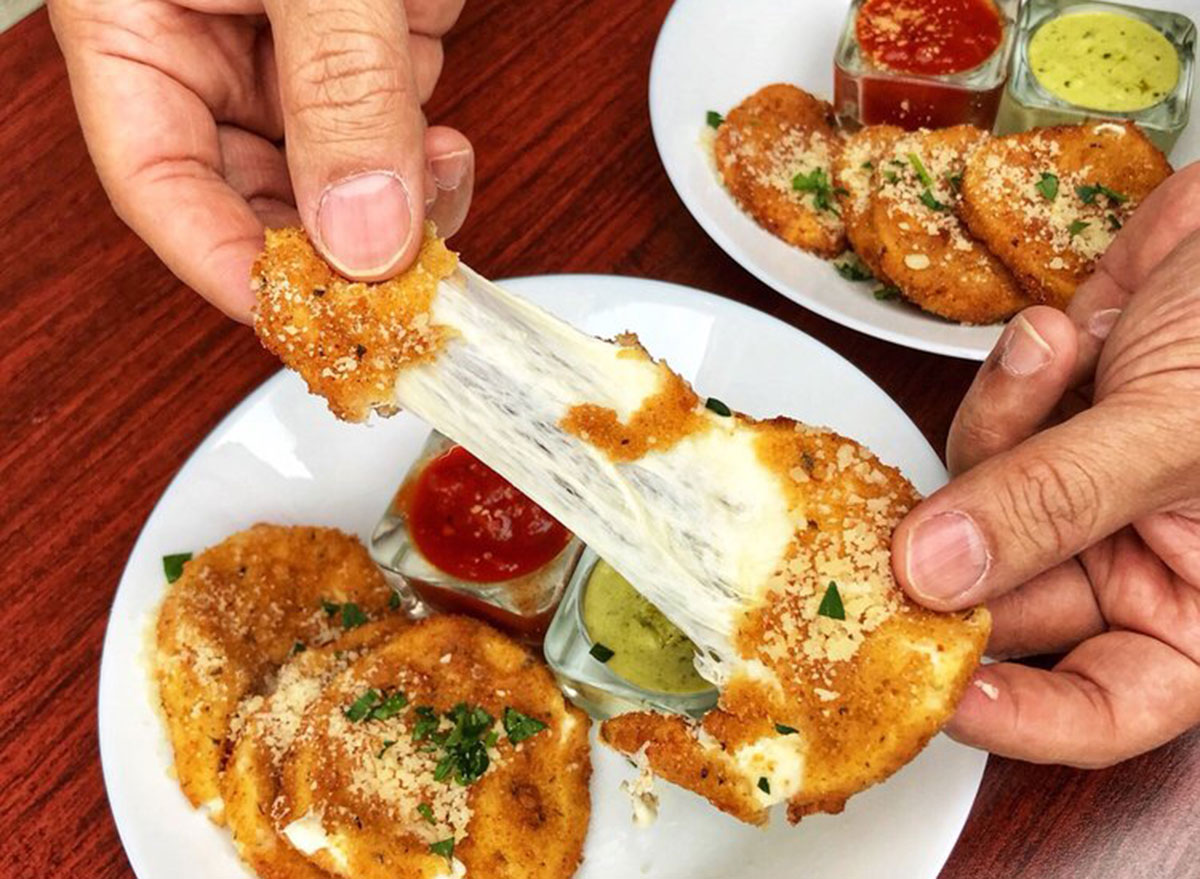 This restaurant cuts the mozzarella and hand breads it before flash frying. The discs are then served with homemade creamy pesto. Despite the humble origins in a strip mall 20 minutes away from the tourist hub, it may be worth the trip if you love mozzarella.
NEW HAMPSHIRE: Red Blazer Restaurant and Pub in Concord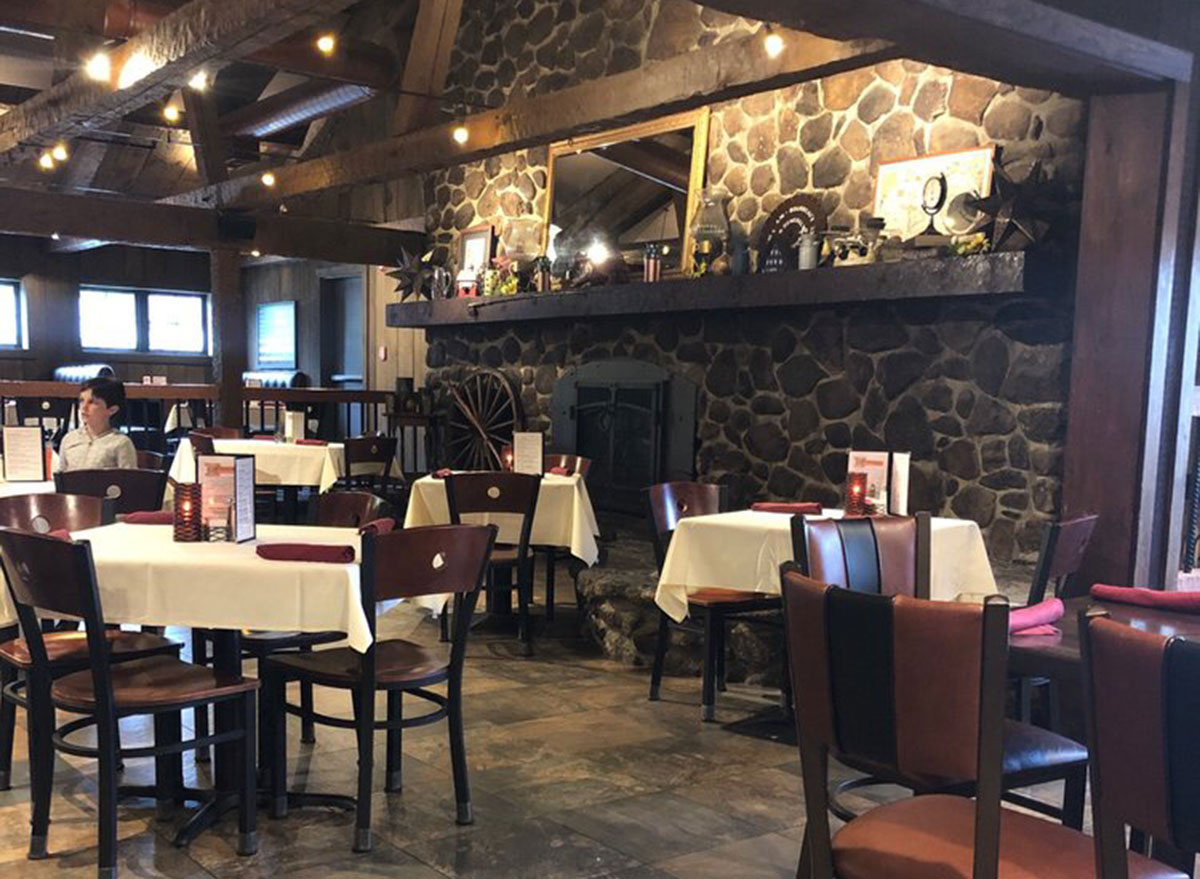 The staff here will likely recommend the mozzarella sticks based on the feedback of customers. They're always raving about the sticks!
NEW JERSEY: Onieals in Hoboken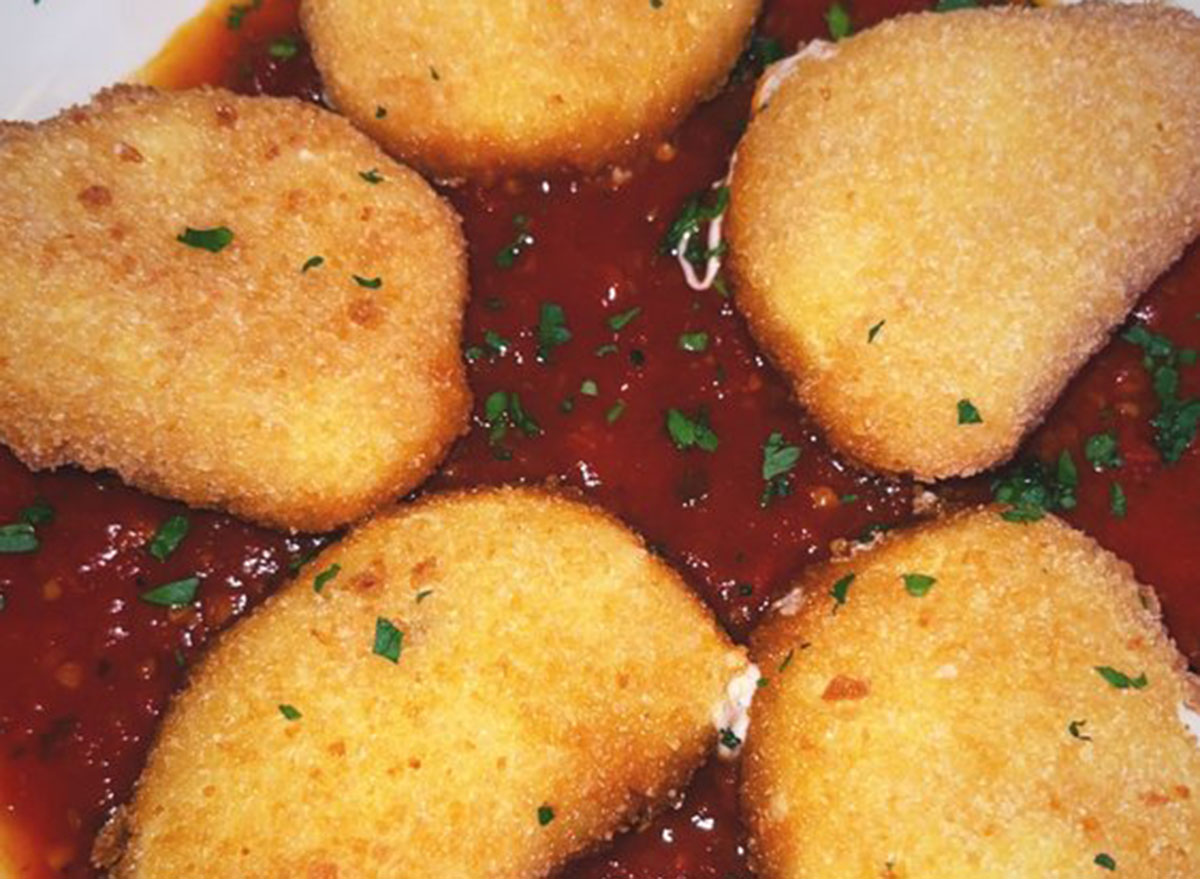 The mozzarella is fresh fried like so many other quality options on our list, but the marinara is warm and spicy here. What makes this spot even more interesting is that it relies on locals' word of mouth to get a very loyal customer base.
NEW MEXICO: Twin Cronnie in Clovis
This drive-in offers fried cheese on a stick, just like at the fair. The carhops come right to the car, too, for a great blast from the past.
NEW YORK: Champ's Diner in Brooklyn
Find a perfectly cooked and soy and dairy-free version of the mozz stick at this popular vegan diner in Brooklyn. Try them as an appetizer or as a side dish to any of the delicious sandwiches on the menu.
NORTH CAROLINA: Spring Creek Tavern in Hot Springs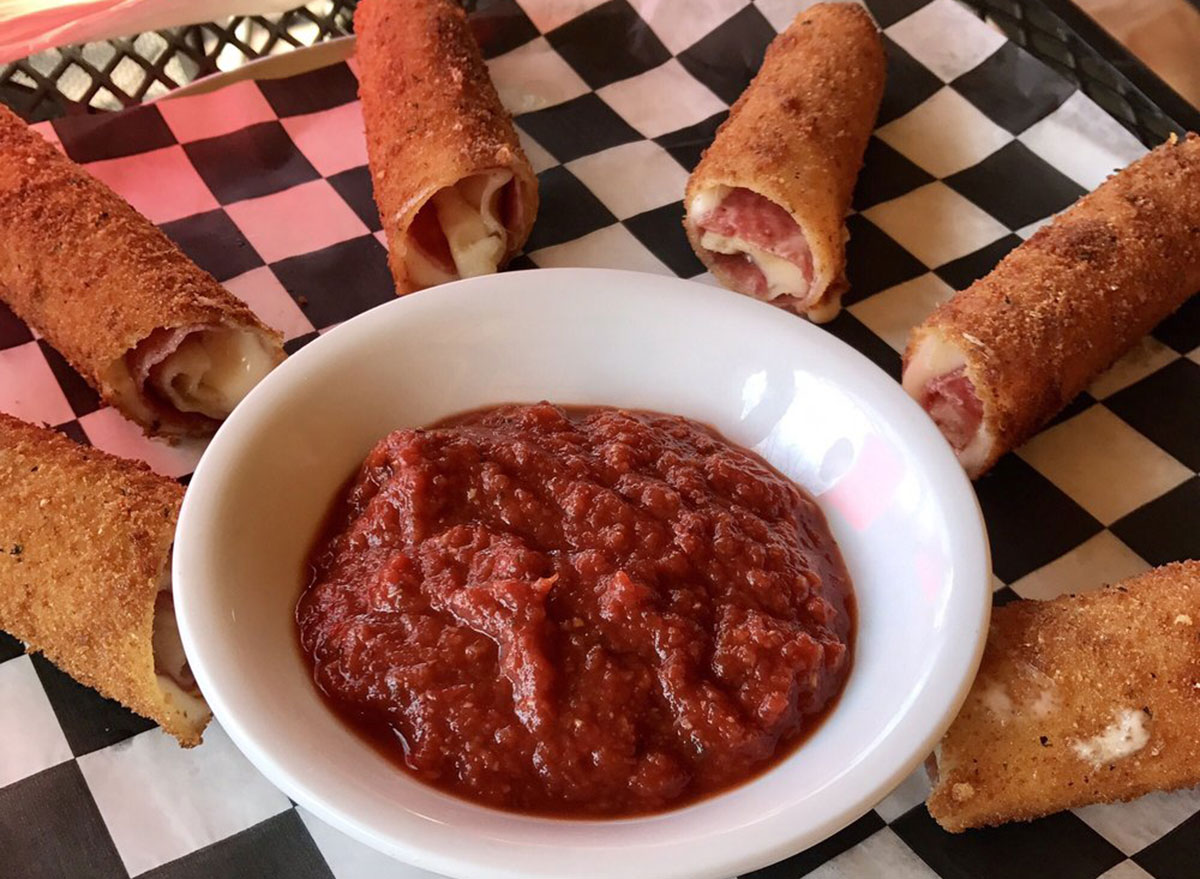 These provolone sticks are wrapped in salami and deep-fried. Enough said! It comes as no surprise that the restaurant routinely sells out of this appetizer.
NORTH DAKOTA: Beau's Grille in Akron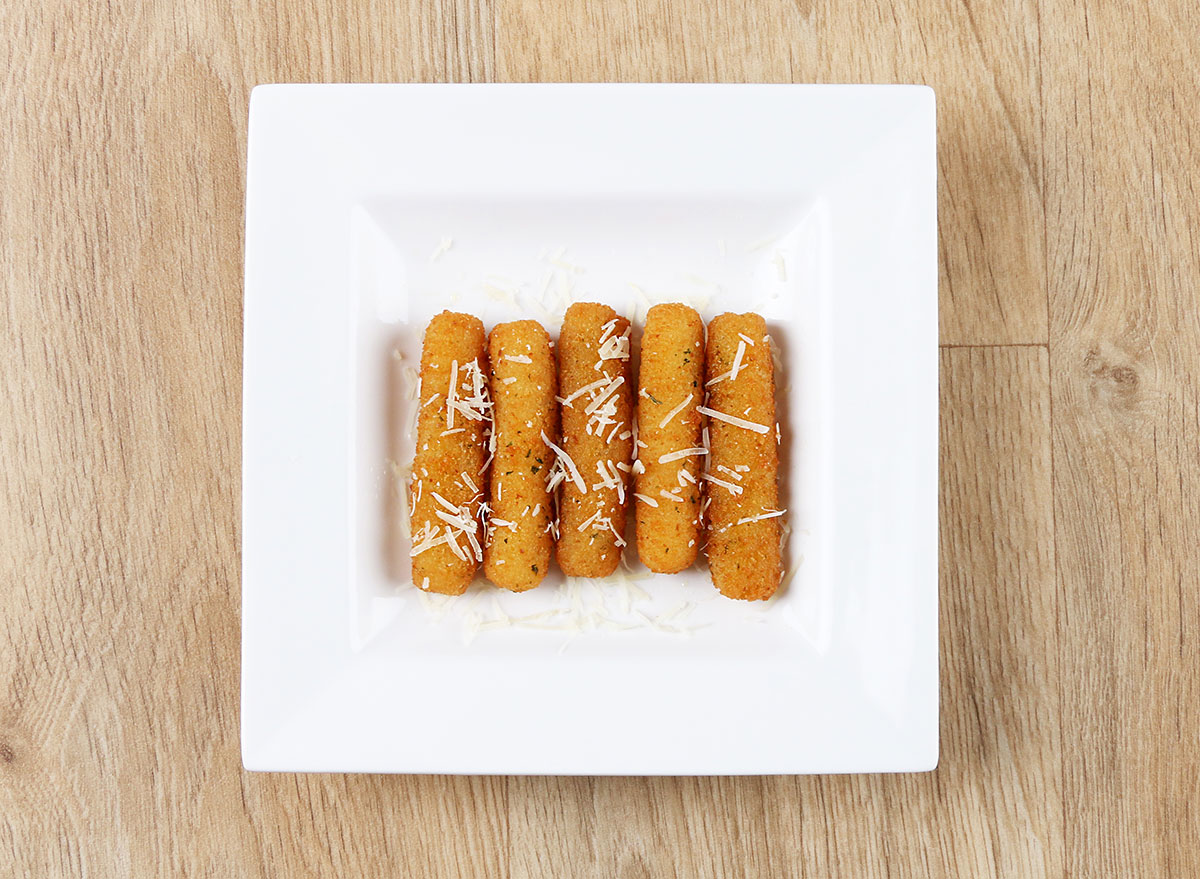 The homemade mozzarella sticks, salty, sprinkled with parmesan and served with marinara are a customer favorite here. It's actually a signature dish on the menu.
OKLAHOMA: Pizzeria Gusto in Oklahoma City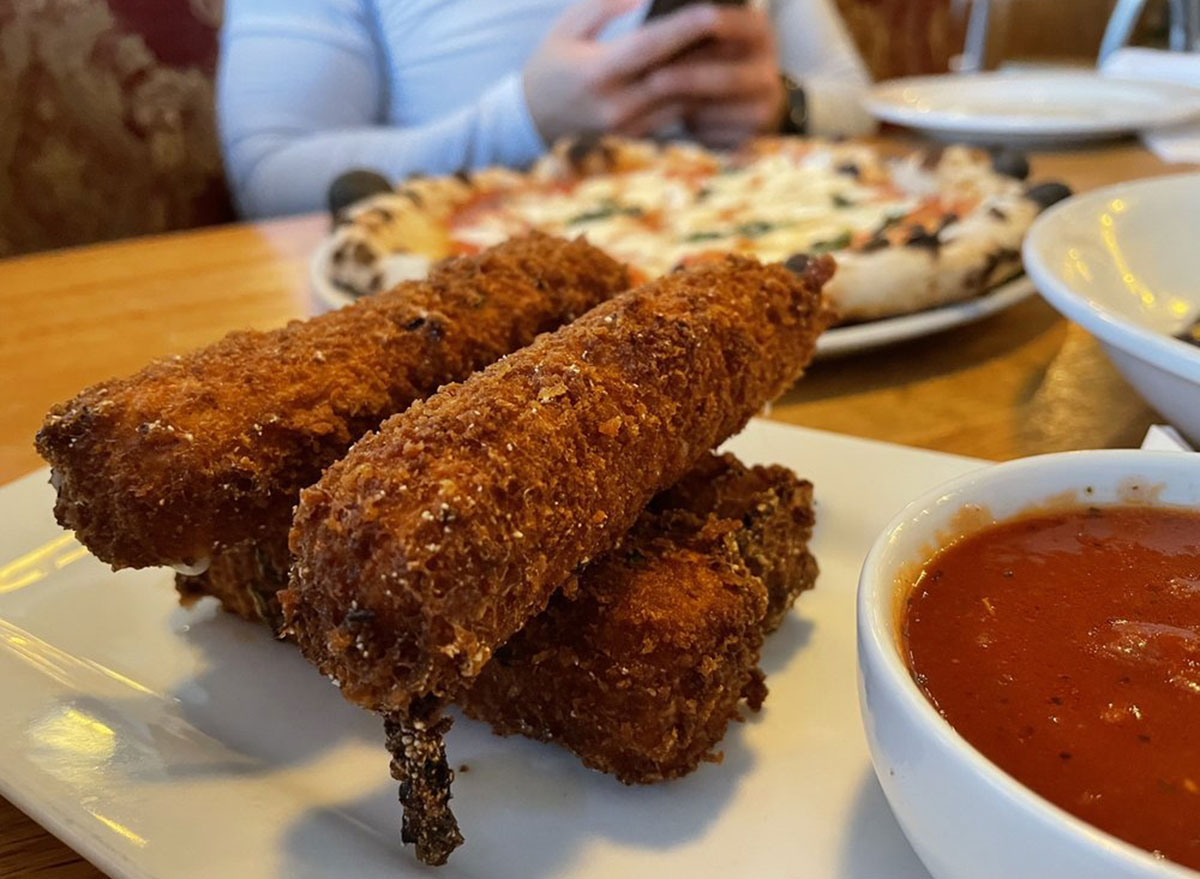 Pizzeria Gusto has an incredible menu of wood-fired pizza. Just be sure you don't overlook the panko-crusted house-made mozzarella served with marinara.
OREGON: The 1905 in Portland
Jazz, whiskey, and fried mozzarella? Why, yes, please! The sticks are breaded fresh with parmesan, basil, and the house red sauce, which make a crave-worthy appetizer.
PENNSYLVANIA: Copperhead Grille in Allentown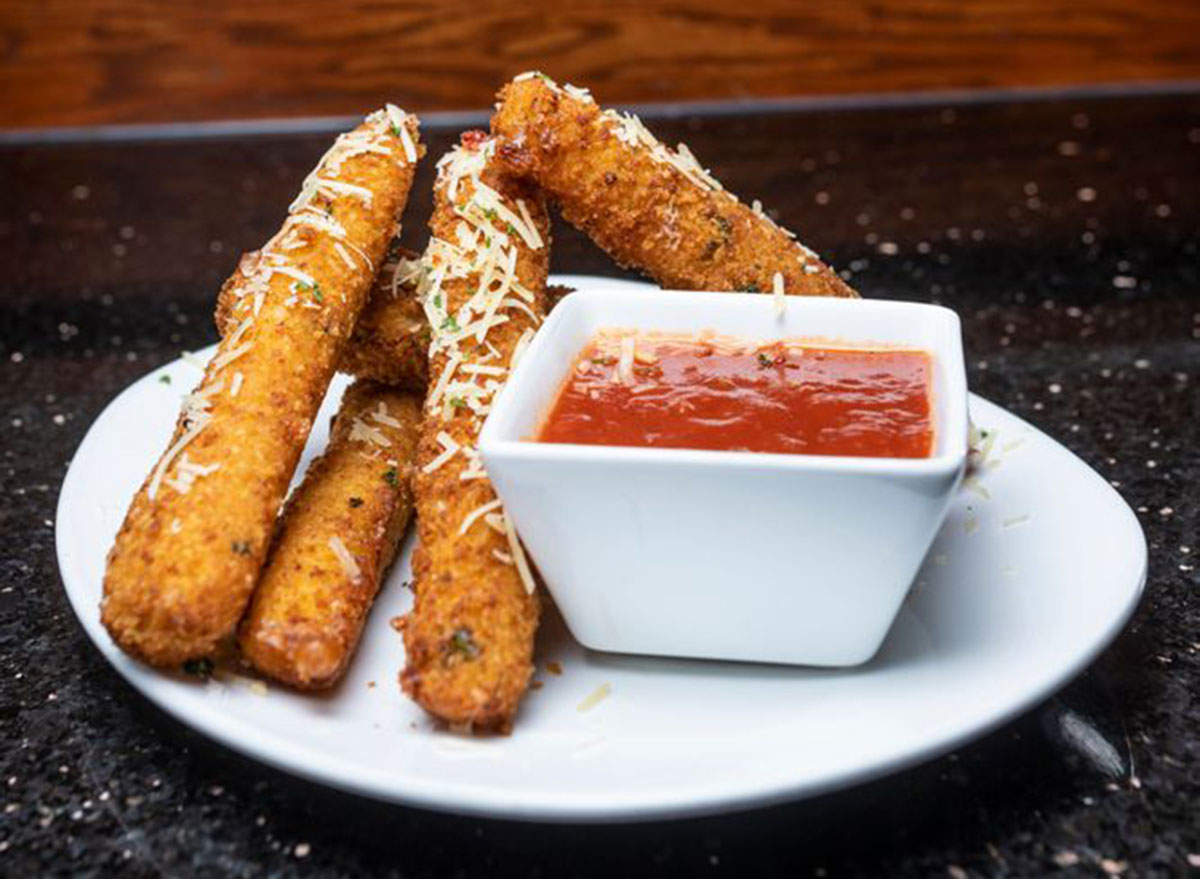 Mozzarella sticks top the menu at this fun family sports bar. They aren't reinventing the wheel—just providing a tasty, cheesy mozzarella stick worthy of the title.
RHODE ISLAND: The Big Cheese & Pub in Cranston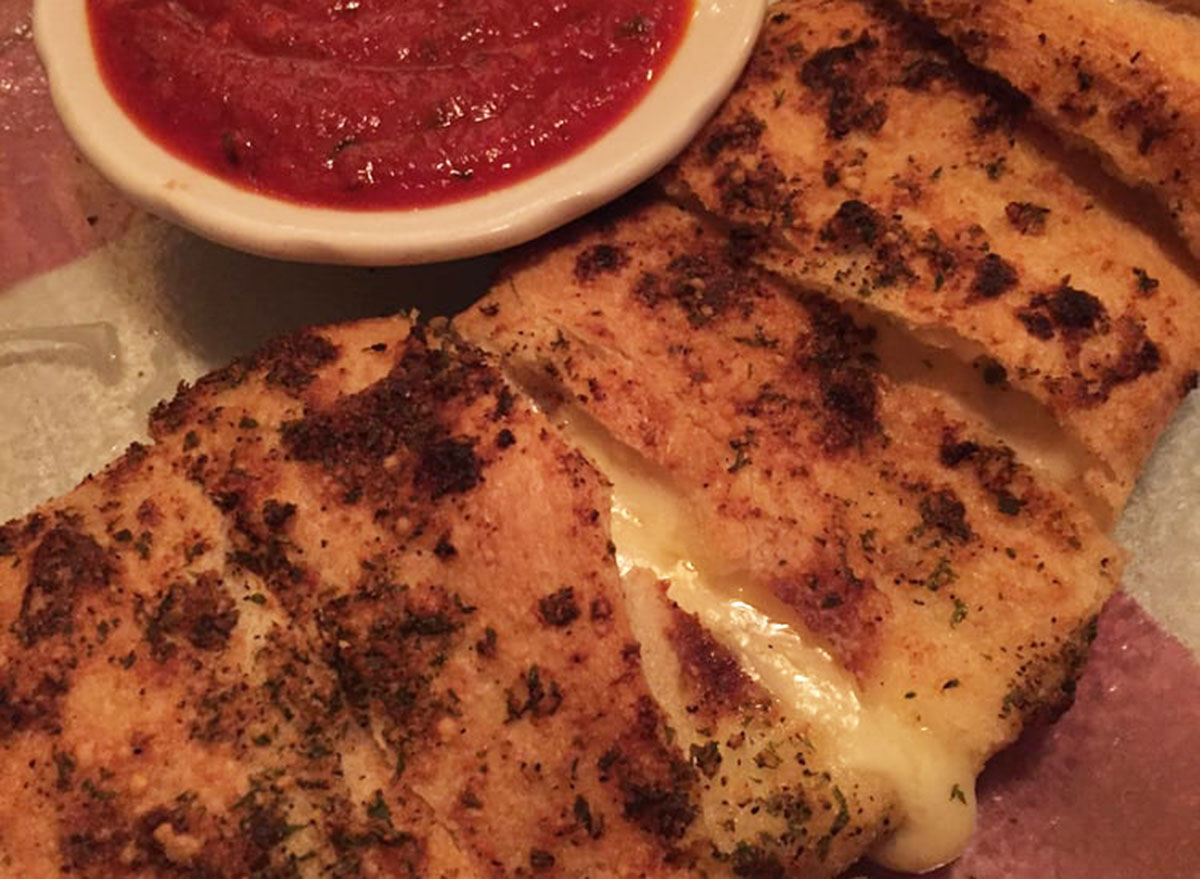 With bread and sauce made from scratch, this restaurant serves mozzarella bread, their version of the mozzarella stick. Melted mozzarella is wrapped in fresh dough and topped with garlic butter and parmesan and served with a side of homemade tomato sauce. Talk about a delicious twist on a classic!
SOUTH CAROLINA: Giuseppi's Pizza & Pasta in Hilton Head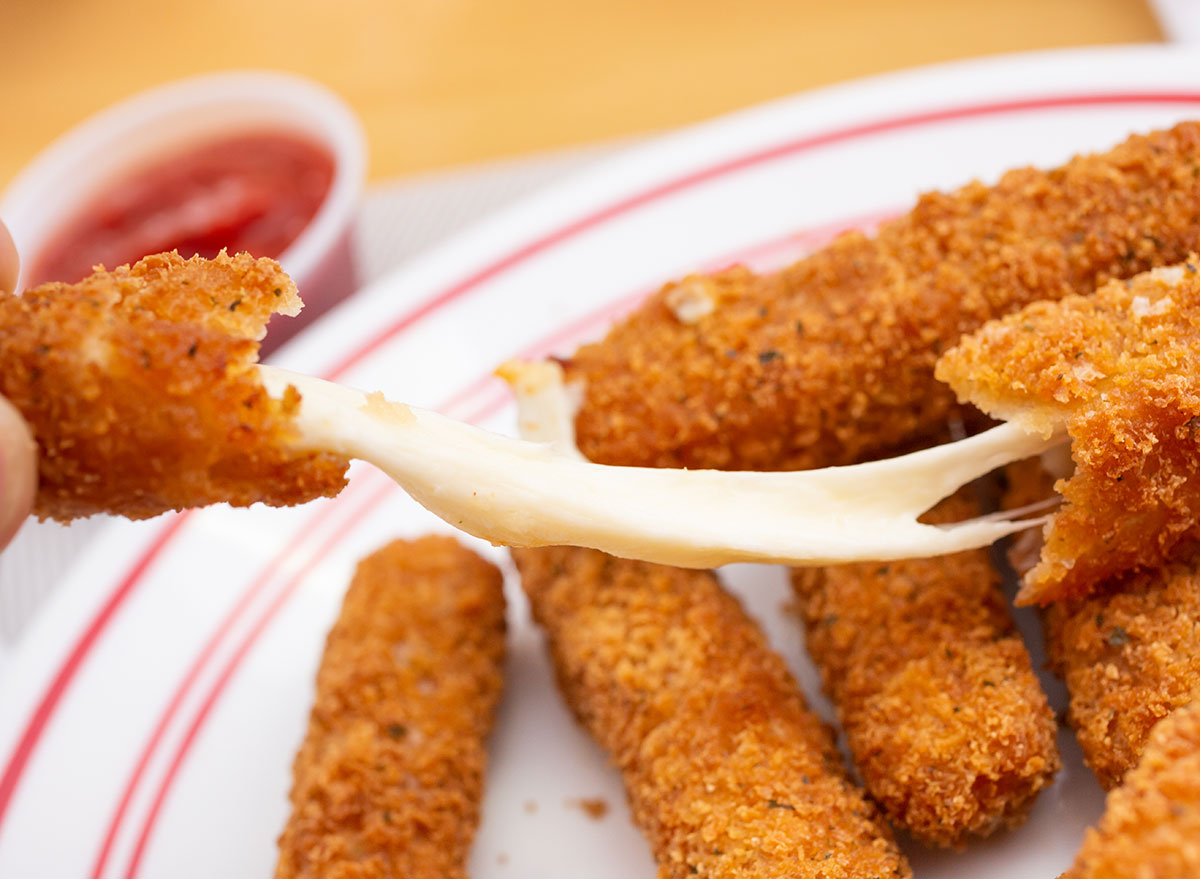 Giuseppi's has a great bar, fresh food, and the game on the television. Can't beat that! Locals and tourists alike have come to rely on the quality of food and the service here, too. Mozzarella sticks are a staple, served with Giuseppi's own marinara recipe.
SOUTH DAKOTA: Boss Pizza & Chicken in Sioux Falls
Boss has a huge menu ready for customers, even for the immensely popular late-night delivery. The mozzarella sticks come crispy with marinara, satiating your hunger no matter the time.
TENNESSEE: Darfons Restaurant & Lounge in Nashville
This American eatery is known for great food and the perfect mozzarella sticks are served with fresh marinara.
TEXAS: Spanky's in Lubbock
Big, generous cheese sticks prominently star on the menu of this small location on University Avenue. They are a favorite for Texas Tech's pre and post-game celebrations to fill hungry stomachs.6254a4d1642c605c54bf1cab17d50f1e
UTAH: A Bar Named Sue in Salt Lake City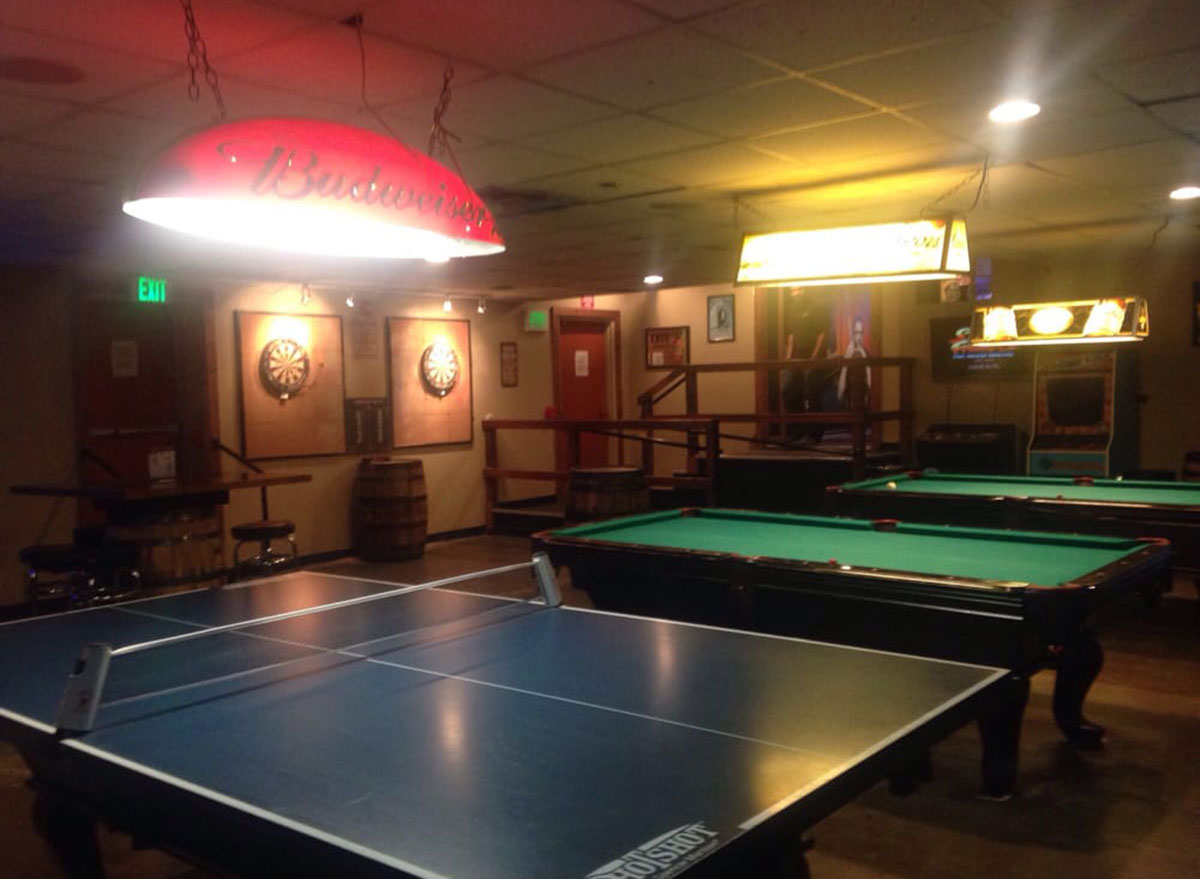 Voted Salt Lake's best neighborhood bar four years in a row, this place is simply just fun. You can find a free jukebox—no fumbling for those coins—live music, darts and shuffleboard. Then there are the cheese sticks. They are hand-breaded, fried, pepper-jack sticks made with house-made marinara. Again, we are breaking with the basic mozzarella tradition with points added for ingenuity!
VERMONT: Brewster River Pub & Brewery in Jeffersonville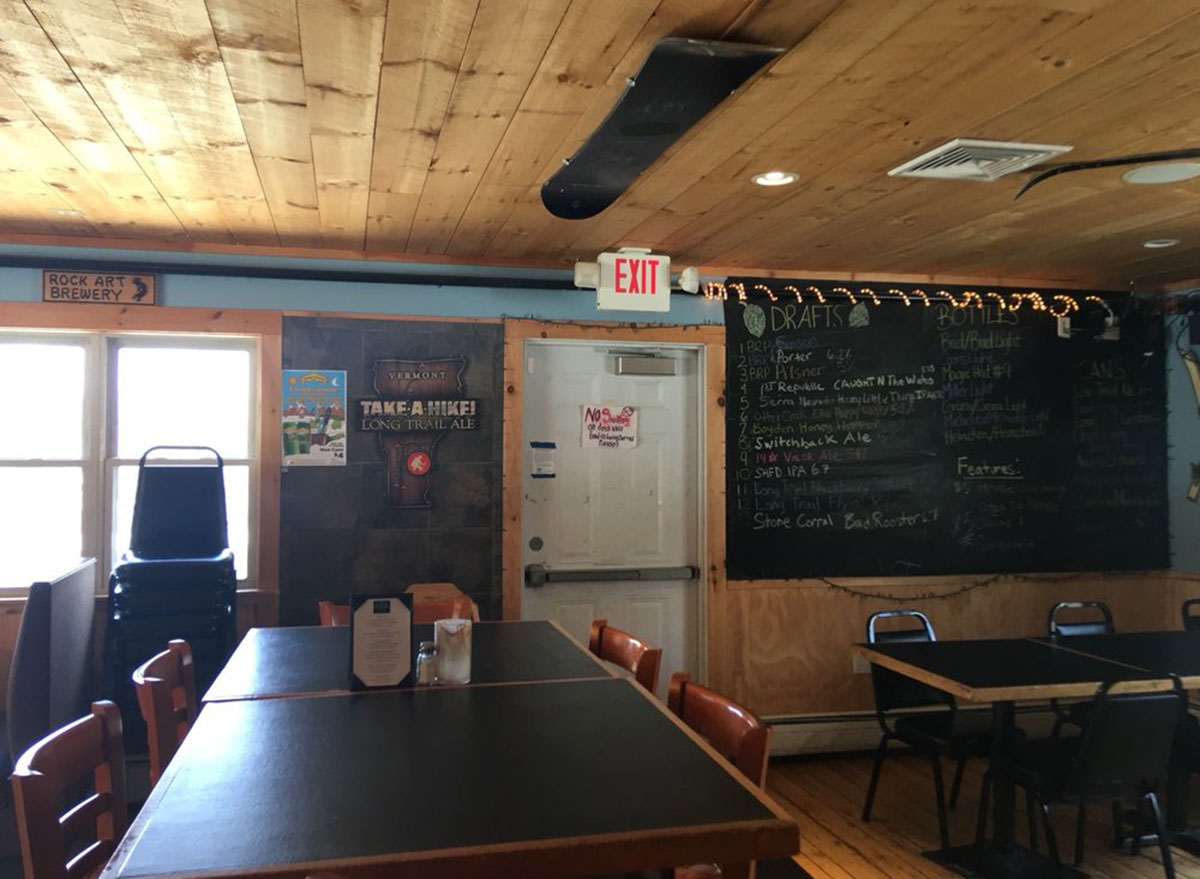 With a great staff, vegan options, and tons of craft brews, the mozzarella sticks at Brewster River Pub are just icing on the cake. They go great with any of the options from the smoker, like a full rack of ribs or a half chicken.
VIRGINIA: Waterman's Surfside Grill in Virginia Beach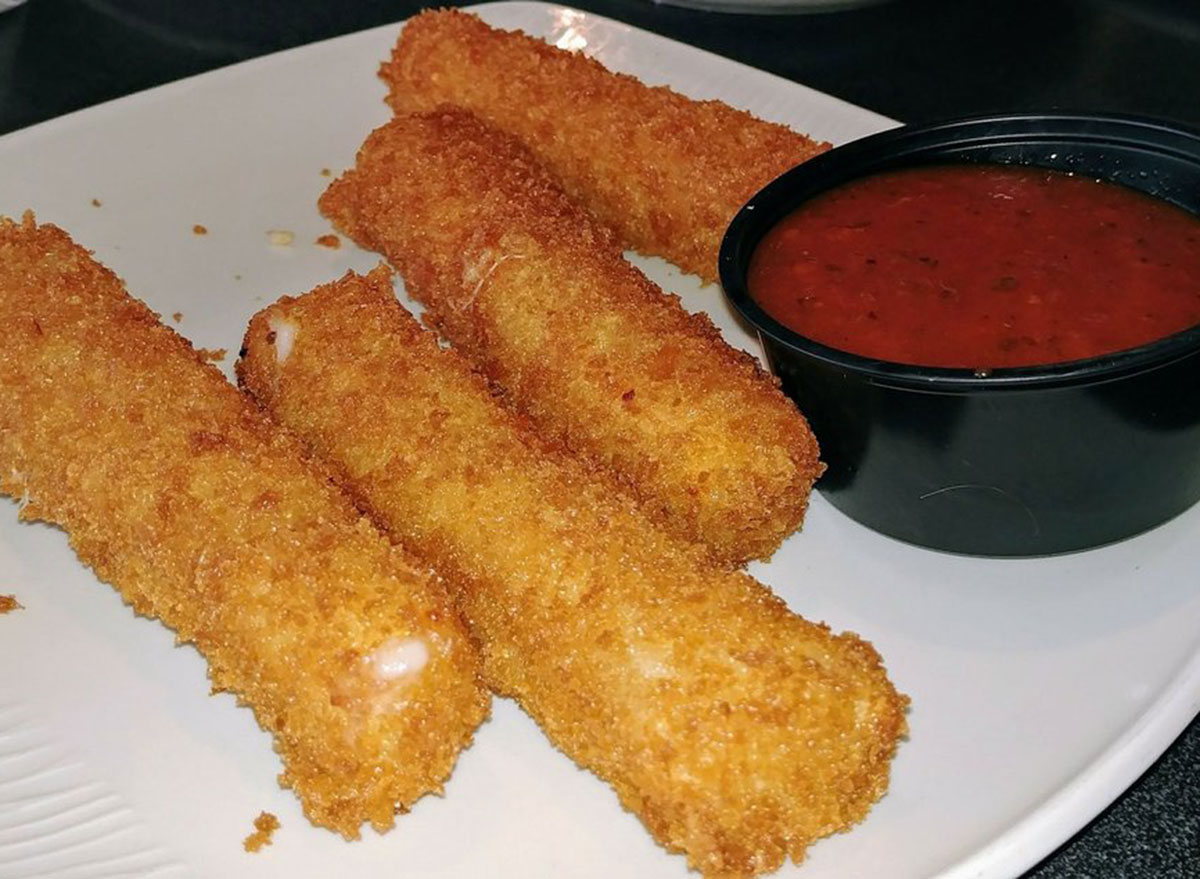 These mozzarella sticks win major points for the crunchiness you'll get in each piece, thanks to the double battering and frying of each one. Get them with a host of the local seafood options available on the menu.
WASHINGTON: The Onion Taphouse & Grill in Spokane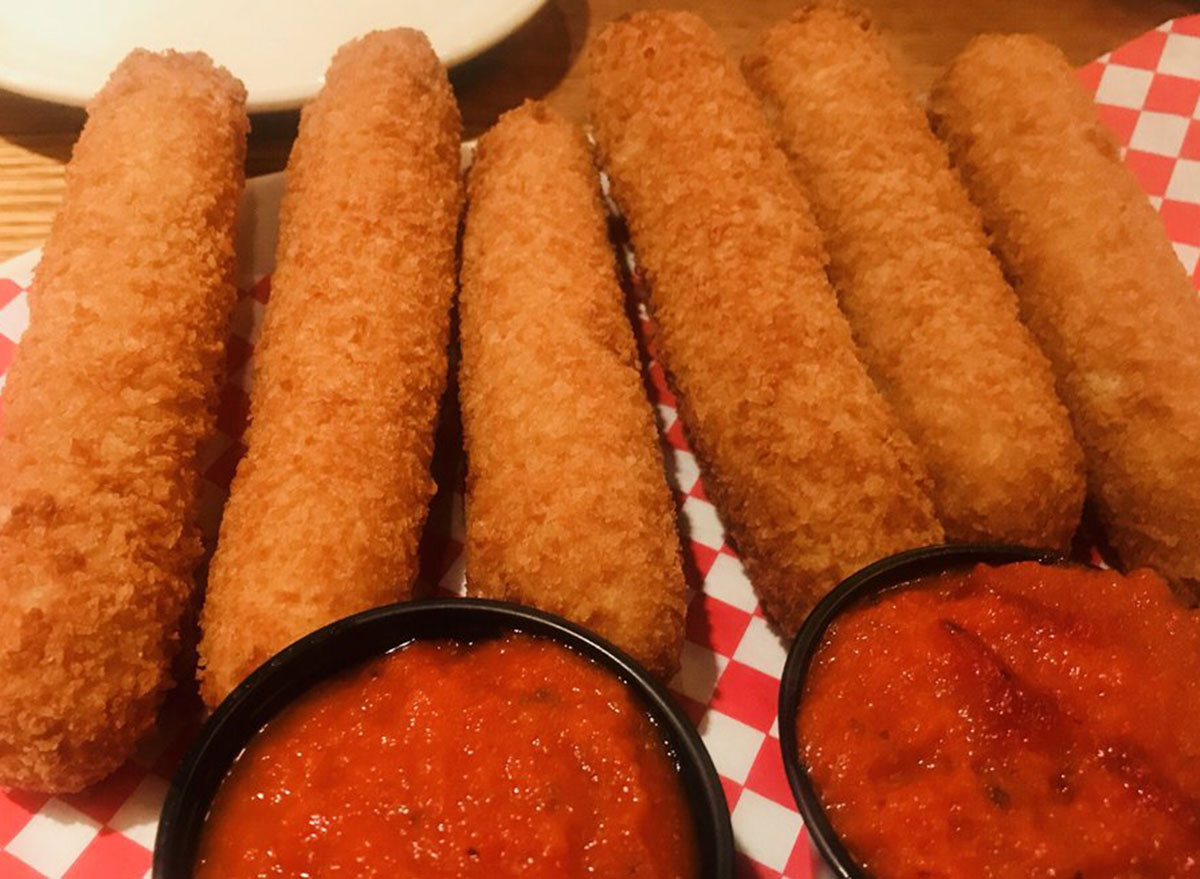 These cut-to-order mozzarella sticks are huge and are made in-house by hand. (Each stick is a whole block of imported mozzarella!) You can order them alone or on top of the mega platter of tenders, onion rings and bacon stuffed tots.
WEST VIRGINIA: Muriale's Italian Kitchen in Fairmount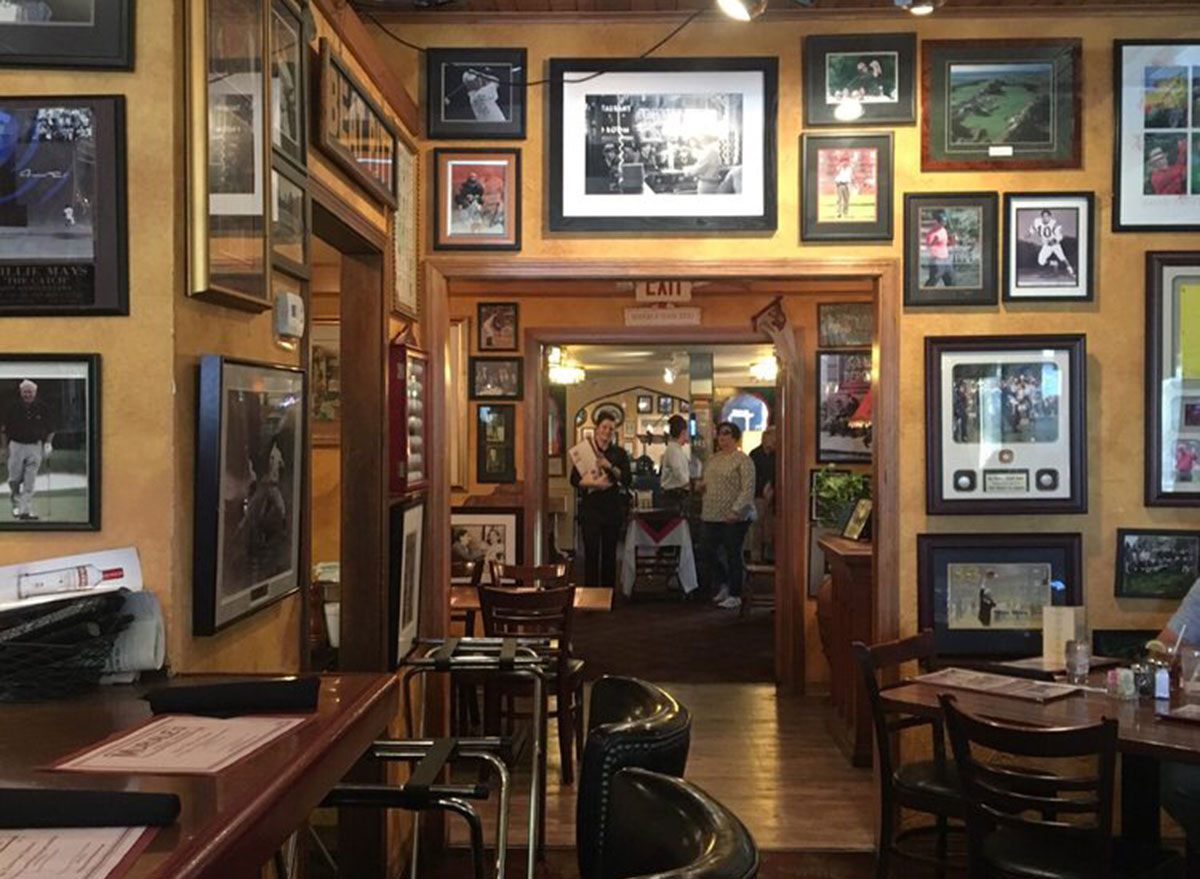 There's a little secret to the success of these mozzarella sticks. The restaurant follows the same concept of an ooey, gooey cheese center, and crispy breaded outside, but these sticks happened to be filled with Monterey Jack.
WISCONSIN: Alphonso's The Original in West Allis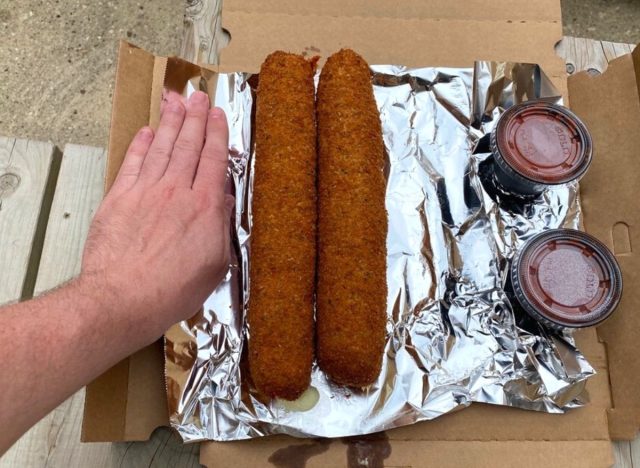 This restaurant serves massive foot-long mozzarella sticks. Just let that sink in! With each one weighing about one full pound, we can guarantee this version of the mozzarella stick will cure any hunger pains.
WYOMING: Pinky G's Pizzeria in Jackson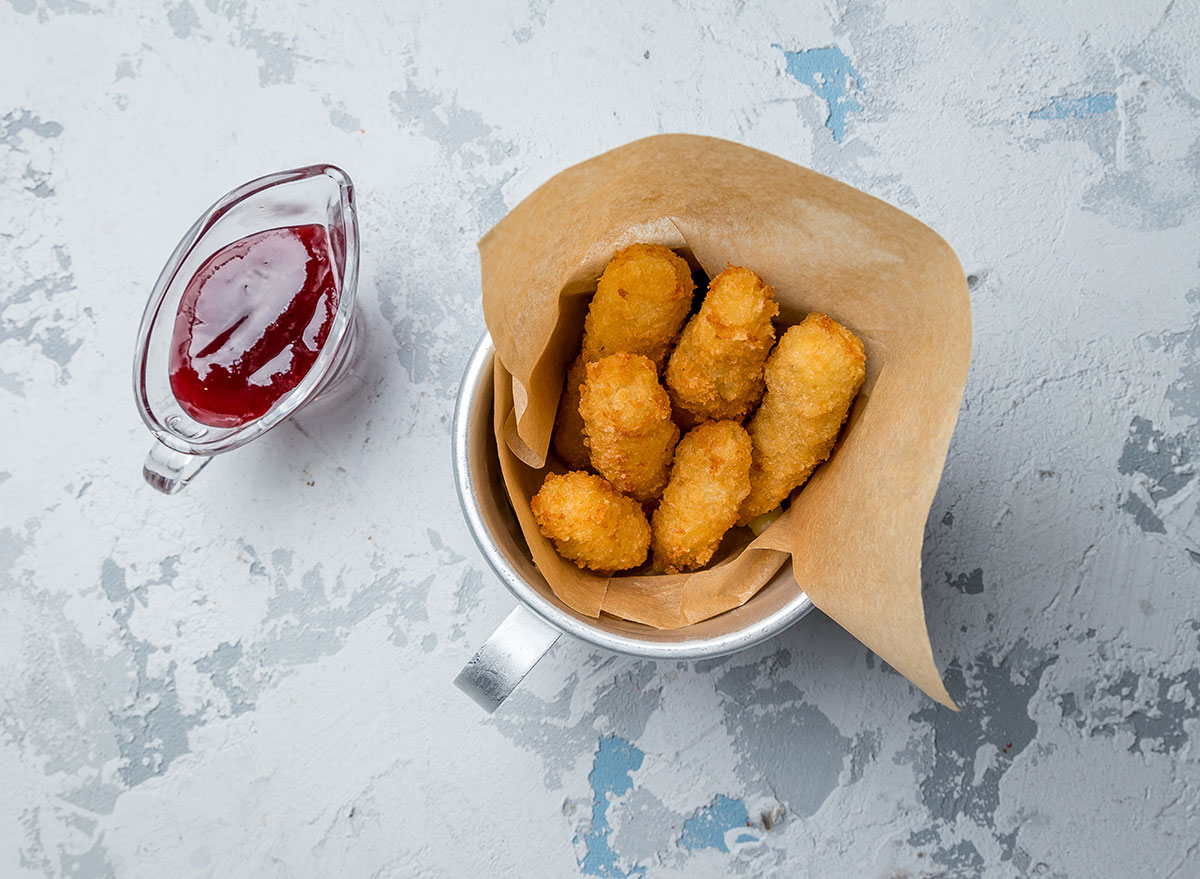 Pinky G's is famous for the hand-tossed New York-style pizza served with a mountain view. Loved by locals and tourists alike, the fried mozzarella is served alongside the special marinara sauce. The restaurant has always collected accolades, so you know they're great.
Check out more of the best spots in your state: 
The Best Grilled Cheese in Every State