7 Italian Chains Where Chefs Actually Eat—and What They Order
Sometimes Italian restaurant chains just hit the spot.
Sometimes a steaming hot plate of eggplant parm or a towering dish of saucy spaghetti really hits the spot. Whether you're more of a soup, salad, and breadsticks kind of person or you prefer an Italian-American favorite, such as chicken parm, Italian restaurant chains are some of the best places to pick up lunch or dinner when you have a craving for Italian food and might be low on time.
Olive Garden and Carrabba's are two of the country's most well-known Italian restaurant chains, but, in reality, plenty of other ones whip up delicious dishes made from high-quality ingredients. Best known for their convenience, menu variety, and often lower price tags than more expensive restaurants, these spots are great places to frequent when you want something different for lunch or dinner.
Although it's easy to assume that chefs prepare and cook all of their own meals, sometimes they like to go out and treat themselves. From famous Italian restaurant chains that started as local family businesses to establishments that not only excel in pasta and pizza but have some pretty good desserts, here are 7 Italian restaurant chains that chefs recommend along with what they order from them.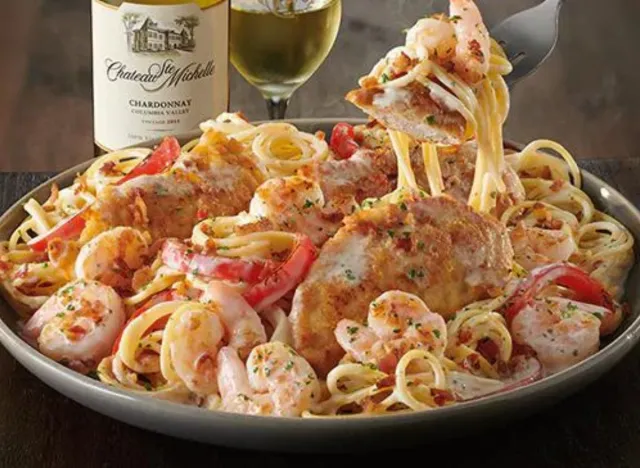 Olive Garden's dishes are especially popular among experts. Chef Pablo Estrada, chef and owner of Fattoria e Mare in Half Moon Bay, Calif., prefers Olive Garden for its salad. "The Olive Garden salad is very unique to me, as it's very fresh and full of flavor," he shares. He mentions that the salad, packed with crisp lettuce, red onions, olives, croutons, parmesan, and peperoncino, has a wonderfully fresh taste that pairs well with a bottle of Vermentino. "On any given night, it's not only my table that's asking for seconds, it's everyone around us, and we think it's because the dressing has so much great flavor!" he adds.
Ajai Sharma, current sous chef at The Resident in New York City and former chef de partie at Altro Paradiso also in New York, agrees that Olive Garden is a must. Sharma is particularly fond of the Chicken Carbonara for its great seasoning and flavor. "This dish is rich and delicious," he explains. "The sauce is cooked and seasoned, and then the whole thing is tossed over a fire—it will always leave you satisfied."
Diana Manalang, the chef and owner of Little Chef Little Cafe, revealed that Olive Garden is her "guilty pleasure." "It's still my and my mom's date spot after a day of shopping," she shares. While she usually orders the Pasta Alfredo, she describes herself as a soup, salad, and breadstick "diehard." "Depending on my mood, it's either Pasta Fagioli or Zuppa Toscana," Manalang mentions. "I've even bought the salad dressing at Costco as an impulse buy. In my world, nothing beats a nice bowl of soup, some salad, and all the breadsticks. All. Of. Them."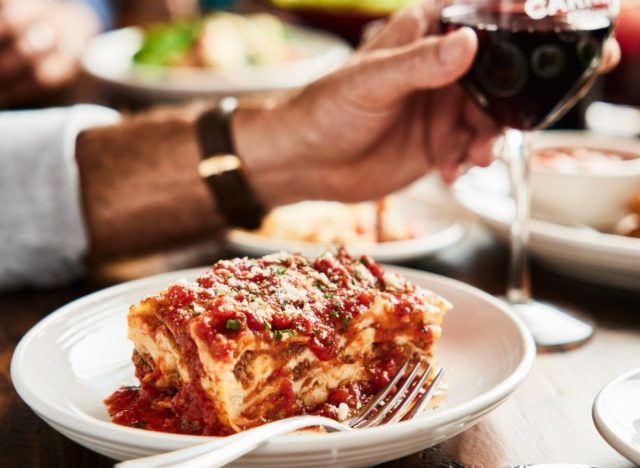 When it comes to Italian chain restaurant dining, Emerio Viramontes, executive chef of CANVAS Hotel Dallas's Chef's Palette, likes Carrabba's Italian Grill for its ambiance and food. "I always start with an order of calamari since no Italian meal is complete without it," Viramontes shares. "Then, I have the lobster ravioli in the decadent white wine cream sauce and finish with tiramisu for dessert."
Chef Kayisha Thompson, the cake executive officer of De L'or Cakery in New York City and lead culinary instructor for Hot Bread Kitchen's Outpost Culinary Program, says she'd pick Carrabba's over Olive Garden any day of the week. "I would immediately opt for Carrabba's," Thompson says. "The quality of food is better, and they offer more dessert options."
As for Thompson's order? "I would recommend ordering the lasagna with extra cheese," she suggests, "and for dessert, tiramisu, as it has Meyer's rum in it—you can actually taste Meyer's rum."
Maggiano's Little Italy, the Italian restaurant chain known for its tasty dishes and mouth-watering desserts, has also won over many experts in the field. "Maggiano's Little Italy is my favorite Italian restaurant chain," says Robbie Shoults, celebrity chef and owner of Bear Creek Smokehouse in Marshall, Texas. He likes to order Chicken Marsala. "I love the mushroom sauce in this dish," he shares, "It's full of rich meaty flavor and is a great complement to the Spaghetti Aglio Olio."
Chef Jonathan Scinto also prefers Maggiano's Little Italy. "It's, in my opinion, the best of all the so-called chain Italian wannabe restaurants," he says. "I'm very religious about what I order, and this is a staple spot for me and my wife weekly." Scinto's order includes a bottle of wine, a Bombalina appetizer, which is a sampler of the chef's four favorite appetizers, and mains. Scinto often goes for Mom's Lasagna, made with seasoned beef and Italian sausage, ricotta, and marinara sauce. "It's delicate and rustic, with the right punch of flavor—perfect to fill me up for a couples' lunch," he adds. For dinner, he likes the Chicken Marsala with Spaghetti Aglio Olio also. "It's made just right, with their amazing bread to sop it up," he adds.6254a4d1642c605c54bf1cab17d50f1e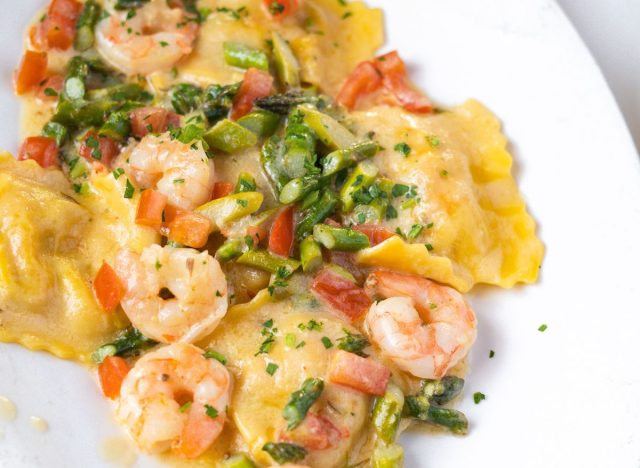 Macaroni Grill, which was founded over 35 years ago, has 40 locations throughout the U.S. and is known most for its top-notch pasta dishes, sauces, and more. When it comes to Italian restaurant chains, Chef Andrea Frizzi, owner of Il Posto in Denver, CO, cites Macaroni Grill as one of his go-to's. Here, he likes to order the seafood ravioli.
Gabriel Glasier, former executive chef, restaurateur, and founder of Chef Travel Guide also prefers this chain if he had to pick. He likes to go there to eat dishes he otherwise would have no time to prepare at home. "I tend to stick to dishes that require a lot of work to prepare at home or require a lot of cleanup after cooking," he explains. Because of this, he likes to get the fried calamari from Macaroni Grill, which is lightly breaded with seasoned flour. "This dish is often poorly executed, and it takes some focus to ensure it doesn't overcook, giving it a rubber band-like texture," he says. "Macaroni Grill has the timing down, which means that I don't have to make it at home, saving me the hassle of cleaning squid and disposing of fryer oil."
Brandon Fay, executive chef and owner of Pasta By Hudson and The Perry Club in New York City, notes that Bravo! Italian Kitchen is a good pick if you want to enjoy lunch or dinner at an Italian restaurant chain. "I think Bravo! consistently does pasta and Italian fare well," Fay mentions. "I see a lot of influence and great branding from them."
He shares that he's been to Bravo! a handful of times because other professionals in the industry have told him to go check it out. "For a corporate chain, they have talent in their kitchens, and the food comes out very well-plated and nicely seasoned. If you find yourself at Bravo!, be sure to try their lasagna, which Fay says is "solid."
Bravo! Italian Kitchen has 27 locations across 14 states. Find out if there is one near you.
Anthony's Coal-Fired Pizza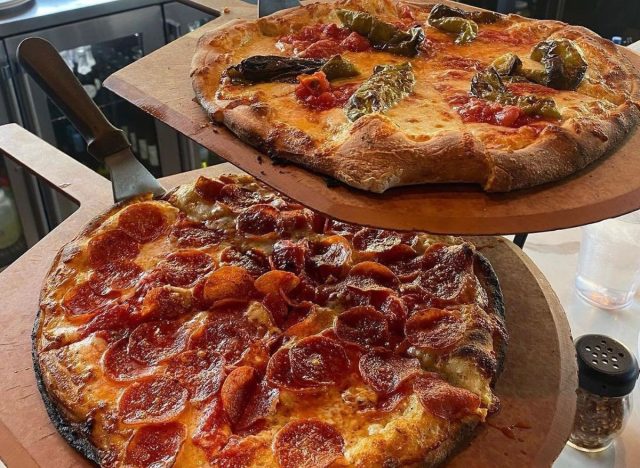 Sean Ferraro, chef-owner of Madison Avenue Pizza in Dunedin, Fla., isn't a huge fan of typical Italian restaurant chains because he finds the food quality often to be bad, but he does mention a couple that are worth taking a trip to.
One of them is Anthony's Coal-Fired Pizza, a restaurant located throughout the Northeast and Florida. The chain, which started in 2002, is known not only for its top-tier pizza but also for its pasta dishes, sandwiches, and delicious desserts.
"They cook a lot of their food, and obviously all of their pizza, in a coal-fired oven, and the flavor is fantastic," Ferraro says. He also points out that they use high-quality ingredients. "Their slogan is 'pizza well done,' which sums up their style very well," Ferraro adds. "They also do amazing coal-fired baked wings tossed in olive oil, garlic, and rosemary—the wings are really good, and I almost always get them there.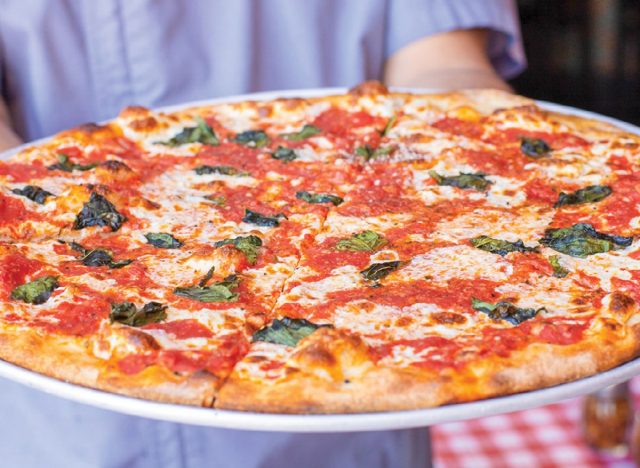 Ferraro also recommends Grimaldi's if you're looking for a high-quality Italian restaurant chain to visit. "They deserve a lot of credit for food quality even though they are a chain restaurant," he says. Grimaldi's, which now has 45 locations in 11 states, started as a family-run business. The chain uses a coal-fired brick oven and top-quality cheese and sauce ingredients. "I personally know a bunch of people that have worked there, and they are all top-quality pizza makers," he adds.