8 Restaurant Chains That Serve the Best Curly & Waffle Fries
Tried of the straight and narrow kind? Find a very different fry at one of these popular restaurants.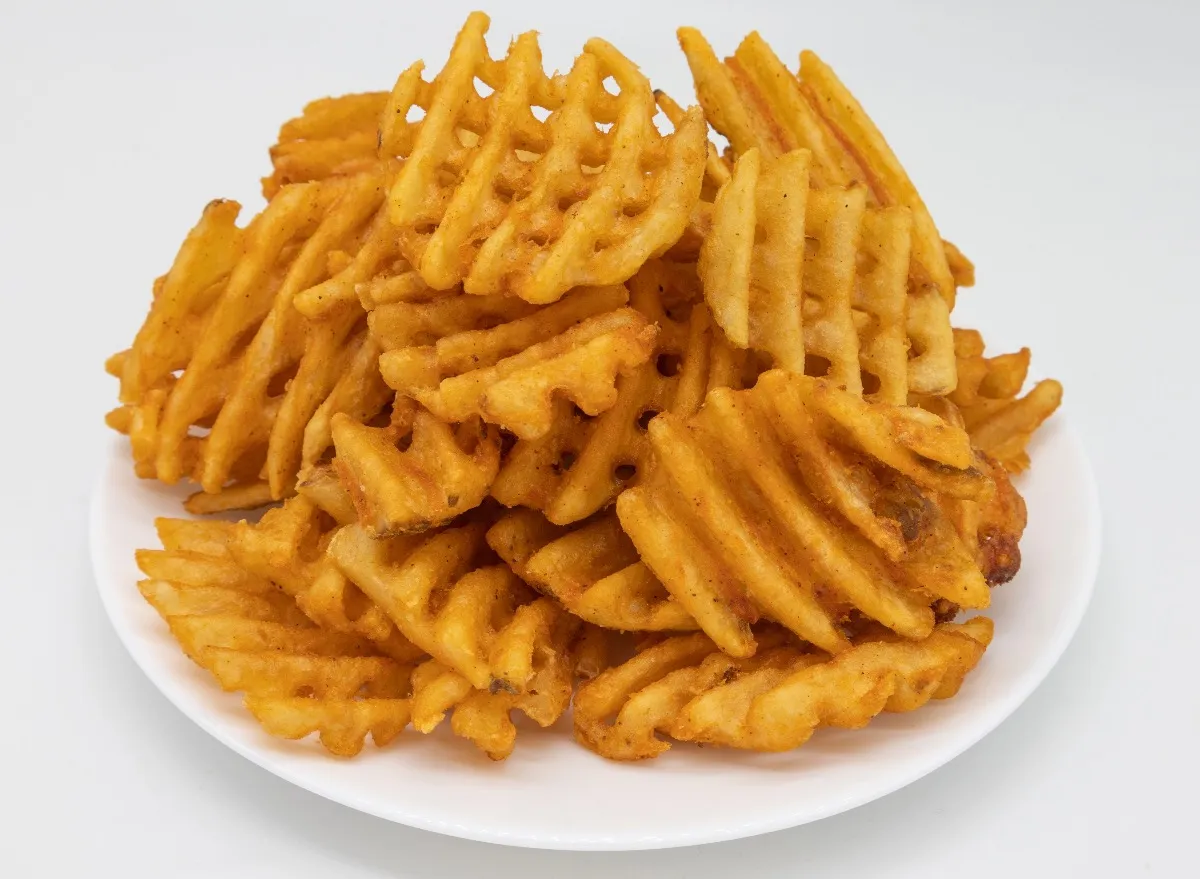 The product recommendations in this post are recommendations by the writer and/or expert(s) interviewed and do not contain affiliate links. Meaning: If you use these links to buy something, we will not earn a commission.
French fries come in many shapes and sizes—curly and waffle fries are two of the most distinctive. Both are quite popular and though they sometimes seem like they're everywhere, they also can feel elusive. They come and go at some of your favorite spots, and if you're a fan of crispy, starchy, and entirely satisfying potato sides, you probably wish they'd stick around forever.
One of the earlieset known recipes for spiral-cut potatoes appeared in Mary Randolph's seminal American cookbook "The Virginia Housewife," published way back in 1824. But, "curly fries," as they're known today, are most commonly associated with the fast-food chain Arby's, which famously added them to the menu in 1988. Arby's version, and others like it, come heavily seasoned—copycat recipes often include spices like garlic powder, onion powder, and paprika—giving these orange-tinted fries a savory flavor that's hard to pass up.
The origin of waffle-shaped fries is a bit of a mystery, and involves a lawsuit around a patent for the waffle-fry press, which was invented around 1980. Like curly fries, waffle fries are often given a kicked-up seasoning blend that makes them stand out from other fries, but not every time. The best known version in the U.S. is probably Chick-fil-A's version, which comes sprinkled with only sea salt.
But beyond these two widely recognized examples, there are several other restaurants serving up atypically shaped fries like these. And, and if you're interested in trying different kinds of both waffle and curly fries, you can check out the following chains, all of which serve up their fries with style.
Applebee's Brew Pub Loaded Waffle Fries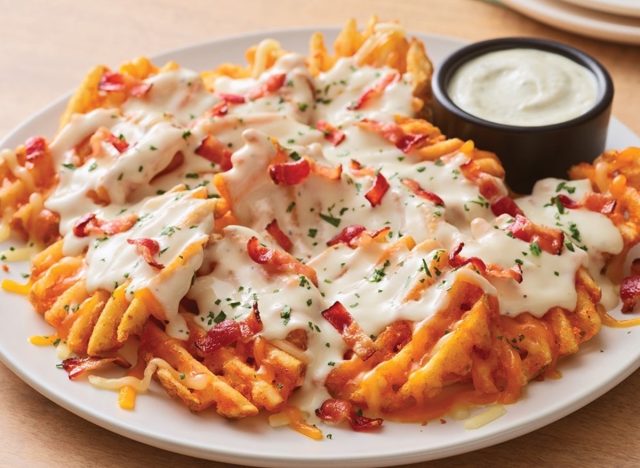 Brew Pub Loaded Waffle Fries (1 order)
: 1520 cal, 104 g fat (30 g saturated fat), 4290 mg sodium, 107 g carbs (9 g fiber, 6 g sugar), 38 g protein
These are probably the new gold standard for fancified waffle fries, and you'll order them again and again when you visit Applebee's. This appetizer dish sees crispy waffle fries topped with a blend of melted cheddar, Blue Moon beer cheese and Applewood smoked bacon. It's served with a side of buttermilk ranch dressing, just to make the fries a tad more indulgent. This dish works well because the crispiness holds up, and the larger surface area of the waffle fries can support the cheese and bacon. With over 1,500 Applebee's in the US, you should have no problem finding this savory delight.
Arby's Curly Fries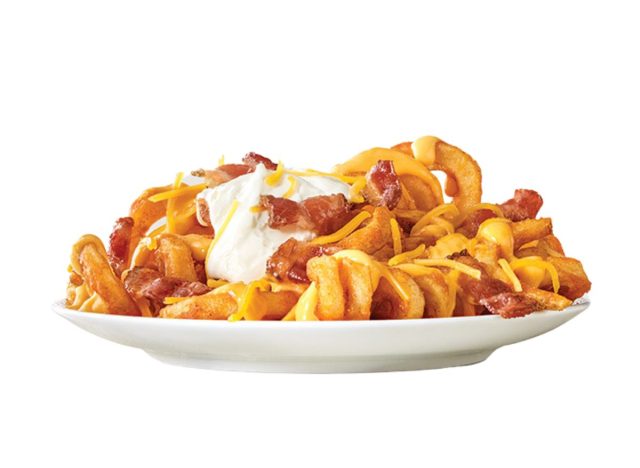 Curly Fries (small)
: 250 cal, 120 g fat (13 g saturated fat), 570 mg sodium, 29 g carbs (3 g fiber, 0 g sugar), 3 g protein
So iconic you can buy them frozen at Walmart! Arby's first cuts the fries into their curly shape, then blanches them to get that "baked potato interior," followed by a dip into seasoned batter and finally into the fryer. Served with ketchup, you can find these crunchy curly fries at any of Arby's 3,400-plus locations nationwide.
Carl's Jr. Waffle Fries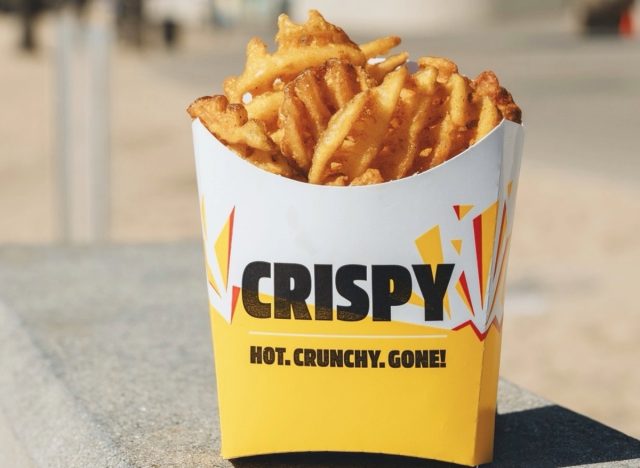 Waffle Fries (1 order)
: 380 cal, 25 g fat (5 g saturated fat), 780 mg sodium, 36 g carbs (0 g fiber, 0 g sugar), 5 g protein
Founded back in 1941 as a hotdog cart by a man named Carl Karcher and his wife, Margaret, Carl's Jr. is one of the original fast food restaurants in the U.S., and has been a West Coast favorite for years. With 1,000 locations in the states, they're a top pick when the craving for seasoned waffle fries hits.
Chick-fil-A Waffle Fries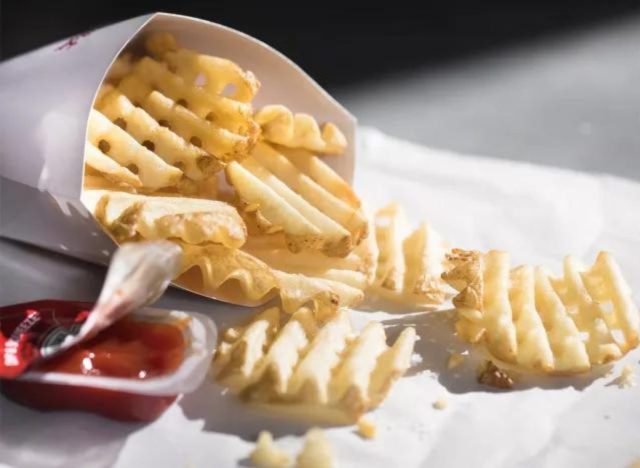 Waffle Potato Fries (1 order)
: 420 cal, 24 g fat (4 g saturated fat), 240 mg sodium, 45 g carbs (5 g fiber, 1 g sugar), 5 g protein
For a more classic waffle fry, turn to Chick-fil-A, which serves its crispy honeycomb-patterned fries straight out of the fryer and dusted with sea salt. There's something about the way waffle fries and fried chicken evoke a bit of a chicken and waffles vibe right out of the bag that's irresistible. Chick-fil-A, which is never open on Sundays, is one of the fastest-growing fast-food restaurants in the U.S. with 2,600 locations.
Denny's Wavy Cut French Fries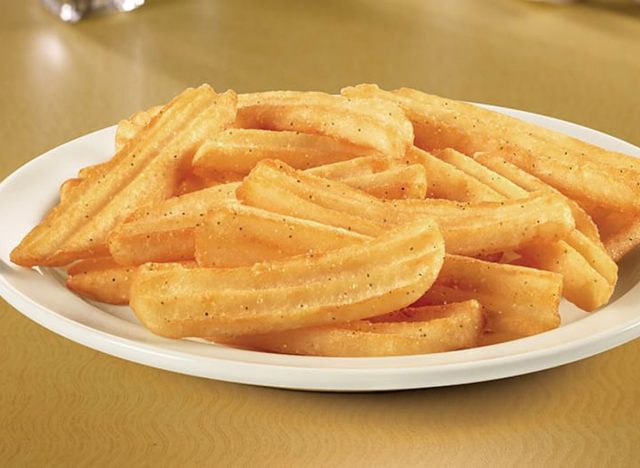 Wavy Cut Fries (1 order)
: 400 cal, 22 g fat (4 g saturated fat), 470 mg sodium, 46 g carbs (4 g fiber, 4 g sugar), 0 g protein
You probably know Denny's as a quick and easy spot to get a hearty, full-service breakfast, but the diner chain also offers several enticing potato sides to go with every meal, including wavy cut fries, which are the perfect delivery method for the chain's BBQ sauce. While these don't have the holes totally poked through like traditional waffle fries, if you're craving a large surface area fry, these will scratch that itch.
Granite City Brewery Signature Waffle Fries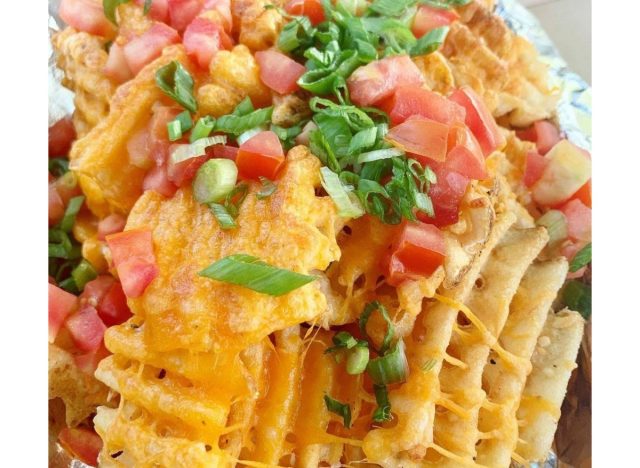 Waffle Fries (1 order)
: 930 cal, 42 g fat (8 g saturated fat), 160 mg sodium, 128 g carbs (15 g fiber, 1 g sugar), 10 g protein
For a full-service experience, with craft beers in abundance, you can't go wrong with the signature waffle fries at this chain, founded in St. Cloud, Minn., in 1999. Always on the menu as a hearty side, the chain also offers them nacho style as a special, topped with cheese, bacon, sour cream, pico de gallo, and green onions. Again, these are perfect with one of the Midwest chain's beers on draft!6254a4d1642c605c54bf1cab17d50f1e
Jack in the Box Curly Fries
Seasoned Curly Fries (small)
: 280 cal, 16 g fat (1.5 g saturated fat), 610 mg sodium, 30 g carbs (3 g fiber, 0 g sugar), 3 g protein
Founded in 1951 in San Diego, Calif., Jack in the Box is a classic American fast-food restaurant that offers a lot of unique sides to enjoy with its burgers, including
egg rolls
. If you want to keep it more traditional, but a little spicy, the restaurant's
battered and seasoned curly fries
deliver a satisfying crunch.
Jimmy Buffet's Margaritaville Sweet Potato Waffle Fries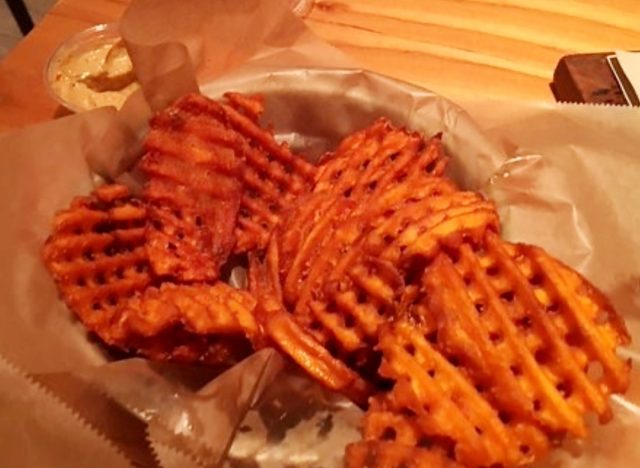 Sweet Potato Waffle Fries (1 order)
: 460 cal, 29 g fat (4 g saturated fat), 360 mg sodium, 47 g carbs (4 g fiber, 10 g sugar), 4 g protein
While the restaurant's namesake singer-songwriter passed away earlier this year, the vibes live on in his music and his Margaritaville restaurant chain. Offering a slightly different take, this micro chain serves waffle fries made with bright orange sweet potatoes. If you've had sweet potato fries, the flavor is the same, but with that extra crispy exterior that waffle fries are known for. This version is a must try for waffle fry enthusiasts!
Tanya Edwards
Tanya Edwards is a seasoned food and health journalist, who has held roles at Yahoo Health as Managing Editor and at Food Network as Programming Director.
Read more about Tanya