10 Burger Chains That Serve the Best French Fries
No self-respecting burger joint should ever fall short on the all-important hot and crispy sides.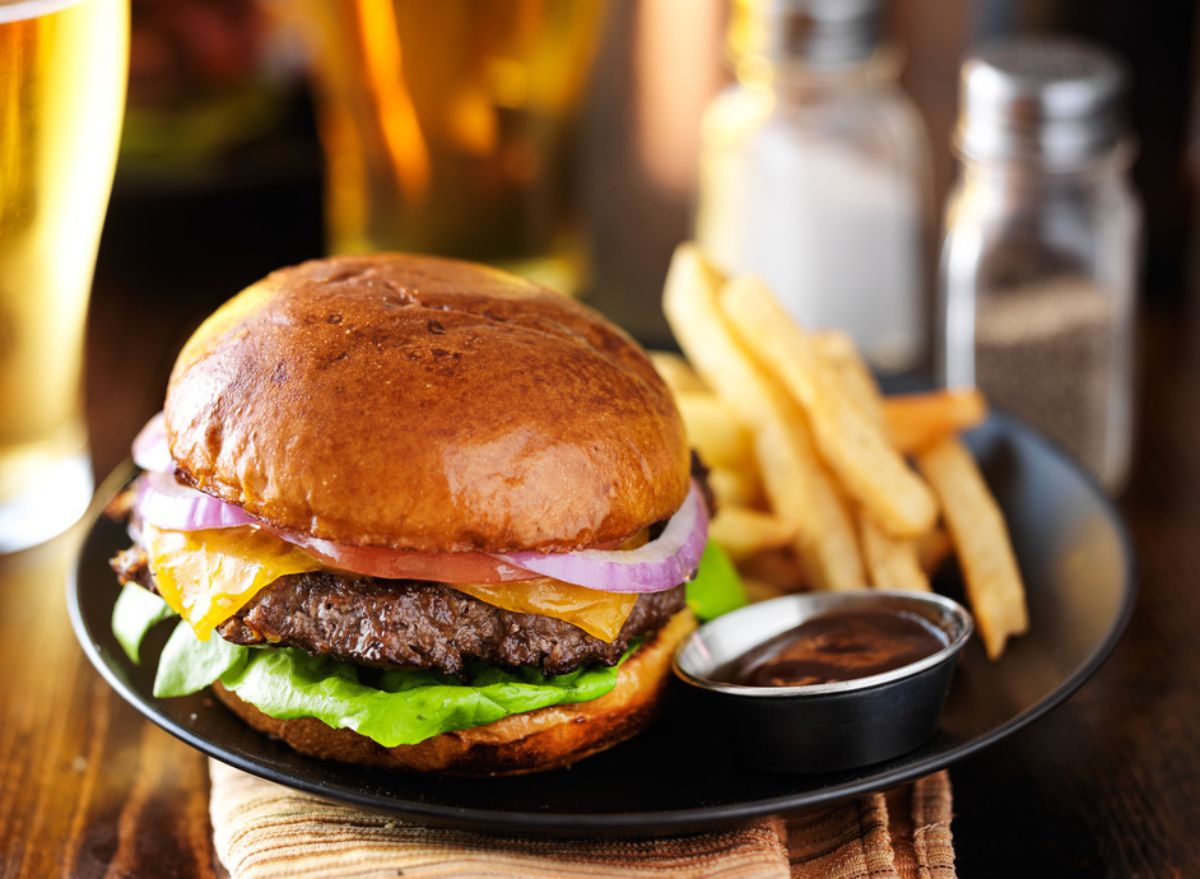 The product recommendations in this post are recommendations by the writer and/or expert(s) interviewed and do not contain affiliate links. Meaning: If you use these links to buy something, we will not earn a commission.
A burger from one of your favorite chains doesn't feel complete without a side order of hot and crispy French fries. Whether you believe they came from France, Belgium or Spain—the exact history is unclear—it's safe to say that fries are one of the most popular foods in America today.
According to a researcher at the University of California-Davis, Americans eat 40 pounds of french fries on average each year—now, that's a lot of potatoes! No matter if you like yours plain with a sprinkle of salt, loaded up with toppings like bacon and cheese, or served with a side of ketchup, there's no doubt about it: French fries always seem to hit the spot.
If you're interested in learning which burger chain makes some of the best fries, you've come to the right place. From beloved chains that have been around for decades to younger spots that offer a wide range of french fry options, here are nine famous spots that not only excel at whipping up burgers, but make amazing fries, too.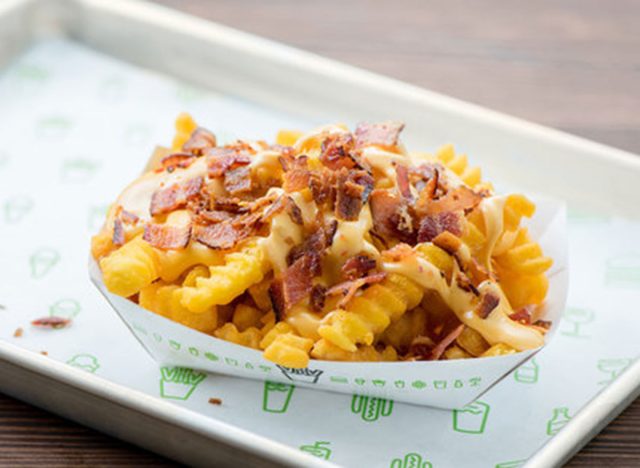 Bacon Cheese Fries
: 840 cal, 52 g fat (21 g saturated fat), 1570 mg sodium, 65 g carbs (7 g fiber, 1 g sugar)
If you love options, you'll love Shake Shack's fries. Established in New York City in 2004, Shake Shack is a must-try burger chain that makes excellent burgers, shakes, chicken sandwiches, and—you guessed it—fries.
The restaurant offers a wide range of fry choices, including plain crinkle-cut fries, which have the perfect amount of crunch to them, and cheese fries, which come smothered in the chain's own decadent creamy sauce. For a limited time this fall, the Shack is also serving up Spicy Fries and Spicy Cheese Fries, which are tossed in the brand's flavorful pepper blend and served with a side of Ranch dressing.
If you really want to go all out, order the bacon cheese fries, which feature crispy crinkle-cut fries enrobed in a cheesy sauce and piled high with Applewood-smoked bacon.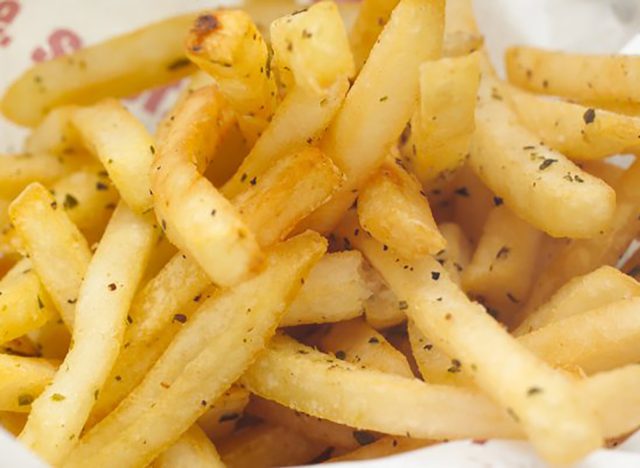 Smashfries
: 420 cal, 21 g fat (6 g saturated fat), 690 mg sodium, 53 g carbs (3 g fiber, 0 g sugar), 4 g protein
Smashburger is not only known for its excellent burgers—try the double classic Smashburger if you're ever near a location—but the popular chain also makes some distinctive fries dubbed Smashfries. This restaurant prepares this popular side by cooking sliced potatoes in a blended oil and then tossing them in a mixture of rosemary and garlic. The chain also serves plain fries, served hot and crispy, of course, if that's more your style.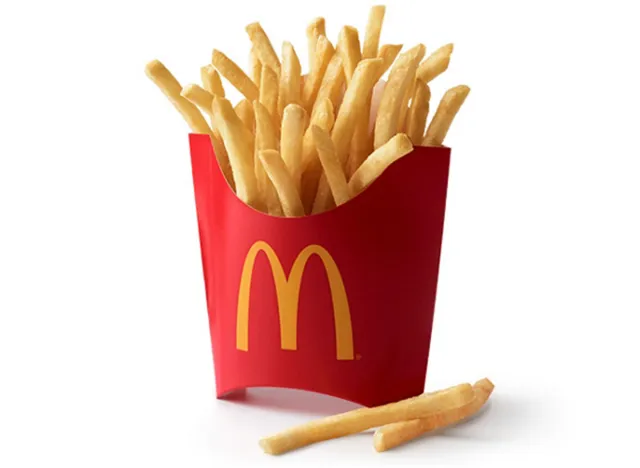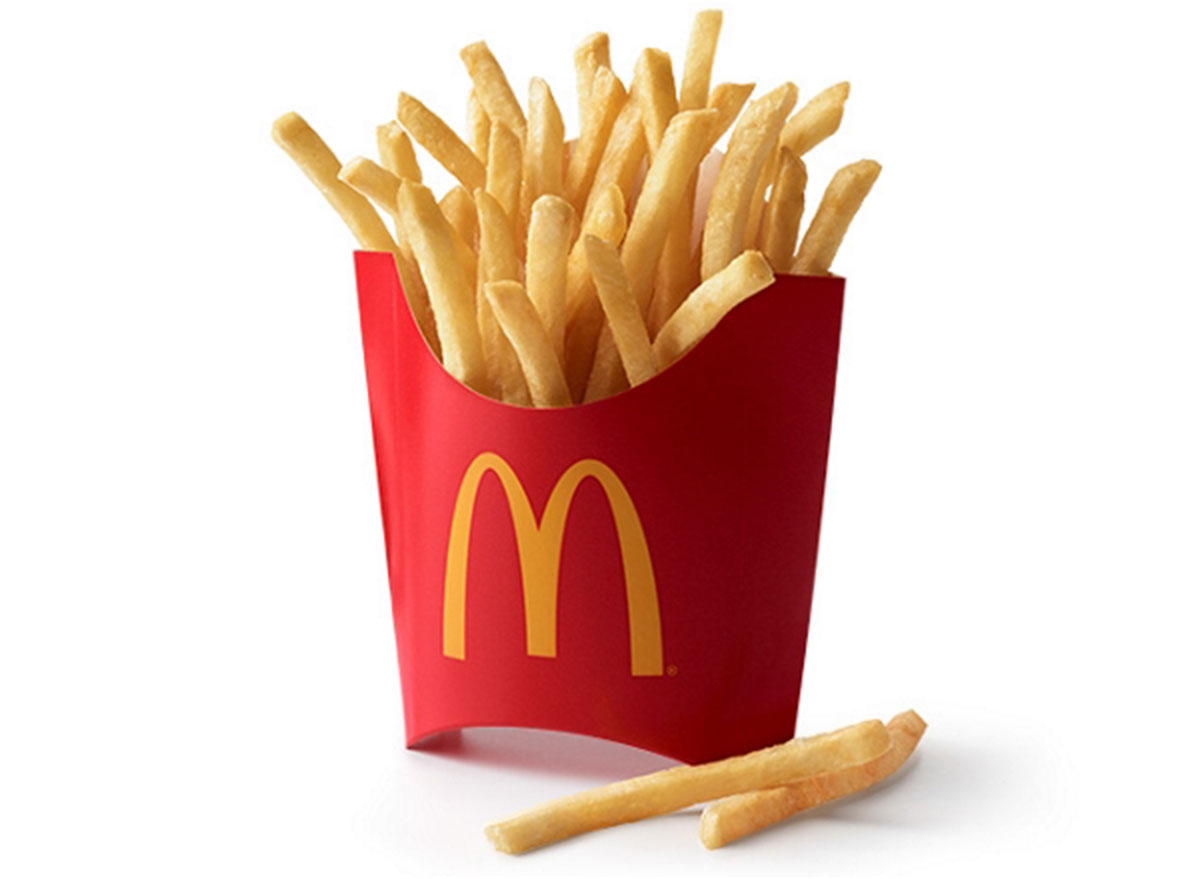 World Famous Fries (Small)
: 230 cal, 11 g fat (1.5 g saturated fat), 190 mg sodium, 31 g carbs (3 g fiber, 0 g sugar), 3 g protein
You can't list the best burger chain fries without mentioning McDonald's. The fast-food powerhouse, founded in 1940, is the place to go if you want tasty, top-notch fries. For starters, the inimitable restaurant chain makes its world-famous fries using only premium potatoes.
These potatoes include the Russet Burbank variety, one of North America's most widely grown potatoes, and the Shepody variation, often produced in eastern Canada and parts of the northern United States. Crispy on the outside and fluffy on the inside, McDonald's fries taste delicious, dipped in ketchup, barbecue sauce, and sweet and sour, or enjoyed as-is.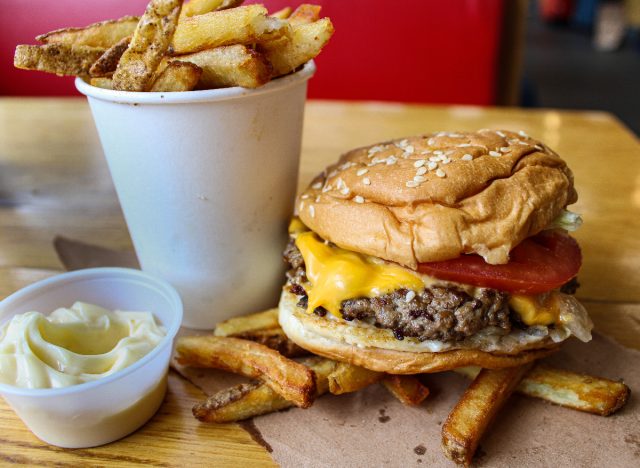 Five Guys Style Fries (Regular)
: 953 cal, 41 g fat (7 g saturated fat), 962 mg sodium, 131 g carbs (15 g fiber, 4 g sugar), 15 g protein
You can't enjoy a tasty burger order from this buzzy burger chain without picking up a side of fries. Five Guys, the popular restaurant with over 1,400 locations throughout the United States, makes two different styles of fries. The first is its Five Guys-style option, a boardwalk-inspired fry cooked to perfection in pure, cholesterol-free, 100% peanut oil. These fries are cut fresh and cooked twice, giving it a crispy on the outside/soft on the inside texture.
If you want more flavor, give the chain's Cajun-style fries a go. These fries are also prepared boardwalk-style in 100% peanut oil and are cooked twice—the only difference is that these are sprinkled with a blend of Cajun spices.
Thin 'n Crispy Fries(Regular)
: 450 cal, 24 g fat (4 g saturated fat), 930 mg sodium, 54 g carbs (5 g fiber, <1 g sugar), 4 g protein
Try eating just one Steak 'n Shake fry—you can't. The beloved chain, primarily found in the Midwest and western United States, is known for its thin, classic, shoestring fries that are always made fresh—each fry is prepared using newly harvested potatoes, cooked to order every time.
If you like to pair your fries with dips and sauces, you're in luck. Steak 'n Shake allows you to add a sauce, including barbecue, honey mustard, ranch, buffalo, or sweet and tangy frisco sauce, to your fry order.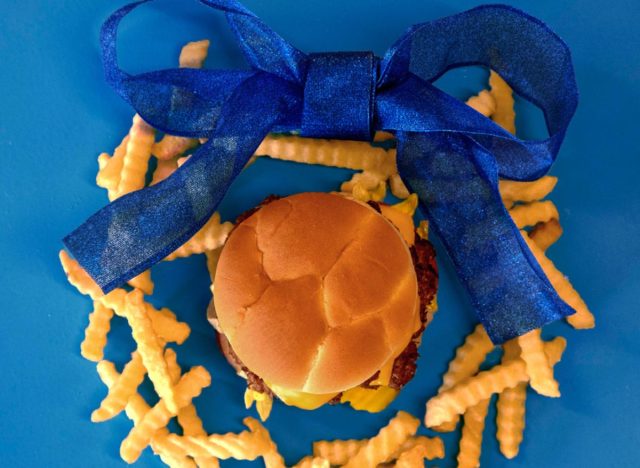 Crinkle Cut Fries (Small)
: 240 cal, 9 g fat (1 g saturated fat), 350 mg sodium, 35 g carbs (3 g fiber, 0 g sugar), 4 g protein
Culver's fries deserve a spot on this list because they're always made fresh—each batch is made as soon as you order, so you always know you're getting them right out of the fryer. Made using common fry oil and potatoes originating only in the Pacific Northwest, these fries have a crispy, crunchy exterior, with a fluffy center and are served piping hot each time. They pair wonderfully with a Culver's deluxe burger, crispy chicken sandwich, and North Atlantic cod sandwich, but are great eaten alone, too, if you're just looking for a quick snack. Also, be sure to pick up some fresh frozen custard from Culver's while you're at it—it's famous for a reason.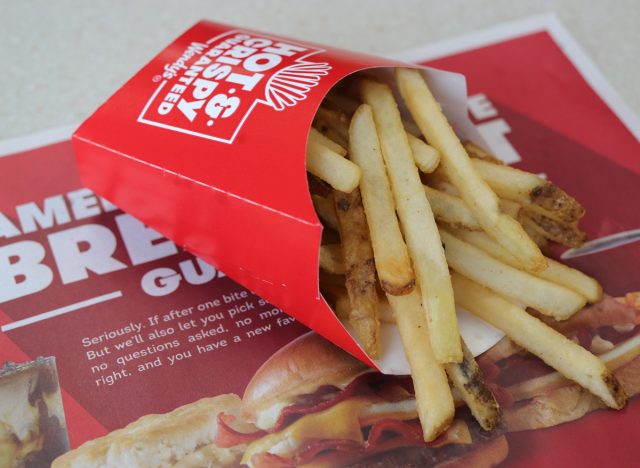 Natural-Cut Fries (Small)
: 260 cal, 12 g fat (2 g saturated fat), 470 mg sodium, 35 g carbs (3 g fiber, 0 g sugar), 4 g protein
The bacon cheeseburgers, the Frosties, the spicy chicken nuggets—Wendy's has no shortage of delicious menu options. Started in the 1960s in Ohio, the beloved restaurant chain also makes fries that might even rival—dare we say it?—McDonald's. For starters, Wendy's fries are natural-cut, which means the skin is still on, and seasoned with sea salt.
Wendy's also comes up strong in the options department. Fry choices abound when you're dining here. Choose from ghost pepper fries, which are tossed in a spicy ghost pepper sauce, queso fries topped with poblano queso and shredded cheese, or Baconator fries, which showcase a warm, silky cheese sauce, shredded cheddar, and Applewood-smoked bacon. You also can't forget the chili cheese fries prepared with a heaping scoop of Wendy's delicious chili. Need we say more?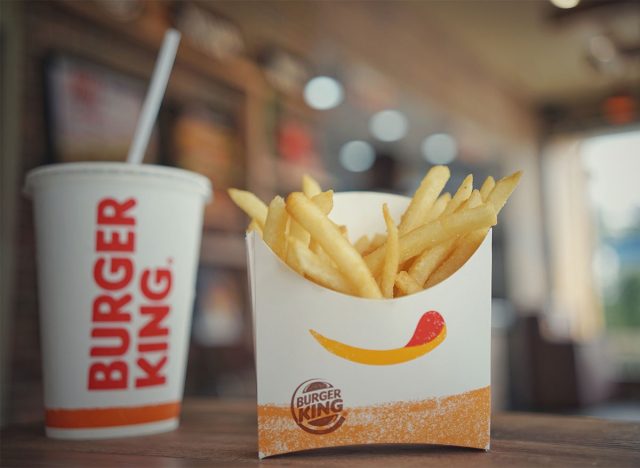 French Fries (Small)
: 320 cal, 13 g fat (2 g saturated fat), 300 mg sodium, 49 g carbs (5 g fiber, 1 g sugar), 4 g protein
It's easy to see that Burger King takes its fries very seriously. According to Mashed, the chain changed its fry recipe in 1998 and then again in 2011, when it decided to reinvent its fries to be thicker, lower in sodium, and have a potato-based coating that has more of a crunch to it. The reason? It wants to stay ahead of the competition.6254a4d1642c605c54bf1cab17d50f1e
Burger King mainly sources its potatoes from Thompson Family Farms, an independent network of produce growers throughout Eastern Washington and Oregon specializing in onions and potatoes. The group sources peak seasonal potatoes grown in places like Washington, Oregon, and California.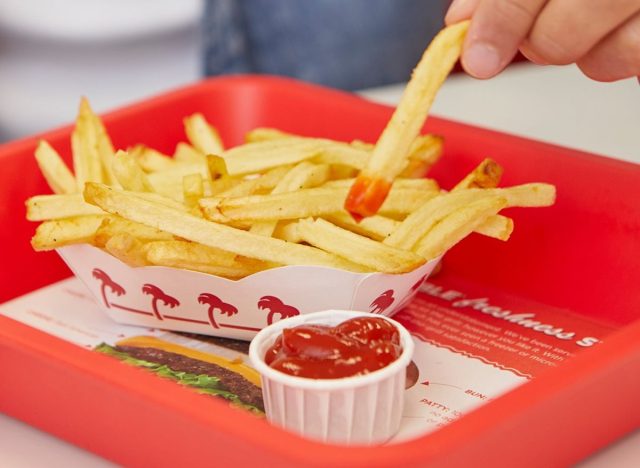 Per Serving (125 g)
: 370 cal, 15 g fat (1.5 g saturated fat), 250 mg sodium, 52 g carbs (6 g fiber, O g sugar), 6 g protein
Famous for its pure-beef burgers, In-N-Out also makes fresh, hand-cut fries using 100% sunflower oil. The chain points out on its website that its fries are made from the "finest, freshest potatoes" that are shipped "right from the farm" and individually cut in each In-N-Out location. Fries can be cooked to order, and the chain allows you to customize them, too: choose from cooking times such as extra light, light, slightly light, regular, light well, well, or extra well. In-N-Out's fries use Kennebec potatoes, which have a slightly nutty and sweet taste once they are fried.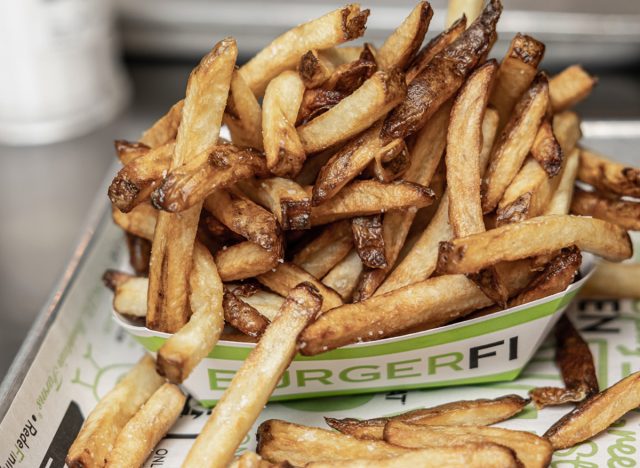 Fries (Regular)
: 650 cal, 33 g fat (5 g saturated fat), 340 mg sodium, 77 g carbs (9 g fiber, 0 g sugar), 10 g protein
You can count on BurgerFi , the better-for-you burger chain with approximately 120 locations, to serve delicious fries that don't skimp on taste or texture. The chain cuts its fries fresh by hand from whole Russet potatoes daily and basket-fries them using a three-step process until they're golden brown. BurgerFi shares on its website that each ingredient is sourced from only the top suppliers and is hand-washed on-site, so rest assured you're only getting the best.
Enjoy them simply salted or decked out with various toppings including Cajun seasonings, parmesan cheese, truffle oil, or bacon and cheddar cheese sauce.