16 Best Fast-Food Fries In America
Here are the best potatoes in the biz!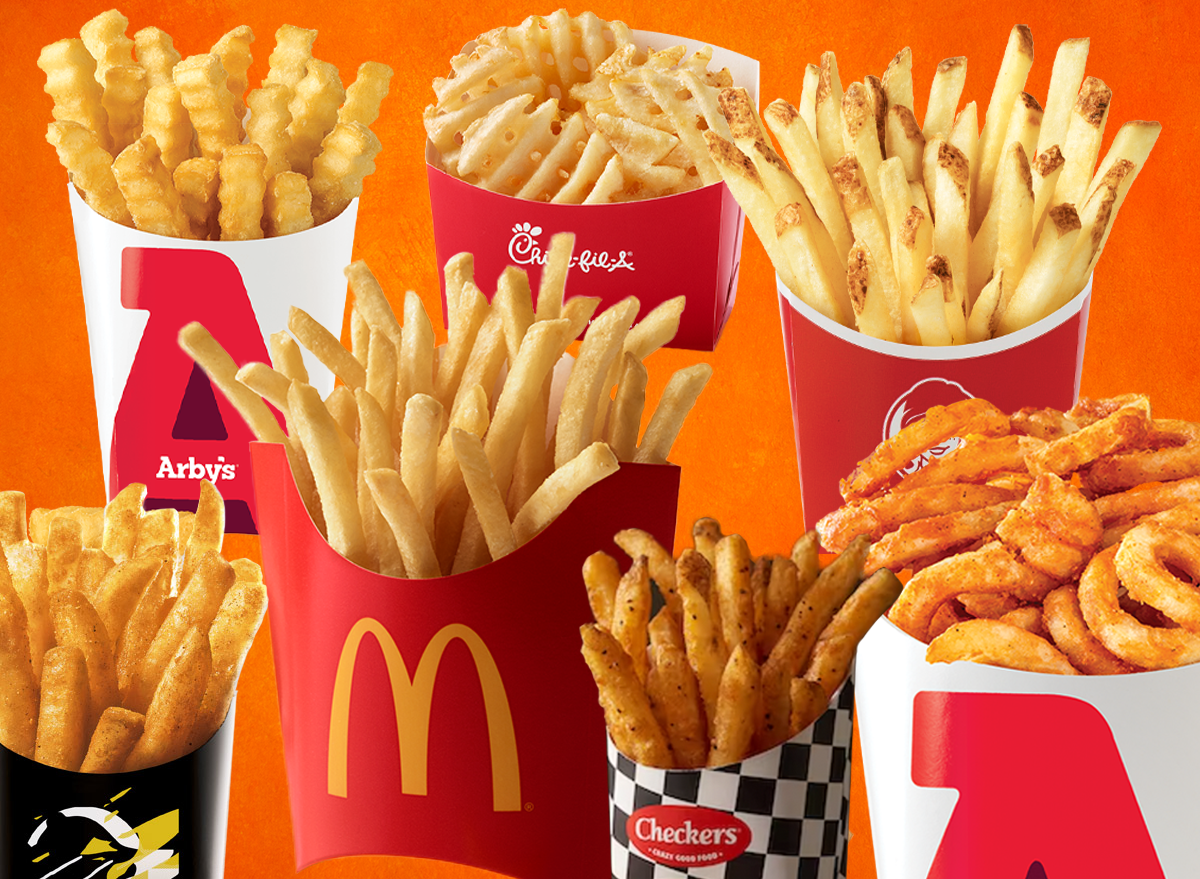 No one can dispute that french fries are the quintessential fast-food. They can, and do, however, argue about who has the best fries in the biz. From McDonald's perfectly thin fries to the iconic crinkle cuts from Nathan's, all the way to the wild crunchy curly fries from Arby's, everyone has their favorite. While it's impossible to declare a winner, we are taking a look at the most iconic fries and giving you all the stats so you can choose wisely.
The thing about fries is that they come in so many different shapes and sizes. They can be prepared with special potatoes, or be cooked in different types of oil, or showered with a plethora of different seasonings. Each of these choices results in a different final product. These differences are what make a fry unique and everyone likes something different. If you're a curly fry fan, you'll never be satisfied by the crinkle-cut version and vice versa.
Plus, the big debate is always about which is better: fresh or frozen. While you might think that fresh-cut fries are always preferred you'd be wrong. In-N-Out's fresh-cut fries are often bashed for being limp or flavorless, while others swear by them.
In the end, what we love about fast-food fries is that no choice is the wrong choice, but there are some that we come back to over and over again. Here are the best fast-food fries of all time.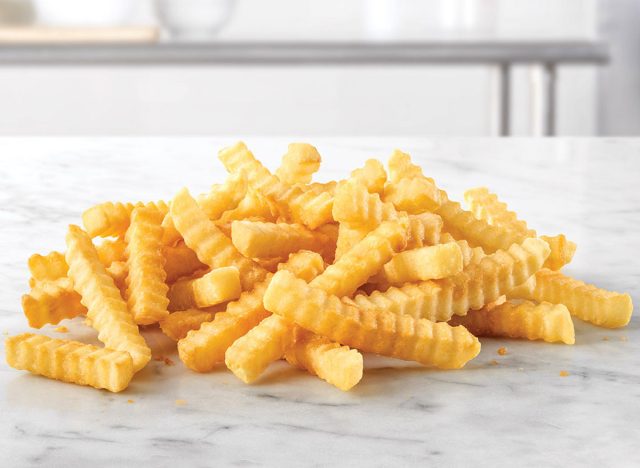 Crinkle fries have a lot of competition as you'll see, so what separates the good from the best is the crunch. Arby's uses what they call "accordion-style grooves" to achieve this audible crackle when you bite into them. Arby's must have had real faith in these fries to put them up against the roast beef sandwich joints' iconic curly fries. Considering most chains only do one type of fry, the fact that the crinkle-cut version is still around is a testament to their quality.
In fact, these fries were created in 2021 to appeal to the more traditional fry fan, according to the story of their genesis. This innovative crinkle-cut fry was designed to have "sharper peaks and deeper valleys" to give it a crispier texture. If you typically get the curly fries at Arby's you need to try these as they could be the crispiest fries you'll ever taste.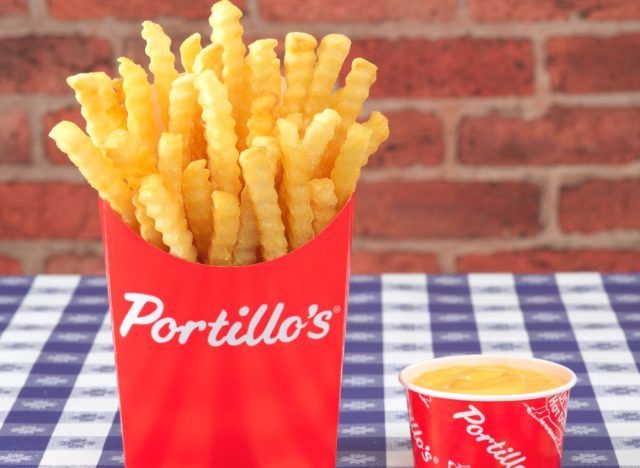 You may not have Portillo's on your radar if you don't live in the Midwest, but you should because you could see one coming your way soon. This hot dog shop makes killer Chicago dogs, the ones with a pickle spear inside a poppy seed bun, and also incredible fries. Portillo's makes its crinkle-cut fries the way McDonald's used to: fried in a blend of vegetable oil and beef tallow, so they have a hearty, beefy quality to them.6254a4d1642c605c54bf1cab17d50f1e
Portillo's started as a hot dog stand in 1963 and has grown to over 70 locations. The chain is known for its hot dogs but it also serves beef sandwiches, burgers, ribs, pasta, and more. Plus, it's catching on wherever it grows. When one of its recent locations opened in a suburb of Dallas the chain had customers waiting in line on opening day, despite the lack of press. The chain reported $20,000 in the first four hours of sales, "I've never experienced that in a restaurant. It's insane," CEO Michael Osanloo to investors, according to Restaurant Business.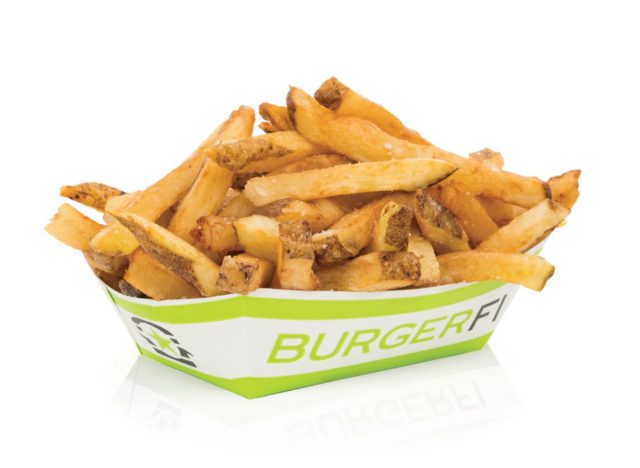 BurgerFi prepares everything fresh in-house at its 120+ locations, and that includes the perfect french fries. This chain often appears in our best burger roundups because of its high-quality Angus beef burgers and use of all-natural, fresh, and responsibly sourced ingredients. It treats its fries with care, too.
French fries can be made by just tossing them in a fryer, but that doesn't result in the craveable fries that will get people talking. BurgerFi's hand-cut fries are prepared using a three-step process that starts with blanching and ends with two dips in the fryer. While this chain might not be near you now, keep an eye on its opening locations and be sure to be the first in line if it comes your way.
While Nathan's actual locations have diminished in recent years, you cannot have a fry roundup without this iconic item. Fans of these fries will remember eating them out of the little paper cones with those two-pronged forks at the original Coney Island location and on other boardwalks where the fries were sold out of carts.
Nathan's fries are made from a special low-starch potato called the Katahdin, which helps the thick, crinkle-cut fries maintain their crunchy outside and soft, steaming interior. How important is this variety? In 2012, when the chain had to change to Russets, due to the Katadin crop maturing too early, people noticed! For many people, when they think of crinkle-cut fries, they think of Nathan's.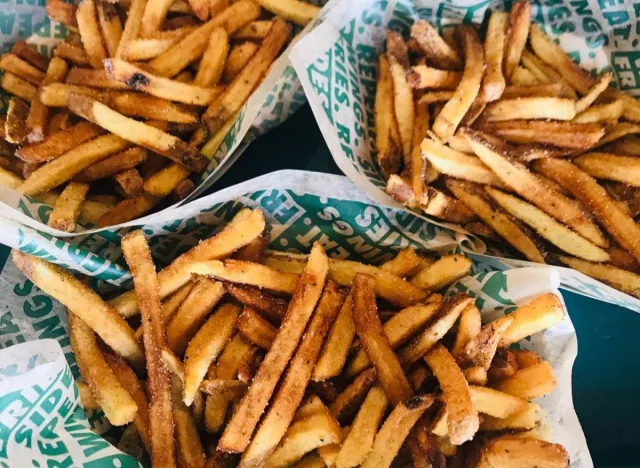 Come to Wingstop for the wings and stay for the killer fries. The chain eschews frozen fries for fresh-cut, fries them, and then showers them in the chain's signature seasoning that is salty with a hint of sweetness.
While using fresh-cut potatoes cooked in fresh oil helps, the seasoning is what has spawned dozens of copycat recipes. Most think that it's a combination of brown sugar and some sort of Cajun-inspired seasoning that give the fries that special something. Plus, it doesn't hurt that you can get them drenched in jalapeño cheese sauce, any of the wing sauces, or with a side of the chain's famous ranch.
Culver's Crinkle Cut Fries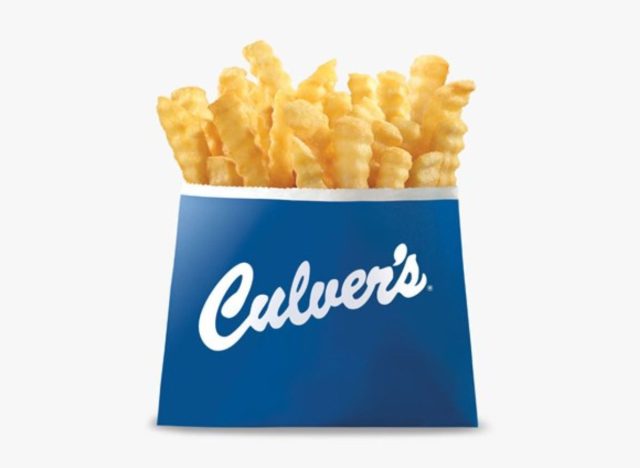 Culver's, famous for its delicious ButterBurger, prides itself on freshness, and that extends to its crinkle-cut french fries. You will never get 10-minute-old fries from this chain and you don't have to use the "no salt" trick to encourage the team to fry you a fresh batch.
According to Culver's site, every single order of fries is cooked when you order them. Plus, they are made from specific potatoes sourced in the Pacific Northwest. It's always a good sign when the chain cares about the source of its potatoes. Bonus: You can get them with Culver's famous cheese sauce.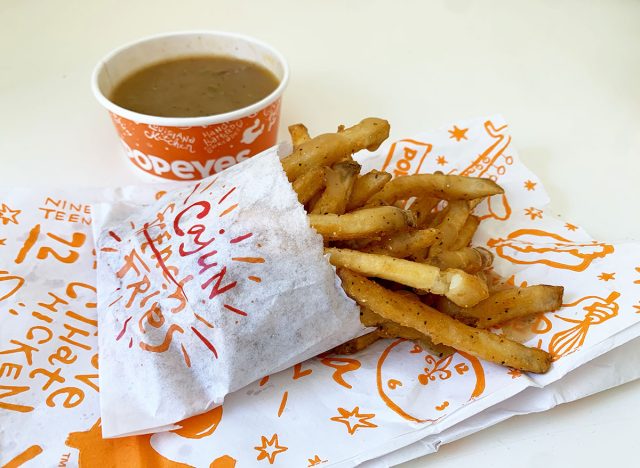 Popeyes, the undisputed king of the chicken sandwich, is another chain that cooks its fries the way McDonald's used to, in oil that includes beef tallow. Plus, it adds its famous Cajun seasoning to them. These lightly seasoned fries are the perfect complement to the chain's crunchy, chicken items.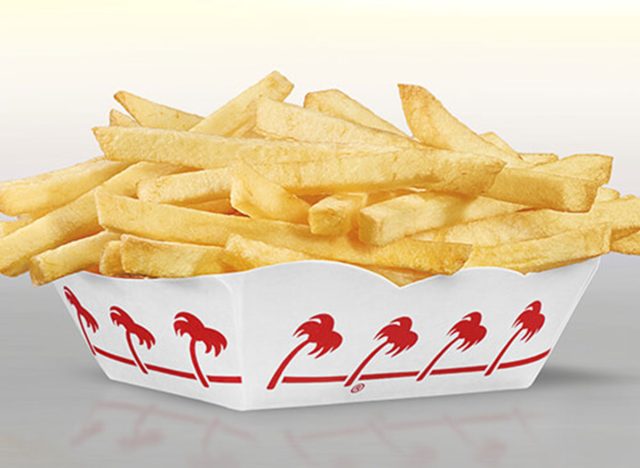 While not everyone loves the fries as much as the burgers at In-N-Out, the chain treats them like they should be treated in terms of cutting them fresh. The chain is reported to use the Kennebec potato which should help the final product be crispy on the outside and tender on the inside. They don't however fry them twice or blanch them before cooking, which can result in fries that quickly turn limp if they aren't consumed immediately. The potatoes are sliced for all to see and then tossed straight into the fryer, which is part of the In-N-Out show.
While you either love or loathe the fries at this iconic joint, fans swear by them but insist you need to know how to get them cooked properly. The trick for ordering the best In-n-Out fries is to ask for them "well done" or "light well," according to LAist.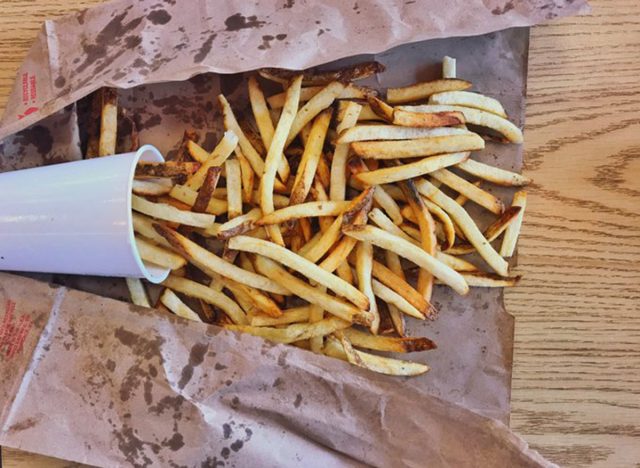 Five Guys' fries are perhaps best known for the generous, mountain-like portions. The small size legendarily includes a generous handful thrown on top. Five Guys also takes everything it makes on its small menu very seriously, including the spuds. It sources the best potatoes, switching up the type depending on the time of year for the best product. Did we mention they also peel, cut, soak, and fry them fresh every day? Plus, the chain uses peanut oil which is lauded for its neutrality and high smoke point, resulting in a fry that browns evenly and does not burn.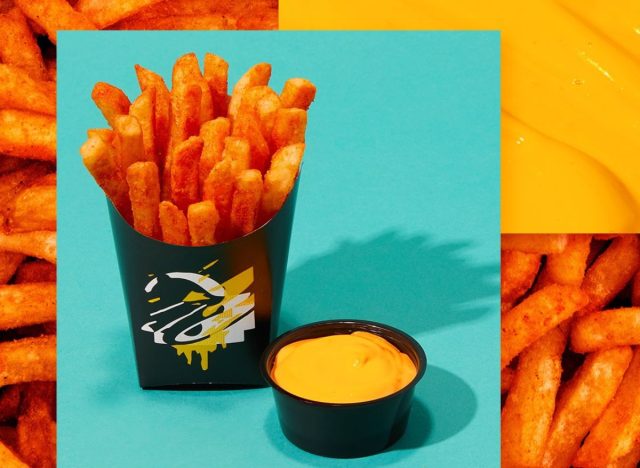 If you love Taco Bell's Nacho Fries, you're in luck—they just returned to menus, though the chain has not yet made them a permanent item as it has hinted it may.  The lightly seasoned fries have been a fan-favorite since they first appeared in 2018. In fact, they quickly became the best-selling new menu item of all time, dethroning the Doritos Locos Taco and earning regular repeat returns to the menu.
Taco Bell pops the fries on and off the menu seasonally and sometimes offers fun variations like the recent Yellowbird Nacho Fries, which are like nachos made with fries covered with Spicy Habanero Ranch sauce, grilled marinated steak, cheddar cheese, warm nacho cheese sauce, and sour cream.
Wendy's Natural-Cut Fries
In 2021, Wendy's did something either completely crazy or genius and released brand new fries designed to be hot and crispy for 15 to 30 minutes after purchase. One side of the fry is thicker to help with heat retention and the other is thinner to achieve crispiness. They also were reported to have a "whisper" of coating. While some say they preferred the old version of Wendy's fries, plenty think the new product is a big improvement.
After the initial pushback, people seem to have come around to these fries because Wendy's sales keep increasing and despite groans about menu prices, the chain is seeing huge success (it now tops Burger King in sales). Plus, these fries are perfect dipped in a creamy Frosty, which is, of course, the real test.
Checkers'/Rally's Famous Seasoned Fries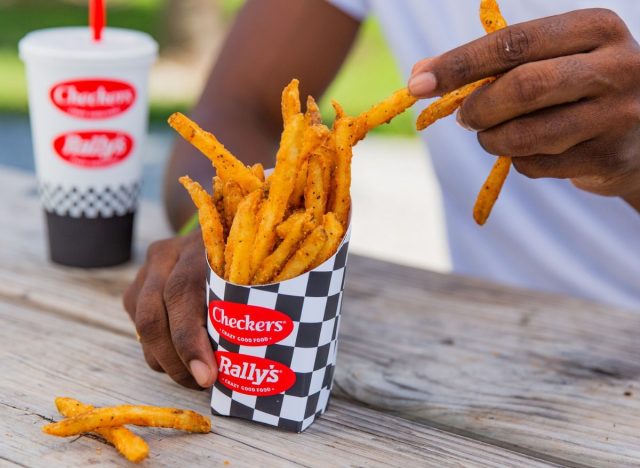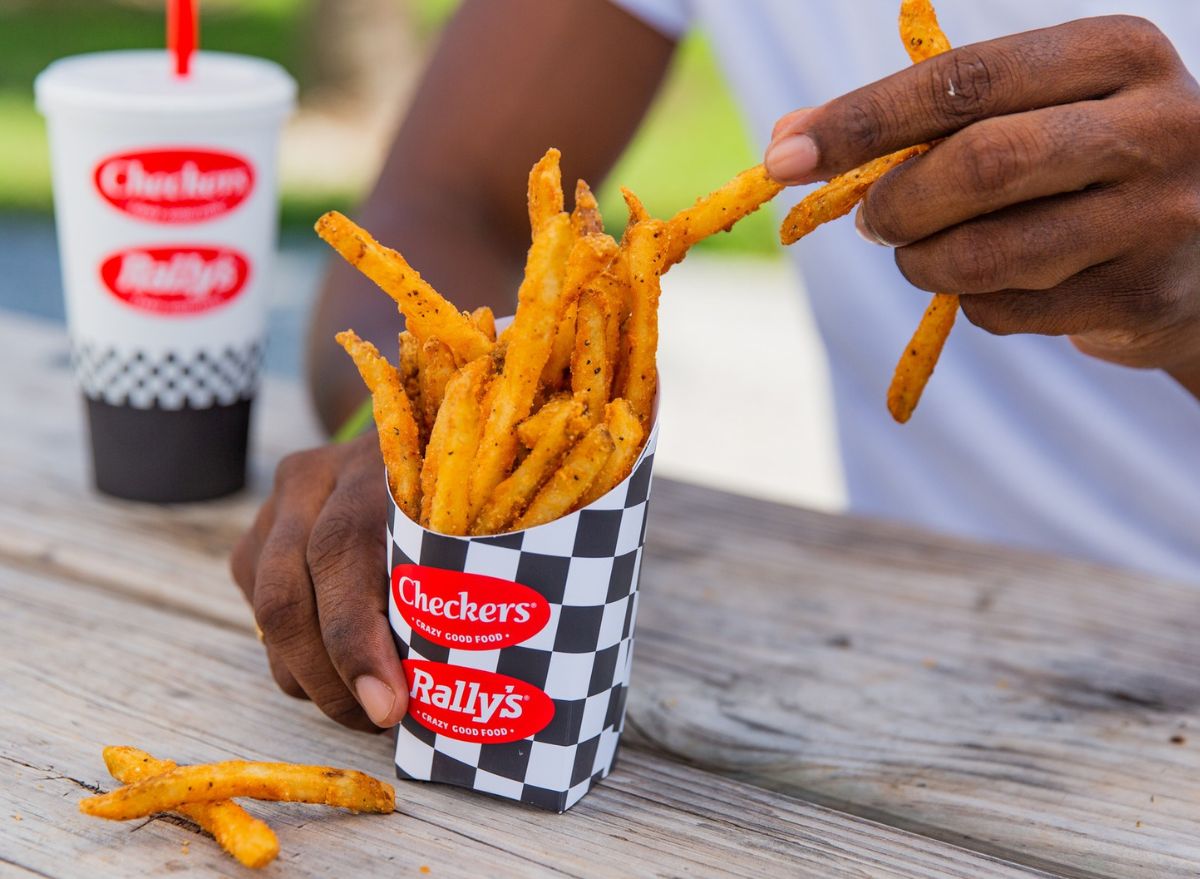 Checkers and Rally's, the same chain depending on where you are in the country, have truly unique fries coated in a famous seasoning and crunchy like no other fast-food fry. These iconic fries were so sought after that in 2005 Walmart started selling them in the freezer section, and they have since expanded to other retailers.
The Checkers fries are about the same size and shape as McDonald's fries but with a super-thin burnt orange coating with a hint of black pepper. Fans suggest getting a side of barbecue sauce for dipping.
Burger King's French Fries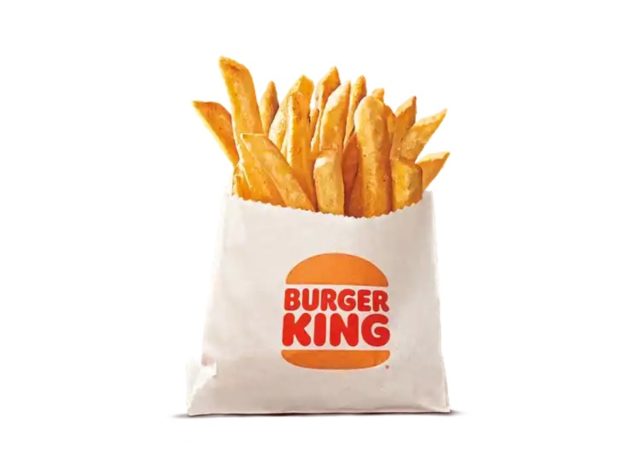 Burger King didn't become one of the most popular fast-food restaurants in America by having soggy fries. The Burger King fries are slightly larger than McDonald's but so very similar. They are crispy and tender on the inside. They pretty much taste like a thicker, more potatoey version of McDonald's fries. What could be bad about that?
While Burger King has some seriously good fries, it is also debuting other things that are fry-like and for that has earned a place at the top of the list. A case in point is the chain's Chicken Fries, which have been a part of the menu since 2005, and have had several flavorful iterations including the current Spicy Chicken Fries. Plus, they have been testing Churro Fries and Mozzarella Fries, just to keep every other chain on its toes.
Chick-fil-A's Waffle Fries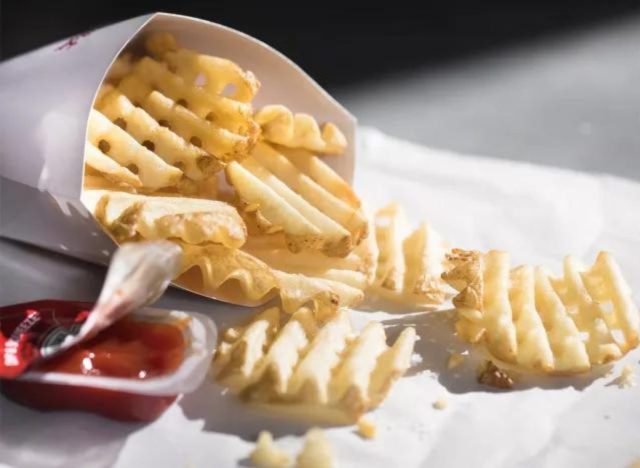 Chick-fil-A fries are super unique thanks to their signature waffle cut. While waffle-cut fries are not everyone's thing, Chick-fil-A does them right. Due to the insane organization and attention to quality at always-crowded Chick-fil-A locations, the fries always come out hot, perfectly salted, and not at all greasy. The waffle cut goes across the whole tongue, increasing the surface area and filling your mouth with a fresh potato taste and unbeatable crunch. Plus, the waffle cut leaves on just a touch of skin for that extra earthiness.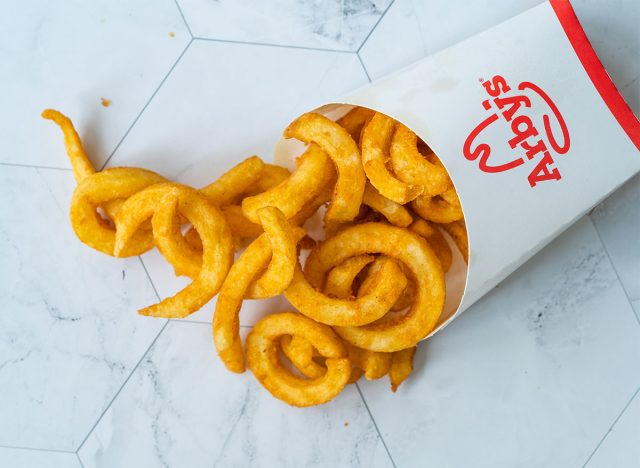 Curly fries are hard to get right, but Arby's has figured out the secret formula. Maybe the smartest thing that Arby's did was not copy the typical, thin-cut french fries that most fast-food chains offer. That crunchy coating—a magical mixture of onion powder, corn meal, garlic powder, baking soda, and other spices and flavors—swirls around in your mouth as you bite through the layers. Plus, like any great fast-food offering worth its salt these fries are now available in your freezer aisle.
Arby's is so confident about its fries that it added Crinkle Fries in 2021 to complement them. "We want people to enjoy the fry, depending on their mood," said V.P. of culinary innovation & brand executive chef Neville Craw (at the time). "Curly fries and roast beef, chicken offerings and the straight fry, those are match made in heaven. It's giving another option to people who might want to enjoy a different fry experience from time to time or those people who just really like a straight potato fry."  We respect that. Here's to a fry for every occasion.
McDonald's World-Famous Fries
If there was any dispute, let's settle it now. First of all the iPhone emoji for french fries is a hard-to-deny copy of McDonald's fries. Now, that alone does not make them the best fast-food fries in the world, only the most readily identifiable. Several other things make them the most iconic fast-food fries.
For one, they are made from the best potatoes, including the Russet Burbank, Russet Ranger, Umatilla Russet, and the Shepody. This means that the company uses seasonal spuds for the perfect texture and taste all year. This attention to detail and consistency make this a reliable fry that always has a slight crunch and still maintains a soft, potatoey center.
But choosing in-season potatoes isn't the only thing that makes these the best. McDonald's fries are also said to have that je ne sais quoi, which used to be attributed to the use of beef tallow in the cooking oil. Due to backlash from the vegetarians and to project a healthier image, McDonald's made the switch to vegetable oil. While many railed against the company for changing its recipe in 1990, Mickey D's maintained the flavor by using beef flavor extract, which just made news again after it was rediscovered in a recent TikTok video.
Regardless of how McDonald's achieves the iconic flavor, most people call these fries the best of all time. As one commenter on our Facebook page said, speaking for many, "McDonald's will always be the OG…Everyone else is in a race for 2nd place." P.S. The best way to eat McDonald's fries is a few at a time for maximum crunch.