8 Restaurants You Can Only Find in the Midwest
You can dine in these restaurants in the Midwest, and the Midwest only.
The Midwest is known for no-nonsense, practical, and tasty food that appeals to just about anyone and everyone. Where else could you snack on something called 'puppy chow' and make a gourmet experience out of tater tots? This is the region that gave us Kool-Aid and frozen TV dinners, after all. And when it comes to restaurants in America's Heartland, they tend to reflect the simple (and admittedly sometimes confusing) batch of Midwestern taste preferences. There are also some eateries that can only be found in that area of the country. Here are a few of the best restaurants you can only find in the Midwest.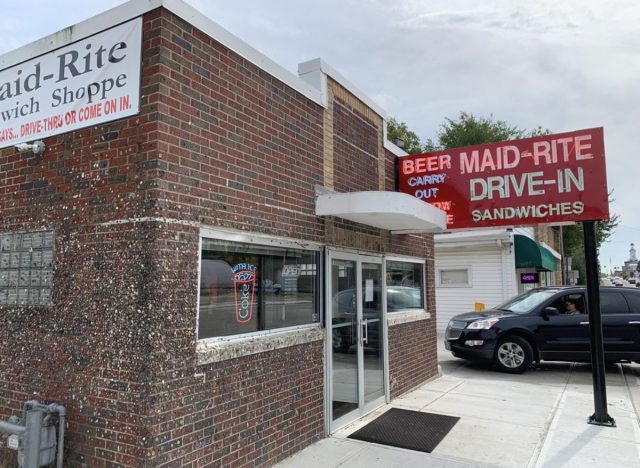 Famous for its Loose Meat Sandwich, this restaurant has franchises in several Midwestern states. What exactly is a loose meat sandwich, you ask? It all started with owner and butcher Fred Angell, who developed special seasonings for the ground beef sandwich. Served on a steamed white or wheat bun, the cousin to a sloppy Joe has been satisfying customers for almost 100 years.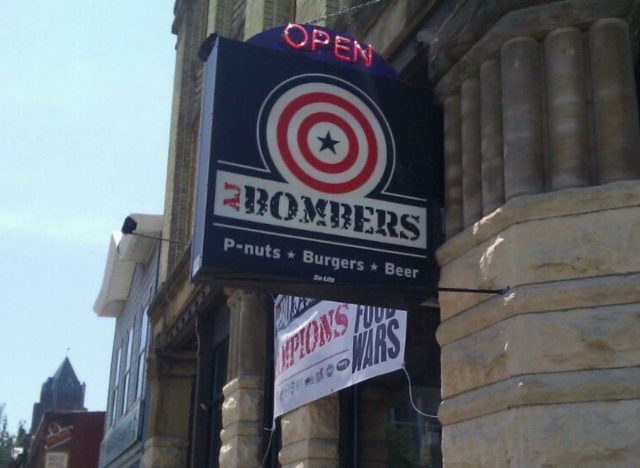 Burgers, beer, booze, and bombs…of peanuts? Yes, AJ Bombers is the Wisconsin home of the peanut bomb—a fistful of legumes launched through a ramp running around the ceiling to arrive at your table. When you're finished with the snack, toss your shells right on the floor, no one cares.
If you find time to visit Milwaukee, try the Hangover Burger to cure any hunger. The smash patty has the usual hamburger toppings, plus hash browns, eggs, bacon, and sriracha mayo underneath a fresh potato bun. We never said it would be healthy.
This tiny restaurant in Altoona, Kansas, has been serving up its house specialty since the 1950s (with a little break somewhere around the '80s). Never fear, though, they are open and serving up what they're known for—prairie oysters. Also known as Rocky Mountain oysters or cafe fries, these calf testicles are breaded and deep-fried, served in a basket over French fries and pickles. You can also buy a T-shirt commemorating your culinary choices that says, "I had a ball at the Prairie Nut Hut."6254a4d1642c605c54bf1cab17d50f1e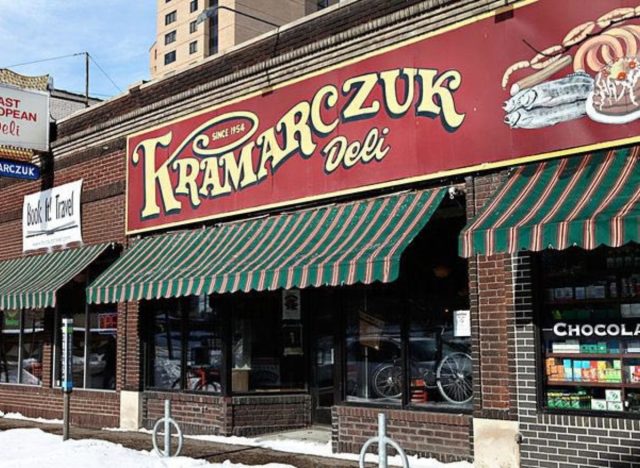 Wasyl and Anna Kramarczuk immigrated from Ukraine in the late 1940s, combining their skills of sausage-making, baking, and cooking to open this landmark Minneapolis bakery, cafeteria-style restaurant, and delicatessen. Known for its huge portions, Kramarczuk's Eastern European menu is full of delights: pierogi, goulash, sauerkraut dumplings, and homemade garlic-ham sausage, for starters.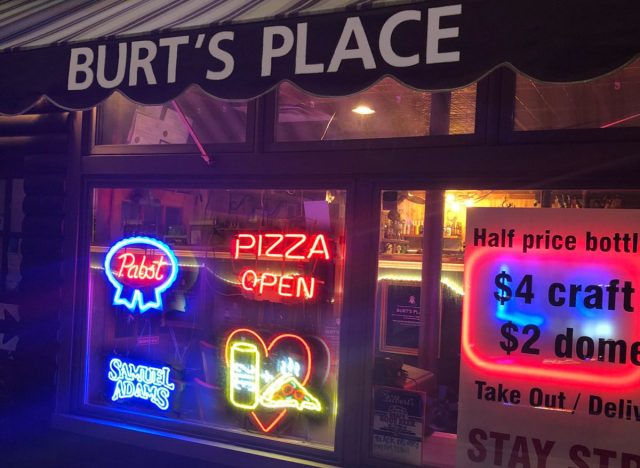 When Anthony Bourdain is quoted as saying you have the "only deep dish pizza I ever loved," you must be good. That is the case for the recipe used in honor of Burt at Burt's Place in Morton Grove, Illinois. Owner Jerry Petrow, friend and associate of the late Burt, continues his legacy with thick, cheesy, charred pies that are absolutely as good as they sound.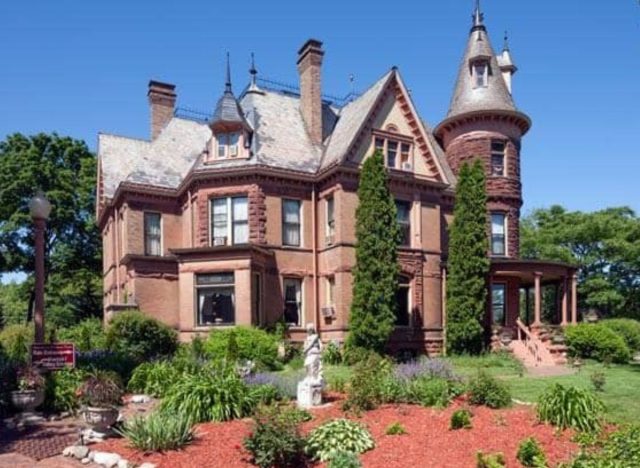 How about high tea with a side of history? The restaurant at this actual castle in Kalamazoo, Michigan, was built in 1895 to fit the dream of its original owner, who wanted a grand estate. The 25-room abode is now a historic inn and serves guests and visitors meals and high tea in the afternoons, Wednesday through Sunday. Reservations are required, and if you don't drink tea, you can ask for a mimosa to accompany the signature tiny bites.
Louie M's Burger Lust Cafe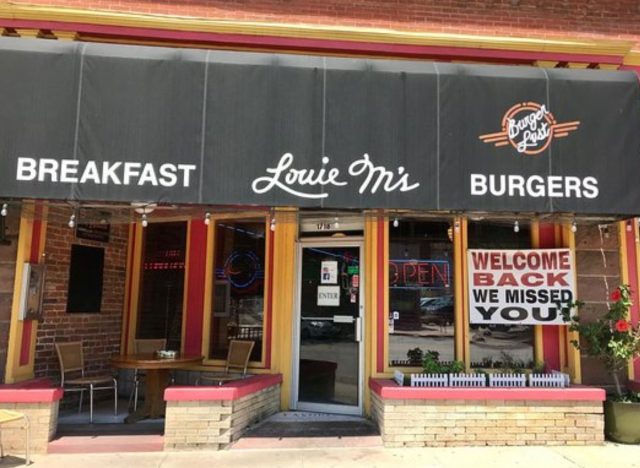 Breakfast sandwiches and breads, 1/2 pound burgers, chili fries, fresh salads, and a killer house bloody Mary round out the menu at this Omaha, Nebraska, go-to spot. Choose from a plethora of sauces to dip, spread, or stick a finger into, and enjoy the friendly atmosphere that's sure to keep you coming back for more.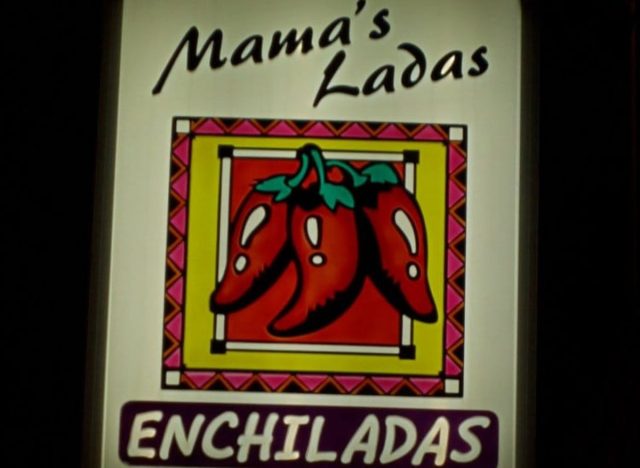 Sioux Falls, South Dakota, has a popular restaurant that's known for its made-from-scratch enchiladas, salsa, and sangria. Visitors have noted surprise at the salsa creativity, finding olives and even mushrooms in the restaurant recipe. Enchilada varieties may include beef, chicken, bean, or even broccoli and cheese, and some specials offer spinach and shrimp. It's standing room only inside the small space (with an outdoor spillover), as Mama's is highly regarded by locals and visitors alike.