13 Healthier Old-Fashioned Midwestern Recipes To Try Tonight
These twists on comforting, cozy foods from the Midwest are absolutely worth making.
The Midwest is comfort food cozy, which is great. But what's not so comforting is that while these dishes may offer a hug, they're not necessarily the American Heartland's healthiest dishes.
but, that's an easy fix. Here are 13 ideas for old-fashioned Midwest recipes made with better-for-you ingredients that you'll love eating and making. And next, don't miss 22 Meals to Melt Belly Fat in 2022.
Strawberry Rhubarb Crumble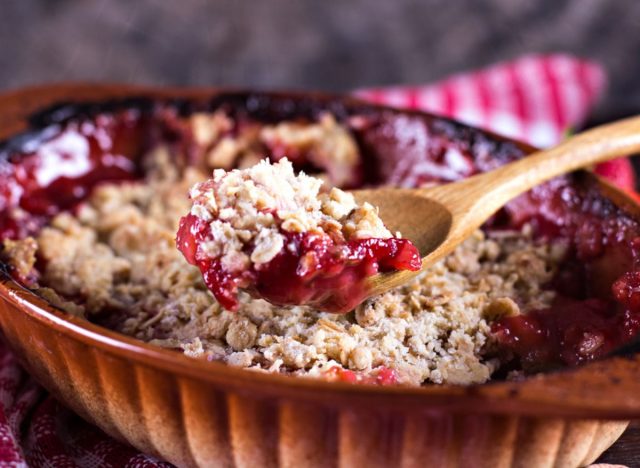 The Midwest is pie country, and this strawberry rhubarb pie is filled with fresh seasonal fruit—so it's healthier than other iconic Midwestern pies (think sugar cream pie). And not just any fruit, but the fruit. "Rhubarb is so popular in the Midwest, it is called the pie-plant," says Emma Essence, recipe developer and founder of EssenceEats. "This pie is healthy, tart, perfectly sweet, and the ultimate treat."
Get the recipe from Essence Eats.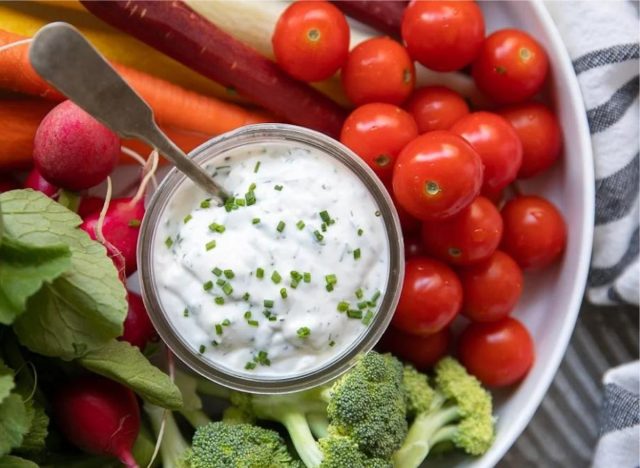 It is the most iconic condiment in this neck of the woods—paired with everything from cheese curds to nachos to salads, even pizza. Jessica Randhawa of The Forked Spoon shares her recipe for homemade ranch dressing. It's based on Greek yogurt rather than typical buttermilk and other affordable ingredients, takes only five minutes to whip up, and is much healthier than store-bought, she says.
Get the recipe from The Forked Spoon.
Potatoes and the Midwest are BFF's, and potato salad is a spud stud dish. This recipe is lower in fat with a few simple ingredients—it's lightened up with Greek yogurt and a smidge of mayo "to retain authentic taste," says Olena Osipov of ifoodreal. "No one will even guess they are eating a healthified version of this classic side due to the amazing taste and texture."
Get the recipe from ifoodreal.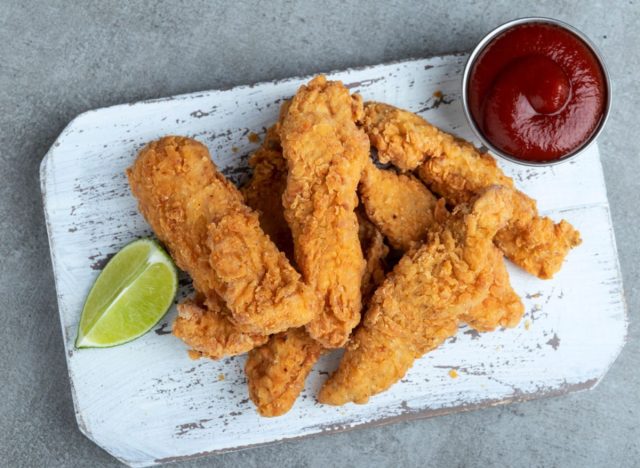 Fried chicken is a classic Midwestern favorite, but you can ditch the heavy cooking oil, even the gravy sidekick, and still enjoy a wonderful fried chicken meal, says Melinda Keckler, recipe developer and founder of Crinkled Cookbook food blog. In fact, you won't even need a frying pan to make her Buttermilk Crispy Chicken Strips. The chicken is tenderized in buttermilk, then oven-baked. "The flavor combination might remind you of your Midwestern grandma's classic recipe," she says.
Get the recipe from Crinkled Cookbook.
Crockpot Cocktail Chickpea Meatballs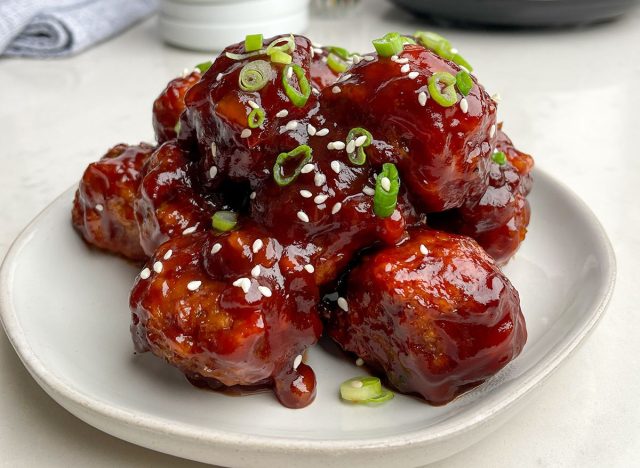 Meatballs with a spin. "These are just like those grape jelly meatballs that were at literally every family potluck I ever went to…except these are vegetarian, made from chickpeas," says Cara Lanz of Midwestern HomeLife.
Get the recipe from Midwestern HomeLife.
Healthy Buffalo Chicken Dip
A Midwest Super Bowl party wouldn't be a proper party without Buffalo Chicken Dip—a fan favorite but not much to cheer about from a health perspective. This recipe from Cara Lanz of a Midwestern HomeLife scores points—no cream cheese or bottled dressing is used. It's built with a creamy white bean hummus layer topped with Greek yogurt blue cheese, chicken, and co-jack cheese.6254a4d1642c605c54bf1cab17d50f1e
Get the recipe from Midwestern HomeLife.
Mint Chocolate Chip Nice Cream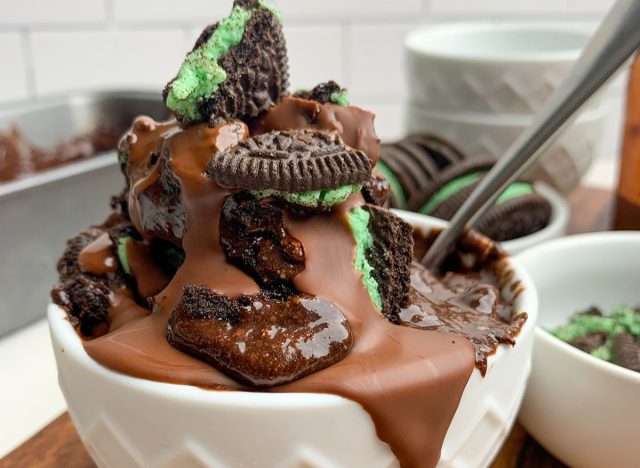 "I didn't know until recently that Midwesterners are the only ones to call mint chocolate chip ice cream 'peppermint bon bon'," says Cara Lanz of Midwestern HomeLife. "This mint chocolate chip ice cream or 'nice cream' is dairy-free and made from frozen bananas, chocolate chips, and Mint Oreos." It's the blended frozen bananas that create the "ice cream."
Get the recipe from Midwestern HomeLife.
White Castle's invention of the slider (or mini burger) in Wichita, Kansas, in 1921, launched a love affair of burgers in the Midwest. But with a trending breakup with red meat consumption, many restaurants have been looking for ways to reinvent this iconic sandwich. At FireLake Grill House & Cocktail Bar, sliders slide into salmon. Mixed greens tossed in a honey Dijon vinaigrette top the salmon, adding a touch of sweetness and acidity for creating a balanced, summer-inspired dish.
Get the recipe from The Endless Appetite.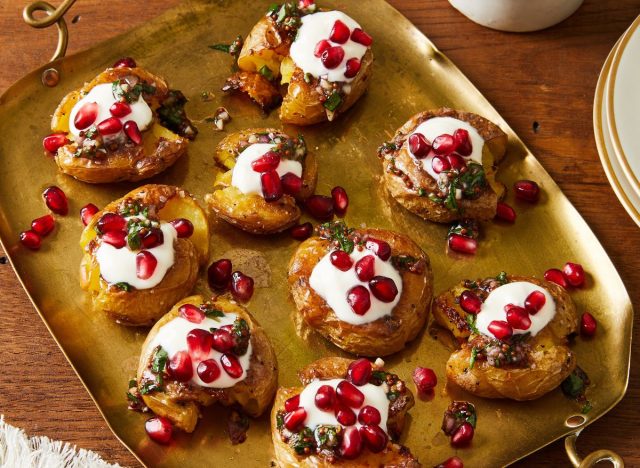 Another Midwest favorite—crispy potato skins. Load 'me up or not, for skinnier skins try POM Wonderful Pomegranate Seeds—the antioxidant-rich pomegranate ups the health ante.
Get the recipe from POM Wonderful.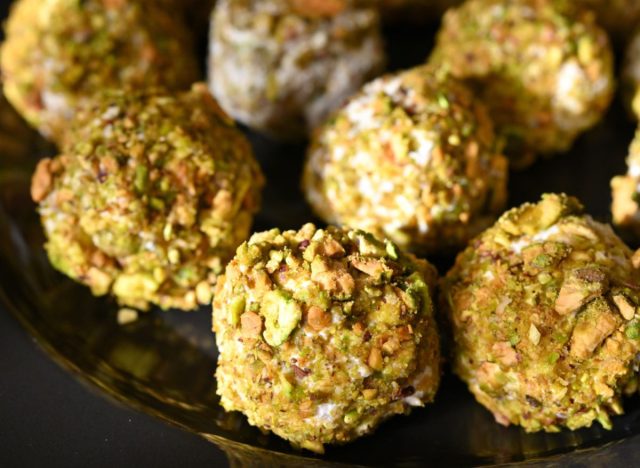 The Midwest loves cheese. A healthier version of the adored cheese ball is rounded out by combining pistachios with creamy vegan cheese. Pistachios are a complete protein, so these are great on a protein-powered snack board.
Get the recipe from Wonderful Pistachios.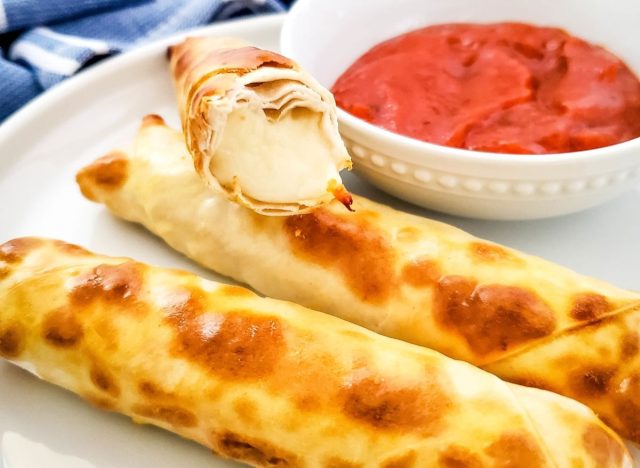 Again, cheese.
Marilyn Haugen, cookbook author and Wisconsin food blogger has a recipe for Air Fryer Mozzarella Sticks. Made from egg wrappers and melty cheese, these cheese sticks raise the bar on traditional breaded and deep fried mozzarella sticks.
Get the recipe from Maven Cookery.
Fried Walleye and Cheese Curds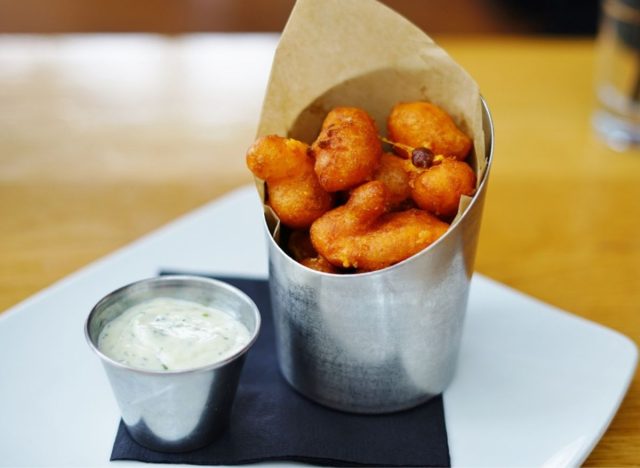 There's nothing fishy about this Midwest favorite combo—the dish gets a nutritional boost in this recipe thanks to oven roasting (at 425 for about 15 minutes) instead of frying, says Laura Martin, author of Hidden Veggie Recipes Cookbook. Bonus points: Martin uses a gluten-free oat and almond flour coating instead of traditional flour, panko or breadcrumbs. "I also add steamed and pureed cauliflower into the batter," says Martin. "I dip the fish filets and cheese (skim milk string cheese chopped into cubes) into oat flour, then coat in a mixture of equal parts egg and pureed cauliflower and then dip in coarse almond flour before roasting on a well-greased baking sheet."
Get the recipe from Hidden Veggie Recipe Cookbook.
Kansas City Style Barbeque Sauce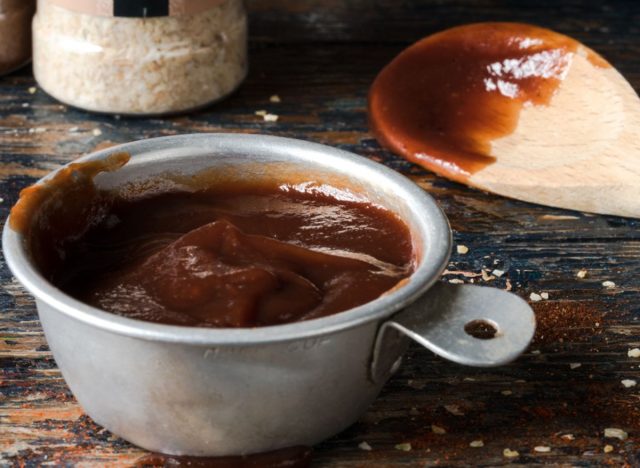 By using a sugar-free barbeque sauce (there are many store-bought options), cookbook author Laura Martin adds a blend of puree veggies (tomato, squash, broccoli, beets…) to the meat and serves the dish as a shredded/pulled barbeque that can easily hide the veggies amongst the bbq sauce—for kids who have an aversion to veggies.
Get the recipe from Hidden Veggie Recipe Cookbook.
For more delicious recipe ideas, check out 27 Air Fryer Recipes That Make Healthier Fried Foods.