You Know You're from the Midwest if You Love These 23 Foods
Yes, people in the Midwest will eat chili and cinnamon rolls in the same meal.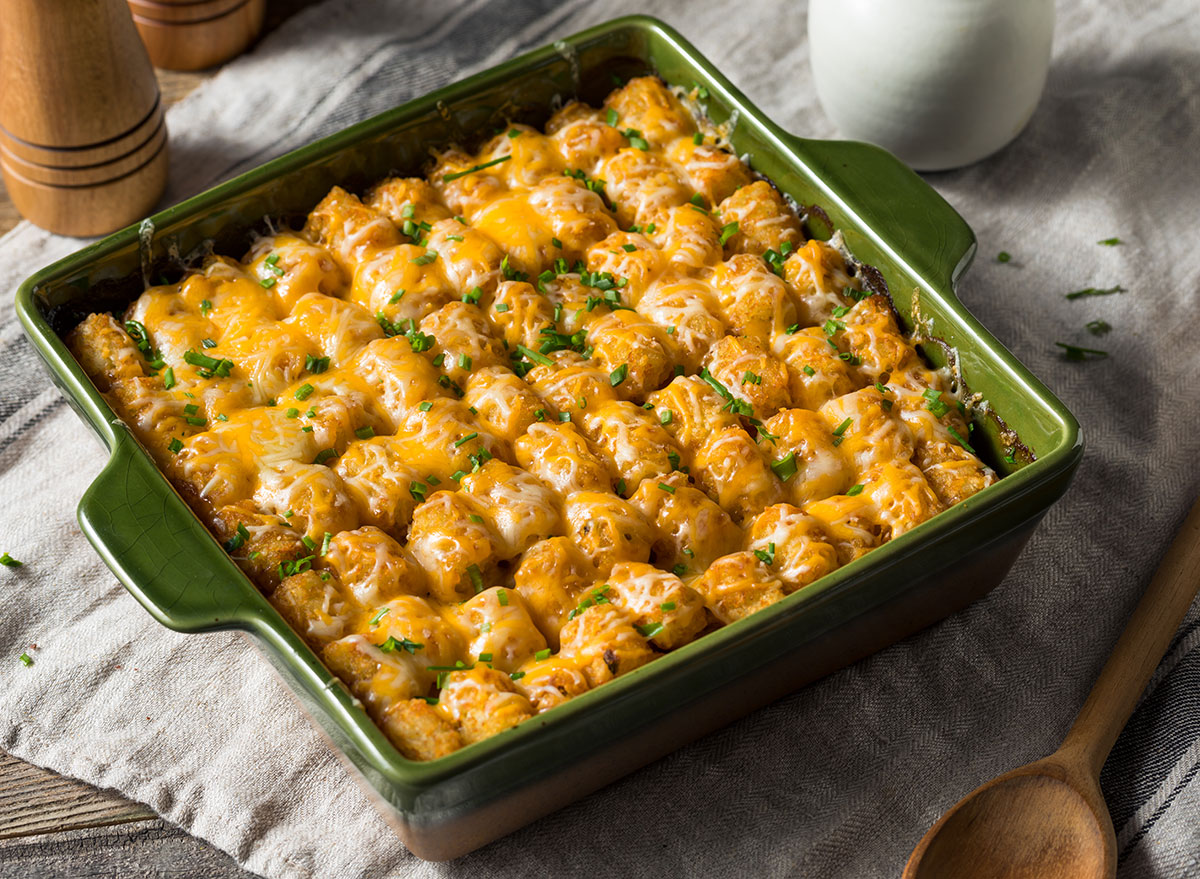 Every region of the United States has its local delicacies, and the Midwest is no exception. From sugar cream pie to chocolate-covered potato chips, the Midwest has plenty of culinary claims to fame. Plenty of people will even argue that Detroit-style pizza is better than New York pizza!
If you're looking for some regional comfort food to make at home, look no further. These delicious dishes are classic for a reason—even if you aren't from the Midwest, you'll want to try out these Midwest foods. And don't forget to add these healthy recipes to your weekly menu: 13 Healthier Old-Fashioned Midwestern Recipes To Try Tonight.
A nut from a Buckeye tree is known as a good luck charm, as magical as a four-leaf clover or a rabbit's foot. Native Americans in Ohio thought the round dark nut with the light brown spot looked similar to a deer's eye. They called it "hetuck," which means "buckeye." Fast-forwarding through history, Ohio is known as the Buckeye State, the buckeye tree is its state tree, and Ohio State's football team is named—you guessed it—the Buckeyes.
With all this attention, someone had to invent a snack. The Buckeye is a sweet, peanut-butter confection covered with chocolate that resembles the appearance of the seed. Served at weddings and given away at Christmas, Buckeyes make their appearance at football tailgates as well.
Get our recipe for Buckeyes.
Every year, senators and representatives from Minnesota compete in the Minnesota Congressional Delegation Hotdish Off. The winner in 2019 was Representative Tom Emmer, with his tater tot masterpiece aptly called "Hotdish of Champions." Even former Democratic Presidential candidate Amy Klobuchar was in the mix with her cream of mushroom soup and cheddar cheese infused "Gold Medal Curling Hotdish." All in good fun, this competition is held to highlight the food, which other areas of the country might just call a casserole. The starch, protein, and vegetable combination is made in one dish, allowing less time in the kitchen for cleanup and more time to relax on the couch in a comfort food coma.
Get this recipe from My Name Is Yeh.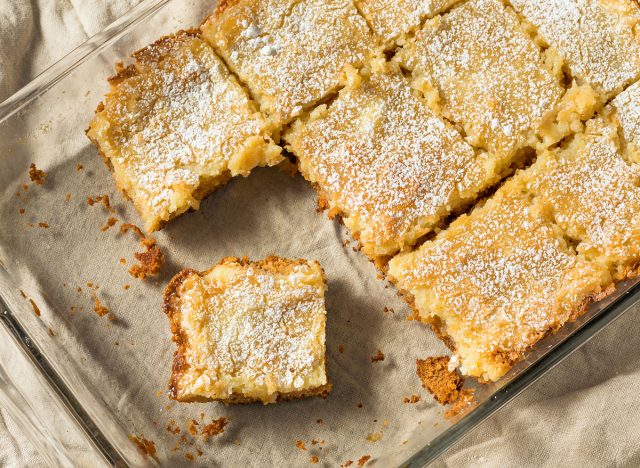 Legend has it that in the 1930s, a German baker in St. Louis added the wrong measurements of ingredients into a coffee cake, and the resulting creation resembled pudding inside of a crust. Other stories have emerged, but one thing remains standard: This cake lives up to its gooey name. It's sticky and incredibly sweet, making it a dessert staple in the Midwest.6254a4d1642c605c54bf1cab17d50f1e
Get this from The Seasoned Mom.
The versatile Midwestern Jell-O salad can be sweet or savory. Variations of this dish are often served in potluck dinner lines, jiggling in majestic, vibrantly-colored glory and studded with fruit, marshmallows, whipped cream, nuts, tuna, or vegetables.
Gelatin has many surprising health benefits, like helping joint and bone health, strengthening hair and nails, and improving brain function, which may explain the love of the Jell-O Salad in the area.
Get this recipe from I Breathe, I'm Hungry.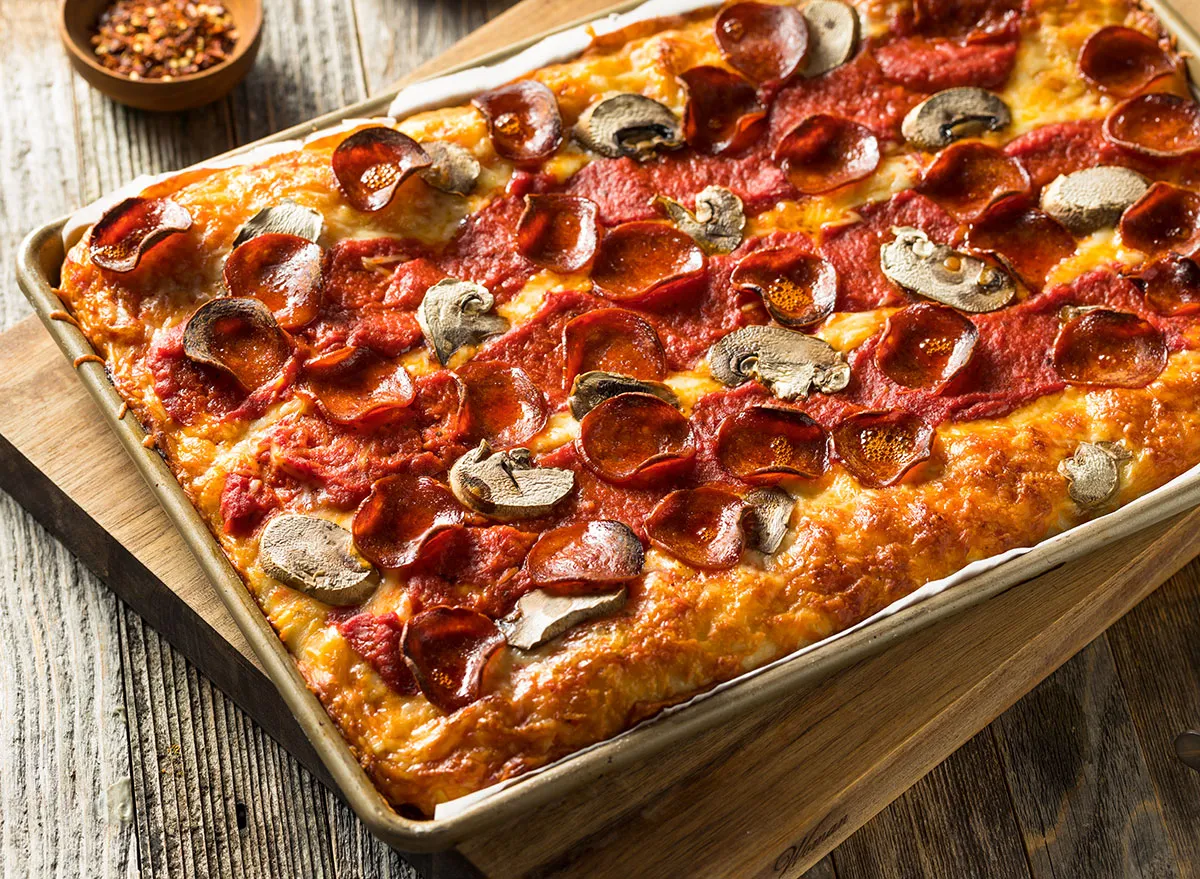 All pizza is good pizza. But Detroit-style pizza, according to a 2019 Esquire article, is always a moment.
Detroit was the booming epicenter of the American car industry in the mid-1950s but suffered through a depressed economy in the latter part of the 20th century. The invention of this style of pizza is said to be at the hands of Gus Guerra, who used an automotive part carrying pans to bake his mother's Sicilian-style pizza. The pie was topped with Wisconsin cheese with two "racing stripes" of marinara added after baking, creating a crispy-edged, deep-dish delight. You can find the original at Buddy's Pizza in numerous locations across Detroit.
Get the recipe from Love and Olive Oil.
Sitting down to a plate of slinger for breakfast either indicates a big appetite or a need to recover from a night out. If the pile of hash browns, over-easy eggs, and sausage patties isn't enough to fuel your day, slinger adds a serving of chili, topped with American cheese and raw onion. You can find versions that are classic greasy spoon or more upscale all around St. Louis, all served with a side of toast.
Get the recipe from With Food and Love.
Chili and a Cinnamon Roll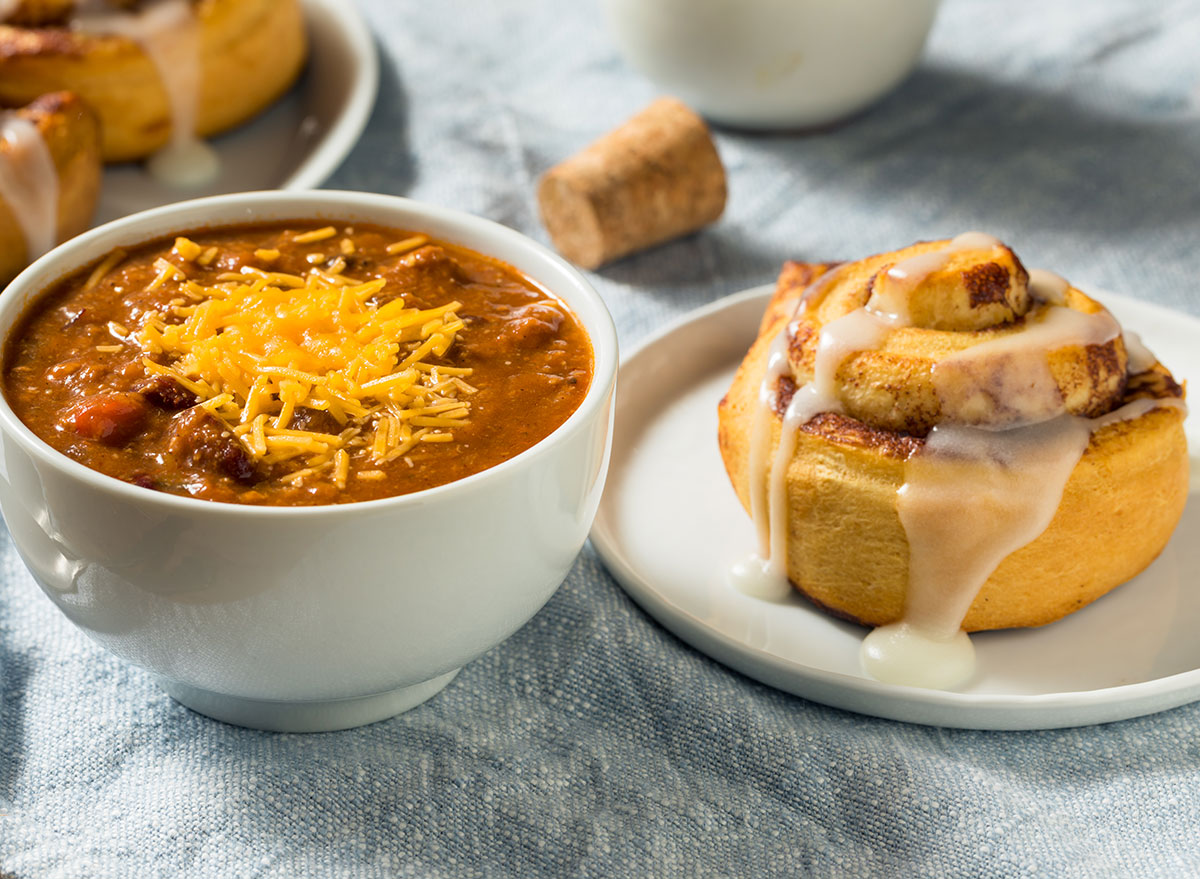 A true Midwest combination of salty and sweet, chili served with a freshly baked cinnamon roll is surprisingly tasty. You'll find them served together in school lunch cafeterias and at fast-food restaurant Runza, which offers chili and a cinnamon roll on the combo meal menu.
Try out the combo with one of our 22 Delicious Chili Recipes.
Chokecherry trees produce reddish-black berries that make spectacular jam or jelly and even better wine, as long as homemade vintners understand that the pits of the fruit are slightly toxic and should be discarded. While you can find chokecherry wine in stores and at vineyards in the region, it was once common to have the homemade version available, too. Age mellows the flavor, so most recipes call for storing the wine for at least a year.
Get the recipe from Home Brewing.
You can't beat a flaky, buttery dough filled with smooth almond filling. The Dutch treat was made for Sinterklaas Day, the Dutch Santa Claus Day on December 6. The delicious treat is shaped into an "s" for Sinterklaas. Settlers from the Netherlands populated the Midwest, and this was a popular tradition for all residents who frequented Dutch bakeries, especially Jaarsma Bakery near the Dutch settlement of Pella, Iowa.
Get the recipe from Hy-Vee.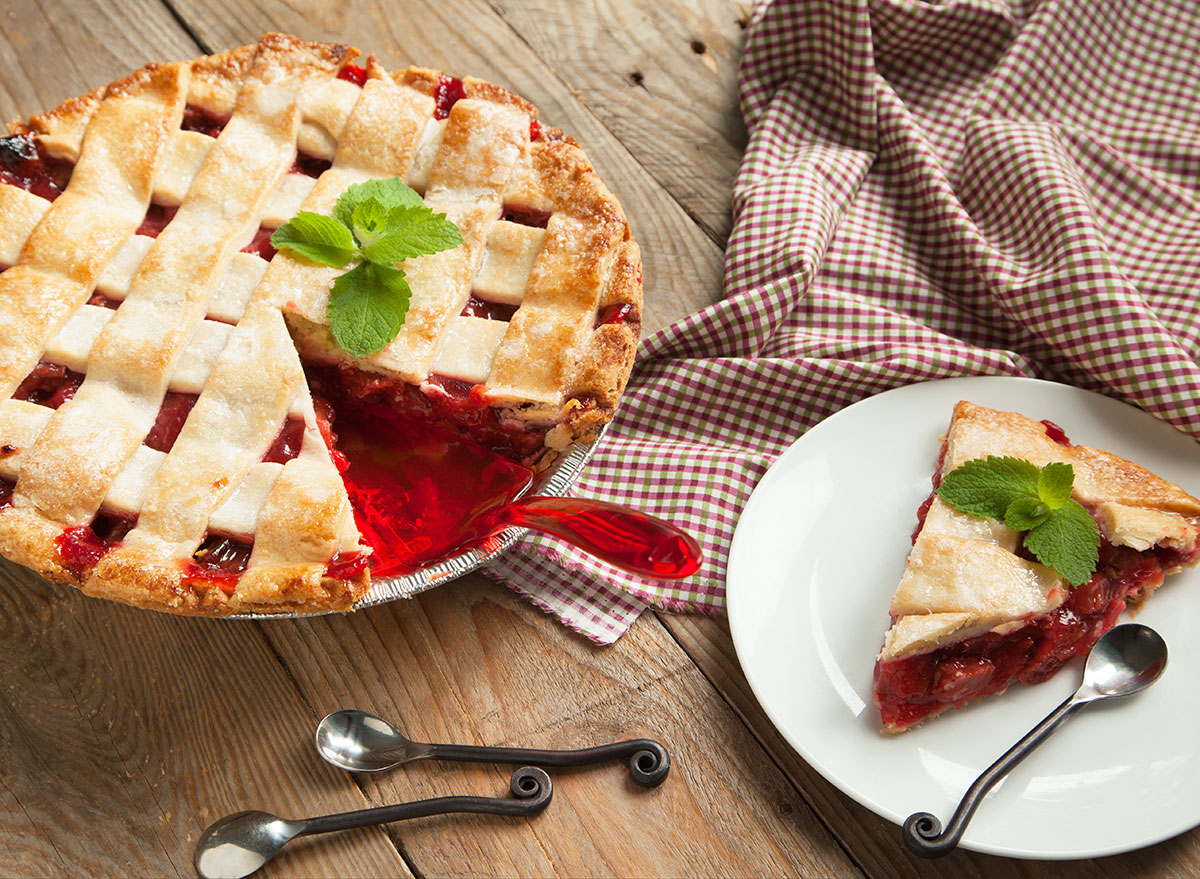 Served at state fairs across the Midwest, strawberry rhubarb pie combines the tart stalks of the prolific-growing rhubarb with sweet, in-season strawberries. Pie has always been a Midwestern staple—it's portable, filling, and full of less-expensive, available produce. The unique flavor of this dish makes it unforgettable.
Get the recipe from Sally's Baking Addiction.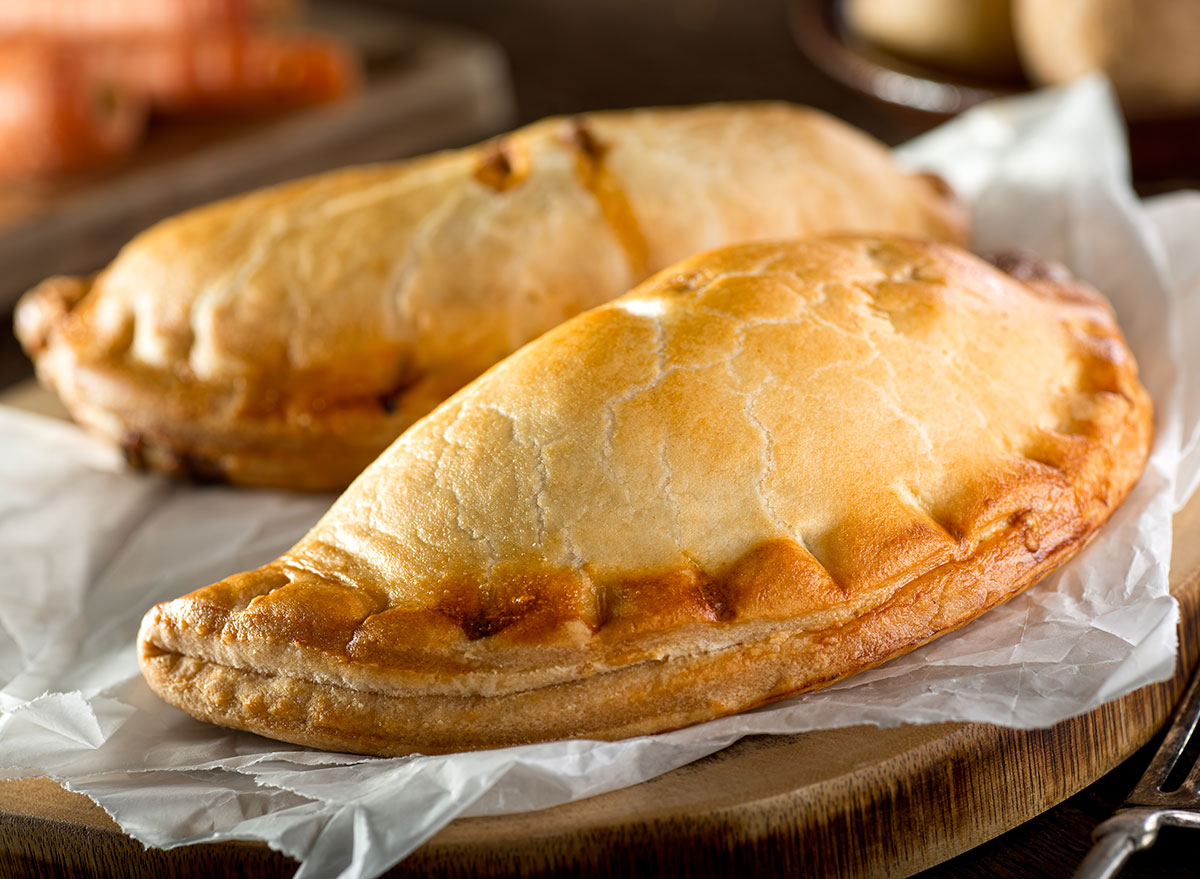 Pasties have their roots in Cornwall, England, where tin mine workers carried the handheld meat and vegetable pies for a convenient lunch. In the 1840s, these miners traveled to upper Michigan to lend their expertise to the new mines in the area, and their lunch habits. This treat took over the appetites of the area over the years. In 1968, then-Michigan Governor George Romney set up a statewide Pasty Day, on May 24, to celebrate.
Get the recipe from King Arthur Flour.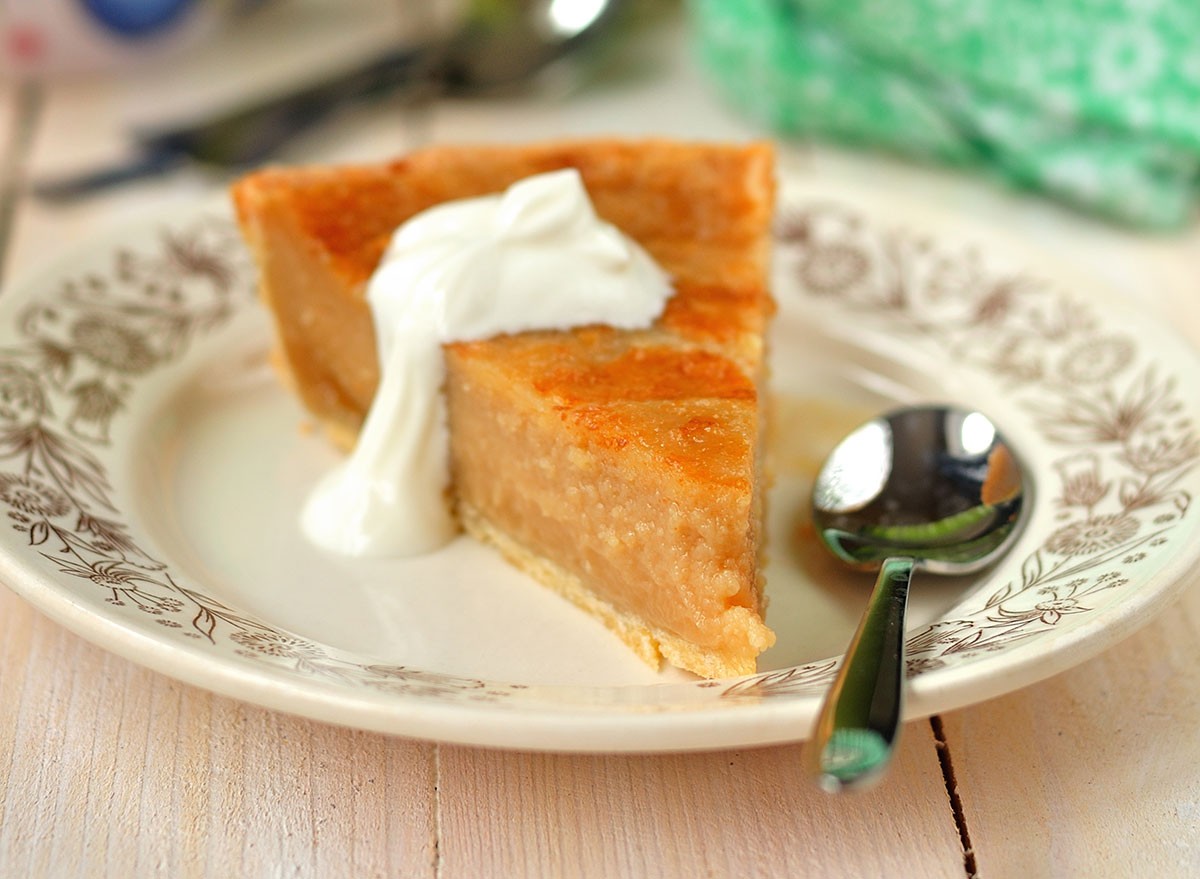 This dessert is the Indiana state pie. In an area that already adores all things related to pie, to be elevated to this status is a serious nod to the basic flavors found within this dessert. Ingredients are mixed by hand to prevent adding air, resulting in the nickname "finger pie." Simply made from cream, sugar, and flour in a pie crust and maybe some cinnamon, nutmeg, or vanilla, it can be served warm or cold.
Get the recipe from Averie Cooks.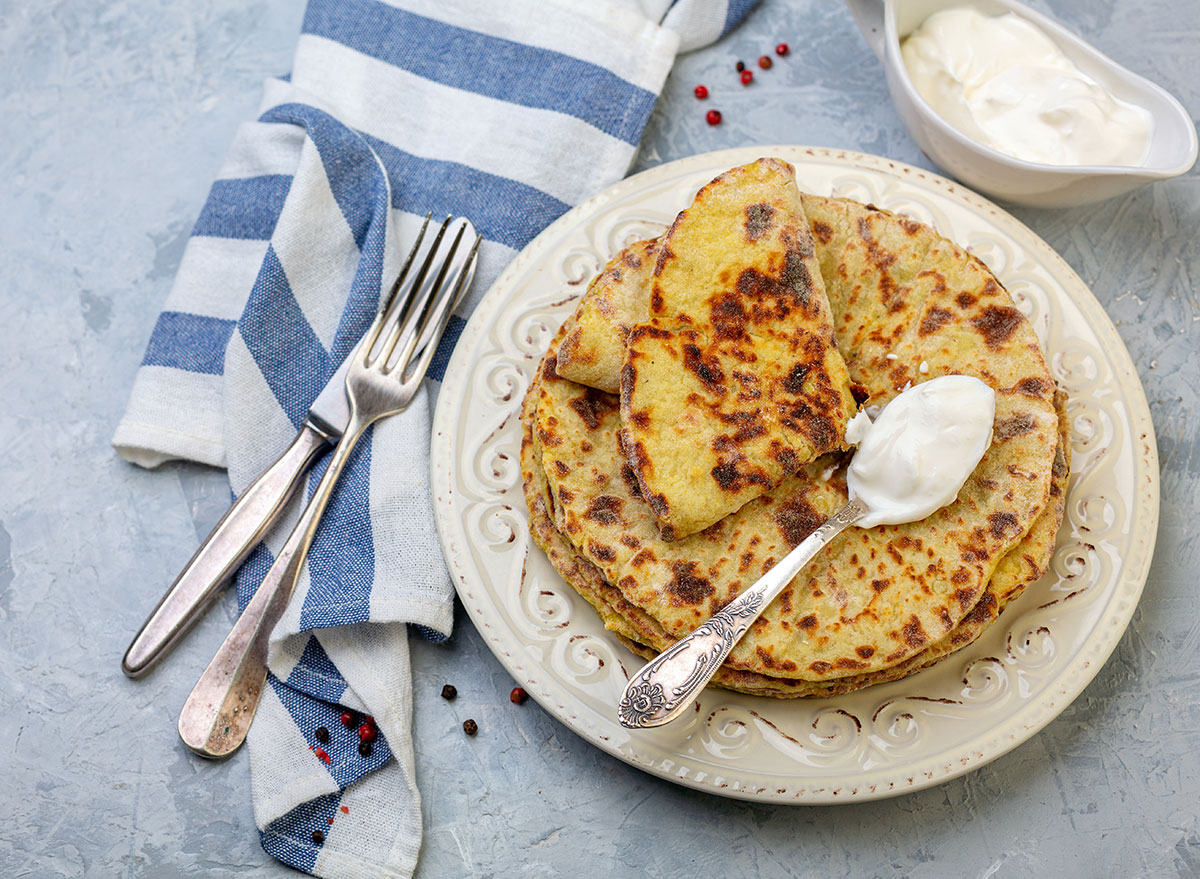 Midwesterners with Norwegian roots have fond memories of lefse, a thin, griddle crepe-like treat made from riced potatoes, flour, and cream. Lefse is slathered in butter and sugar while it's still hot, making it an extra-delicious treat when it's fresh off the griddle. The flatbread shares the typical aspects of most Midwestern favored dishes: The ingredients are easily obtained and inexpensive.
Get the recipe from My Name is Yeh.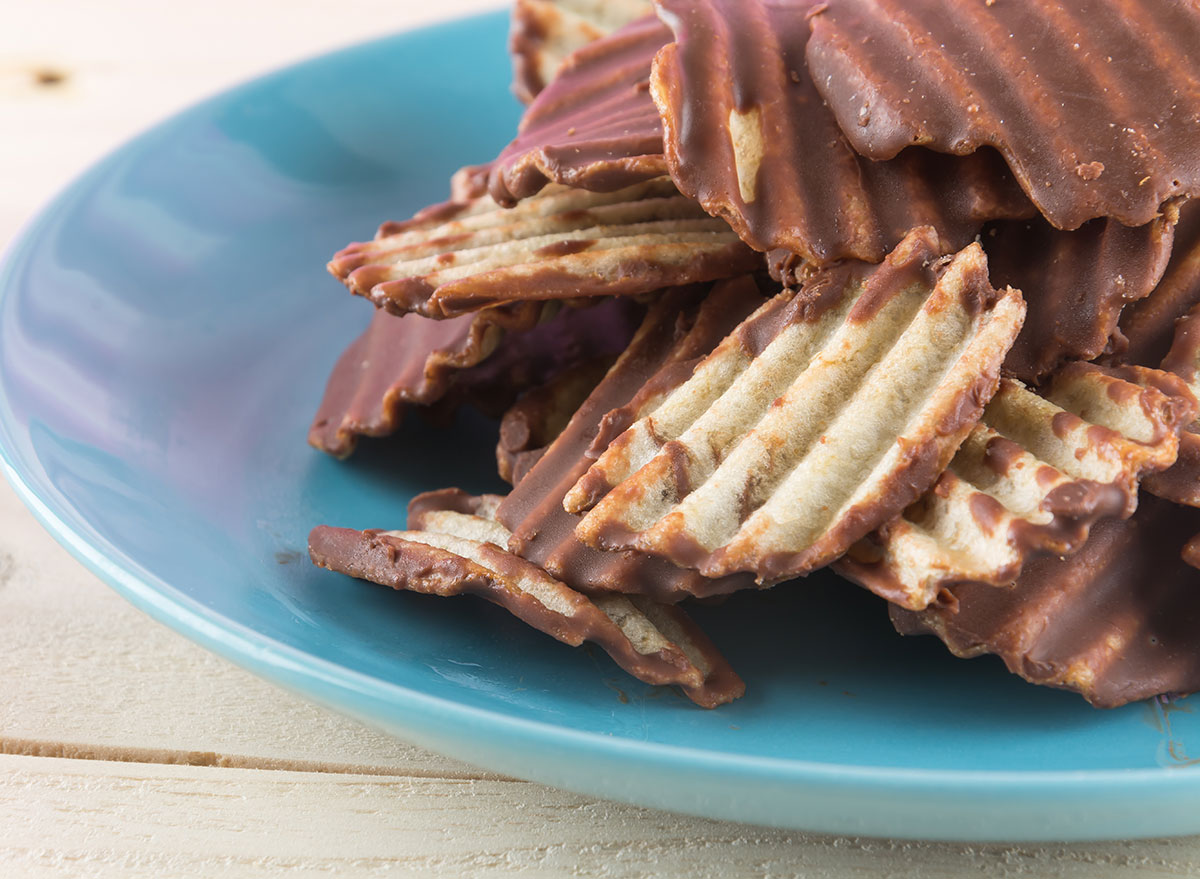 Carol Widman's Candy Company has been open for more than 100 years, through the leadership of four generations of the family. These days, the candy shop is famous for one invention from George Widman II. Called "chippers," these chocolate-covered potato chips are a bestseller, coated in light milk chocolate, dark chocolate, or white almond for a perfect ratio of sweet to salty.
Get the recipe from Julie's Eats and Treats.
Toasted ravioli isn't really "toasted;" it's deep-fried after being coated in breadcrumbs. It was accidentally discovered, with both Mama's on the Hill and Charlie Gitto's On the Hill crediting their chefs with dropping ravioli in oil, rather than water, by mistake. Regardless of its origins, the ravioli, filled with spicy meat filling and served with marinara, is a satisfying creation.
Get the recipe from Creme de la Crumb.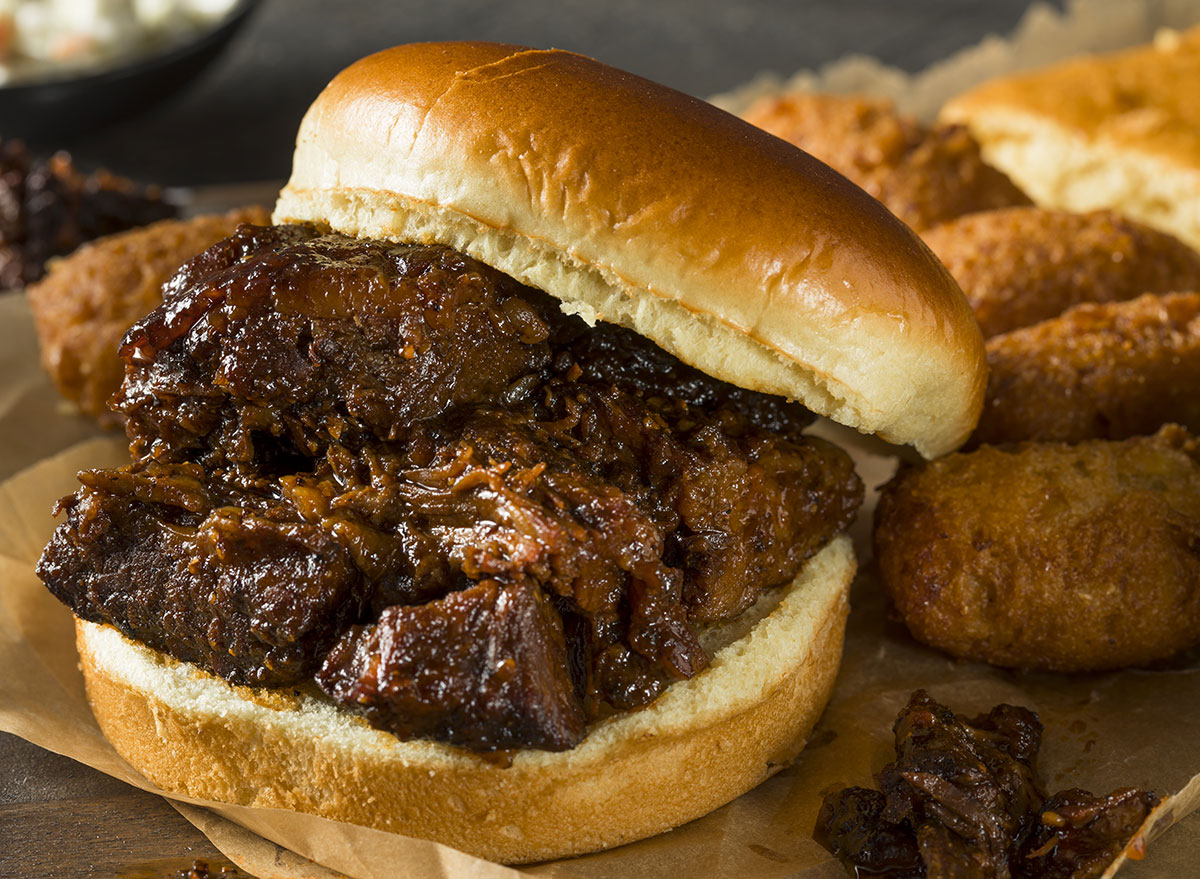 Arthur Bryant changed the world of barbecue when he made burnt ends. The charred, fatty end of brisket—burnt ends might have been discarded previously. Shame. Arthur Bryant's Barbecue in Missouri made 1972 Playboy history by impressing author Calvin Trillin so much that he declared the pit stop the "single best restaurant in the world." The burnt ends played a part—they were cubed, sauced, and served Kansas-style to hungry customers waiting in line.
Get the recipe from Dinner at the Zoo.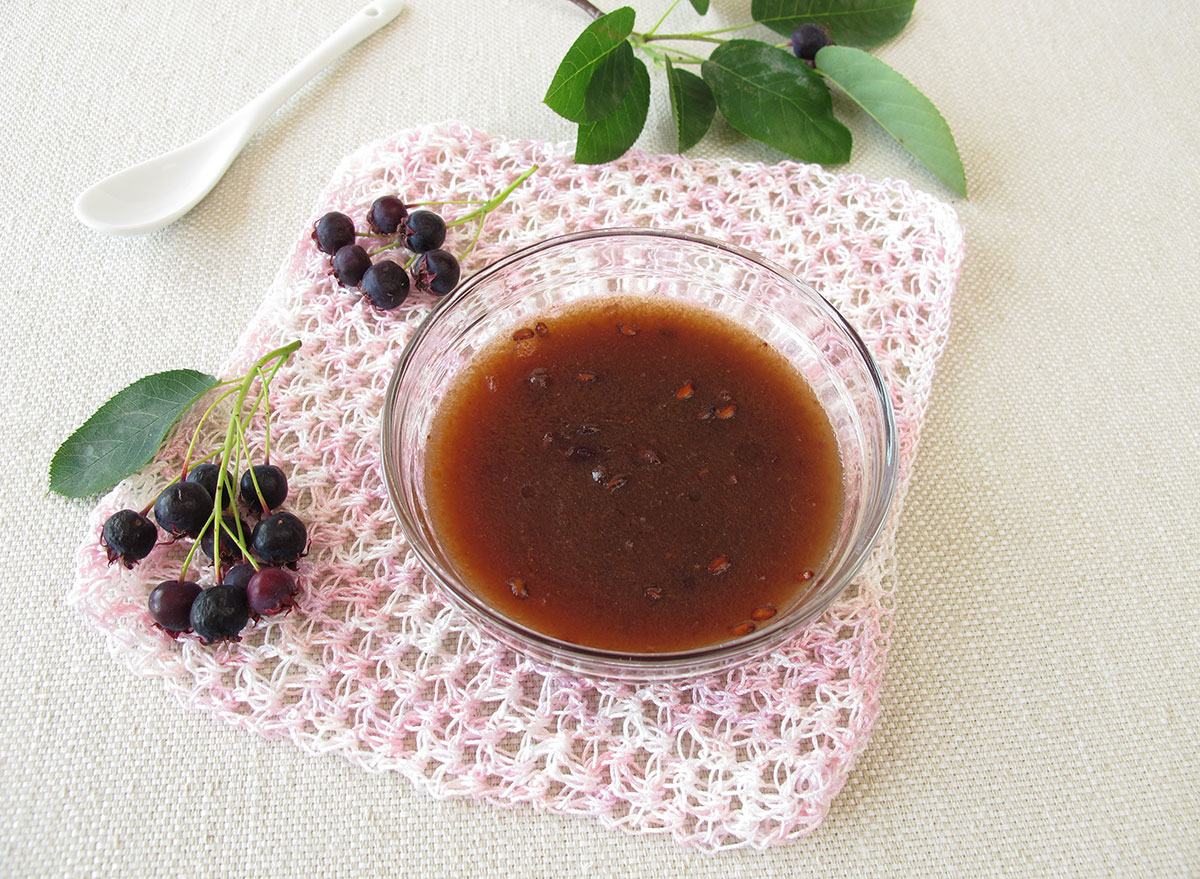 There are many different names for Juneberries. Often known as the serviceberry, Saskatoon berry, shadbush, Amelanchier, or juneberry, this abundant fruit resembles a blueberry. The jam created from the summer harvest is a beautiful deep red. The fruit is also made into pies (of course).
Get the recipe from Sunny Savage.
When Germans immigrated to the United States, many settled in the Midwest, especially in Wisconsin. They brought their food culture, which included a vast knowledge of the brewery process and making sausages like bratwurst. The two are highly complementary.
Get the recipe from Foodie Crush.
Ground pork or beef and milk-soaked bread make a light and fluffy meatball served in a brown gravy with lingonberry jam on the side. There is a heavy argument online that Swedish meatballs were invented in Turkey, but Scandinavian Midwesterners have many memories of this dish served traditionally in their homes. It's even in church cookbooks, a reliable indicator of the most-wanted family meals in an area.
Get the recipe from Pinch of Yum.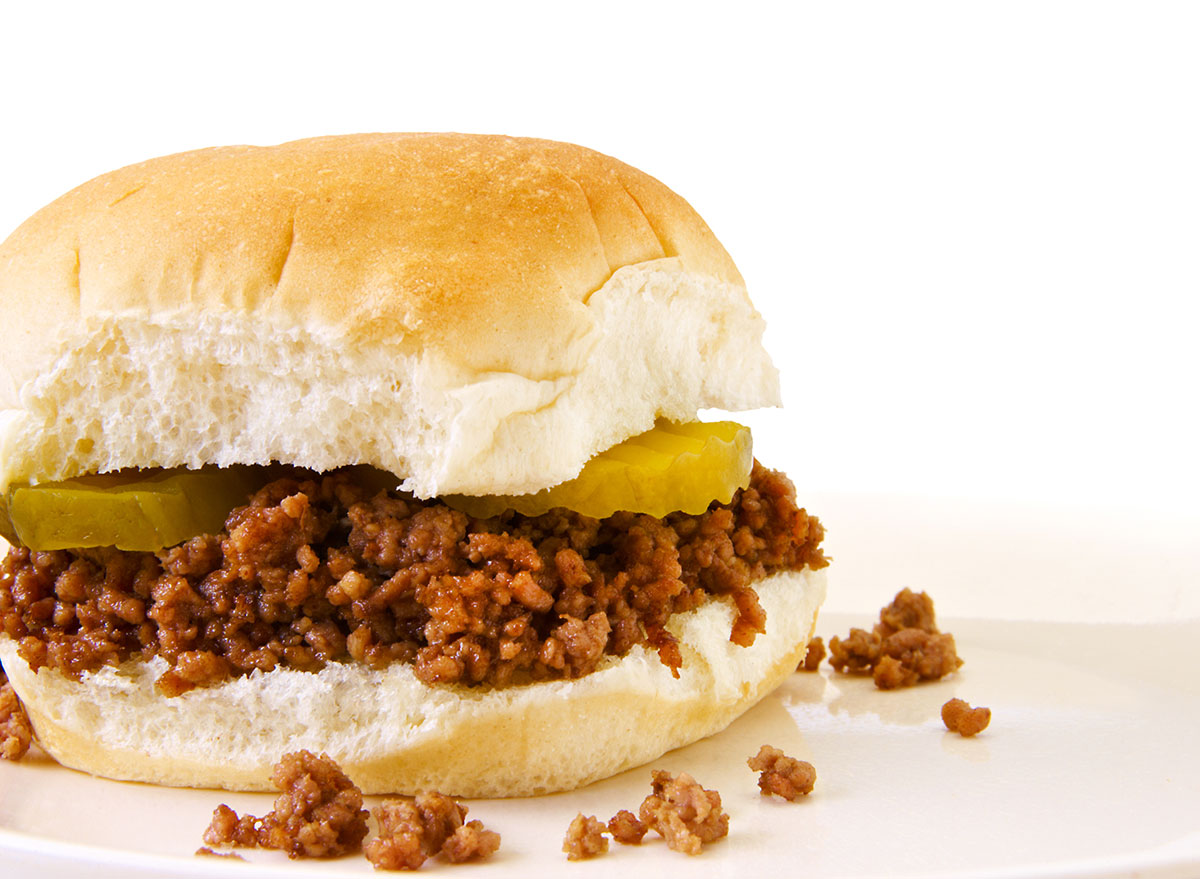 This easy, tasty sandwich isn't a sloppy Joe, but it tends toward that direction. Short on sauce but heavy on flavor, the Maid-Rite is a loose meat sandwich, with cooked hamburger meat scrambled with pickles, mustard, or onions for flavor.
Get the recipe from Dine & Dish.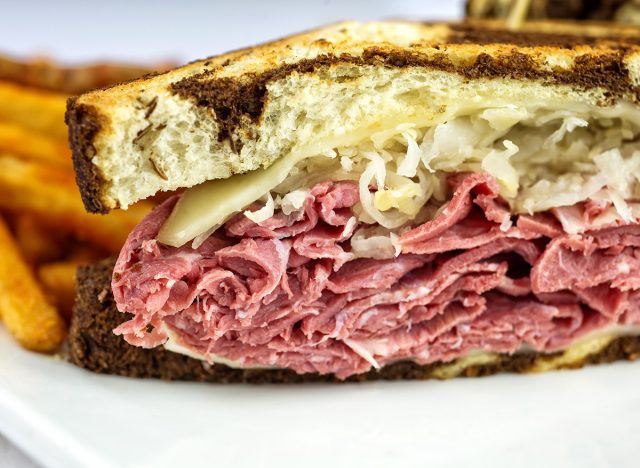 There are as many claims to the invention of the Reuben sandwich, including its attribution to Reuben Kulakofsky of Omaha, Nebraska. Whatever the origins, this mix of corned beef, Swiss cheese, sauerkraut, and Russian dressing is enjoyed across the midwest, including the iconic version at The Crescent Moon Ale House in Omaha.
Get the recipe from Foodie Crush.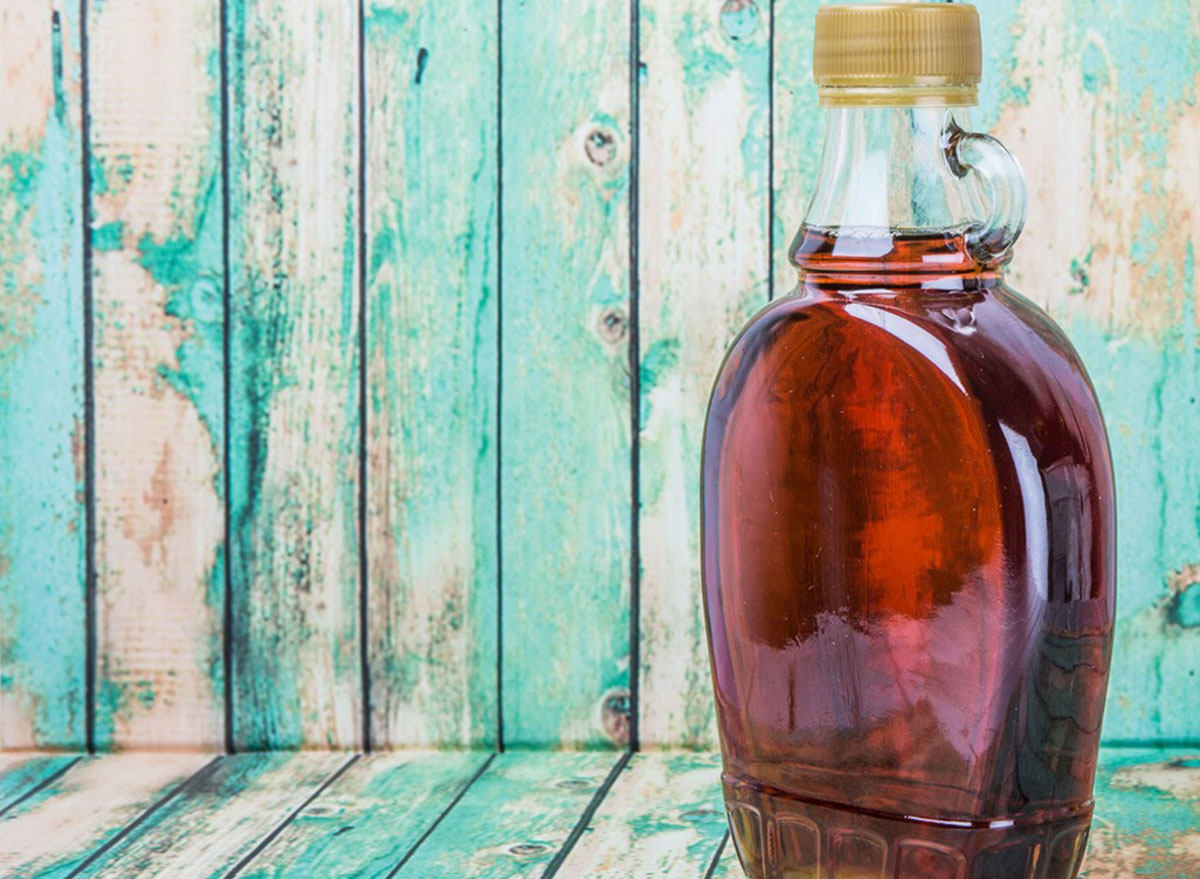 While you might think of maple syrup as a Vermont food, it has ties to the Midwest, too. Plenty of Midwestern states hold maple-themed weekend events, where you can visit farms and see maple sap for yourself. Make sure to bring some home to use on your pancakes!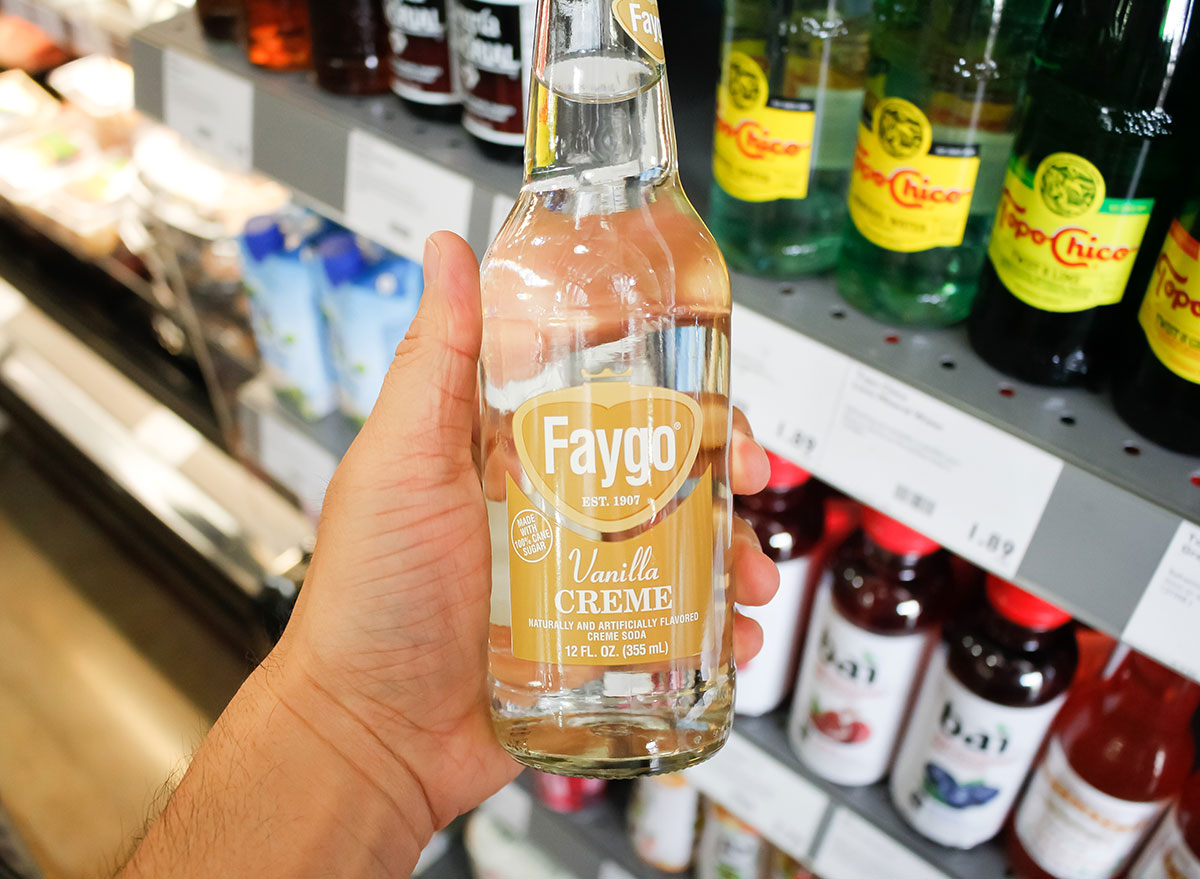 There are more than 50 flavors of Faygo pop, including everything from 60/40, a split between grapefruit and lime, to Rock & Rye, which is described as cream soda with a hint of cherry. Local to Detroit, Faygo is never called soda and is always referred to as "pop."