7 Restaurants That Serve the Best Biscuits In the South
Fluffy and flaky—what more could you want?
There's no doubt about it; few things are more tasty and comforting than a warm, freshly-made biscuit that's come right out of the oven. Whether enjoyed alone, drizzled with honey butter, or piled high with fried chicken, country ham, cheese, or bacon, a good biscuit can be transportive.
Known as a Southern staple, there is (thankfully) no shortage of restaurants and eateries throughout the South that serve these delicious baked goods. However, some standout places have cemented themselves through the years as spots you simply cannot miss. Many of these establishments not only serve up mouth-watering biscuits but also offer more innovative spins on them, such as biscuit sandwiches stuffed with pulled pork, pimento cheese, and sausage gravy or biscuit crackers that can be enjoyed with butter, dip, or jam.
We've rounded up several Southern restaurants that serve the best biscuits around. From one iconic institution that has been whipping up melt-in-your-mouth biscuits for the last 70 years to a beloved biscuit shop that also offers nationwide shipping, here are the seven restaurants that serve the best biscuits in the South.
Biscuit Love in Nashville
You can't go to Nashville without trying out Biscuit Love, the highly popular eatery serving biscuits in many delicious ways. "I recently discovered my favorite biscuit in Nashville at Biscuit Love, not too far from Black Tap's newest location on 3rd Ave North," says Chef Stephen Parker, corporate chef of Black Tap Craft Burgers and Beer. "Their style biscuits are perfect since they are super flaky and buttery and pair really well with their delicious brown sugar lemonade." Parker mentions that the space's vibe is "trendy and fun," and their offerings, including donuts and chicken, are also "must-haves."
If you find yourself at Biscuit Love, be sure to order their biscuit and sausage gravy combo or the Southern Benny, which is an open-faced buttermilk biscuit piled high with shaved country ham, over-easy eggs, and sausage gravy.
The Biscuit Bar in Dallas
Chef Emerio Viramontes, the executive chef of Chef's Palette, located at CANVAS Hotel Dallas, likes to hit up the Biscuit Bar in Dallas. "The Biscuit Bar in Dallas has these nice fluffy, crispy biscuits," Viramontes says. "They have a light coating of honey that sets it off to the perfect bite."6254a4d1642c605c54bf1cab17d50f1e
Viramontes also points out that the Biscuit Bar's menu has a wide range of biscuit sandwiches available. Offerings include the Philly, which has seasoned ribeye, peppers, sriracha mayo, and melted jack cheese, and the Rough Night, which is made with Southern fried chicken, a burger patty, ham, bacon, tots, cheddar, and sausage gravy. "But I always order the El Jefe, which comes with slow-roasted pulled pork, sliced smoked ham, pickles, Monterey jack cheese, and a dijon aioli," he adds.
Dulce Dough Bakery, St. Simons Island, Ga.
Another great place to pick up tasty biscuits is Dulce Dough Bakery in St. Simons Island. "One of my favorite biscuits I've had in the South comes from Dulce Dough Bakery in St. Simons Island, Ga.," says Kristin Beringson, executive chef of Henley in Nashville.
"They have amazing buttermilk biscuits, but the star of the show is really their spicy cheddar and bacon cathead biscuits, which are super Southern by nature and reference the size of the biscuit being that of a cat's head!" Beringson says. She notes that these typically have a crunchier texture on the outside and have roots in the Mississippi Delta. "They are a 'must order' when I see them on the menu, and the ones from Dulce Dough in particular are super flavorful and a meal all on their own!"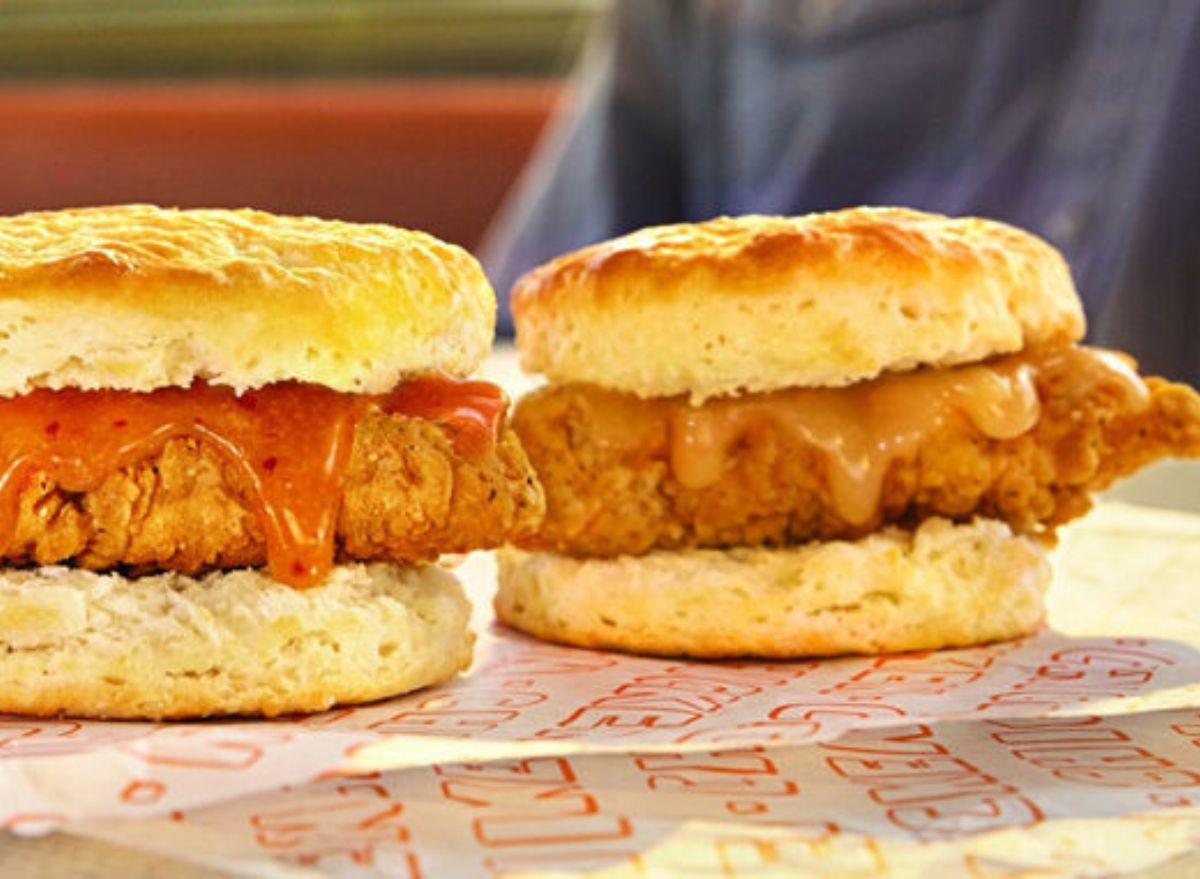 We can't put together this roundup without shouting out buzzy burger chain Whataburger. Robbie Shoults, celebrity chef and owner of Bear Creek Smokehouse in Texas, says Whataburger has some of the best biscuits out there.
"The Whataburger biscuit is my favorite because of how buttery and soft it is," Shoults says. He mentions that he likes to top it off with a drizzle of Whataburger honey butter sauce, which he describes as "liquid gold." "It's the perfect blend of honey and butter," he explains. "The flavors complement each other. Also, Whataburger is a staple for the south—they're open late and have everything you're craving; it's a must."
Even better? Whataburger has over 900 locations throughout the southern United States, so if you're located in this part of the country, you may not have to travel far to get your hands on one of these tasty treats.
The Loveless Cafe in Nashville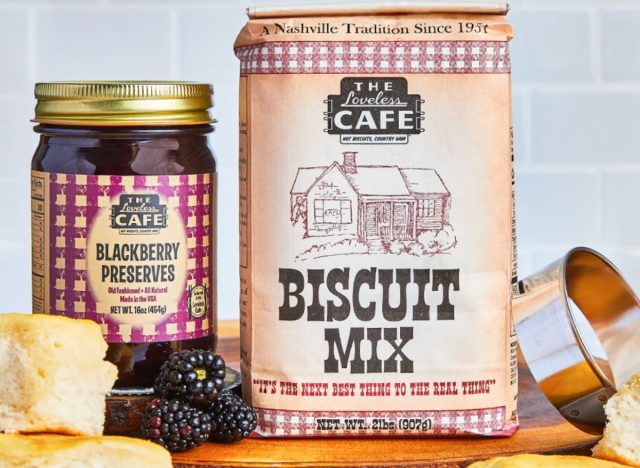 The Loveless Cafe is one of the most popular places to pick up some biscuits in the South. Started in the 1950s by Lon and Annie Loveless, the cafe has grown into a Southern staple and has a menu packed with delicious items like Southern omelets, fried pork chop platters, and stone ground grits.
They even have a "build your own biscuit sliders" menu option, which allows you to build six sliders with multiple fillings, including mouth-watering options like bacon, fried chicken, pulled pork barbecue, sausage, country ham, and pimento cheese with fried green tomatoes. If you're not local, don't worry, The Loveless Cafe is available on Goldbelly and ships nationwide.
Callie's Hot Little Biscuit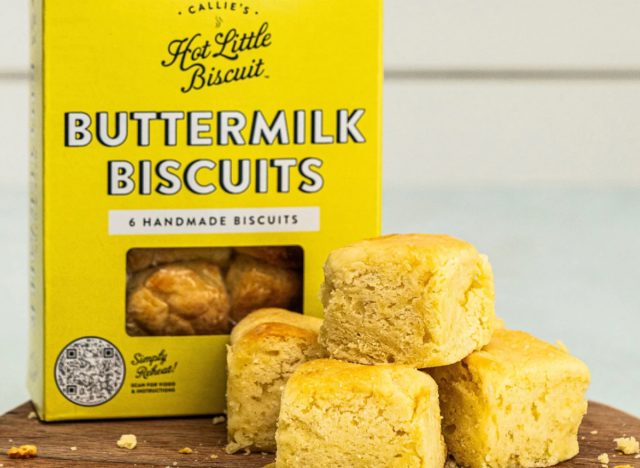 We can't look at the menu for Callie's Hot Little Biscuit without having our mouths water. Started in 2005 by Carrie Morey, the famous chain has been praised by the likes of The New York Times, O Magazine, and Southern Living for its amazing biscuits.
Although anything from Callie's is delicious, some of their best sellers include their country ham biscuits, which are made with chopped country ham, house-whipped Dijon mustard butter, and sharp cheddar, and their tasty buttermilk version, which can be easily topped with fried chicken and cheese, or just enjoyed with a drizzle of honey butter.
We also have good news for you: Callie's Hot Little Biscuit has shipping available, so if you're not located near one of their shops, you can still get a batch of these lip-smackingly good treats delivered right to your door.
Buttermilk Kitchen in Atlanta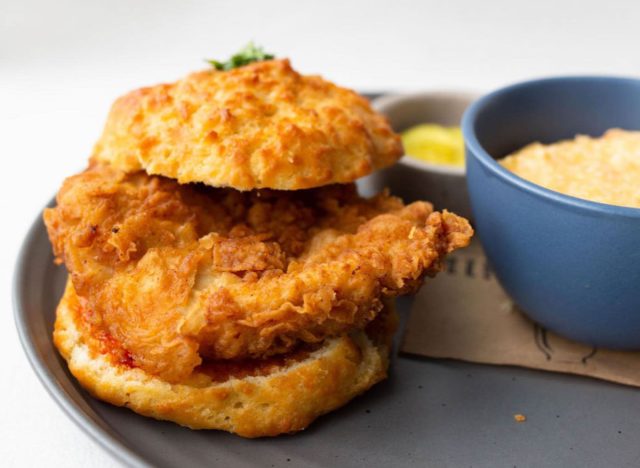 If you haven't yet been to Buttermilk Kitchen in Atlanta, you need to add it to your bucket list ASAP. Started over a decade ago in Atlanta's Buckhead neighborhood, the famous local eatery churns out some of the city's best breakfast and brunch dishes.
One menu item not to miss is their biscuits. Flaky and fluffy, these delicious can be enjoyed so many different ways. Order the chicken biscuit sandwich, which is made with sweet tea brined fried chicken and red pepper jelly if you want something a bit more unexpected, or pick up the biscuit and gravy combo, which features a buttermilk biscuit topped with sawmill gravy and two eggs if you're looking for a tasty, filling breakfast. If you want a simple vibe, go for the basket with three biscuits, homemade blueberry-basil jam, red pepper jelly, and Banner butter, which is slow-cultured butter made right in Atlanta. Oh, and you can't forget to try Buttermilk Kitchen's biscuit crackers.