I Tried the Biscuit Breakfast Sandwiches at McDonald's, Wendy's, & Burger King and One Was Simply Perfect
While each chain had standout sandwiches, there's only one I'd eat again and again.
McDonald's, Wendy's, and Burger King have been vying for breakfast domination for a long time, with Wendy's just getting back into the fast-food breakfast game in 2020. In terms of who does it best, they can be hard to compare because, regardless of some overlap, they have very different breakfast menus.
For instance, Wendy's and Burger King both offer French toast sticks, but McDonald's does not. McDonald's has the iconic McMuffin while Burger King and Wendy's both use croissants as a base for sandwiches. All three have breakfast burritos, but they vary in size and stuffing. Where the three chains share a common thread is with their biscuit breakfast sandwiches.
All three brands sell biscuits made with buttermilk, which adds flavor and helps the biscuits rise. South Carolina chef Claude Booker explained that "buttermilk elevates the flavor of biscuits. It provides this subtle hint of sourness that is so faint, but it elevates your taste buds so you're eager for the next bite."
Across the three chains, there are many different sandwiches that can be made on the biscuits. In general, they are all a combination of breakfast meat, cheese, and egg—with a few notable variations.
I set out to try each one to find out which is the best. I first rated each chain on the quality of its biscuits and picked a winner for the chain with the best overall biscuits. I then rated them on the best sausage biscuit, best bacon biscuit, and the best unique breakfast sandwich.
What I tried:
McDonald's Sausage Biscuit with Egg and Cheese
McDonald's Bacon, Egg & Cheese Biscuit
McDonald's Steak, Egg & Cheese Biscuit
Burger King's Bacon, Egg & Cheese Biscuit
Burger King's Sausage, Egg & Cheese Biscuit
Burger King's Fully Loaded Buttermilk Biscuit
Wendy's Sausage, Egg & Cheese Biscuit
Wendy's Bacon, Egg & Cheese Biscuit
Wendy's Honey Butter Chicken Biscuit
Here are the winning biscuit sandwiches.
Best Biscuit: McDonald's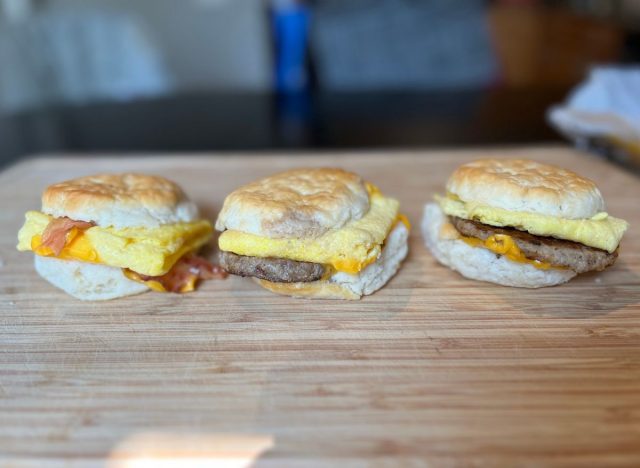 As mentioned, each chain uses the classic buttermilk to make its biscuits. Some McDonald's restaurants have designated biscuit makers who made them from scratch each morning. The biscuits are brushed with butter before becoming part of your breakfast sandwich, and it tastes like it.
The look: McDonald's sandwiches were all perfectly proportioned and had a nice golden color and good fluff. In terms of looks, Wendy's looked like a contender that could take on McDonald's. Its biscuits were full and the sandwiches were all uniform.
Burger King, on the other hand, was the loser in the looks department. The Burger King biscuits were flattened and didn't look to have the fluffy quality that a good biscuit showcases. They varied in size and texture and I worried they would not be consistent.
The taste: Looks don't always tell the whole story, but in this case, they were spot on. McDonald's biscuits had a fluffy, flaky texture that melted in my mouth. Since there is no butter in the biscuit, the brushed melted butter certainly helped the flavor rise above the others. These tasted the best of all the biscuits.
Wendy's biscuits had a nice texture at first, but they were rubbery or chewy in places and they lacked any real flavor. Burger King's were a hot mess in looks and taste. They were a bit greasy with a hefty dose of salt and bordered on the chewy side. Plus, they were much flatter than the others.
Best Sausage, Egg, & Cheese Biscuit: McDonald's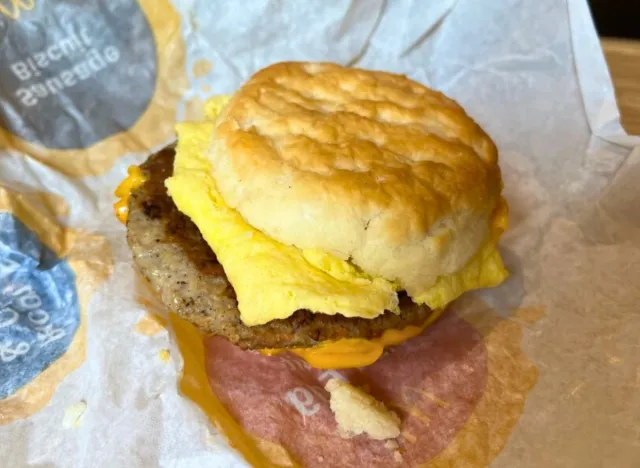 Each restaurant has a sausage biscuit sandwich with egg and cheese but McDonald's spicy sausage won the day.6254a4d1642c605c54bf1cab17d50f1e
The look: The McDonald's sandwich featured a simple sausage patty with a perfectly folded egg, and melted cheese in between the chain's soft buttermilk biscuit. Burger King's is similar. Wendy's sandwich has a whole fried egg instead of the scrambled egg. Again, Wendy's and McDonald's looked great, but Burger King's sandwich was a bit on the flat side.
The taste: McDonald's won this round because of the soft biscuit and perfectly spiced sausage. While Burger King's sausage was also very good, the biscuit was too salty and it clashed with the ingredients inside. McDonald's also boasted the fluffiest egg with a nice buttery flavor. Wendy's real egg was a nice touch, but it detracted from the consistency of the sandwich. The sausage was milder than McDonald's and couldn't stand up to the dry biscuit.
Best Bacon, Egg, & Cheese Biscuit: Wendy's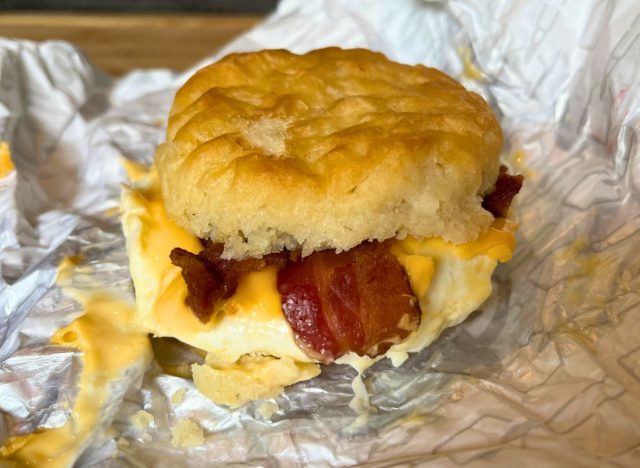 This round came down to the flavor of the bacon and whether it could stand up to the other elements in the sandwiches.
The look: In terms of the looks, it was clear that Burger King wasn't going to win on aesthetics. The biscuit was woefully flat while McDonald's and Wendy's stood up straight and offered longing peeks of bacon at the sides.
The taste: Again, the saltiness of Burger King's biscuit just dominated the flavors of the sandwich. The fluffy sweetness of the McDonald's biscuit would have won, except the bacon was virtually undetectable and floppy. I could see it, I just couldn't taste it. Wendy's took the crown because I could taste all three ingredients through the biscuit. Wendy's biscuits are very mild but with the bacon, egg, and cheese, it didn't overpower them. Here the fresh egg didn't overwhelm the subtle flavor of the smoky bacon.
Most Unique Biscuit Sandwich: Wendy's Honey Butter Chicken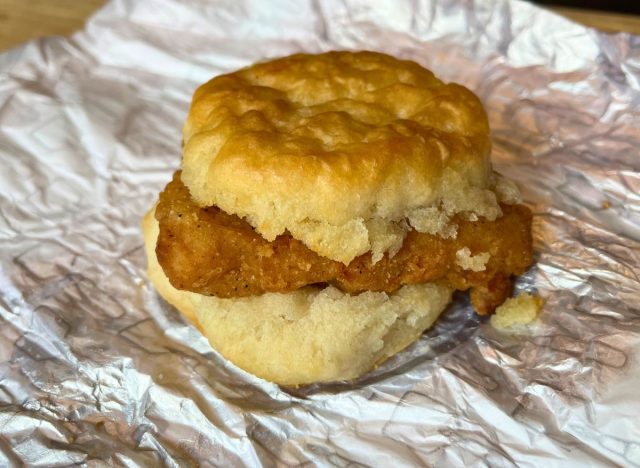 Each chain also offers a unique take on the biscuit sandwiches and this is where the differences become apparent. Burger King went big by stacking ham, sausage, and bacon for its Fully-Loaded Buttermilk Biscuit. Wendy's opted for true uniqueness with its Honey Butter Chicken Biscuit. At some McDonald's locations, you can get the steak patty from the bagel sandwiches on a biscuit.
The look: The most attractive of these sandwiches was Burger King's Fully Loaded Buttermilk Biscuit breakfast sandwich. While I thought this would be incredibly over the top by reading the website, it was actually a lot more manageable in person. Wendy's Honey Butter Chicken Biscuit looked like something that should be at a Chick-fil-A with its simple golden brown chicken. McDonald's steak biscuit looked identical to the one with sausage.
The taste: Burger King's Fully Loaded Biscuit is in no way good for you at 640 calories and 45 grams of fat, but in terms of flavor, the towers of meat and cheese stood up, finally, to the salty biscuit. As I bit through the layers I tasted each one and the biscuit acted as a blank canvas for the salty, smoky, cheesy flavors. It beat out McDonald's steak, egg, and cheese because it offered more textures, though the caramelized onions on the steak sandwich were a nice touch.
On the other side of the spectrum was Wendy's Honey Butter Chicken Biscuit which was simply perfect. The chew of the chicken complemented the soft biscuit, but the star of the show was the honey-maple butter that melded everything together. While Burger King's Fully Loaded sandwich was tasty it was insanely heavy. I kept going back to the undeniably delicious combo of chicken, sweet maple, and buttermilk biscuit. This sandwich is truly a handheld complete breakfast that is reminiscent of chicken and waffles with maple syrup.
If you're looking for salty, go with Burger King's fully-loaded option, but if you want a touch of sweetness, Wendy's Honey Butter Chicken Biscuit is a must-try.