27 Best Snacks for Summer Outings
Winter has passed, Spring is in full swing and Summer is right around the corner—which means beach days and picnic dates abound.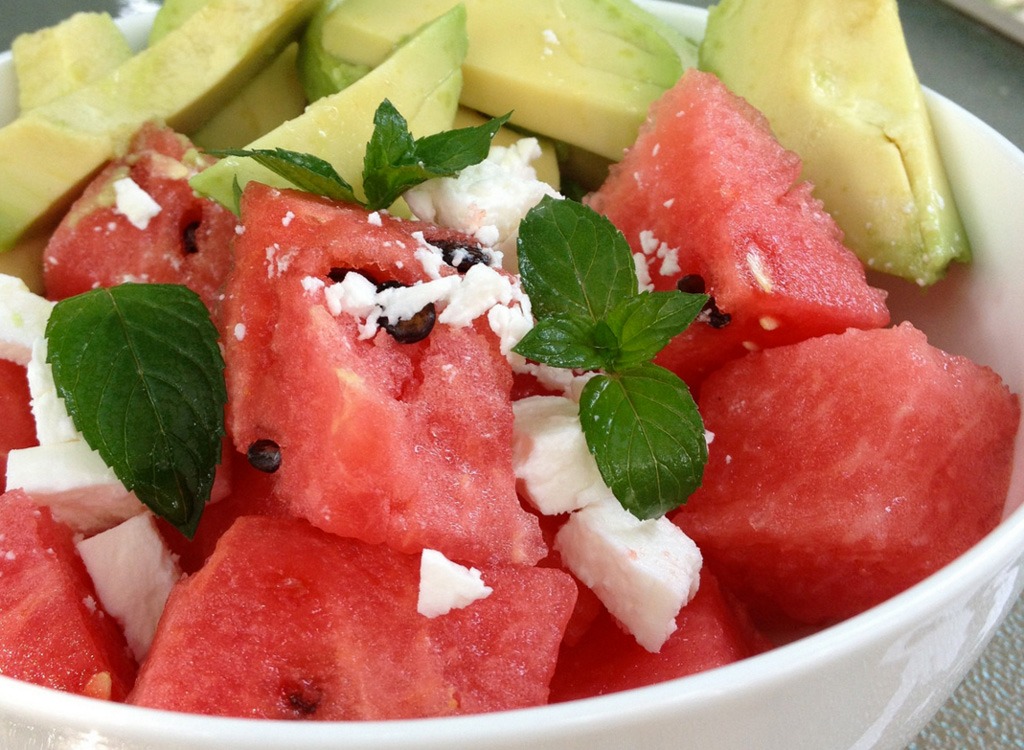 Summer is almost here! And that means the countdown to less clothing, greater physical activity, and calendar of fun outings has begun. But with summer adventures comes a little bit of a challenge: Which foods are best for certain situations, like the beach, picnic, or amusement park? If you're being jostled on a roller coaster ride, there's a good chance you'd rather not rely on snacks that crumble easily. And a tasty cheese spread is fantastic for a picnic—but not the beach.
From pre-packaged to minimal-prep-required, these top picks allow you to bid adieu to bloat and say hello to boosted energy while you enjoy the warm weather months. And speaking of bloat, find out the 24 Ways to Shrink Your Belly in 24 Hours for your emergency look-great-fast needs!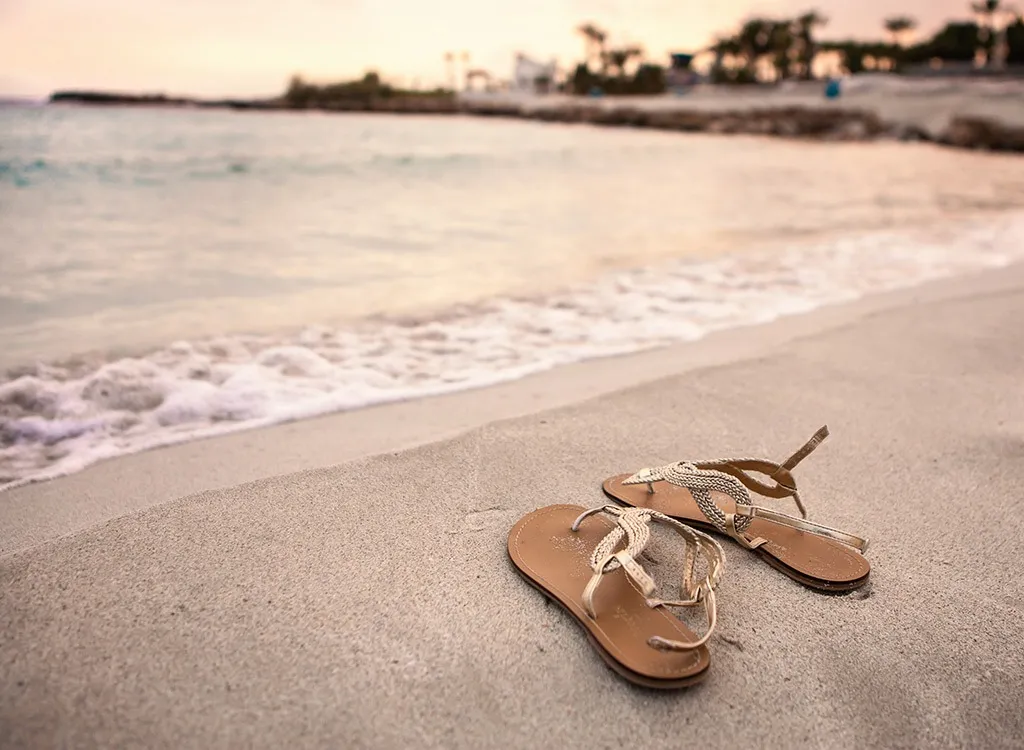 Under the hot summer sun, these bites will help you stay hydrated and energized during your day at the shore.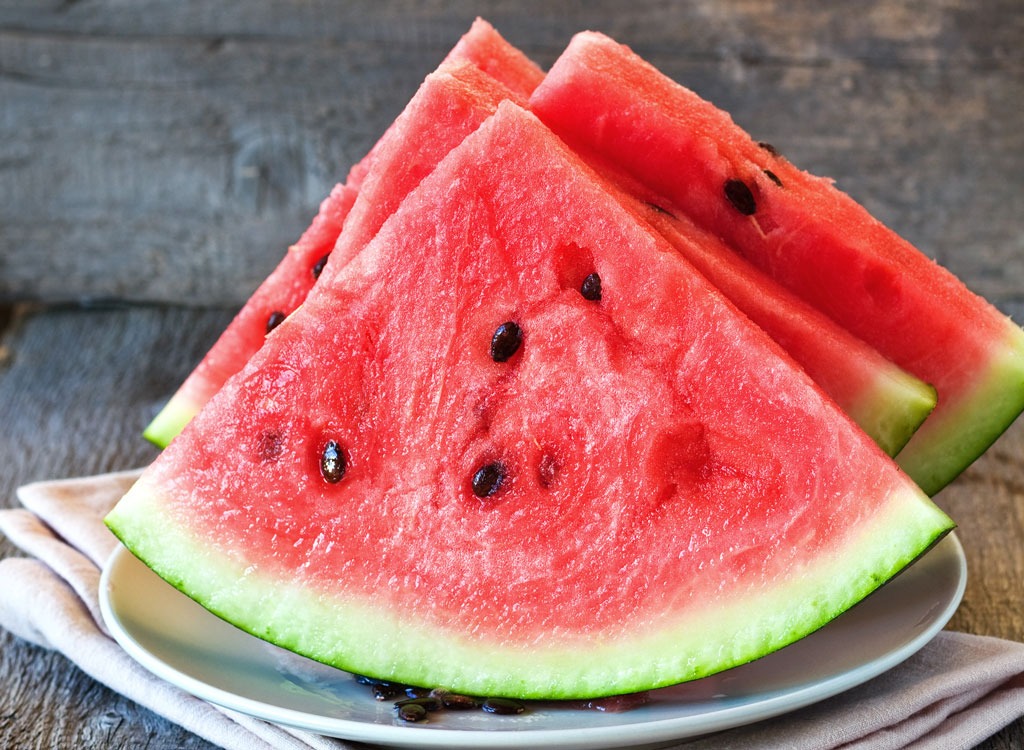 If you like to bake in the sun, then you've got to be diligent about keeping your body hydrated. Not only is it important to keep water on deck at all times, but packing hydrating foods like watermelon—which is made up of mostly water at 92 percent—can help your body get the H20 it needs. What's more? Watermelon is naturally low in calories, with about 40 per cup. So, not only will the high water content help fill you up and flush out your system, but you don't have to feel guilty about eating a lot of it. For similar foods, don't miss The 25 Best Foods for Instant Detox!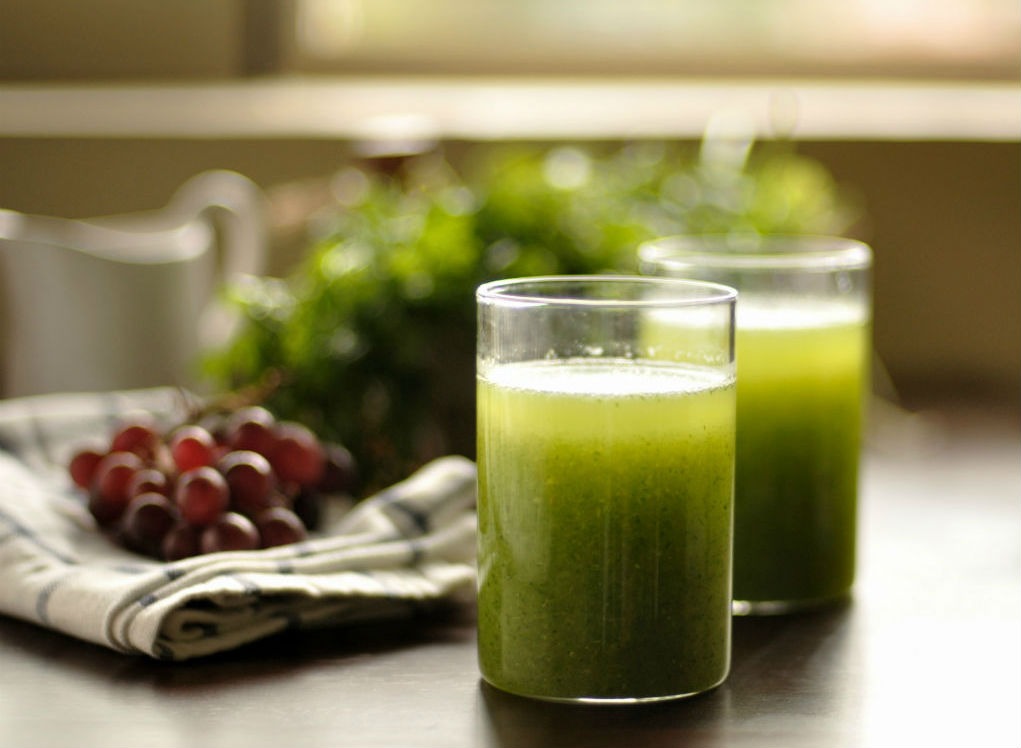 We're not talking apple juice spiked with a hint of greens, but rather, veggie-centric juices that are lower in sugar and high in vital nutrients. "I like taking green juices with me to the beach, like Evolution Fresh. They're an alternate source of hydration and rich in nutrients. I would definitely look at the label, however. Mostly green juices will have less sugar content as a general rule. For instance, I would choose one like Essential Greens from Evolution Fresh," says Isabel Smith, MS RD CDN, founder of Isabel Smith Nutrition. Bonus points if you can find one with ginger and lemon, which work to ease digestion and flush out your system, which can help reduce bloating.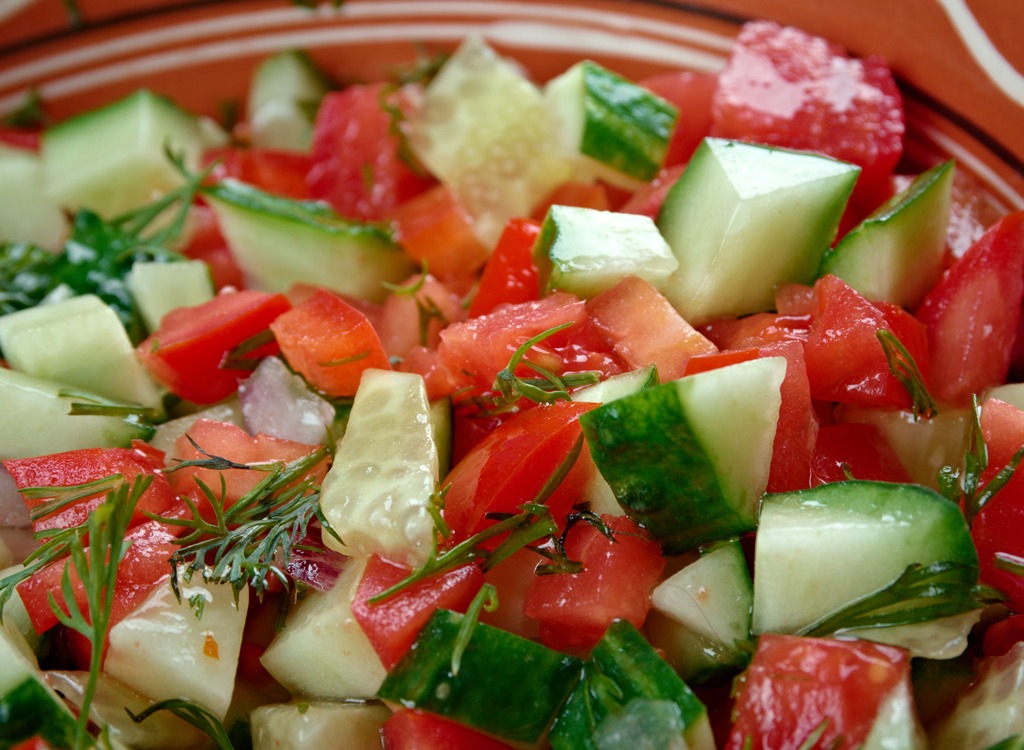 The thought of putting together and dragging a full-fledged salad to the beach seems kind of arduous, especially when it ends up warm and soggy by the time you dig in anyway. "I really like to do a lettuce-less salad when I go to the beach. The problem with transporting salads is often that it wilts and gets soggy. I suggest taking the lettuce out of the combination and do mostly veggies like cucumber, tomato and garbanzo beans with a light lemon and olive oil vinaigrette. Those are also hydrating foods. If you're really concerned about bloating I wouldn't load up on the beans but for a little bit of protein they typically are a good choice," says Smith. You can also swap the beans for lean protein like chicken; just be sure to store the food in a cooler to prevent spoiling. Speaking of, these 25 Ways to Use Almost-Spoiled Food can save you so much time and money!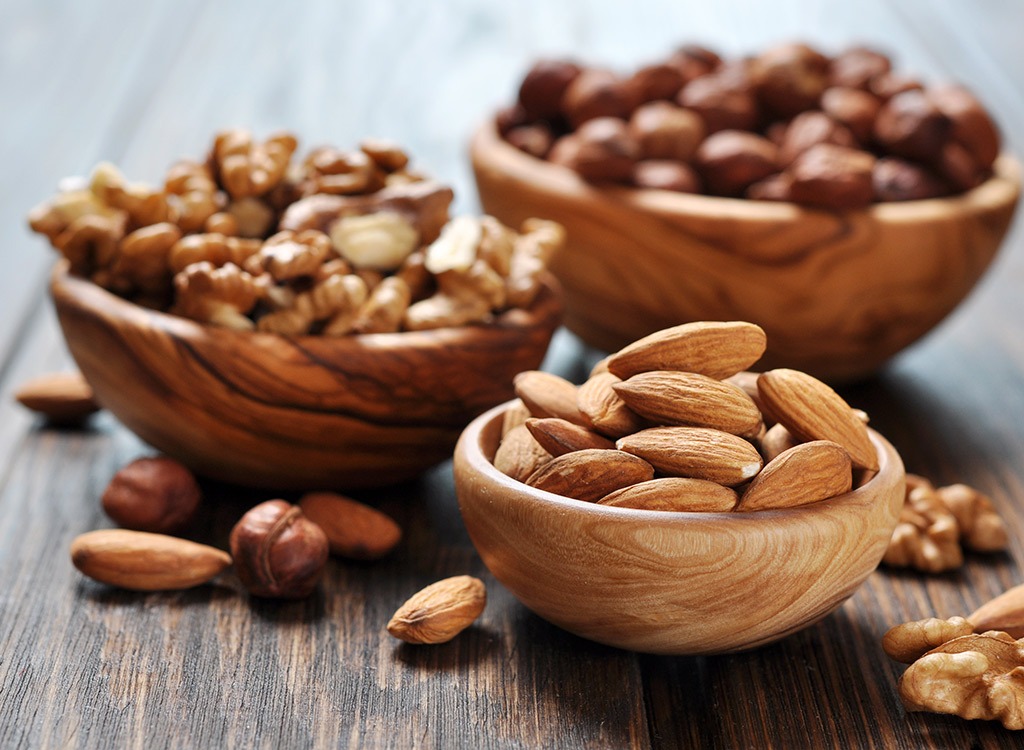 Nuts are rich in healthy fats, vitamins, minerals and antioxidants—which all work to keep you feeling satisfied and your skin healthy and protected from the sun. Just be sure to steer clear of roasted and salted varieties, because salt causes your body to retain water and look more puffy.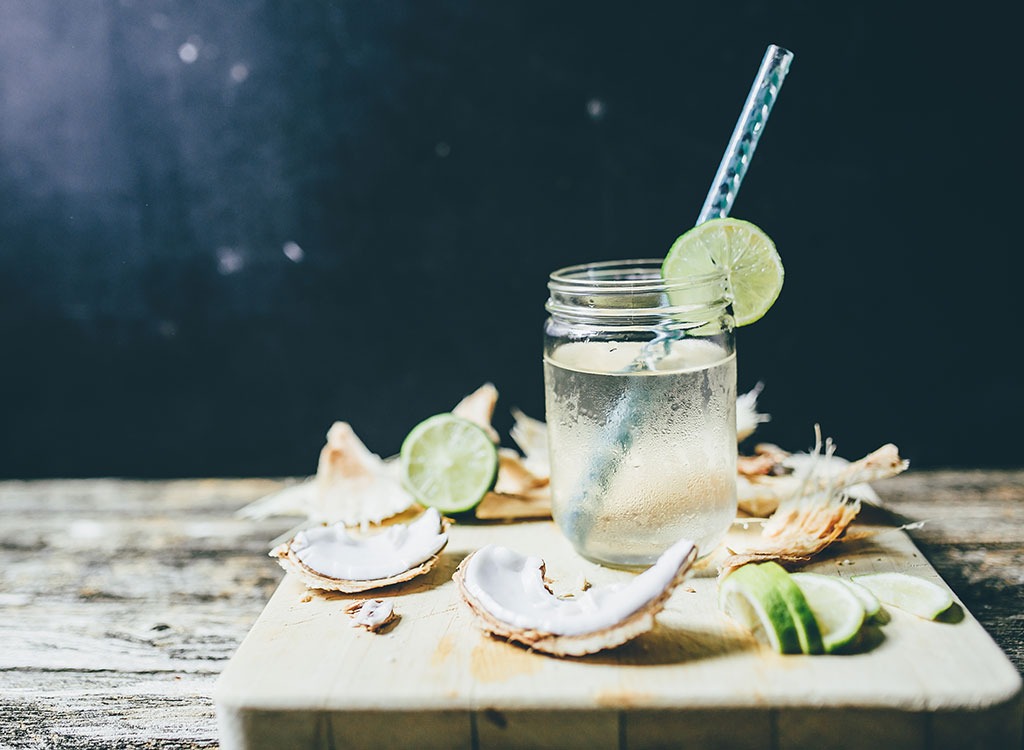 Regular water will always be your best bet, but coconut water has risen to be a majorly popular—and not to mention, delicious—hydrating alternative. "When it comes to flavored options, I prefer coconut water or watermelon water. It's important to watch the added flavoring in drinks because it's an easy source of added sugar." Coconut water is a good source of potassium—and potassium-rich foods may also help reduce bloating, so it would be a good choice to keep this drink in your cooler.
Skip the gum and artificial mints and grab the real thing. Among the health benefits of mint is that peppermint works to soothe any indigestion and helps to de-bloat your belly. It's rather easy to incorporate into your diet, too. Simply steep some peppermint tea, add ice, and bring with you to the beach. Or you can always add some fresh mint leaves to your water to make things interesting.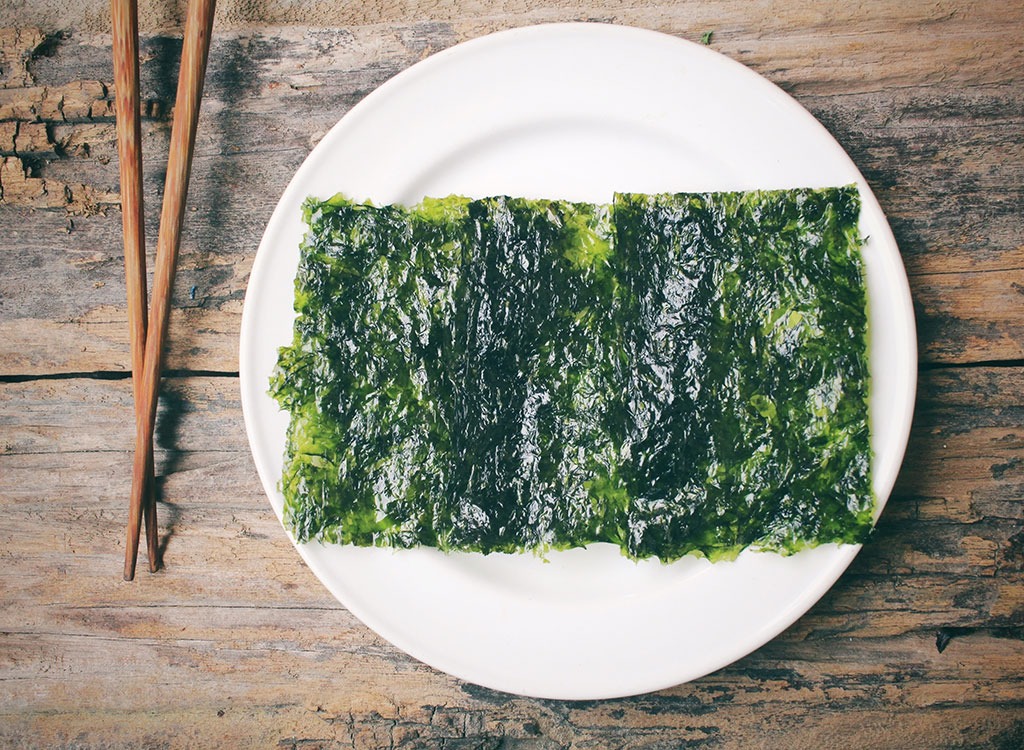 It's easy to throw a bag of chips in your bag for the day, but it's just as easy to throw in a healthy alternative like these crunchy seaweed snacks. I like to think of these as a gateway into the seaweed snacking world because they emulate traditional chips more closely than the plain seaweed sheet snacks. If you can't make 'em at home in time, then try Annie Chun's; by layering seaweed on top of crispy brown rice and then baking with various spices, these chips offer that satisfying crunch you want from something like a Lay's Classic chip, but also provide your body with important nutrients like vitamin C.
When it comes to sandwiches, skip the white bread and salty cold cuts and go whole grain (we love Dave's Killer Bread) with nut butters or veggies. "I would use hearty whole grain bread for sandwiches and skip the animal protein unless there's a good way to keep it cold. Almond butter is a good option for a spread. You can do also do hummus and veggies on a sandwich or some avocado with sliced tomato. I would aim to use really hydrating veggies because they can also help to prevent bloating," says Smith. Dave's Killer Bread, in particular, offers organic, whole grain options that have added health and satiety benefits thanks to the nuts and seeds. The little bit of fiber you'll get from the bread will help keep your digestion running smoothly and as a result your stomach a little flatter. If you're watching calories closely you can opt for their thin sliced loaves.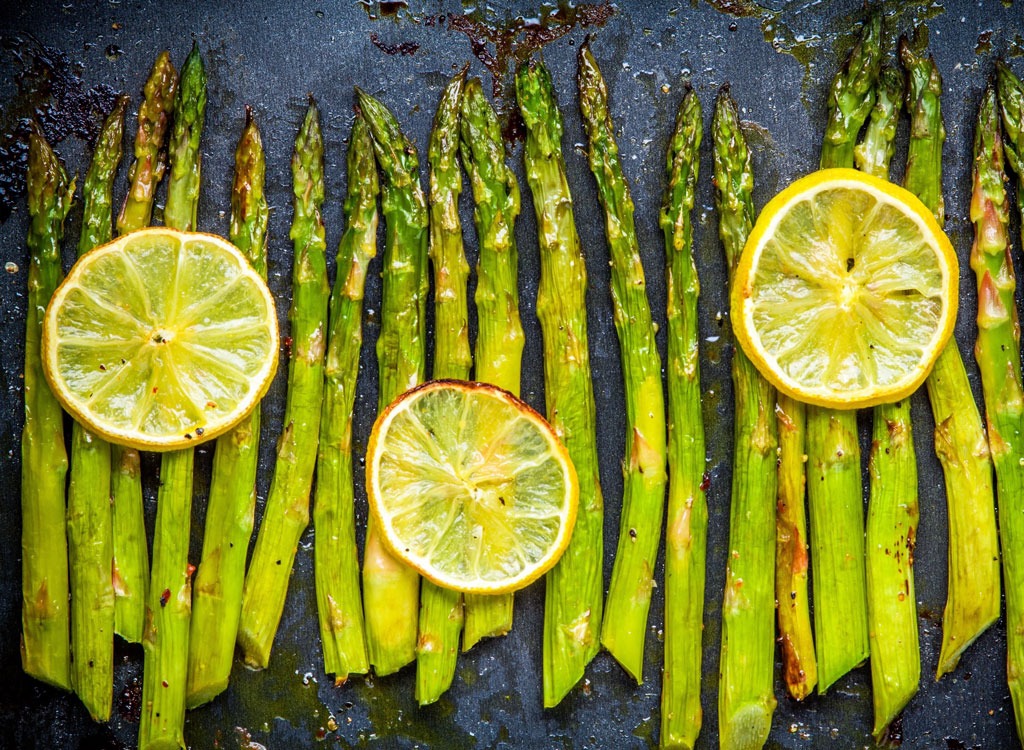 I'm sure the last thing you think of when you're putting together your beach spread is, "I can't forget the asparagus!" Honestly, though, you shouldn't forget the asparagus because it's an awesome diuretic—which means it will make you pee, and as a result rid your body of excess water and bloat. Asparagus cooks up great on the grill, making it the perfect addition to a summer barbecue.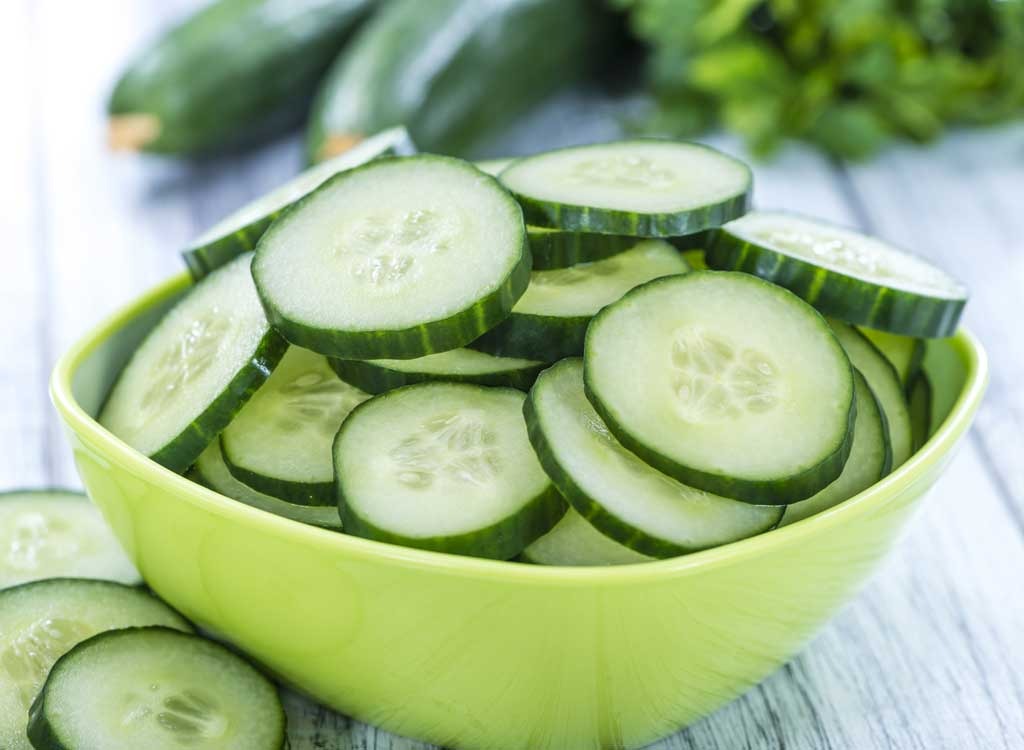 Sliced cucumber is arguably a perfect beach food. It's low in calories and rich in nutrients like silica and caffeic acid that work to reduce swelling and help prevent water retention (aka water weight) in the body. Even better, they're incredibly hydrating too, so munching on these will help you reach your daily H20 needs—which is especially important in the hot sun.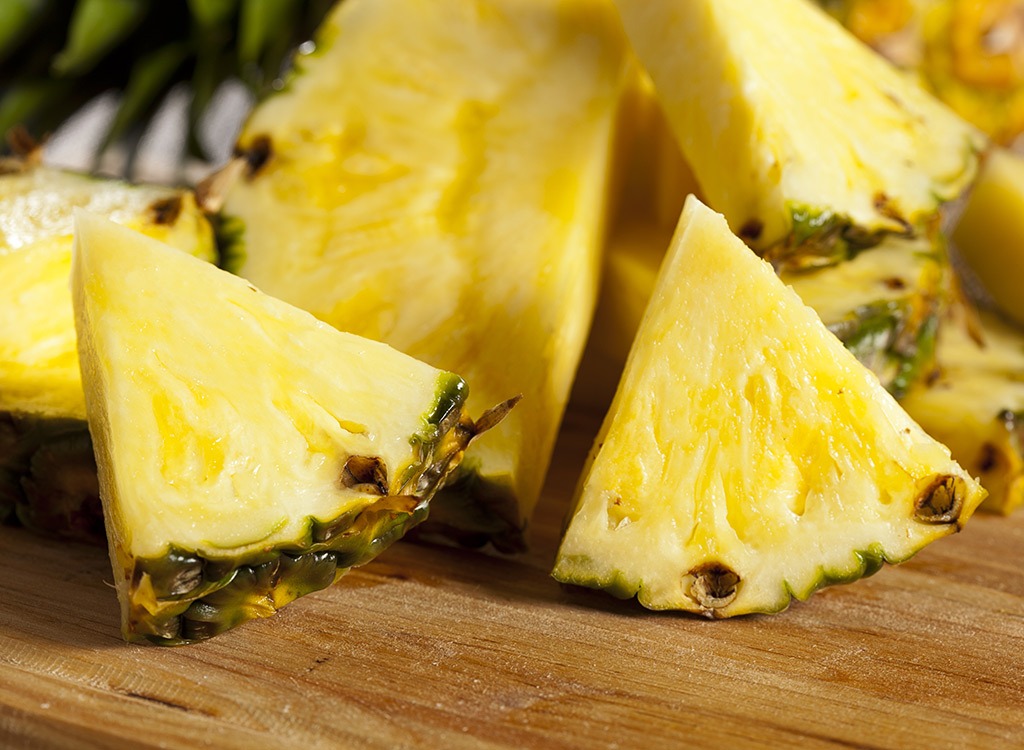 Nothing screams "Summer!" like fresh cut fruit and nothing can top the belly benefits of a serving of sliced pineapple. Not only will the tropical flavor instantly put you in beach mode, but the sweet treat will help keep you feeling good in that bikini because pineapple contains a digestive enzyme called bromelain, which can help reduce gas.6254a4d1642c605c54bf1cab17d50f1e
Banana's are pre-portioned, pre-packaged and full of healthy, beach-friendly nutrients. Noshing on potassium-rich foods like bananas can help minimize bloating and keep you swimsuit ready, so don't hit the beach without one. With about 110 calories per medium banana, they're also a good snack to help curb hunger without leading to feelings of being overly full.
Looking to hit the trails? Don't forget to pack these high-energy treats that will replenish your spent energy stores without overwhelming your body with a sugar rush.
Rice Cakes and Almond Butter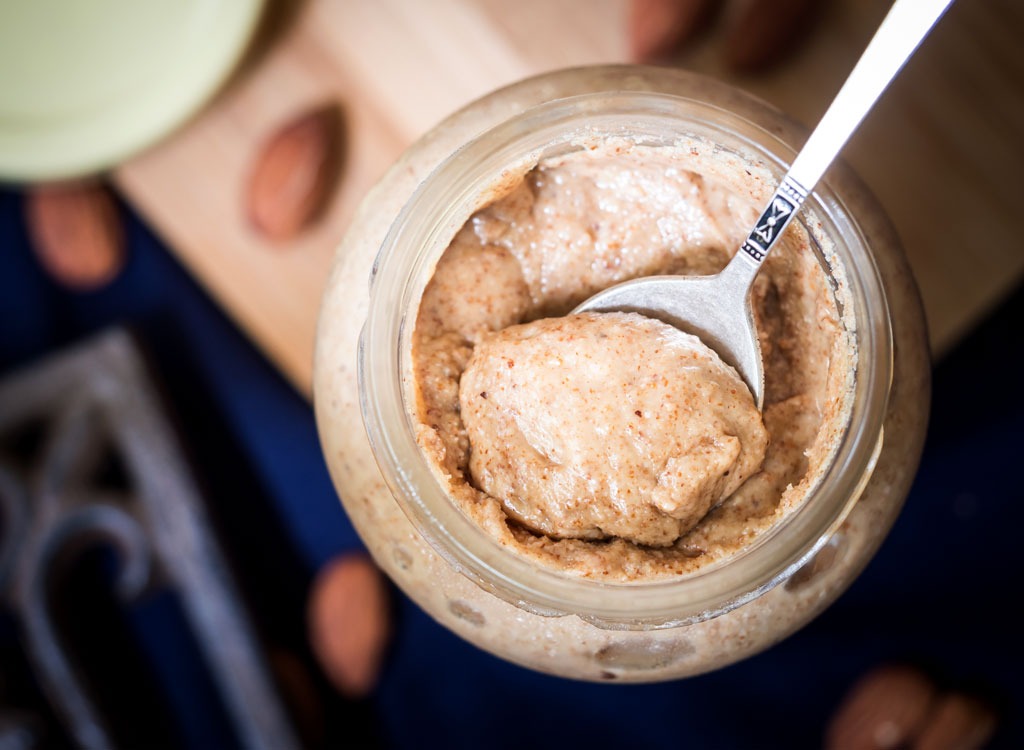 Better weather brings on better opportunities to get outside. Smith suggests prepping for your hike by preparing a few rice cakes with almond butter. The almond butter will provide your body with just enough protein and healthy fat to keep it running while the rice cakes will give your mouth that satisfying crunch.
As long as you've got some protein powder (see our list of The Best and Worst Protein Powders!), nut butter, and some honey on hand, these protein balls will be no sweat. They're perfect for a hike because they're easy to transport and quickly give your body a hit of protein and healthy carbs to boost energy and stamina. The book Power Hungry offers up an easy recipe to follow: measure ½ cup unsweetened nut butter, 3 tbsp honey, ⅛ tsp salt and ⅔ lightly packed vanilla protein powder—mix in a bowl until blended, roll into balls and coat with your healthy topping of choice like cocoa powder, chia seeds or shredded coconut.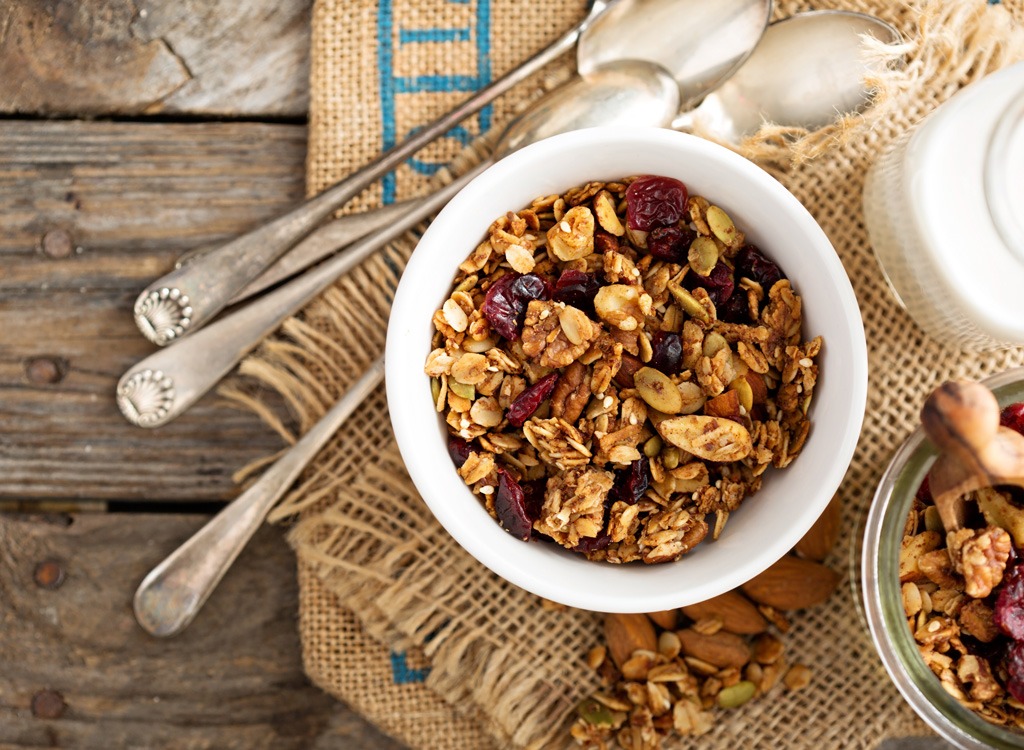 Granola is often a calorie-dense, sugar-coated trap. But when you choose the right kind, it can be a hiker's heaven. We like Back to Nature's Almond Chia Granola clusters, which is one of our picks for the 25 Best New Clean Eats You Can Buy Online. Made with rolled oats, almonds, amaranth, millet, chia seeds, and a handful of other clean ingredients, these granola clusters will hold up in your backpack!
From Justin's to Nutzo To-Go Power Fuel, these tiny packets are a clean and effective source of fueling nutrients that will power up your afternoon hike. Made from organic nuts and seeds like cashews, almonds, brazil nuts, flax seeds, hazelnuts, chia and pumpkin seeds—these portable packets are bursting with healthy fats and protein and is super easy to throw in your bag for an emergency snack.
All of the sweetness and nutrition, with none of the messy or clunky transportation problems. Freeze dried fruit has been dehydrated—water removed—and what's left is a crunchy, tangy snack that transports easily and won't go bad. It's also low in calories and retains some fiber, too. In addition, freeze-dried versions tend to avoid added sugar versus regular dried fruit which tends to have more of the added sweet stuff, so it might be worth tossing some of this into your trail mix instead.
If you really want to channel your inner primality, bringing some jerky along for your hike will do the trick. If you pick the right kind, jerky is a fantastic, natural option, packed with protein (about 8-10 grams per 1 ounce serving). Find out your best options with our exclusive ranking of beef jerky! Flavors like black cherry barbecue and chili lime are sure to peak your curiosity and satisfy your taste buds on the trail.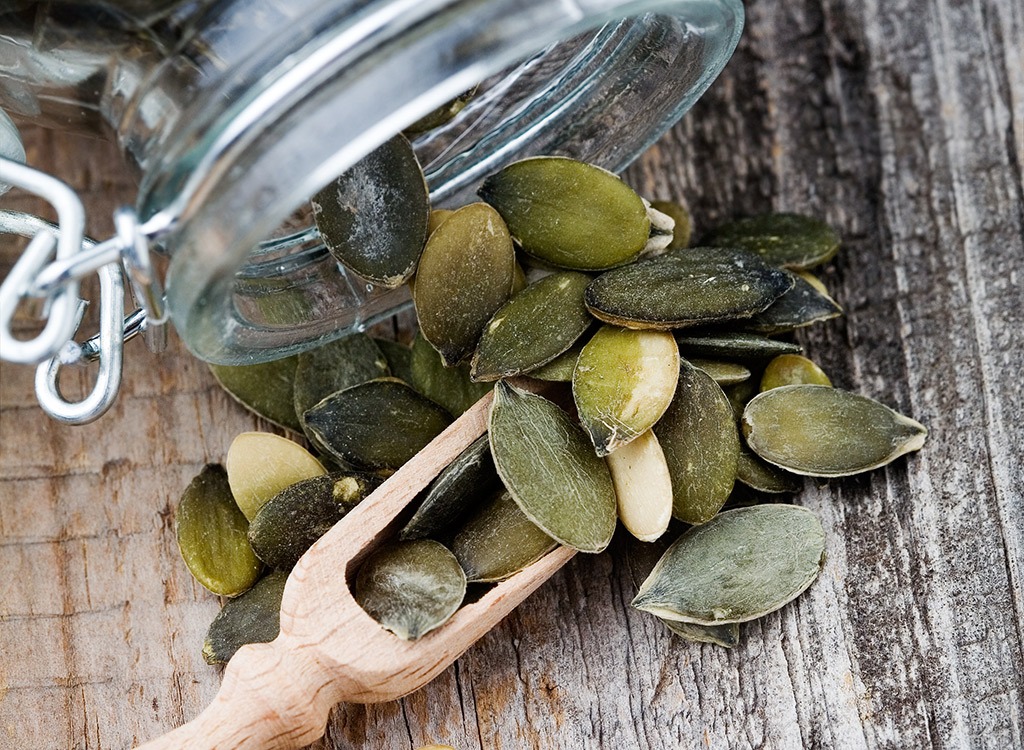 Whether you opt for the somewhat spicy varieties or go for sweeter picks like cinnamon and sugar, these carefully seasoned pumpkin seeds give your body exactly the kind of nutrition it needs to make it through a tough hike. With up to 9 grams of plant-based protein per ounce, something like Superseedz will make sure you won't get hungry. And thanks to their iron content you'll have a steady flow of oxygen to your muscles which will work to keep your energy up.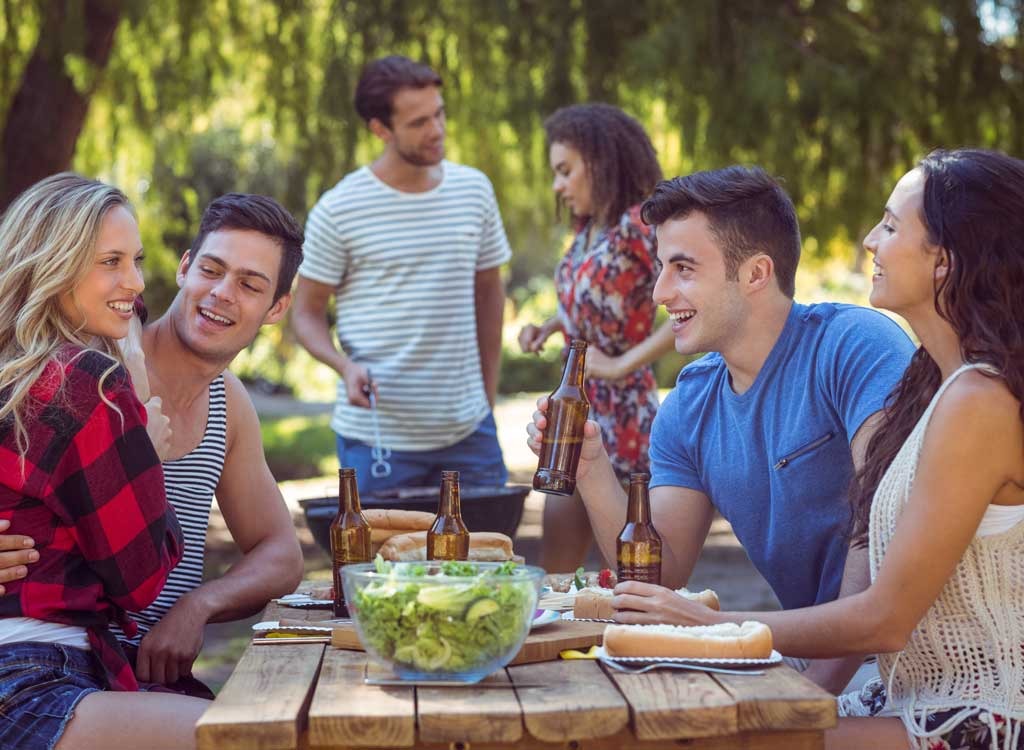 Whether it's on a date or with your besties, pack these nourishing bites to keep your better-body goals on track when you're dining al fresco.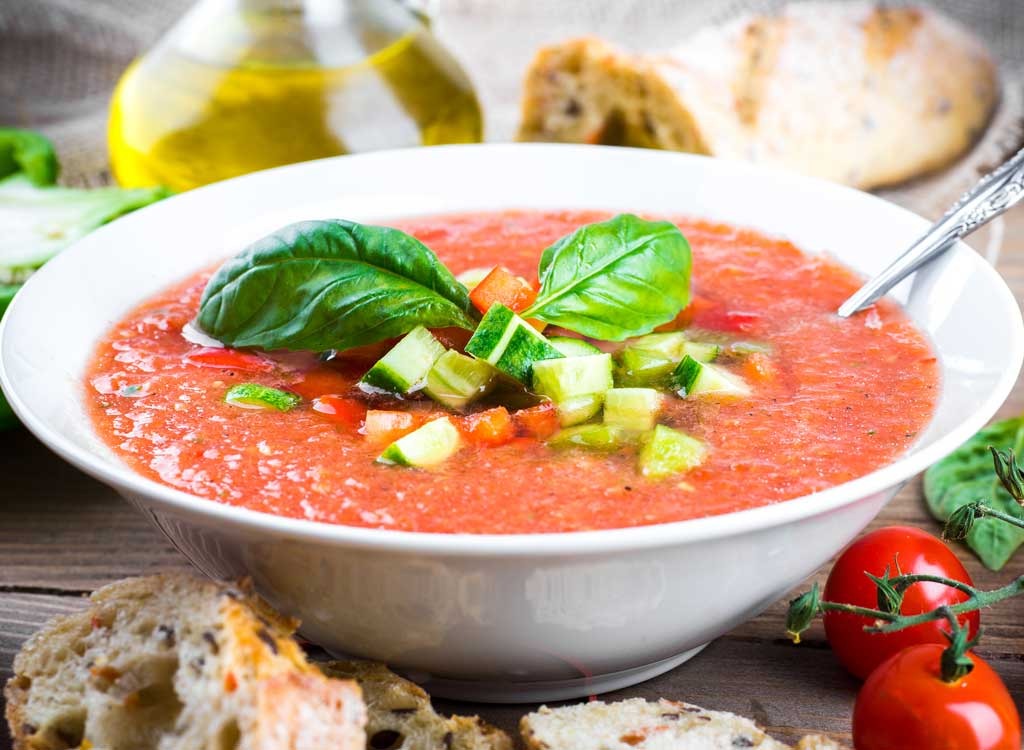 Soup in the summer? Heck, yes! Gazpacho is a Spanish-style soup made from raw vegetables in a tomato base. "I recommend cold soups like a gazpacho or a cold split pea with mint soup for a picnic. You can easily transport them in thermoses and divvy up individual servings into mugs," says Smith. Soups not only add a different texture to your lunch spread but also introduce more variety of vegetables and increase the nutritional quality of the overall meal. Score 20 Fresh and Healthy Tips for Gazpacho for your tastiest cold soup yet!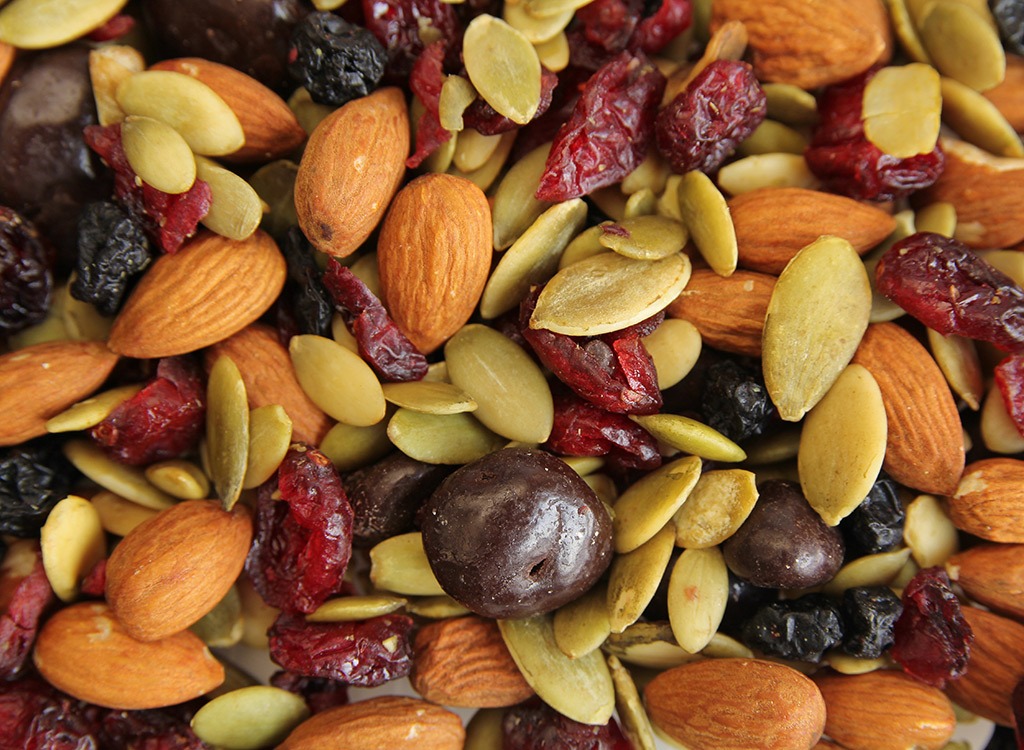 Forget the potato chips and grab a bag of Ginger's Healthy Habits Veggie Trail mix. With bold flavors like pepperoni pizza and maple cinnamon, you can go spicy or sweet. Unlike many on the market, this trail mix is low in sugar, a good source of fiber and the calories are controlled with around 200 or less per bag. What makes these snacks stand out even further is that each bag is a carefully curated mix of superfoods like crisp dried kale, tomatoes, zucchini sweet potatoes, nuts and seeds and is free of added sugars and preservatives.
Kale is the superfood that just won't quit. It's low calorie, high fiber and bursting with necessary vitamins and nutrients. Toss these hearty greens with some protein-rich quinoa, and you've got yourself a healthy and satisfying main course for your afternoon out. "I always love to do a kale-quinoa mix for salads because they tend to please everybody. You can also add pine nuts, cranberries and some roasted veggies like butternut squash with just a simple lemon olive oil vinaigrette dressing," says Smith.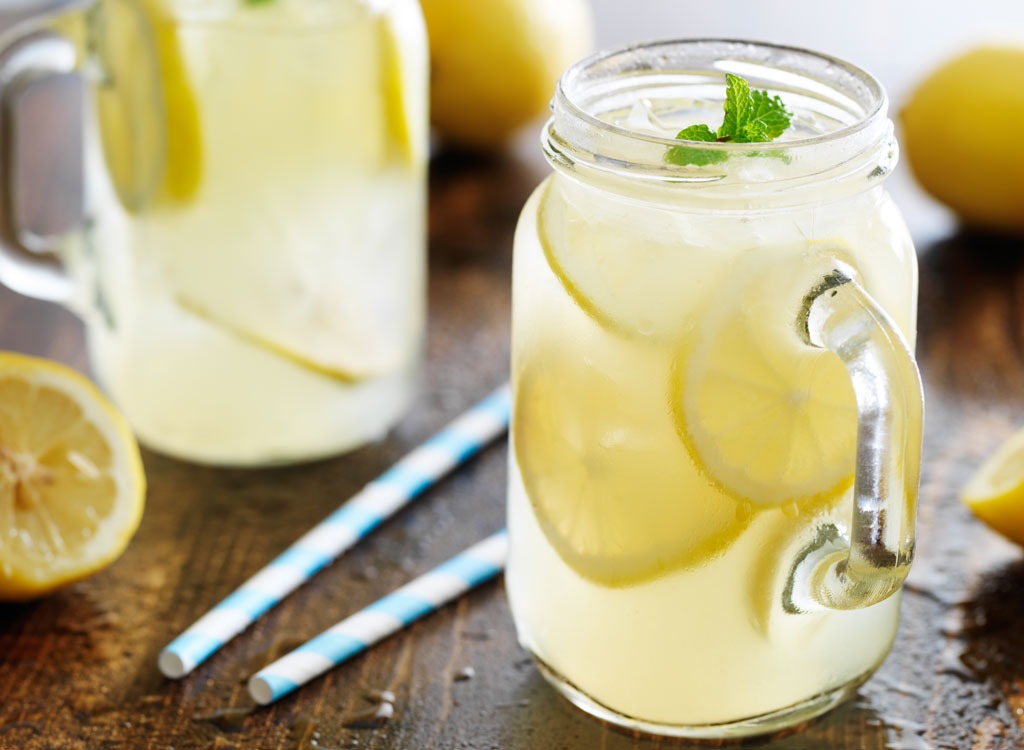 Though colorful posters and youthful cheers may lure you to the corner lemonade stand to get a cup of the refreshing summer staple, most versions are loaded with sugar and artificial sweeteners. If you want to keep the lemonade and ditch the junky stuff, try a more green version like Daily Greens Green Lemonade. This new-age drink puts a twist on the classic by incorporating spinach, blue-green algae and a hint of cayenne pepper into the mix. One bottle is only 25 calories so you can ditch the guilt, too.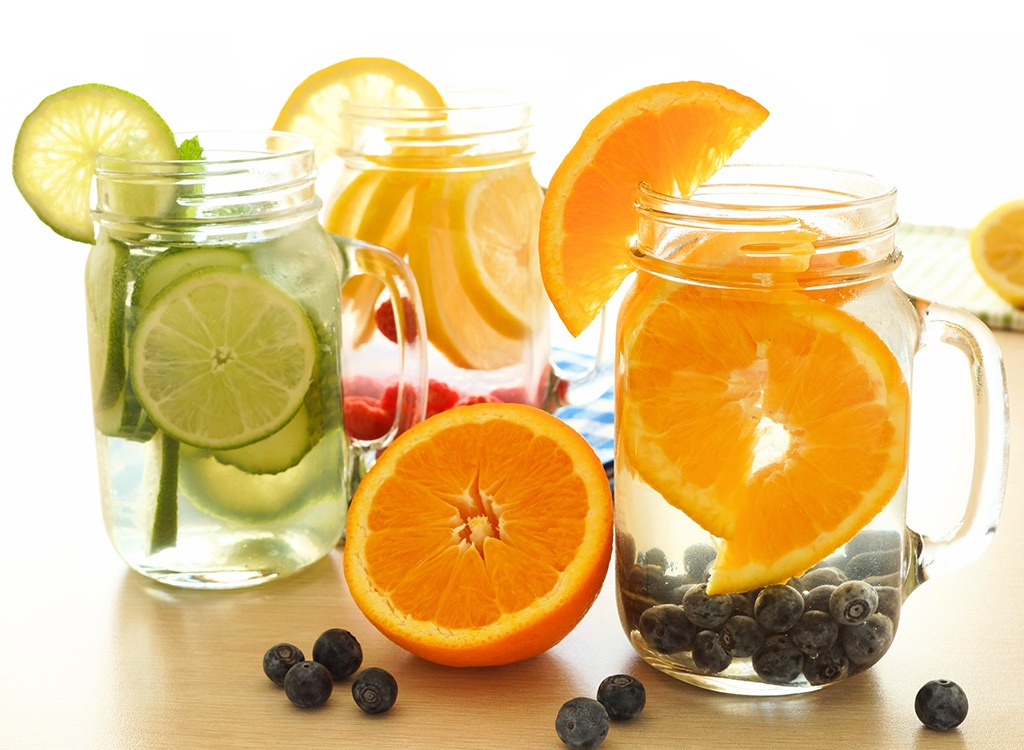 We all know that water is the healthiest drink for us, but sometimes it's just plain boring. Finding more flavorful options without dipping into the sugar-ridden, calorie steep choices flooding the supermarket shelves is not an easy task. "Simple fruit and vegetable waters are a great flavored option and also look more impressive. I suggest making something like mint and pineapple infused water, which is super simple because all you need to do is throw those things in the jug of water. Cucumber and orange is also a nice combination," says Smith. Think of it as crafting your own vitamin water, because as an added bonus to the bright aesthetics, fruit-infused detox water also boosts the vitamin content.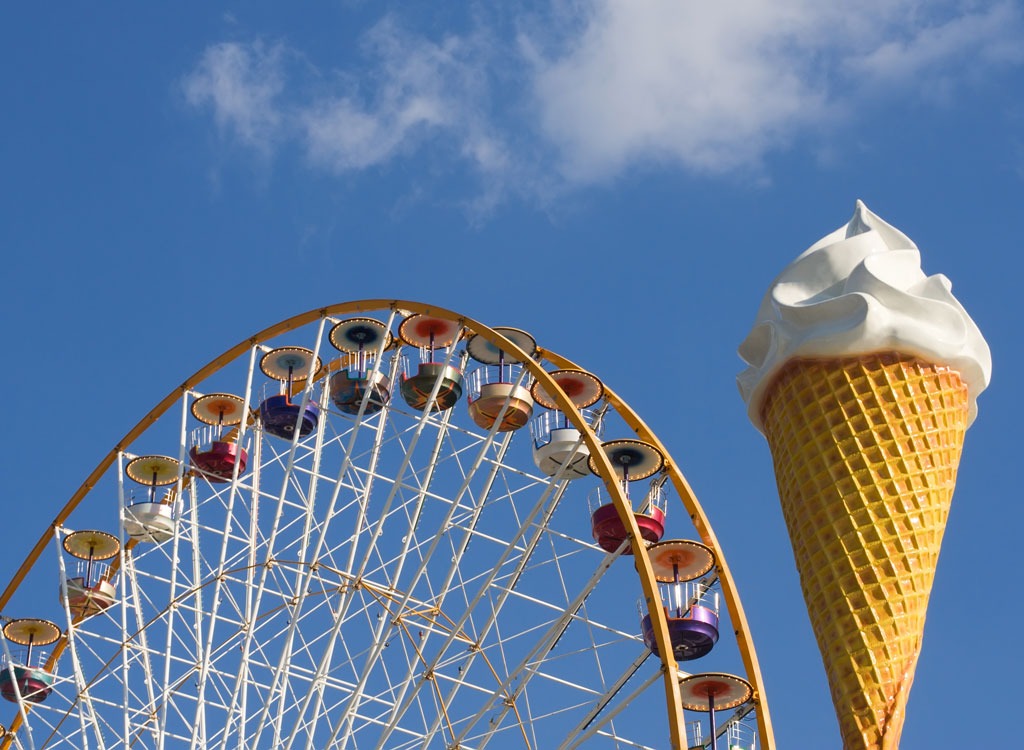 Planning on hitting up the amusement park with your family? Don't go empty-handed so you'll be forced to buy whatever junk food they offer. Pack these snacks and you'll be able to tackle those 45-minute waits without being hangry — just angry.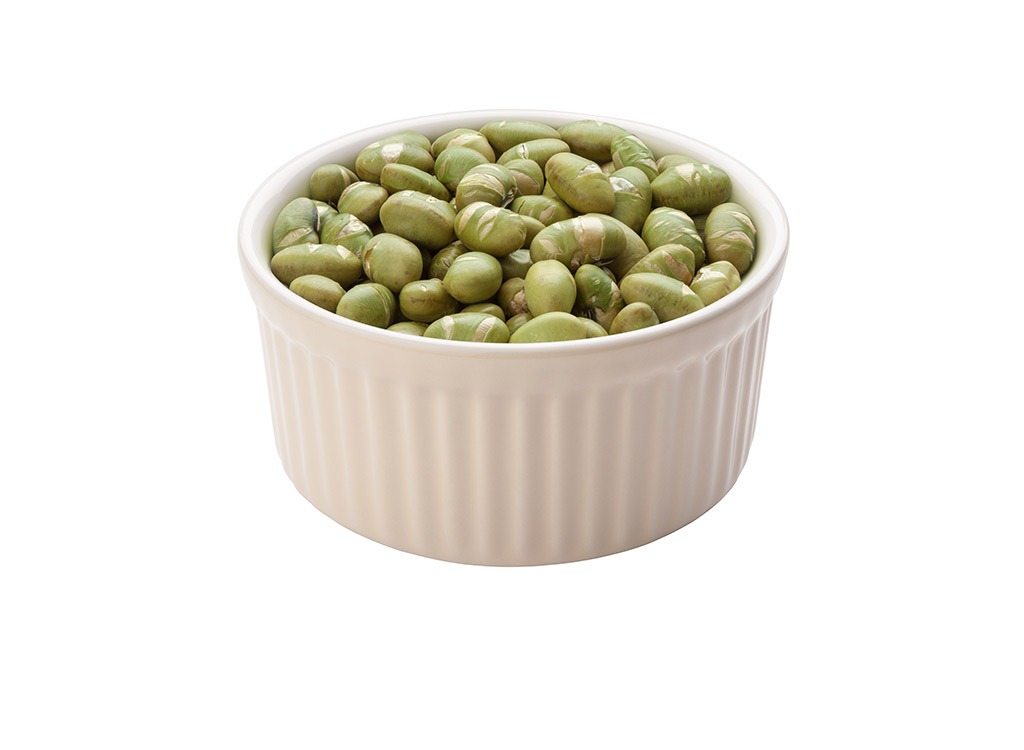 Most snacks available at any kind of park are high in fat, sugar and calories and low in satiating fiber and protein—we're looking at you fried dough and cotton candy. Dry-roasted edamame (like from Seapoint Farms) may not invoke the kind of excitement a basket full of fries does—but to the tune of 5 grams of fiber and 11 grams of plant-based protein per serving it should. Whether you opt for sea salt or spicy wasabi, these hearty snacks are easy to carry, won't spoil in your bag and will give you the energy you need to run around the park all day.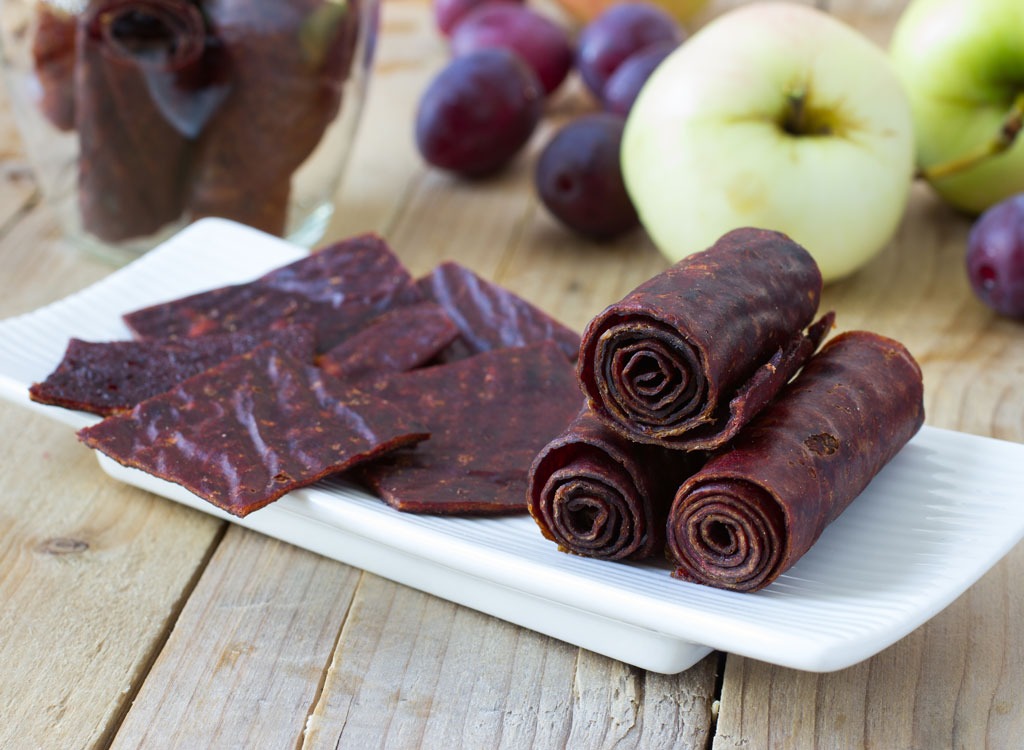 Whether your kids are begging for something sweet, or you're feeling a little nostalgic around all those rides—nothing brings you back to childhood like a fruit roll-up. It's too bad the traditional kind are loaded with all sorts of artificial ingredients. We like Stretch Island Fruit Strips, which are the healthier, more natural version of the beloved fruity snack. The ingredient list contains only fruit and no added preservatives or artificial sweeteners. For 50 calories or less per strip, go ahead and have two!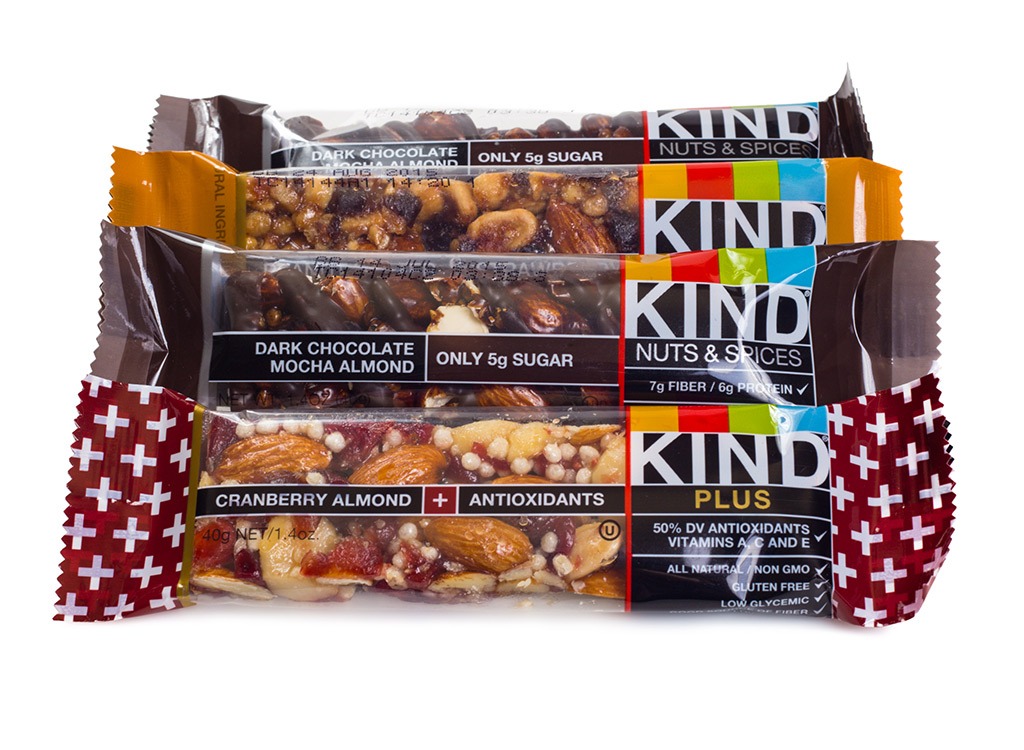 KIND Bars are a nutritionist favorite because they're low in sugar and loaded with healthy fats and body-fueling nutrients. "I love the Nuts N' Spices line from KIND because they're a little lower in sugar, really satisfying and won't make you crave sugary items," says Smith. The Eat This, Not That! team is so into its KIND bar selection that we went and analyzed all of them in this exclusive report on Every KIND Bar—Ranked!