9 Secrets You Never Knew About In-N-Out
A few juicy facts you have never heard about the beloved California-based burger chain.
One of the best-known things about In-N-Out Burger is, ironically, its "secret" menu. Once it was a point of pride for Californians 'in the know' to step up to the counter and order a Double-Double "Animal-Style" or to request a "3-by-3" or a grilled cheese, despite these items not being on the menu. Now the chain has fully embraced its secret menu and shares it openly, even posting it on the website and referring to it as the "Not So Secret Menu."
Beyond the now well-known secret menu, there are some other facts about the company you probably don't know. Despite the fact that In-N-Out is one of the most popular fast-food chains in America—it was bumped from the #1 spot by Chick-fil-A in 2019—there are some things you should know about the burger joint that are not common knowledge. Here are 11 secrets about In-N-Out you never knew. (Plus, come back after and read 11 Secrets Arby's Doesn't Want You to Know.)
There are bible verse numbers hidden on the packaging.
Most people know that Chick-fil-A has a strong Christian tradition, still closing all of its locations on Sunday, but many don't know that In-N-Out has bible verse numbers printed on much of its packaging, like on the bottom of cups and takeout bags. CEO Lynsi Snyder, the granddaughter of the chain's founders, explained to The Christian Post that faith helped her through a dark time in her life, including the death of her father and a string of failed marriages. Her uncle was the first to put the verses on the packaging but she has expanded upon it in recent years.6254a4d1642c605c54bf1cab17d50f1e
The family owners have been plagued by tragedies and infighting.
The Snyder family has a history of everything from drug and alcohol abuse to tragic plane crash deaths and lawsuits, both from without and within, according to Mashed. The legal battles have included one in which a vice president filed a lawsuit claiming a family executive was being forced from her role only to find himself counter-sued and accused of, among other things, billing work done in his private property to company accounts, reported the Washington Post.
Some locations defied COVID rules.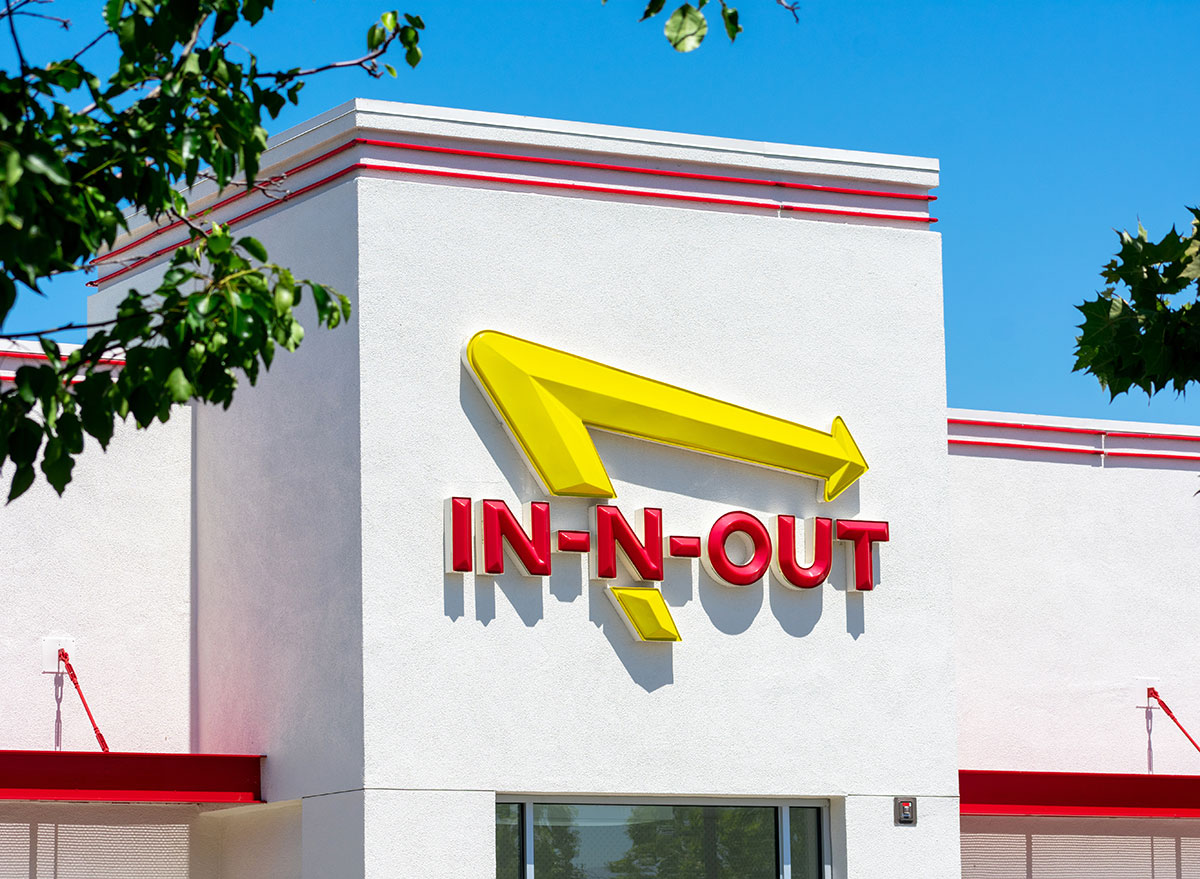 An In-N-Out in San Francisco—the only location in the city—was temporarily shut down when the restaurant refused to check the vaccination status of indoor diners, according to CBS. This refusal was in direct violation of rules mandated by the government and that most chains are honoring. According to the report, Arnie Wensinger, the chain's chief legal and business officer, said in a statement: "We refuse to become the vaccination police for any government."
RELATED: This Viral In-N-Out Item Doesn't Actually Exist, the Chain Says
Employees are told to focus on presentation over everything else.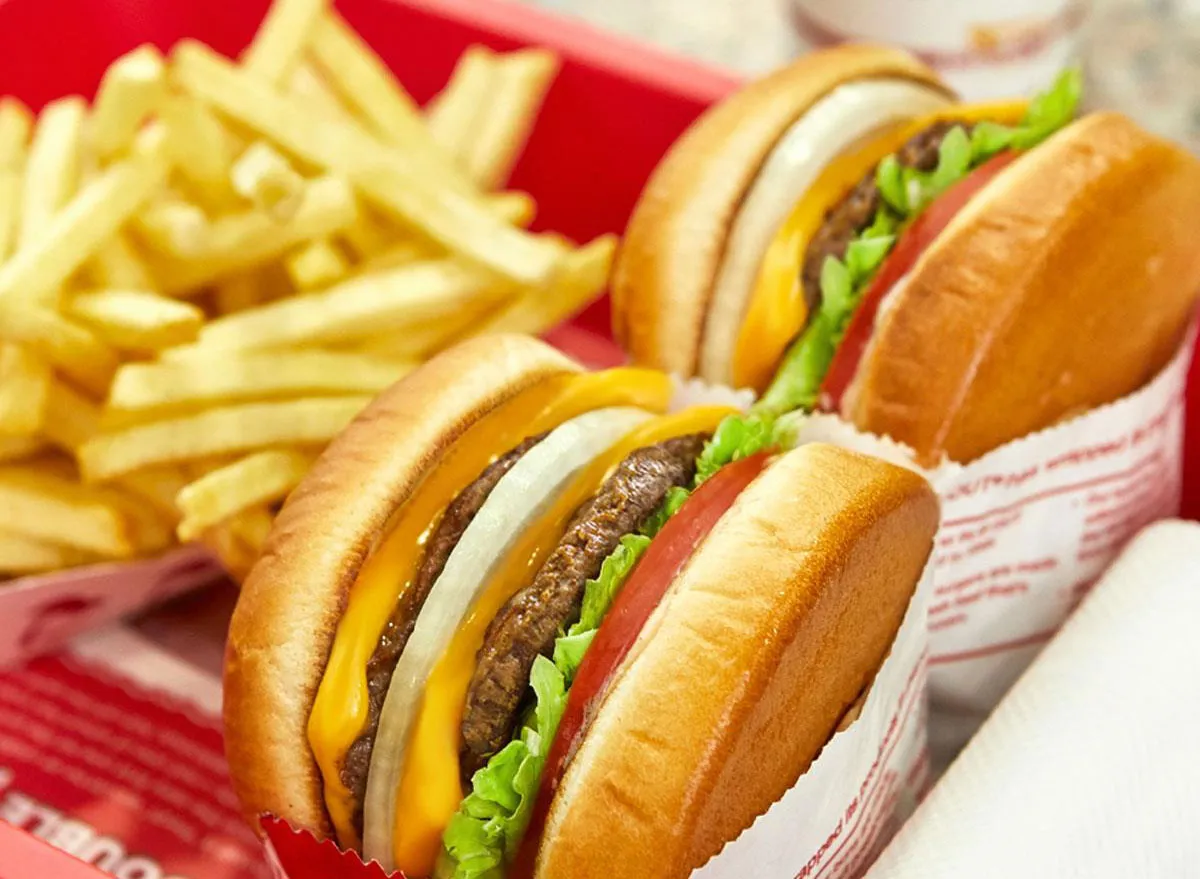 In-N-Out staff is required to make sure your food not only tastes good but looks good, too. They are not allowed to place more than two burgers and two fries, four fries, or six burgers into those iconic red trays, according to Business Insider. Granted, the trays could hold more, but they would begin to be crowded or require stacking the foods, going against policy.
Some managers make a solid six-figure income
While pay for most In-N-Out employees hovers well under $50,000 per year, and that's even the case for assistant managers, according to Indeed, an In-N-Out store manager can make a surprisingly good income. Many managers make well over $100,000 per year, with some bringing in $200k, according to GlassDoor.
In-N-Out is very strict about employee uniforms.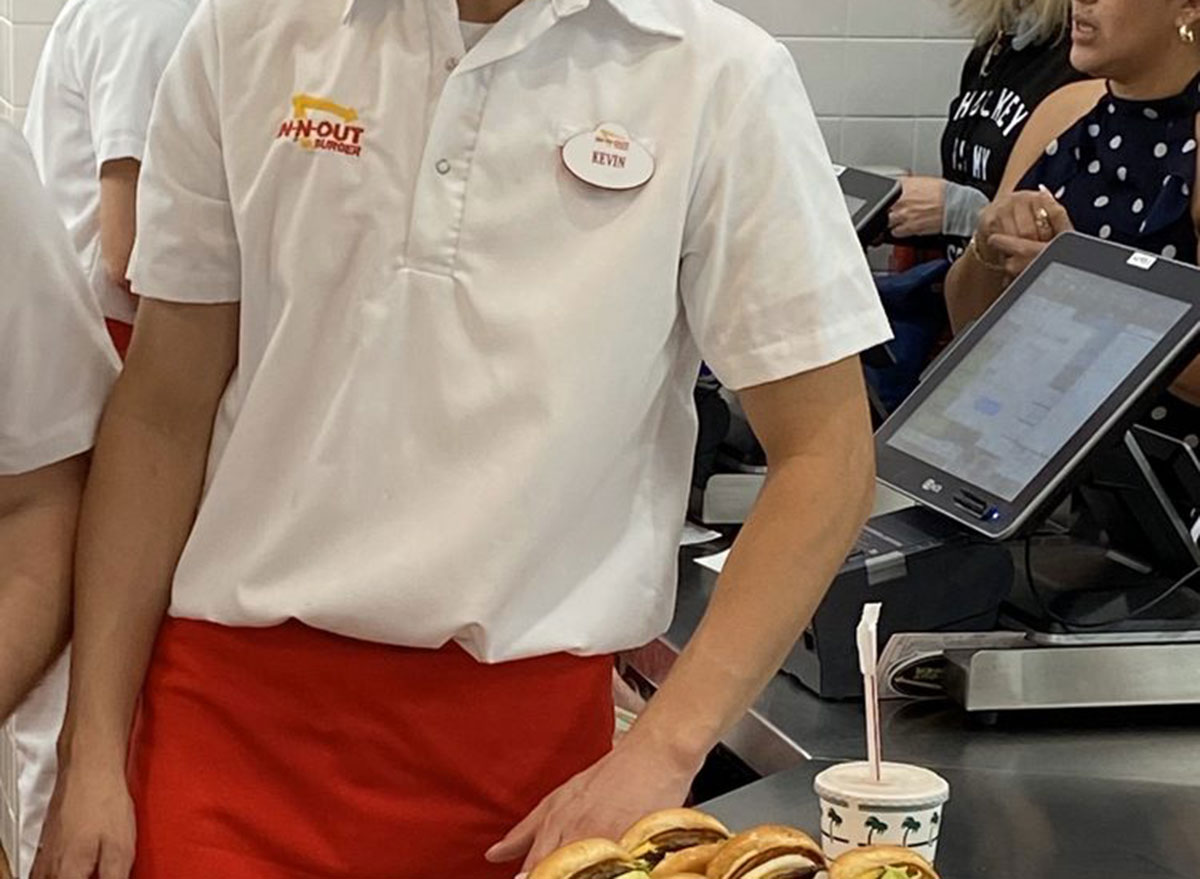 In-N-Out employees are required to wear white socks, white pants, white shirts, black shoes, a black belt, a red apron with a gold pin, a hat, and name tag the company issues. Any attempts to change or accessorize the uniform are met with pushback, a policy so strict it has even led the company to attempt to ban employees wearing pins that advocated for a better minimum wage, according to Inc.
Each store has a secret menu item you can't have.
We're not talking about a "Not So Secret" menu item here, but rather a legitimately off-menu item that customers can't order. According to a former manager quoted in Thrillist, each location has a signature secret menu item that the employees get to make and eat but that will never be offered to guests. These include things like tacos, salsa burgers, and fancy French fries.
In-N-Out will (probably) never come east.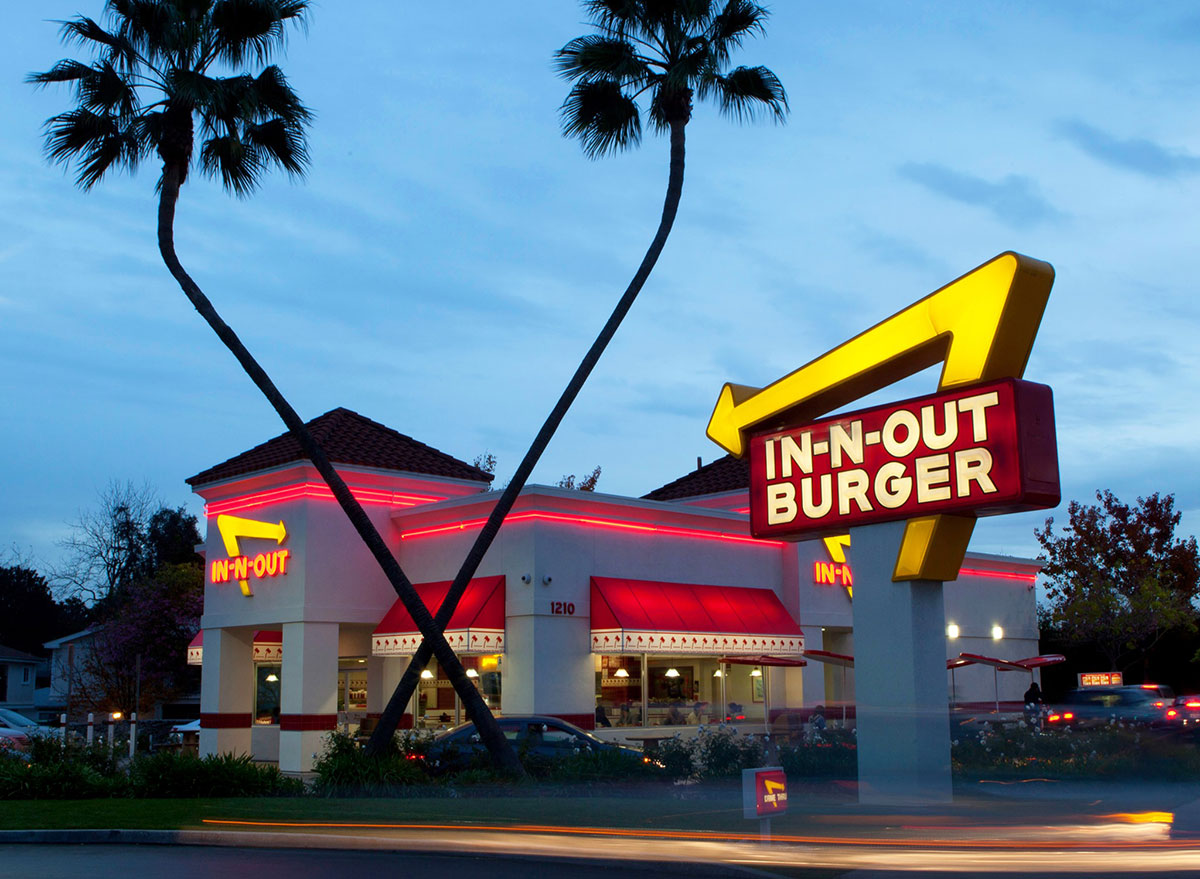 Although the chain likes to occasionally tease markets outside of its western domain, sometimes with temporary popup locations, there's little chance an In-N-Out will open in the eastern states any time soon, if ever. That's because In-N-Out restaurants never use frozen ingredients, so all locations must be within a reasonable drive of one of their meat distribution centers. That drive is set at 300 miles, and currently, the center farthest to the east is in Texas, according to Business Insider.
In-N-Out has always been secretive.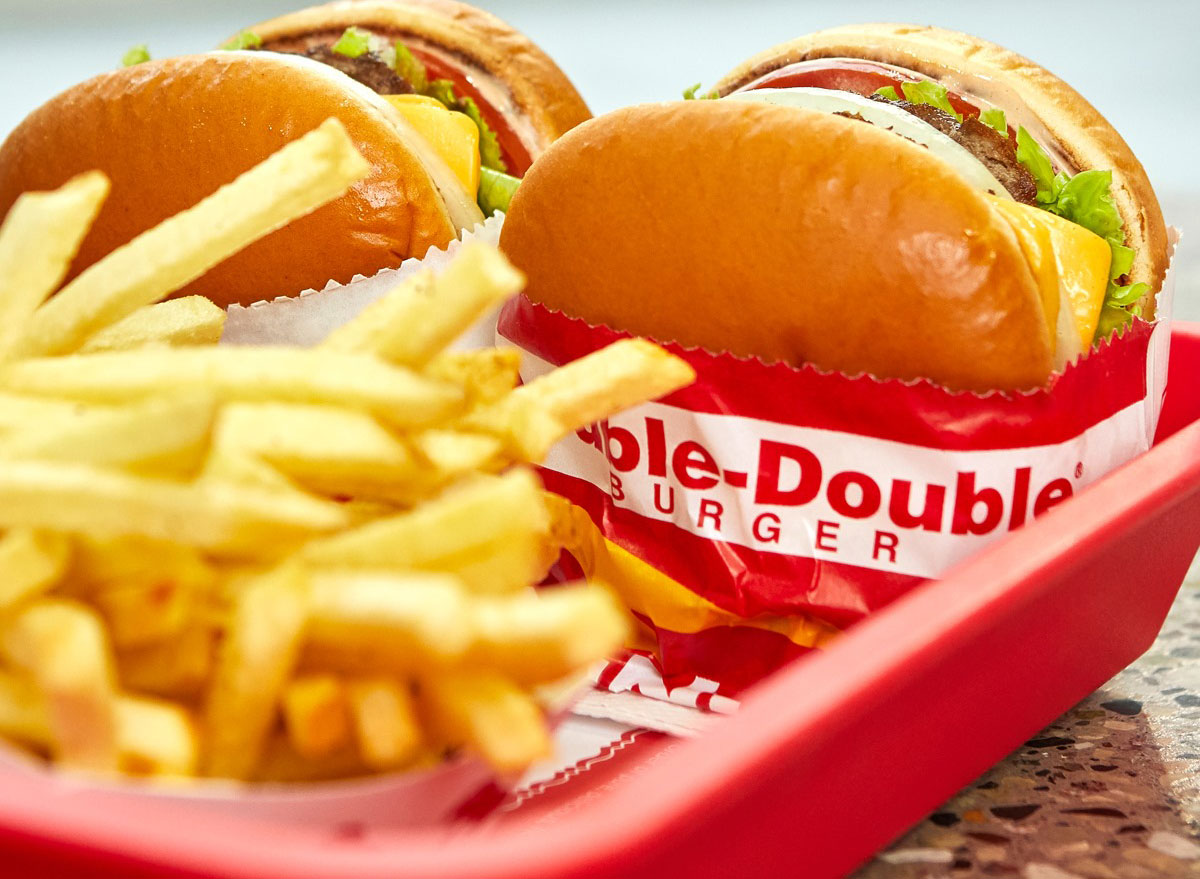 Unlike most successful fast-food chains, especially those that have been around for decades, In-N-Out is and always has been a private, family-owned company. It's currently owned by the third generation of the founding Snyder family, according to Business Insider. Remaining private has allowed the company to retain a high degree of control over both finances—as franchising initially requires a huge outlay of money from the parent company—as well as information. Without shareholders or franchisees, the corporate leadership (aka the Snyder family and its direct reports) is beholden to no one and need not disclose any of the inner workings of the company.
A previous version of this article was originally published on Apr 22, 2022.
Steven John
Steven John is a freelancer writer for
Eat This, Not That!
based just outside New York City.
Read more about Steven