Secrets for Making the Best Pesto Ever, Says Chef
Enjoy your homemade pesto in a variety of ways with these expert tips!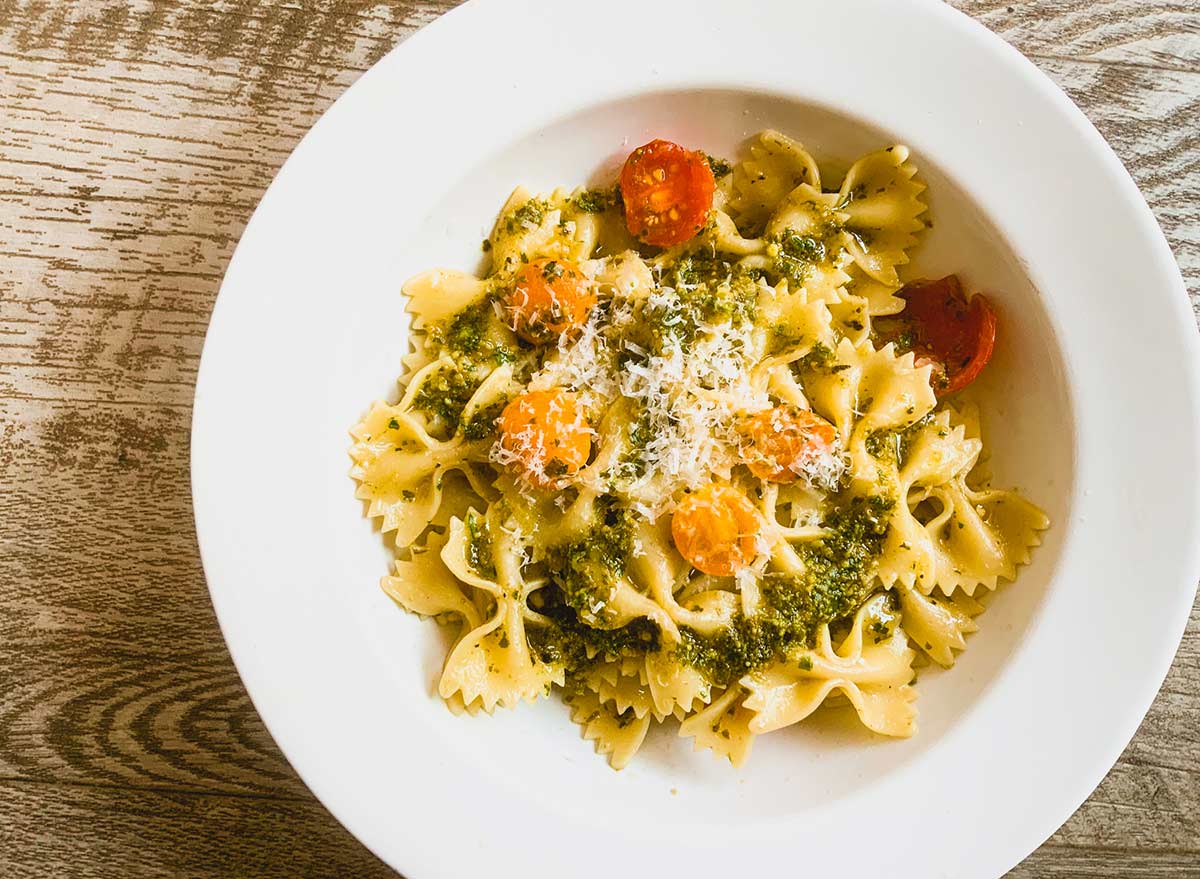 Just as the end of summer blues starts to set in, my garden keeps teasing me with an abundance of basil and other fresh herbs. And while I can't seem to figure out how to bottle up the warm weather and sunshine, I can whip up a big batch of pesto and freeze it so that in an instant, I can unlock the flavor of summer as the season changes.
Pesto elevates almost any dish and a little bit can go a long way. That's why I love freezing it so that I can use as little or as much as I need depending on how I'm using it.
Plus, pesto has limitless variations. Think about swapping out herbs and nuts or boosting flavor with some lemon zest or chili. And if you shy away from pesto because it contains cheese, consider dairy-free or dairy substitutes such as nutritional yeast and miso.
Making pesto from scratch is what I call a low-impact recipe. It's ready in minutes and relatively inexpensive to make.
Here are a few twists on basic pesto and some delicious ways to use them. So if you're getting a little blue because the summer is coming to a close, go green in an instant with pesto presto. After, be sure to check out our list of the 100 Easiest Recipes You Can Make.
Basic Basil Pesto Recipe
Makes 1 1/2 cups
Ingredients
3 cups fresh basil leaves, tightly packed
2-3 garlic cloves
1/3 toasted and cooled pignoli nuts
3/4 cup extra virgin olive oil
1/2 cup freshly grated parmesan cheese
Salt and pepper, to taste
How to Make It
Place tightly packed fresh basil leaves, garlic cloves (this is a personal preference and size does matter here, the bigger the clove, the more garlic flavor, so you decide), and pignoli nuts in a food processor or blender.
Pulse a few times until coarse then add extra virgin olive oil and puree until smooth, scraping down the sides if necessary.
Add freshly grated parmesan and pulse a few more times until just blended.
Season generously with salt and freshly ground black pepper to taste.
Transfer to a glass or plastic container with a tight-fitting lid. Drizzle a little more oil over the top to help prevent it from browning.
Store up to 2 weeks in the refrigerator.
Pro Tip: Divide into ice cube trays and freeze and use 1 to 2 cubes as desired per recipe. You can even do this directly in the ice cube trays as desired.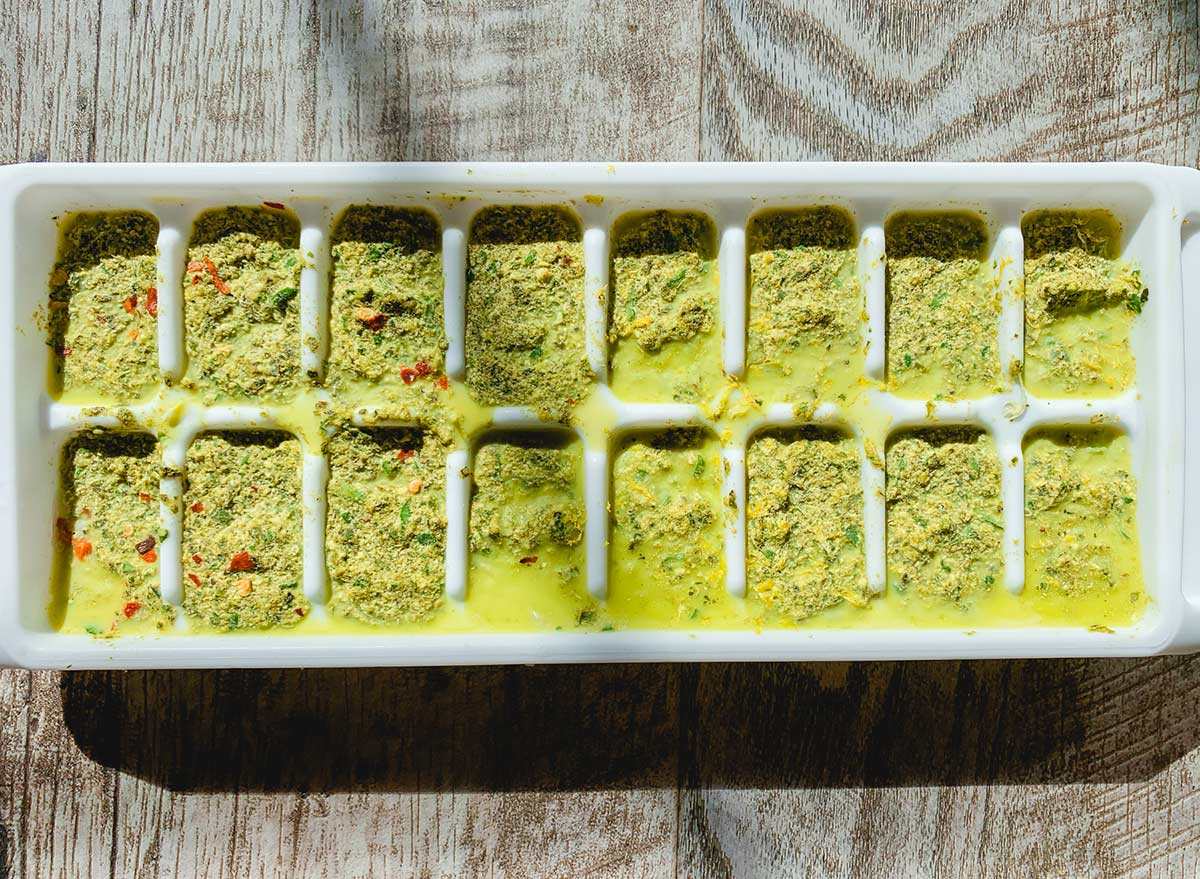 Flavor Swaps
Bored of the basic basil? Make some of these flavor swaps for a clever twist on the classic pesto!
Make it lemony: Stir in the zest and juice of 1/2 lemon when seasoning with salt and pepper.
Make it spicy: Stir in a large pinch of crushed red pepper flakes when seasoning with salt and pepper.
Make it dairy-free: Omit the Parmesan and use ¼ cup of nutritional yeast instead.
Make it with miso: Omit the Parmesan and use 2 tablespoons white miso paste.
Use different nuts: Don't have pignoli nuts or want to try something different? Substitute toasted walnuts, hazelnuts or almonds.
Make it nut-free: If you have a nut sensitivity or allergy, go nutless. Instead try using ¼ cup sunflower, pumpkin, or sesame seeds for some texture and body. If you can't have seeds, just omit and use 1/2 the amount of parmesan and have pecorino for a nuttier flavor.
Make it with other herbs: Basil is delicious, but try using other fresh herbs instead or a mix of two or three. These tender herbs make great substitutes and accent flavors such as Italian parsley, fresh chives, fresh cilantro, fresh mint, fresh dill, fresh tarragon. If using dill, mint, cilantro, or tarragon, I suggest only using about 1/4 cup of each or a mix, parsley can be swapped out equally.
Mix up your cheeses: Love Parmesan but want to try something with a little more zing? Try 1/2 and 1/2 Parmesan and Pecorino for a sharper and nuttier flavor.
Make it with roasted garlic: If you love roasted garlic, use it instead of raw garlic for a sweeter flavor.
Make it hearty: Swap out the basil for heartier leafy greens such as spinach, kale, or arugula, or do a mix of 1/2 basil and 1/2 leafy greens.
Accent flavors
These accent flavors add an extra hit of Umami and can be added in when blending.
2-4 anchovies
2 tablespoons capers
1/4 cup sun-dried tomatoes
1/4 cup chopped Castelveltrano olives
2-4 dashes Worcestershire sauce
2-3 teaspoons white miso paste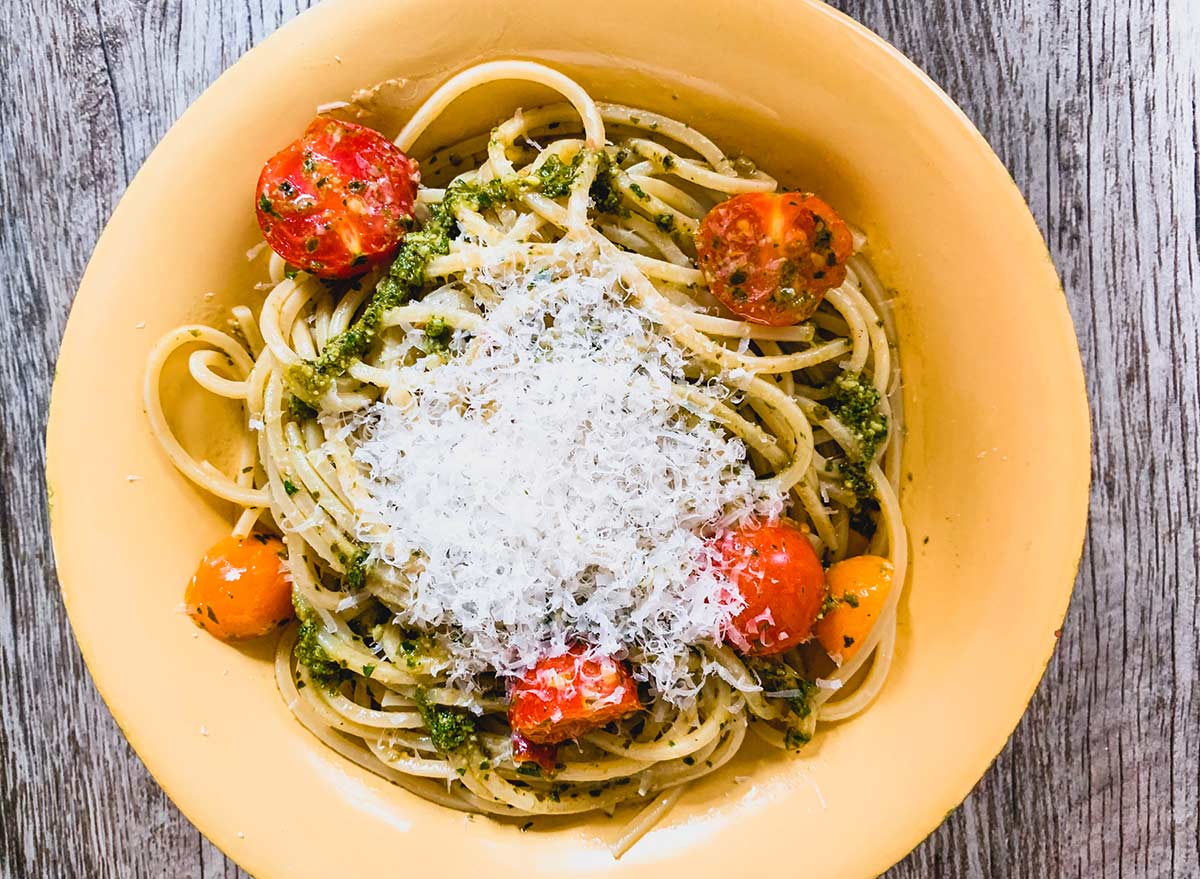 Ways to use your pesto
Have leftover pesto you need to use up? Try these delicious recipes to use up that pesto in your fridge before it goes bad!6254a4d1642c605c54bf1cab17d50f1e
Creamy Pesto Mayo Dip: For every 1/4 cup pesto stir in 1/2 cup mayo and 1/4 cup sour cream and the zest and juice of 1/2 a lemon. Serve with fresh-cut veggies or serve on top of a baked potato.
Pesto Bruschetta with Tomato & Arugula: For every 1/4 cup pesto, stir in 1 diced tomato and 1 cup chopped arugula. Spoon onto toasted ciabatta or baguette rounds and sprinkle with additional Parmesan!
Tomato Pesto Soup: Stir in 1/4 cup of pesto to your favorite tomato soup recipe! Sprinkle with Parmesan cheese before serving.
Boost your sandwich or panini: Use pesto in place or in addition to mayo or mustard on your next sandwich. Great on turkey, cheese, chicken, or grilled veggies!
Boost your marinara: Boost the flavor of your marinara with a couple of tablespoons of fresh pesto!
Claudia Sidoti
Claudia Sidoti's deep connection with food began in her grandmother's kitchen and landed her in the kitchens of Food Network as the Test Kitchen Director.
Read more about Claudia