Shake Shack Will Open 70 New Locations Next Year—and They'll All Have This Popular Feature
The burger chain is poised for its biggest year yet.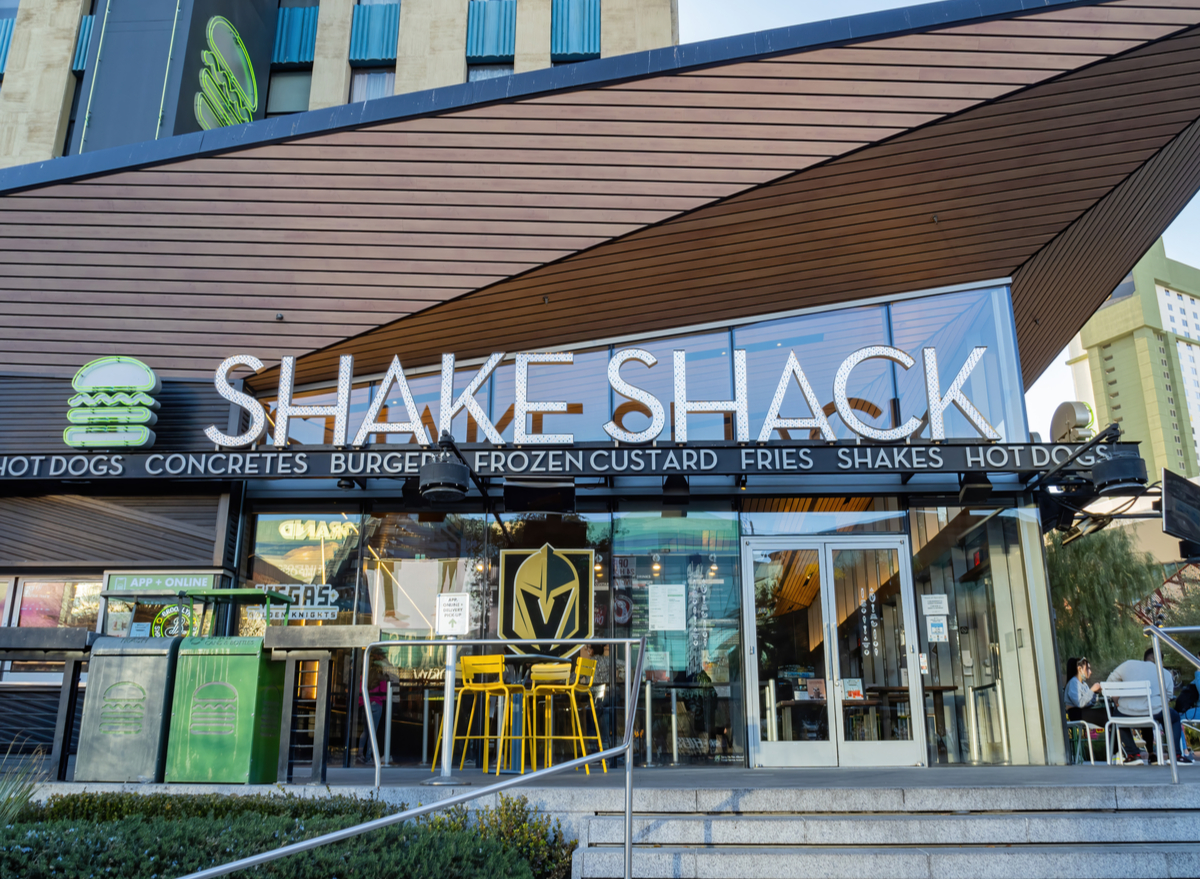 If you've never eaten at Shake Shack before, 2023 could be your year. The fast-casual burger chain known for its gourmet burger offerings–like the Bourbon Bacon Cheddar—and irresistible seasonal shakes, is poised for its biggest growth spurt ever in the new year. Plus, it plans to add this trendy, customer-focused feature to all of its restaurants.
The burger chain began as a single location selling hot dogs in Madison Square Park in NYC and has been expanding and adding restaurants across the world for years, but 2023 is going to be a big one with a plan to add up to 70 new locations, according to reports.
RELATED: 9 Secrets About Shake Shack That Might Surprise You6254a4d1642c605c54bf1cab17d50f1e
Of course with adding locations comes the daunting task of staffing them, especially with talented team-oriented employees. Shake Shack management isn't worried, however, and credits the company's innovative recruitment strategies. One such strategy is to move the best of the best in from other locations to get the new ones up and running. Another thing execs think will bring in the applications is Shake Shack's new tipping function, which, they claim, has workers earning over $20 an hour in some cases. They also plan to add more drive-thrus to lessen in-store traffic.
But Shake Shack has another thing it's relying heavily on to skip adding new personnel altogether: kiosks. You've probably seen ordering kiosks in more fast-casual restaurants. These interactive screens let customers order, customize items, and pay without having to interact with an employee. Of course, the kiosks are attractive to those still leery of face-to-face interactions after the Covid pandemic, but they also save the company from fully manning the registers. Shake Shack ambitiously hopes to have kiosks in every location by the end of next year.
While it does help that the locations run leaner in terms of the ordering process, that doesn't mean Shake Shacks will need fewer workers. The current and future employees will be moved to so-called "value-added tasks," the company said, which include completing and expediting orders and greeting guests.
A popular feature at Shake Shack, kiosks were met with mixed reviews at some chains with some customers loving them and others getting confused by the excessive options and different screens.
Fear or love of kiosks aside, if a Shake Shack opens near you in 2023, definitely give it a try. In our fast-food cheeseburger taste test, the original ShackBurger took second place, only bested by the Five Guys burger.