We Tried 7 Fast-Food Cheeseburgers & This Is the Best
Is your favorite fast-food cheeseburger the best of them all? Find out which one we chose as #1.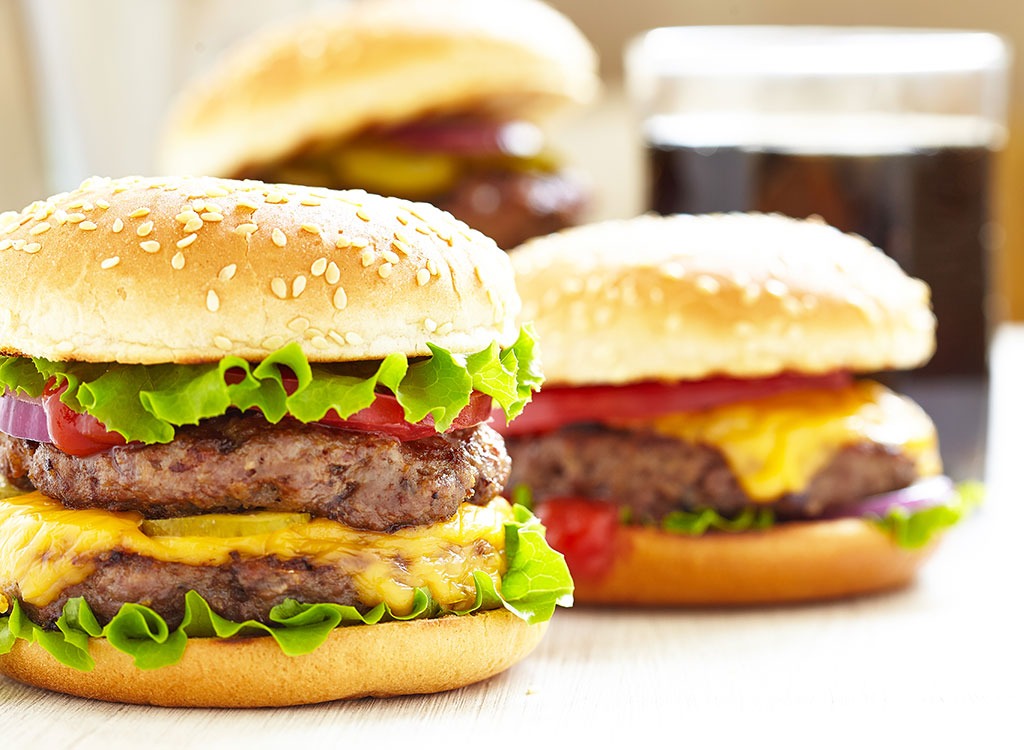 The cheeseburger is an iconic fast-food item. But out of the plethora of fast-food joints, which place do you frequent the most? Is it the Golden Arches burger that makes your heart sing before you sink your teeth into a quarter-pounder with cheese? Are you a fan of the square patty at Wendy's? Whichever burger you choose, have you ever wondered if it's the best fast-food cheeseburger of them all?  We wanted to know who flips beef patties properly and piles on the pickles just right, so we put our taste buds to the test.
We took it upon ourselves to compare seven common fast-food burger joints in New York City and see which patty lives up to its desired price and prep. But beware, these are the 8 Worst Fast-Food Burgers to Stay Away From Right Now.
How we graded them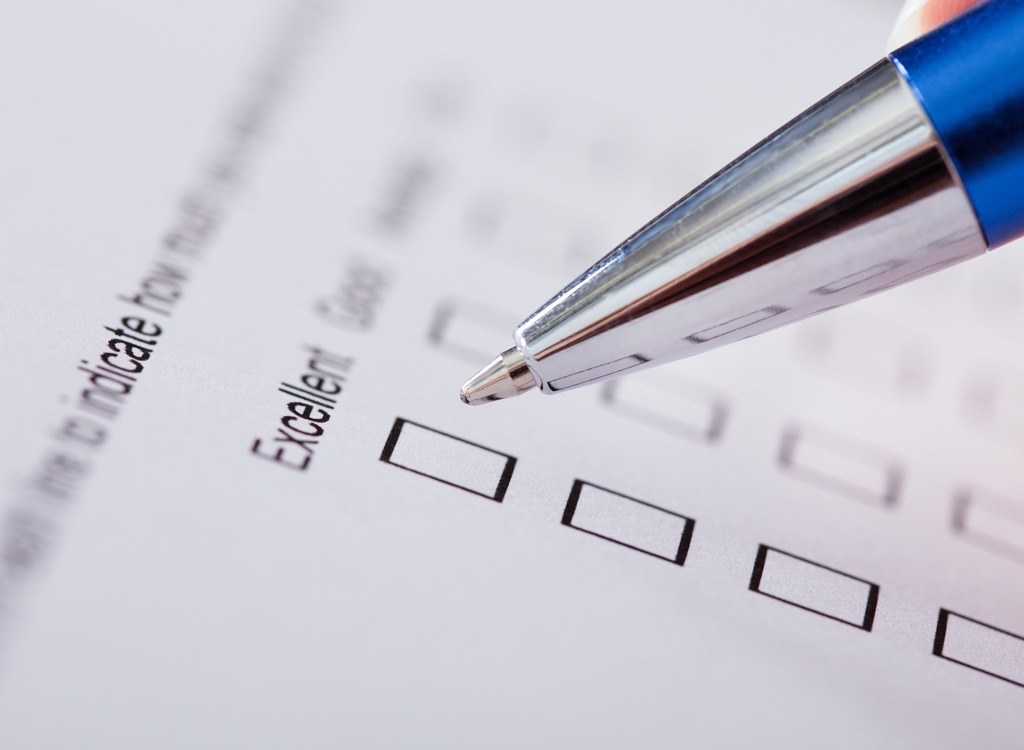 We tried the regular cheeseburger from seven popular fast-food joints. As in, there were no triple patties with bacon or extra secret sauce. And we ordered all of the burgers with no modifications because we wanted to see which chain has the best regular cheeseburger on its menu.
Bun, patty, and condiments
When tasting, we looked for a cheeseburger that had the best patty to bun ratio, fresh-tasting toppings and condiments, and stellar meat seasoning.
The restaurants we tried a cheeseburger from, in alphabetical order, included:
Burger King
Checkers
Five Guys
McDonald's
Shake Shack
Smashburger
Wendy's
While many chains could have also been part of this taste test (like the west coast's beloved In-N-Out), we went with the cheeseburgers we could easily get our hands on in New York.
Lettuce be frank. Some were a whopping success. Others should just burger off and stick to fries. See where your favorite might have ranked and which cheeseburger didn't make the cut.
Checkers
Checkers, also known as Rally's, supposedly has "Crazy Good Food." Or at least, that's when their slogan states. The seasoned fries are top-notch and the milkshakes are huge, but what about the cheeseburger?
The Verdict
Sadly, the team did not agree with the Checkers slogan in regards to the cheeseburger. One editor stated it was her "least favorite cheeseburger of them all and hated the raw onions." Another said, "The sauce on this puppy is gross and there is too much of it." It reminded some of "the bottom of a coleslaw bowl and the bun is soggy as a result. The worst."
We didn't have many good things to say here because it was "smothered in too many condiments. Is there even a cheeseburger in there?" The looks of the cheeseburger docked it down in points because it showed us how undercooked the bun was because it was white next to others.
One editor did like the cheeseburger, stating it had a "nice onion slice and a good bun." Unfortunately, she stood alone with this cheeseburger. The bread was a little too slimy for some of our tastes. One last editor wrote, "The sandwich isn't as bad as it looks. But it's still not good."
Burger King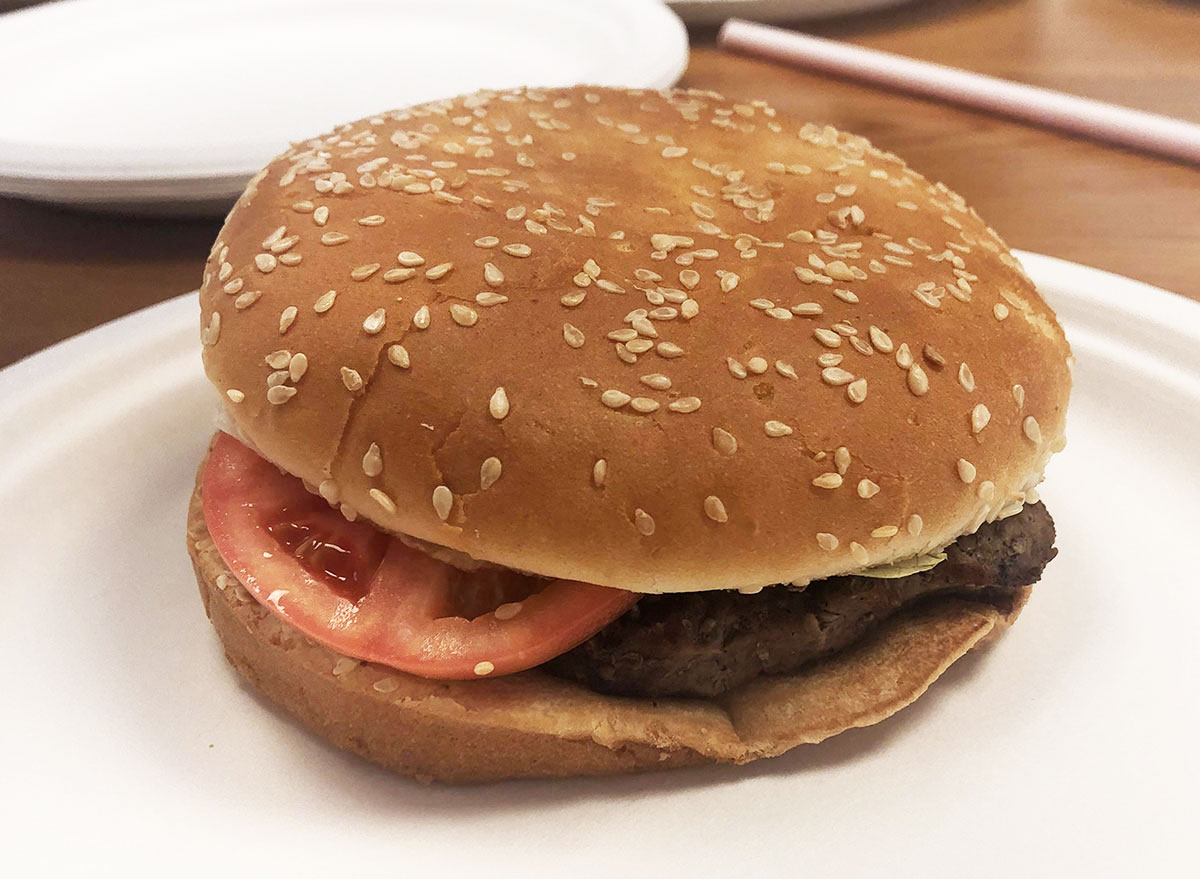 6254a4d1642c605c54bf1cab17d50f1e
Although this cheeseburger is second to last, there was a light at the end of the tunnel for one of our editors, who admits she is a changed woman after trying the Burger King cheeseburger. She said she was surprised by the quality, stating, "I think we've been underestimating BK for too long." Her statement alone did not save Burger King's ranking, but we felt she had to be heard.
The Verdict
Ultimately, our tasters thought the sesame seeds on this bun were overwhelming and the "bread got stuck in my teeth as a reminder of my regret." The size of the Whopper lookalike had some "impressed by the size and generosity with pickles," but the taste was lackluster. One editor said the Burger King burger had a "fat patty, but it tastes kind of burnt." Another said, "All I taste is the sauce and too much bun." Or, "horrible, doesn't even taste like meat." One last editor said she "can't comment on the rest because I'm stuck on how absent the seasoning was." We are sorry, Burger King.
McDonald's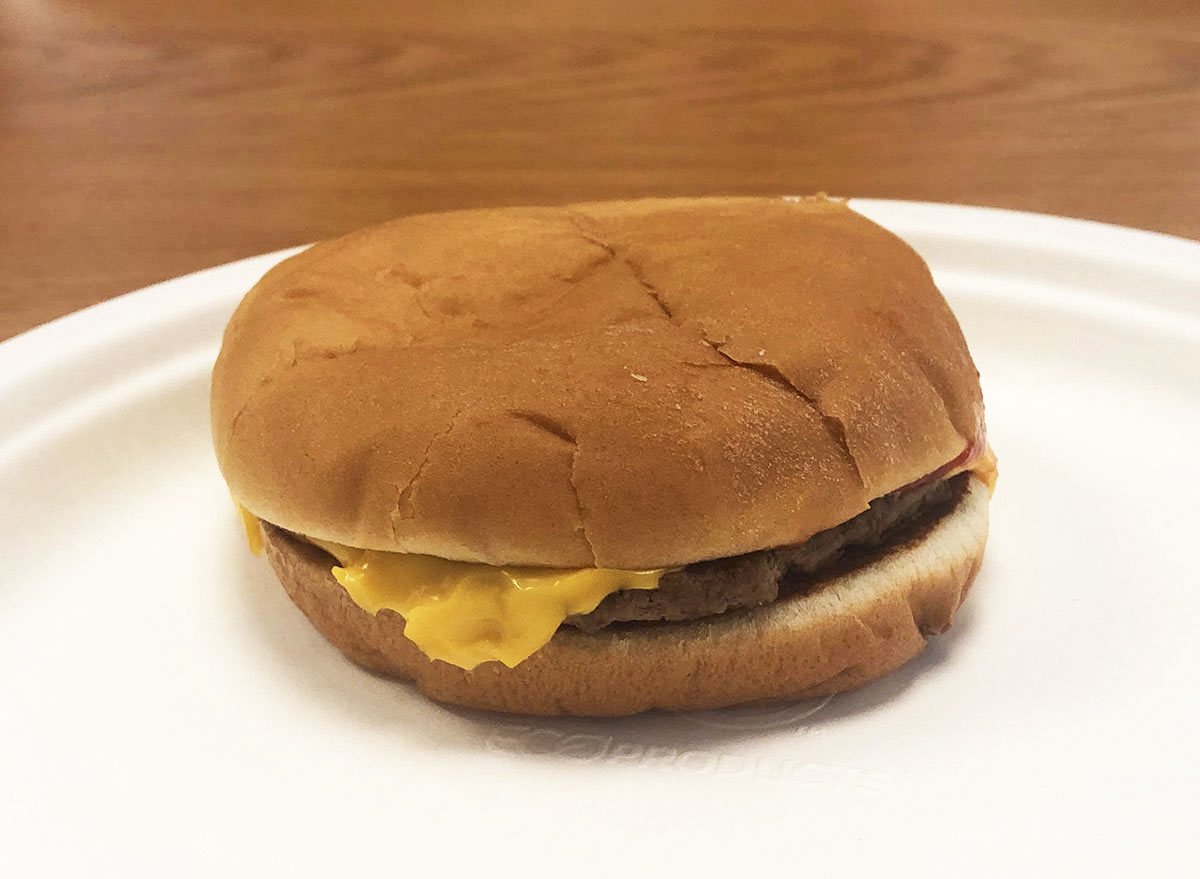 By itself, a McDonald's cheeseburger is normally delicious after a night out, especially with a side of French fries. But when you're eating other cheeseburgers in comparison, the Golden Arches just aren't all they're cracked up to be. The cheeseburger falls flat in pretty much all categories, but the loyalty thrives with convenience and price.
The Verdict
We were indecisive on McDonald's cheeseburger. Some liked the familiarity of this cheeseburger, while others thought it crumbled in comparison. One editor wrote, "This used to be a staple for me growing up. Now it's sad. The cheeseburger is dry, small, and unmemorable."
We all agreed that there was too much bread and not enough meat, and the condiments stole the show. One editor liked the overwhelming onion taste, saying, "Those diced onions though. But that's really the only good thing to say here." Another said, "Chopped onions are great. But way too much ketchup." Most agree with this editor's comment, saying there was "too much onion/garlic taste."
We're so sorry, Ronald. The identifiable onion taste was normal to some, but the presentation and condiments killed the score. One last editor wrote, "The bun is such a sad, sad bun."
Smashburger
Yes, the name Smashburger lives up to the company's food technique. The smashed, seasoned, and seared patty on a butter-toasted artisan bun is right in the center of our cheeseburger rankings. Unique sauce, melty cheese, lettuce, tomato, onions, and a different bread helped it shine. One editor stated that it was "so beautiful I didn't want to eat it!" But looks can be deceiving…
The Verdict
One editor chose this cheeseburger as her favorite, saying, "I loved this cheeseburger the best! Yummy potato bun and thin patty." Another said that the Smashburger had a "good, doughy bread to cheeseburger ratio."
For the most part, we all liked the crispiness of the cheeseburger, but to others, it fell flat. Some said that the bread was kind of dry and that the patty tasted too crispy and was overdone.
Some of the toppings didn't satisfy, either, with one taster saying the Smashburger option "tastes like there's an old tomato on it." Others loved it, saying it had "fresh meat and great thick tomato." We were pretty scattered across the board, but thanks to high rankings from some of our editors, this cheeseburger landed in our #4 spot.
Wendy's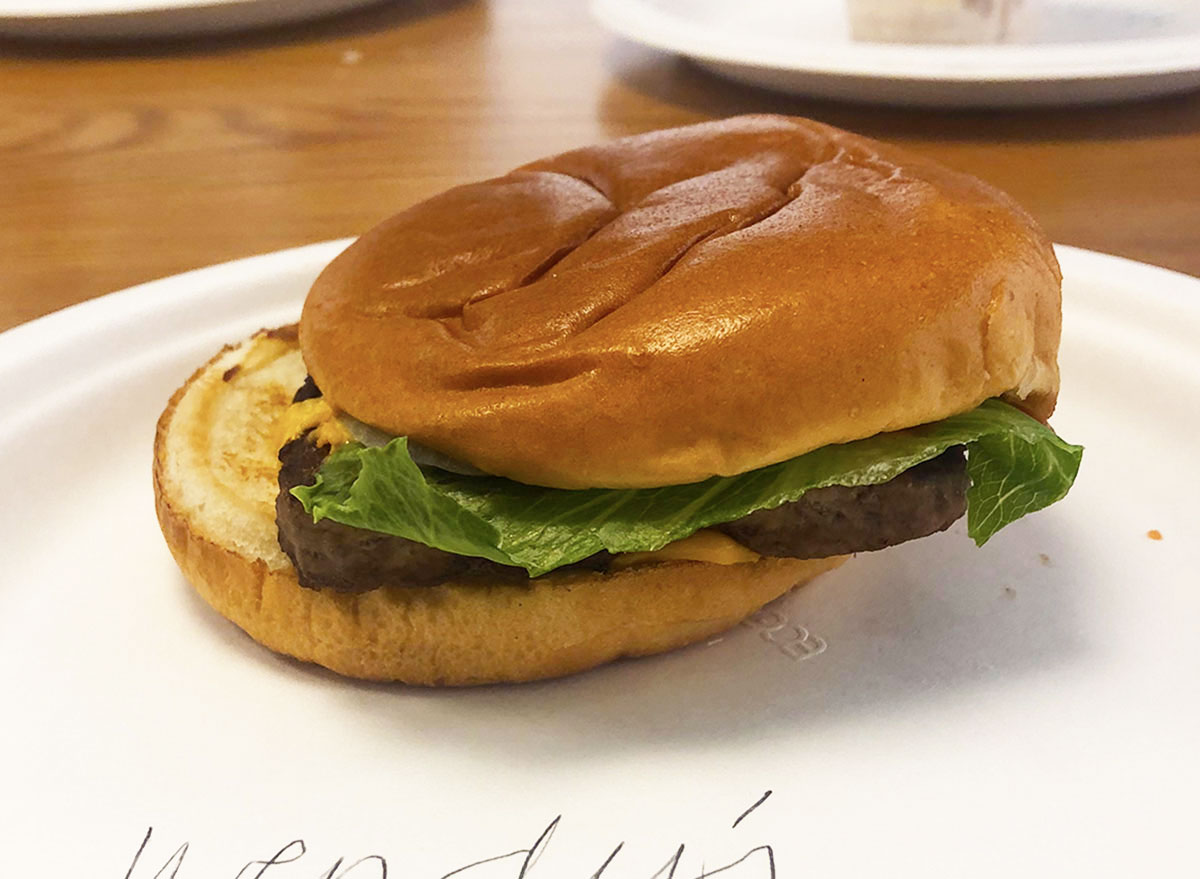 Looks don't matter in this taste test. Even though the Wendy's cheeseburger came a little smushed and lopsided, the square patty stood up against others effortlessly in some categories.
The Verdict
The Dave's Single cheeseburger is a quarter-pound of beef, American cheese, crisp lettuce, tomato, pickle, ketchup, mayo, and onion on a toasted bun. This patty ranked higher on the list because of its fresh condiments and toppings and a perfectly toasted bun. One editor wrote that this cheeseburger had "the best bun out of the group."
The square patty itself was thick and juicy. One editor stated that the "patty is PERFECTO." Another said, "Good, thick patty. It's at least better than McDonald's." The toppings helped take this one over the top of our other four because of the quality of fresh ingredients. One editor appreciated the onions stating that the "freshly sliced onions give it a nice crunch" and that there were "great fresh tomato and lettuce."
Shake Shack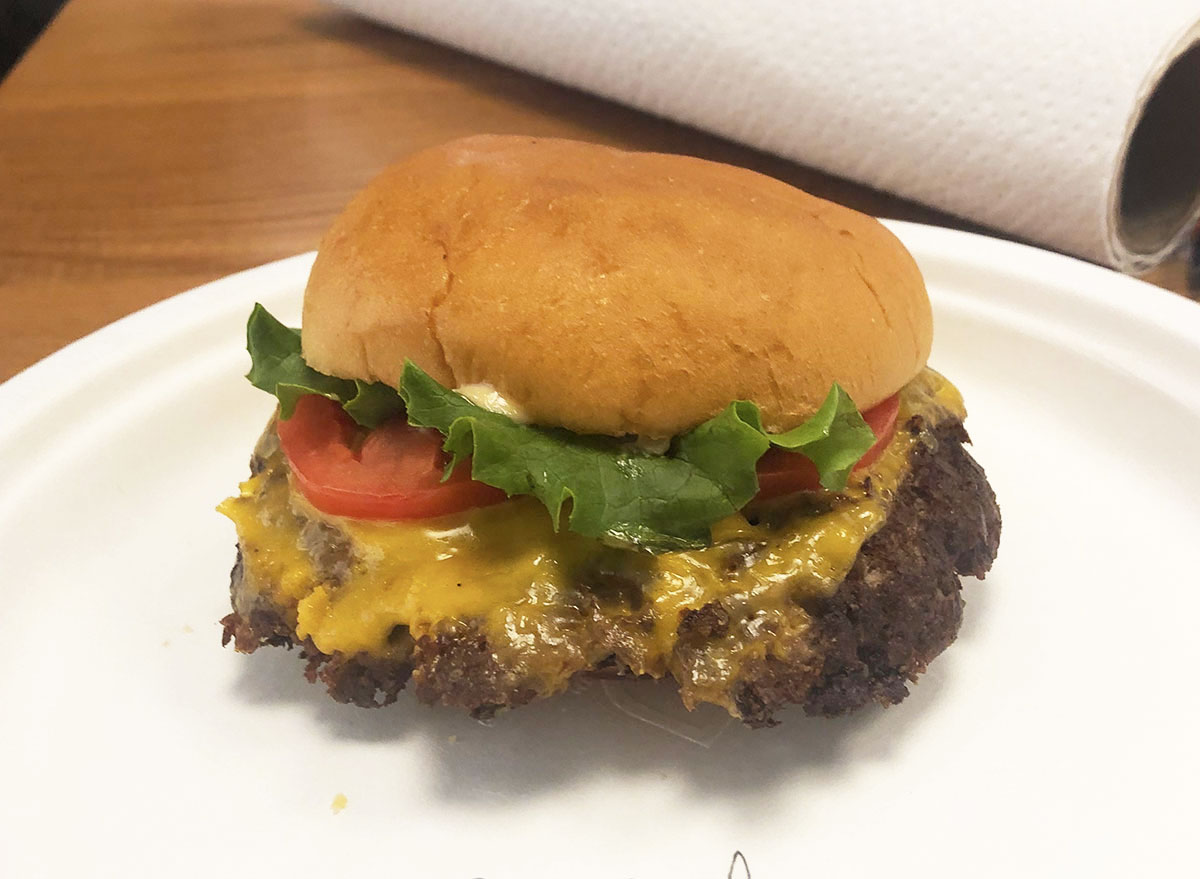 While the rankings left these last two cheeseburgers in a tie, the comments defined our final ranking. Shake Shack won our chocolate milkshake taste test and our French fries taste test, so to say we love Shake Shack is an understatement.
The Verdict
Our tasters had almost nothing but good things to say about this cheeseburger. One editor raved about the sauce topping, which we all agreed was delicious. "Secret sauce of heaven? Check and check." Another loved the ingredients piled on top of the overflowing patty. "Very high-quality cheese, which I appreciate," she wrote. But the cheeseburger itself stole the show when one editor wrote, "Crispy cheeseburger patty, sweet bun. Perfect combo."
This is also a cheeseburger that changed the mind of one of our tasters. One first-timer stated, "I get the hype. Oversized flat patty was so delicious."
Five Guys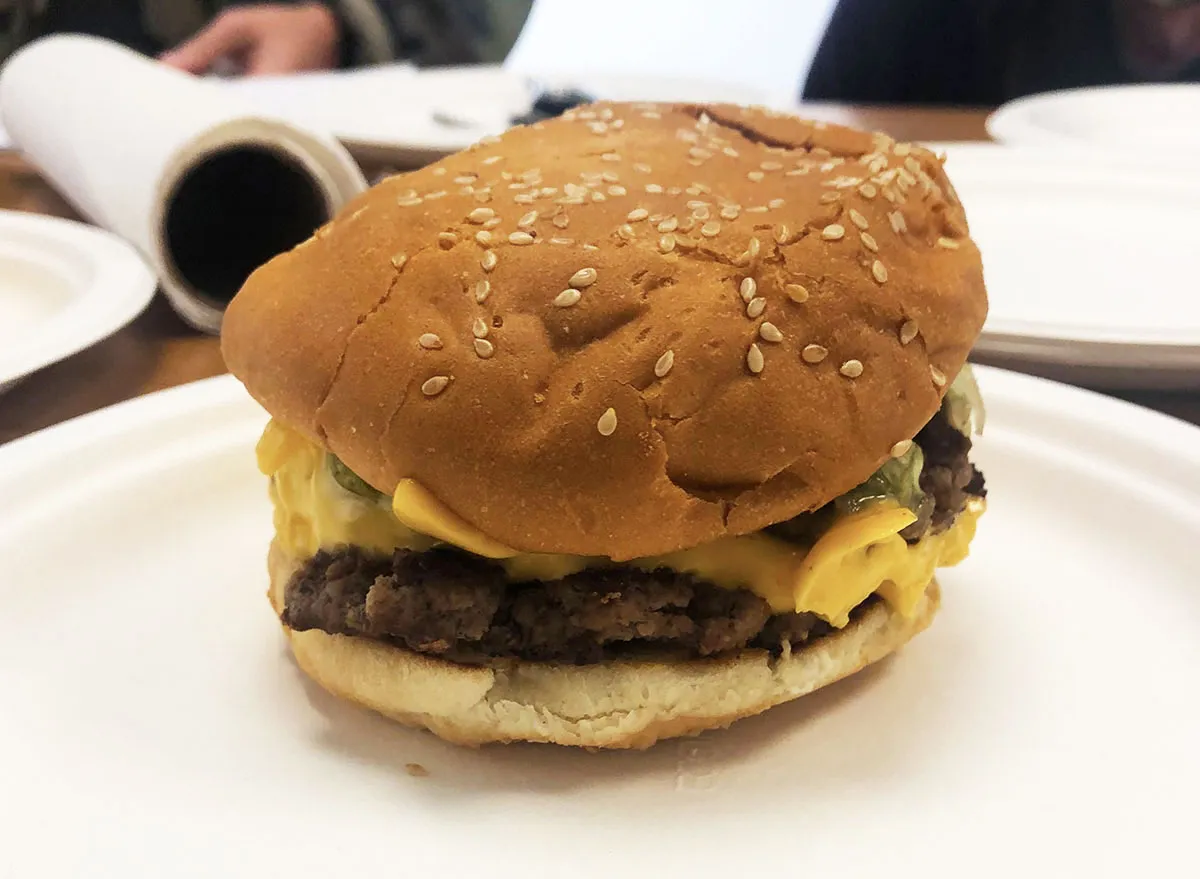 It's not much of a surprise that this massive cheeseburger took our #1 spot. It's hard to argue with such a large sandwich, and it all-around hit the spot for most of our tasters. If you're a meat lover, this cheeseburger is the one for you.
The Verdict
Right off the bat, just one look at this cheeseburger had us excited. One editor wrote, "Five Guys wins for presentation. This is one THICK cheeseburger." Another editor argued that the "toppings taste fresh and could be overpowering but the thick patty makes up for it."
We all loved the familiar grill taste coming from the patties. An editor said this cheeseburger "tasted like a cookout cheeseburger or [a] homemade [one]." To put it in other words, this cheeseburger had a "beefier taste" in comparison to all the others. Our only critique? The "bun was a little dry but the juicy cheeseburger saves it." Overall, bigger was better, even though it was a close call with Shake Shack.
Read more about your favorite fast-food joints:
The Best & Worst Menu Items at Shake Shack
11 Secrets In-N-Out Doesn't Want You to Know
Ann Marie Langrehr
Ann Marie is the Social Media Editor for Eat This, Not That! running the brand's social media accounts.
Read more about Ann Marie